The main train station in Liège, Belgium, known as Liège-Guillemins Railway Station, was designed by architect Santiago Calatrava. The domed masterpiece, made from steel, glass, and white concrete, is 200 meters wide and 35 meters high, and features nine tracks and five platforms. Since the station opened in 2009, it sees 15,000 commuters a day and is one of the country's busiest stations.
The Stunning Architecture of Liège-Guillemins Railway Station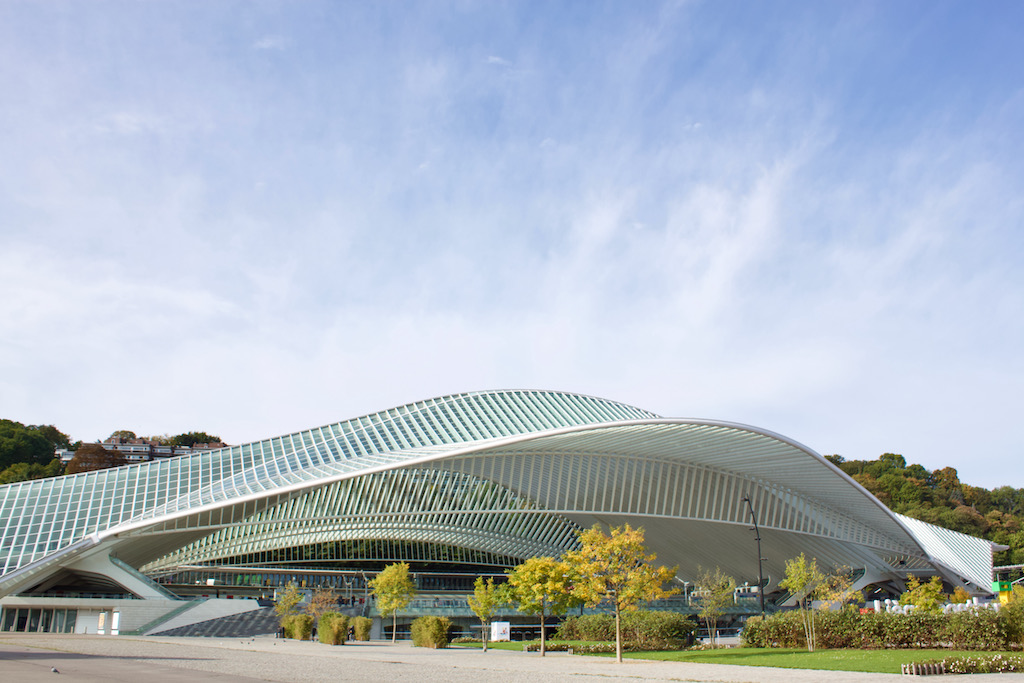 This rather new station was constructed as part of modernization efforts to connect Liege to Europe's high speed railway network. The former station presented many challenges, such as narrow, curved platforms that weren't long enough to accommodate the length of newer styled trains. The growing number of commuters didn't help either, and the station became a bottleneck for passengers. Upkeep on the existing station didn't make sense, so local authorities decided to commission the building of a new station, demolishing the old one in the process.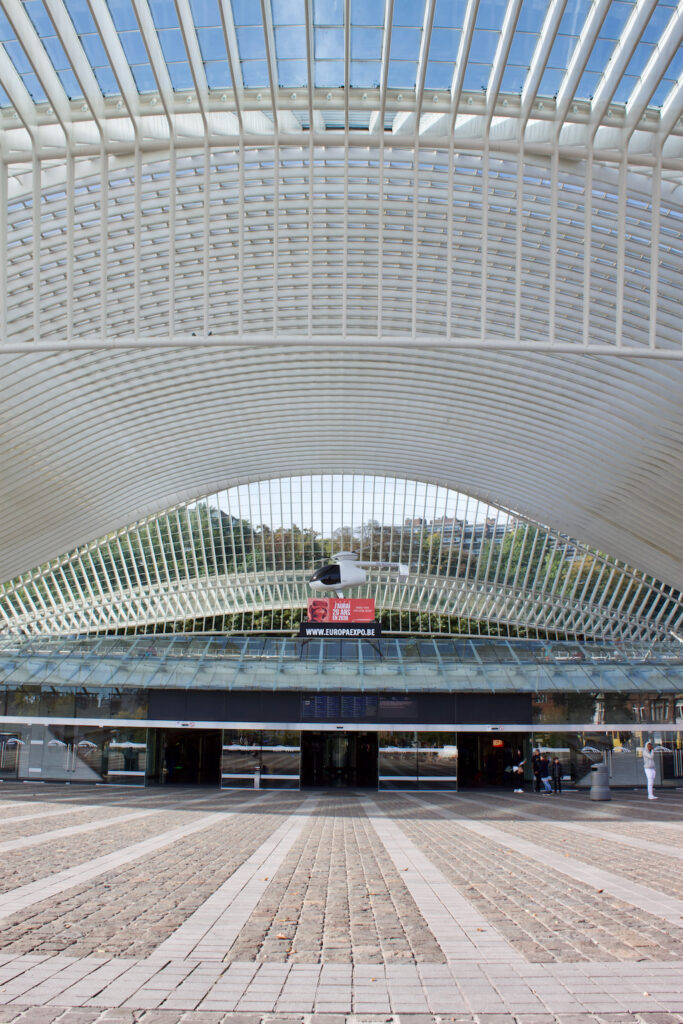 Renowned architect Santiago Calatrava won an international competition to design the new station. Not new to train station design, Calatrava's notable work includes the Lucerne train station, the Stadelhofen in Zurich, and the Oriente Station in Lisbon.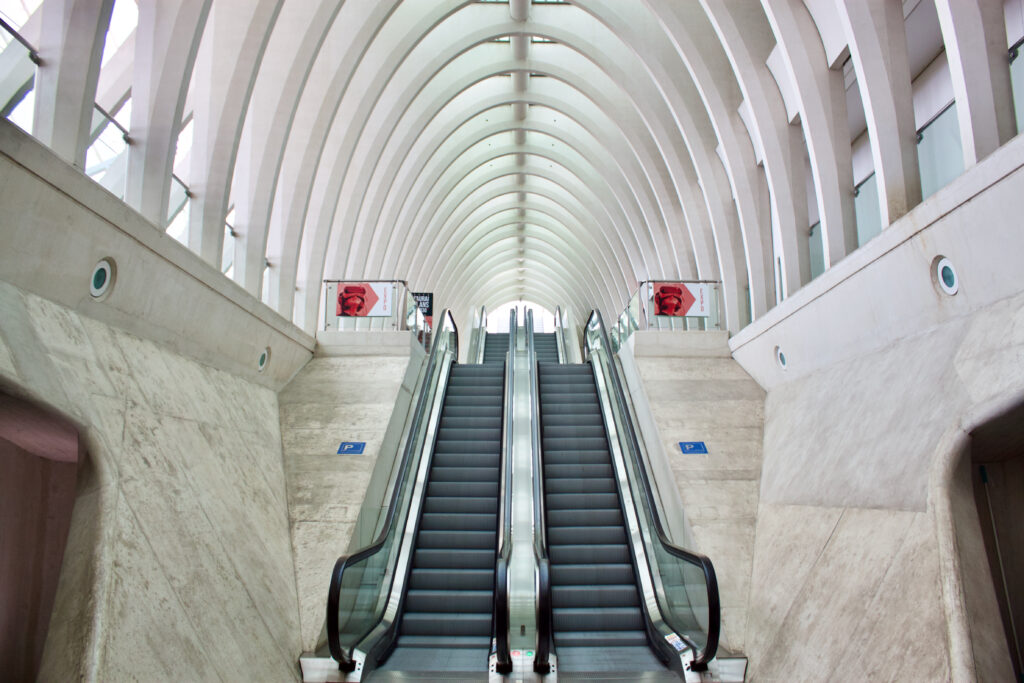 The ground floor of the station is on the same level as the entrance and is decked out with retail spaces, a restaurant, ticket booths, and waiting areas. Then there's the platform level and above that, two foot-bridges providing direct access to the platforms from a passenger drop-off and parking area.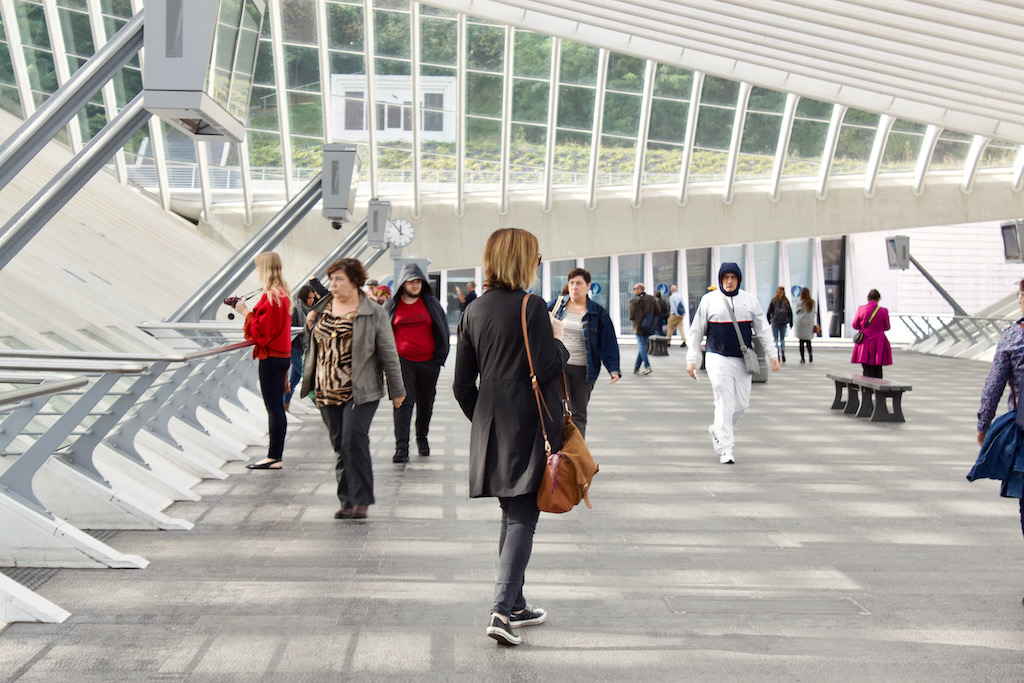 According to Calatrava: "The project has no facade in the traditional sense, since the interaction between interior and exterior is seamless. The monumental roof becomes, in effect, the project's facade. To an observer on the hill, the roof reveals something of the inner organization of the station. To an observer within the station, the arches frame provides comanding views to the outside. From any vantage point, the sensation of transparency prevails."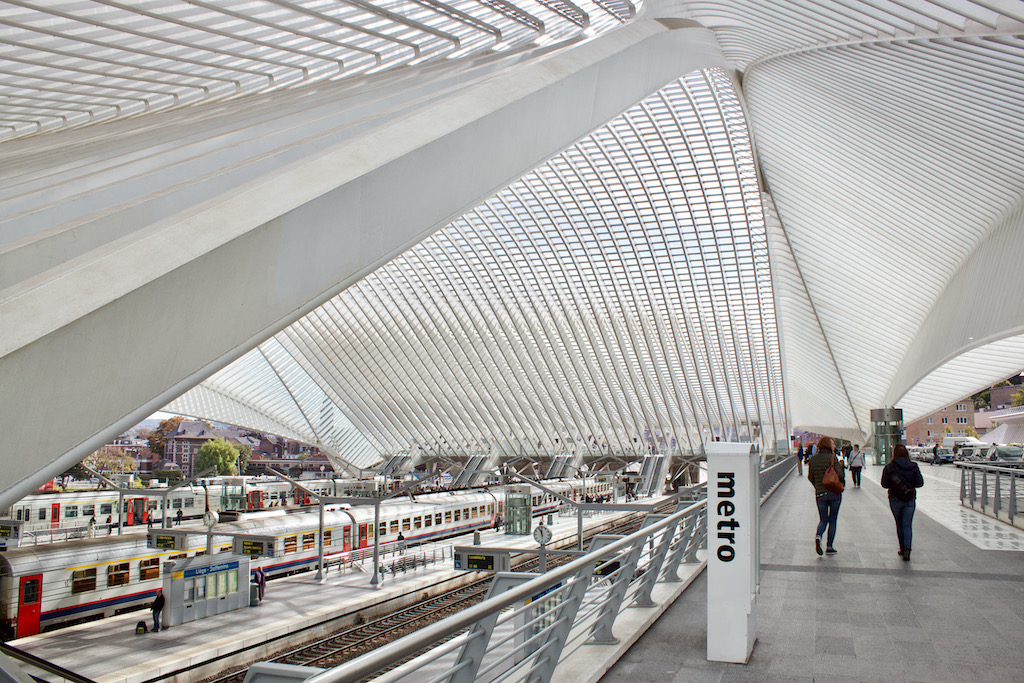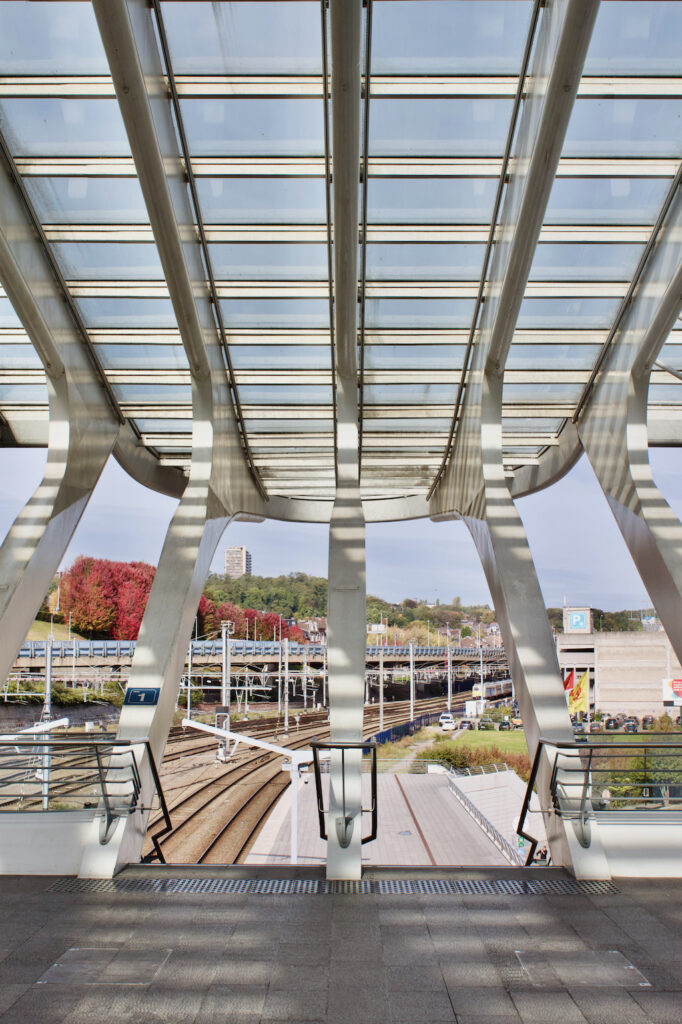 As you walk through the station, the arched glassed rooftop fills the space with ample light. That combined with the symmetry of the building's various curved surfaces, makes for one impressive train station. In fact, Liège-Guillemins railway station's flawless design even garnered the attention of Hollywood's filmmakers. The busy transit hub was used as a filming location for some American sci-fi flicks – Guardians of the Galaxy was shot there in 2014, and in 2019, Ang Lee's Gemini Man starring none other than Will Smith.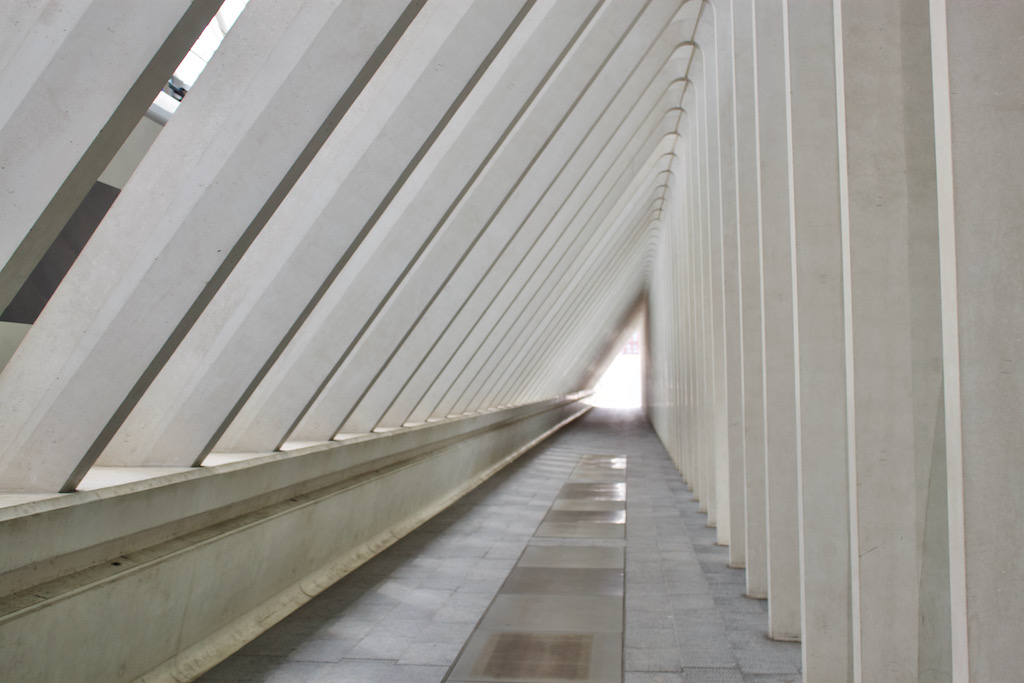 If you're a fan of architecture and photography (like we obviously are here on this blog), Liège-Guillemins railway station will delight you in every way.
What do you think of Liège-Guillemins Railway Station? Have you visited any other beautiful train stations around the world? Tell us about your favourites in the comments below.
Location Of Liège-Guillemins Railway Station
Just where can you find the train station? 4000 Liège, Belgium.
About Liège-Guillemins Railway Station
There are a few things you should know about the Liège-Guillemins Railway Station. We answer your most common questions.
1) What are the hours of operation? You can visit anytime, as it's a busy public railway station that operates 24/7.
2) Do I have to pay to enter the station? No, but if you're jumping on the city's public transport network or boarding a train leaving Liège, you'll need a ticket. Visit one of the ticket booths inside the station for more information.
3) How much time should I spend at the station? If you're visiting the station purely for touristic or photographic reasons, 30 – 60 minutes will suffice. This will give you time for people/train watching, walking around the station and its various levels and platforms, as well as take photos.
4) Another good question. Can you take photos at Liège-Guillemins Railway Station? Yes! And no permits are required.
Getting Around Liège
You can easily get around Liège in a number of ways. Here are the best local transportation options:
1) To arrive at Liège's city center, you can drive, take a taxi, shuttle service, or bus from the airport, as well as from the main bus/train stations:
The Liège Airport (LGG) is about 12 kilometers outside the city center. While it mainly services cargo flights, low-cost airlines also tend to fly there. You can take buses 53 or 57 for about €3 and be in the city center within 20 minutes. Note, bus 57 doesn't run on weekends or holidays. Another option is the Liège Airport Shuttle, which will bring you to the city's main station (the very one highlighted in this post!). Shuttle fares are between €7 – €10. You can also travel by taxi, with Melkior Taxis or Taxi Liège. The ride also takes about 20 minutes, and the fare will run anywhere from €25 – €30.
Trains and buses typically arrive at Liège-Guillemins Railway Station, which is about three kilometers outside the city center. From here, you can take public transit, and hail a taxi to arrive at your destination fairly quickly. If you're up for walking, you'll be in the center in 30 minutes or less.
2) The best ways to get around Liège include:
Bikes – The city center is fairly easy to bike around, while the hilly outer parts of the city can prove more challenging. Busy rides are said to be especially dangerous for cyclists, so do be careful. You can rent bikes from companies like Blue-bike and Pro Velo.
Public Transit – Check out the TEC website to plan your route and find out related costs.
Ridesharing – Companies like Uber and Bolt don't offer services in Liège at the moment. If you know of any local ride-sharing service, let us know in the comments.
Taxis – Use any of the taxi companies listed above to get around the city quickly and safely.
Driving – If you don't have a car of your own, rent a car to make your way around the Liège.
Where To Stay In Liège, Belgium
Options about where you can stay in Liège, Belgium:
1) To find somewhere to stay while you're in Liège, check out hotels, hostels, and private apartments with booking.com.
Paying For Things In Belgium
Tips and tricks to help you manage your finances when you're on holiday in Belgium:
1) Belgium uses the Euro:
See xe.com to find out how your currency fares against the Euro.
Most places accept bank or credit cards. There are also bank machines everywhere, in case you need to get some cash.
If you pay by card, you may be asked which currency you want to pay in – choose to pay in Euros over the currency of your home country, as you'll save money on the exchange rate.
2) Belgium tends to be more on the expensive side, compared to other European destinations, so you may find yourself needing to budget when it comes to accommodation, eating out, and more. Be sure to budget and plan ahead, so you can make the most of your time in the country.
3) If you can avoid doing so, exchange your money in the city center, as exchange rates at the airport stands tends to be quite high.
Good To Know About Liège, Belgium
There are some other things that are good to know about Liége:
1) One of the best ways to get to know Liége, or Belgium for that matter, is by partaking in a guided tour.
2) Is Liège safe for travellers? Generally speaking, Belgium is fairly safe and doesn't have high levels of crime. That said, Liège has one of the highest crime rates in the country with pickpocketing and other forms of theft being commonplace. So keep an extremely close eye on your belongings when out and about in tourist hotspots. During dinner one night in Brussels, I actually stopped a thief when he tried to steal my companion's purse! Racism exists everywhere, but if you're a person of colour or of the Muslim faith, it's also quite possible you'll experience incidents of racism.
3) If you like Belgium, take a look at some of our reader's favourite blog posts:
*Disclosure – This post contains some affiliate links. If you book a tour or hotel, I'll earn a tiny commission at no extra cost to you. Thanks for your support!