Fans of unusual places and things are always on the lookout for cool spots whenever they visit new cities. When I visited Vilnius, the first thing I sought out was the controversial Trump and Putin street art mural. I was eager to see it with my own eyes, take photos, and write about it here – and these days, it remains one of my blog's top-performing posts.
After taking joy in the street art depicting those two "dick-tators," I explored more of the city, going out of my way to see another quirky attraction, Literature Street in Vilnius.
Recommended reading: If you like weird and offbeat attractions – check out some of our related posts, like the Brno ossuary packed full of skulls, the piece of the Berlin wall in Iceland, and the Nikola Tesla Museum in Belgrade.
Literatų Gatvė (Literature Street) In Vilnius, Lithuania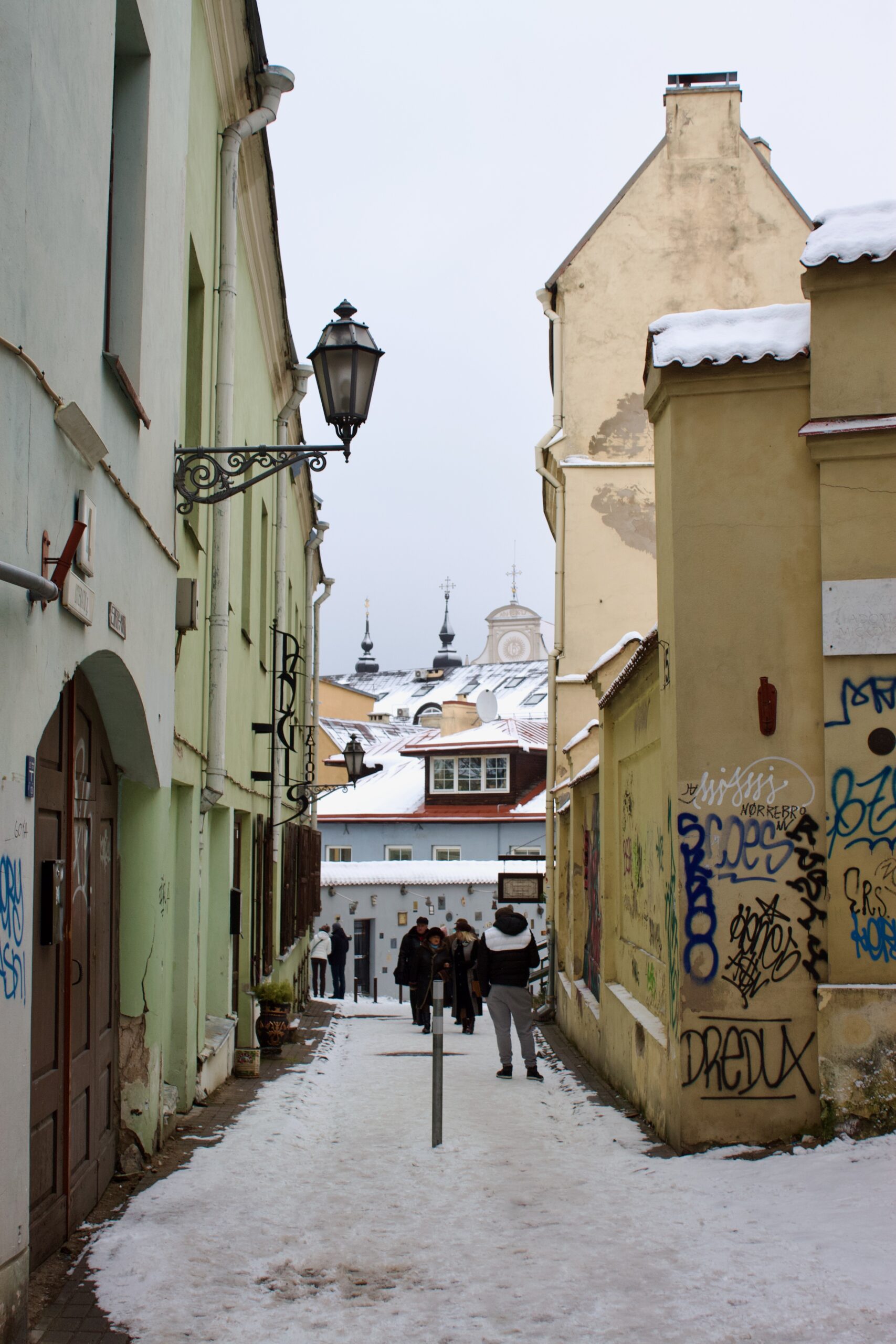 In the heart of Vilnius' Old Town, you'll find a short, narrow pedestrian street. Called Literature Street (Literatų Gatvė), it features a unique public artwork that pays tribute to more than 200 (mostly) Lithuanian authors. While the majority of authors are from Lithuania, others are highlighted who hail from places like the US, Ukraine, France, Latvia, and more, due to having a connection to the country. Adorned on various walls, each author has a small decorative plaque dedicated to them.
A group of local artists dreamed up the art installation in 2009 when Vilnius was the European Capital of Culture. The group wanted to do something meaningful that would honor the small Literature Street. They started by placing a few plaques, and the effort only gained momentum over the years until they reached more than 200.
The plaques on the walls along Literature Street In Vilnius are all uniquely designed, coming in varying shapes, sizes, and colors. Many of them aren't flat and emerge from the wall. They also contain different materials like metal, wood, glass, and ceramic. You'll find author portraits, quotes from their work, paintings, and odd sculptures like a set of teeth, a fan, and even knives. Placed next to one another, it makes for an unusual and very interesting art installation.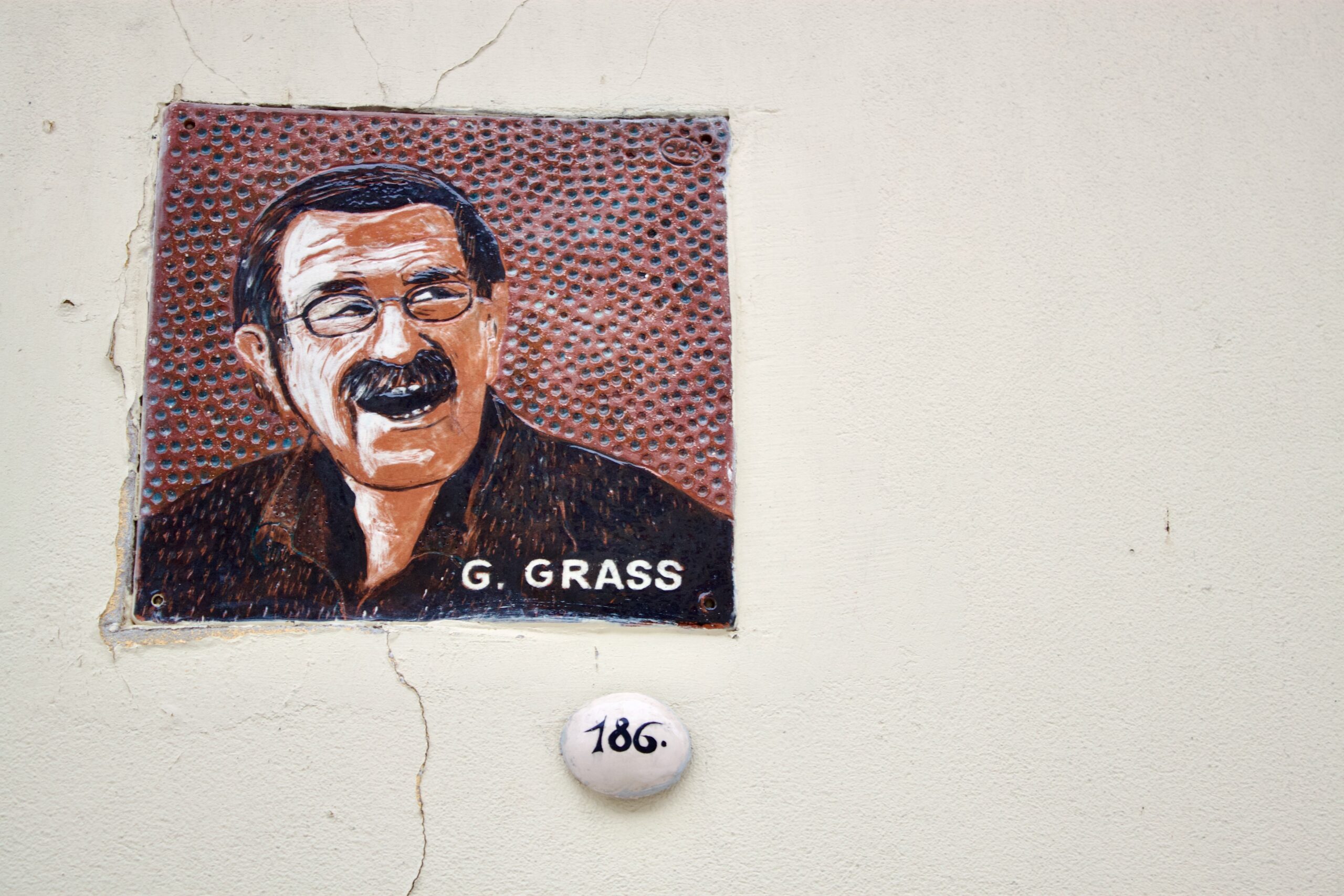 Literature Street in Vilnius is one of the city's most visited attractions, frequented by locals and tourists. Some visitors find the context of the plaques hard to understand as many are unfamiliar with Lithuanian writers. Fortunately, there are information boards telling you about each plaque, including who designed it and which literary figure it's celebrating.
If anything, examine all of the different plaques and appreciate the work that has gone into them. Even better, take a deep dive into Latvian culture by looking up some of the writers and reading their books, poems, etc.
What do you think about Literature Street in Vilnius? Do you have any other city tips for our readers? Let us know in the comments.
Literature Street In Vilnius Location
How can you locate Literature Street in Vilnius? Literatų Gatvė, Vilnius 01125, Lithuania. It's not far from the intersection of Literatų and Rusų streets and just off the main drag, Pilies street near the small market.
Literature Street FAQ
What you need to know before you visit the library:
1) How do you find out more in-depth information about Literature Street? Visit this blog.
2) When can you see the street? You can visit anytime, as it's in a public space.
3) Do you have to pay a fee to check out Literature Street? This piece of Lithuanian public art is free to enjoy.
4) Can you take photos and videos of the plaques? Yes, you can. Apparently, it sometimes gets busy with people taking selfies and other types of photos. Do be courteous of fellow tourists and take your snaps quickly. Their experience of looking at the plaques shouldn't be interrupted for the sake of your photo shoot.
5) How much time do you need on Literature Street? I'd recommend at least 30 minutes to observe the plaques and take photos.
6) Is the art installation suitable for kids? Some kids might like some of the more interesting plaques, but I can imagine that this isn't the most exciting thing for children.
Transportation Options In Vilnius
How to best get around the Lithuanian capital:
1) To reach Vilnius's city center, you can drive, take a taxi/ride-share, bus, or train:
From the airport

: Vilnius International Airport (VNO) is only six kilometers from the city's center:

Avoid taking the taxis parked at the airport as they enjoy over-charging tourists. Better is using Bolt or Uber once you arrive, which will cost you around €5 – 6. The address of the airport is Rodūnios kl. 10A, Vilnius 02189. Both companies have special pick-up areas which can be found via the apps. The ride into the city shouldn't be more than 10 – 15 minutes. You can also rent a ride-share with citybee.
Buses are the most budget-friendly way to go and run as frequently as every 10 minutes. It's recommended to download the Trafi app to purchase your ticket. Tickets are bought in blocks of time, and a 30-minute ticket for €0.65 is sufficient to get you into the city. You can also buy a ticket directly from the bus driver for €1 (cash only). You can take buses 1, 2, 88, or the 3G express bus. There's also a night bus, 88N. A journey should take you anywhere from 15 – 20 minutes. More info.
Trains depart VNO every 40 – 60 minutes and will bring you to the central train station (Geležinkelio Stotis) in less than 10 minutes. A single ticket is only €0.70 and can be bought online, on the train, and at the railway station.

From the main train station

 – From the central train station, you can easily walk to the city center in just over 10 minutes. Optionally, take public transit, and use Bolt, Uber, or Citybee to get where needed.

From the main bus terminal

– The bus station is located next to the train station, so your options are the same as outlined above.
2) There are various ways to navigate Belgrade:
Taxis

– As taxi scams are rampant, we recommend avoiding using them completely. Instead, use Bolt or Uber.
Ride sharing (driving on your own) – citybee allows you to quickly and easily rent a car. Note, that you'll need to present a valid driver's license to complete registration.

Bikes

– Use Cyclocity to make your way around Vilnius.

Public Transit

– Visit the city's public transit page for detailed information.
Where To Stay In Vilnius
Check out these places to stay in Vilnius, Lithuania:
1) Book a hotel, hostel, or private apartment for your time there:
Paying For Things in Vilnius
How to handle your finances when you're traveling in Lithuania:
1) Lithuania uses the Euro (€):
Check xe.com to find out how your local currency fares against the Euro.
While most places accept bank or credit cards, smaller shops may only take cash. Get cash at any ATM just in case.
If paying by card, you may be asked which currency you want to pay in – choose to pay in the local currency to save money on the exchange rate.
2) Lithuania isn't as expensive as some Western and Central European destinations, so you might be able to splurge a bit more on your accommodation, eating out, and more.
3) Don't do currency exchange at the airport – wait to exchange your money somewhere in the city as the exchange rate at the airport tends to be high.
Good To Know About Vilnius
Other things to know about Vilnius, Lithuania
1) To further experience the city, book a guided tour.
2) If you're a fan of European travel, read some of our other features:
*Disclosure – This post contains some affiliate links. If you book a tour or hotel, I'll earn a tiny commission at no extra cost to you. Thanks for your support!