When visiting Iceland, the last thing you'd expect to find there is a piece of the Berlin Wall. Why is it there and just how did the Berlin Wall come to Reykjavik? In my continued mission to explore unusual places and things around the globe, I sure wasn't going to miss checking out the Berlin Wall in Iceland.
Recommended reading: Some of our favorite articles about unique places around the world like The Heroinat Memorial In Pristina, Kosovo, Who's Bad? The Michael Jackson Memorial In Munich, Germany, and The Skull Cathedral In Otranto May Be The Most Scary Place In the World.
A Piece Of The Berlin Wall In Reykjavik Iceland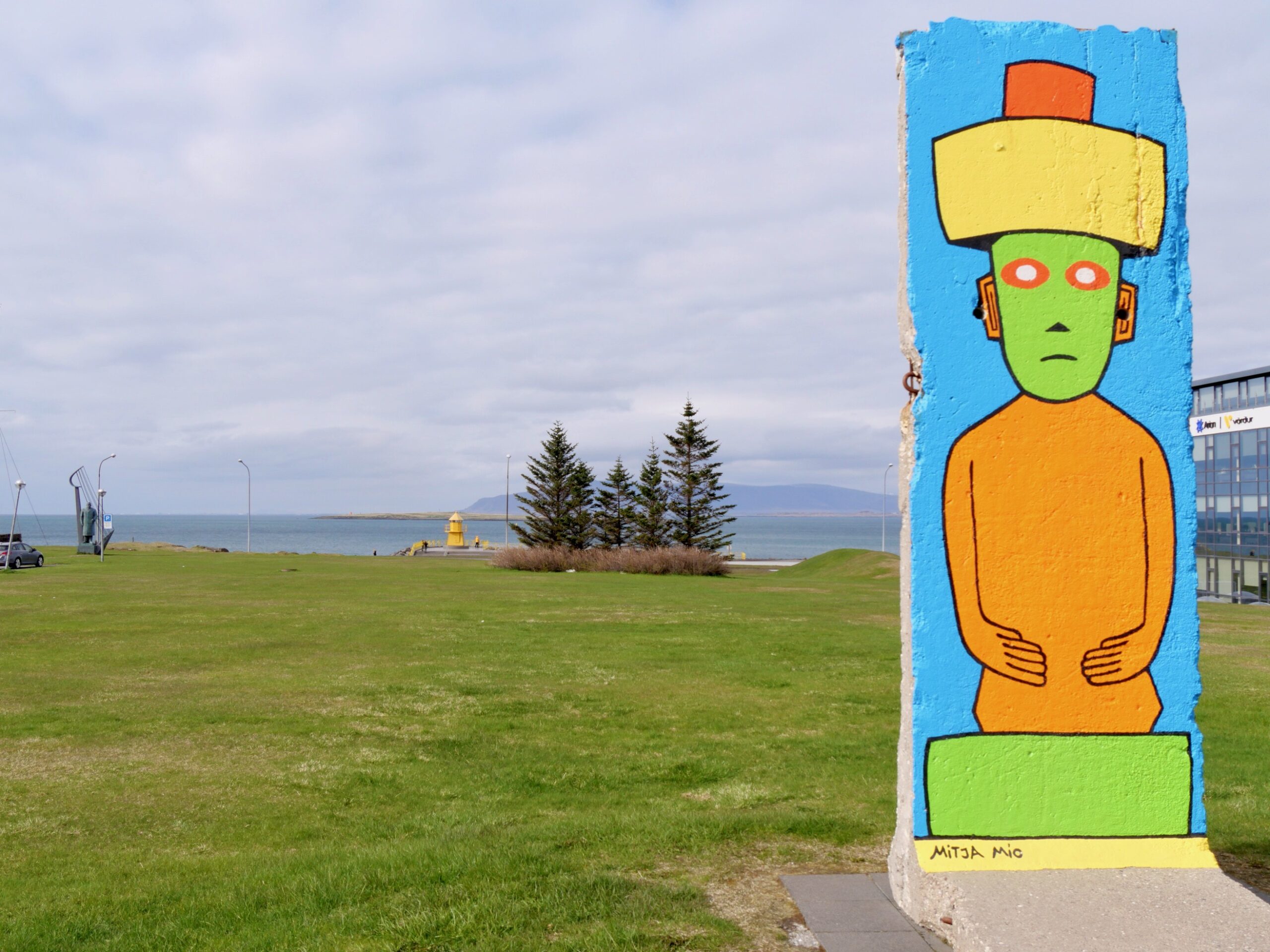 The concrete slab was gifted to Iceland by the Neu West art gallery in Berlin to commemorate the 25th anniversary of German reunification in 2015. The piece of the Berlin Wall in Reykjavik, Iceland was placed at Höfði House, along the city's waterfront. Back in 1986, the site played host to a significant meeting of the two Cold War powers at the Reykjavík Summit – when American president Ronald Regan met with the Soviet Union's Communist party leader, Michael Gorbachev. This meeting is considered one of the historic events that contributed to the fall of the USSR.
Recommended reading: Why Is There A Ronald Reagan Statue In Budapest?
The Berlin Wall was constructed by the Soviets in 1961 and divided the German capital into two, separating the East (controlled by the former Soviet Union) from the West (controlled by the Allied powers, namely Britain, America, and France). The wall not only halved the city itself but tore families apart. It trapped people in the East, preventing them from escaping to West Germany. This Russian form of oppression finally came tumbling down in 1989 with the breakup of the Soviet Union.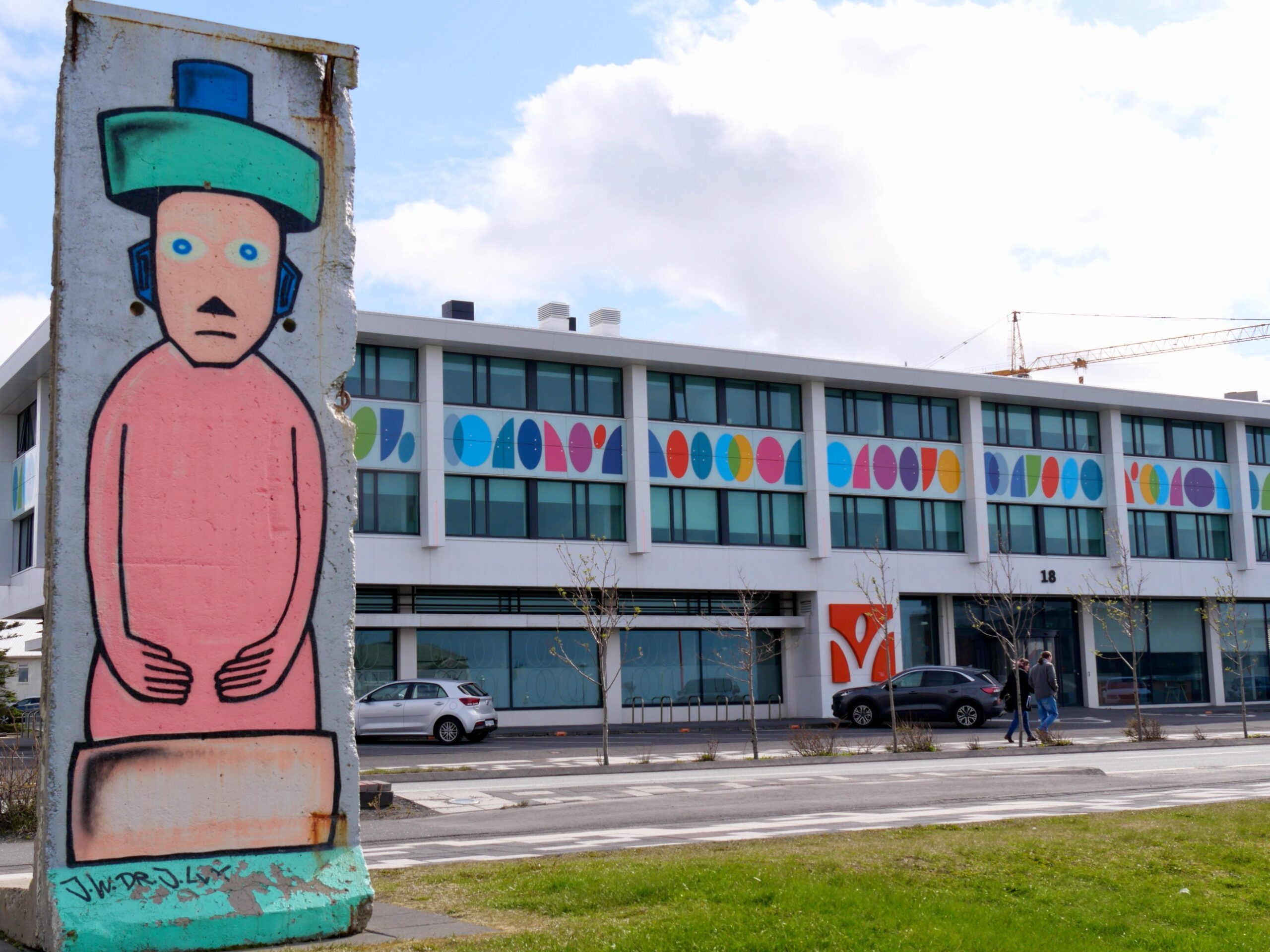 In appreciation for hosting that summit, Germany gifted a piece of the wall to Iceland (as they have to other cities around the globe). It further serves to strengthen the bond between Berlin and Reykjavik.
As reported in The Reykjavik Grapevine at the time:
"I think it's very good that [the wall portion] is in Reykjavík and not in Germany anymore," German ambassador Herbert Beck told attendees. "I consider it to be a worthy symbol of democracy, and a change from totalitarianism to freedom. Icelanders are a rather liberal people, and this is a fine testament to that. I am ecstatic to see this here."
The section of the Berlin Wall in Reykjavik weighs in at 4 tons and is 3.7 meters high. The designs on each side of the wall were done by German artist Jakob Wagner from the LuxPopArt group.
According to Espionart:
Design "entitled 'Mao I' and shows a figure inspired by the mysterious monolithic heads of Easter Island – an apt reference point for its placement on an empty strip of land overlooking the sea. Wagner's figures appear in fluorescent pink, orange, yellow, blue and green, a nod to the vividness of the figures created since 1984 by Thierry Noir, the first artist to paint on the wall."
Unfortunately, due to Iceland's severe weather conditions, the wall had to be repainted by the artist after the paint started peeling away. When Wagner repainted the piece, he took care to use weather-resistant materials.
Recommended reading: See This Putin & Trump Street Art in Vilnius, Lithuania
Watch/share this video about the Berlin Wall in Iceland and better yet, subscribe to my Youtube channel for even more travel-related videos.
What do you think about seeing a part of the Berlin Wall In Reykjavik, Iceland? Do you have any other Reykjavik city tips? Your comments are welcomed below, as well as any other Iceland tips you'd like to share with our readers.
The Berlin Wall Location
Just where can you see the Berlin Wall in Reykjavik? Go to Höfði, Fjörutún, Reykjavík, Iceland. The exact GPS coordinates are 64.145714, -21.904706.
Iceland's Berlin Wall FAQ
Some of the most frequently asked questions about the piece of the Berlin Wall in Reykjavik, Iceland:
1) When can I see the wall? You can visit anytime, as it resides in a public space.
2) What's the closest metro stop? Reykjavik is pretty small. If you can, walk there or ride there on a scooter using one of the local ride-sharing services. Hlemmur is the nearest bus stop and alternatively, the Berlin Wall piece is a stop on the city's hop-on/hop-off bus tours.
3) Do I have to pay to see the Wall? Nope! This piece of public art is free for all to enjoy.
4) How much time do I need to see the Wall? Not more than 5 – 10 minutes.
5) Can I take photos? Yes, indeed!
6) Is this attraction suitable for children? It's family-friendly but small kids probably won't be too interested in seeing a piece of the Berlin wall.
Getting Around Reykjavik
Here's an overview of the best transportation options to help you make your way around the Icelandic capital:
1) International flights land at Keflavík Airport (KEF), about 50 kilometers southwest of Reykjavík. To get to the city center, you can take a shuttle bus, or public bus, take a taxi/chauffer service, or drive a rental car:
Shuttle Service – The easiest way to get into the city is via a shuttle service. It will cost anywhere from €20 – 25 for a one-way ride, which you can expect to take 45 – 90 minutes (depending on the company and service you choose). You can book with Flybus or Gray Line Airport Express. With Flybus, you can choose to be dropped off at their bus terminal (BSI) and make your way to your hotel on your own. Check the distance between BSI and your hotel and if it isn't close, you can ask to be taken directly to your hotel. You will then take a separate bus to get there. Gray Line's bus terminal is quite far outside of the city, so your only option is to book a drop-off at your hotel. Expect to transfer to another vehicle at their bus terminal before continuing into Reykjavik. You can skip out on having a transfer altogether and get taken directly to your hotel with Airport Direct and Gray Line Premium. It will cost around €40 – 45, but is cheaper than a taxi or private chauffeur service and will get you there faster than the regular shuttle service.
Public Transport – The cheapest way to get into Reykjavik is to take the public airport bus, 55. The schedule for this bus is limited, so check ahead of time. Note, because of the many stops, the journey will take longer than the shuttle service. A ticket will cost about €15 for a one-way journey.
Taxi / Chauffer – Taking a taxi is the most expensive option and is frankly overpriced. You can pay upwards of €200 for a one-way trip to Reykjavik. Oddly, a chauffer service is slightly cheaper, seeing you pay about €150. Note, there are no Uber or Bolt services in Iceland.
Car Rental – Last but not least, you can rent a car and go around Iceland at your own pace. Book a rental well ahead of your vacation to ensure the car you'd like is available. Top companies include Go Car Rental Iceland, Dollar Rent A Car, and Cars Iceland.
2) The best ways to get around Reykjavik:
Where To Stay In Reykjavik
Highlights on where to stay when visiting Reykjavik:
1) Look for places to stay on booking.com:
2) I stayed in numerous places when visiting Reykjavik. For budget-friendly accommodations, go with Kex Hostel or Loft High Hostel. For a more luxurious stay, go with 101 Hotel or Hotel Borg. You can also check out my personal reviews of 101 Hotel and Hotel Borg.
Paying For Things In Iceland
Things you need to know about paying for things in Iceland:
1) The Icelandic króna is the official currency of Iceland:
Check xe.com to see how your local currency fares against króna.
Most places accept bank or credit cards. I didn't visit an ATM to withdraw cash when in Iceland.
When paying by card, you may be asked which currency you want to pay in – choose to pay in króna to save money on the exchange rate.
2) Iceland is a very expensive country, so expect to dole out a lot of money for tours, accommodation, to eating out, and more. Do your research and plan your budget ahead of time, so you can have the best vacation possible in this dream destination.
Good To Know About Iceland
Other good-to-know items about how to have the absolute best vacation possible in Iceland:
1) One of the best ways to experience Iceland is to take a tour with Get Your Guide:
2) Iceland is one of the safest places in the world, if not the safest. As a solo female traveler, I never once felt uncomfortable or worried. People of color should also be able to feel safe there – give this Reddit thread a read for more insight.
3) If you like traveling through Europe, give some of my other posts a read:
*Disclosure – This post contains some affiliate links. If you book a tour or hotel, I'll earn a tiny commission at no extra cost to you. Thanks for your support!