Just as I sought out unusual things to see while in Amsterdam, I naturally wanted to rest my pretty little head in a rather quirky hotel. And it turned out that the Lloyd Hotel perfectly fit the bill. I loved, loved, loved my stay there, and even years later, still think about my experience at the hotel.
Note – As of December 2022, the hotel is temporarily closed and under renovation. It's expected to reopen in the spring of 2023, under new ownership.
The Most Unusual Hotel Out There? The Lloyd Hotel In Amsterdam
There are numerous reasons why the Lloyd Hotel really stands apart from others. Like seriously, there isn't another hotel anywhere in the world like this one.
So what makes this hotel so unique? It's located in a cool area of Amsterdam, away from the tourist crowds. They regularly host art exhibits and cultural events. They feature 116 rooms designed by local artists, where no two are exactly alike, and oddly, range from one through five stars. What's more, the building itself has a very dark past and was once used as a prison by the Germans during WW2.
The Lloyd Hotel's Location
Arriving late one cold morning in December, I tiredly stumbled off the tram and glimpsed the hotel just off into the distance. I was immediately impressed with the building's stately appearance and how conveniently close it was located to the tram stop. The building overlooks a wide expanse of water and even has its own dock!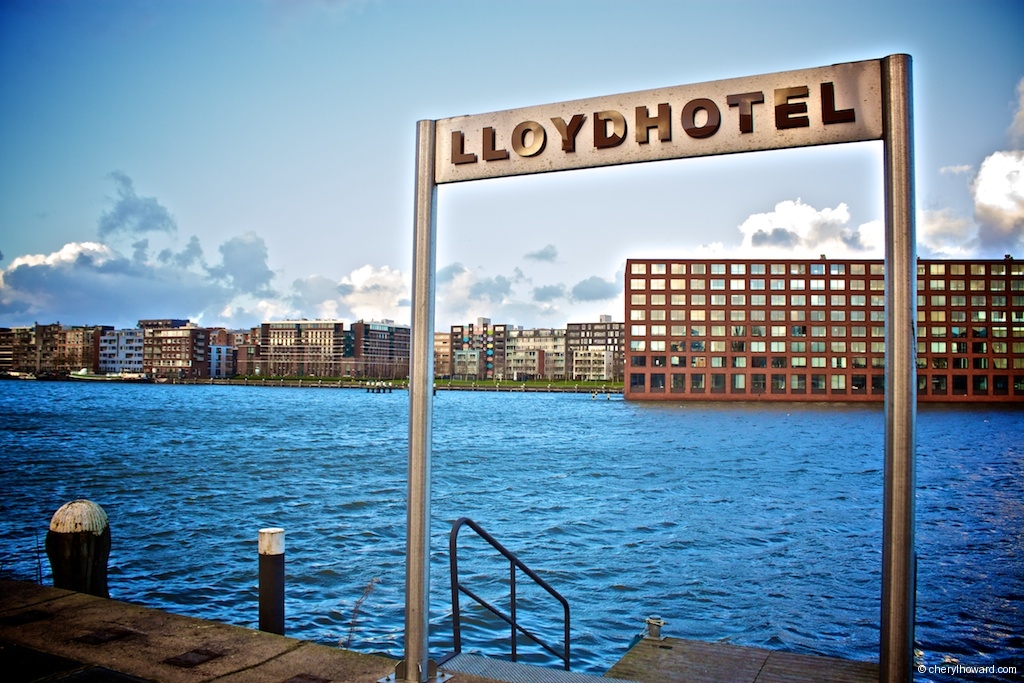 Situated in the revitalized Eastern Docklands area, the hotel is a quick 10 – 15 minute tram ride away from Centraal station. Perched along one of the city's widest canals, the über cool neighborhood is full of art galleries, trendy restaurants, and sleek modern architecture.
The Lloyd Hotel's History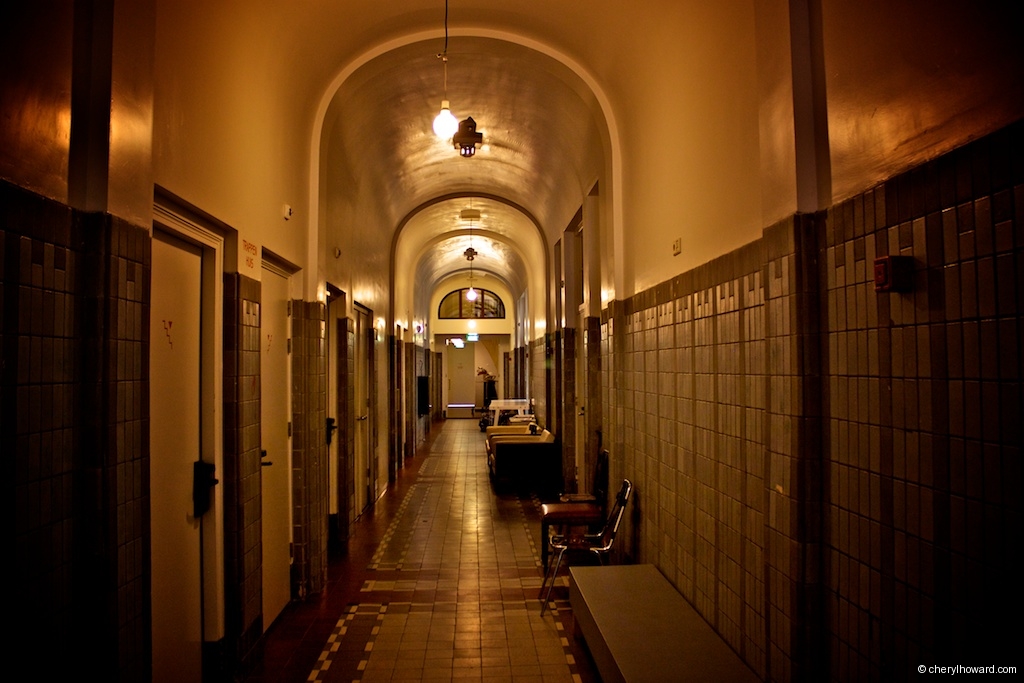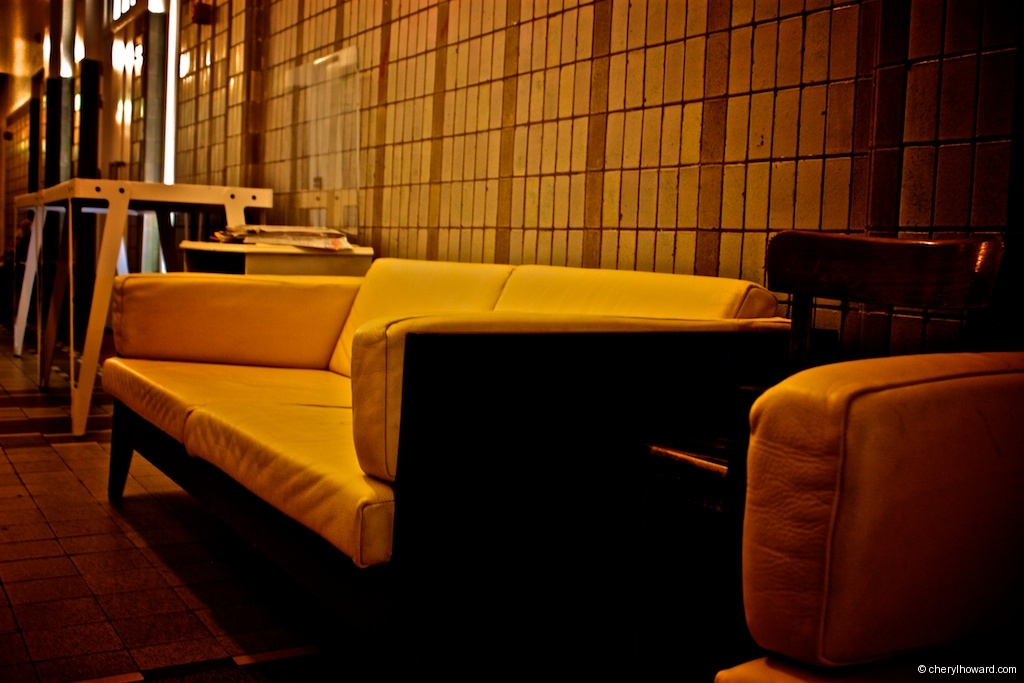 As mentioned briefly above, The Lloyd Hotel has a rather storied past. Built in the early 1920s, the building was commissioned by the Royal Dutch Lloyd Shipping Company as a boarding house for Eastern European migrant workers en route to a new life in the Americas. It all changed during WWII when the Germans used the building as a remand prison. In subsequent years, the building was used as a detention center for young offenders and later, as a collection of artists' studios. It eventually fell into neglect and disrepair, remaining that way until the late 1990s.
It was then that over 50 designers and artists came together to transform the space into the hotel and cultural hub that it is today. While much of the original (creepy!) interior remains intact, some of it was removed so that daylight pours in through the sixth-floor skylights. It opens up the space and goes a long way to reducing the institutional feel.  
After checking in and getting the key to my room on the fourth floor, I exited the lift and came upon the long hallways pictured above. I'll admit it was totally creepy and I loved every single moment. The hotel also likes to encourage interaction between their guests and communal spaces are set up in the hallways.
The Wallpaper City Guide aptly put it when they wrote: "The Lloyd was given a new lease of life by the big stars of Dutch design."
The Transformation Of The Lloyd Hotel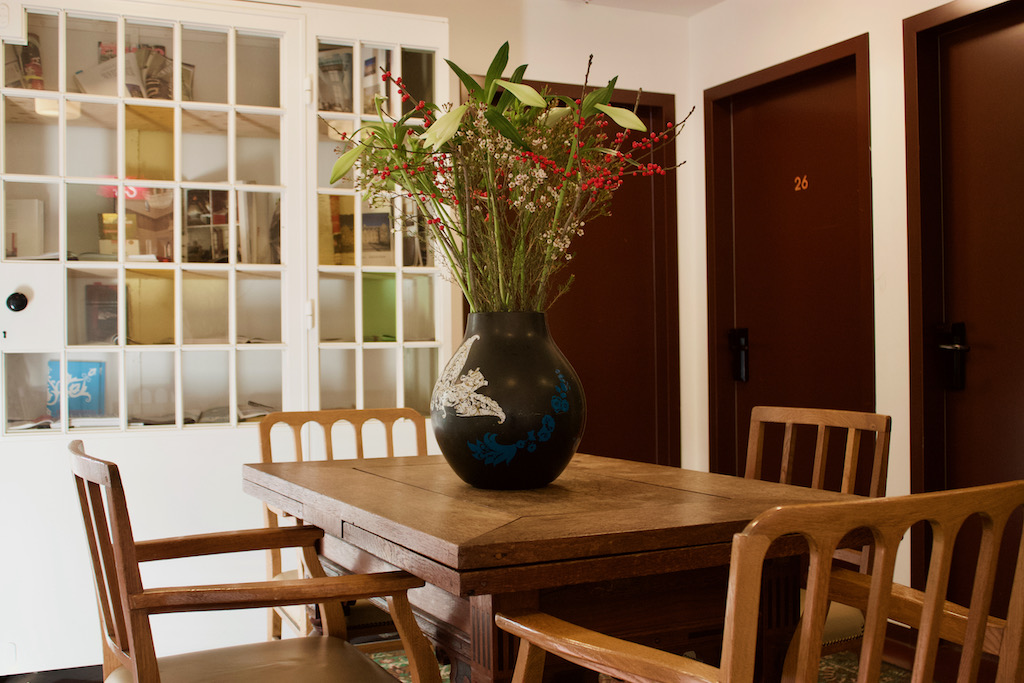 The hotel now boasts 116 quirky and eccentric rooms in which no two are exactly alike. The rooms are full of unique artwork like unusual lamps or beautifully detailed curtains. Historical significance has also been preserved through the continued use of original tiling and restoration of antique trestle tables from Lithuania. Most bizarre is a room with a bed for eight people, another with a swing, and others with hidden "fold away" bathrooms.
You're probably thinking that this place must be super expensive. Well, it doesn't have to be! If you're a budget traveler type, you can choose to stay in a one or two-star room. If you roll with rock stars and the Hollywood elite, you can book yourself into a four or five-star room.
The Lloyd Hotel Amsterdam Restaurant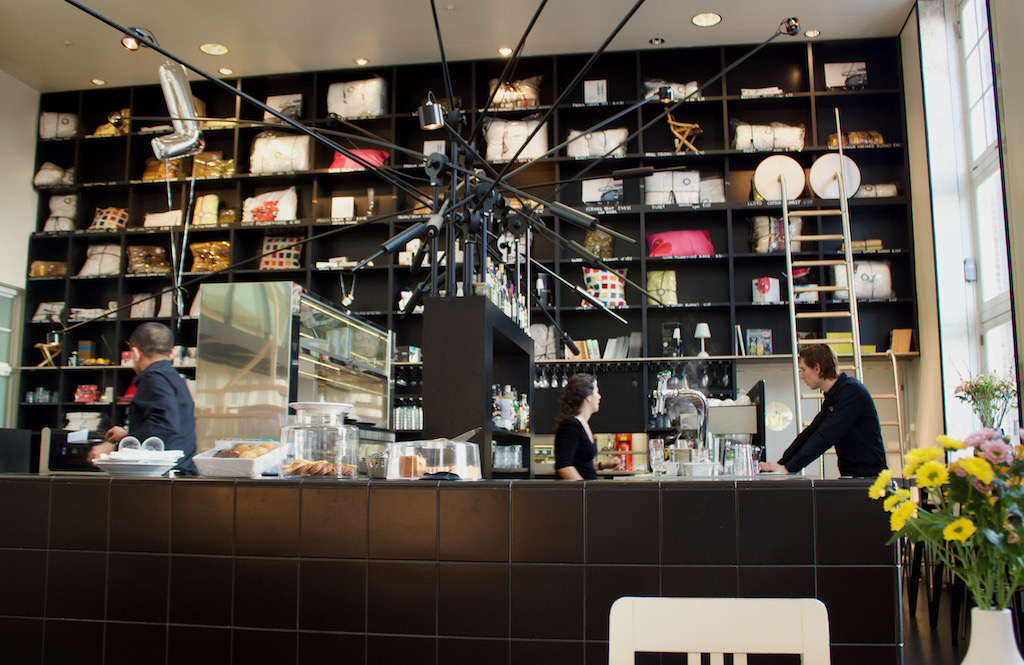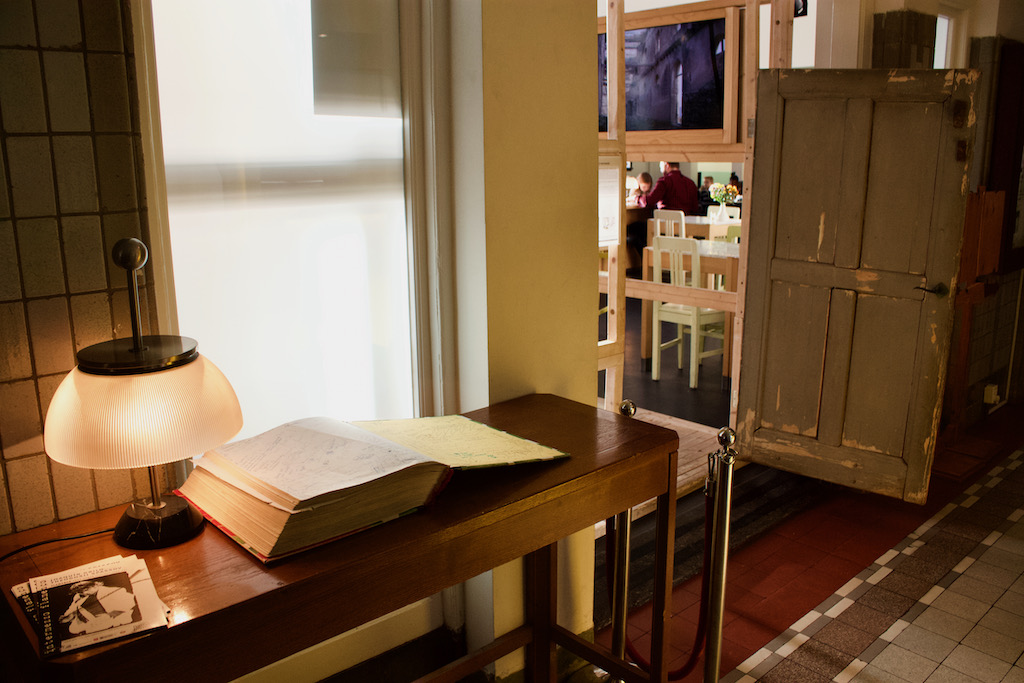 It's another stylish place in the hotel, and as with everywhere else in the venue, the artist's attention to design and detail is spot-on. I munched on a yummy sandwich with coffee.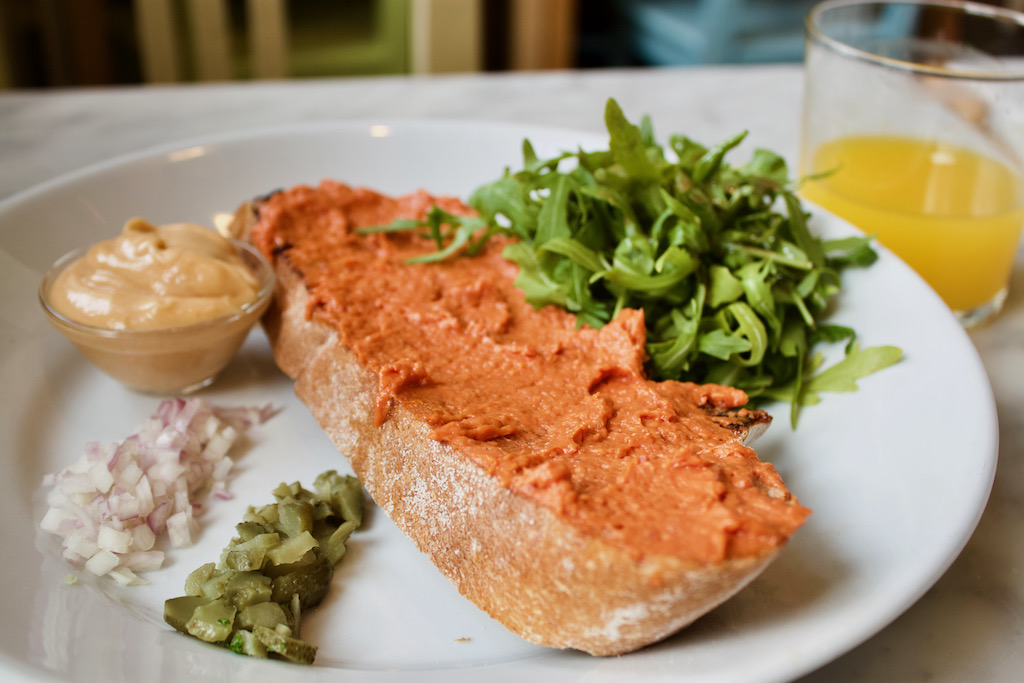 The Lloyd Hotel Amsterdam Common Area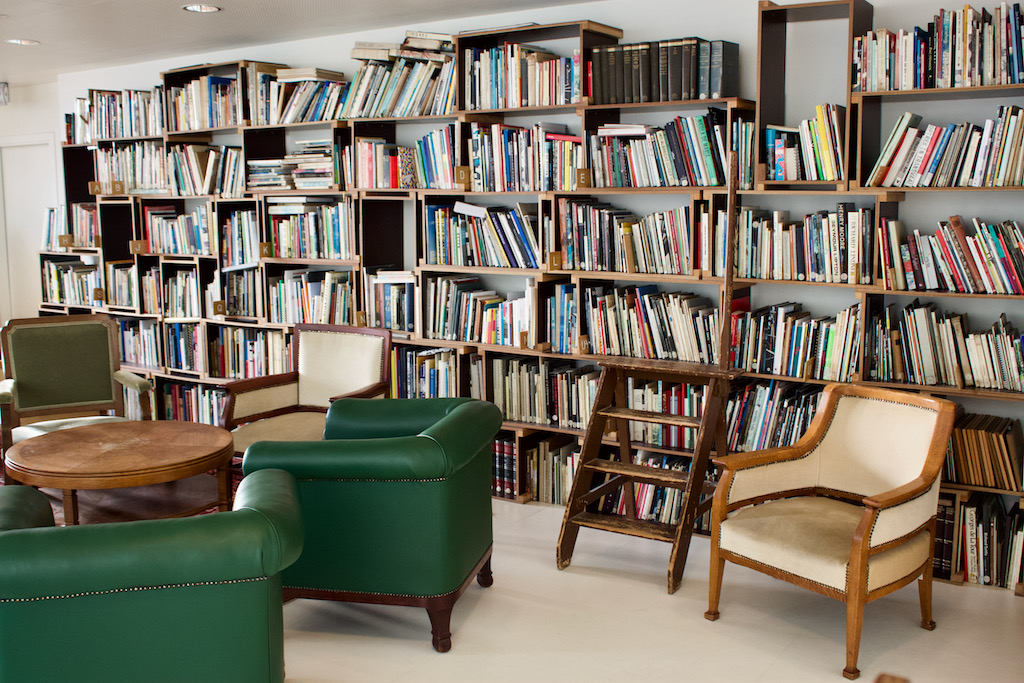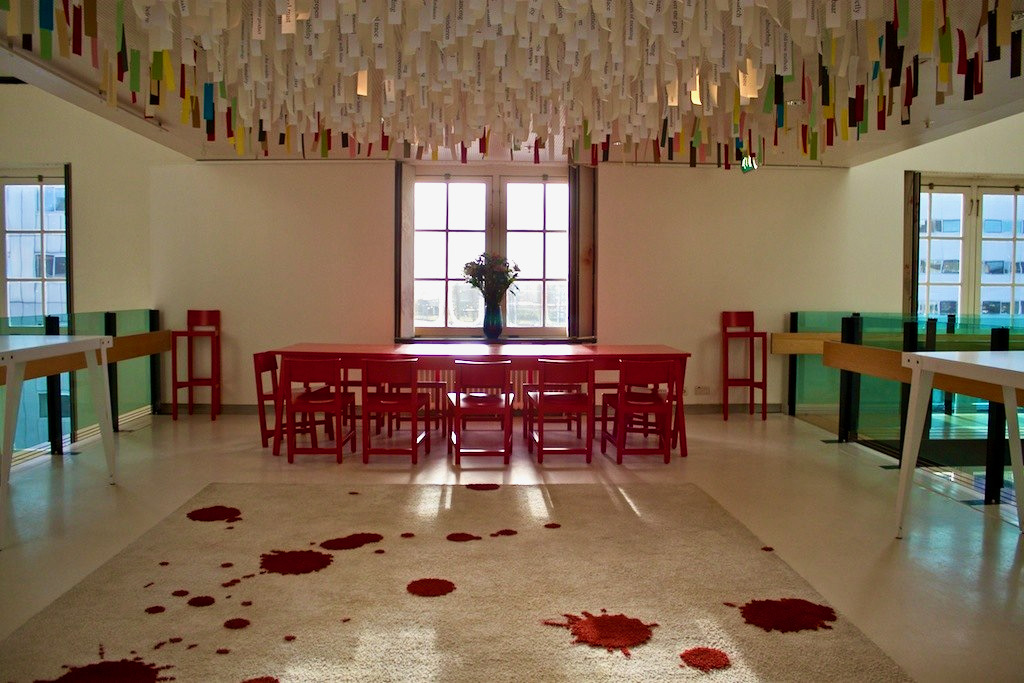 When you've finished drinking or dining at the hotel's restaurant, wander upstairs to a common area full of artwork and reading nooks. There are even more spaces than pictured and many of them are rented out as co-working spaces or for corporate events.
The Lloyd Hotels Room Offerings
During my stay at the Lloyd Hotel, I stayed in a one-star room and it was just great. I was also lucky enough to score a private tour of the hotel's varying room offerings with one of the owners.
Let me show you around this insane yet extraordinary place.
1) My One-Star Room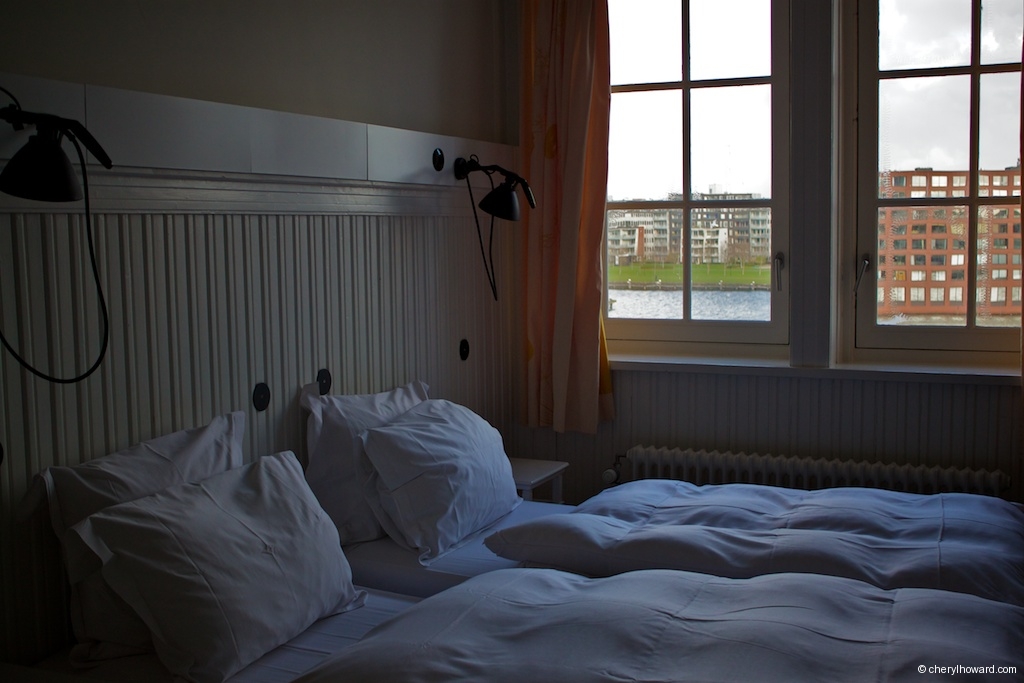 Entering my home away from home for the weekend, I was surprised and delighted to see the room was bright and airy with a lovely view. The room came equipped with two single beds, a small TV, and a large work area.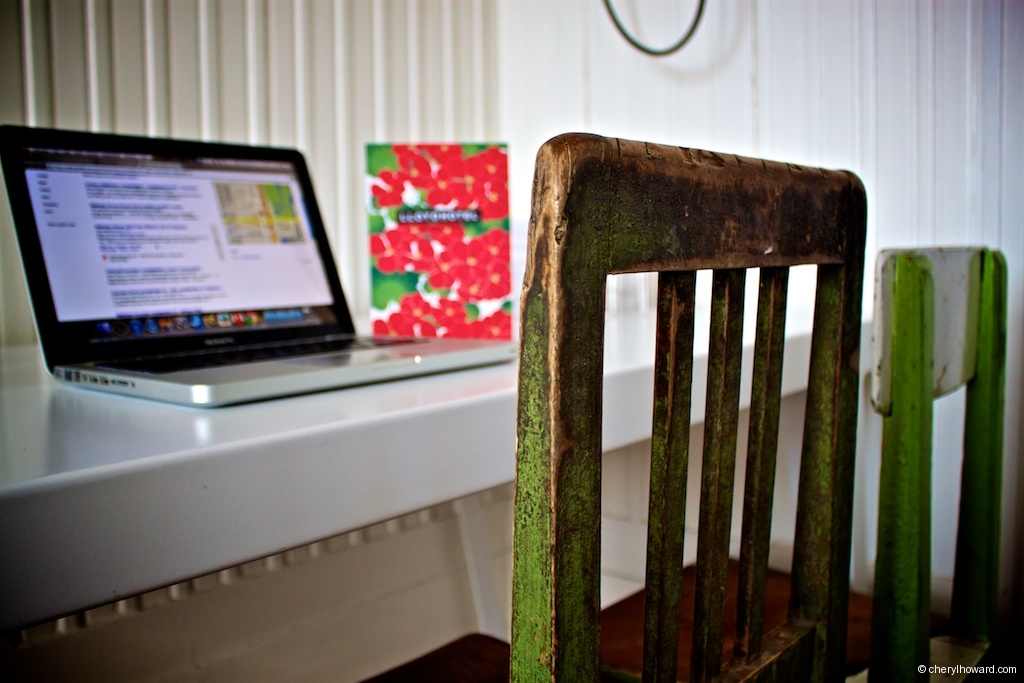 Oh, and there were even these lovely bathrobes, as well as comfy slippers. They're truly needed as a stay in a one-star room means you share a bathroom with others.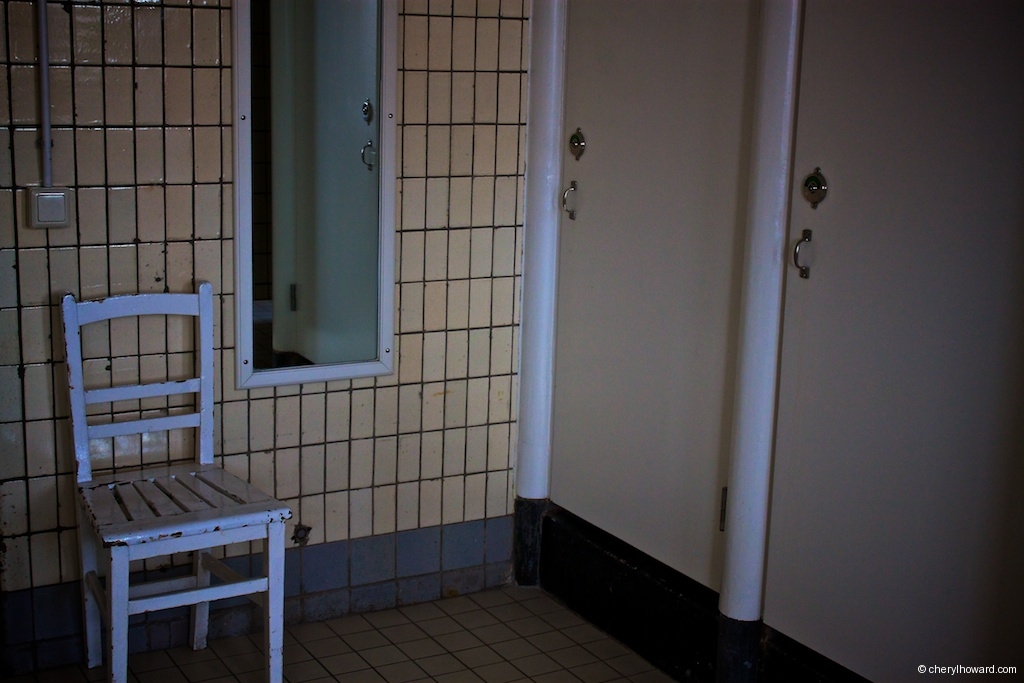 I wasn't really sure what to expect with the shared bathroom situation, but was again struck at how the Lloyd could take something like a communal bathroom, still retain some of the building's historical touches, and make it into something nice.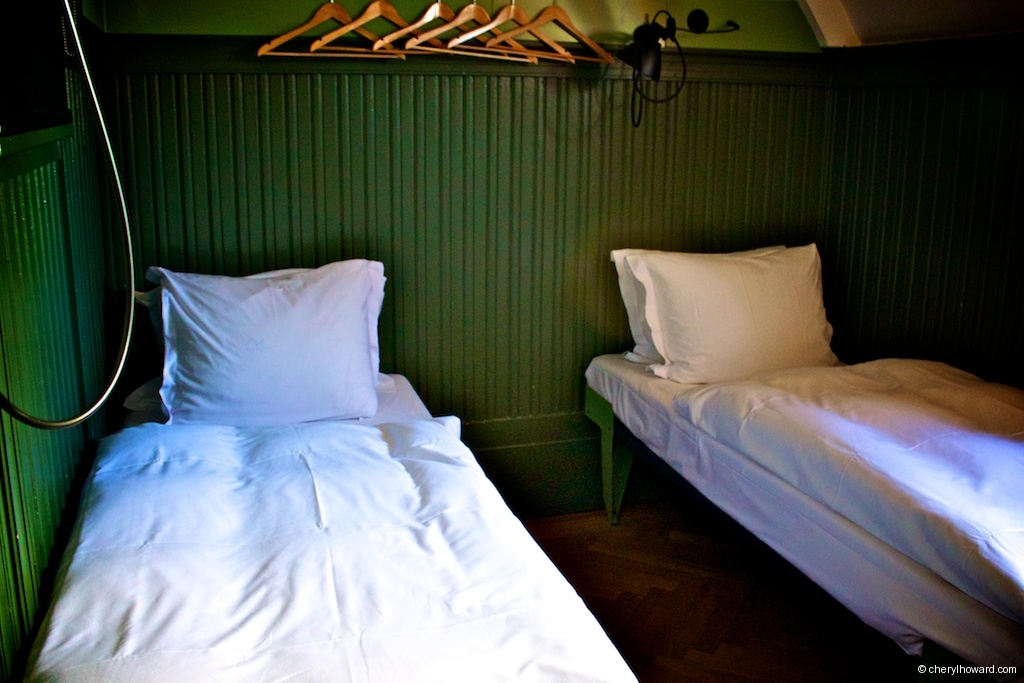 While touring the hotel with the owner, I also had a look at another one-star room. I actually liked mine better, as it was more spacious and had a better view. This one was still quite cute nonetheless. I especially love their use of the orange curtains and how they retained the building's original blue-green tiles.
2) A Two-Star Room
While I didn't view a two-star room myself, these rooms are known for being spacious and even having hidden "fold away" bathrooms. Yes, you read that correctly. Keep reading to find out how these babies work …
3) A Three-Star Room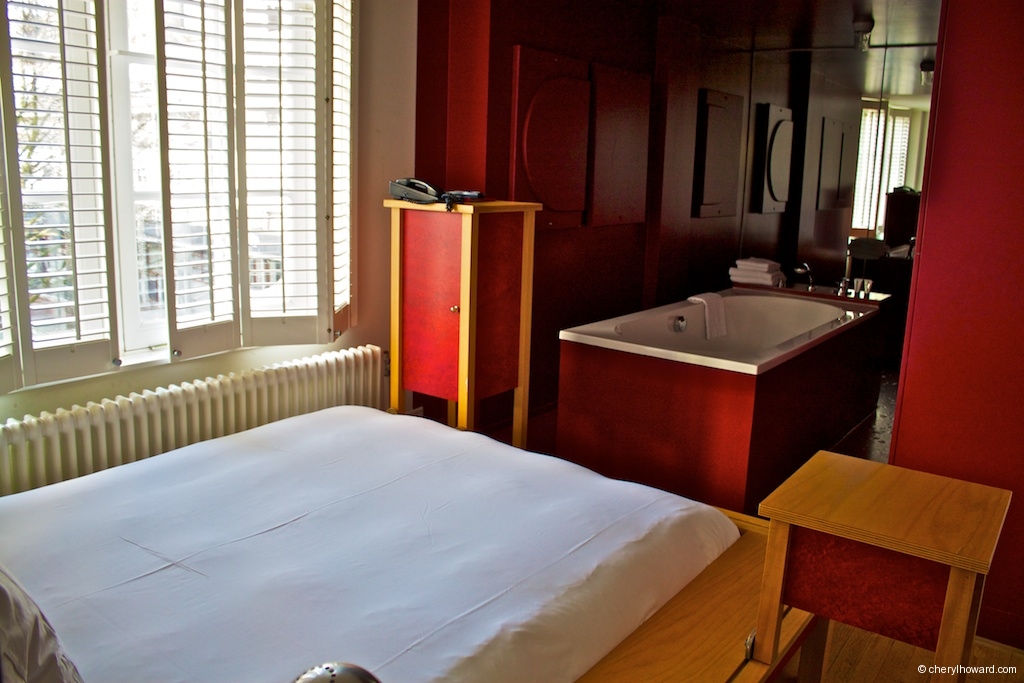 This is when things started to get really interesting. Some rooms feature bedside tables on wheels and those "fold away" bathrooms found in some of the two-star rooms.
We started by visiting a very red room, surely appealing to passionate lovers as there's a bathtub in the middle of the room. The bed also has a bedside table which you can freely move alongside the bed.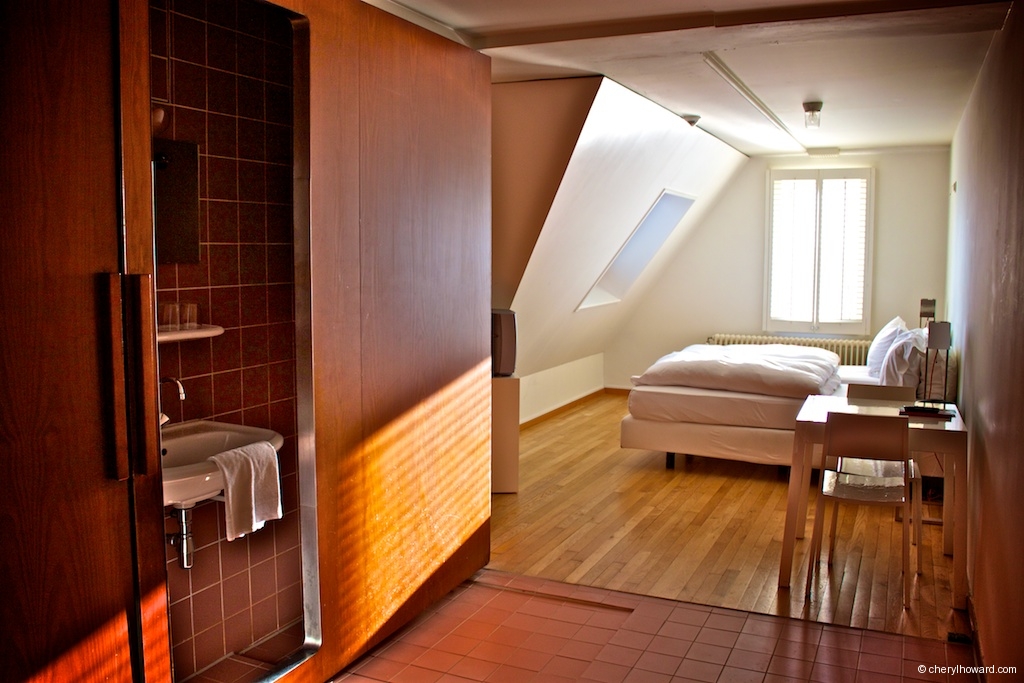 Now for that "fold away" bathroom! You can see a lovely room with a small washing area. Then pull open a large door and reveal a bathroom complete with a shower and toilet (not pictured but located to the left of the sink). When you're done, you simply shut the door and "fold" the bathroom away.
4) A Four-Star Room
I also never had the chance to visit a four-star room either (we were obviously only able to look at rooms that weren't occupied). The owner told me that one of the four-star rooms at the Lloyd Hotel in Amsterdam features a cupboard bed, while another one is garden-themed.
5) A Five-Star Room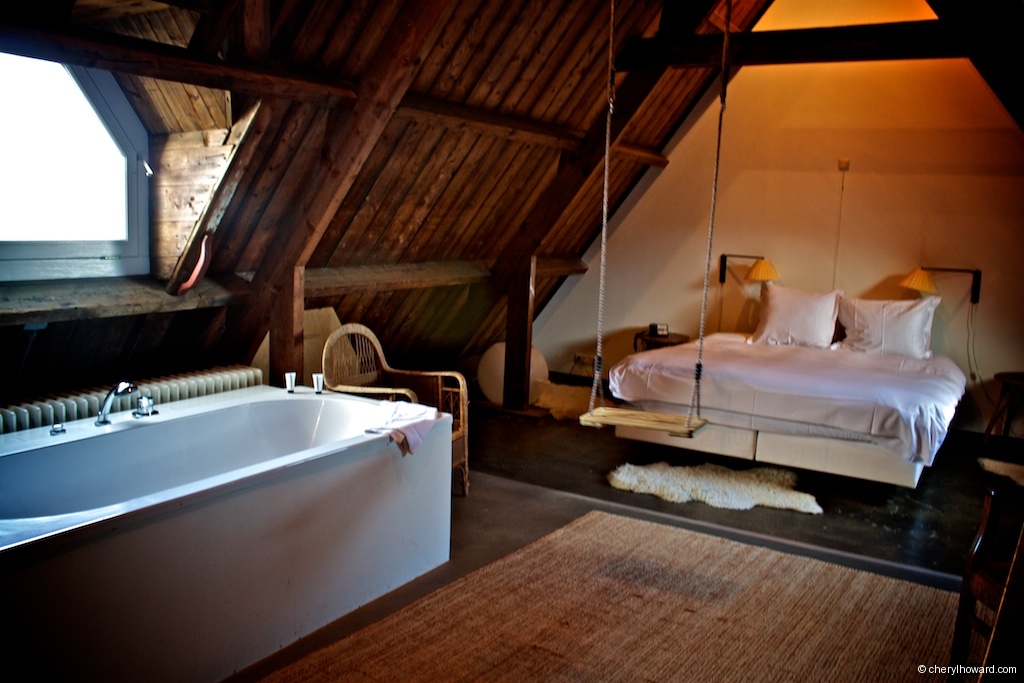 Each of the five-star rooms is an adventure in itself with rooms that have a grand piano or a spiral staircase leading to a bed.
We started by checking out a room with the swing and no, it's not a sex swing. I pictured myself sleeping there, getting out of bed in the morning, and jumping on the swing, straight into the giant bathtub. This room in particular, also happens to come with an unforgettable view.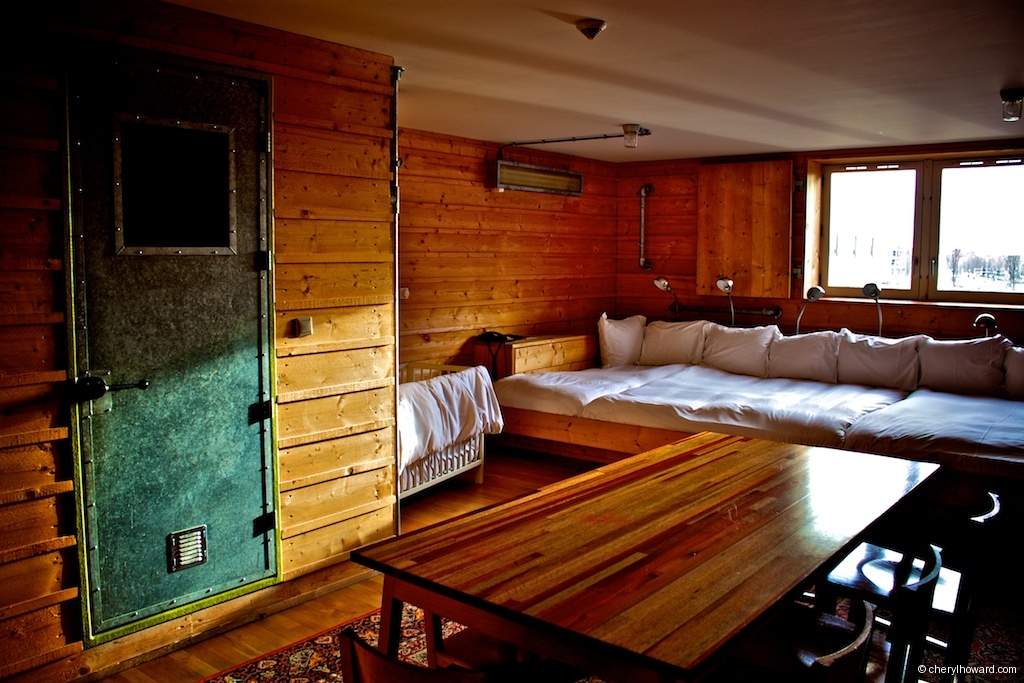 And finally, the pièce de résistance and that's a room with a bed that sleeps eight people! Apparently, the artist who designed this room had it in mind that the bed was like a stage for a band. Or maybe the bed was the place they could retire with their groupies after the concert was over?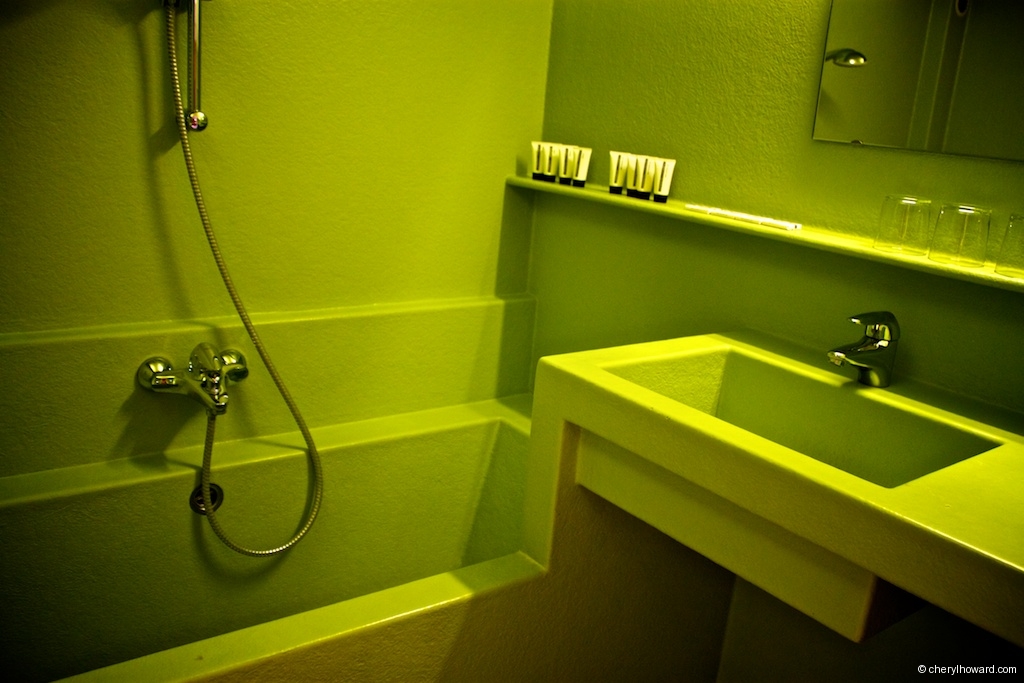 Just what's behind that green door in the room? A really, really, really lime green bathroom.
Is The Lloyd Hotel Amsterdam For Everyone?
This hotel is obviously not for everyone. Not all of the rooms are the most practical or even make sense. Not everyone can handle staying in a location with such a dark history.
But for me personally, that's what makes The Lloyd Hotel in Amsterdam special, as each room is a work of art. They took a wreck of a venue and turned it into a cool, thought-provoking, positive space. I'm not sure I'll ever be this excited to stay at another hotel again!  PS Van de Week said this is "A hotel which knows no comparison" and I'm in complete agreement.
So if you're an unconventional type and desire something different when you're traveling to Amsterdam, then a stay at the Lloyd Hotel is a must.
What do you think about the Lloyd Hotel Amsterdam? Would you stay at this most unique place? Let us know in the comments.
Location
Lloyd Hotel Amsterdam
Oostelijke Handelskade 34, 1019 BN Amsterdam, Netherlands
Good To Know
1) Maybe this hotel is too much for you and want to stay somewhere else in Amsterdam? Check your options with booking.com.
2) Make your time in Amsterdam memorable and go on a guided tour with Get Your Guide.
3) Fan of European travel? Check out some of our favorite posts.
*Disclosure – This post contains some affiliate links. If you book a tour or hotel, I'll earn a tiny commission at no extra cost to you. Thanks for your support!