I've long thought that one of the best ways to get to know a city was through street art. From Budapest, Mostar, and Toronto, I've spent many years exploring this medium and posting about it here on cherylhoward.com.
So years ago, when I visited my pal Adam, he took me around to see some of the best New York City street art.
New York City Street Art On The Lower East Side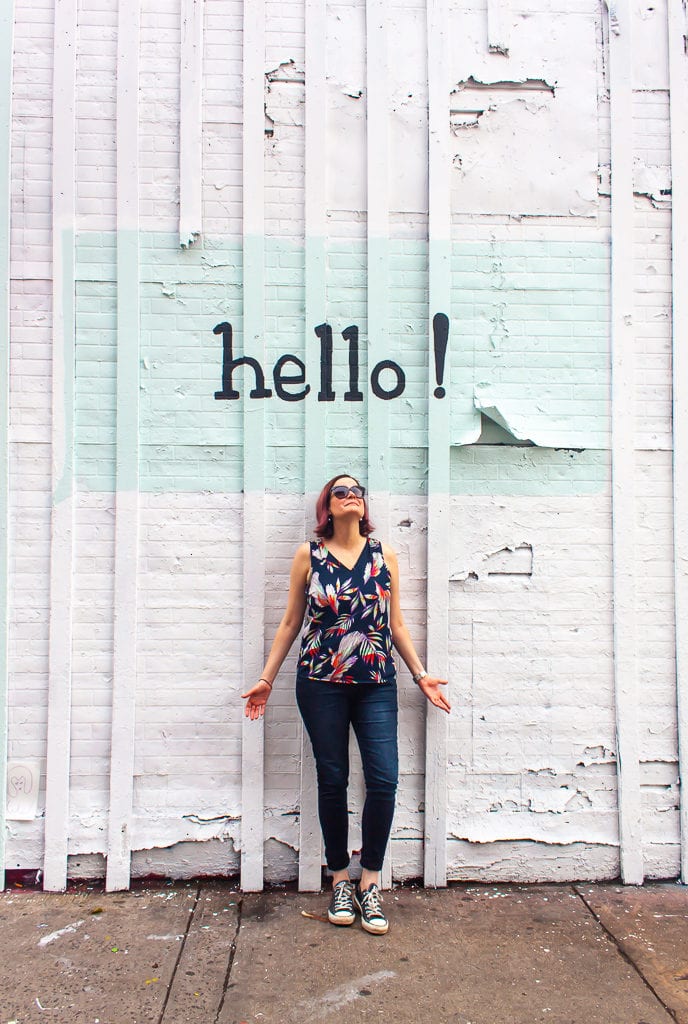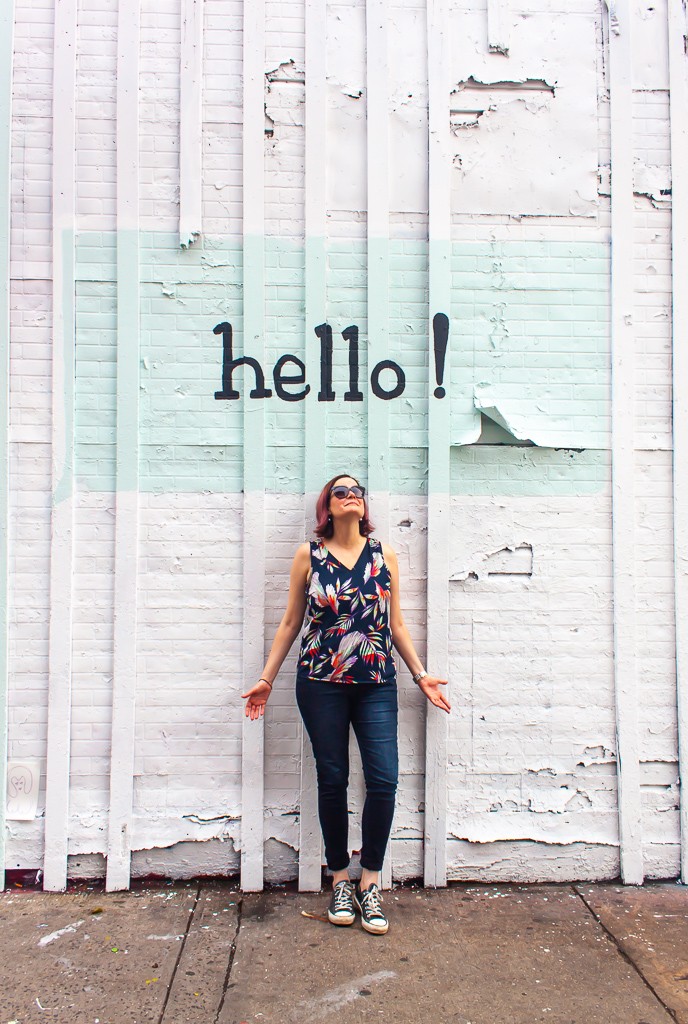 As one might expect from such a cosmopolitan city, street art in New York City is pretty darn epic. Whether you're in Bushwick, Williamsburg, or the Lower East Side, there are plenty of murals to peruse. Some portray powerful political statements, others are cute and whimsical, some are memorials, and others are there purely for Instagram.
The political ones appealed to me the most – just like the time I saw this piece featuring Trump and Putin locked in a rather intimate embrace in Lithuania. It's heartwarming to see people standing up for important issues like the humane treatment of migrants (especially children!), women's rights, and racism.
Because of this, I particularly liked the street art found splattered across the Lower East Side.
1) Love Beyond Borders ❤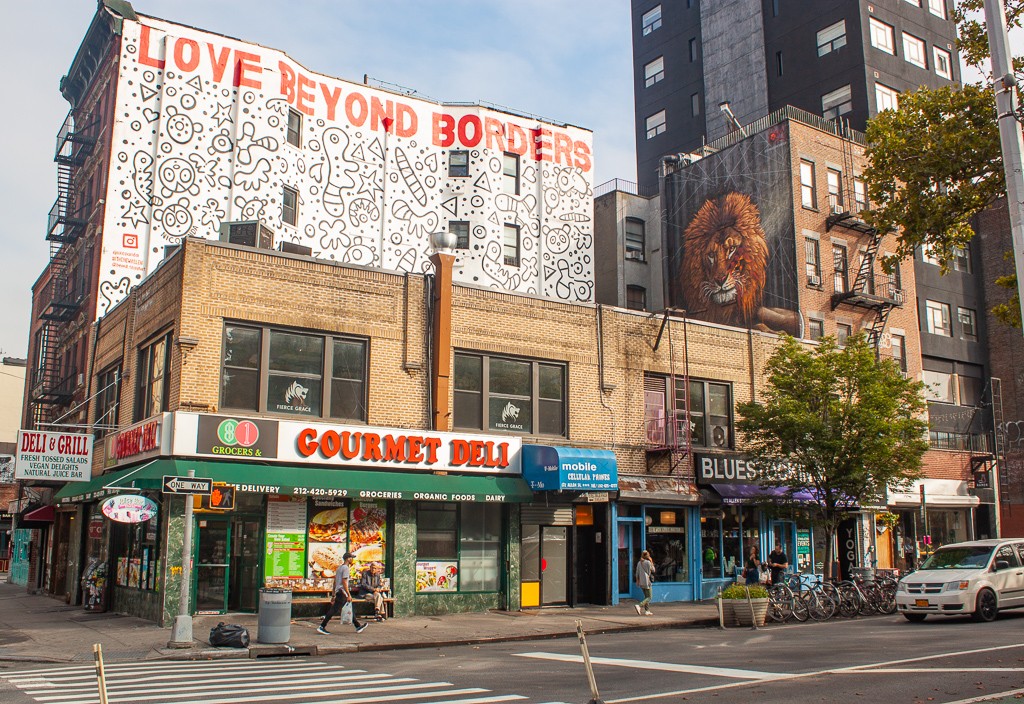 This mural by Nicopanda on Allen Street, features an original amoeba panda print by Nicola Formichetti paired with the message, "Love Beyond Borders". The artist aims to stress the importance of inclusivity during an especially divisive political time.
In this same photo, you can also spot a seven-meter wide by 10-meter high lion mural by South African artist, Sonny. Sonny, a passionate wildlife supporter, creates such murals to help raise awareness and funding for endangered wildlife.
2) Celebrating Craft Beer 🍺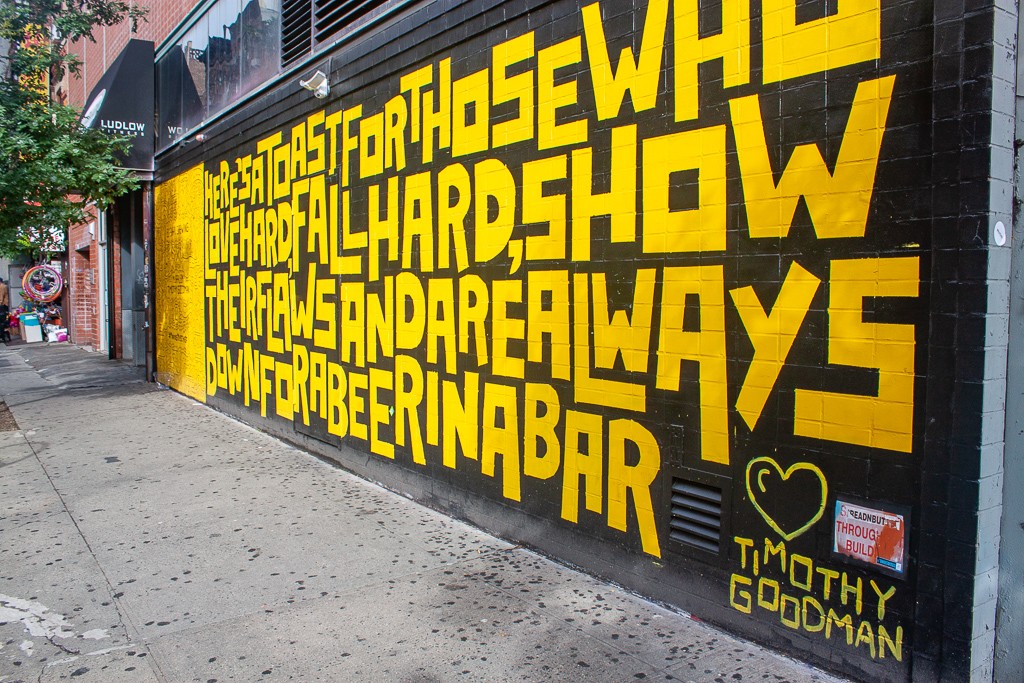 Commissioned by Elysian Brewing Company, the company placed murals in five major cities across the United States as part of a campaign to show that craft breweries are as creative as independent street artists. This mural by New York City artist Timothy Goodman reads, "Here's a toast for those who love hard, fail hard, show their flaws, and are always down for a beer in a bar."
Goodman's piece is intended to celebrate people who are genuine and authentic. He says it's "a toast to those who go through the ups and downs of life unapologetically with passion and conviction."
Read more: https://www.digitalartsonline.co.uk/news/illustration/these-bright-bold-murals-celebrating-craft-beer-are-by-artists-including-timothy-goodman/
3) Remembering Anthony Bourdain 🌎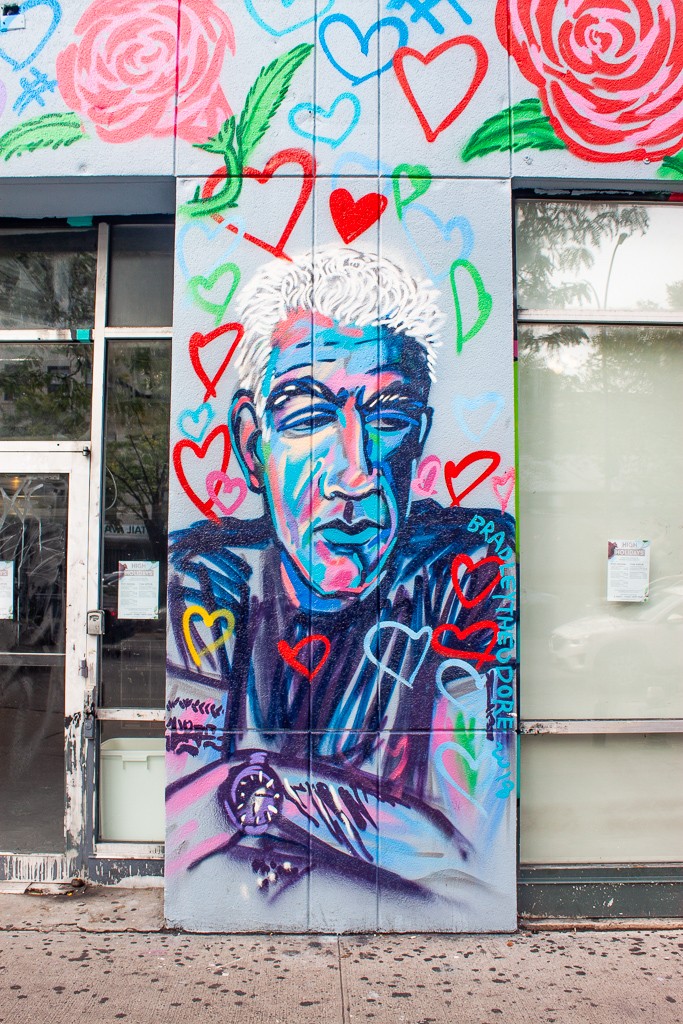 It's hard not to get emotional when you look at this lovely mural by Bradley Theodore, honoring Anthony Bourdain. Bourdain was a renowned chef, traveler, and host of the television series Parts Unknown who tragically committed suicide earlier this year.
Read more: https://newyork.cbslocal.com/2018/07/18/mural-honoring-anthony-bourdain-pops-up-on-lower-east-side/
4) Welcoming Immigrants 👐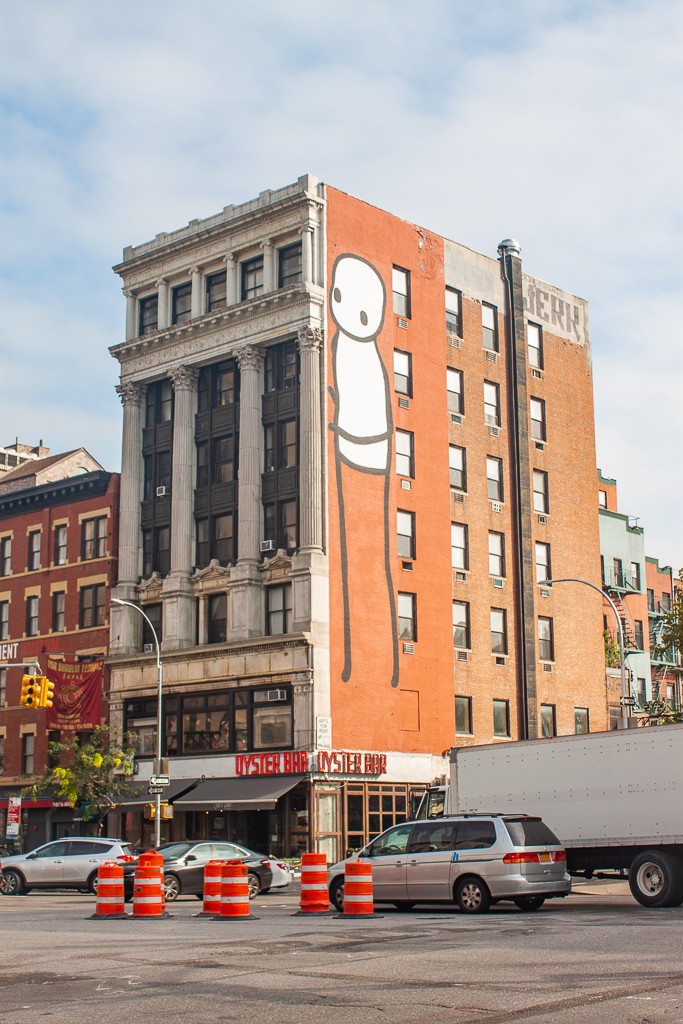 This seven-story mural by British street artist Stik is called Migrant and depicts a stick figure peering out onto Allan Street, which also happens to be known as the Avenue of Immigrants. Stik worked alongside the Tenement Museum to complete this mural and helped fundraise more than $12,000 to help new immigrants receive English language classes.
Read more: https://patch.com/new-york/lower-east-side-chinatown/stik-street-art-show-raises-12-5k-immigrants
5) Celebrating Creativity And Street Art 🎨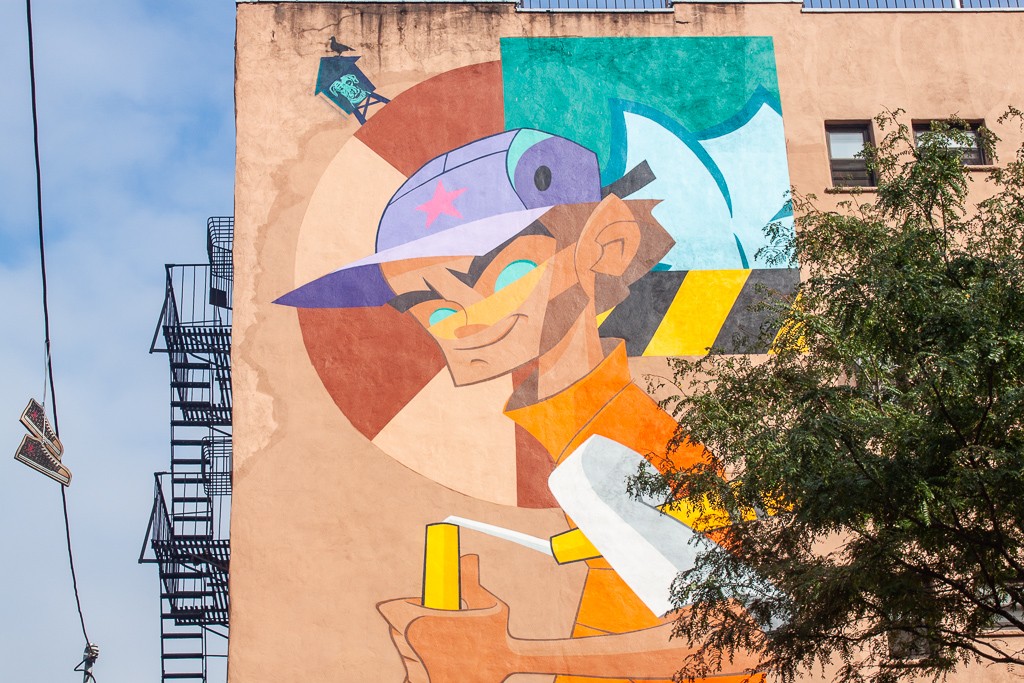 This massive 12-meter-high mural was completed in collaboration with the Five Points Festival. Organizers worked with renowned artist KaNO and the L.I.S.A Project to complete this piece to commemorate the creative spirit of the festival and establish yet another mural in New York City.
6) Stop Guns 🔫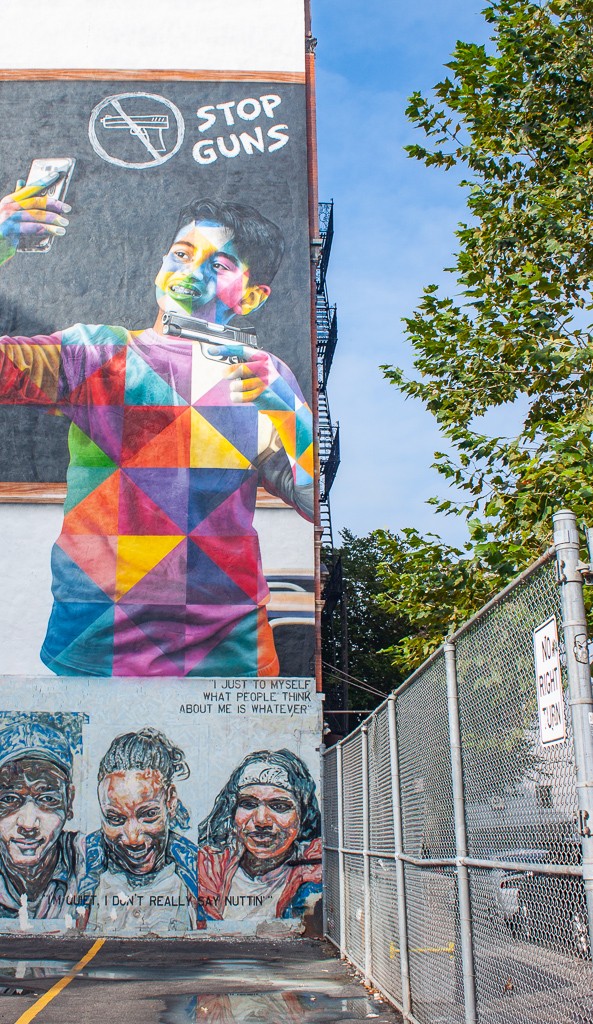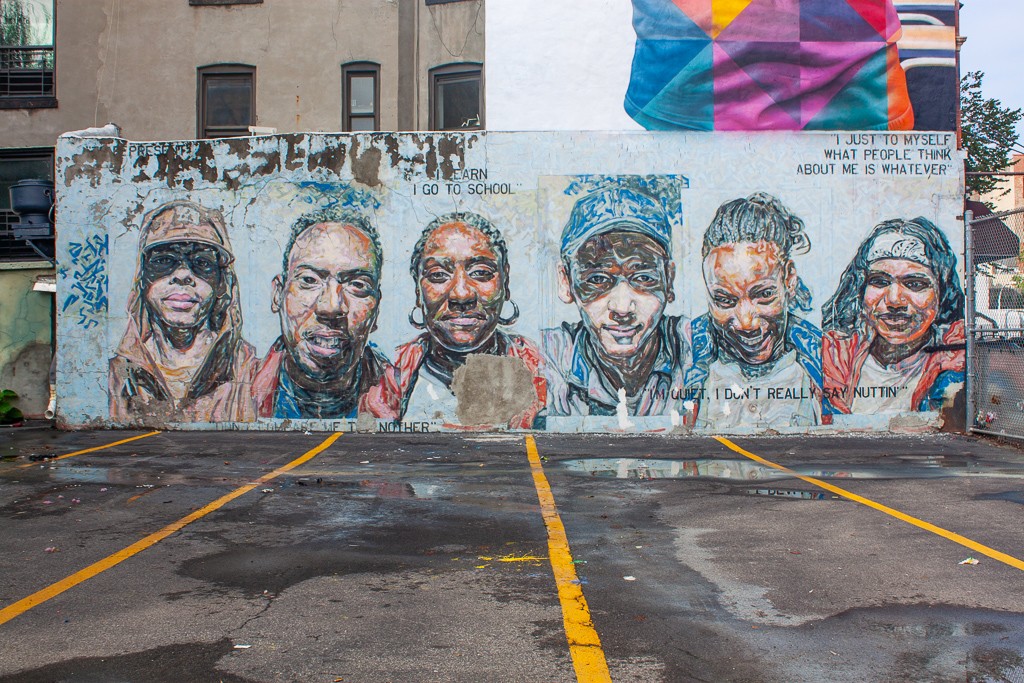 This especially powerful Stop Guns mural on Stanton Street was done by artist Eduardo Kobra. Showing a young man taking a selfie with his phone while wielding a firearm encourages people to think very hard on the topic of gun violence and the havoc it's been wrecking on America.
Read more: https://www.boweryboogie.com/2018/08/stopping-guns-with-a-mural-on-stanton-street/
7) HomerBob👖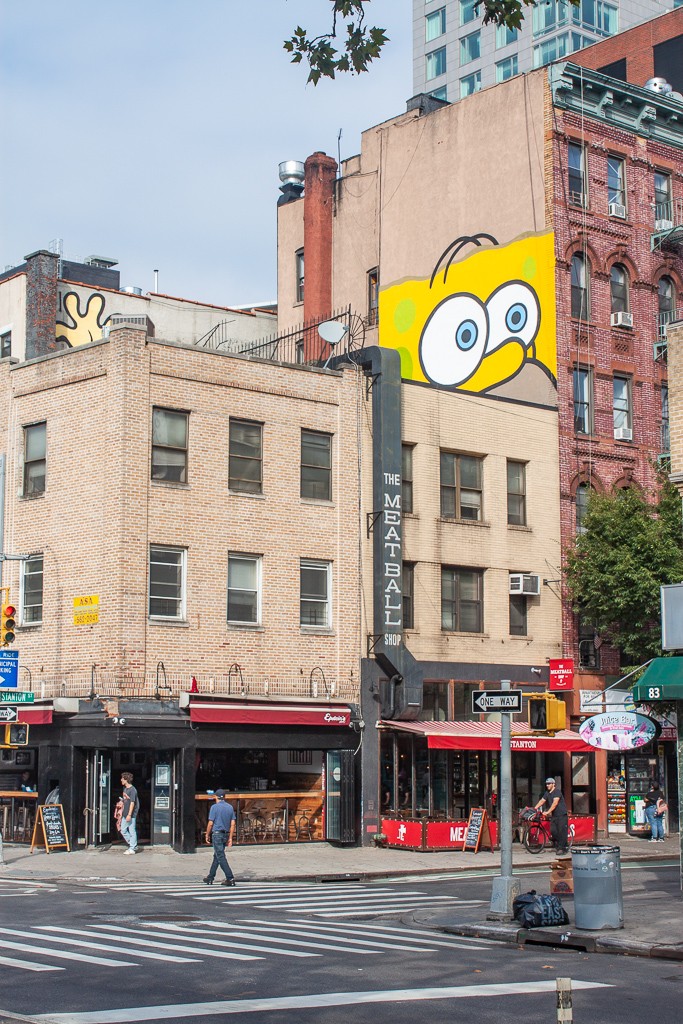 This mural is a hybrid image of Homer Simpson and SpongeBob SquarePants. It's a creation by local New York City artist Jerkface.
8) Hello And Other Messages 🙋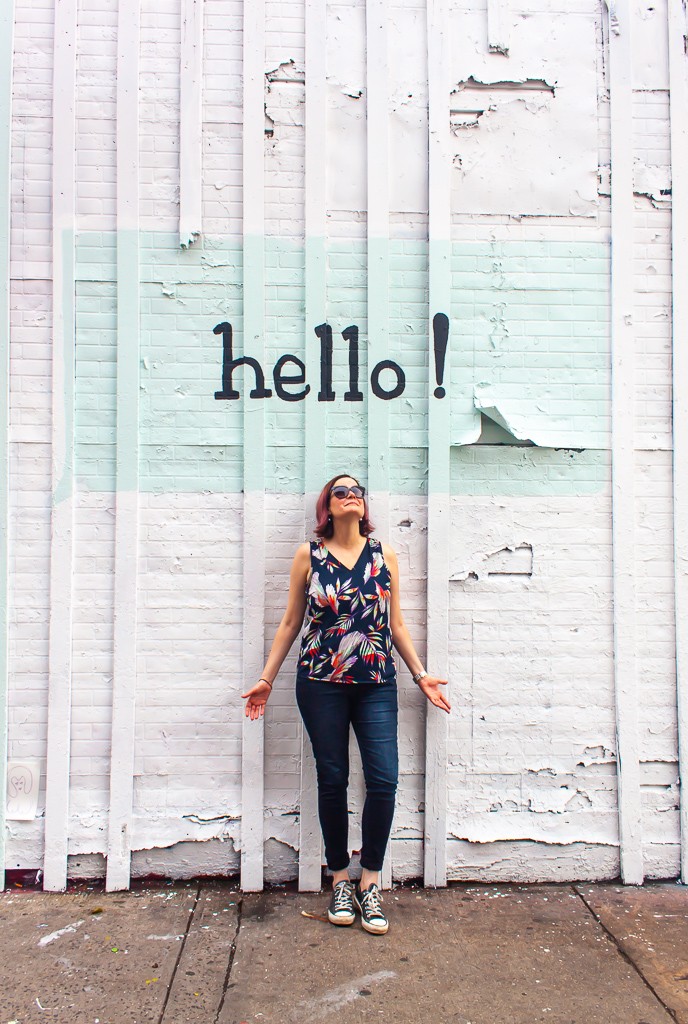 We couldn't help but stop and pose for super cheesy photos on this wall that had messages such as "hello" and "having a moment".
9) Cute Little Things 😊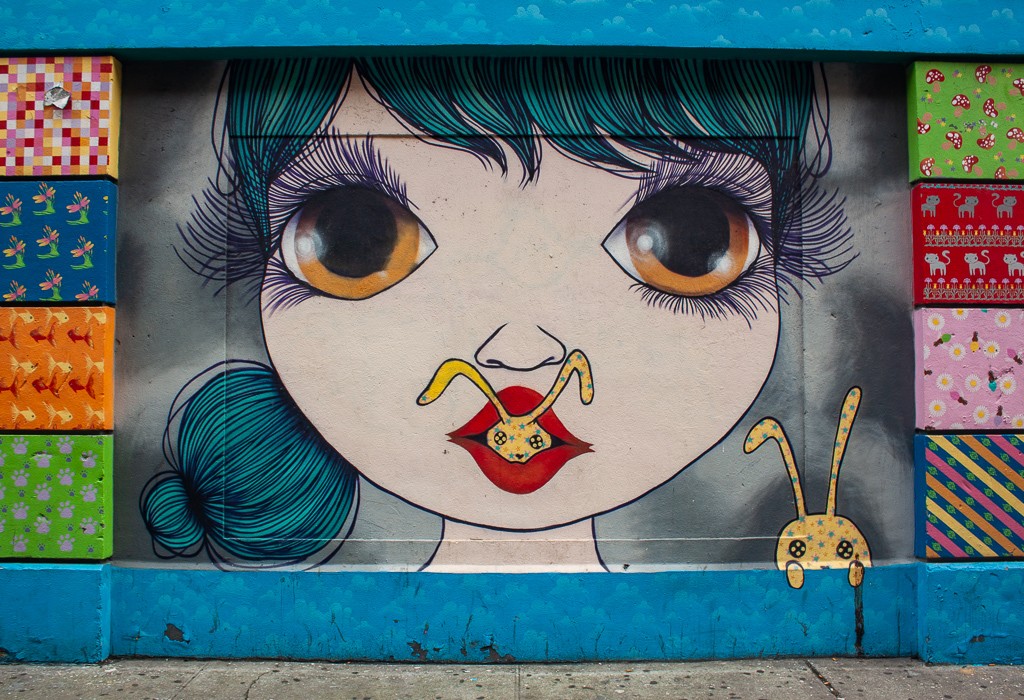 Brazilian artist Nina Pandolfo recently completed a new mural on Rivington Street called Little Things.
Read more: http://www.brooklynstreetart.com/theblog/2015/11/17/nina-pandolfo-in-new-york-on-a-wall-for-little-things/
10) The Artist (Formerly Known as Kayne West) … Ye 🎶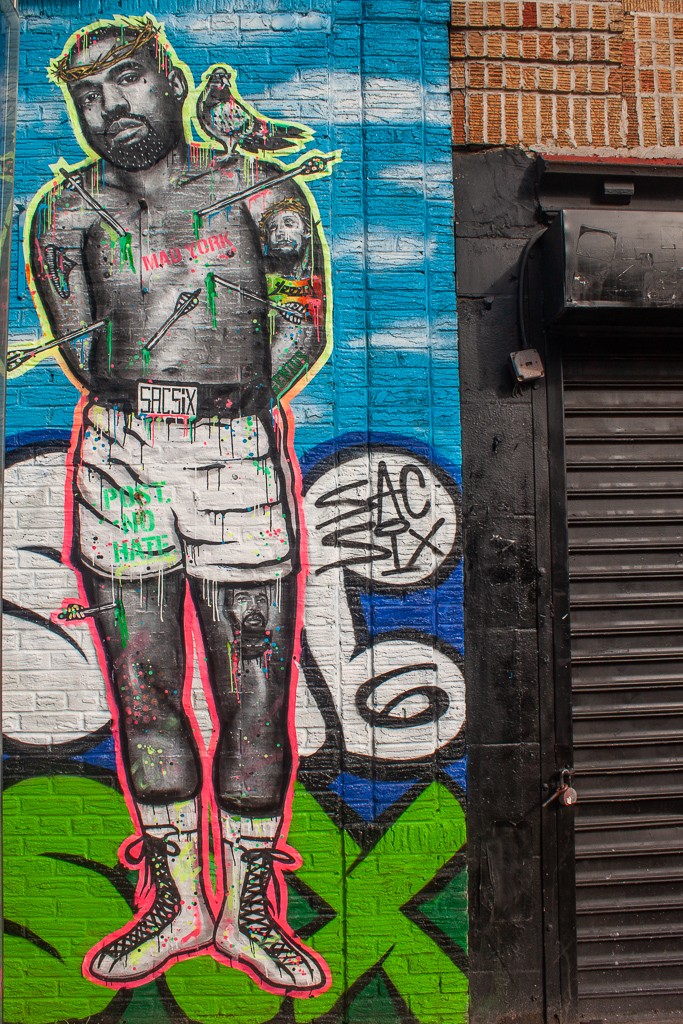 This piece of New York City street art was completed by artist SacSix. This is a play on the former Esquire magazine cover showing Muhammad Ali as the martyr, Saint Sebastion. It's been reimagined here by SacSix featuring the ever-controversial Kayne West.
11) Freeman Alley Sticker Art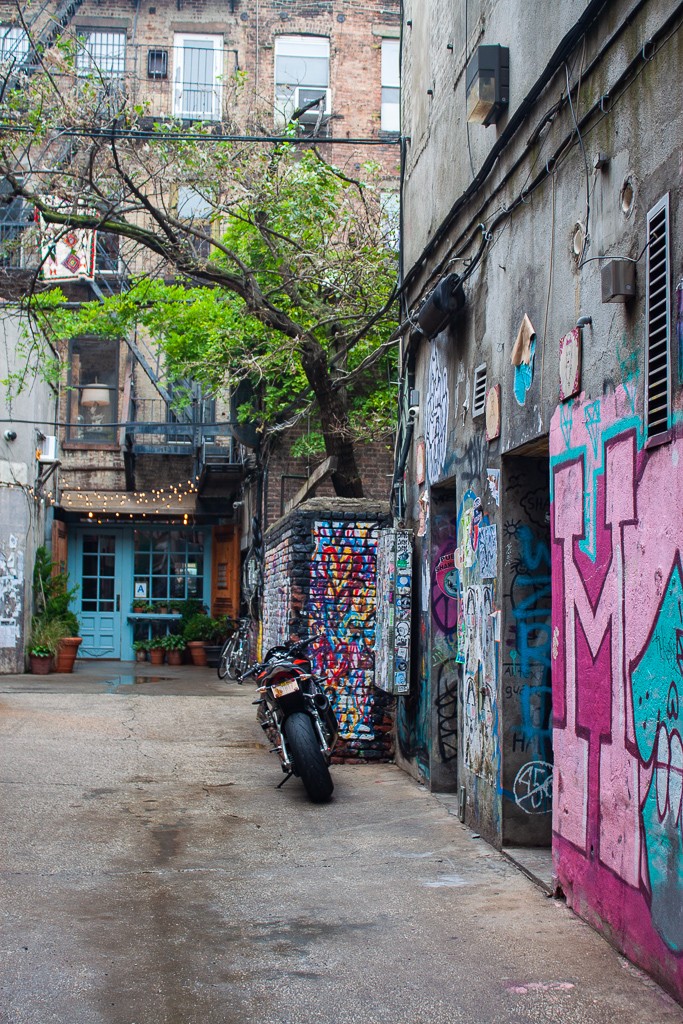 Freeman Alley is a well-known haven for New York City street art. In particular, I loved the sticker art that adorned the walls of the alley, which touched on subjects like feminism, racism, the detention of migrant children, and more.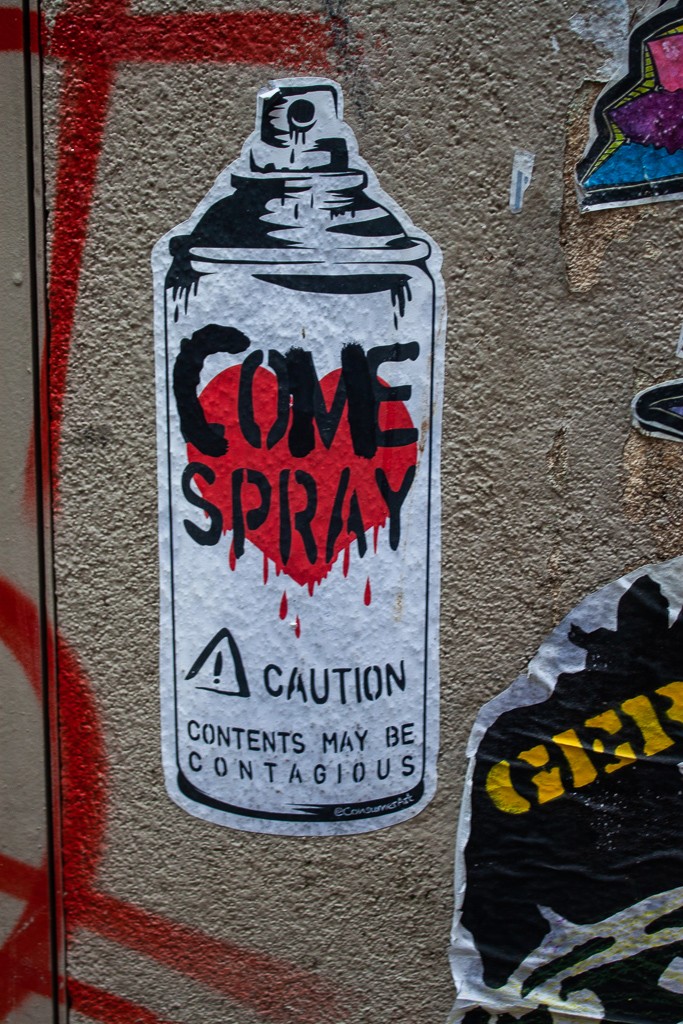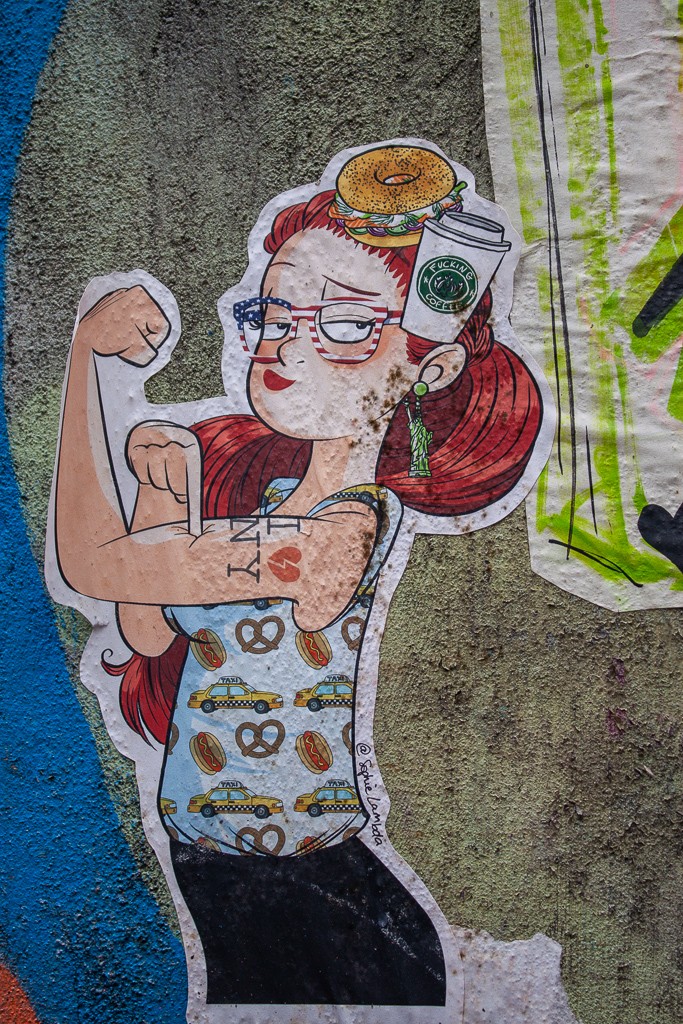 This Fuck I Love You piece is part of a worldwide movement.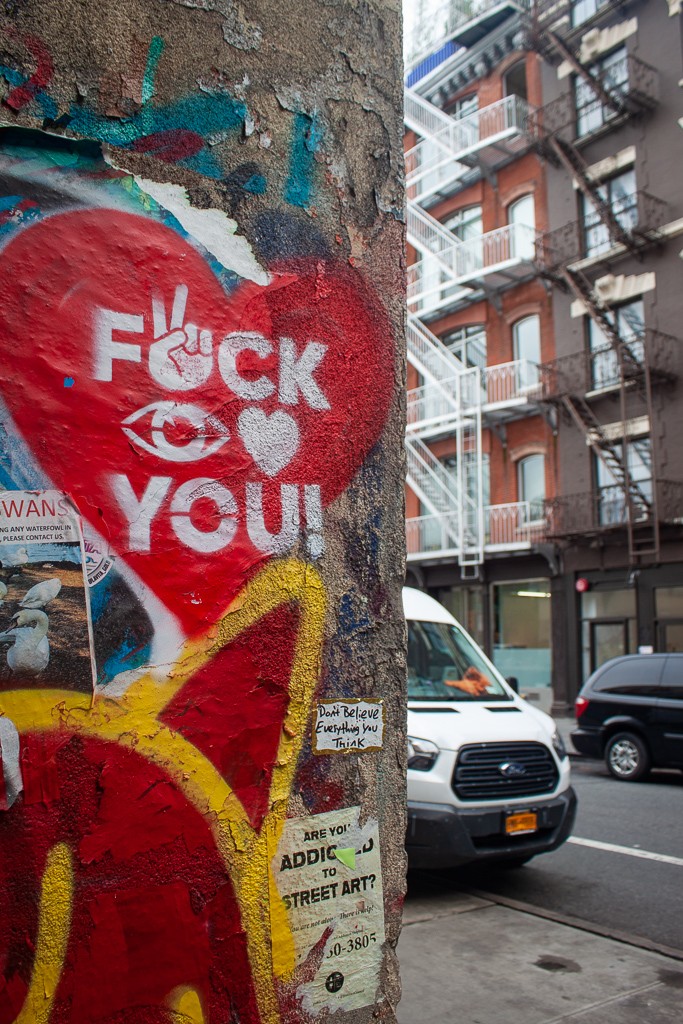 These photos of New York City street art just skim the surface of what's there. Have I missed any other good pieces? Let us know in the comments below.
Good To Know
1) These photos were taken in September 2018. With street art being as ephemeral as it is, it's reasonable to expect that some of the pieces may no longer be there. Consider this post to a snapshot to this particular piece in time.
2) I've taken care to credit the artists and link to articles that list the locations as much as possible. Leave a comment if you can add more information about what I've shown here and I'll update the post right away.
3) Need somewhere to stay when you're in New York City? Check out hotel offerings on booking.com.
4) Check out some of the very best things to do when you're visiting New York City:
5) For more North American travel inspiration, give these posts a read:
*Disclosure – This post contains some affiliate links. If you book a tour or hotel, I'll earn a tiny commission at no extra cost to you. Thanks for your support.