When you visit Antwerp, there are plenty of unusual things to do, with one of the more fun ones being seeing Den Deugniet– a statue of a young boy stuck in a forever mooning position.
Aside from that is checking out a very bold piece of modern architecture, the Port House or Port Authority building.
The Dramatic Addition To The Port Authority Building In Antwerp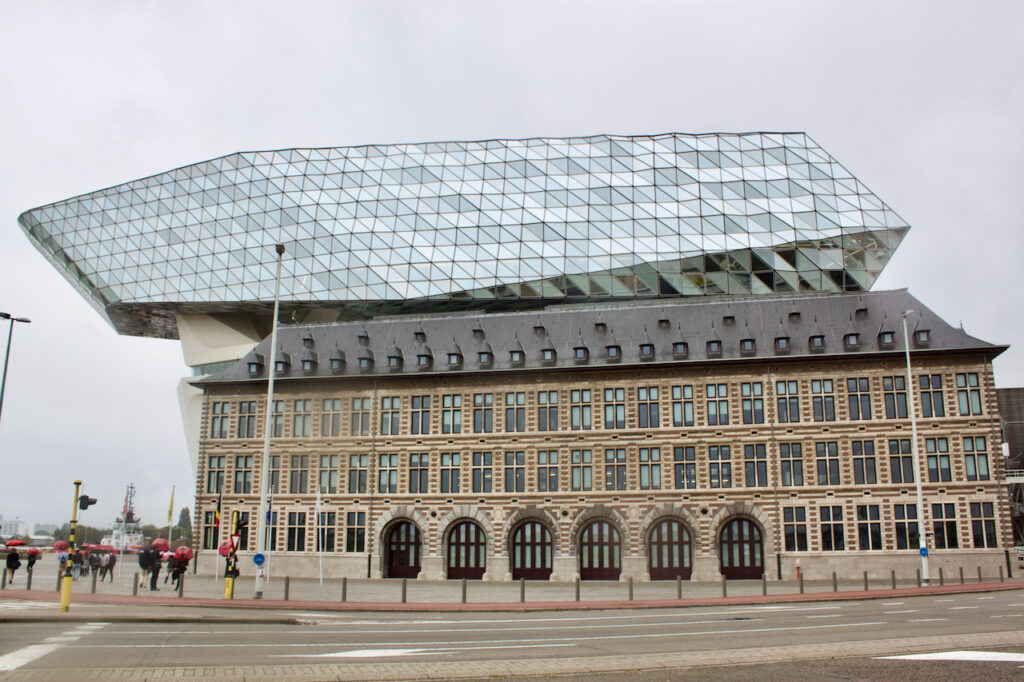 The Port Authority building in Antwerp (Havenhuis) is an overpowering and dramatic Neo-futurist design by Iraqi-British architect Zaha Hadi. The 12,800 square meter building is the headquarters for the Antwerp Port Authority, housing its 500 employees.
With 12 kilometers of docks, Antwerp's port is one of the busiest in Europe, handling 26% of the continent's container shipping and employing around 60,000 people. Previously, Port Authority staff were housed in several locations around the city. The idea was to bring them to a new central location, with hopes that being together in one place would result in better collaboration and improved ways of working.
With this in mind, the Port Authority opened a competition, calling on architects from around the globe to submit proposals. Plans called for adding an extension to the port's 16th-century fire station, ensuring that no matter what, the existing structure would be preserved. While there were 5 finalists who'd all submitted impressive designs, Zaha Hadi ultimately won. Hadi's winning work featured a glass-covered facade extension that would be built above the fire station, marrying a traditional piece of historical architecture with a bold new design.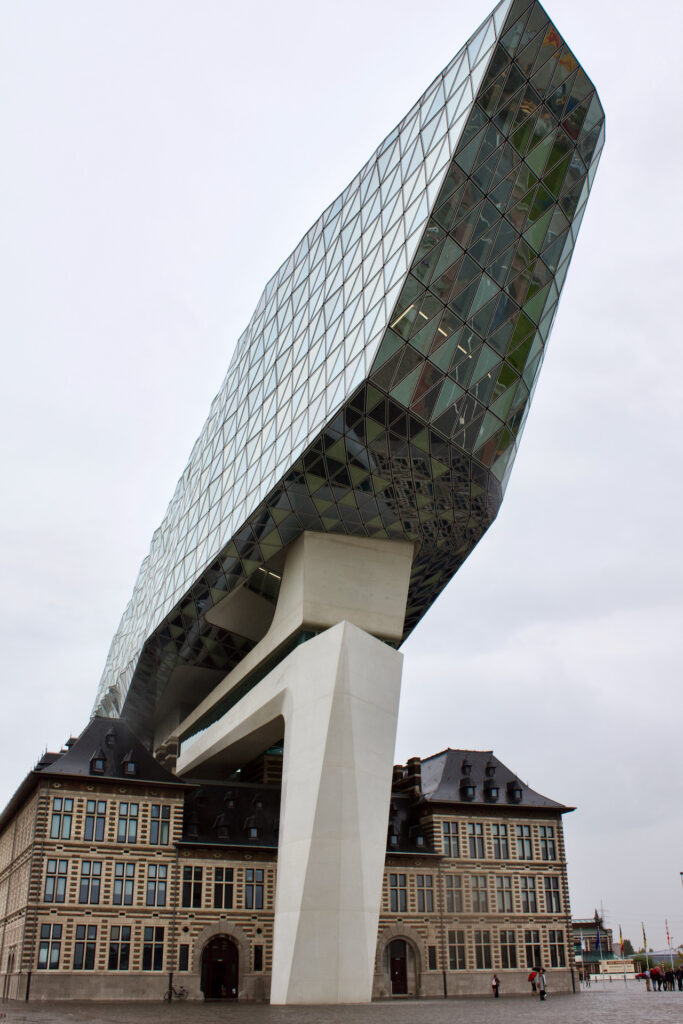 Recommended reading: This commentary, War of the worlds: Port House headquarters, Antwerp, Belgium by ZHA where the author remarks: "With Antwerp Port House, Zaha Hadid Architects have staged the battle between old and new so straightforwardly that it becomes brutal."
Planning for the building took place between 2009 – 2012, with actual construction starting in 2012. The Port Authority building in Antwerp finally opened to the public in September 2016.
The original 6,600 square meter fire station was restored to its former glory, with a public reading room and library being added. The 6,200 square meters diamond-shaped extension is 100+ meters in length, has four distinct floors spanning 46 meters in height, and is supported by a large white column, several concrete pillars, and 900 tonnes of steel. Both structures are connected by a bridge that offers employees and visitors panoramic views of the surrounding area.
From a distance, you can see the extension resembles the hull of a sailing ship. The glass facade has a combination of transparent and opaque triangles in order to control how much sunlight enters the building. The glass facade, with its glazed surface, appears water-like and mirrors the tones and colors of the adjacent River Scheldt.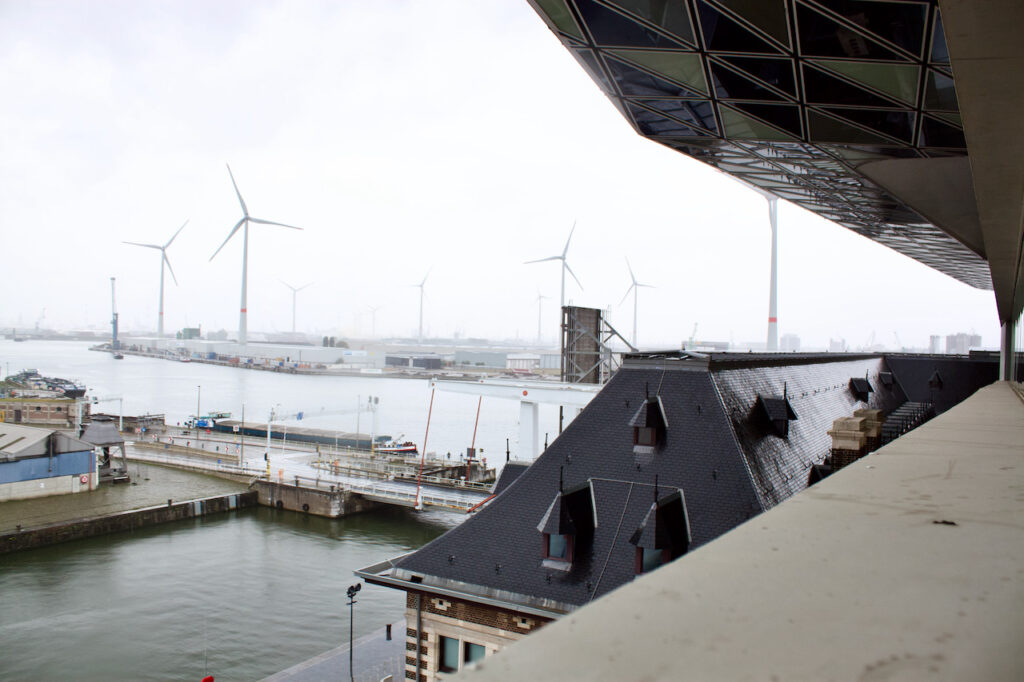 Another notable accomplishment from the architects was that the building was constructed with a green ethos in mind.
Sadly, Zaha Hadid passed away in 2016. To honor her memory, the building's square Zaha Hadidplein was named after her.
Watch/share this video about the Port Authority Building and better yet, subscribe to my Youtube channel for even more travel-related videos.
What do think about the Port Authority Building Antwerp? Would you visit this incredible piece of architecture? Tell us about it in the comments.
Antwerp's Port Authority Building Location
Where can you find the port authority building in Antwerp? Head to Zaha Hadidplein 1, 2030 Antwerpen, Belgium.
Port Authority Building FAQ
There are some key things to know before visiting the Port Authority building in Antwerp. We answer your most common questions:
1) How can I contact the Port Authority?
Visit their website or phone them at +32 3 205 20 1.
2) When is Havenhuis Antwerpen open?
Generally speaking, it's open from 9:00 – 18:00 daily.
3) What is the nearest tram stop?
The nearest tram stop is Antwerpen Havenhuis, along Route 24. From the city's central station, the ride takes about 20 minutes.
4) Do I have to pay to enter the Port Authority building in Antwerp?
No, as it's a public building, there is no entry fee.
5) Can I get a tour of the Port House?
You can book a tour with Experience Antwerp. Booking a 90-minute guided tour will get you access to parts of the building usually not open to the general public, including both the lower section and upper addition. You'll also be treated to stories about the building's history, learn about the unique architecture and more.
Tours start at around €10 and are offered in English, French, German, and Dutch. Children must be at least six years old to take part.
A basic fitness level is also advised, as the tour involves navigating several staircases.
6) How much time do I need to visit the Port Authority building?
If you're only taking photos from outside, at least 15 – 30 minutes. If you're also checking out the interior, maybe 45 minutes. Note access to the building's extension is only available by guided tour, which lasts 90 minutes.
7) Can I take photos of Antwerp's Port Authority building?
Naturally, you can take photos of the building's exterior, as well as the lower part of the building that's open to the public, including the main Atrium, reading room, and library.

If you want to take additional photos, get in touch with the Port Authority for more information or book a guided tour.
Transportation Options In Antwerp
We break down all of the available transportation options in Antwerp, Belgium:
1) To travel to Antwerp's city center, you can go by a train, taxi, or bus:
2) Getting around Antwerp:
For more information about how to get around Antwerp, see Wikitravel.
Where To Stay In Antwerp
Find a place to stay in Antwerp with booking.com.
Paying For Things In Belgium
Our pro tips help you manage your finances when you're travelling in Belgium:
1) Belgium uses the Euro:
2) Belgium is more expensive than other European destinations, so you may find yourself needing to budget when it comes to accommodation, eating out, and more.
3) If you can avoid doing, exchange your money in the city center, as exchange rates at the airport tends to be on the high side.
Good To Know About Antwerp
Other things to know about Antwerp:
1) To experience Antwerp in a unique way, tour the city with Get Your Guide:
2)Is the country safe for travelers? Generally speaking, Belgium is fairly safe and doesn't have high levels of crime. That said, pickpocketing and other forms of theft are all too commonplace. So keep your belongings close by at all times, especially in tourist hotspots. During dinner one night in Brussels, I actually stopped a thief when he tried to steal my companion's purse! Racism sadly exists everywhere, but if you're a person of color or of the Muslim faith, it's also quite possible you'll experience incidents of racism.
3) If you love traveling around Belgium, read some of my other top posts about this beer-loving country:
*Disclosure – This post contains some affiliate links. If you book a tour or hotel, I'll earn a tiny commission at no extra cost to you. Thanks for your support!