If you're looking for an unusual place in Belgium, head to Liège to see one of the most "extreme staircases" in the world. When you think about it, it sounds weird, right? Are you wondering the same thing as me – "How are extreme staircases even a thing?". It sounds like a rather dubious claim, yet this honor was bestowed on Liège in 2013 by the Huffington Post.
If you like unusual places and things as much as I do, you'll go out of your way to find them. Some of the more curious things I've enjoyed over the years included taking a bath in beer in Prague, touring the world's largest abandoned site in Detroit, and hanging out with the Bruce Lee statue in Mostar.
So yeah, something as weird as Montagne De Bueren, an extreme staircase, is definitely intriguing and warrants further investigation.
An Extreme Staircase, The Montagne De Bueren In Liège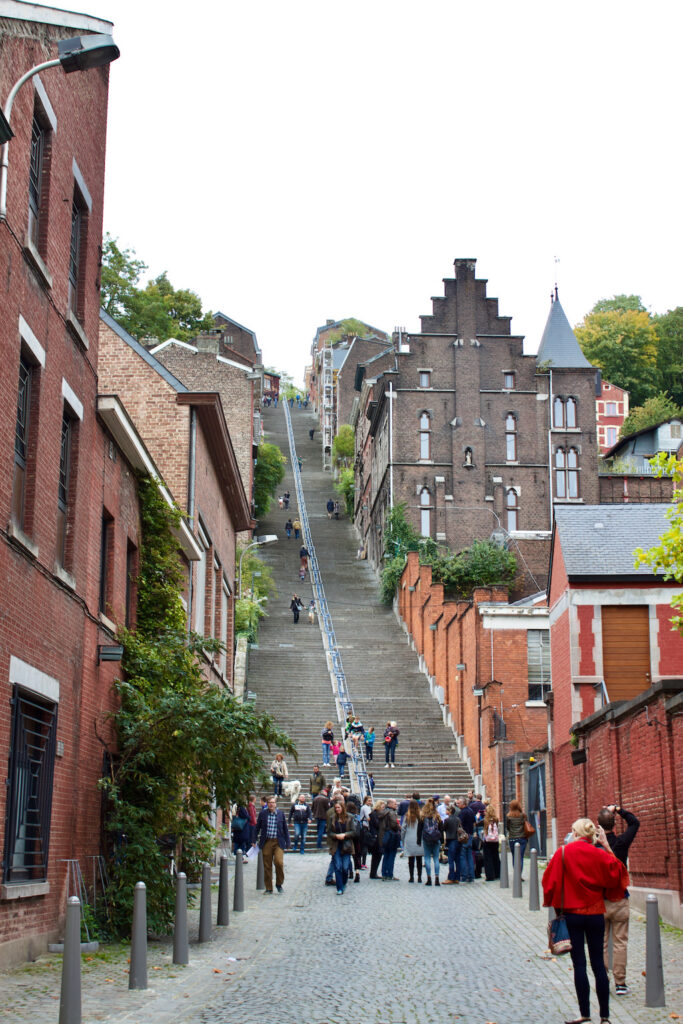 In Liège, smack dab in the middle of the city is a steep staircase built into one of the city's many hilly streets. With an upward climb of 70 meters involving a 30% incline and 374 steps, it's certainly a staircase that will challenge even the fittest of people.
Named Montagne de Bueren (or Bueren Mountain), the staircase which opened in 1881, has a storied history. Its namesake is 15th-century hero, Vincent de Bueren who mounted a defense against the Duke of Burgundy, Charles The Bold, and led Liège to a mighty victory during the 15th century.
More serious and official accounts say the stairs were put there to allow local soldiers stationed at the Citadel, quick access to the city center in the event of an invasion.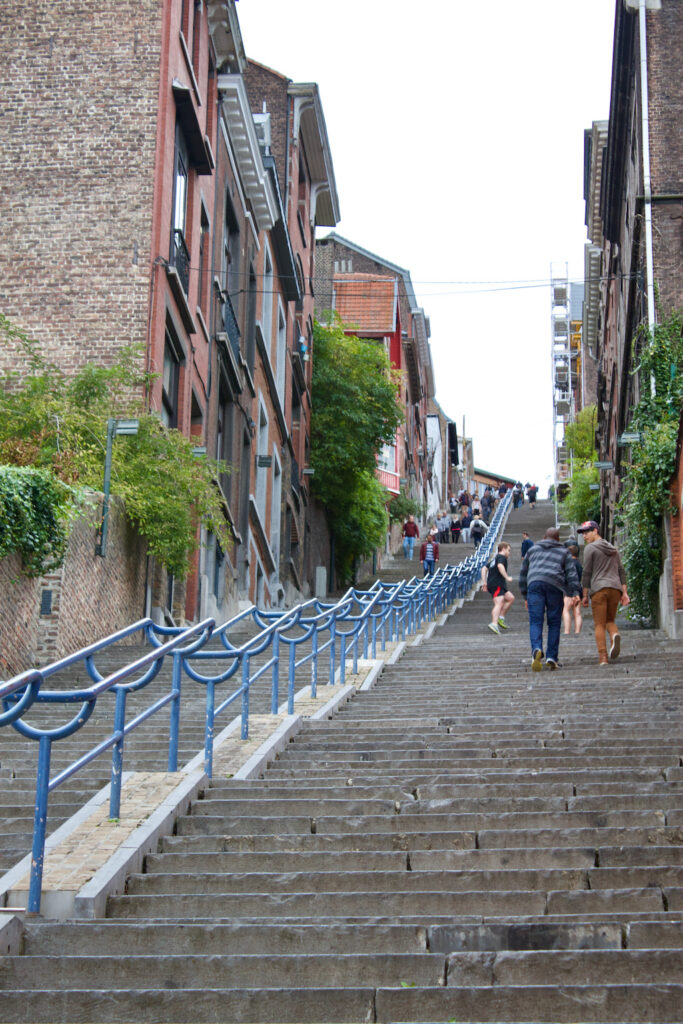 The way more fun story, which we all want to be true, is that the staircase was put there to keep soldiers from venturing into Liège's Red Light District. Like most port cities (think Amsterdam or Hamburg), Liège had a thriving nightlife that was seen as detrimental to the city's safety. After all, how could a drunk or hungover soldier be alert enough to defend the city if he or she had been waylaid by alcohol and other scandalous indulgences?
The staircase literally paved a way for soldiers to completely skip all of that, as they could walk directly from the top of the hill and gain quick access to the city center.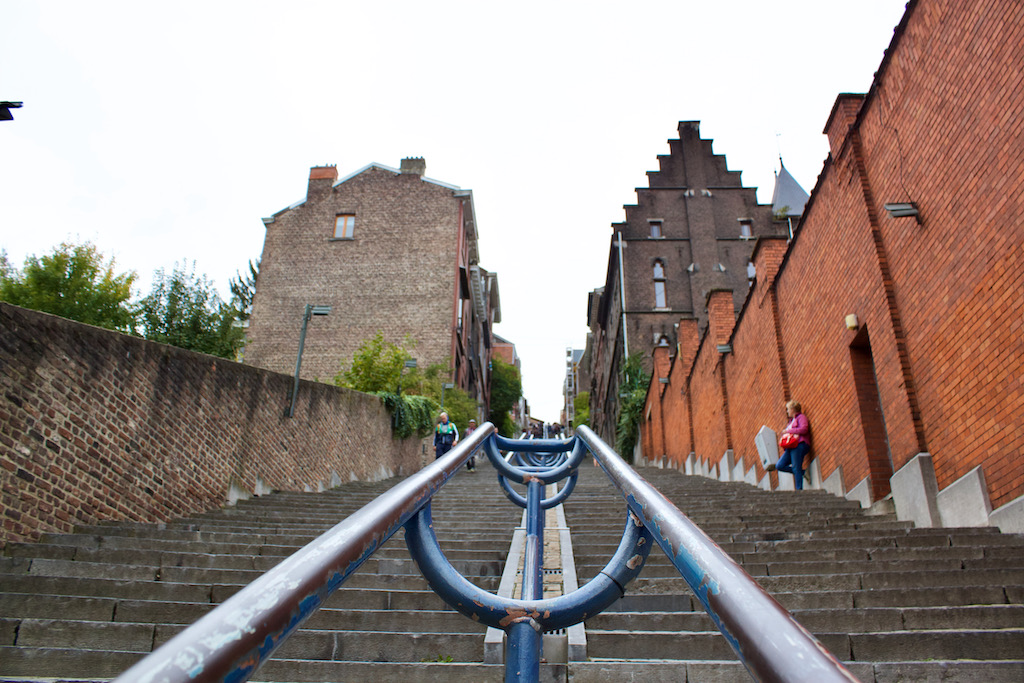 These days, tourists flock to Montagne de Bueren to take photos and climb to the top for a beautiful view over Liège, while locals use it as a place to get in some fitness. In fact, in July 2020 a local resident went up and down the stairs a whopping 135 times – while carrying a 15 kg backpack! The monumental 9000-meter climb simulated a Mount Everest ascent and took around 65 hours to complete.
Travel there on the first Saturday in October to see the stairs covered from head to toe in candles for the annual Nocturne des Coteaux de la Citadelle event. Other times, you can also find Montagne de Bueren covered in flowers for Bueren en Fleur, just like in Italy's Riomaggiore every June.
Watch/share this video about Montagne De Bueren and better yet, subscribe to my Youtube channel for even more travel-related videos.
What do you think of Montagne De Bueren? Do you have more tips for us about what to see and do in Liège? Tell us about your best city tips in the comments below.
Montagne De Bueren Location
Just where can you find this extreme staircase in Liège? 4000 Liège, Belgium.
About Montagne De Bueren
What else should you know about Montagne De Bueren? We answer the most relevant questions people have about this iconic landmark in Liège.
1) When can I visit the staircase?
You can visit anytime, as it's a free and public landmark.
2) How much time should I spend at Montagne De Bueren?
Give yourself at least 30 minutes to examine the stairs, take photos, and walk up or down the steps. Give yourself more time if you're not so fit and be sure to bring along some bottled water for the upwards journey to stay refreshed, especially during the hot summer months.
3) Can you take photos or videos of the stairs?
Yes! It's the perfect place to get yourself some great Instagram shots or TikTok videos.
4) What is the nearest metro stop?
That would be Liege-Palais station.
Getting Around Liège
You can move about Liège in a number of different ways. Here are our tips and tricks to navigate local transportation options:
1) To arrive at Liège's city center, you can drive, take a taxi, shuttle service, or bus from the airport, as well as from the main bus/train stations:
The Liège Airport (LGG) is about 12 kilometers outside of the city center. While it mainly services cargo flights, low-cost airlines tend to fly there as well. You can take buses 53 or 57 for about €3 and be in the city center within about 20 minutes. Note, bus 57 doesn't run on weekends or holidays. Another option is the Liège Airport Shuttle, which will bring you to the city's main station (the very one highlighted in this post!). Shuttle fares are between €7 – €10. You can also travel by taxi, with Melkior Taxis or Taxi Liège. The ride also takes about 20 minutes, and the fare will run anywhere from €25 – €30.
Trains and buses typically arrive at Liège-Guillemins Railway Station, which is about three kilometers outside the city center. From here, you can take public transit, and hail a taxi to arrive at your destination fairly quickly. If you're up for walking, you'll be in the center in 30 minutes or less.
2) The best ways to get around Liège include:
Bikes

– The city center is fairly easy to bike around, while the hilly outer parts of the city can prove more challenging. Busy rides are said to be especially dangerous for cyclists, so do be careful. You can rent bikes from companies like Blue-bike and Pro Velo.

Public Transit

– Check out the TEC website to plan your route and find out related costs.

Ride Sharing

– Companies like Uber and Bolt don't offer services in Liège at the moment. If you know of any local ride-sharing service, let us know in the comments.

Taxis

– Use any of the taxi companies listed above to get around the city quickly and safely.

Driving

– If you don't have a car of your own, rent a car to make your way around the Liège.
Where To Stay In Liège, Belgium
Accommodation options for Liège, Belgium:
1) To find somewhere to stay while you're in Liège, check out hotels, hostels, and private apartments with booking.com.
Paying For Things In Belgium
Advice for handling your money when you're traveling around Belgium:
1) Belgium uses the Euro:
See xe.com to find out how your currency fares against the Euro.
Most places accept bank or credit cards. There are also bank machines everywhere, in case you need to get some cash.
If you pay by card, you may be asked which currency you want to pay in – choose to pay in Euros over the currency of your home country, as you'll save money on the exchange rate.
2) Belgium tends to be more on the expensive side, compared to other European destinations, so you may find yourself needing to budget when it comes to accommodation, eating out, and more. Be sure to budget and plan ahead, so you can make the most of your time in the country.
3) If you can avoid doing so, exchange your money in the city center, as exchange rates at the airport stand tend to be quite high.
Good To Know About Liège, Belgium
There are some other things that are good to know about Liége:
1) One of the best ways to get to know Liége, or Belgium for that matter, is by partaking in a guided tour.
2) Is Liège safe for travelers? Generally speaking, Belgium is fairly safe and doesn't have high levels of crime. That said, Liège has one of the highest crime rates in the country with pickpocketing and other forms of theft being commonplace. So keep an extremely close eye on your belongings when out and about in tourist hotspots. During dinner one night in Brussels, I actually stopped a thief when he tried to steal my companion's purse! Racism exists everywhere, but if you're a person of color or of the Muslim faith, it's also quite possible you'll experience incidents of racism.
3) If you like Belgium, take a look at some of our reader's favorite blog posts:
*Disclosure – This post contains some affiliate links. If you book a tour or hotel, I'll earn a tiny commission at no extra cost to you. Thanks for your support!