Stockholm has numerous libraries, like the Stockholm Public Library filled with more than 2,000,000 titles and set in a remarkable three-story circular shaped building. Another notable library is the Stockholm University Library (Stockholms Universitetsbibliotek) also known as Frescati Library, home to Sweden's largest research library.
Visit The Stockholm University Library (It's Not Just For Students)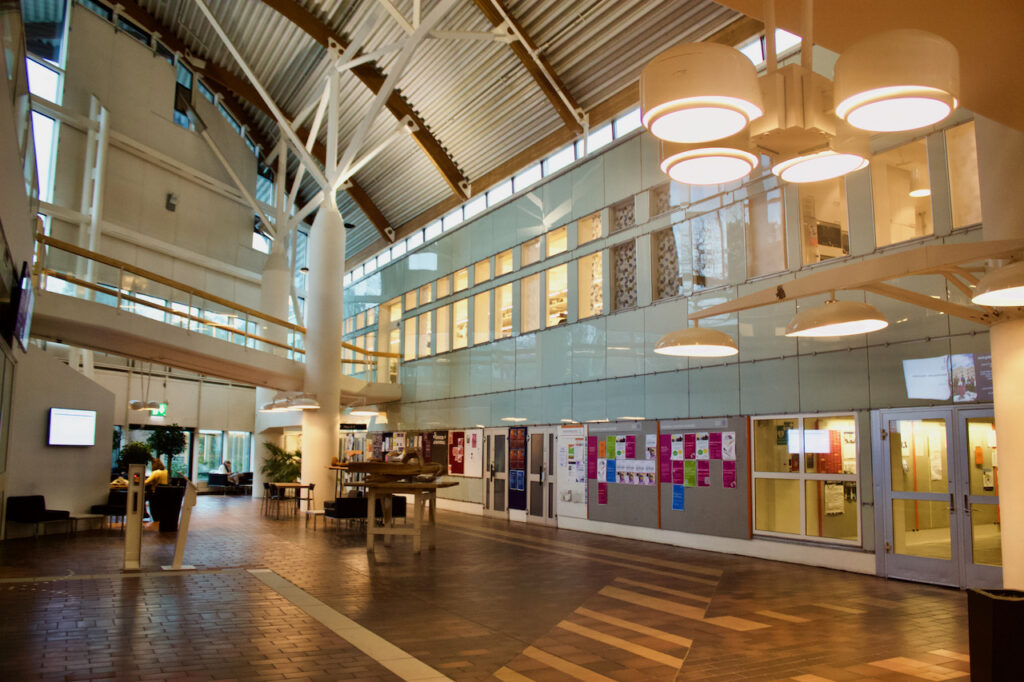 The Stockholm University Library features not only printed books, but e-books as well. More importantly the library has educational offerings about how to work with references, scientific communications, and information in general. The library provides tools for students, researchers, and teachers to publicize their work as well. The library also has plenty of study spaces for individual reflection and group rooms as well.
Functioning as a public library, the venue attracted 1.4 million visitors back in 2012. Although the library's patrons are students, teachers, and researchers, many of their collections are assessable to the public.
The History Of The Stockholm University Library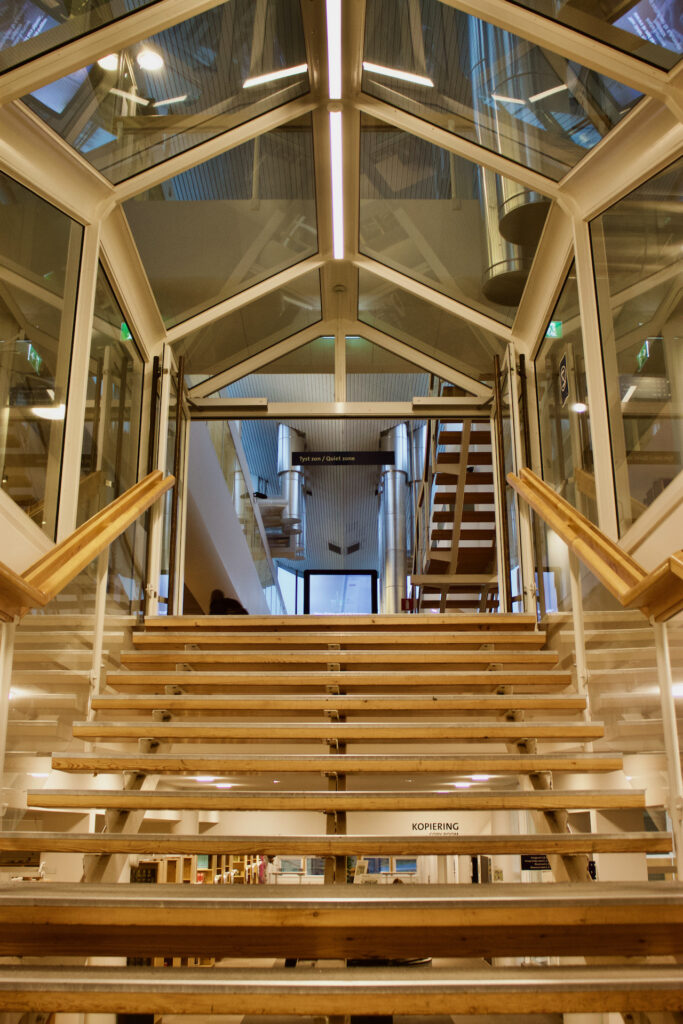 The Stockholm University Library can trace its origins back to 1870's, when local scholars from the Stockholm University Association started to build a collection of books and magazines through various purchases and donations. Eventually the volumes were stored at the Norra Latin school's attic. The collection continued to grow over the years with notable donations from Copenhagen's Royal Library and Norway's University of Oslo. By 1881, they'd amassed more than 15.000 items.
The collection moved to numerous venues over the years and didn't see a permanent residence until the 1970s. In 1971, the Stockholm University relocated from the city center to a new campus in Frescati where the research library's now located. At the same time, a number of libraries were also merged into one unit like the Social Sciences Library and Law Library. The relocation of collections, containing millions of books, from their former location to the research library was a years long efforts that went long into the 1980s.
Another noteworthy event occurred in 1978, when the research library became responsible for the The Library of the Royal Swedish Academy of Sciences, an incredible honour that provided access to one of Europe's largest collections of natural science.
The Architecture Of The Stockholm University Library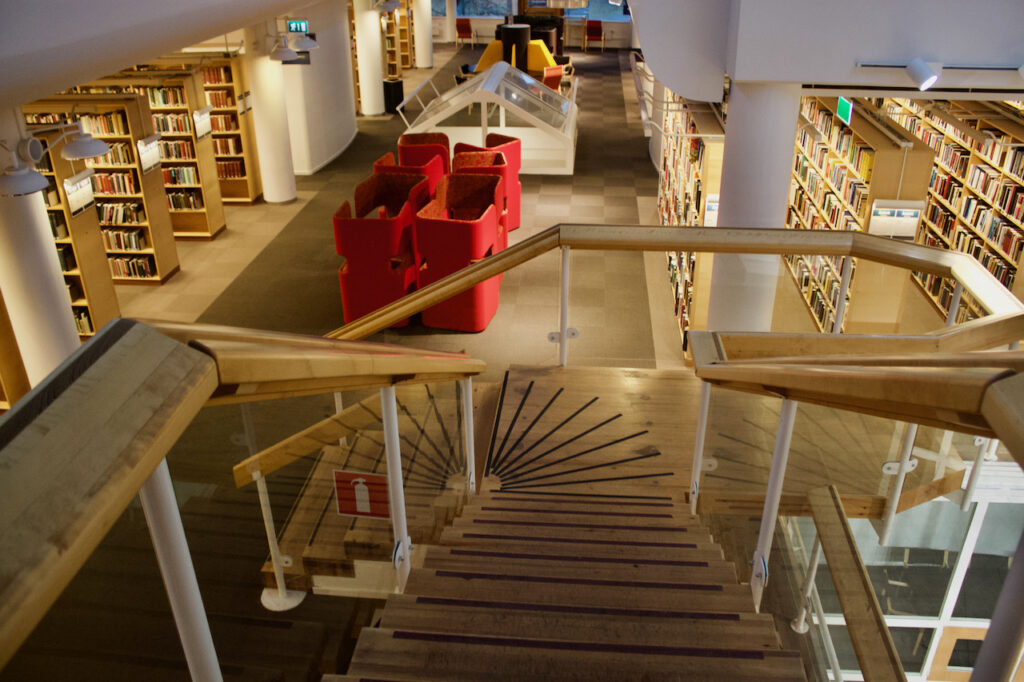 The library was designed by architect Ralph Erskine, who built the library as an extension to the university's South House (Södra Huset). The building features an arched rooftop with heavy accents of concrete and aluminium throughout, as well as the then novel concept of open collections. Finally, The Stockholm University Library opened to the public in 1983.
So when you visit Stockholm, be sure to make your way out to the university and spend some time wandering Frescati Library. Take in the architecture, dive into some of their publicly accessible collections, and kick back and read for a while.
Watch/share this video about the Stockholm University Library and better yet, subscribe to my Youtube channel for even more travel related videos.
What do you think about the Stockholm University Library? Do you have any other tips for the Swedish capital? Tell us in the comments.
Stockholm University Library Location
Where is Stockholm University Library located? Universitetsvägen 14D, 114 18 Stockholm, Sweden.
About The Stockholm University Library
Some things to know about the library and answers to the most common questions.
1) Can I get in touch with the library for more information?
Visit their website, email them, or call +46 8 16 28 00.
2) What is the nearest metro stop to the Stockholm University Library?
The nearest stop is the Universitetet along the Red Line.
3) When is the library open?
The library is open Mon – Thu from 8:00 – 21:30, Fridays from 8:00 – 16:00, and weekends from 9:00 – 17:00.
4) Is there a fee to visit the library?
No, it's a public library and there are no fees to enter the premises.
5) Is it cool take photos and videos inside the Stockholm University Library?
Yes, you can. Note, that library patrons may not want to be in your photos and they definitely don't want to be disturbed while working and studying. Be respectful as you photograph your way around the premises.
6) How much time should I spend at the library?
If you're going to check out the building's architecture, at least an hour and longer if you plan to dive into some reading materials.
7) Is the Stockholm University Library suitable for children?
In this case, no. This is a library primarily aimed at students, teachers, and researchers, it's not really a gathering place for children. You're better off visiting the Stockholm Public Library instead which offers programs for young kids.
8) Does the library host live events?
Yes, they do but less so since the pandemic. Check in with their calendar to see what's on the schedule.
Getting Around Stockholm
You can easily get around Stockholm in a number of ways; these are the best transportation options:
1) To arrive at Stockholm's city center, you can drive, take a taxi, or bus from the airport and main bus/train stations:
Many people arrive in Stockholm by ferry at the ports Värtahamnen, Frihamnen, and Stadsgården. From Värtahamnen, you can take public transit into the city center which will take you 30-40 minutes. From Frihamnen, public transit will have you in the center of the city in 20-30 minutes. Lastly, from Stadsgården, a ride on public transit to the city center will take about 20 minutes. Popular ferry operators include Tallink, Viking Line, and Birka Cruises.
Buses and trains arrive at City Terminal, close to the Central Station which easily connects you to public transit. If you're feeling lazy, venture outside and hire a taxi.
Flights arrive at Stockholm-Arlanda Airport (ARN), about 40 kilometers north of the city. You can take express buses with Flygbussarna and Swebus. Expect the journey to the City Terminal, next to the Central station to take about 45 minutes. A one way ticket for an adult starts around 99 SEK, about €10. You can also take the Arlanda Express Train into the city. Trains leave every 15 minutes and the journey to the Central Station takes around 20 minutes. A one way ticket will run you 295 SEK or €27. A taxi into the city center will take approximately 45 minutes and start at 450 SEK or €43. You can also take a regular suburban train and bus, which takes longer, but is much cheaper.
Check Wikitravel for more detailed Stockholm transportation information.
2) Some of the best ways to get around Stockholm?
Where To Stay In Stockholm
Options about where you can stay when you travel to Stockholm, Sweden.
1) Check out places to stay over on booking.com:
2) I stayed at Connect Hotel City in Stockholm, finding it to be one of the more affordable and cool hotels in the area. As Stockholm isn't the most budget friendly, I was happy with this hotel so I could spend on other things like eating yummy meals featuring reindeers and Swedish meatballs. The hotel features a hip and cozy lobby space where you co-work or sip a craft beer. The rooms are large and the beds are comfortable. It's also located close to public transit so it's easy to make your way around the city.
Paying For Things In Sweden
Things you need to know about handling your cash in Sweden:
1) Sweden has its own currency, the krona (SEK).
Check xe.com to see t how your local currency fares against krona.
Most places accept bank or credit cards. I personally didn't use a bank machine when in Stockholm.
When paying by card, you'll be asked which currency you want to pay in – choose to pay in SEK, as you'll save money on the exchange rate.
2) Sweden is an expensive destination, from your accommodation, to eating out, and more. Be sure to plan your budget ahead so you can have a great time while there.
Good To Know About Stockholm
There are other things to know about how to have the best vacation in Stockholm.
1) One of the best ways to experience Stockholm is to take a tour with Get Your Guide, whom I highly recommend having done their tours myself.
2) Is Stockholm safe? Stockholm is generally considered to be one of the safer cities in the world and as a solo female traveller, I was comfortable during my week there. It's also said to be safe for people of colour, but it's possible you'll experience incidents of racism.
3) If you like travelling through Northern Europe, I suggest reading through some of my other posts:
*Disclosure – This post contains some affiliate links. If you book a tour or hotel, I'll earn a tiny commission at no extra cost to you. Thanks for your support!