I arrived at the Continent Hotel in Bangkok in pretty bad shape. I was overwhelmed by jet lag, even after being in Thailand for a week. It'd been jam-packed with fun-filled experiences like exploring Bangkok's Chinatown, as well as the Thonburi district. Then we flew down to Trang, visiting the Trang Markets and all of the Trang Islands. This seemed to amplify my overall exhaustion, and I actually became quite ill during my trip, even spending a morning at a Thai hospital to tend to my ailments.
It would've been an understatement to say that I needed some good old-fashioned rest and relaxation before heading home to Berlin. Turns out the Continent Hotel was everything I needed and more.
The Continent Hotel in Bangkok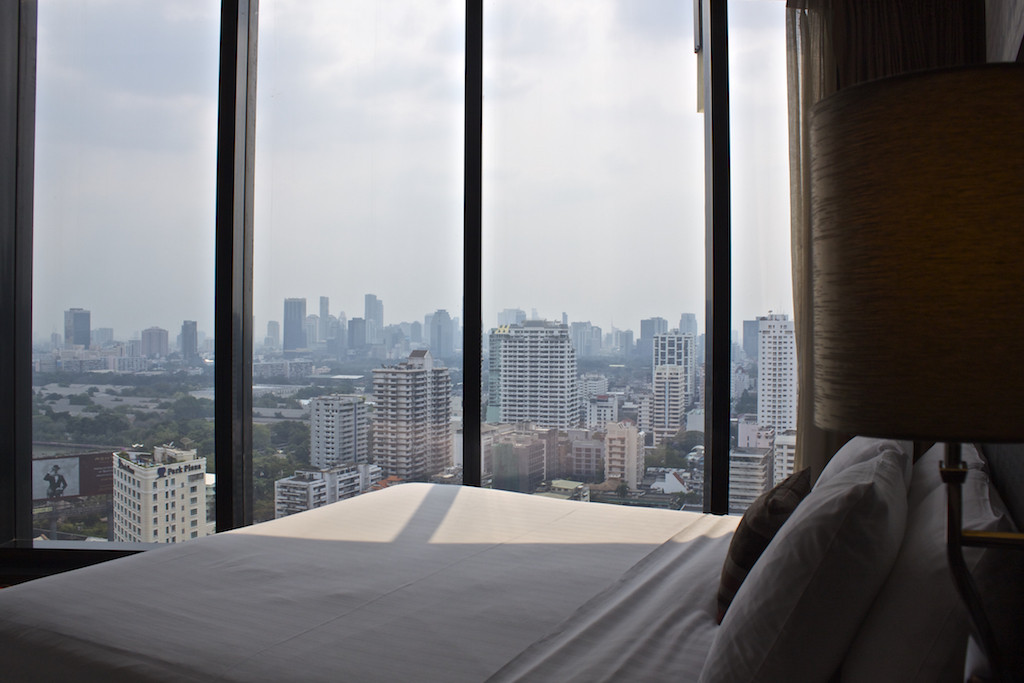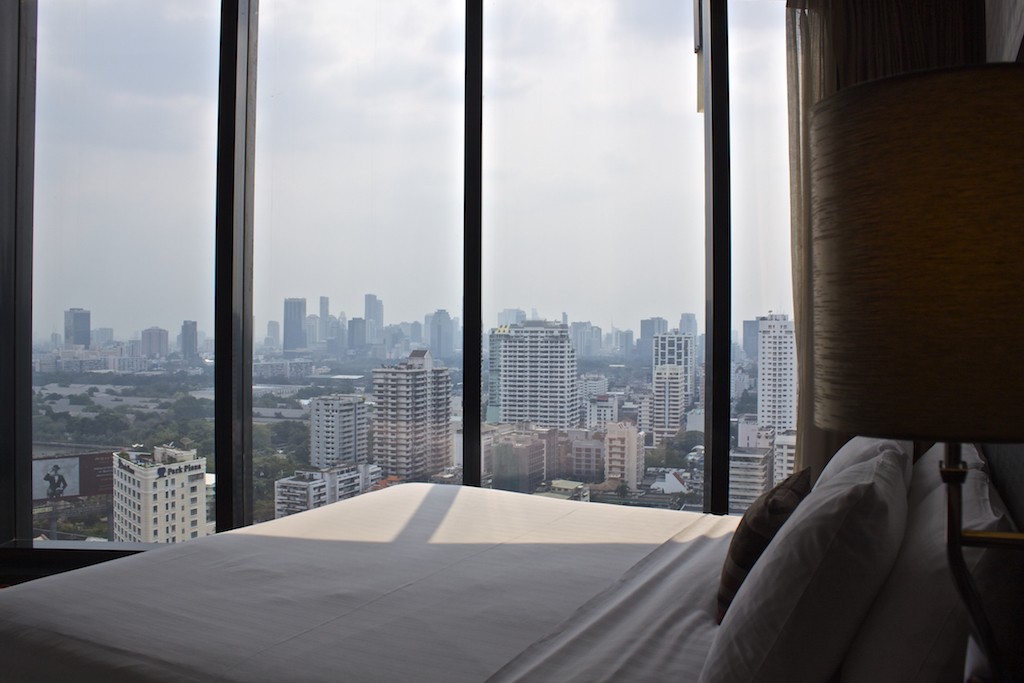 This five-star boutique hotel is centrally located in Bangkok's Sukhumvit district, close to Sukhumvit and Asoke roads, known as the "crossroads of Bangkok." Both the BTS Asoke Skytrain station and the MRT Sukhumvit station are within a few minutes' walking distance of the hotel.
The Continent Hotel immediately impresses you, as you gaze up at the hotel's tall, sleek, and skinny structure that reaches 35 floors. It's almost hard to believe that the hotel contains 153 rooms, a restaurant, two bars, a fitness studio, and a rooftop infinity pool.
Lobby and Compass Bar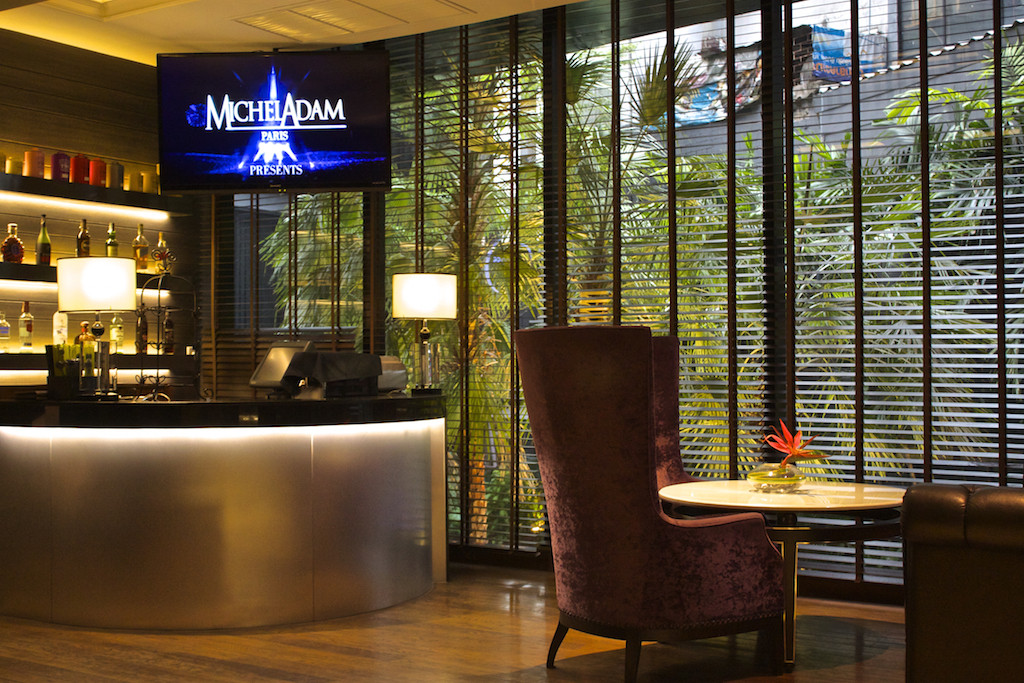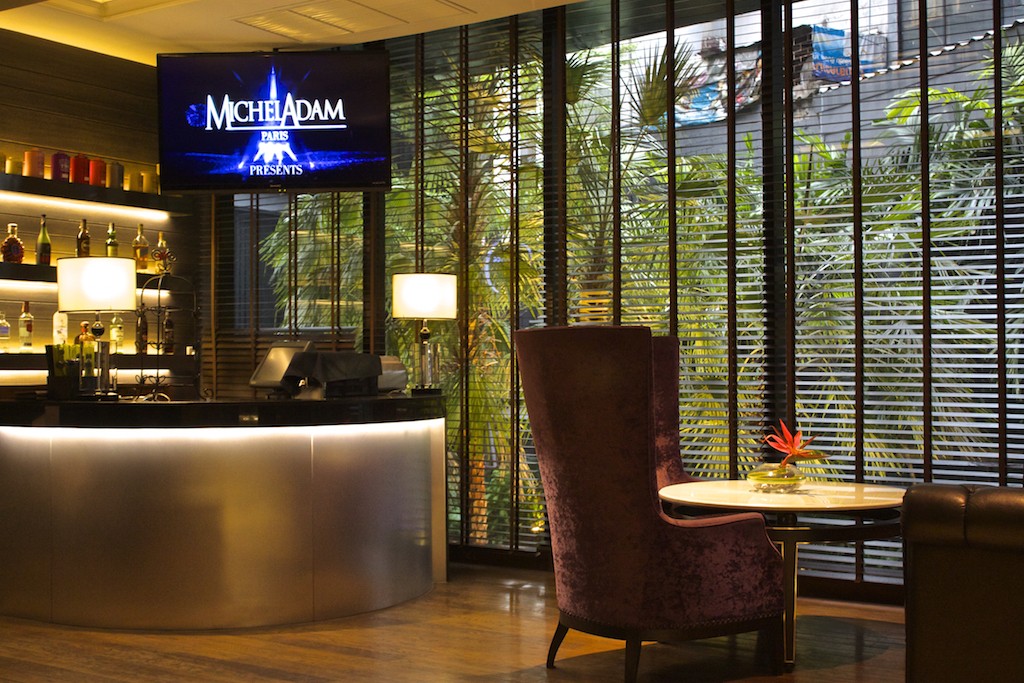 Entering the hotel is akin to inserting yourself into another world and you quickly forget the hustle of the bustle of the busy streets just outside. The contemporary interior is both warm and soothing with its Asian-inspired design. Even more welcoming is the attentive front desk staff who greet you and work quickly to get you settled into your room.
The Compass Bar is a great place to stop and have a quick cocktail before heading out for an afternoon of shopping (the hotel is surrounded by shopping malls like the Emporium and EmQuartier) or a night of outrageous fun in Bangkok.
The Continent Room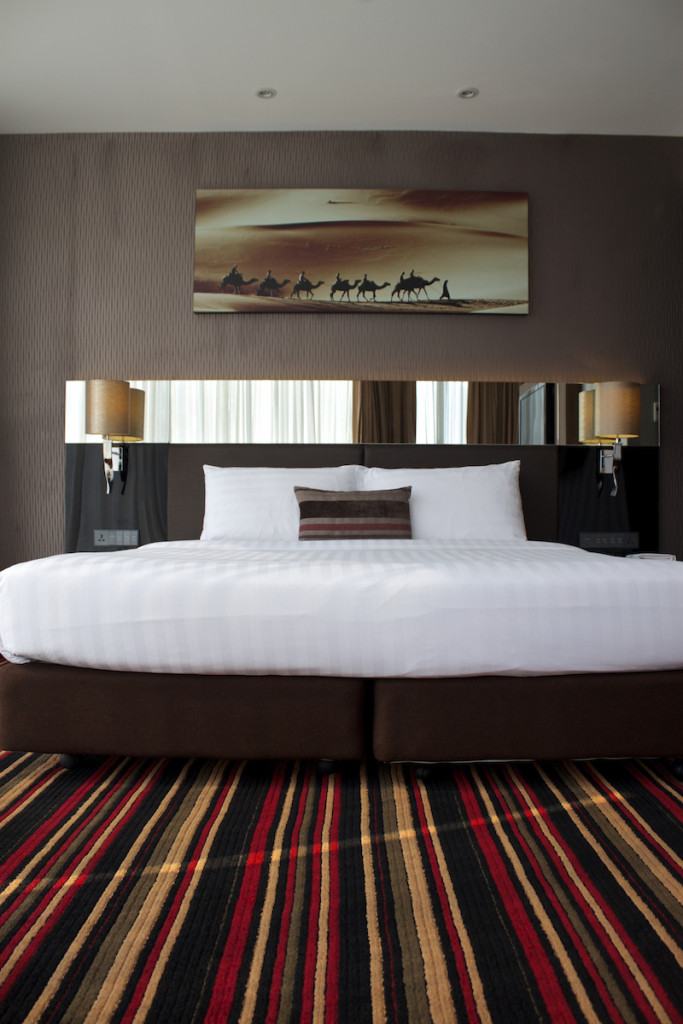 I was lucky to have a stay in one of the hotel's most luxurious room types, a Sky Room, located on the 29th floor! It comes with many unique benefits like turndown service, a daily fruit basket, complimentary laundry, free drinks and snacks at the bars, and more. Each of the floors in the hotel follows a theme of different cities around the world and is decorated with photos from the featured destination. I was all too happy to be staying on the Berlin-themed floor, as Berlin is never far from my heart.
What I loved the most about my Sky room was the Dessert theme (you can also get Ocean, Forest, and Space themed rooms), the large bed, and the expansive view of Bangkok. Other perks included a flat-screen TV, a work area, and a bathtub where you can soak in a bubble bath while continuing to enjoy the view over Bangkok.
I'll be honest, most of my final two days in Bangkok were spent in this room. I caught up on sleep in that super comfortable bed and took long soothing soaks in the tub.
Medinii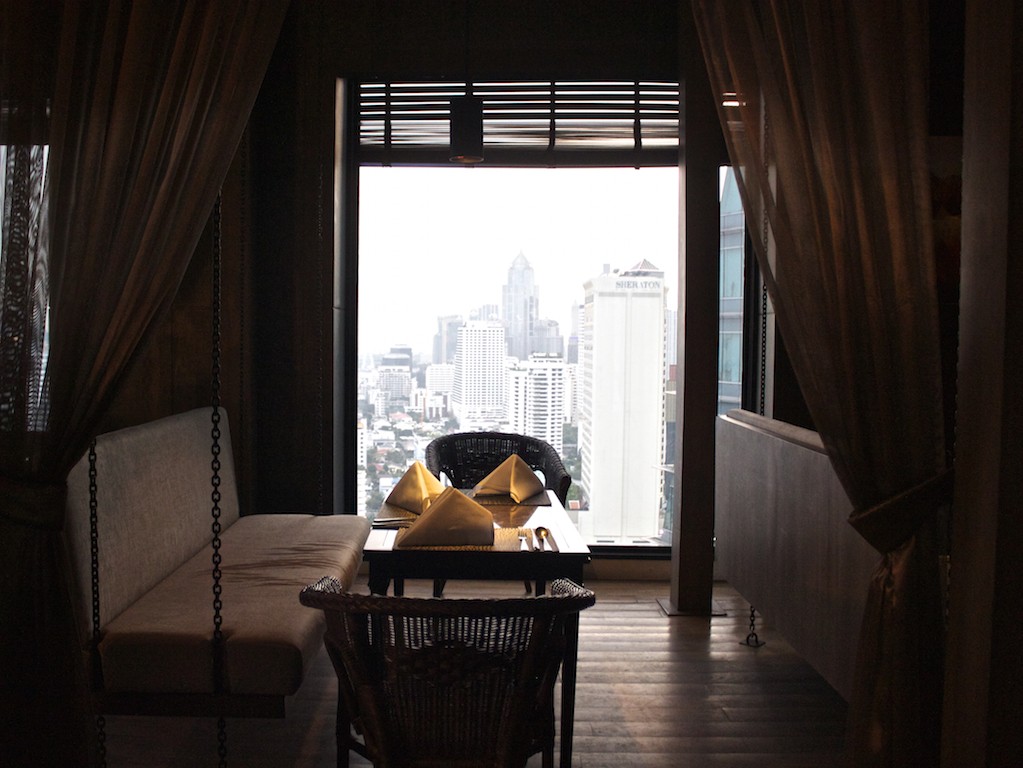 Medinii is an award-winning Italian restaurant where guests can take their breakfast, lunch, and dinner. The airy space, decorated in dark fabric curtains and muted hardwood floors, comes complete with chair swings that overlook Bangkok. It was here that I sipped red Italian wine and sampled various dishes from their menu, including pizza, pasta, steak, and a fruity sorbet for dessert.
Sadly, I have no photos from my breakfast but trust me (like really!) the food was equally as good with all the standard fare. I loaded up on lots of fresh fruit and a refreshing tea to kick-start my day. Breakfast was also included in my booking.
Axis and Spin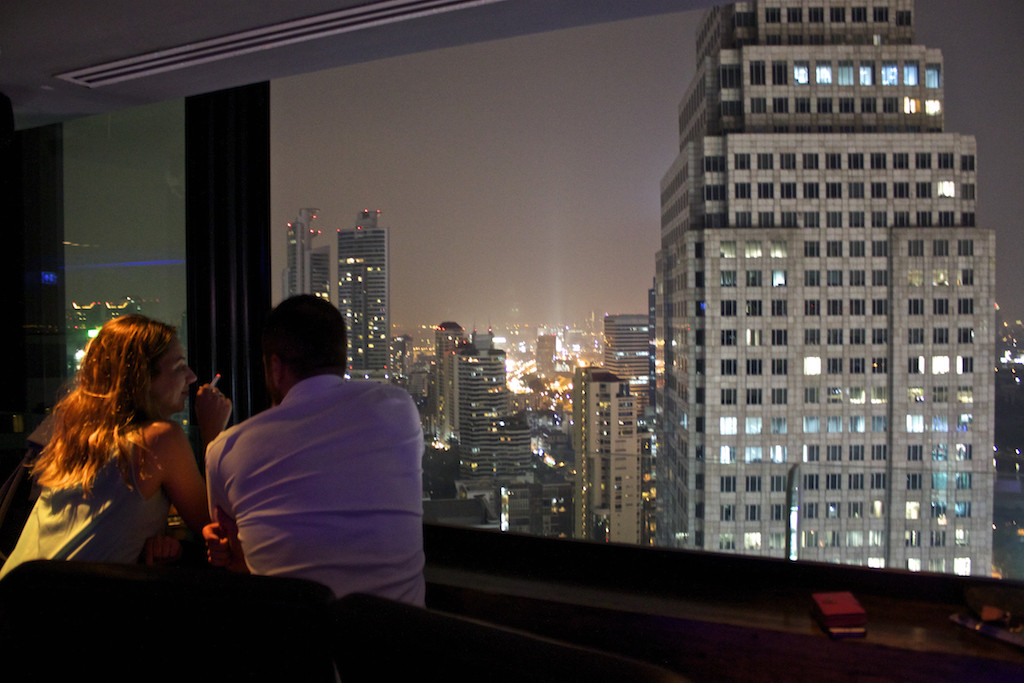 While I stayed at the Continent Hotel in Bangkok, I enjoyed one last cocktail at their Axis and Spin rooftop bar and club, saying one last Prost before heading back to Berlin. Filled with trendy locals, as well as hotel guests, it's the perfect spot for a nightcap while soaking up those luscious Bangkok views.
H20 Pool Bar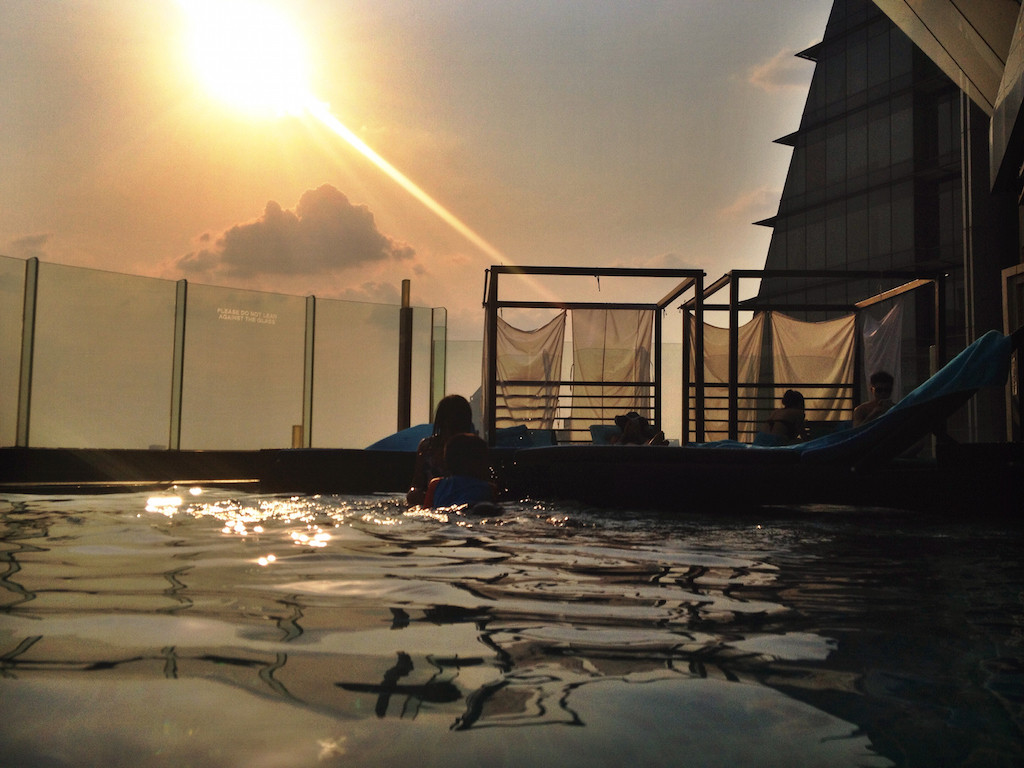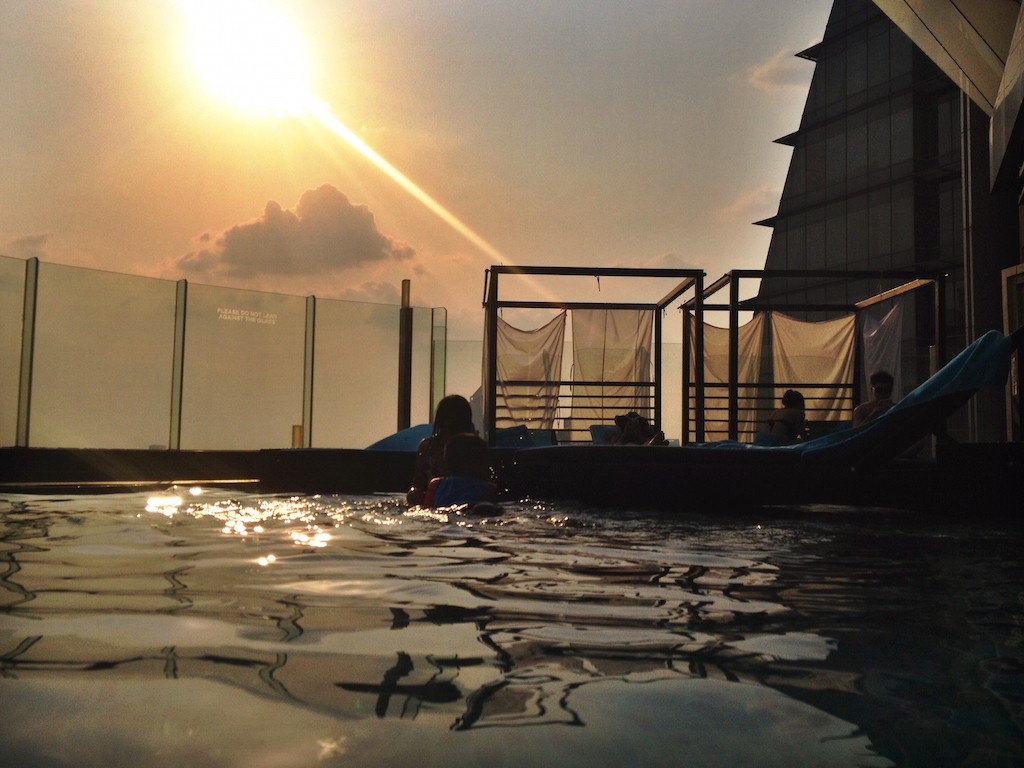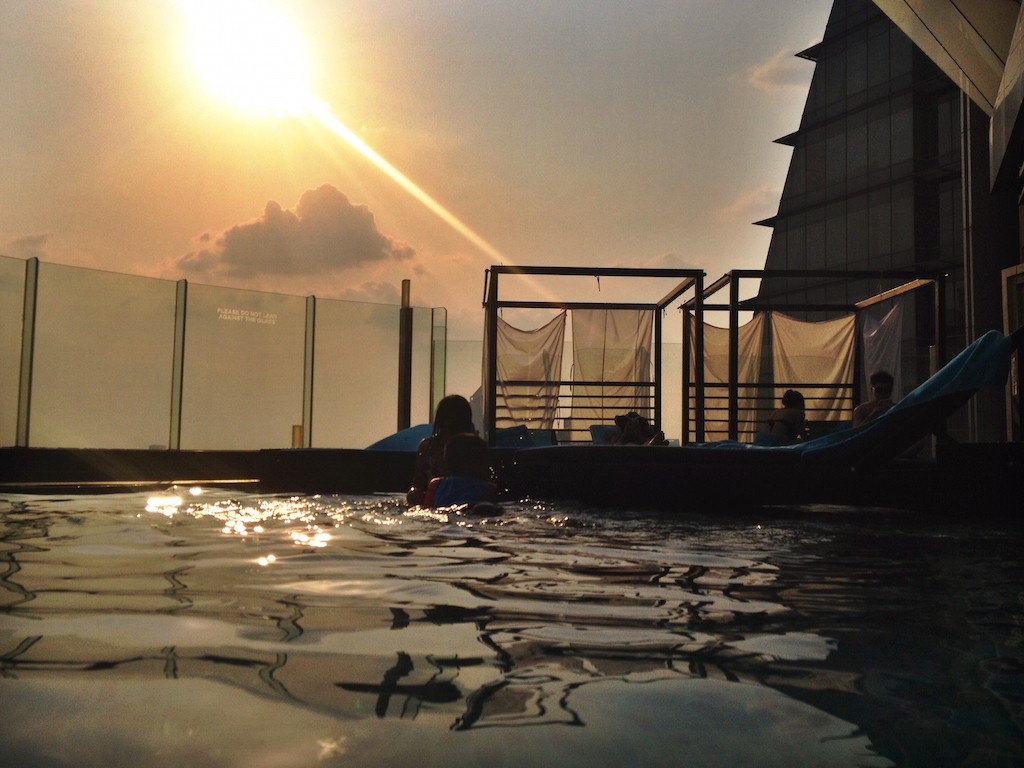 Of course, my stay at the Continent would not be complete without taking a dip in the rooftop infinity pool where I watched the sunset over Bangkok.
What do you think about The Continent Hotel in Bangkok? Would you stay at this hotel or do you have recommendations for other hotels around the city? Drop us a note in the comments below.
Location
The Continent Hotel Bangkok
413 Sukhumvit Road
Bangkok 10110, Thailand
+66 2 686 7000
http://www.thecontinenthotel.com/
Good To Know
1) The Continent Hotel is best suited to travelers looking for an upscale and refined stay in a central area of Bangkok.
2) Wifi is free and available throughout the hotel.
3) Airport transfers to and from the hotel can easily be booked with your reservation.
4) If you arrive by car (whether a taxi or a rental car) from Suvarnabhumi International Airport, the ride will take 30-50 minutes depending on traffic. If you're coming from Don Muang Airport, expect the ride to take anywhere from 20-40 minutes.
5) If you'd like to see even more hotel options (although, I do highly recommend this hotel), see booking.com.
6) Make your time in Bangkok special by taking a guided tour.
7) If you dig travel in general, consider giving some of these posts a read for even more inspiration for future trips.
8) Last but not least, if you need even more Thailand travel information, consider this 14-day Thailand itinerary or this post, about where to stay in Bangkok.
Disclosure – One of my two nights at the Continent Hotel was complimentary. Any opinions expressed about my love of rooftop infinity pools and comfortable king-sized beds are entirely my own. This post also contains some affiliate links, so if you book a tour or hotel, I'll earn a tiny commission at no extra cost to you. Thanks for your support!