Ever wonder what it's like to spend an absolutely perfect day in paradise? Then let me take you on a little tour of the Trang Islands, in southern Thailand.
After spending time in the ever-busy and chaotic Bangkok, exploring Chinatown, and getting to know the Thonburi district, our group set off to explore the relatively calm Trang province.
Experience Thailand Through the Trang Islands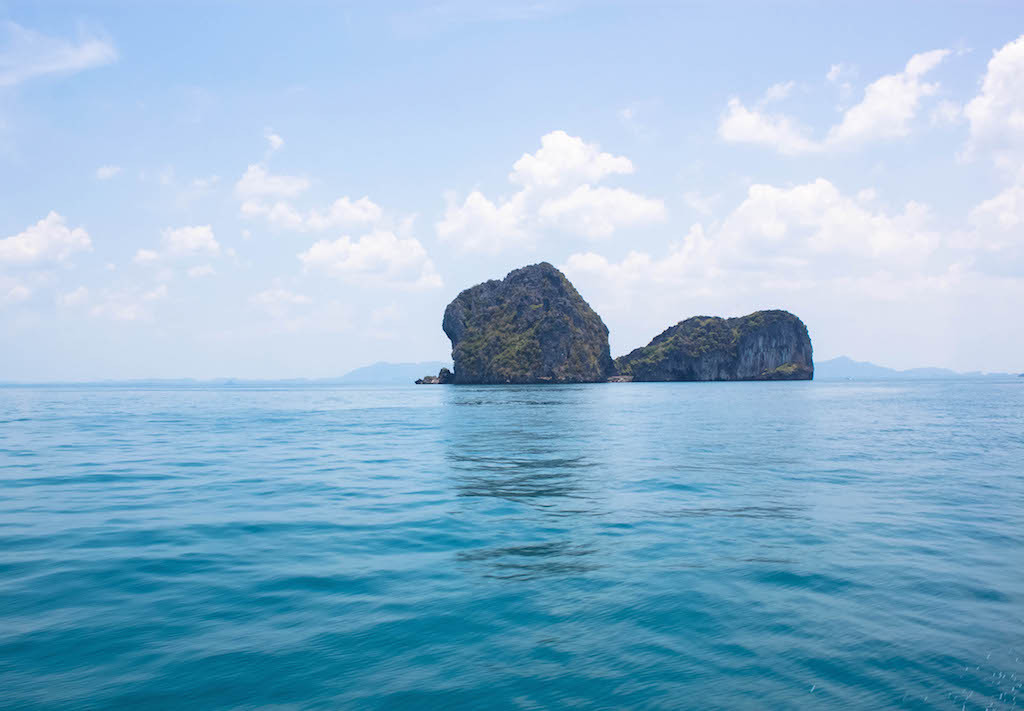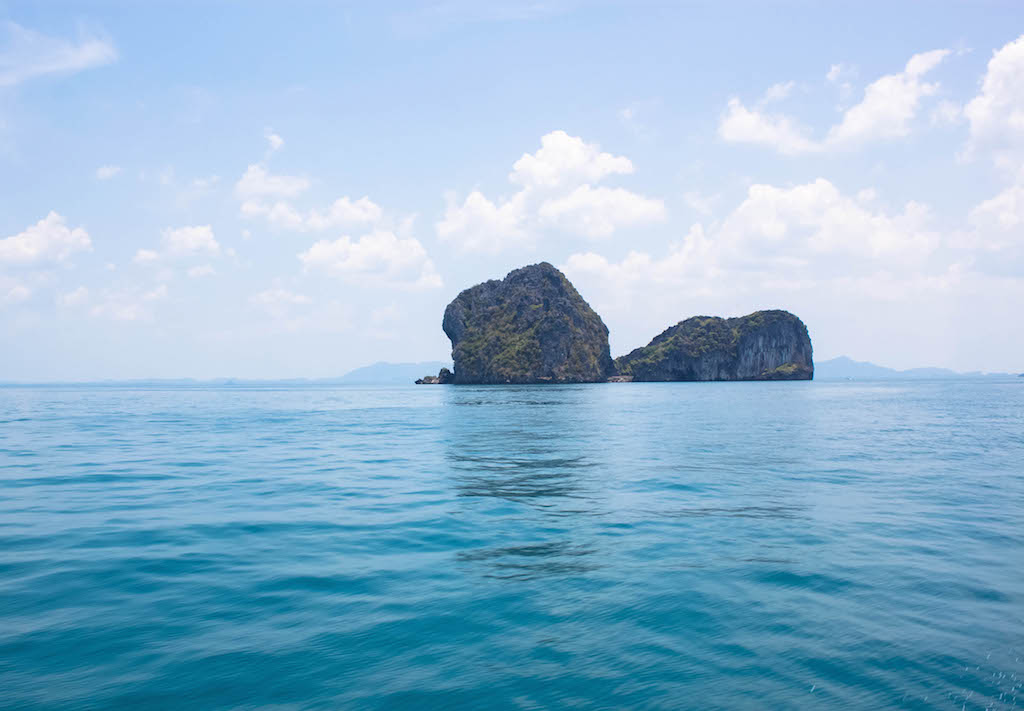 What was in store? A day of island hopping, snorkeling, swimming through a dark 80-meter-long tunnel to reach a secluded beach, feasting on Thai food, getting a massage on the beach, being scared by bats on a lonely island, and finally, relaxing at an exclusive resort complete with a swoon-worthy sunset.
Recommended reading: This guide about cruising in Thailand.
Pak Meng Pier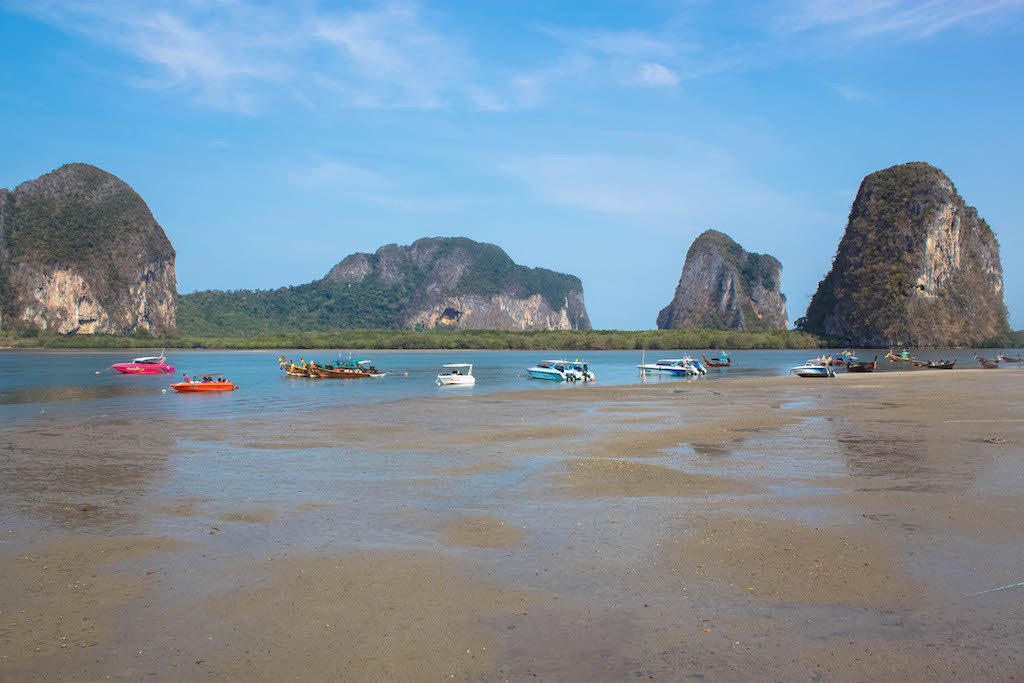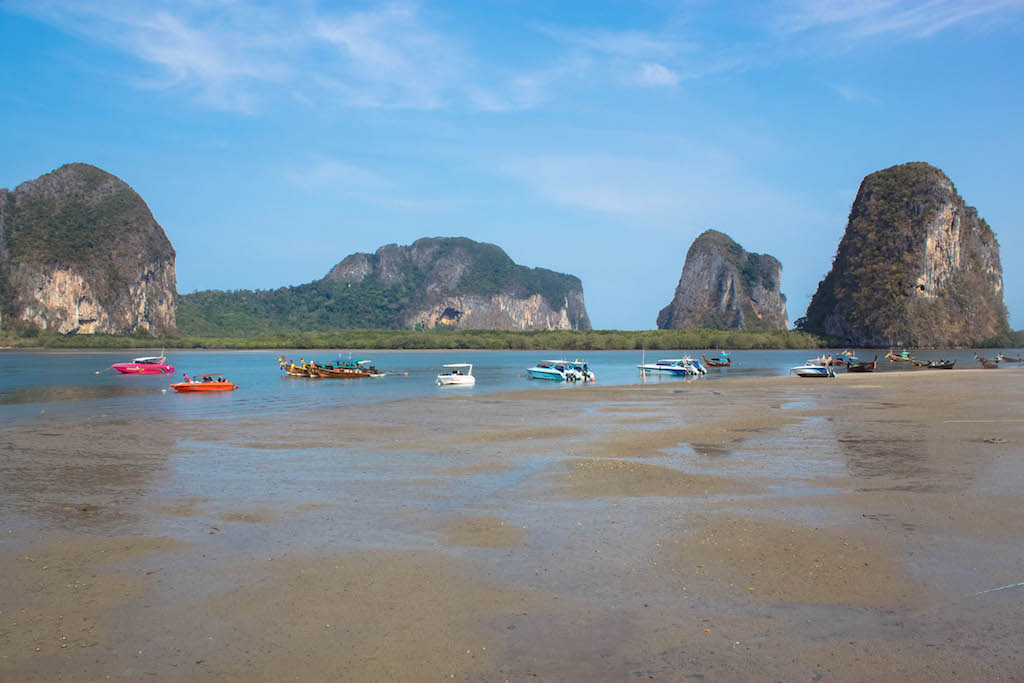 We left Rua Rasada Hotel, a venue oddly shaped like a cruise ship, and headed down to Pak Meng Pier to board the private speed boat that would take us on our island-hopping adventures.
Even though I hadn't even gotten on the boat yet, I was already completely awestruck by the natural beauty of Thailand. I'd always known it was beautiful, but seeing it for myself was an absolute dream come true.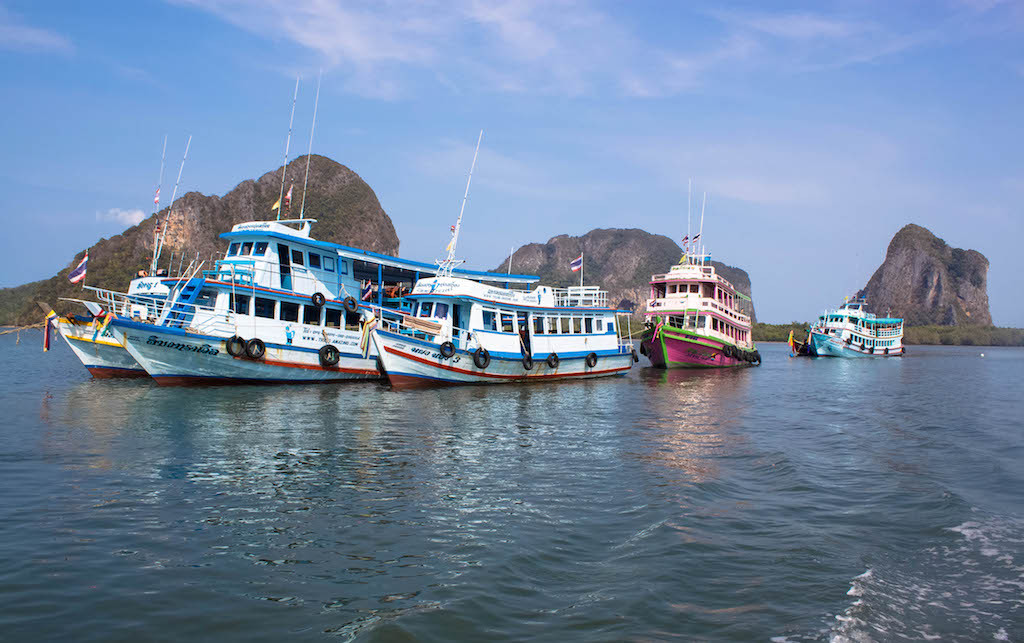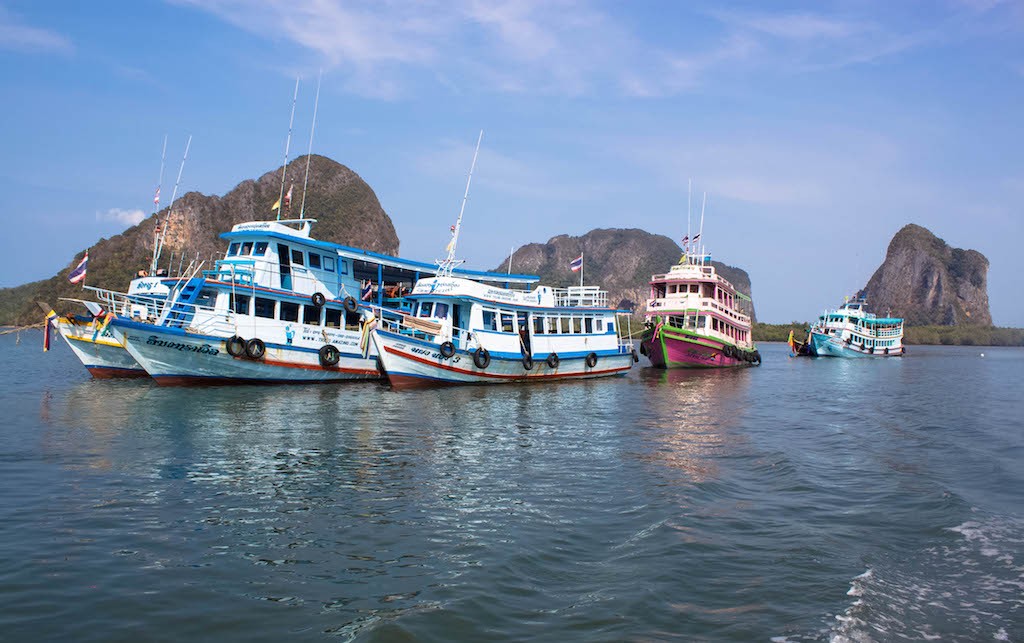 We jumped on the boat and were soon speeding off to discover all of what the Trang Islands had to offer. I spent most of our ride that day at the back of the boat, taking in all of the glorious views of the Andaman Sea.
Ko Muk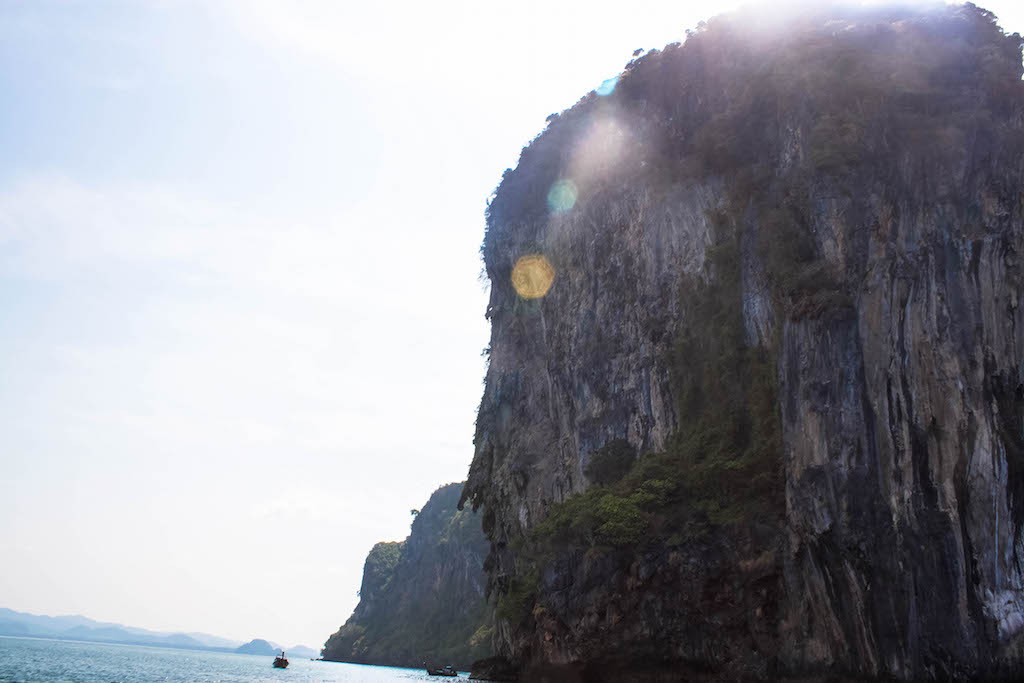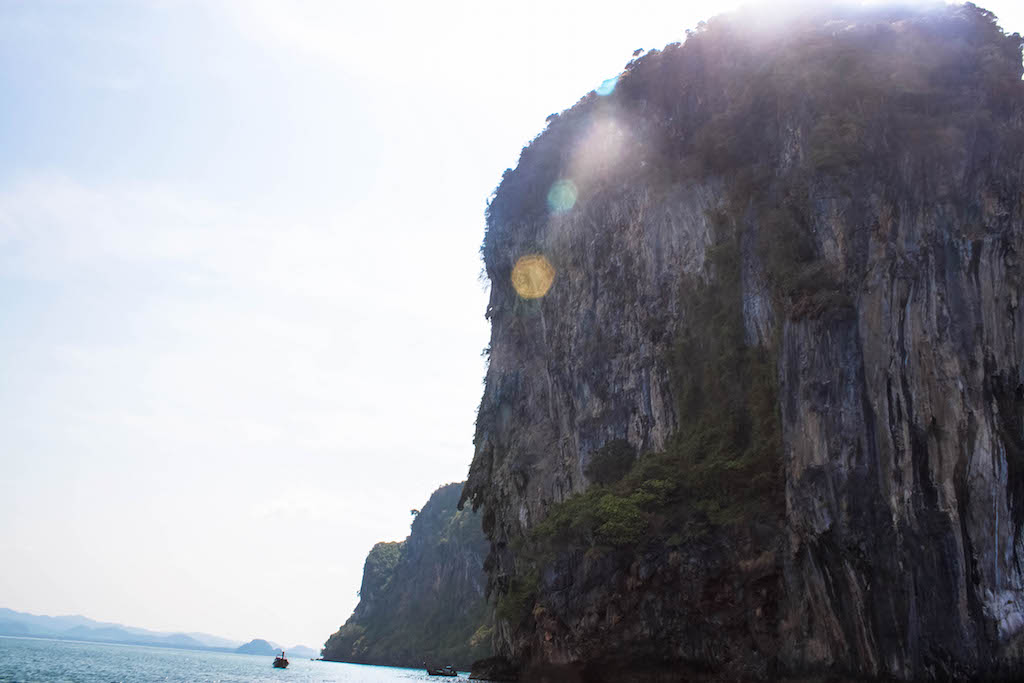 The first of our Trang Islands agenda was Ko Muk, also known as Ko Mook. The small island is renowned for its affordable lodgings, eastern white sand bar Hat Sivalai, western side Hat Farang with beaches flanked by limestone cliffs, and the Tham Morakot Emerald Cave.
The west coast sunsets are said to be gorgeous and the island is a great place to base yourself for day trips to other islands. A calm island rather than a party one, it's also without an ATM, so come armed with cash to pay your way.
The ride up to the jungle-filled island was unforgettable. But we were only on Ko Muk for a short time, as our intention was to visit the Tham Morakot Emerald Cave.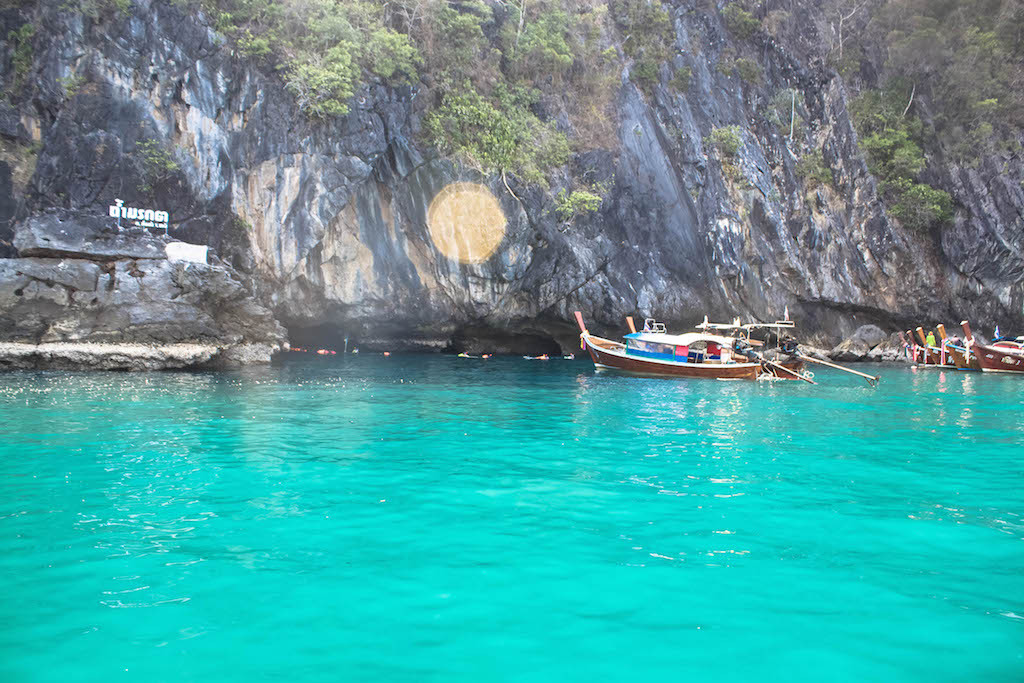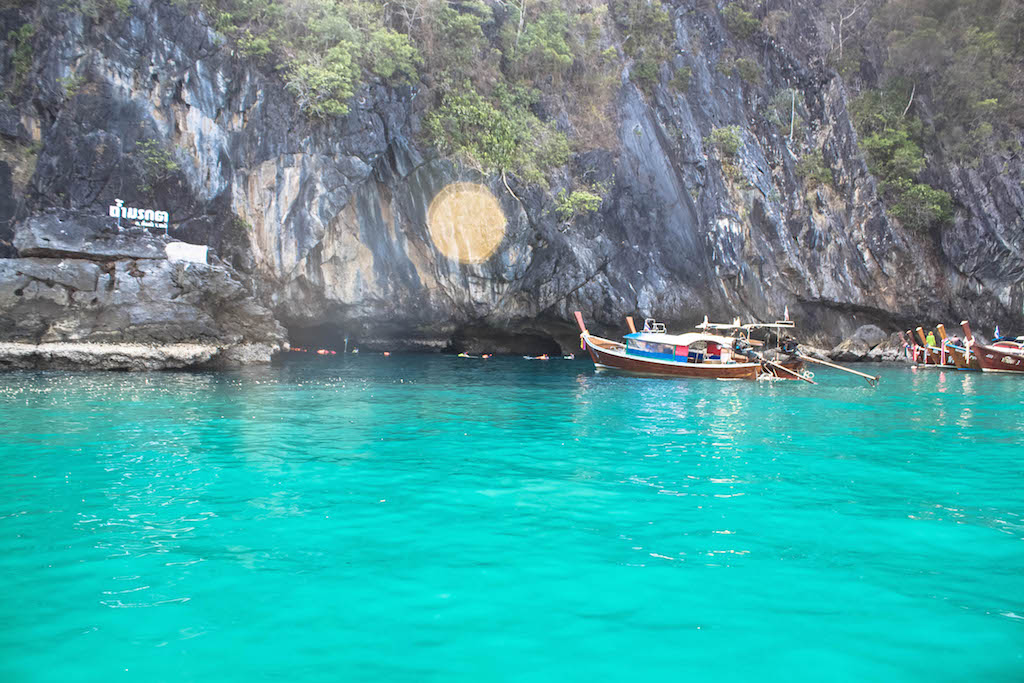 Tourists flock to the island to see this cave, which involves an 80-meter swim through a dark limestone tunnel to reach a secluded beach surrounded by high cliffs.
To be honest, I was pretty nervous to undertake this little expedition. After having crawled through dark caves in Budapest for four or five terrifying hours back in 2011, I've been profoundly claustrophobic ever since. The thought of swimming 80 meters in the dark didn't sound very inviting at all. I decided I'd try to get over my fears and give it a go.
We put on life jackets, stashed our gear in waterproof bags, and jumped in the warm bathtub temperature water. Shortly after, we were asked to form a line, grab the shoulders of the person ahead of us, and begin the swim through the emerald cave.
To my relief, the cave was wide and it only took us about five minutes to get through. We met lots of other groups along the way and the cave was lit by our guide who sported a headlamp. As I came prepared, I wore my own headlamp as well. Not a very sexy look, but I wanted light.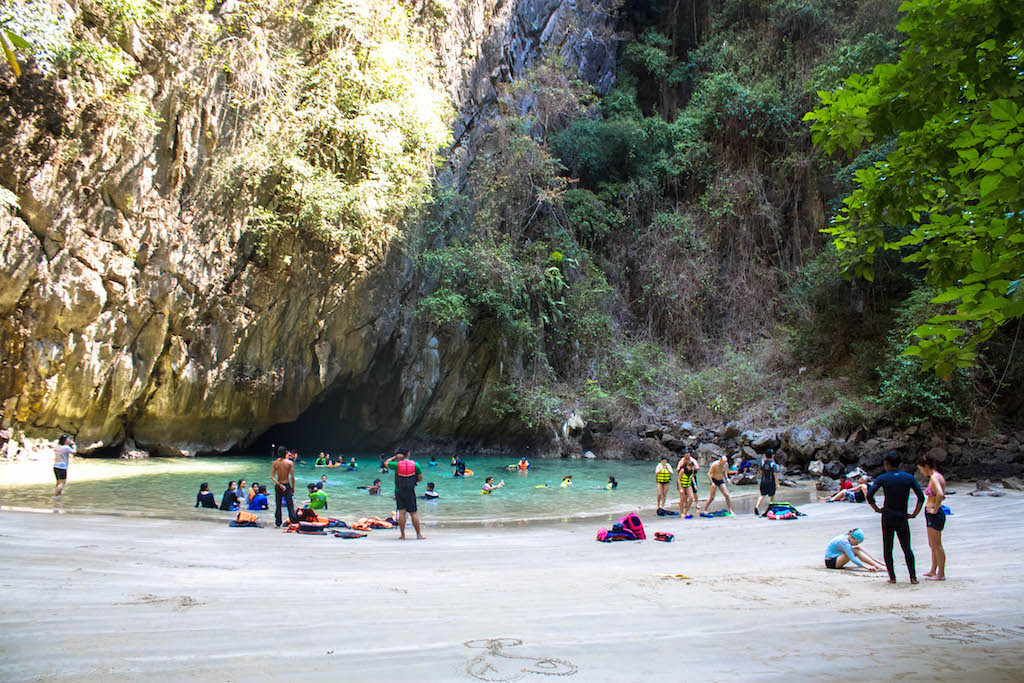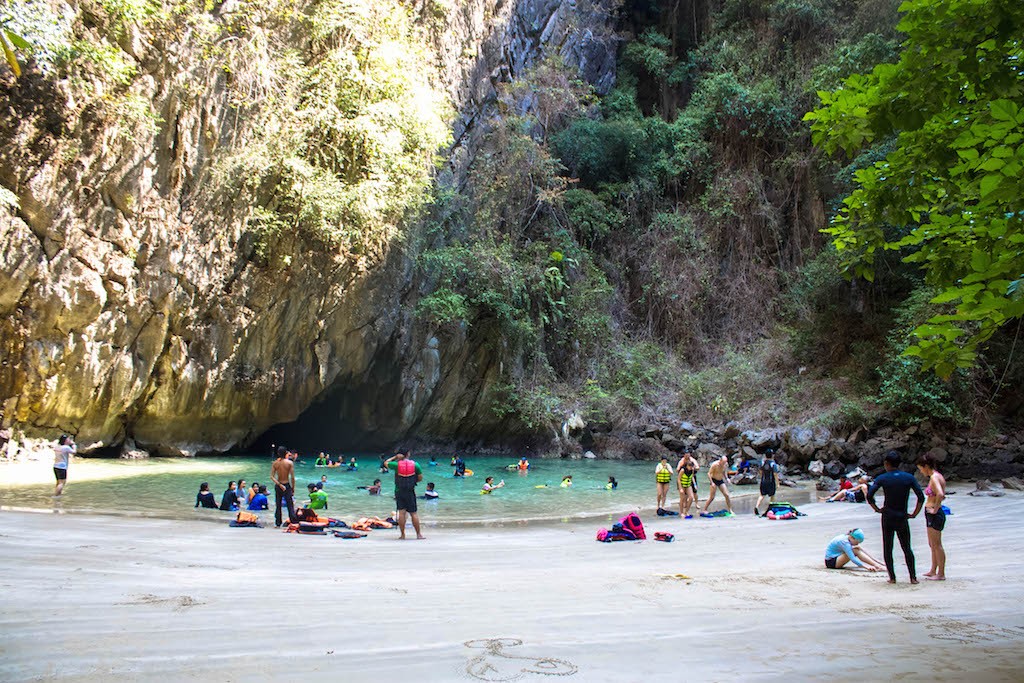 We soon reached the beach, a location where pirates used to store their booty.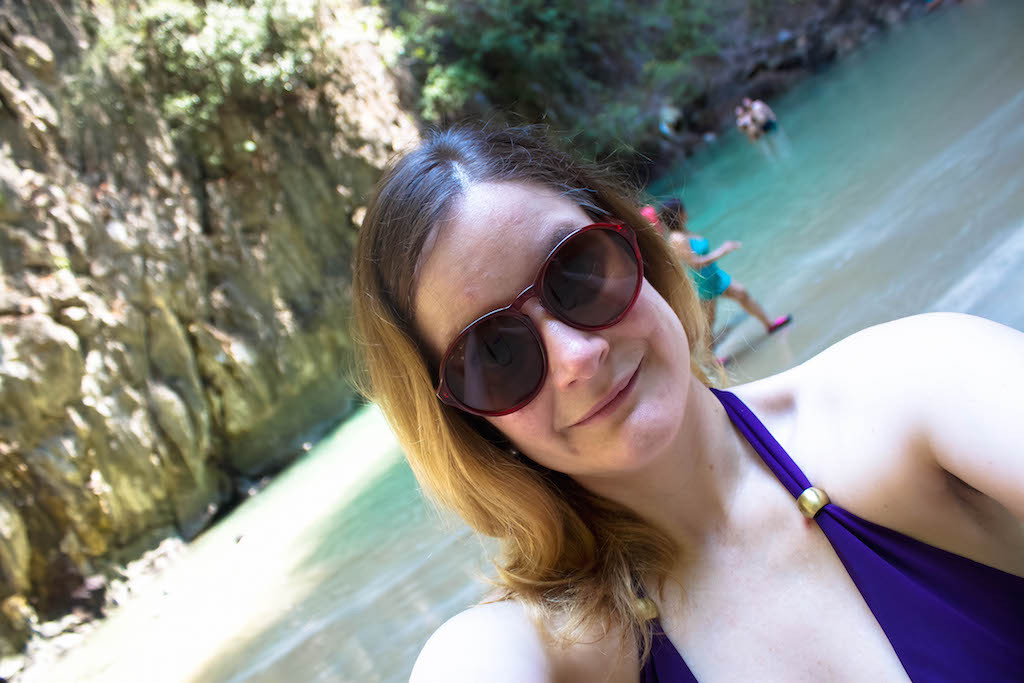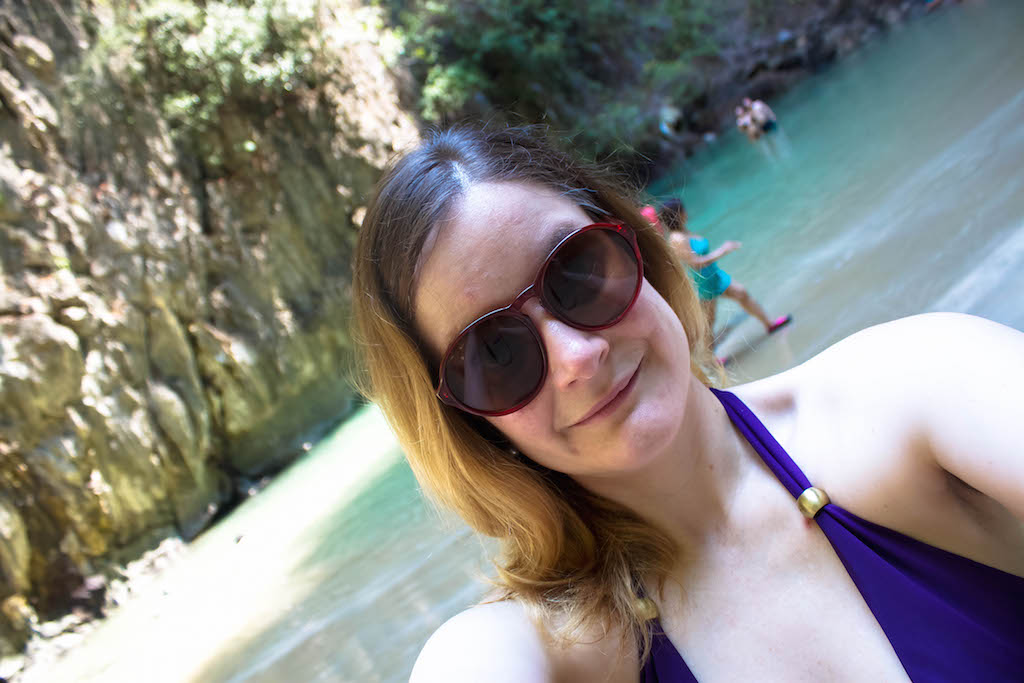 It was high time for a dorky selfie! I made it through and boy, was it ever worth it. I also feel like I should have been wearing a bandana and an eyepatch to embody the true pirate spirit.
Some items to note:
It's best to be on the beach at midday when it's illuminated by a piercing shaft of light.
You need to pay a national park fee to partake in the cave excursion.
You cannot enter the cave at high tide.
As this is such a popular tourist attraction, more often than not, the beach is filled with tourists. Try to visit early or late in the day when it's not as busy.
Ko Kradan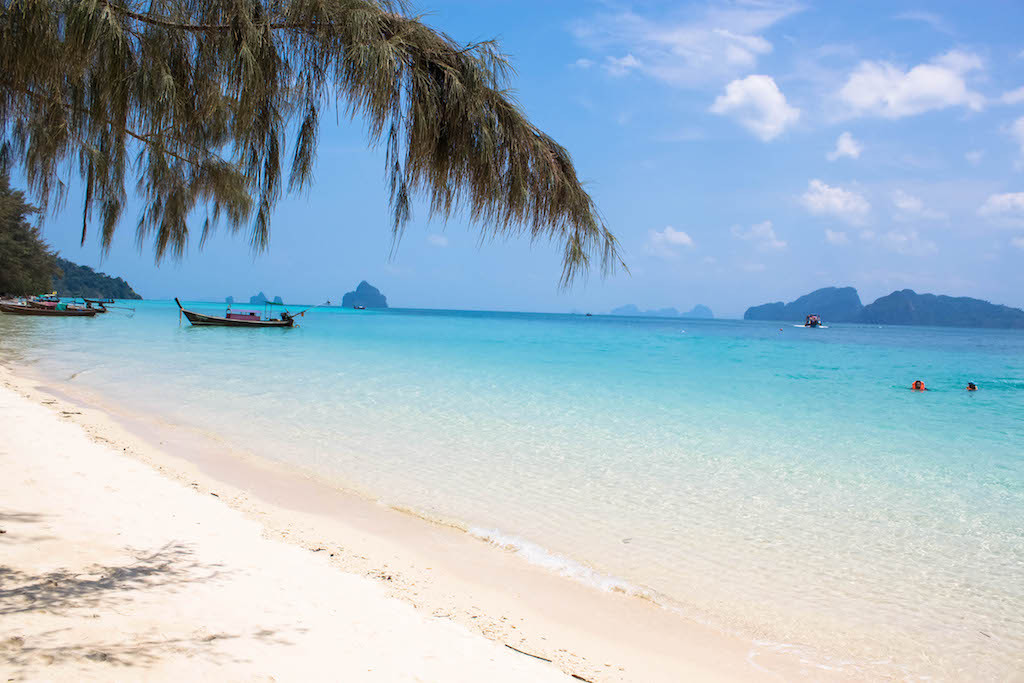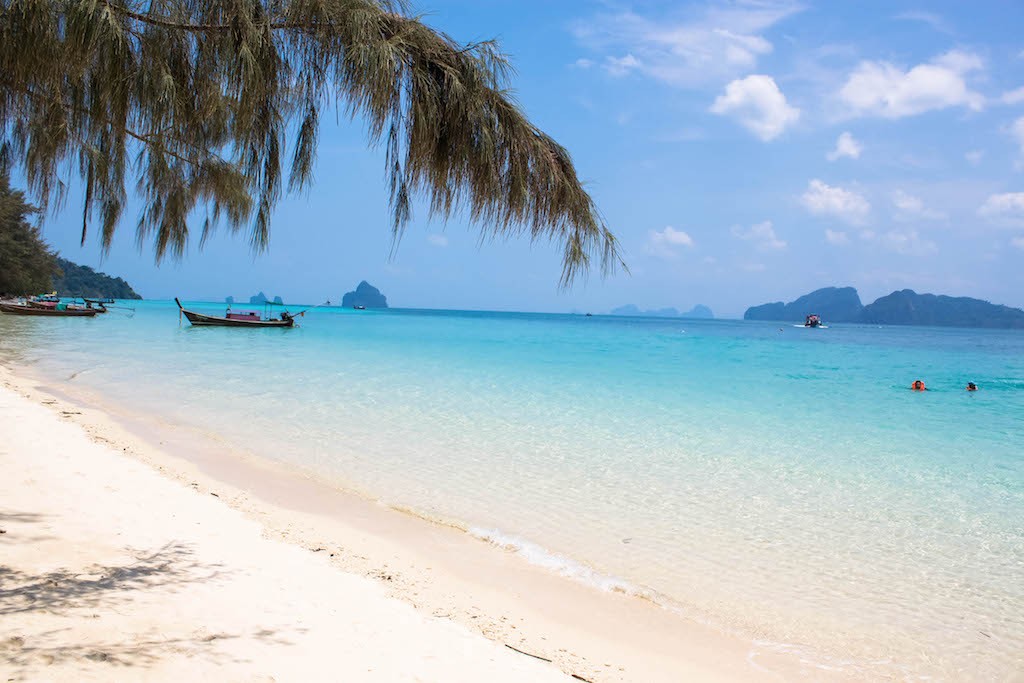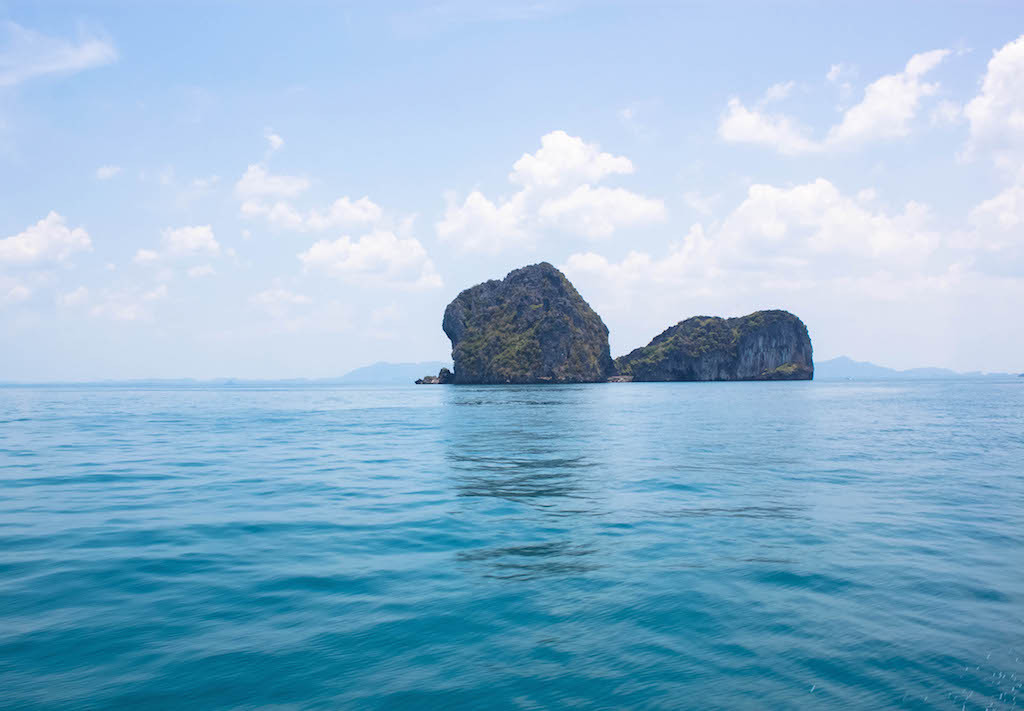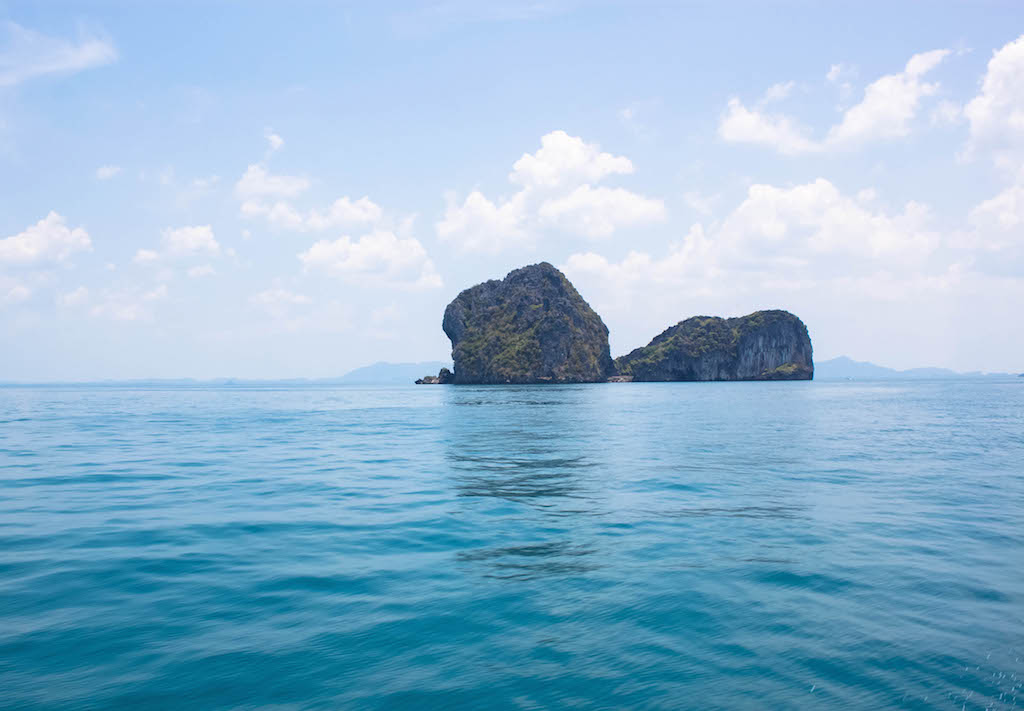 Continuing our quest to explore Trang Islands, we moved on to Ko Kradan, where we also only stayed for a brief while. Dotted with slender white sand beaches, and shallow clear turquoise waters, the small inviting island offers views of Ko Muk and Ko Libong. It's great for swimming, snorkeling, and even kayaking around the island.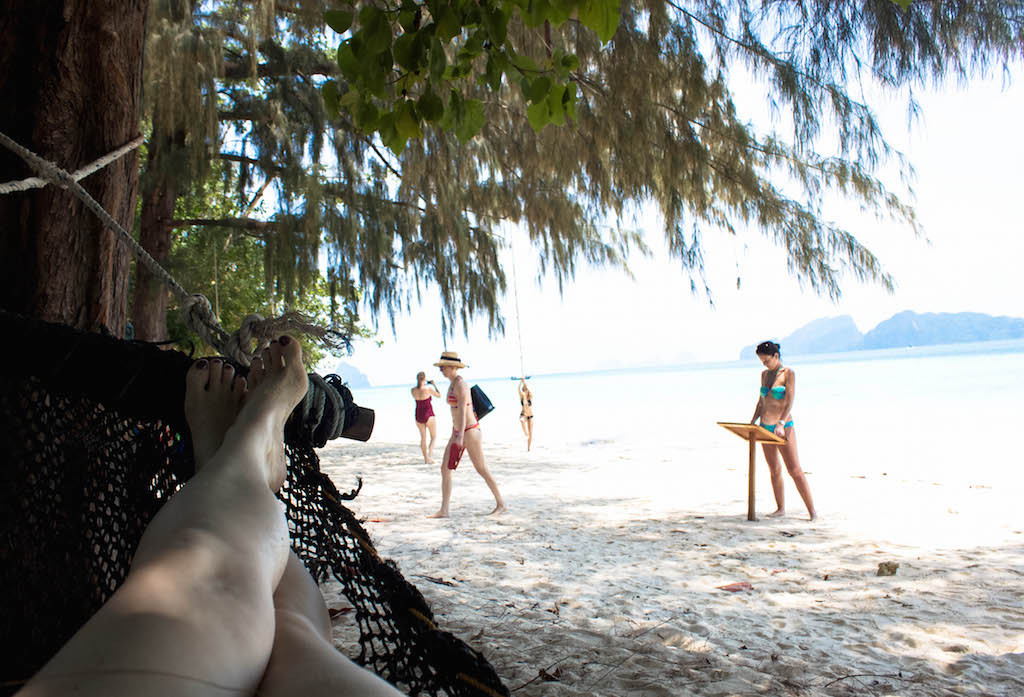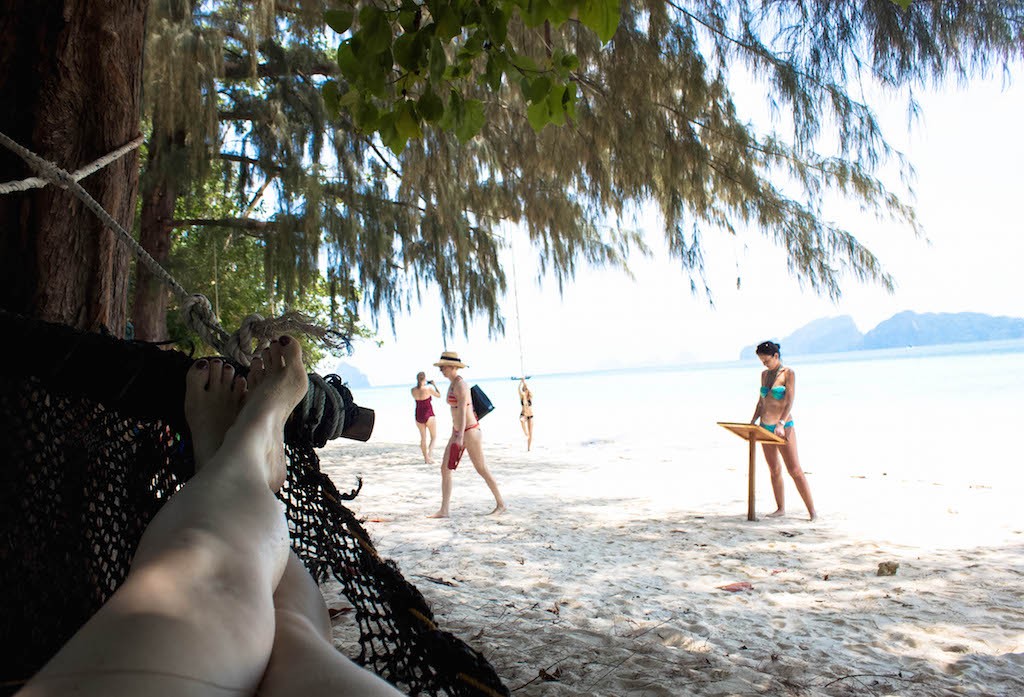 This is when I really started to have fun, taking time to relax in a beachside hammock, go for a ride on a rope swim, and pose for the most inappropriate photo of me ever. I think you can see what I mean here – I didn't realize the hilarity of the photo until much later when I downloaded it to my Macbook. Oops!
Ko Ngai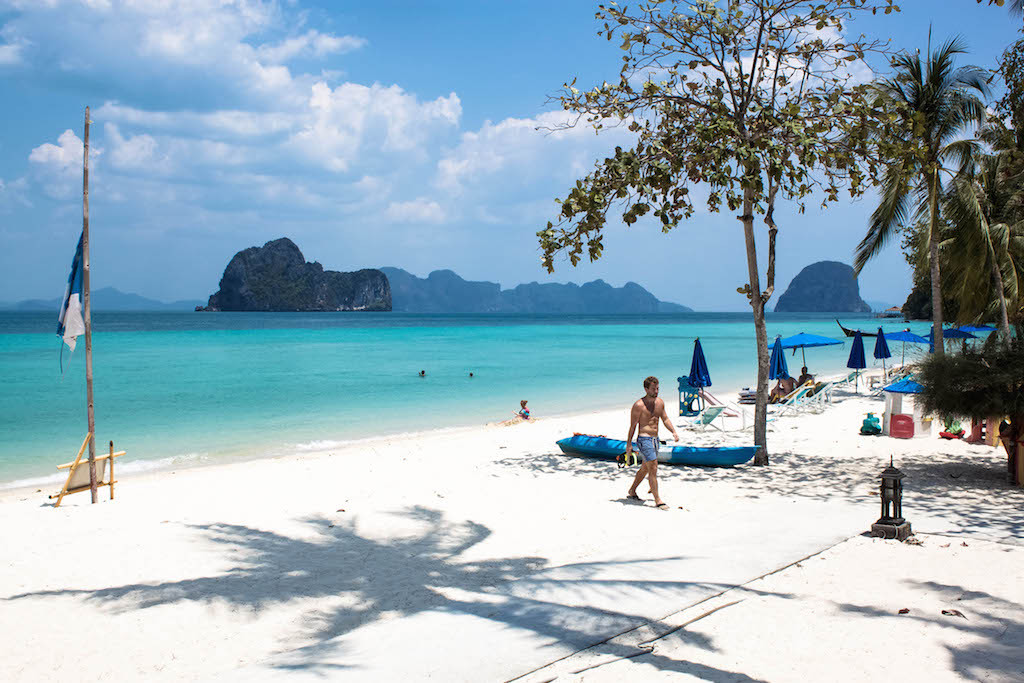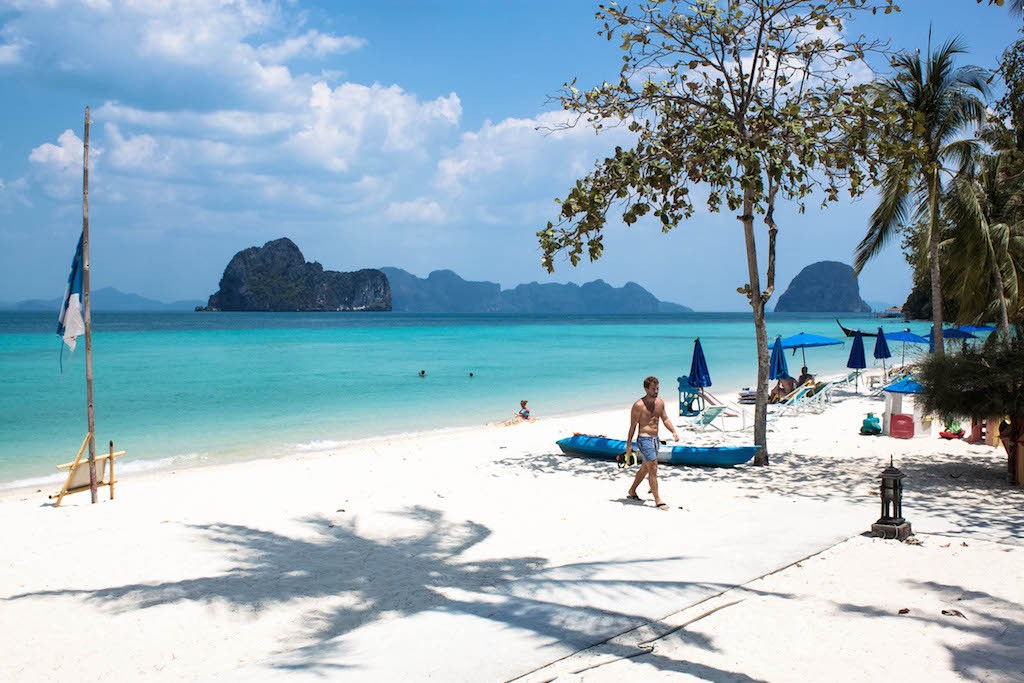 Next up was Ko Ngai, the most developed of all of the Trang Islands. Technically part of Krabi province, the island is more easily accessed from Trang. Filled with upscale resorts, we stopped to have a seaside lunch at Koh Ngai Resort. The beach was filled with hot dudes (yes!) and children playing in the sand and water. There were also more stunning sea views.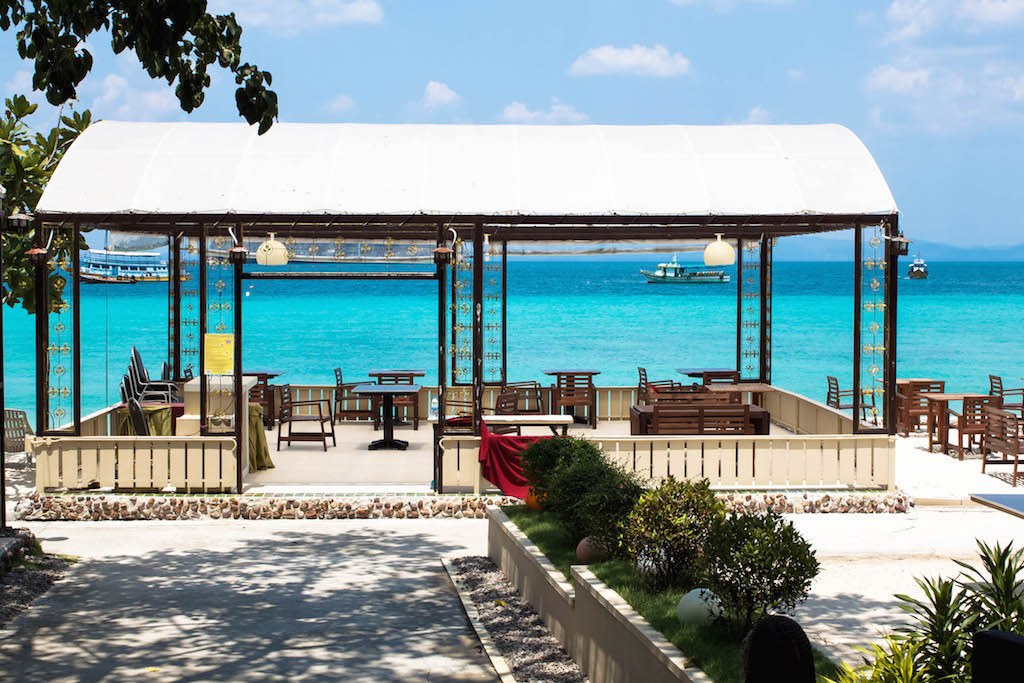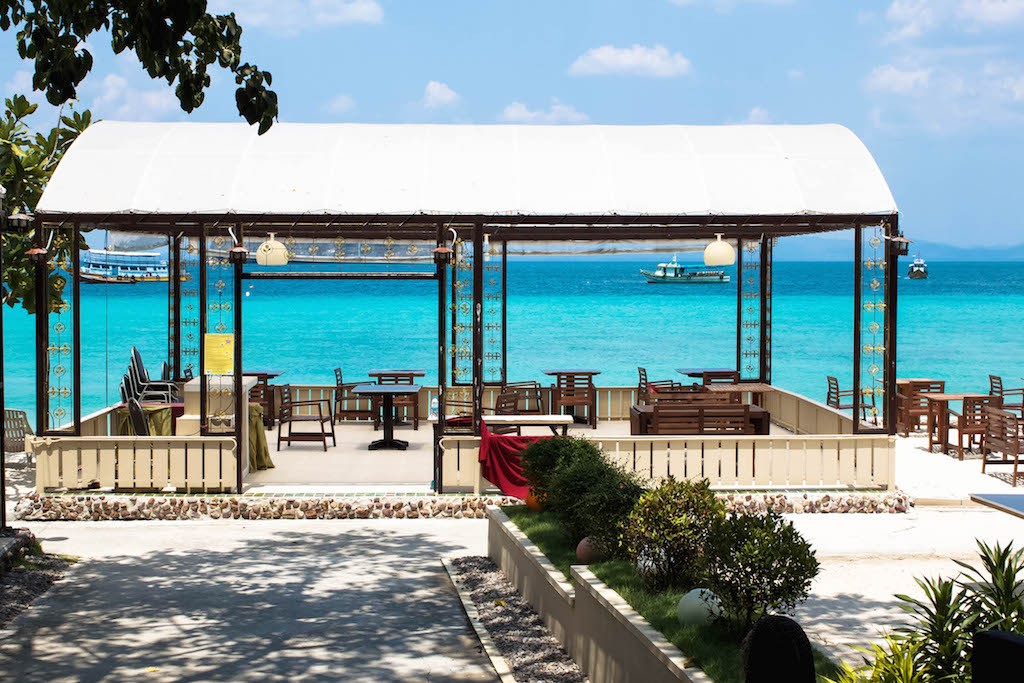 Unbelievably, this is where we had lunch and filled our bellies with tasty Thai food. After all of swimming and snorkeling, this pitstop was a welcome break.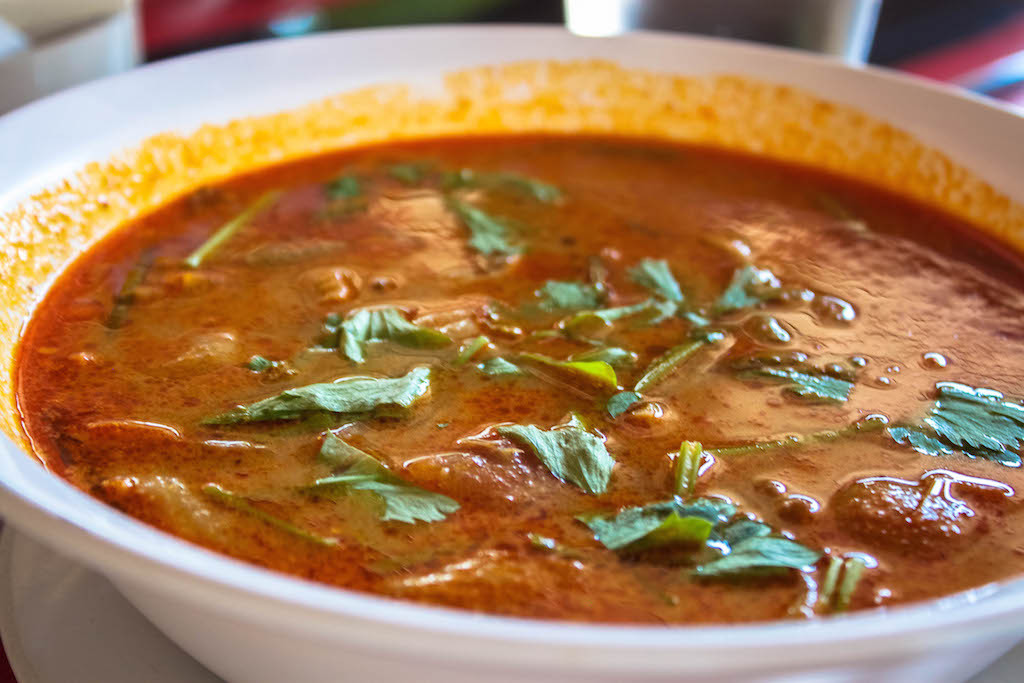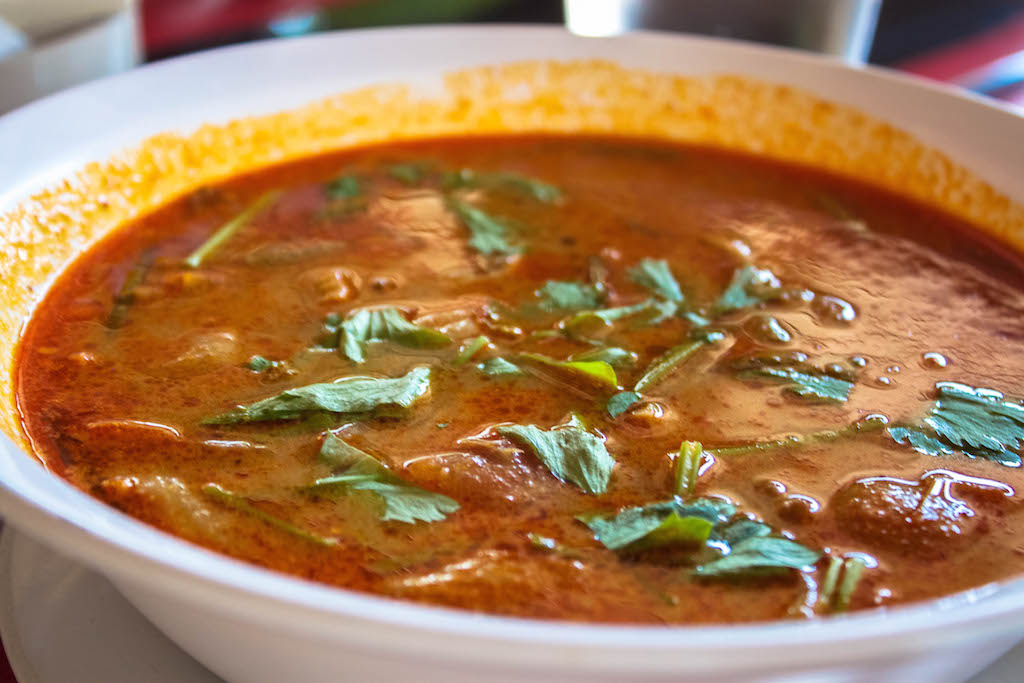 There were so many dishes, it was hard to know what to eat first. Here's just a small sample of what was on offer.
After lunch, two other girls from my group and I opted to have some massages on the beach. Now, this was a dream come true. A real Thai massage on the beach! I spent 30 minutes getting massaged by an old Thai lady who stretched me, walked and jumped on my back (true story), and made me feel like a brand new woman.
Koh Mah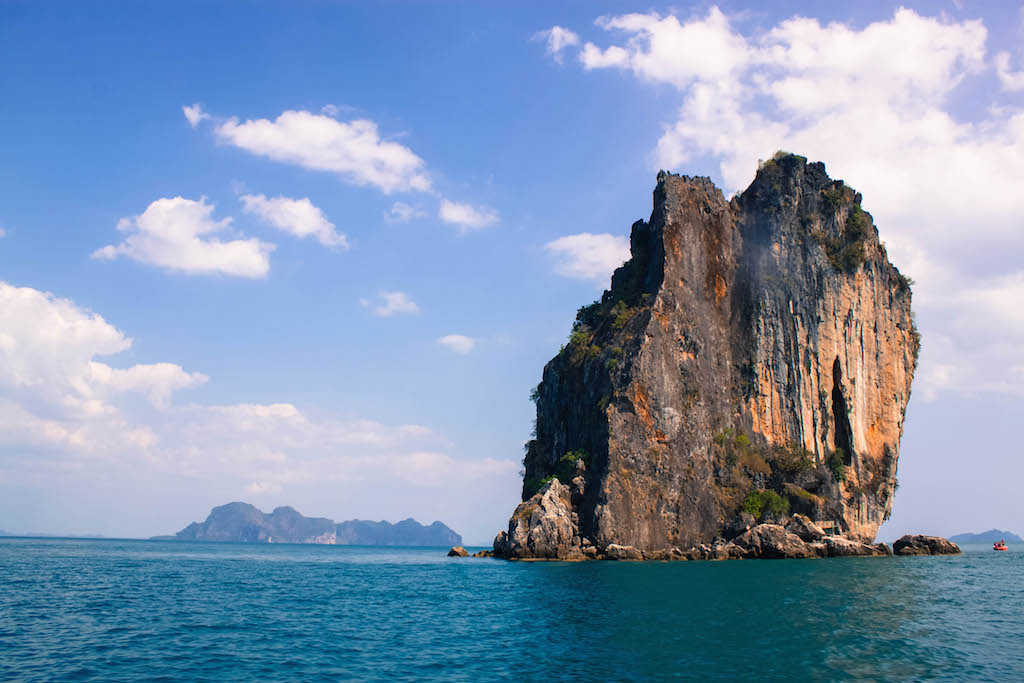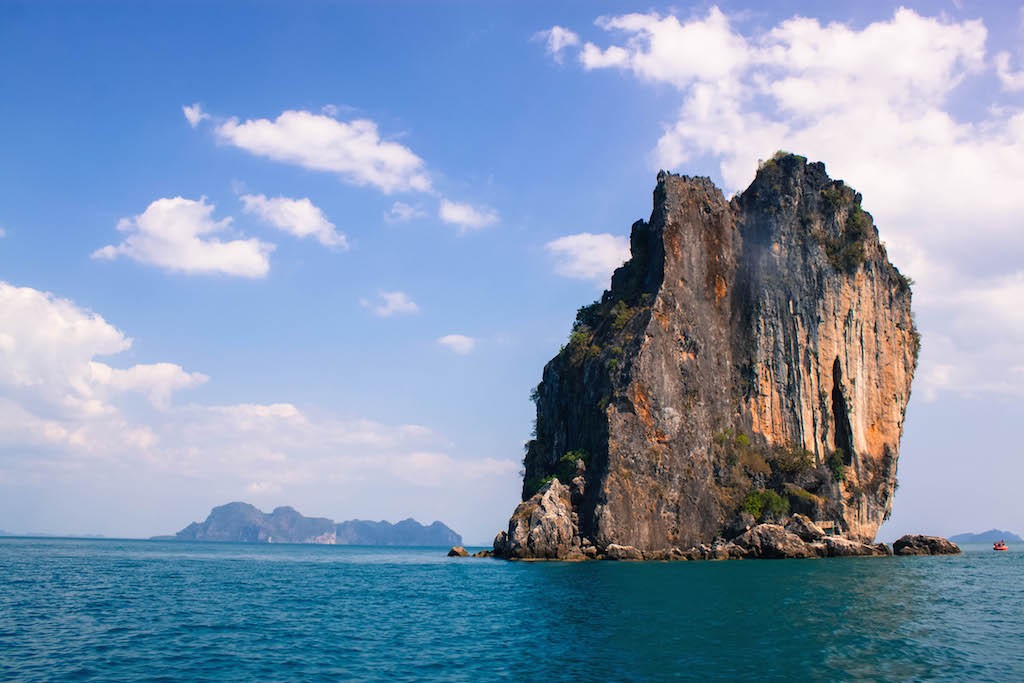 After lunch, we got back in the speedboat and set off to do some more snorkeling. As I don't have an underwater camera, I, unfortunately, don't have any photos. Boo hoo, right? All I can tell you is that snorkeling in the warm, crystal-clear water was stunning and surreal. As you swim, you're literally surrounded by hundreds of brightly colored fishes darting this way and that.
Our journey continued at Koh Mah, a small lonely item that looks lovely at a distance. However, several hundred bats call the island home and swarm the sides of the limestone cliffs. While my group was fascinated by this sighting, I couldn't get away soon enough. Ever since one of those screeching creatures entered my apartment one summer night in Berlin, I've been sorely afraid of them.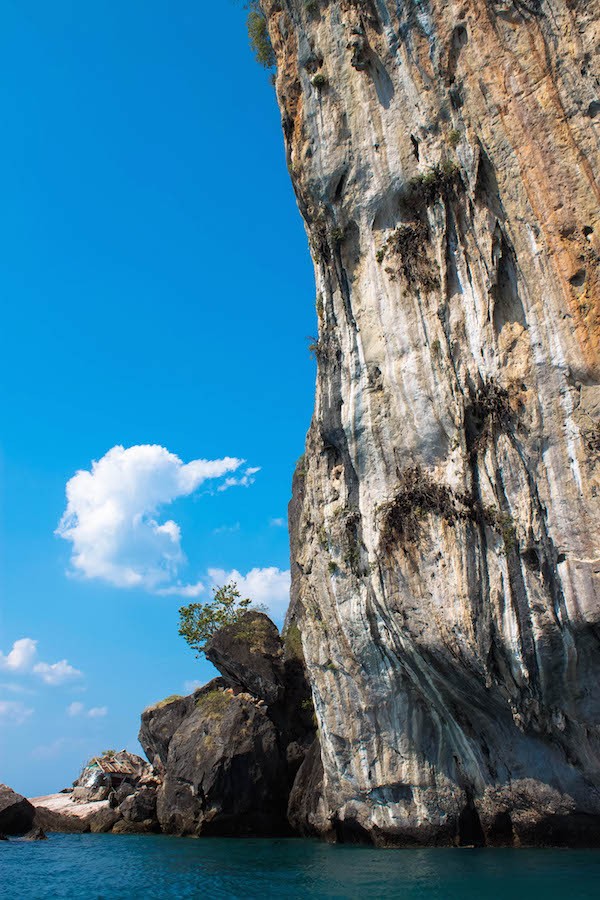 It's a little hard to see in the picture above, but the cliff face is lined with little bunches of shrieking bats.
Anantara Si Kao Resort & Spa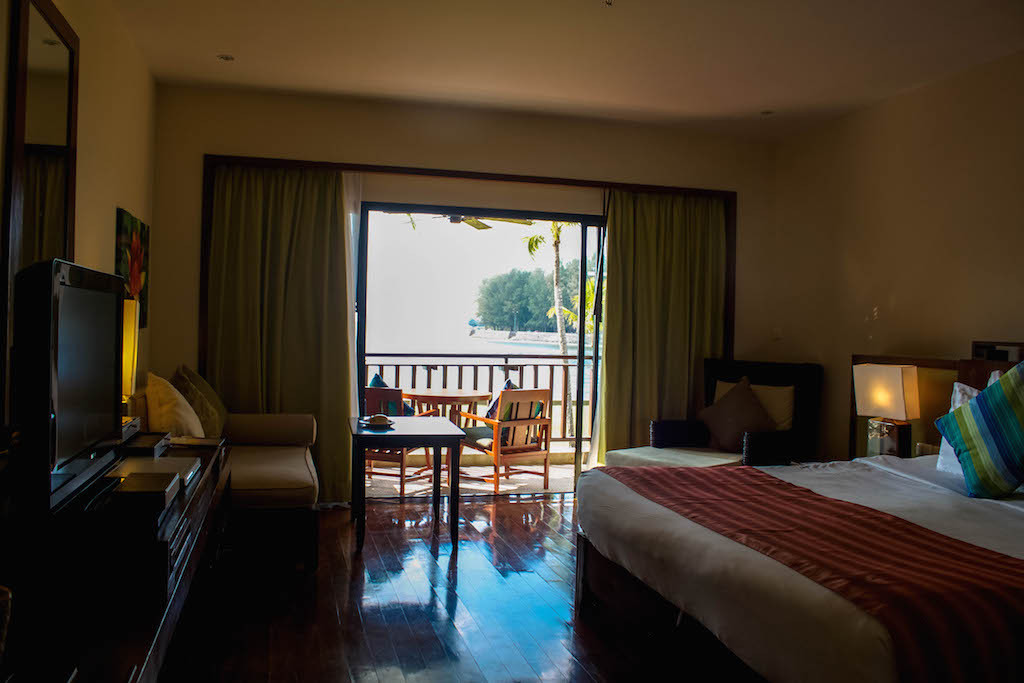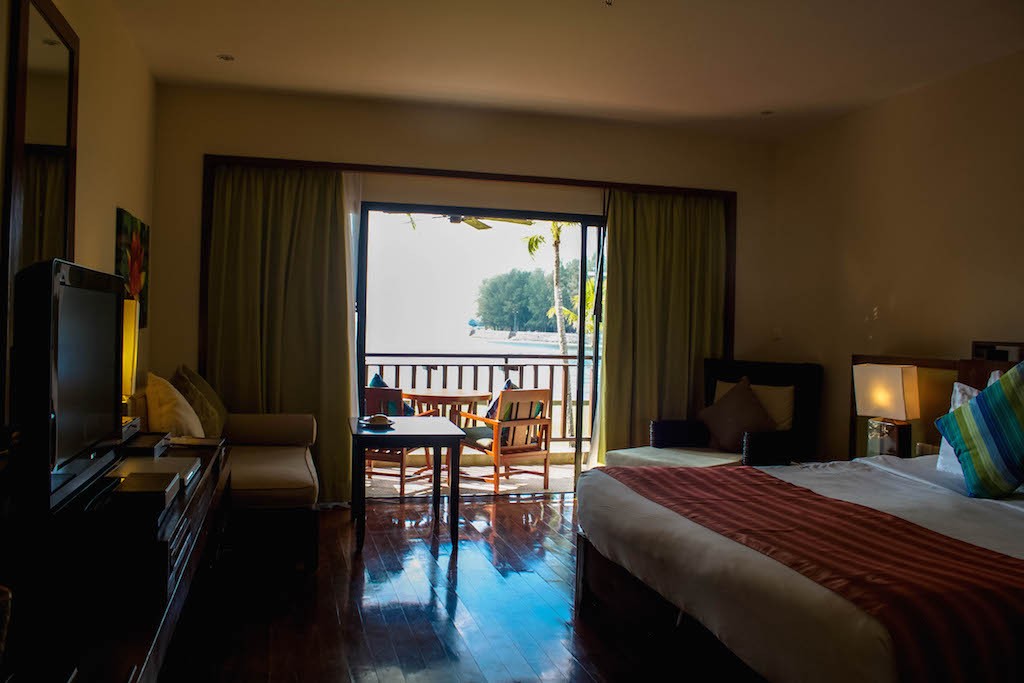 While our tour of Trang Islands had been fun, it was time for some rest and relaxation at Anantara Si Kao Resort & Spa. This luxurious place has since been ordered closed and demolished for violating local conservation rules. You'll need to find other accommodation in the area, but I'm leaving this here so you imagine your stay in a resort in the Trang Islands.
You know that I'm a writer for a living, who lives on a meager salary, and is just getting by in Berlin right? This type of place would never be within my budget, but when you have a chance to act like a queen for a day, you got to go all out! In desperate need of a shower to get all the salt out of my hair and sand out of my nether regions, I checked into what may be the most beautiful room I've ever stayed in. My room overlooked the beach!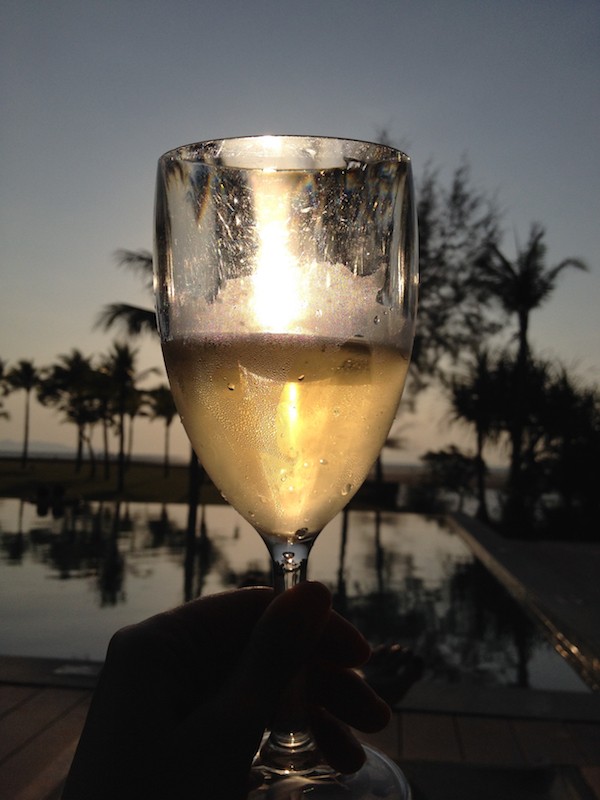 Before getting in the shower, I took a dip in the hotel's infinity pool and sipped on some champagne as the sun began to set.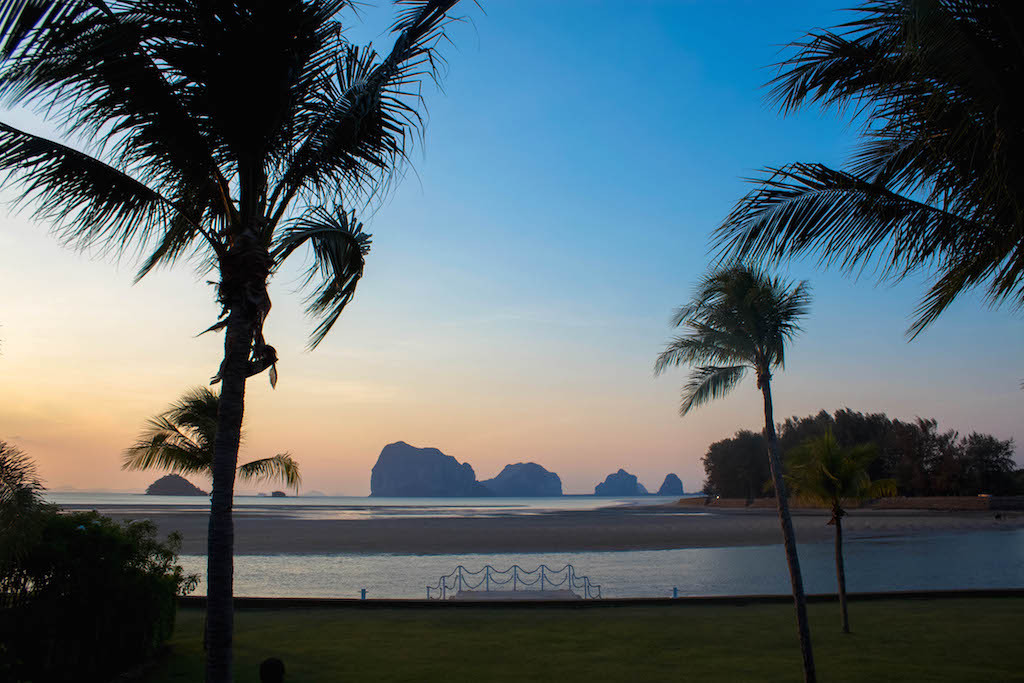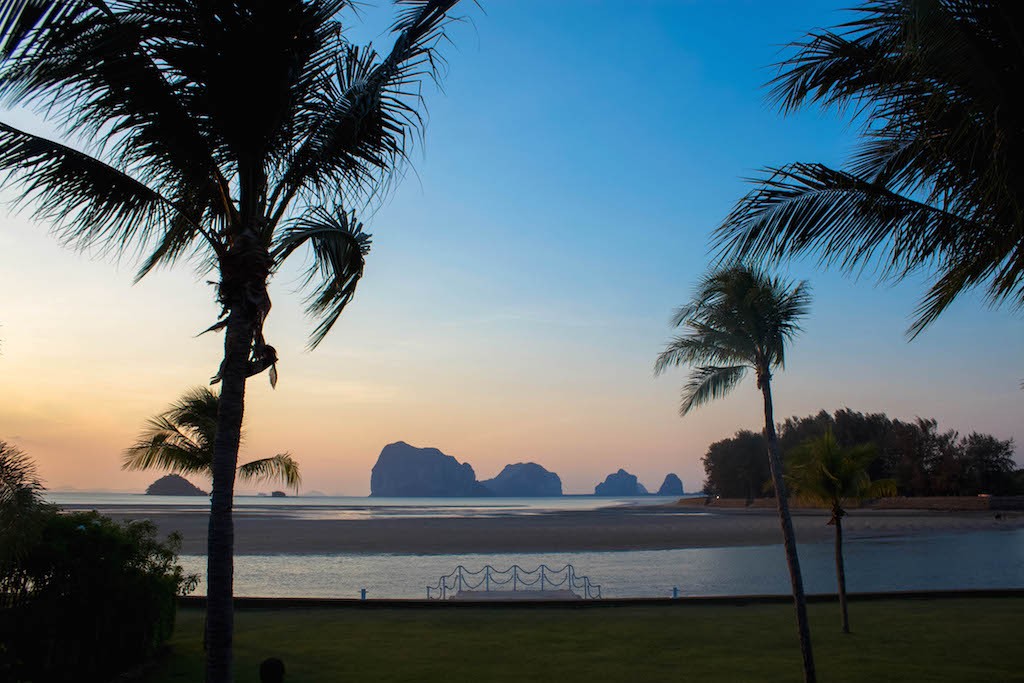 I then walked around the resort, exploring the expansive area, and taking way too many sunset photos. As you can imagine, I couldn't help but feel a longing for the romantic company of someone special.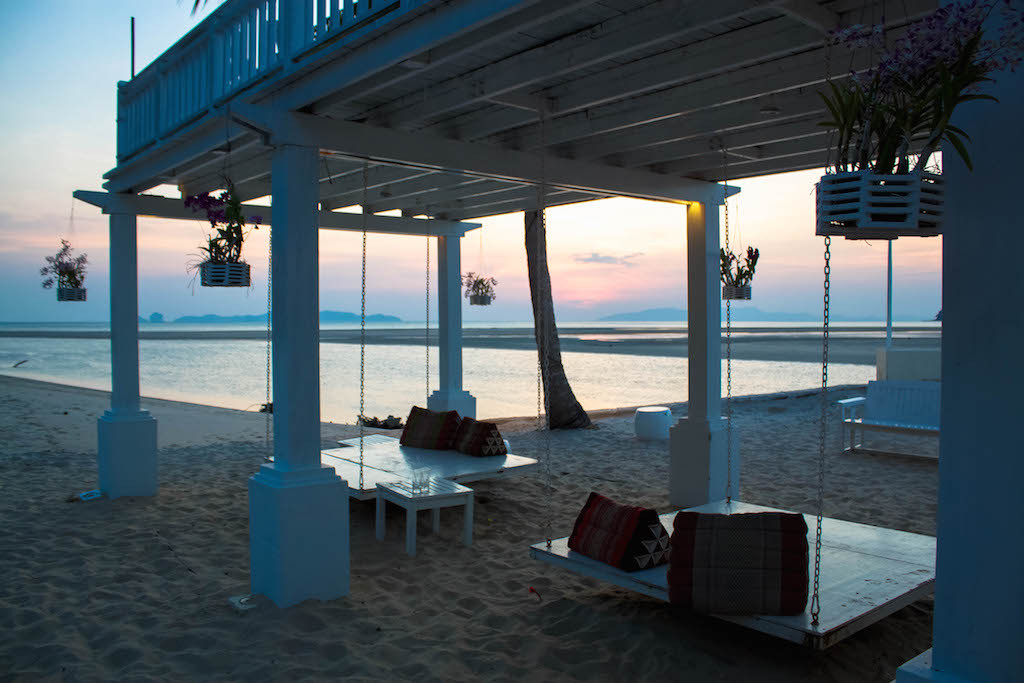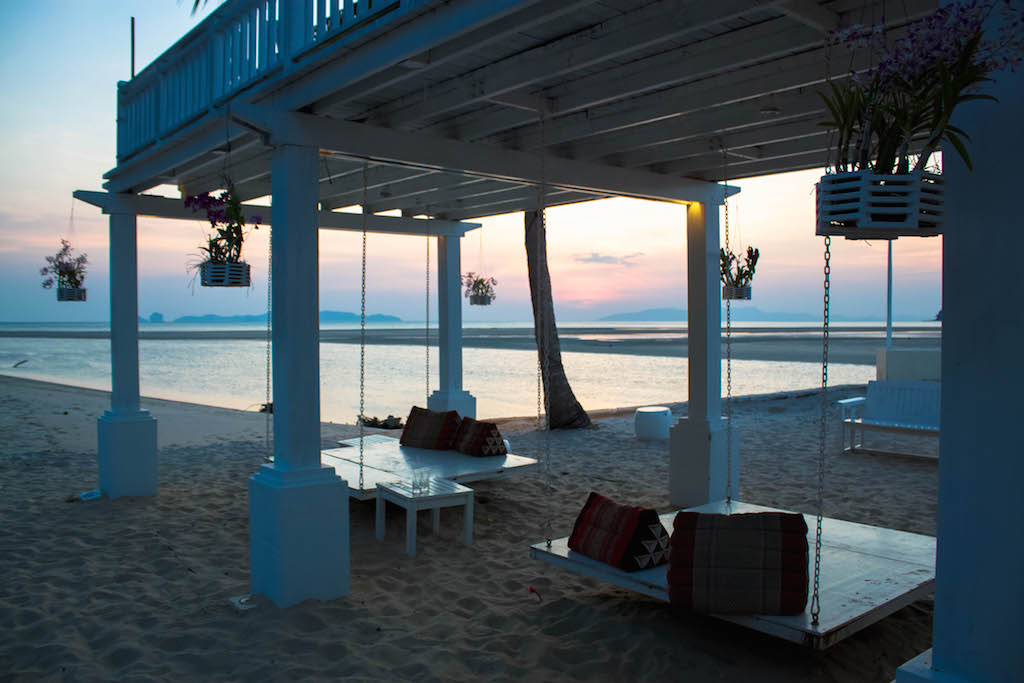 I spent a lot of time walking along the beach and sitting on these swings.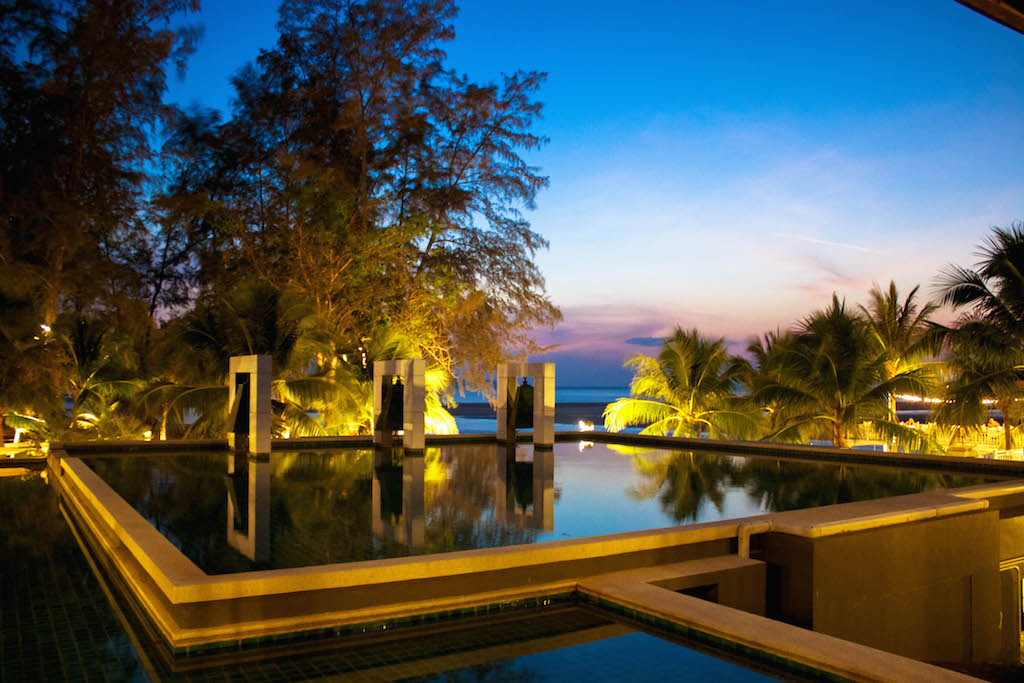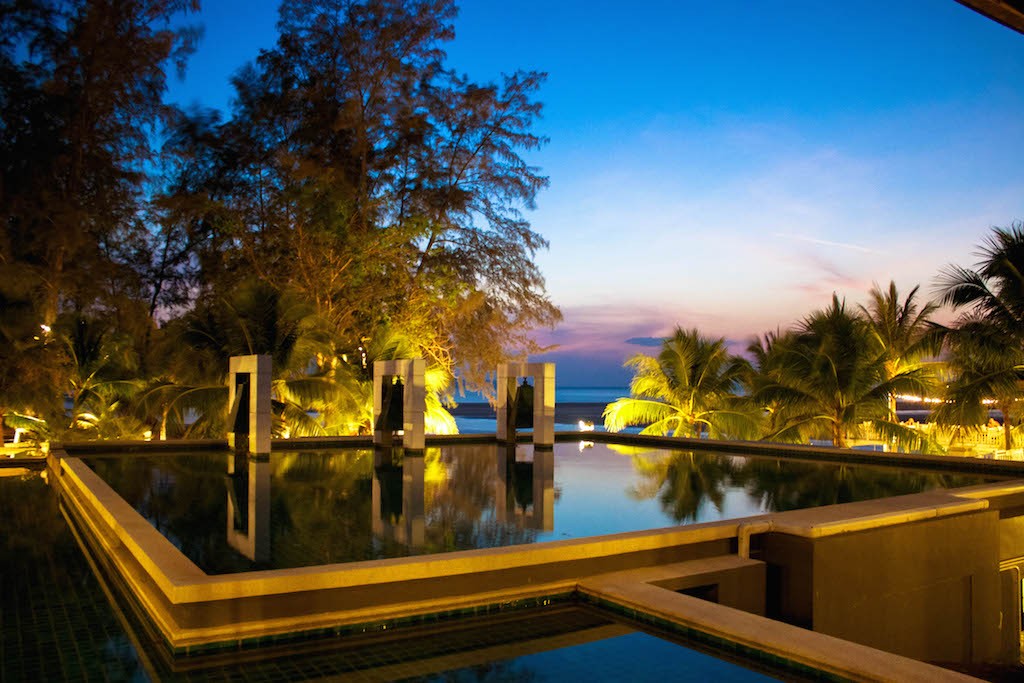 Another one of the hotel's petite-sized pools.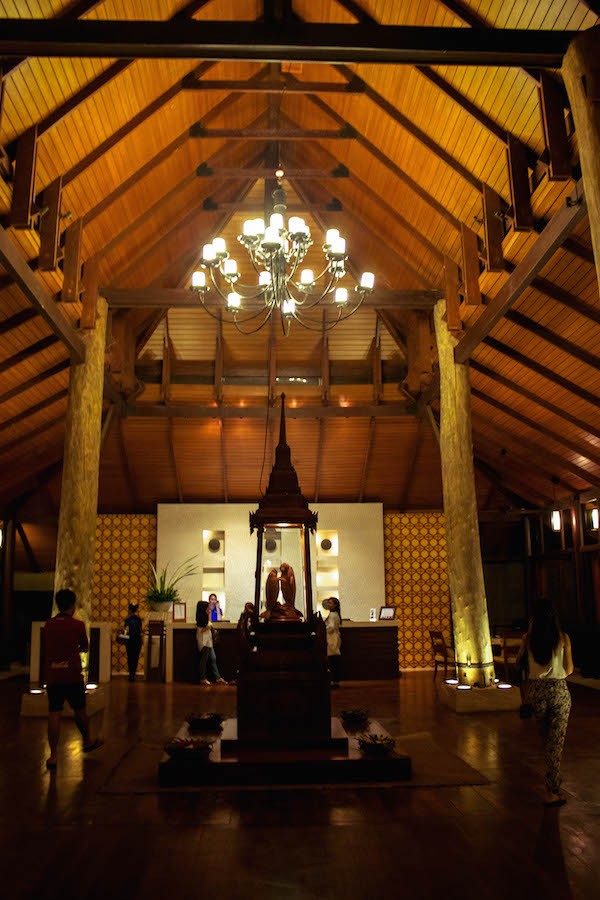 The hotel lobby!
Good to Know
1) I flew to Trang, directly from Bangkok, on AirAsia. Flights are around 90 minutes and average about €30 return.
2) Find a place to stay in the Trang area.
3) Make your time in Trang more memorable and go on a guided tour.
4) If you get tired of the beach and want to experience some authentic local culture, consider exploring the Trang markets.
5) If you need more travel inspiration, check out some of our most popular content:
*Disclosure – My market explorations in Trang were complimentary, courtesy of TBEX and the Tourism Authority of Thailand. Any opinions expressed are entirely my own. This post also contains some affiliate links. If you book a tour or hotel, I'll earn a tiny commission at no extra cost to you. Thanks for your support.