When planning my weekend trip to Sofia years bck, I knew right away that I wanted to take a day trip to see Rila Monastery. I yearned to see this ethereal place for myself, set in the mountains, filled with Renaissance architecture and bright, ornate frescoes.
Not wanting to try and go at it on my own, I booked a tour directly through my hostel. Early one cold, grey January morning, I jumped into an old beat-up car with our driver, guide, and two other hostel residents to visit Rila Monastery.
Approximately 100 kilometres from Sofia, Rila Monastery is tucked deep within the surrounding Rila mountains within a forested valley in Rila Monastery Nature Park.
Explore Bulgaria And Visit Rila Monastery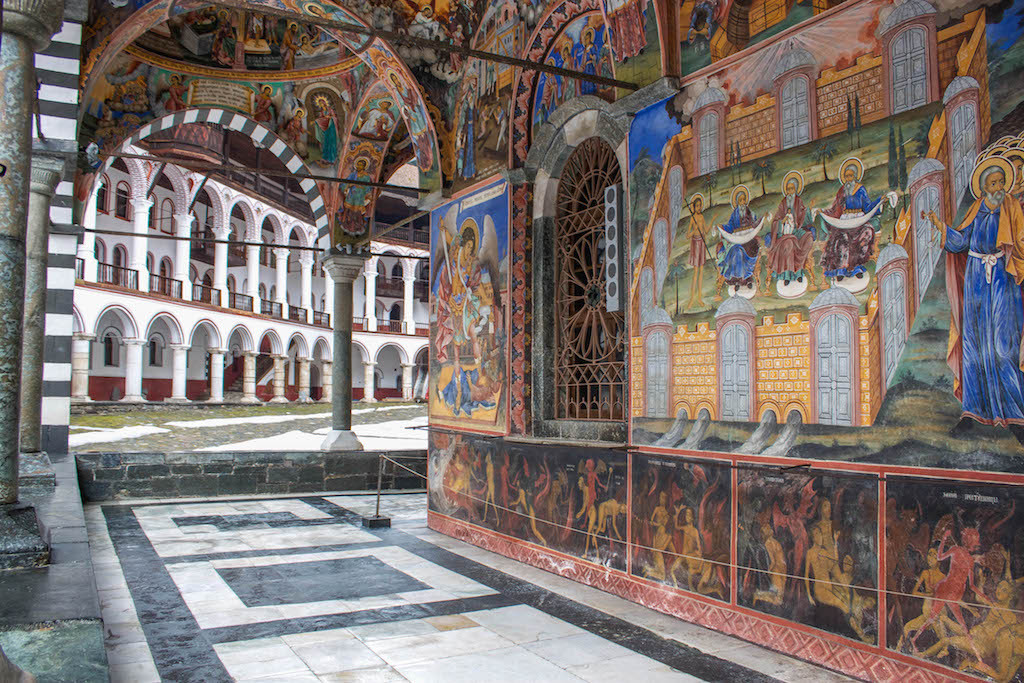 Officially dubbed as the Monastery of Saint Ivan, Rila Monastery is named after a hermit monk, Ivan of Rila, who lived in a cave without any possessions, spending his life praying and fasting there.
The original complex was built by students, who came to Rila mountains to study with Saint Ivan. Today, Rila Monastery is the largest Eastern Orthodox monastery in Bulgaria and a UNESCO world heritage site that attracts close to one million visitors each year.
Pope John Paul II, affectionately known as "JP2," even visited the site in May 2002 to get down in holiness with the usual throngs of pilgrims and tourists.
Throughout its history, Rila Monastery has been considered to be of important historical and cultural significance within the Bulgarian national identity. People from all over the world come to Bulgaria to visit Rila Monastery.
Rila Monastery Entrance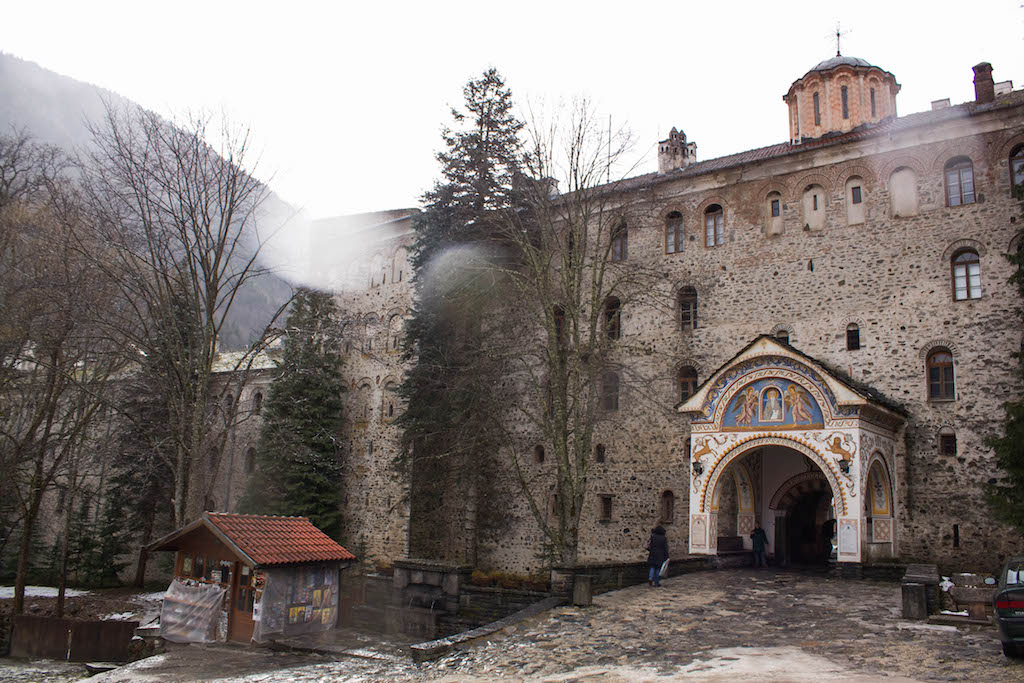 At first glance, I thought "meh" and that Rila Monastery did not look like much. Then I remembered the charm of Our Lady of Mercy Church in Arouca, Portugal, a church I'd been glad not to miss out on. The 22-metre-high walls disguise the exquisiteness of the interior. As your walk into the complex progresses, the beauty of Rila Monastery slowly starts to reveal itself.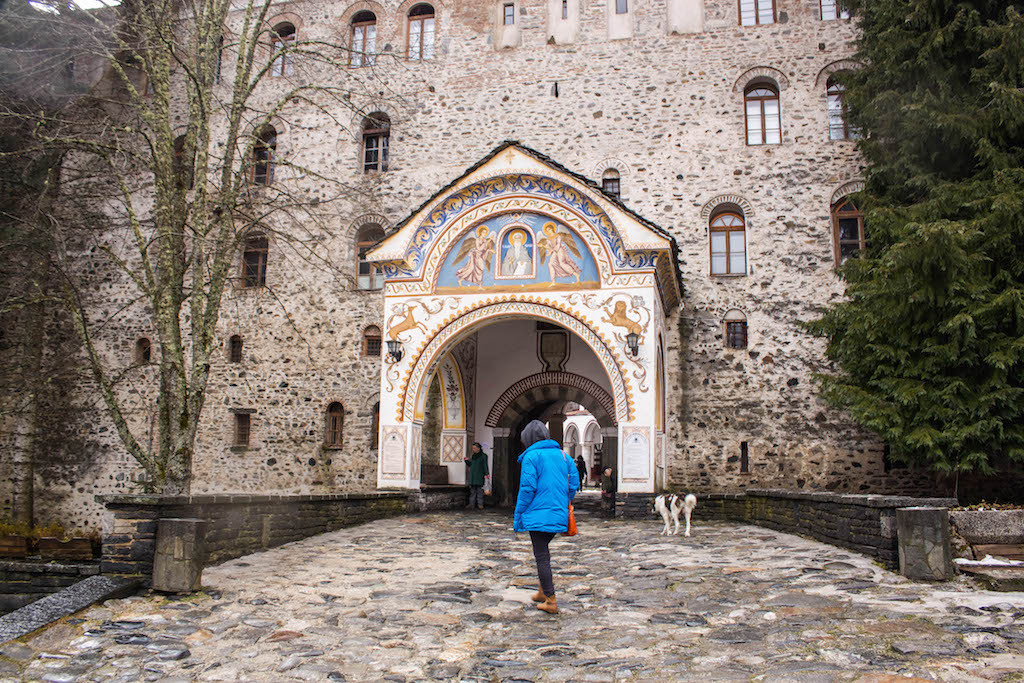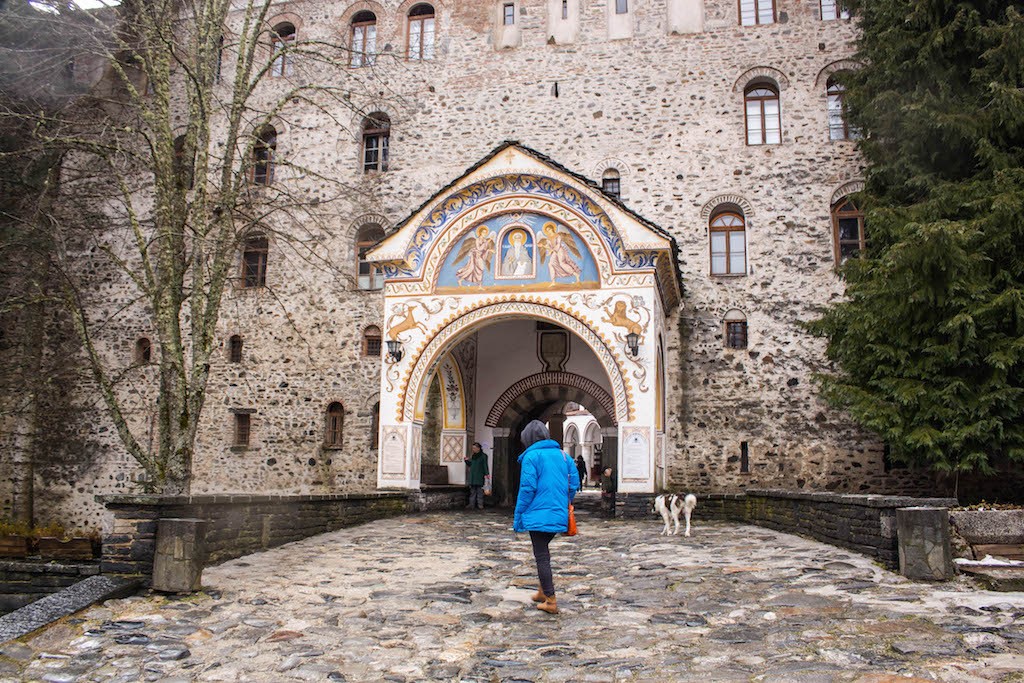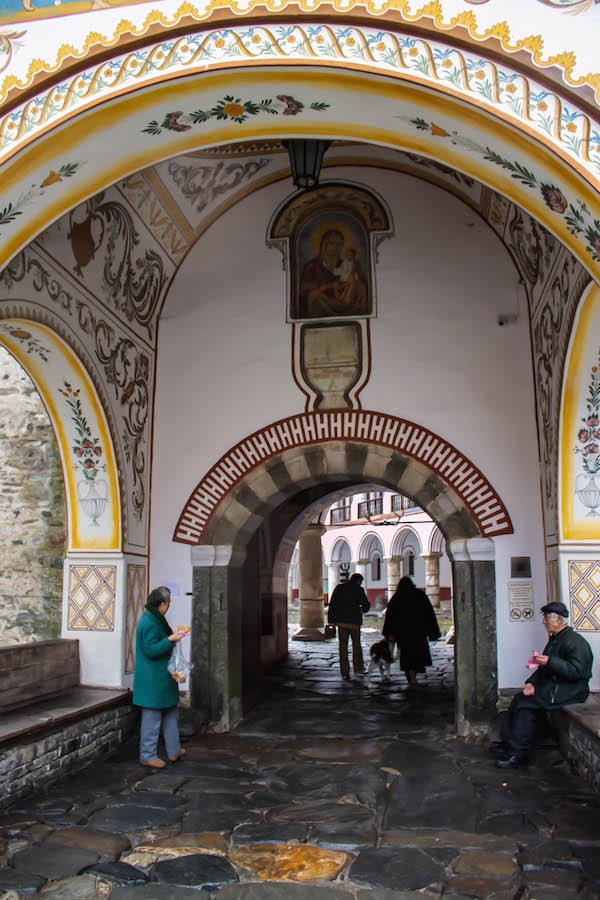 The Monastery Courtyard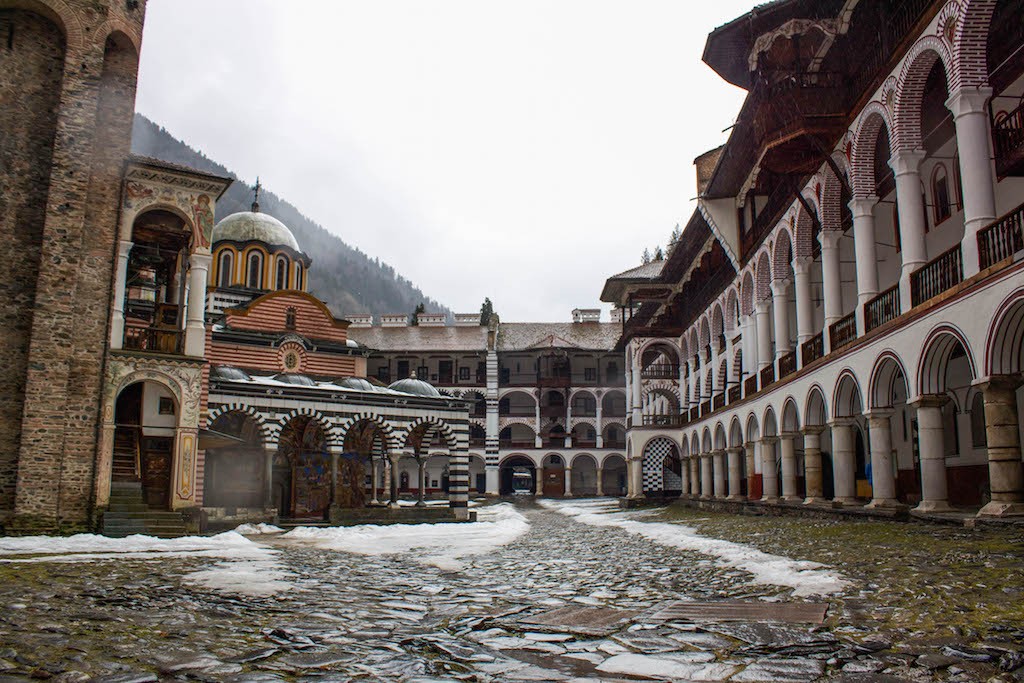 The complex comprises the main church, residence, and farming buildings, which span 8,800 square metres. It's also known to be a symbol of 19th-century Bulgarian Renaissance. There are 300 rooms in the residence, with 100 of them being used by monks. The monastery was always respected and supported by rulers who'd give money to further expand and grow the site. Just like when the Ottomans sacked the town of Otranto, the monastery was sacked during the Ottoman invasion in the 14th century and only restored later on in the 15th century. The complex was then completely destroyed by a massive fire in the 19th century, with rebuilding efforts starting right away.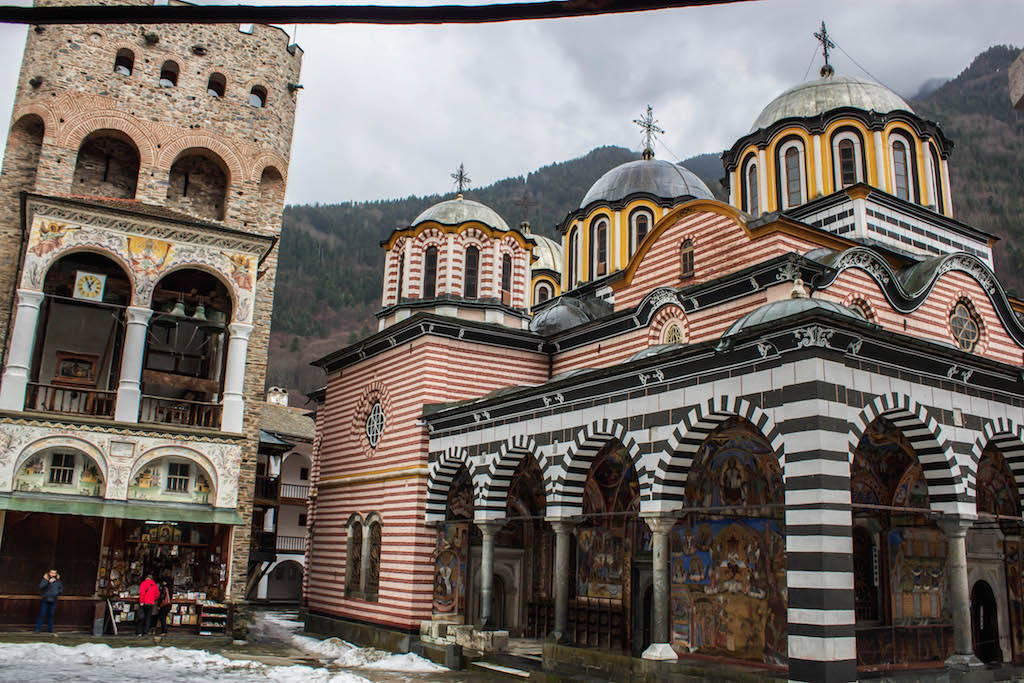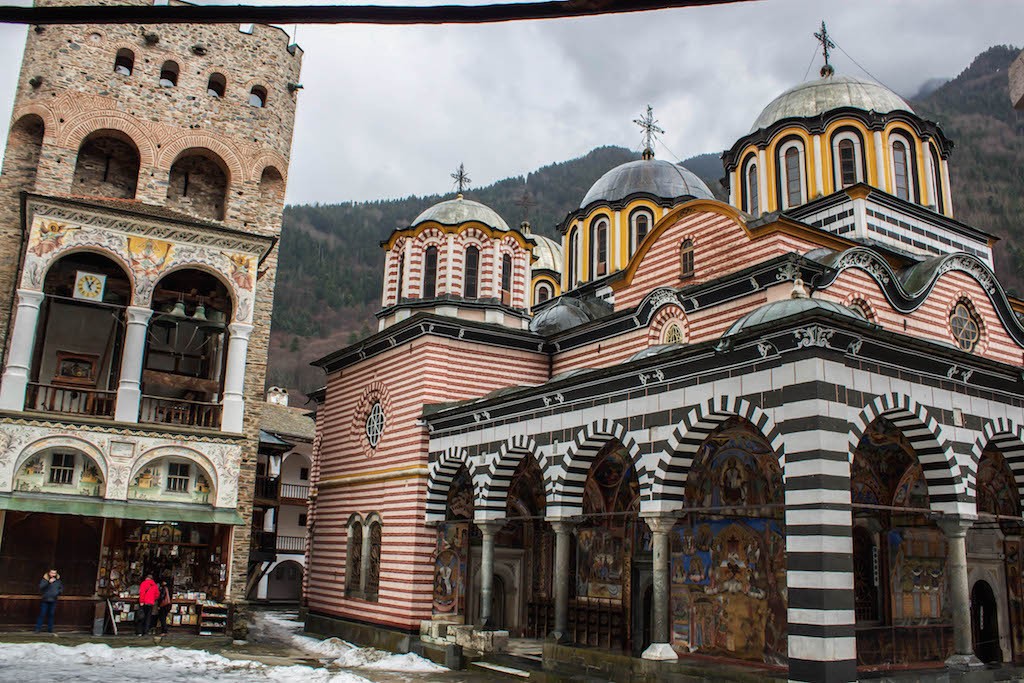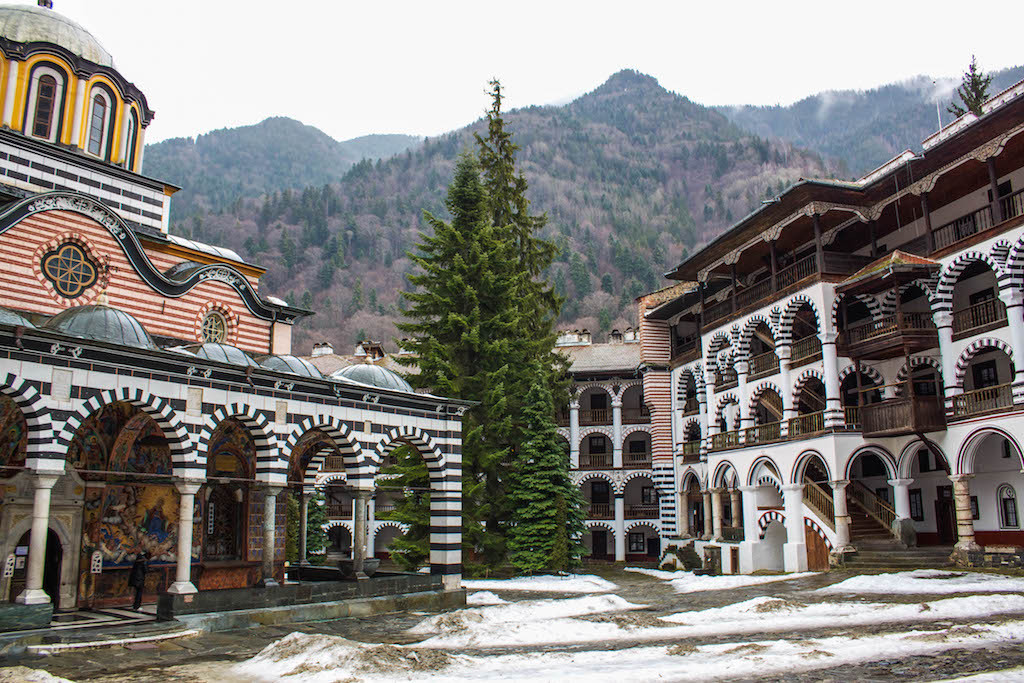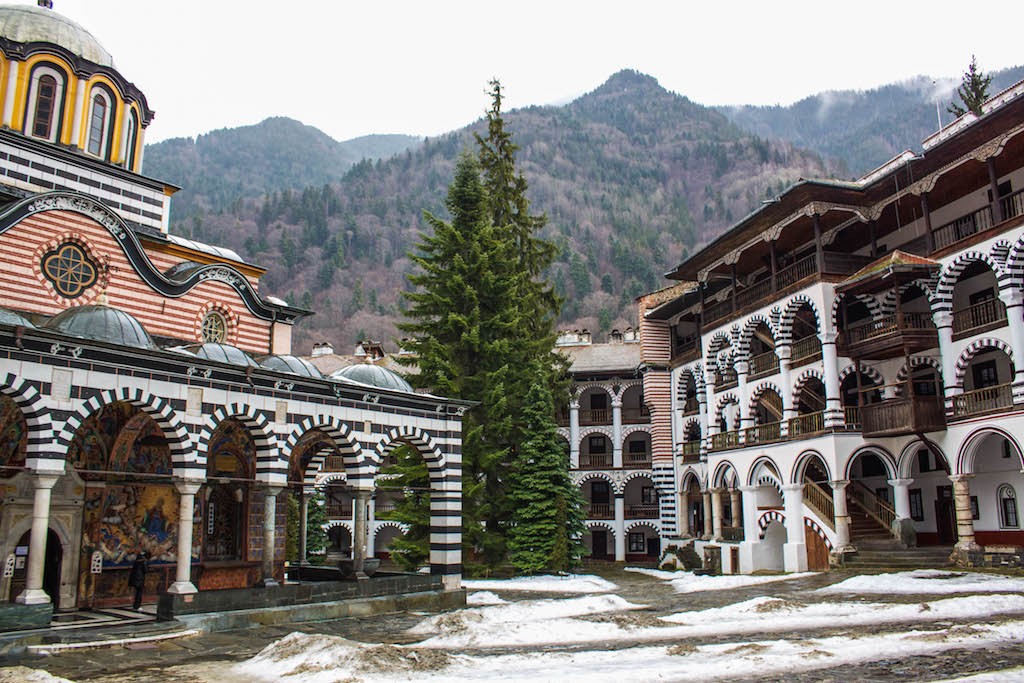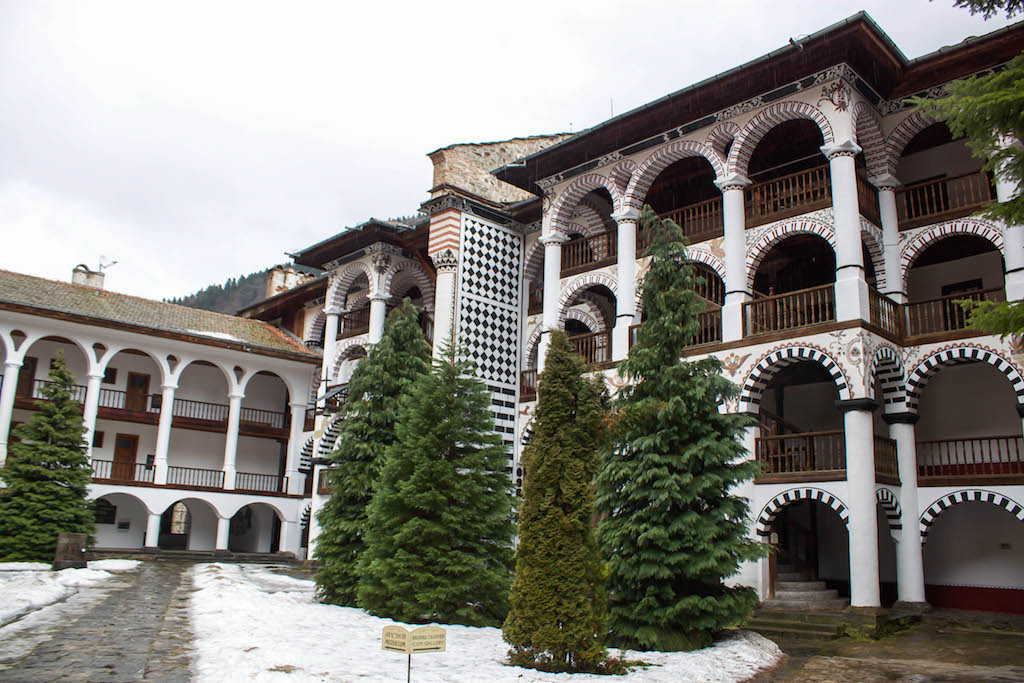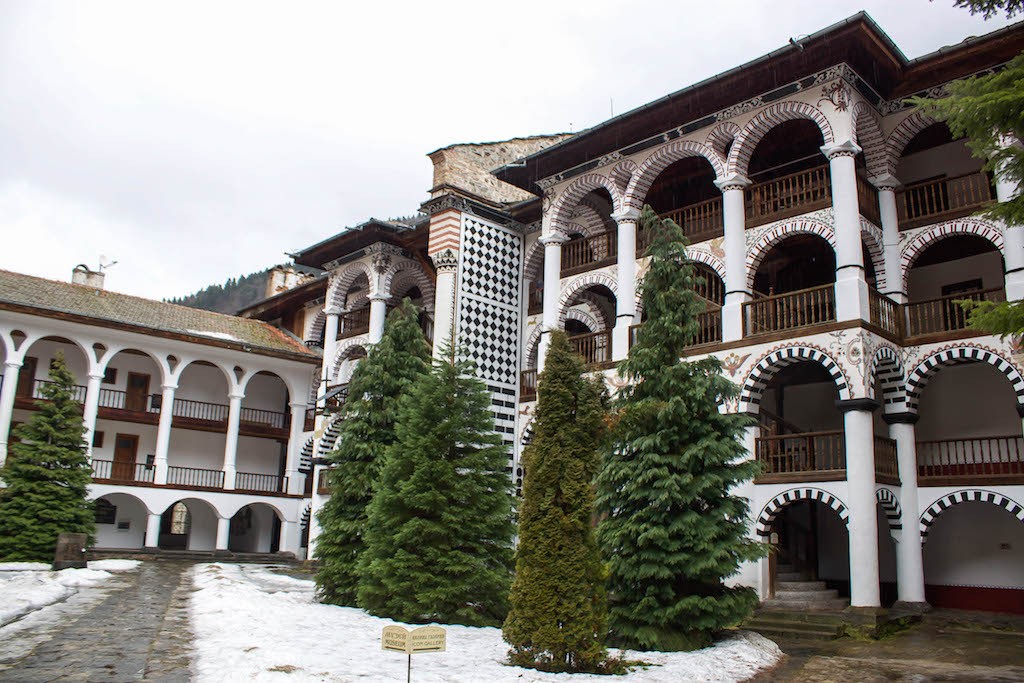 As soon as I entered the main courtyard, I could not stop taking Rila Monastery photos. The colour. The symmetry. All of the details. It may have been a cold winter's day, but the place was almost completely devoid of tourists. It made for a serene, calm, and humbling time that left me enthralled for the duration of my visit.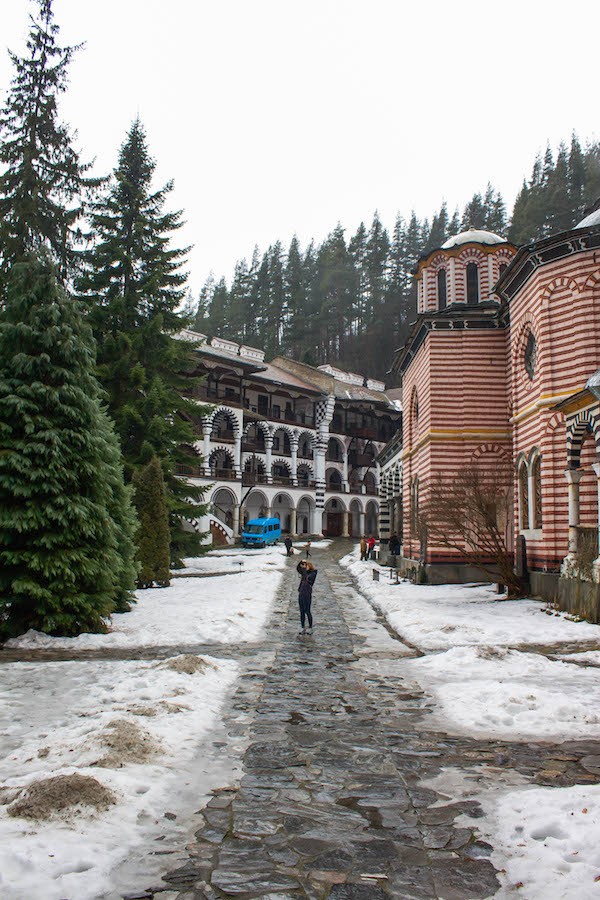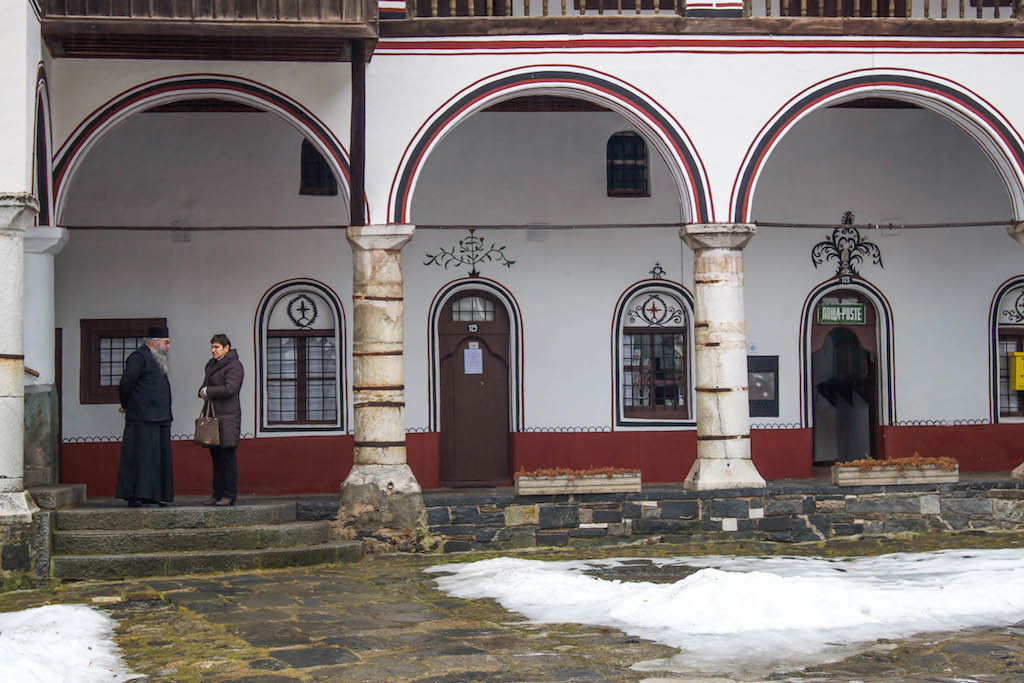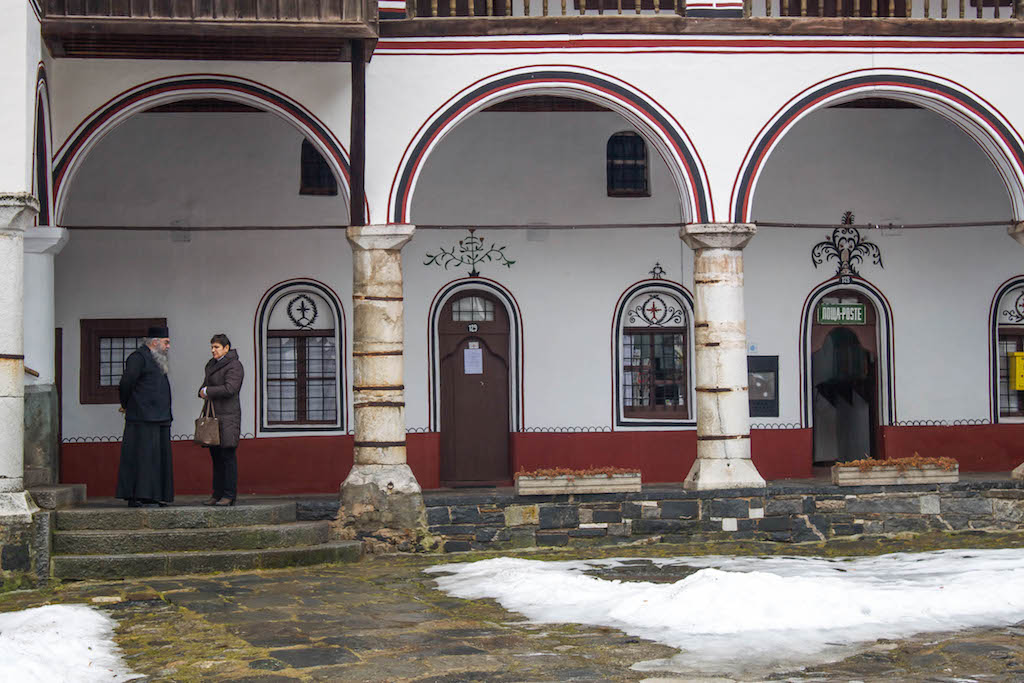 The Monastery Church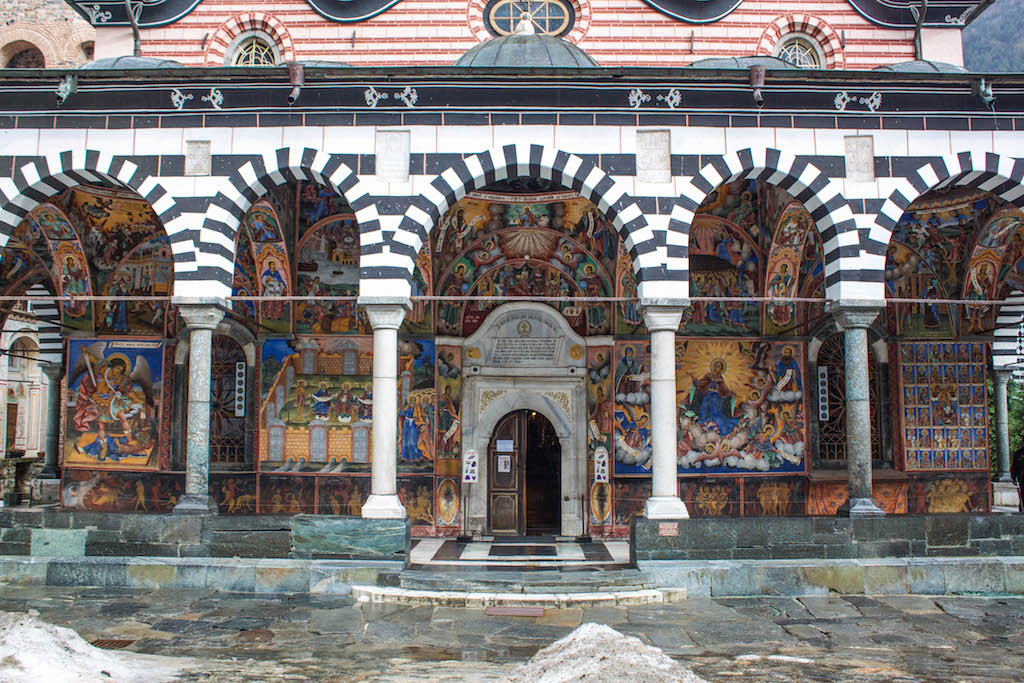 I've seen a lot of cathedrals and churches in my day. The duomo in Milan, St. Peter's Basilica in Rome, Sagrada Familia in Barcelona, and the cathedral in Cologne. But this church in Rila Monastery impressed me more than most.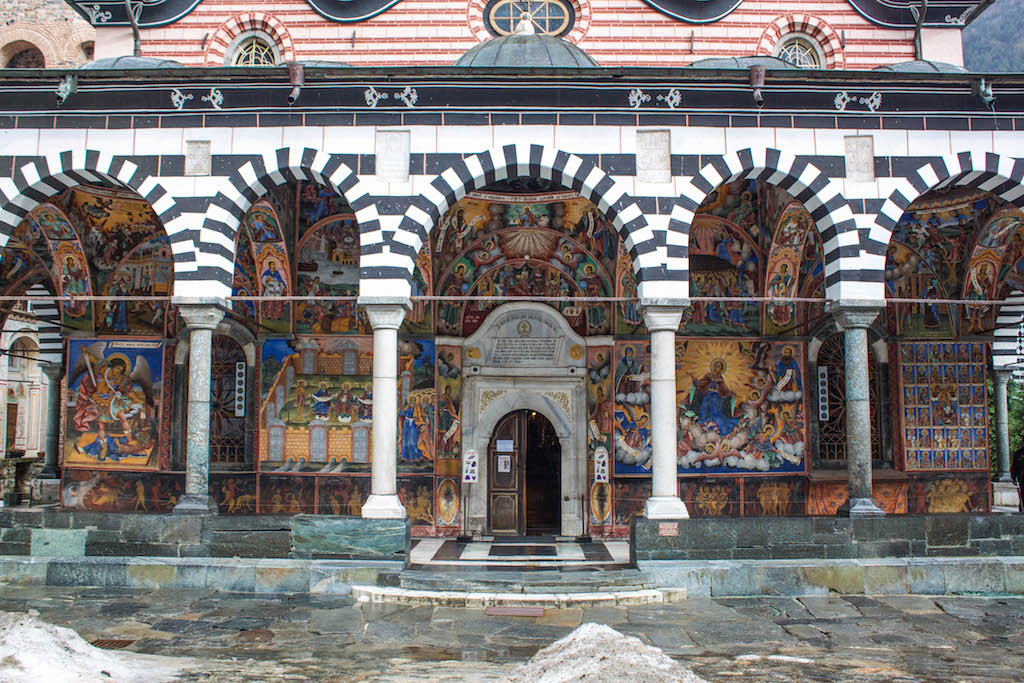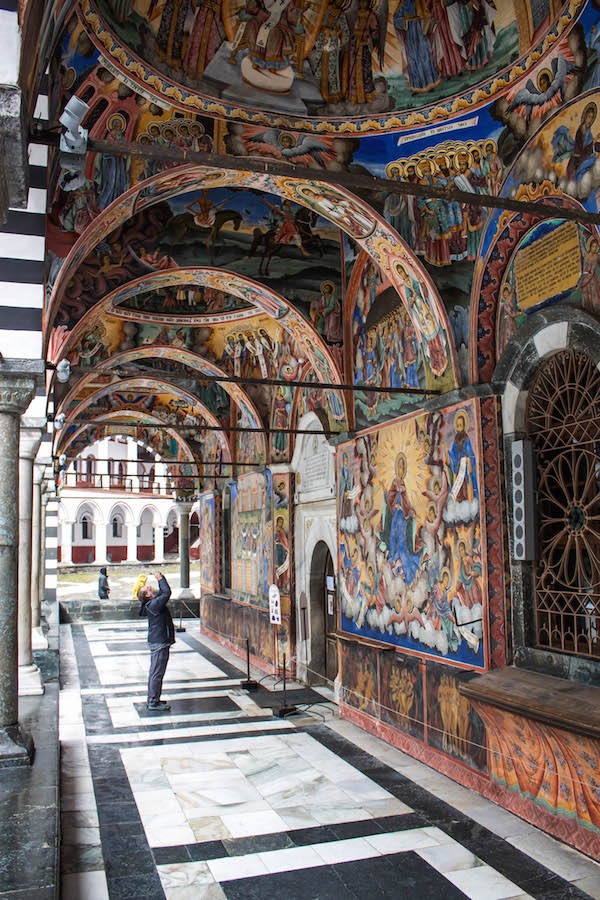 This is one of the top things that you can do while travelling in Bulgaria. Visit Rila Monastery, as it's highly worth the trip.
What you visit Rila Monastery? Have you been there? Do you want to go? Drop us a note in the comments below.
Rila Monastery Location
Visit Rila Monastery: Good to Know
1) Rila Monastery's open from 7:00 to 20:00 daily.
2) Entry is free; however, admission to the museum costs 8 BGN for adults and 1 BGN for students. Access to some of the other venues within the complex like Hrelyo's Tower or the Revival period guestrooms costs 5 BGN for adults and 1 BGN for students. Parking is 4 BGN per hour.
3) There's a gift store where you can purchase souvenirs.
4) As Rila Monastery is considered to be a holy place, dress modestly. No short skirts, tank tops, etc.
5) You can take photos throughout the complex, but you're not permitted to take photos in the church, museum, or residence. I snapped a photo inside the church unknowingly, only to receive a verbal lashing from an employee. I apologized and sheepishly put away my camera very quickly. Be nice and don't make the same mistake I did.
6) As this is such a popular tourist attraction, visit in the off-season like I did, which was over the winter in January. You'll almost have the place to yourself and experience a side of Rila Monastery that not that many others get to see, which is a quieter, gentler, and more sombre place.
7) If you want to stay for longer than just a few hours, hotel accommodation can be found in Rila village. You can also camp nearby or even stay onsite in one of the monastery's dorms. Expect the accommodation to be very basic.
8) For accommodation options in Sofia (where most people tend to base themselves), check out booking.com.
9) Make your time in Bulgaria better and go on even more exciting tours.
10) For those looking for a little fitness and to be all "sin-free," you can hike to Saint Ivan's cave located four kilometres from the monastery. Walking through the cave is said to be a blessed journey and will absolve you of all your sins. Read more about my hike through the mountains to see the cave.
11) You can reach Rila Monastery by a public bus that runs once a day (a one-way trip takes three hours) or book a tour through your hostel or hotel. I booked my tour through Hostel Mostel in Sofia. You can also rent a car.
12) For more Balkan travel inspiration, check out some of my other posts about the region:
I'd also recommending checking out what other bloggers have written about Bulgaria. Read Hiking 7 Lakes in Rila, Bulgaria, Gay Sibiu Guide, and this post about the Buzludzha Monument. To see what another travel blogger had to say about Rila, check out her take.
*Disclosure – This post contains some affiliate links. If you book a tour or hotel through any of these links, I'll earn a tiny commission at no extra cost to you. Thanks for your support!