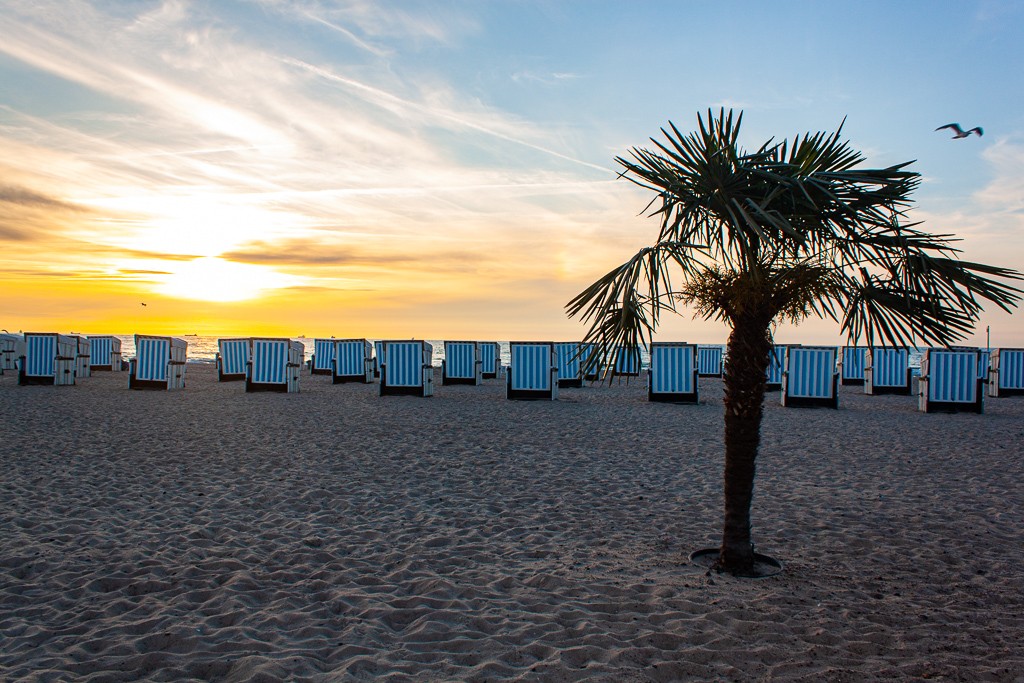 How To Spend A Wonderful 24 Hours In Warnemünde – Northern Germany is launching into summer earlier than expected and even though it's only the first week of June, we're already expecting temperatures above 30 degrees Celsius for the next week or so. We're a nation that still clings to the old days, when climate change wasn't toasting us all to death for three or four months of the year. No one has air conditioning at home, or even at work for that matter. The S-Bahn turns into one big stinking cesspool of a sauna during rush hour, never mind the U-Bahn. As such, I plan to live at Berlin's lakes and swimming pools and am even considering about whether or not to "cowork" from the Lichtenberg IKEA this summer just so I can sit within the relative comfort of air conditioning.
The boiling hot weather is a natural driver to prompt you to race out of the city. Like all good Germans, we flock to the seaside to claim a beach chair and plunge our bodies desperately into a chilling Baltic Sea. While there's plenty of places to choose from like Rügen, Sylt, and Usedom, one of the most popular places for us Berliners is Warnemünde.
Recommended reading: This post filled with 15 Exciting Day Trips From Berlin (As Recommended By A Local).
How To Spend A Wonderful 24 Hours In Warnemünde
Warnemünde, Germany is just over three hours from Berlin by train. There are many reasons to choose Warnemünde for an escape – there are plenty of seafood restaurants serving up fresh local cuisine, there's a lively canalside promenade perfect for people watching, not to mention a long sandy beach with an army of the blue and white striped Strandkörbe, scenic lighthouses that you can take photos of to blow up your Instagram (follow me!), and therapeutic spas that channel water directly from the Baltic Sea.
1) Book A Train Ticket To Warnemünde Because You Love Our Planet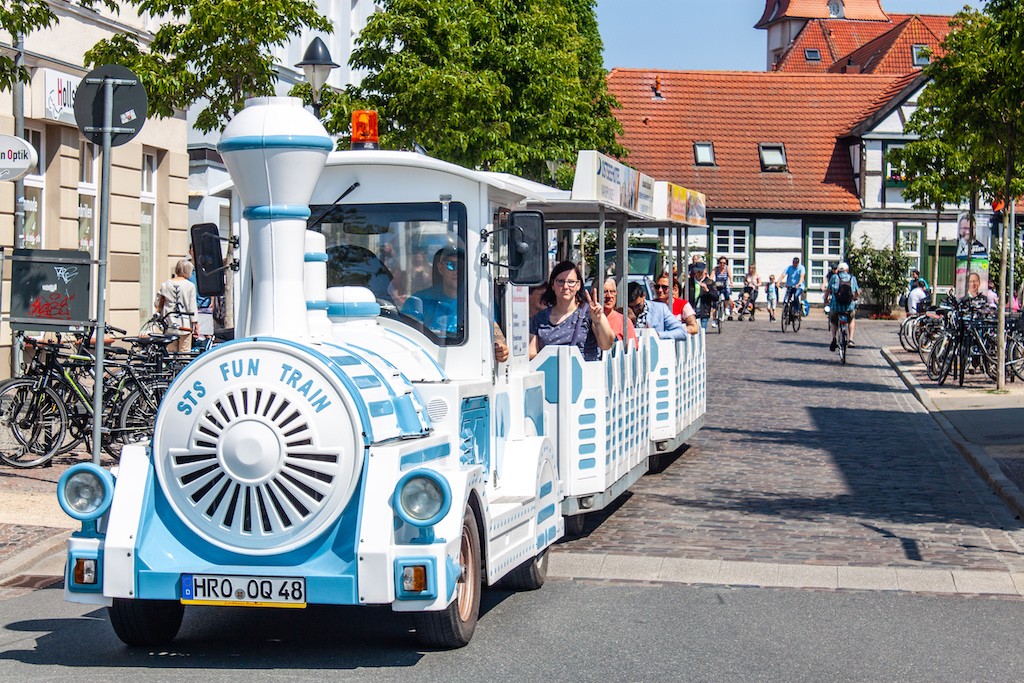 Since I don't have a German driver's license (something I plan to start pursuing this year!), I'm stuck with public transit like most people. As I'm not the biggest fan of travelling by bus, I travelled by train. It's way relaxing, there are quiet areas (which are debately quiet if you ask me), and you always pass the time by gulping back German beer in the dining car. The simple act of staring out the window also garners plenty of entertainment – watching the lush green hills fly by, spotting animals racing through the fields, and having this general feeling like your train is the single animate object careening through an otherwise serene and peaceful landscape.
You can book a roundtrip Ostsee ticket for about €50 in second class (way cheaper if you have a Bahn card obviously). It works for all trains, regional and the ICE. Regional trains run more frequently and involves two to three stops. ICE trips will take you to and from Warnemünde directly without any changes and as a result, tend to be more booked. I recommend making a reservation for around €3 – 4 to secure a spot of your choice and make your journey all the more comfortable.
2) Check Into Your Hotel That You Don't Have Any Pictures Of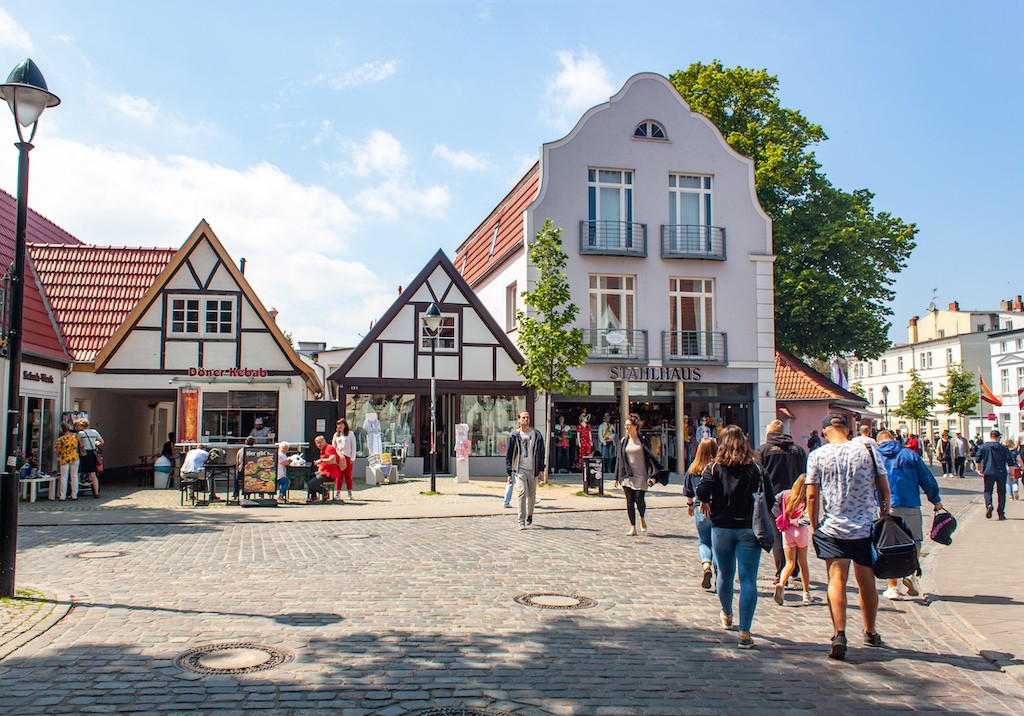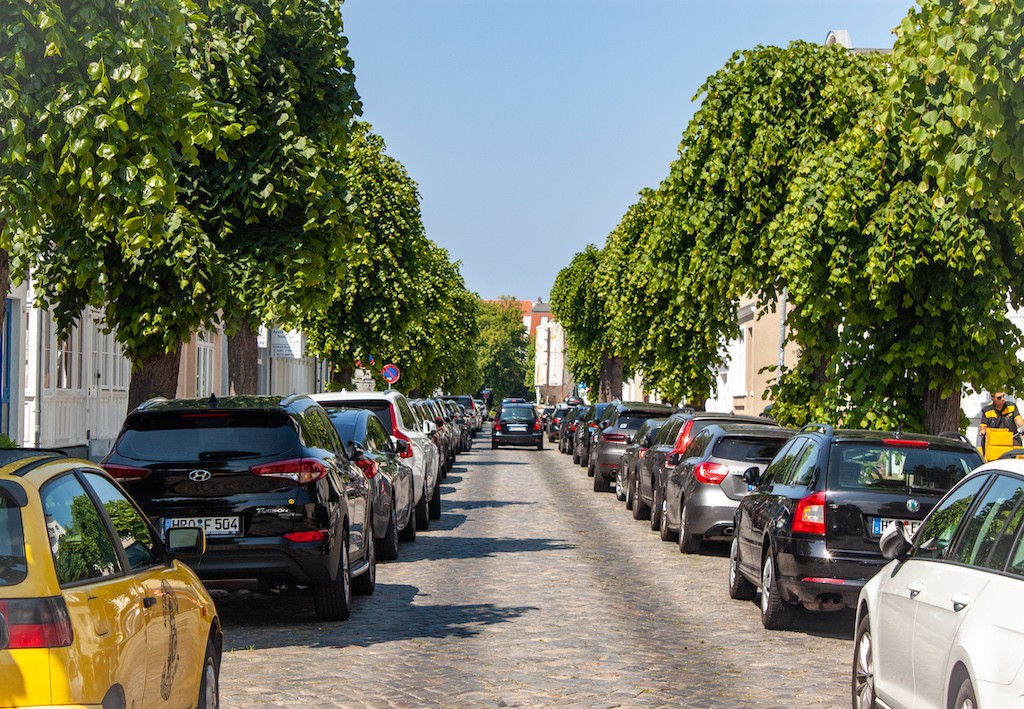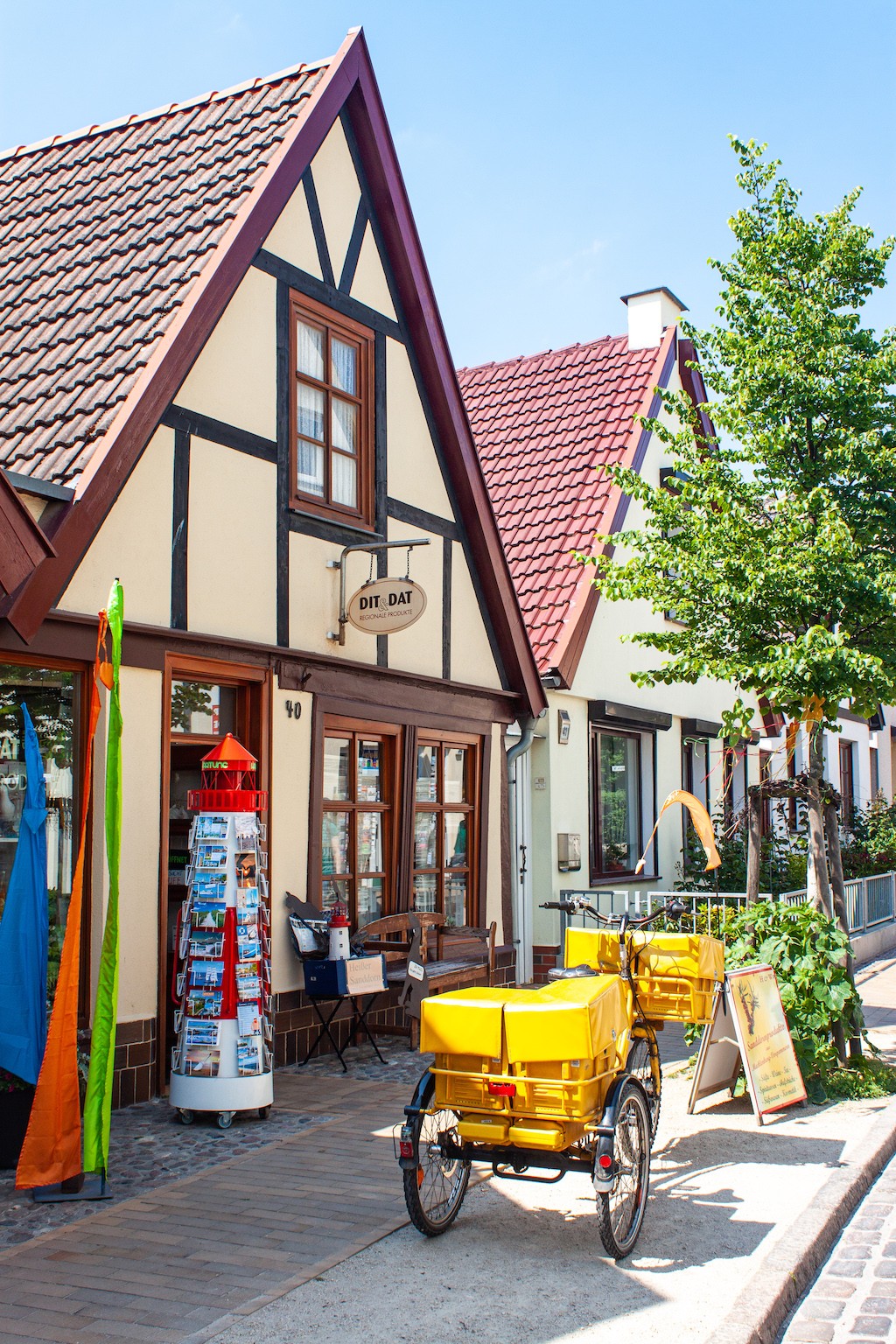 As Warnemünde is so popular with us tourists, accommodations tend to be on the expensive side even in the shoulder season. They are also booked far in advance, so hot tip folks – book your hotel, Airbnb, or whatever as far in advance as possible. Especially, if you're thinking to head there for the annual Hanse Sail.
I wish my travel blogging life was as glamorous as half the blogs out there would like you to believe. I didn't score a free stay, nor stay at a luxurious resort. I paid with my hard earned cash and stayed at a place that was at best, meh. Hence, there's no photos of the hotel itself above, just some snaps of Warnemünde itself.
I checked into a rather dated hotel, the Belvedere and it was still around €95 a night! The gut – it's literally within a three minute walk of the train station, located directly on the canal and within close proximity of bars and restaurants, the rooms are spacious, and it's clean. The nicht so gut is that the mattress had seen better days and wasn't firm enough, there is no lift making the hotel unassessable for handicapped people (never mind that a journey up several flights of stairs with your luggage is an arduous task), and the overpriced breakfast at €12 is a travesty. Seriously, if you want a good hearty German breakfast, head elsewhere.
If I'd really wanted to throw down some serious cash, I'd stay at one of the fancy hotels along the beach like Hotel Neptun, Yachthafenresidenz Hohe Düne, or Hotel Ostseehotel. Taking a more budget friendly approach, I'd sleep at the über cool Dock Inn Hostel. Heck, I'd even book an Airbnb (first time customers can score a travel credit to use towards their stay by using this link).
3) Get Some Fresh Warnemünde Fish Into Your Belly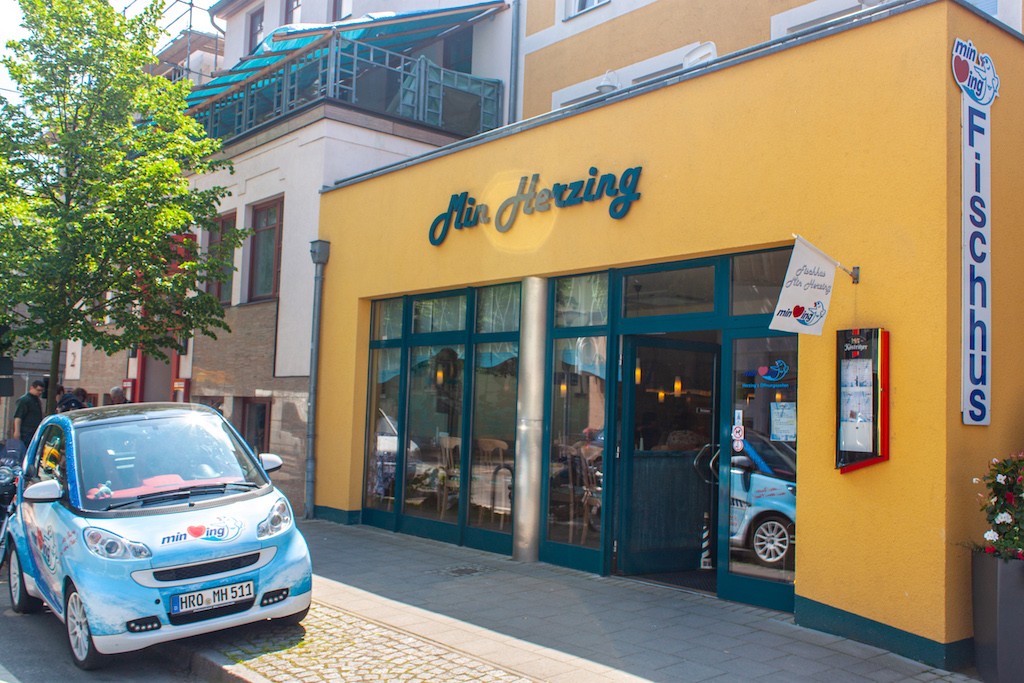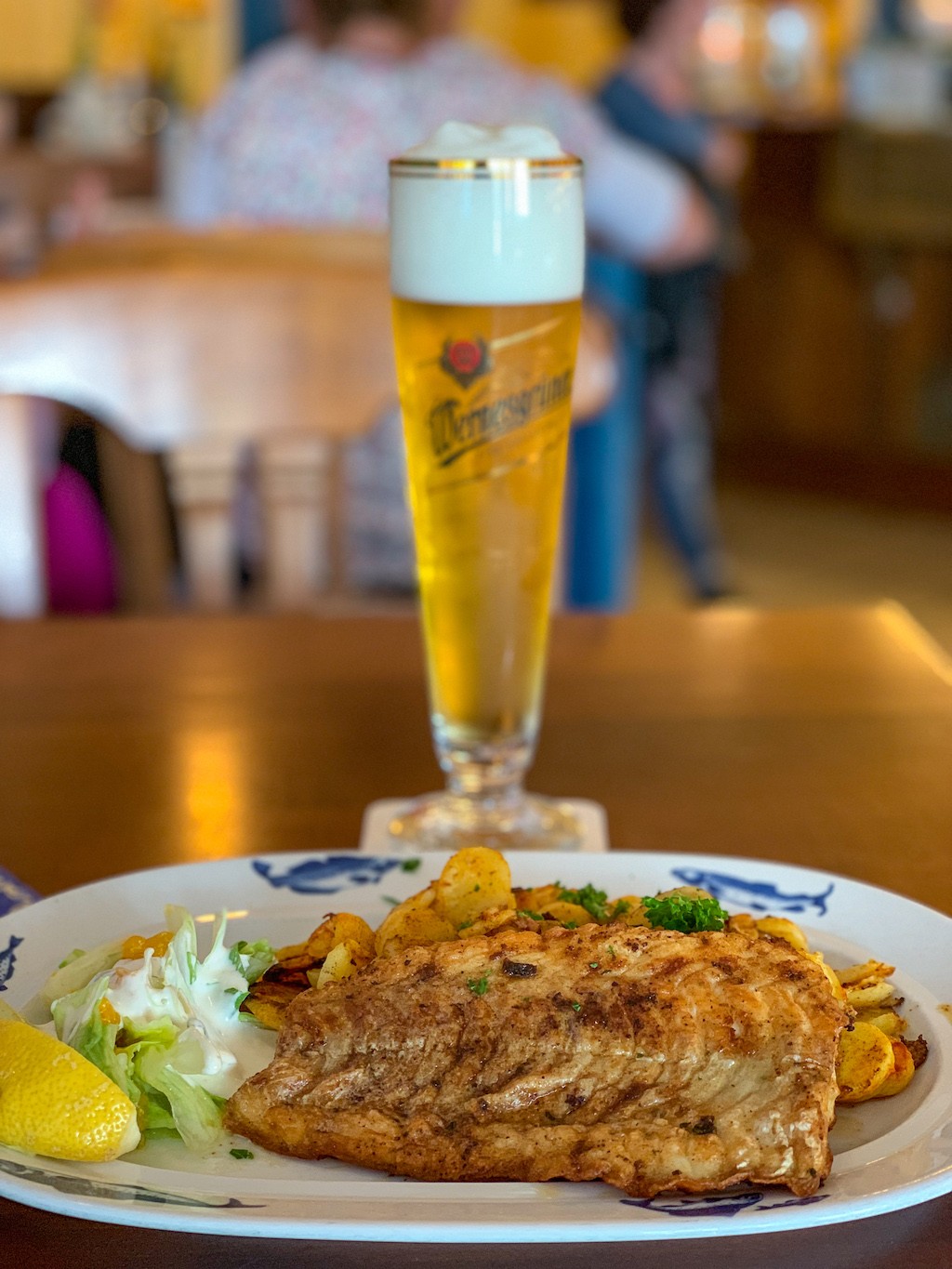 There are a number of seafood restaurants in Warnemünde, but I chose Fischhus Min Herzing. It's not along the seaside like many of the others, but located more in town. It's also small, not over the top pretentious, and doles out some of the most delicious and freshest of seafood. I opted for some grilled cod, with a small salad, and fried potatoes. As it was a hot sunny day, I also paired it with a small beer.
4) Stroll Along The Canal (Alter Strom)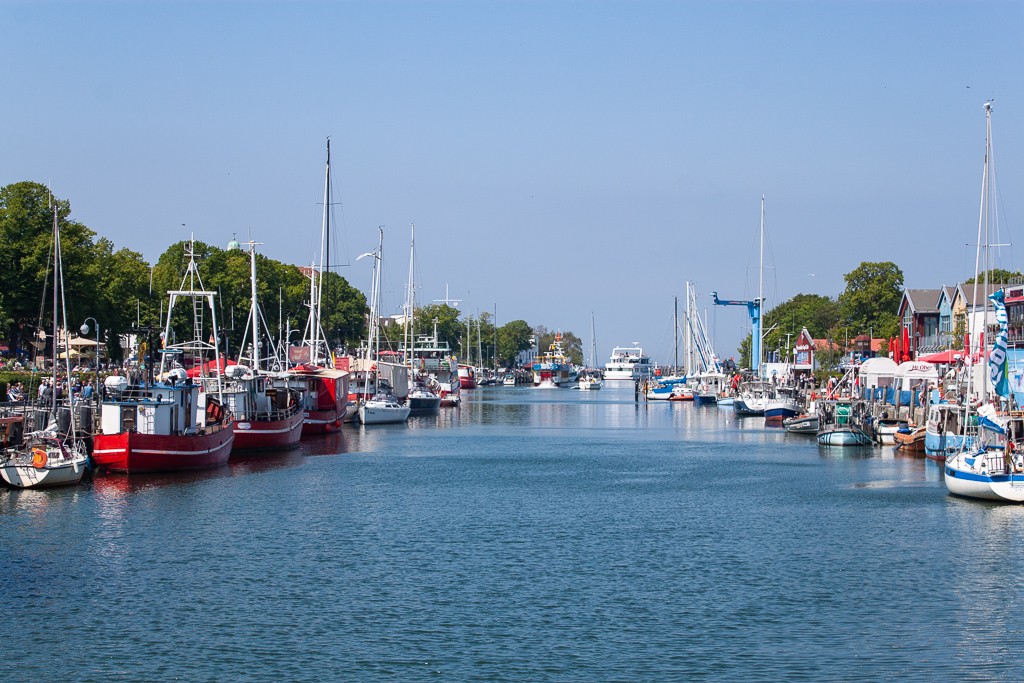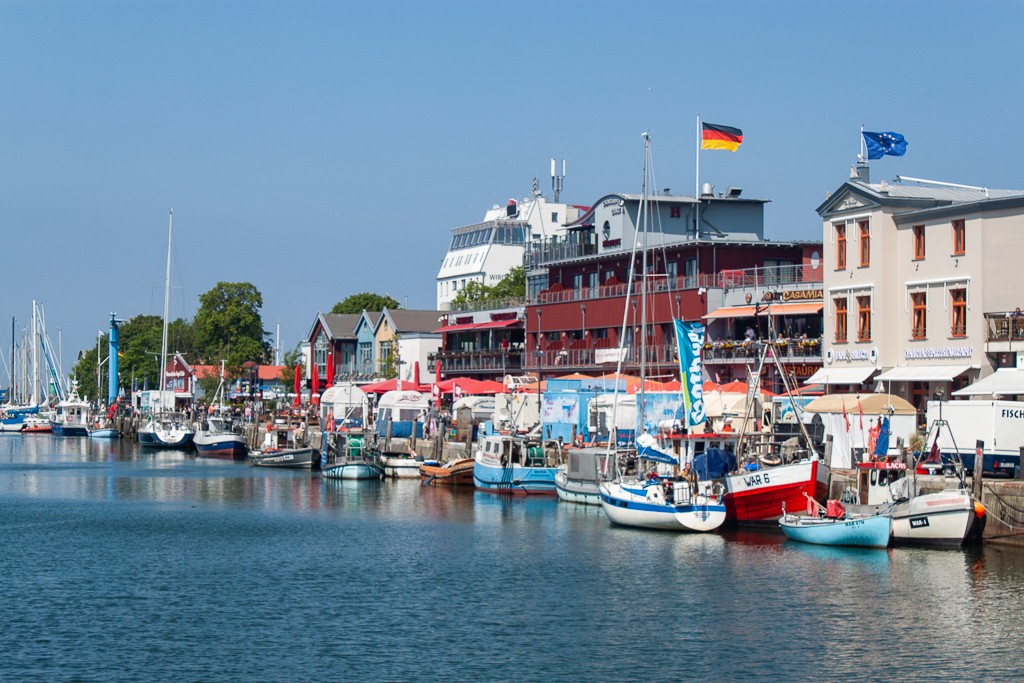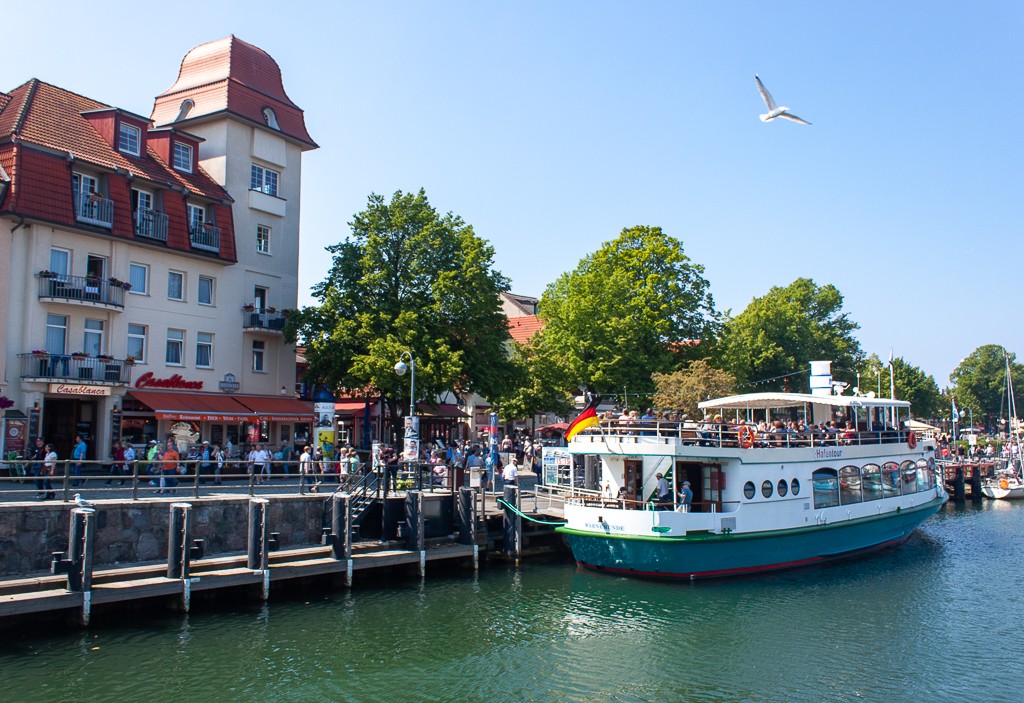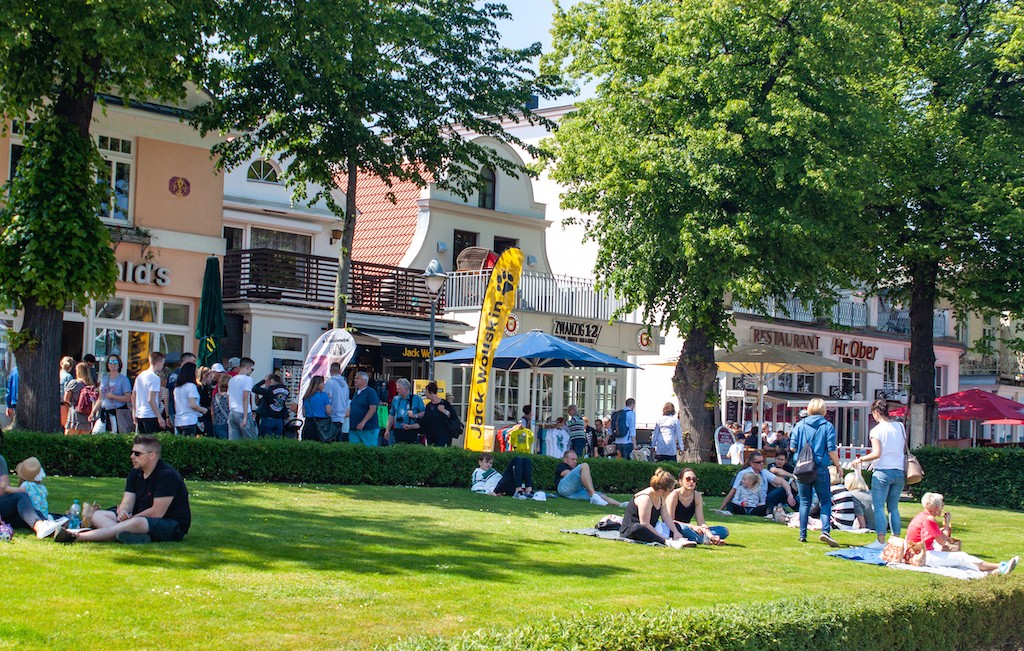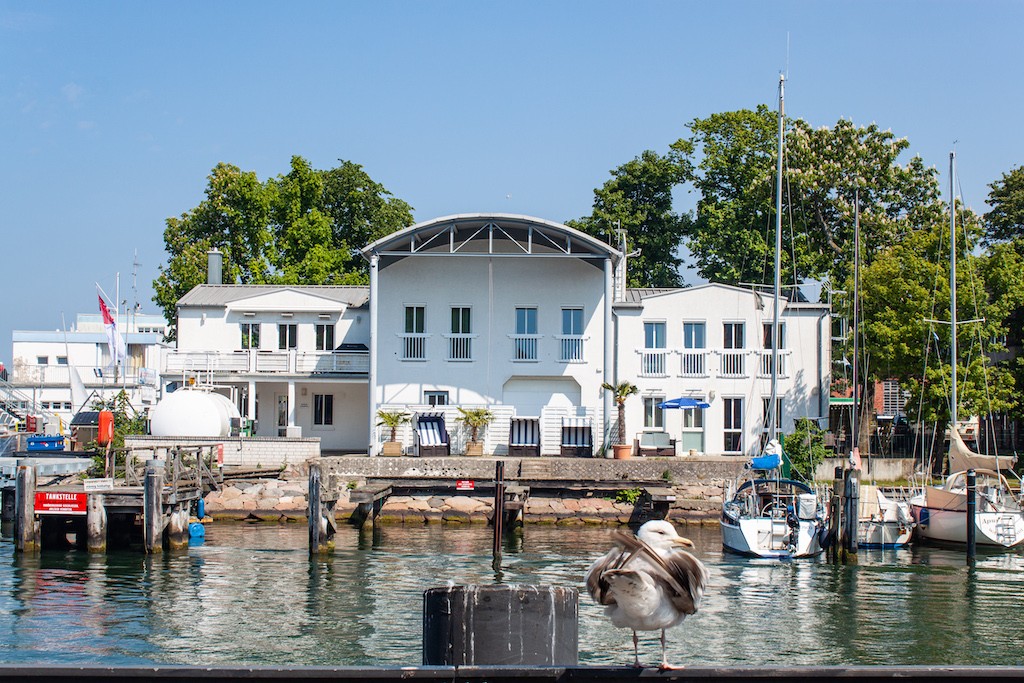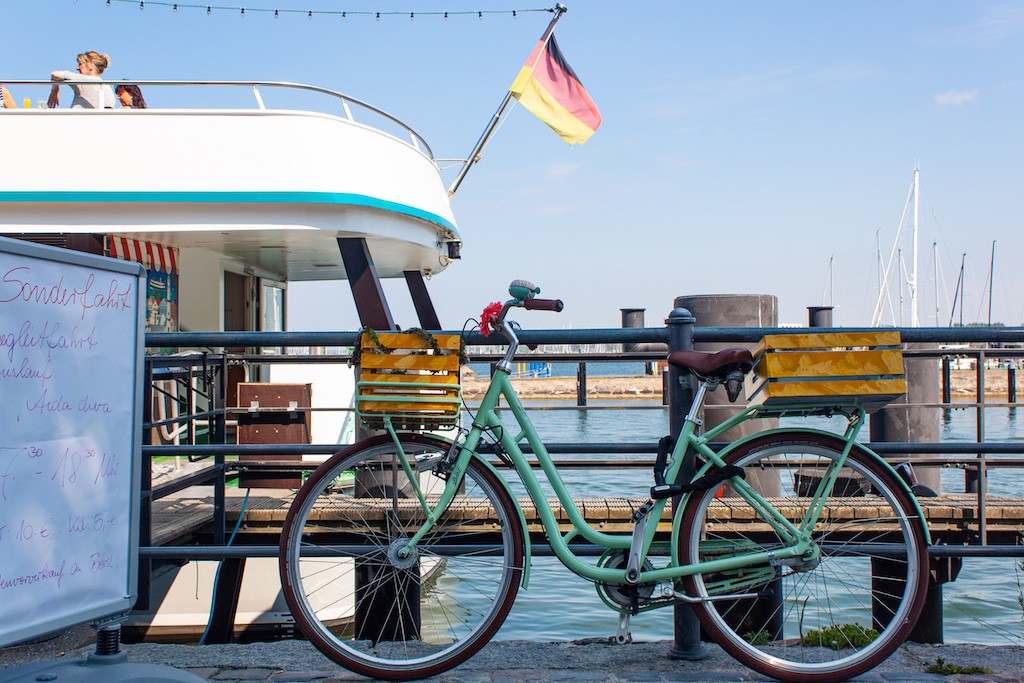 After the yummy lunch, I headed to the canal and began walking towards the beach. Even on the first weekend in June, it was hard to navigate through the massive crowds here. Dotted on both sides with souvenir shops, food stalls, restaurants, and bars, this is the place to come and people watch in Warnemünde that's not the beach. You can also choose from one of several companies that offer boat excursions around the harbour from here.
5) Stop For a Mojito At A Cuban Bar Because Why Not, You're On Holiday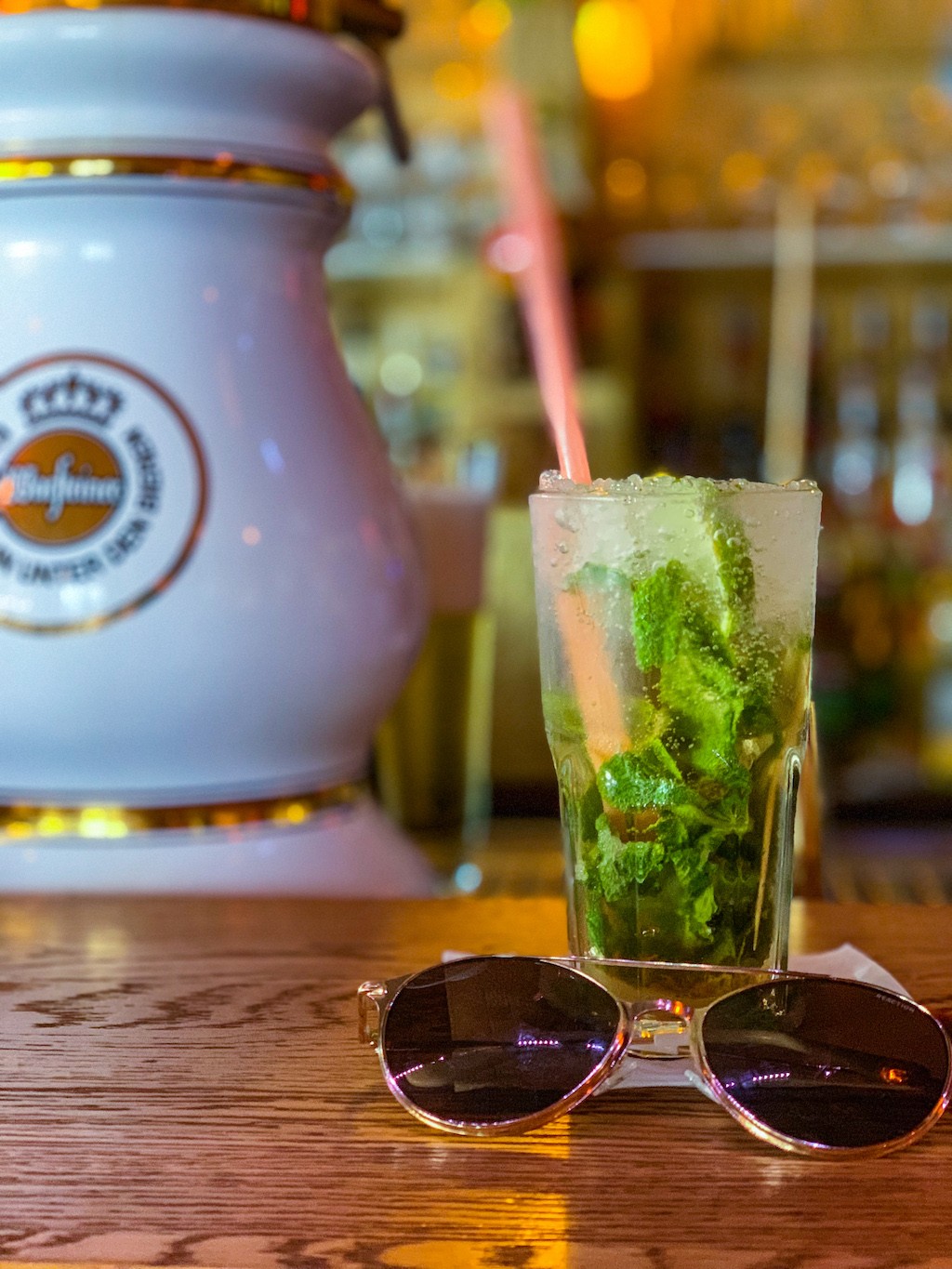 It was getting hot and I needed something to cool me down and what better than a refreshing mojito? Day drinking is perfectly acceptable when you're on holiday, right? I stopped by an oddly themed Cuban bar for a quick drink and a thoughtful tweet (follow me!) before moving on.
It's the middle of the day. I'm sipping a mojito and listening to salsa music at a Cuban themed bar that overlooks the Baltic Sea in Northern Germany.

I love how delightfully weird and wonderful life can be. pic.twitter.com/my3qesy5Pz

— Cheryl Howard 🇨🇦 🇩🇪 🌎 (@cherrysberries) June 1, 2019
6) Channel Wes Anderson At The Warnemünde Beach With All Of The Lighthouses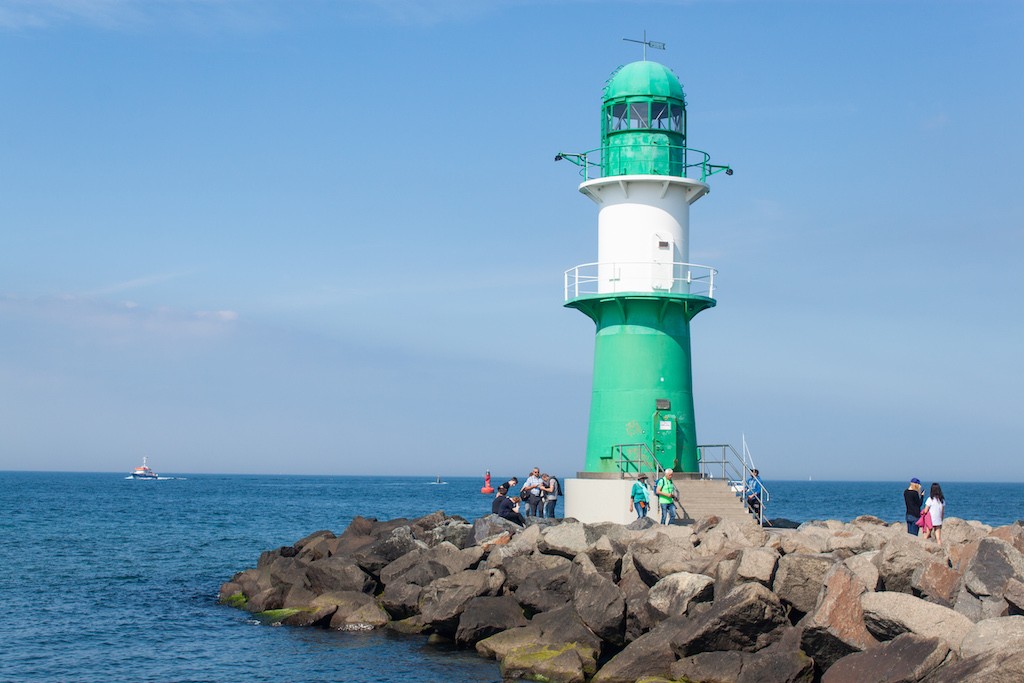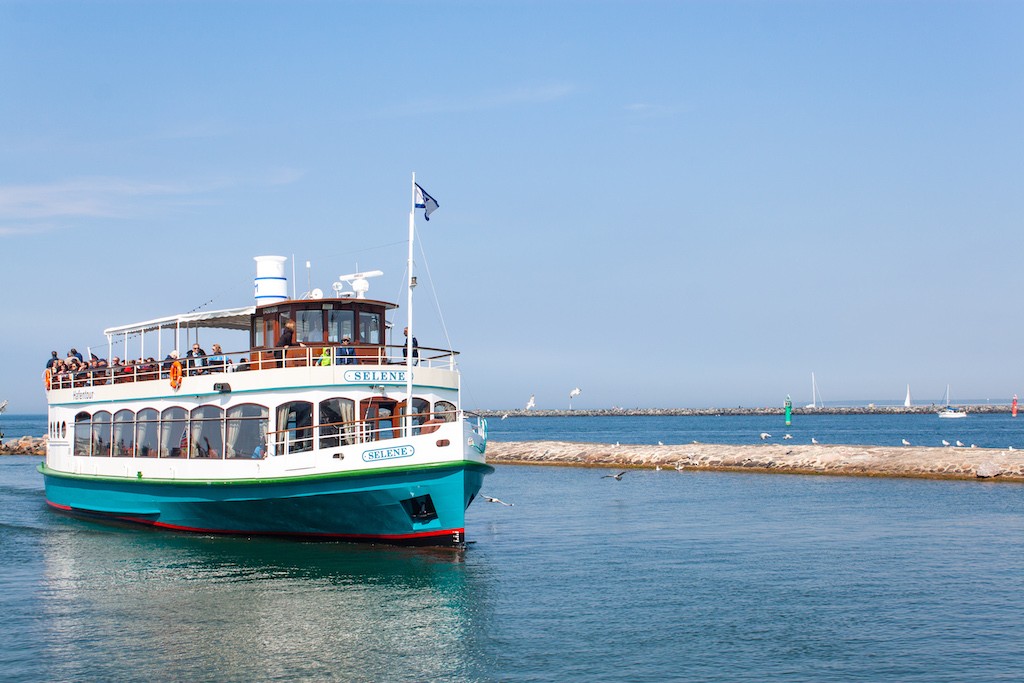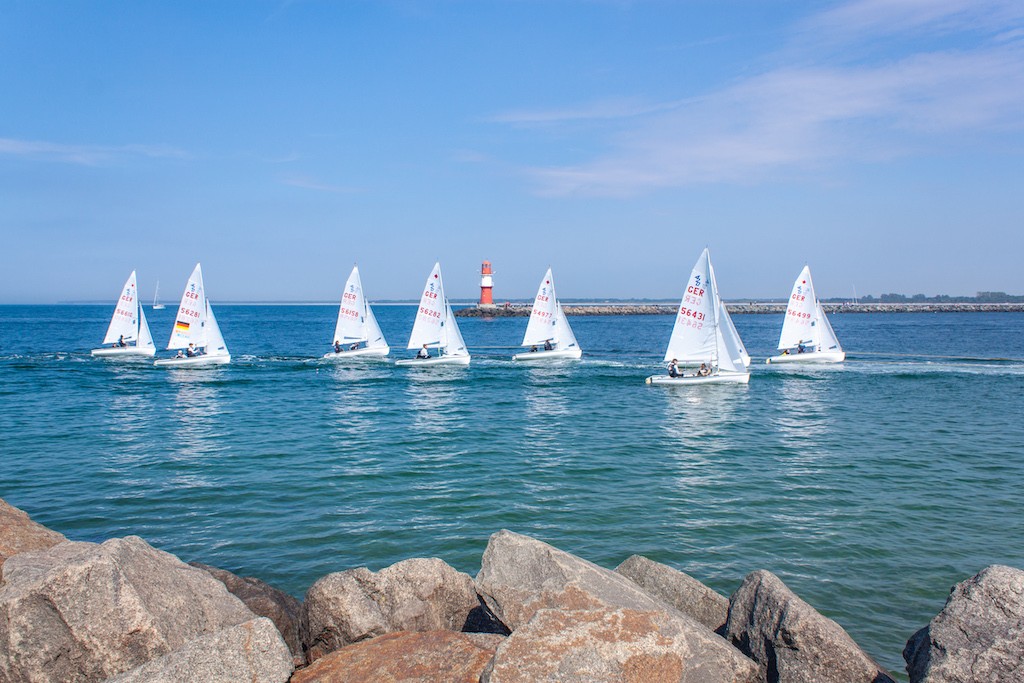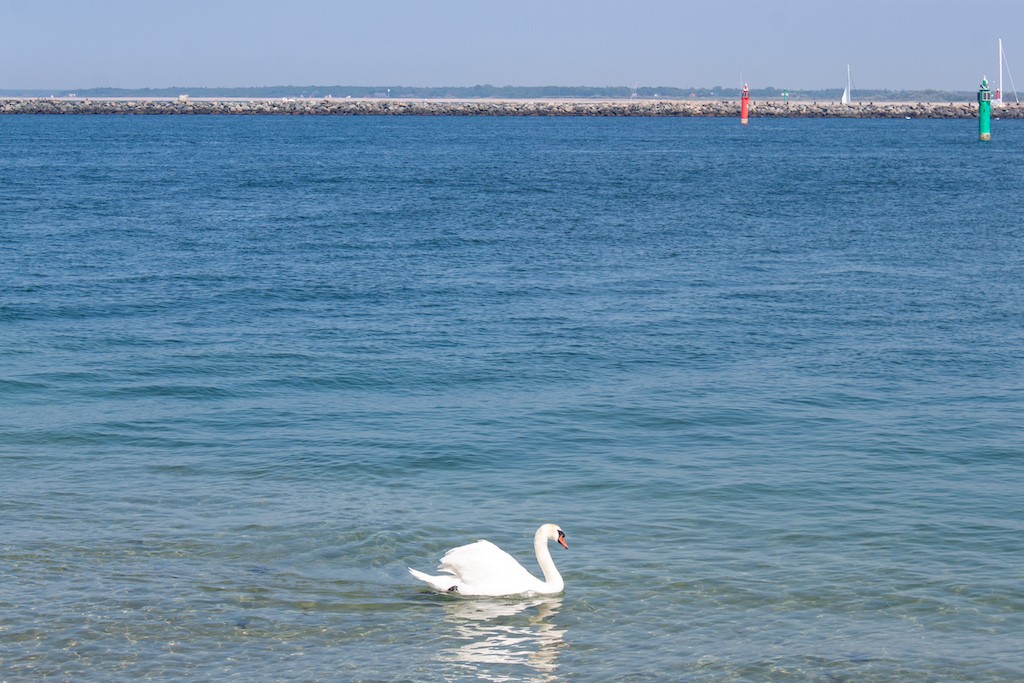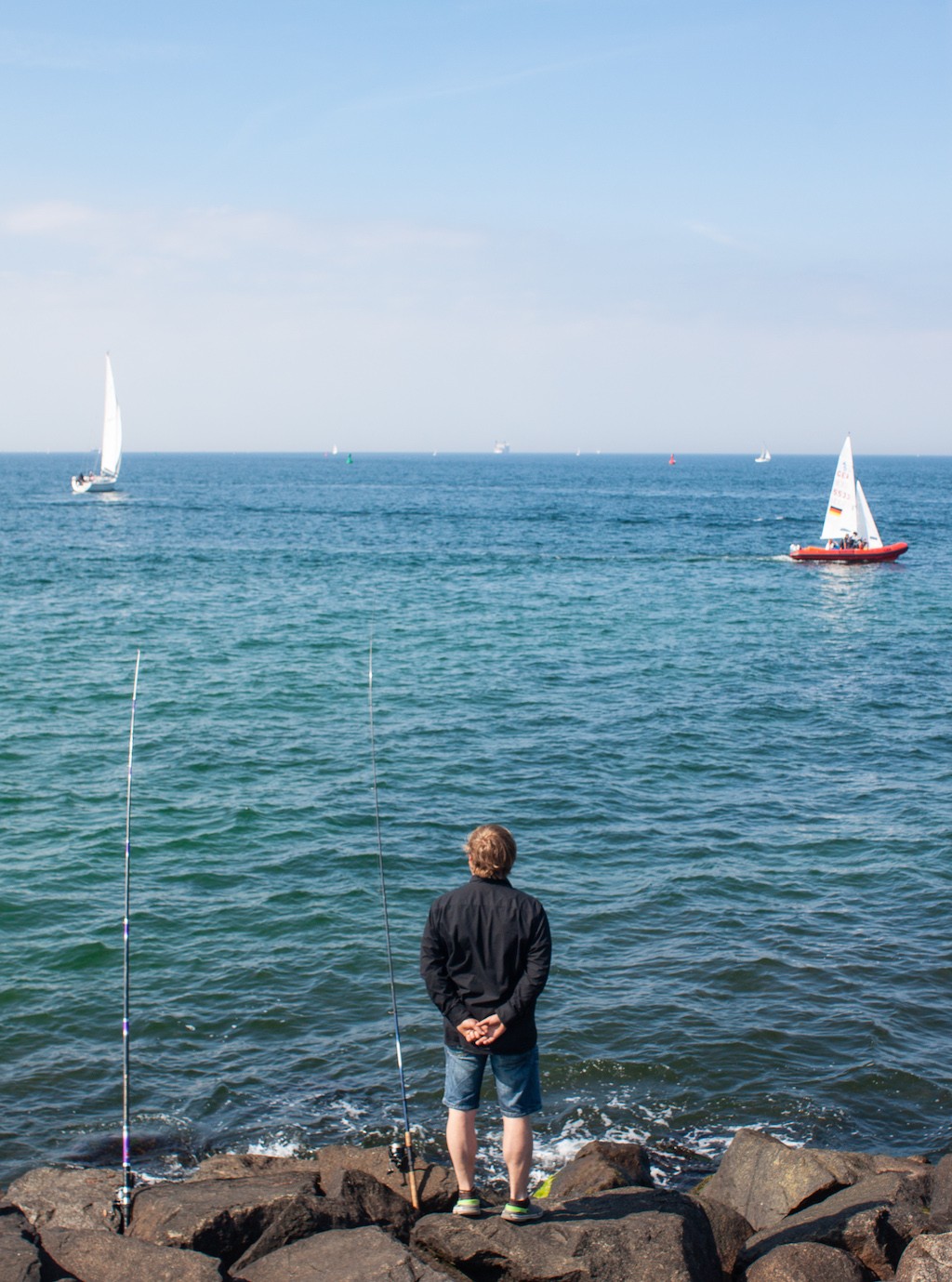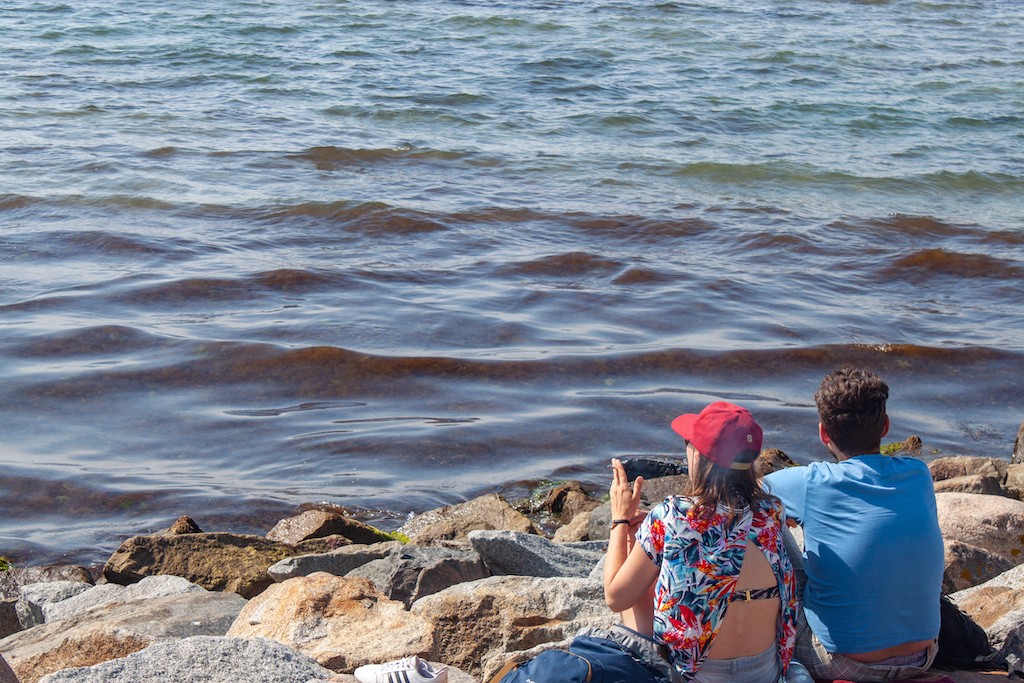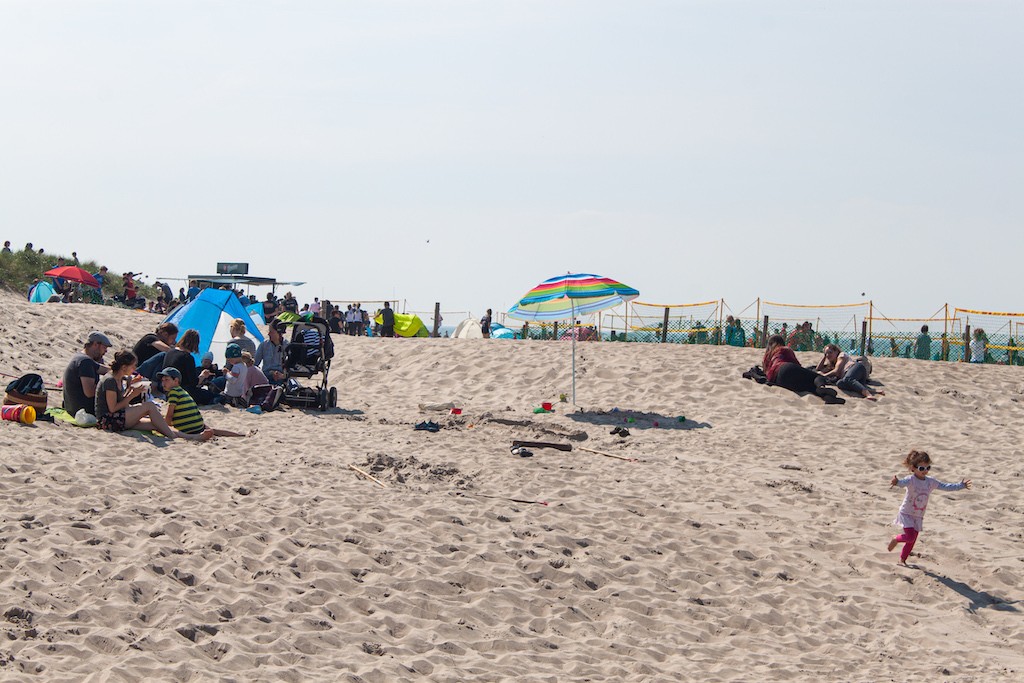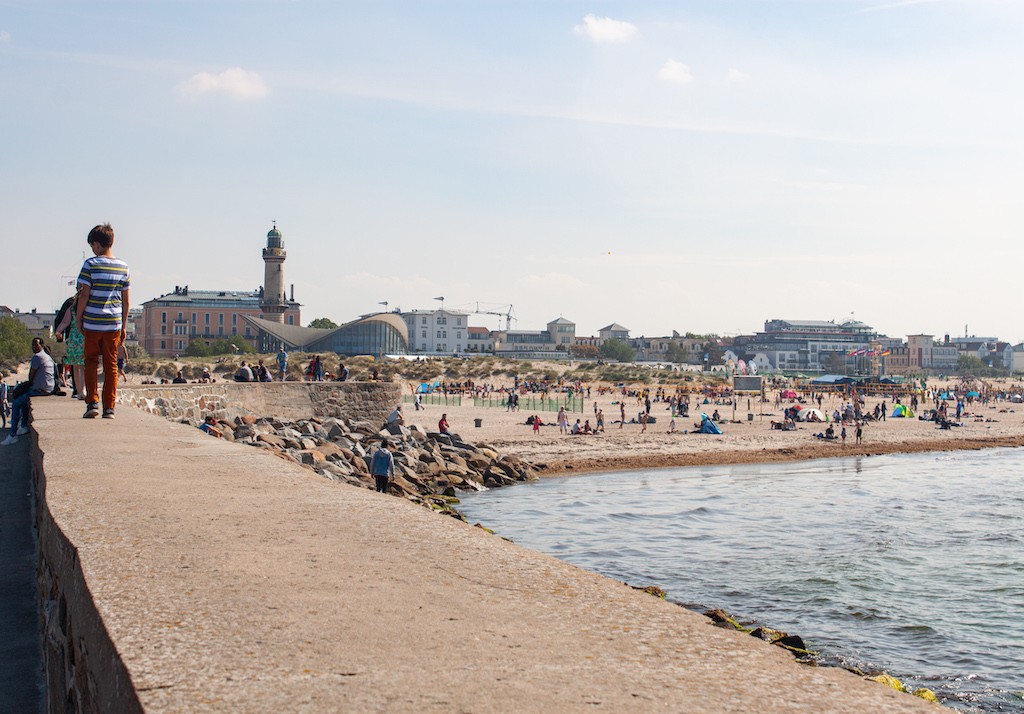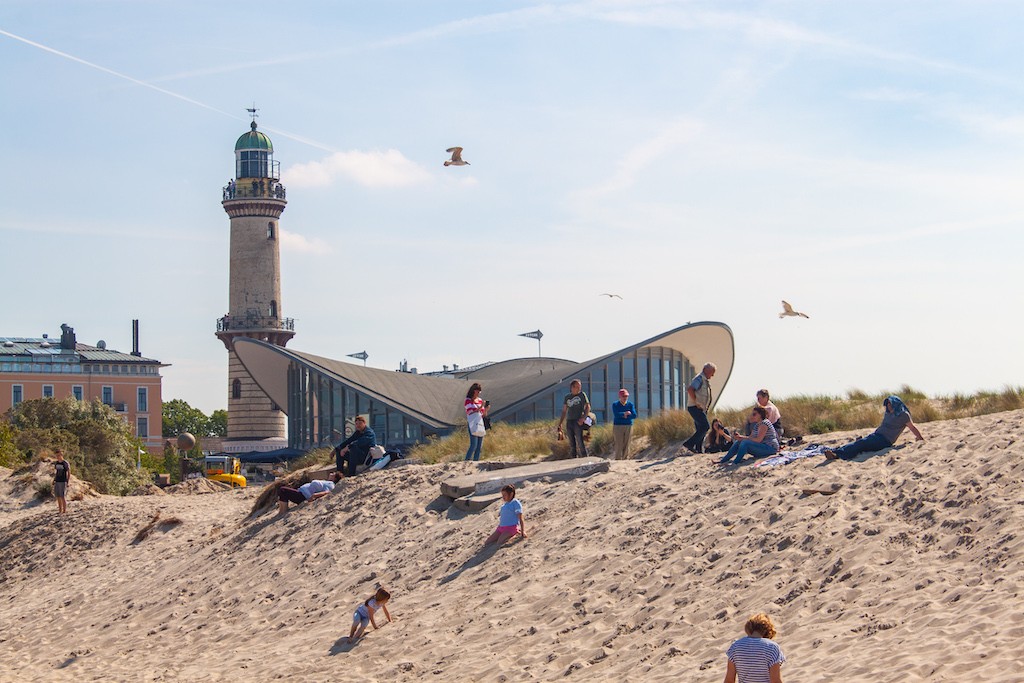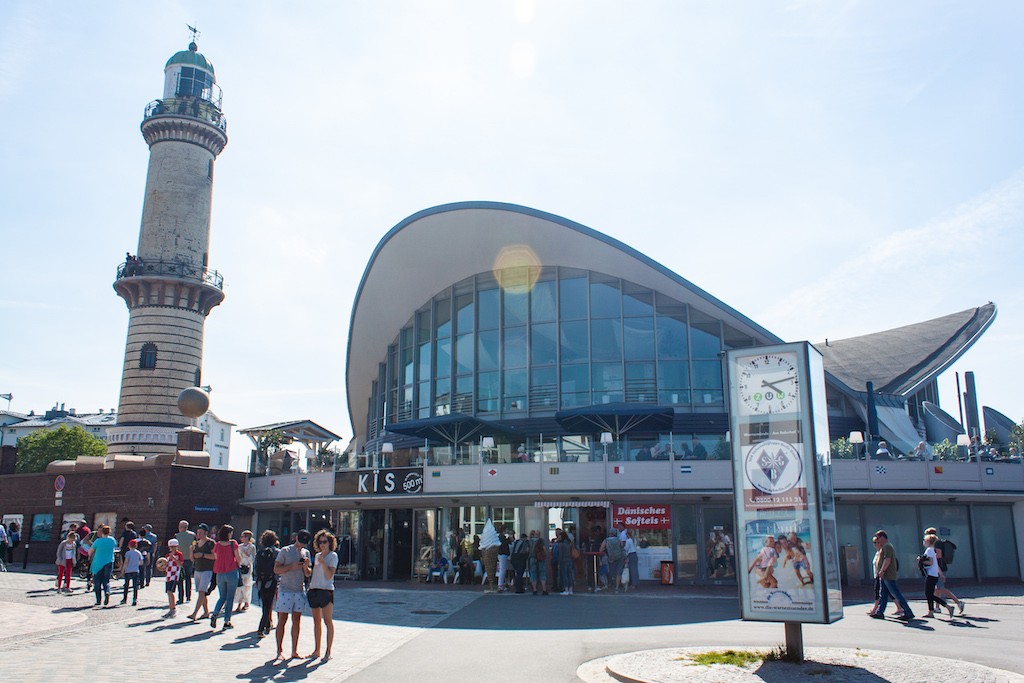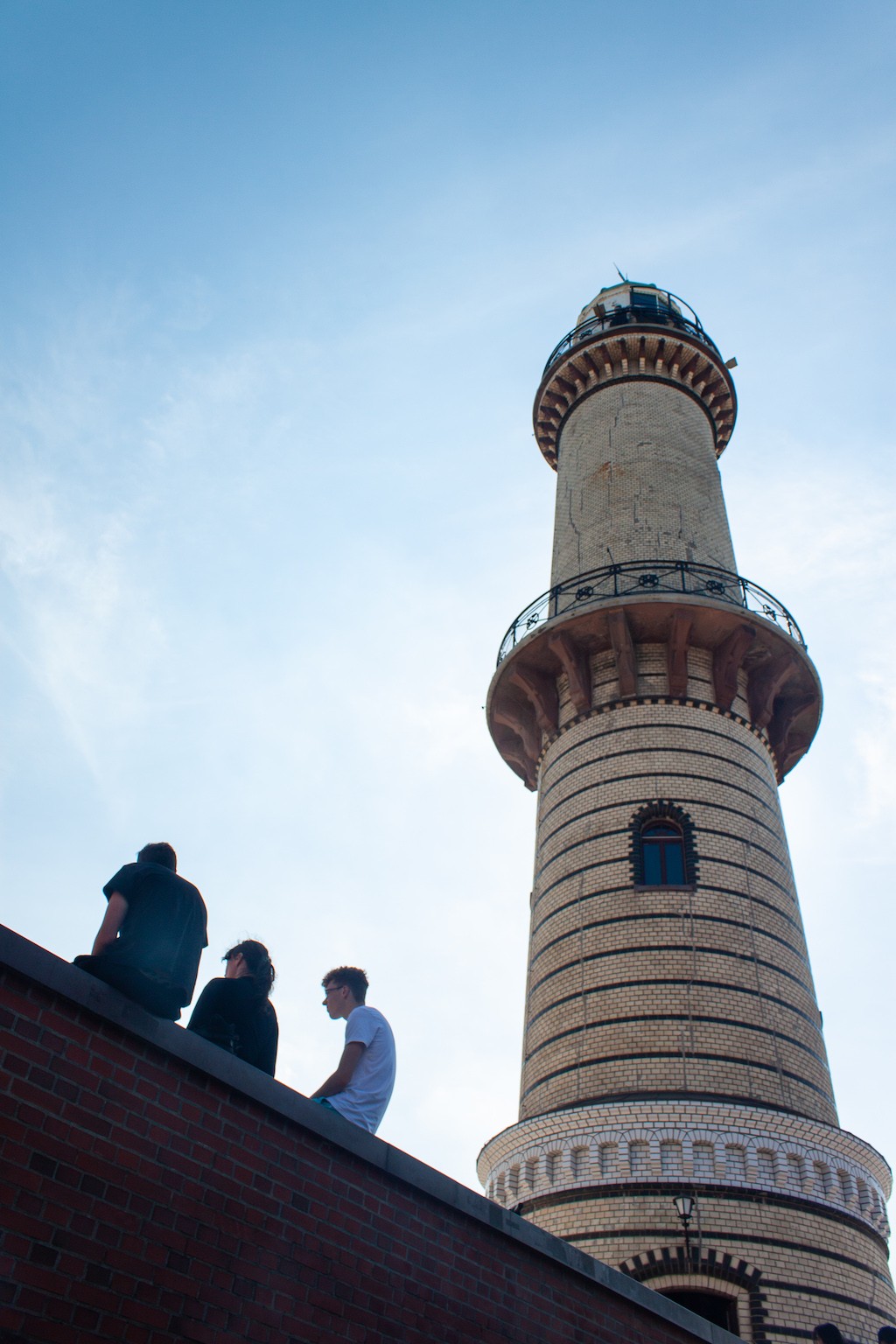 Leaving the canal behind, you'll stumble upon the beach and all it's various lighthouses. While the canal area is packed, the beach is filled with more humans than the eye can see. It's the perfect place to channel your inner Wes Anderson and take plenty of picture perfect shots, like the ones featured on this now famous Instagram account.
Begin by taking a long walk along the 541 meter Westmole for scenic views of the expansive Baltic Sea, sailboats, cruise ships, fishermen, and the 12 meter high green and white lighthouse. If you're lucky, you'll even spot a swan or two and simply wonder if life is too beautiful to be real.
Coming back to the shore, you'll spot a bunch of hotels and resorts off into the distance, the Old Lighthouse, the teapot shaped restaurant (Teepott), tons of beach chairs, people playing volleyball, others sun tanning, some swimming, and more.
Pro tip: Keep your bathing suits on, as I didn't see any Germans swimming naked anywhere along the beach.
7) Receive Royal Treatment At The Spa But Then Embarrass Yourself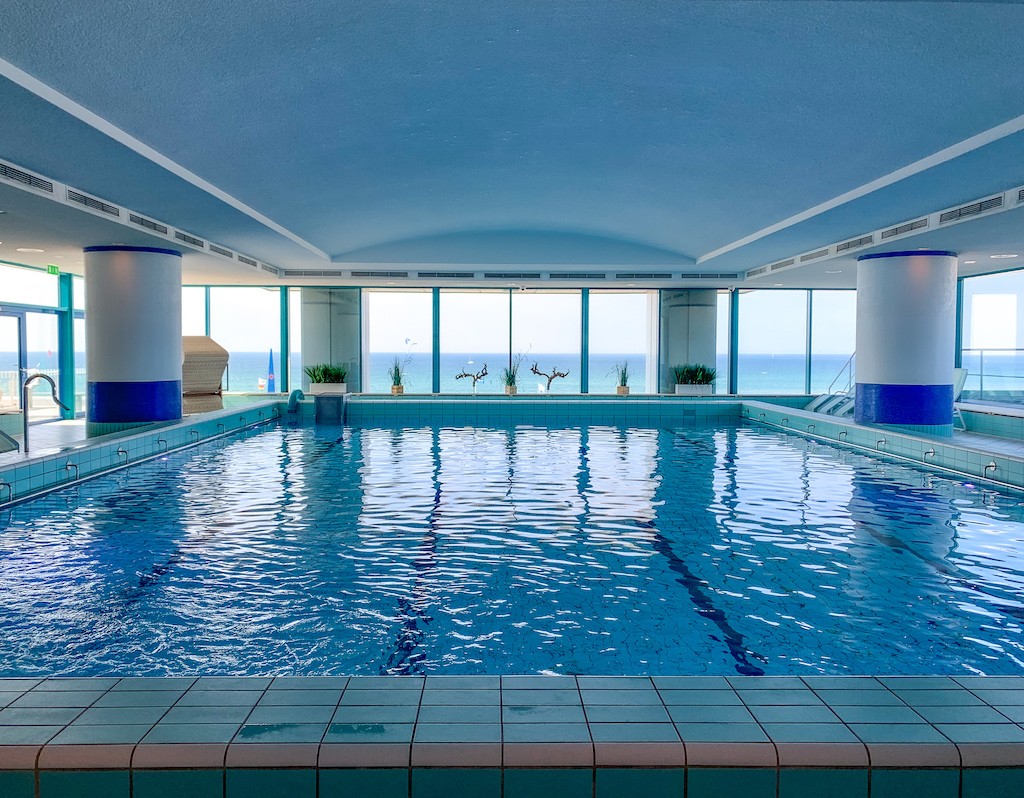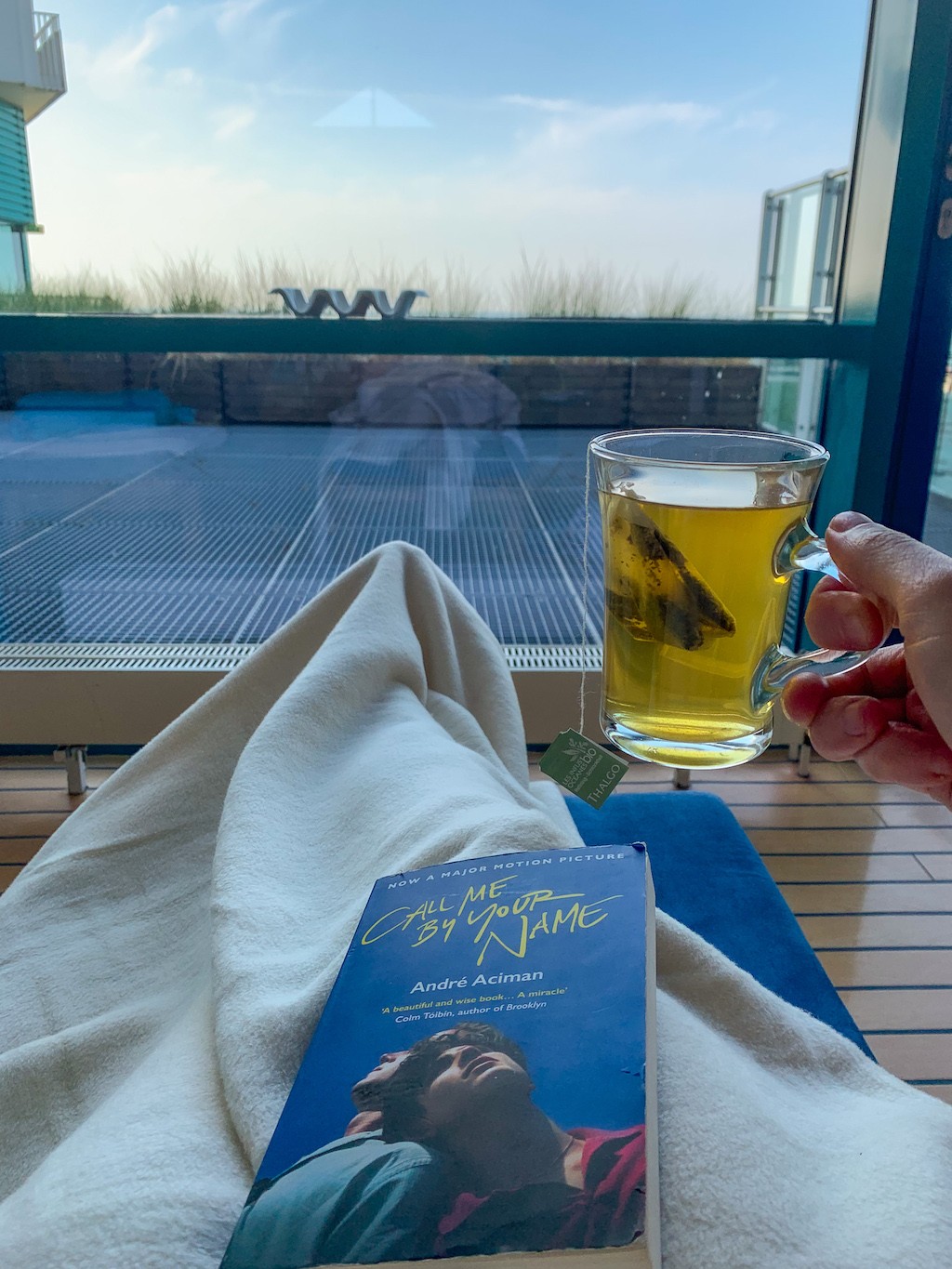 I might have stayed in a basic hotel, but my time at the Neptun Spa along the beach in Warnemünde was rather, extravagant, decadent, and luxurious. A pool with a view overlooking the Baltic Sea and treatments using water channelled in from that same sea made me book a reservation ASAP. I know how to treat myself right and I'm a spa lover at heart, whether I'm getting rubbed down in the Blue Lagoon in Iceland, taking a beer bath in Prague, or getting naked at Vabali Spa in Berlin.
I booked a Thalasso Classic treatment, which included a body scrub, body peel, and then a 25 minute soak in a seawater bath with algae and an intensive hydromassage. It ended with an application of body lotion by my massage therapist. I also spent time in the pool, various saunas (both dry and wet), and lounged in a chair with a blanket and soothing warm tea. Note, the pool area requires you wearing a swimsuit while the saunas require you to be naked.
Pro tip – Be careful which terrace you venture out to as when you close the door behind you, it may not open again. I embarrassingly got locked out wearing only the spa bathrobe when I was out taking photos of the late afternoon sun. Luckily after about 10 minutes or so, my massage therapist rescued me while I grinned like an idiot, apologized profusely, and hurriedly left the spa.
Recommended reading: Believe it or not, I've a long track record of getting locked out of places. Read the story about how I broke into my first Berlin flat or the time I got locked out of my hotel room in Los Angeles.
8) Have A Fancy Dinner Overlooking The Beach But Receive Really Shitty Service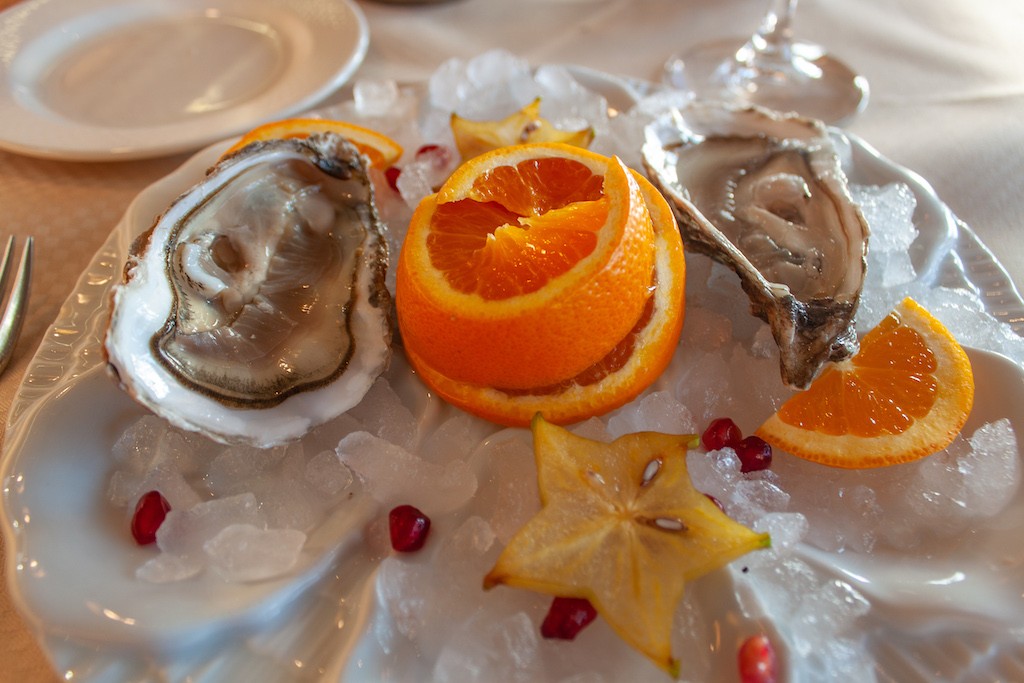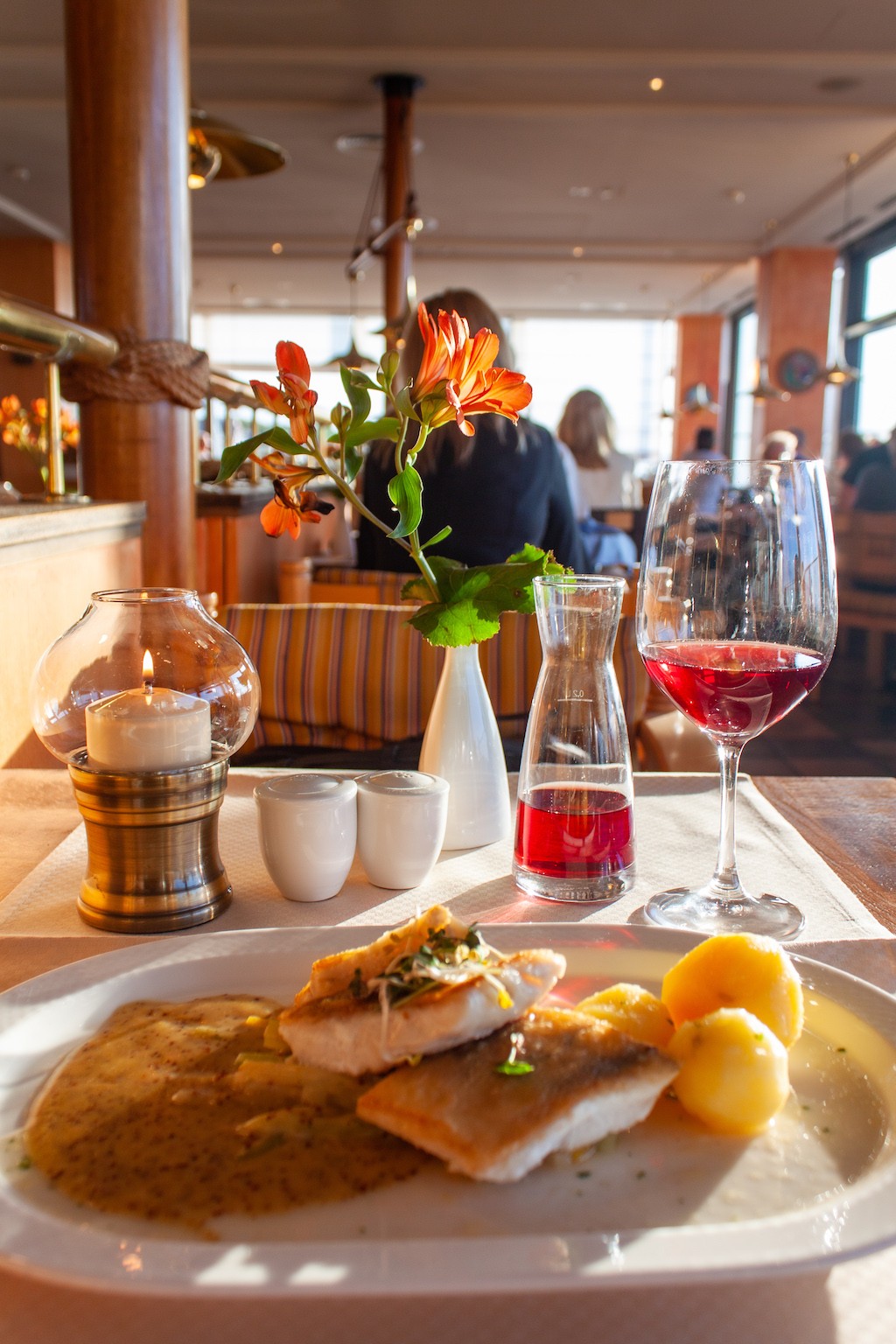 Still recovering from my earlier antics, I decided to remain fancy and have dinner at Hotel Neptun's seafood restaurant, Restaurant Genusshafen (which literally translates to "pleasure harbour"). While no parts of my harbour were being pleasured during this trip as I was flying solo (!), I did indulge on some fresh oysters and a white fish that came with boiled potatoes and some vegetables drenched in a mustard sauce.
While the sunset view over the Baltic Sea was blinding at moments and the food was top notch, the service was abysmal. There were long waits between courses and when I asked the waitress for help getting on their wifi, it took her 20 minutes to get back to me and inform me she couldn't help. Determined, I quickly went down to the front desk and they had me on wifi within 5 minutes.
9) See A Warnemünde Sunset For The Ages And Know You Can Die Happy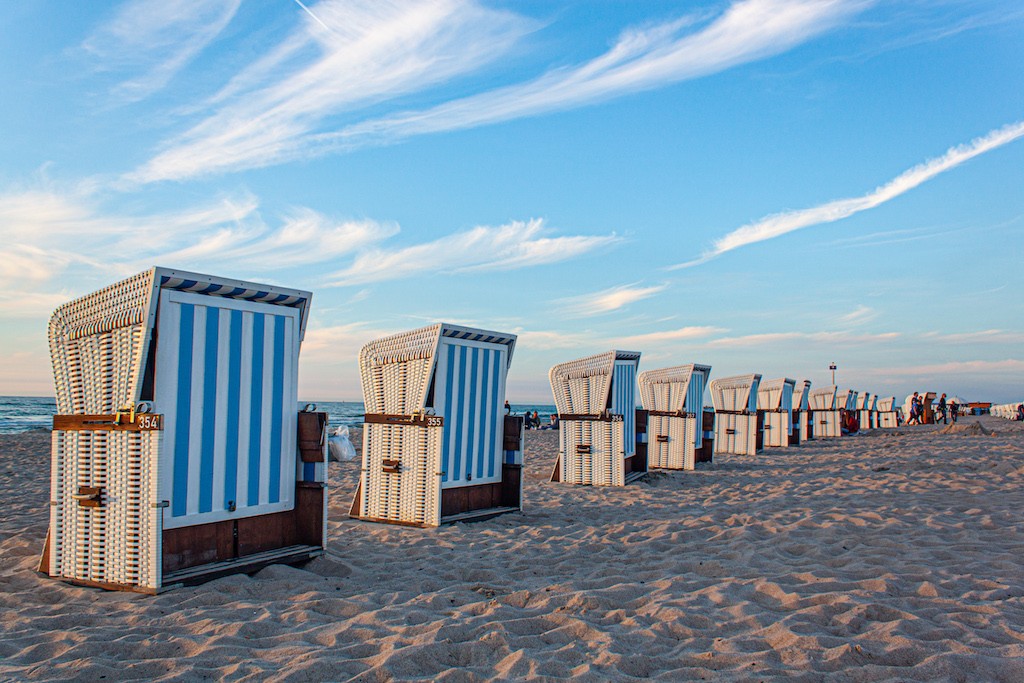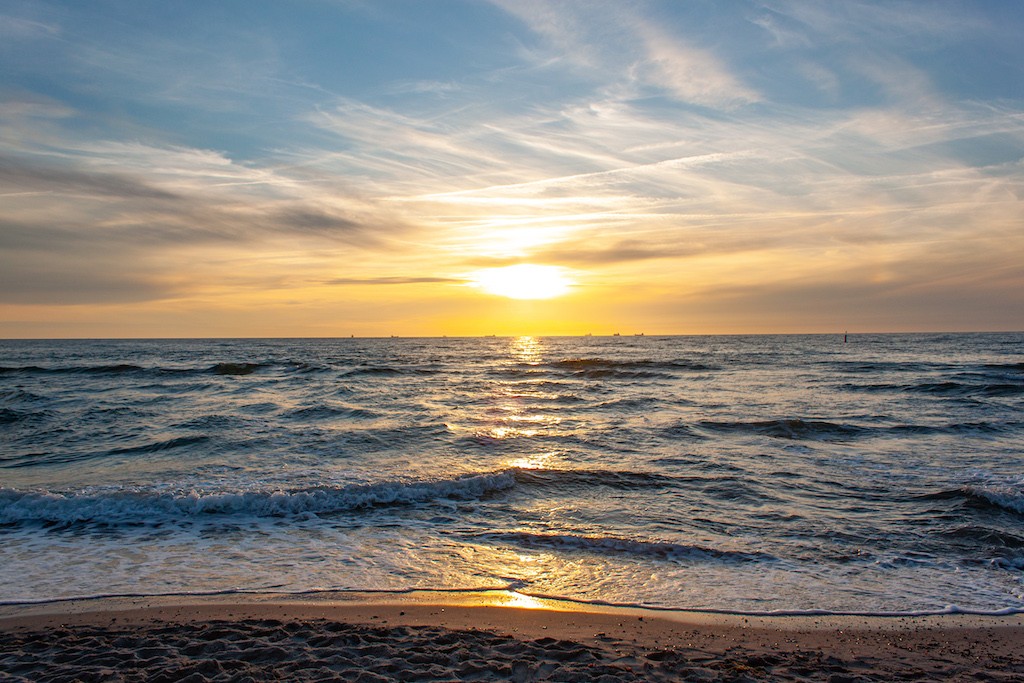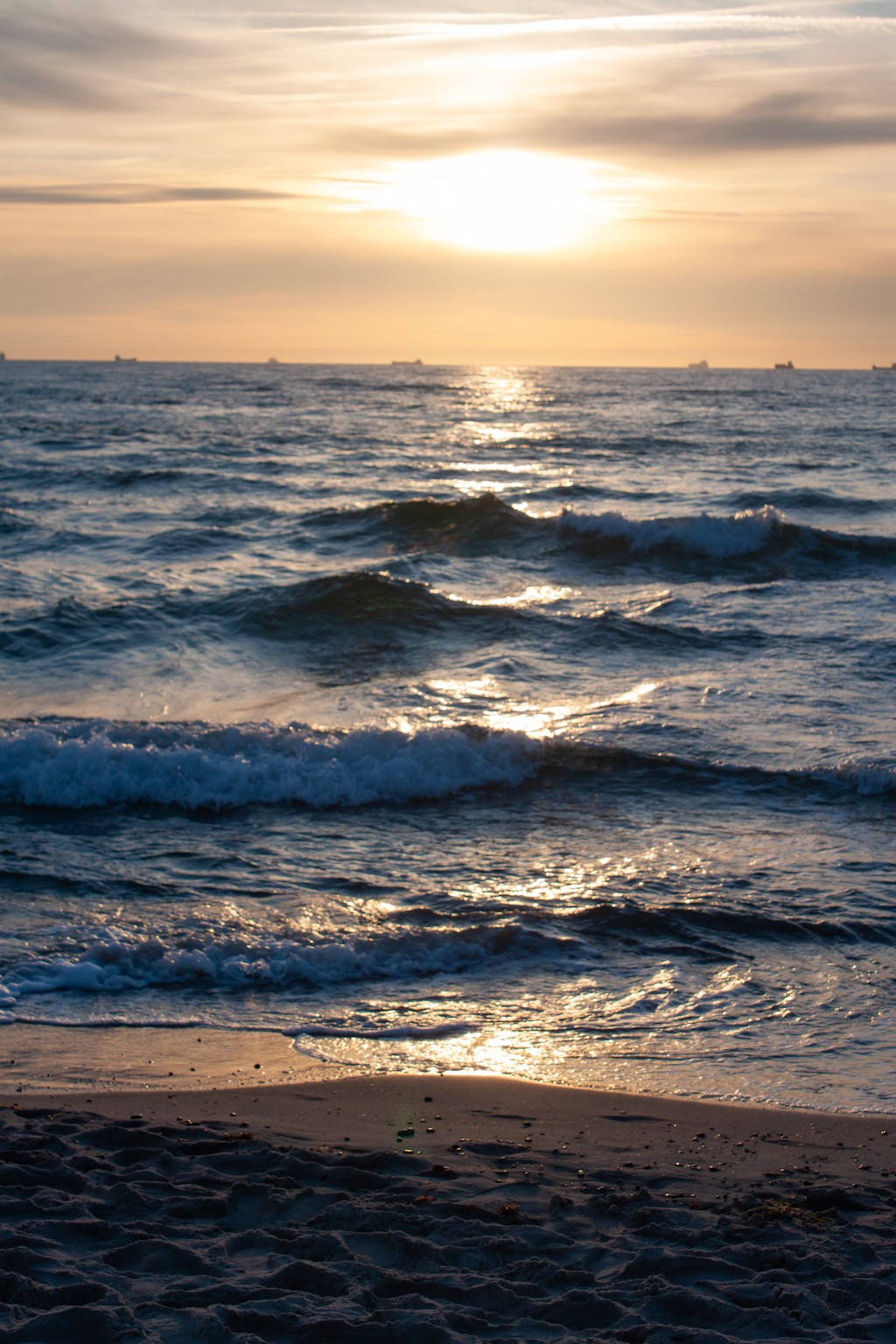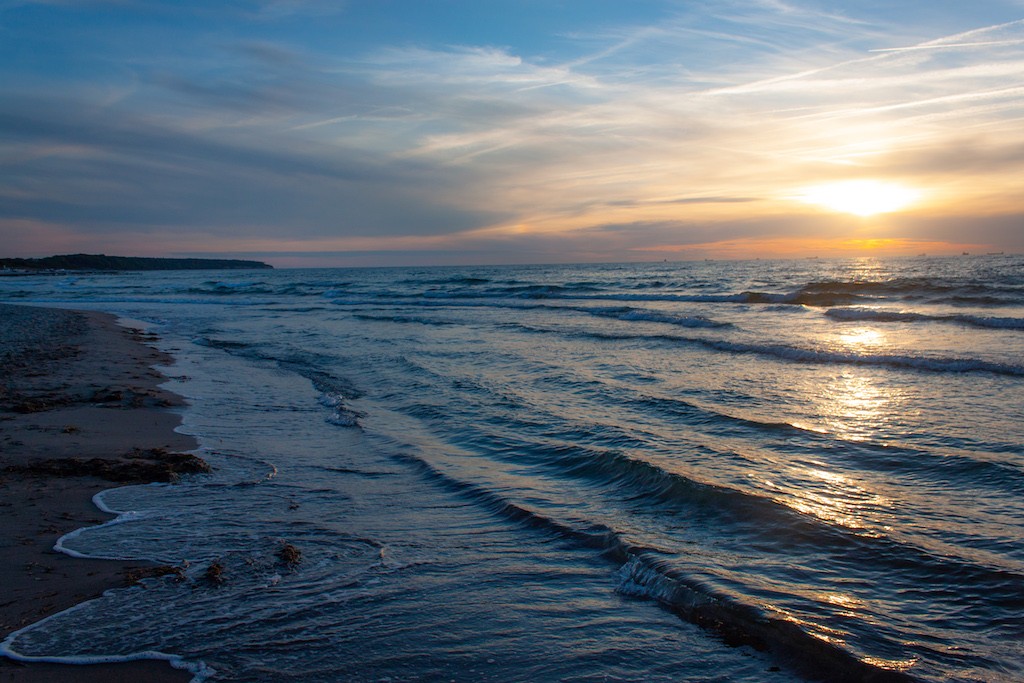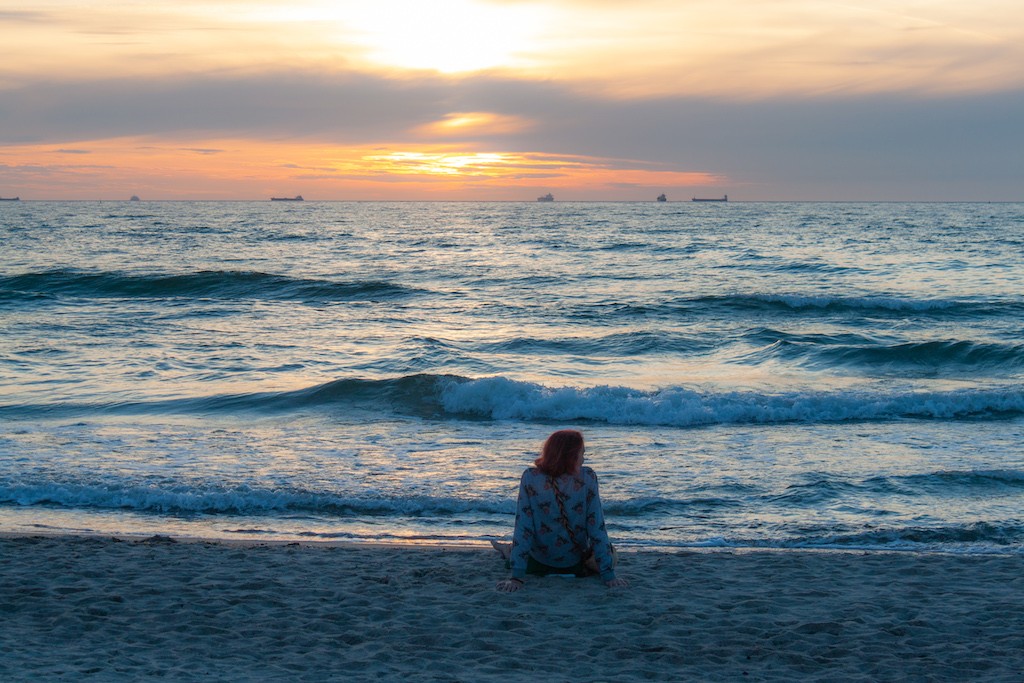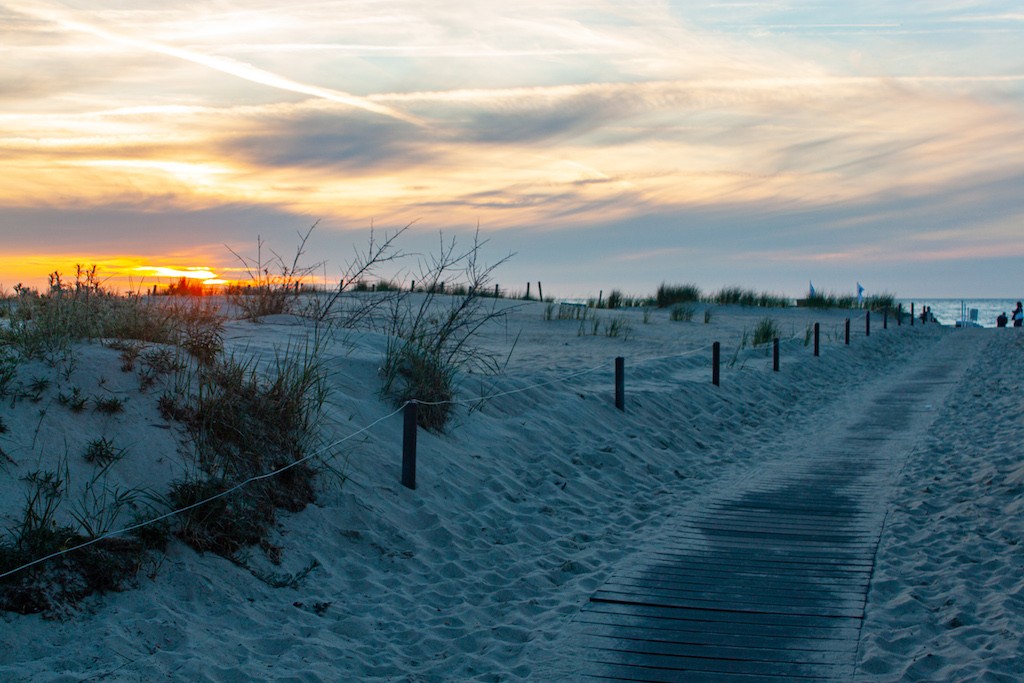 If I thought my day had been good already, it continued perfectly with this sunset "for the ages". By the time I arrived, it was a bit chilly and the beach was practically empty. I lingered and spent more than 90 minutes simply walking along the beach, watching the waves crash along the shore, standing in the water, and breathing in that fresh Baltic Sea air.
Life couldn't get much better.
10) Finish With A Walk Along The Promenade And A Bronzed Johnny & Baby Statue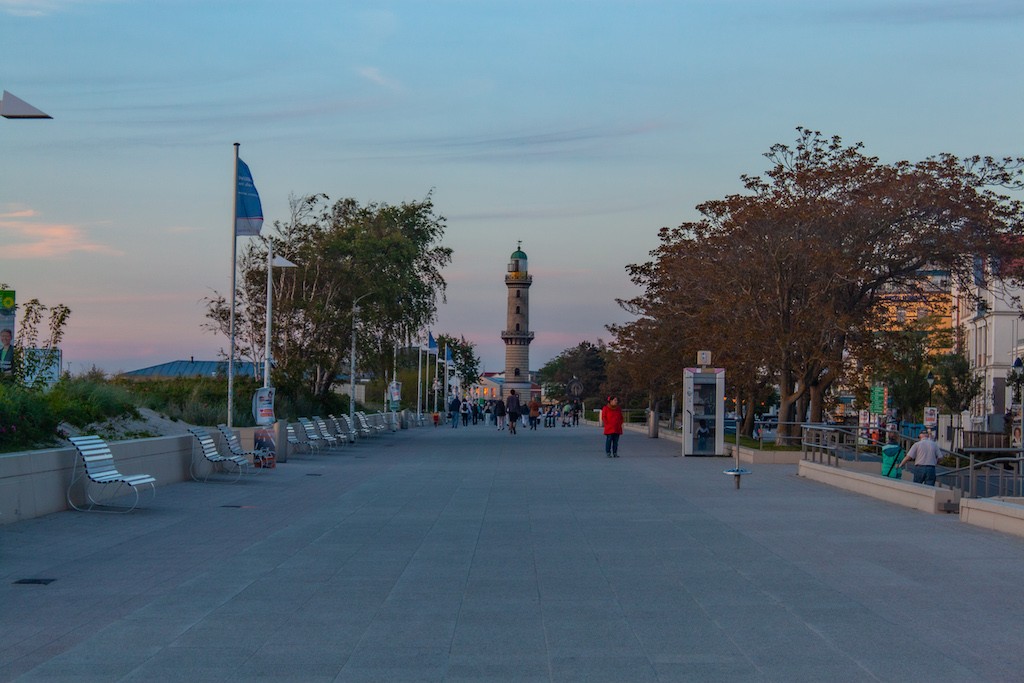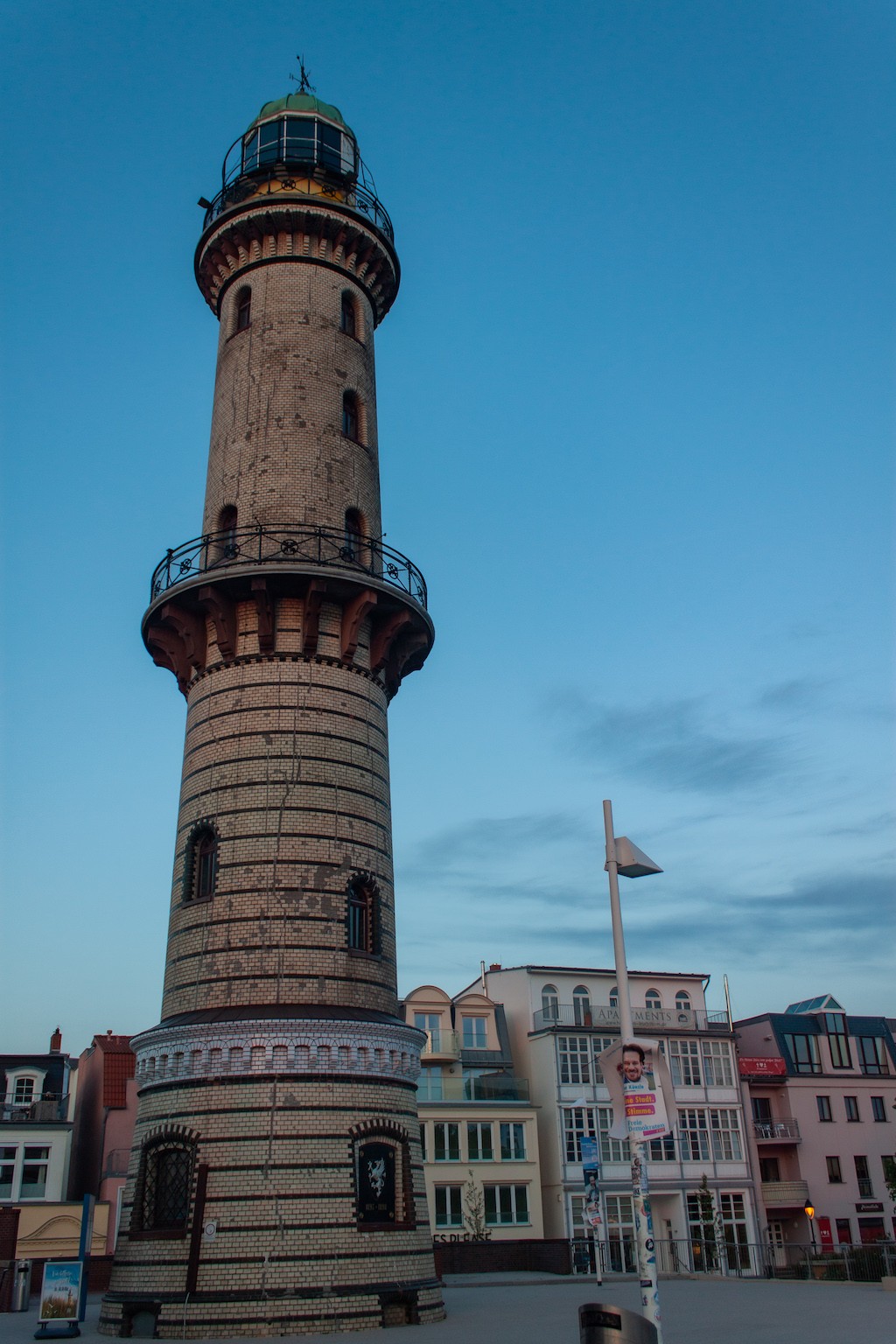 By this time, I was exhausted and ready to call it a day so I finished off with a walk along the seaside promenade.
The most bizarre part of the walk was coming upon a statue called, Liebespaar which simply means lovers in English. I read that it was supposed to symbolize someone being rescued from the sea, but who outside of a Baywatch episode gets rescued like that? I preferred to think of it as a bronze capture of Dirty Dancing's Johnny and Baby when she finally makes the jump during the final scene.
I ended the night by heading back to my hotel, binging on a little Netflix, and sleeping like a baby. The next morning, I'd wake up early and return to my beloved Berlin.
Well, that's how someone like me spends a wonderful 24 hours in Warnemünde. What do you think? Have we missed some good spots worth mentioning? Drop us a line in the comments below.
Good To Know
1) If you're looking to get away from Berlin for the weekend, Warnemünde is an easy and affordable option. You can travel there by train, bus, or car. As mentioned above, we recommend taking the train. You can get there cheaper by bus for around €30 return though. You can also drive there on your own (or rent a car). Whatever option you choose, expect a one way trip to take around three hours.
2) Experience some of these tours in Warnemünde and Rostock.
3) Looking for more hotel options in Warnemünde? Check booking.com.
4) If you like local stays and are a fan of Airbnb, first time users can use this link for a €50 travel credit.
5) If you're into Northern Germany, give my other blog posts a read:
6) If you're looking for some outdoor gear like clothes and other accessories for a weekend spent seaside in a place like Warnemünde, consider some of these great outdoor items.
Locations
Download this Google Map to spend 24 hours in Warnemünde cherylhoward.com style, featuring all of the places mentioned above.

If you like this post, share it on Pinterest.

*Disclosure – This post contains some affiliate links. If you book a tour, car rental, or hotel through any of these links, I'll earn a tiny commission at no extra cost to you. Thanks for your support!