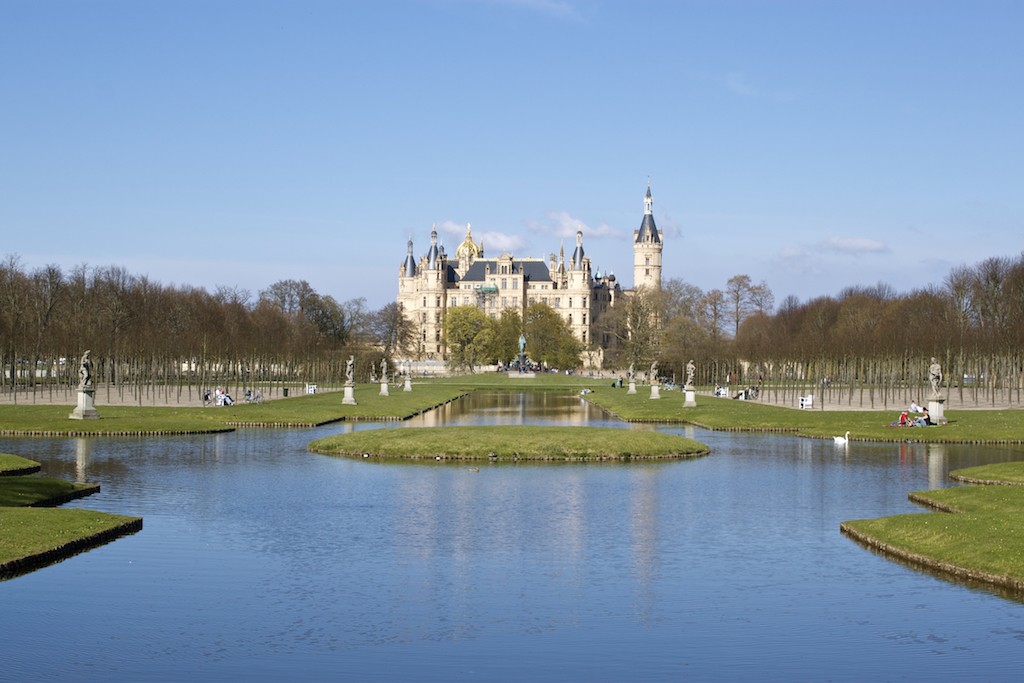 A Day Trip from Berlin: Schwerin Photos – It seems I'm incapable of ever sitting still, as that inexplicable feeling of wanderlust always seems to take hold. After my epic travels through Thailand, I came home both very sick and tired. So naturally, my initial plan was to stay home in Berlin for a while. But then I started to feel healthy and it didn't take long to feel restless again. I longed to go somewhere, anywhere!
It occurred to me that I keep leaving Germany and I wondered why I hadn't taken the time to explore my new country. The Netherlands, Bulgaria, Hungary, Qatar, Thailand are all places I've visited during my first four months in Europe. So with the intent to get better acquainted with Germany, I embarked on a solo day trip by jumping on a train to Schwerin. As usual, I spent the day walking through the city and of course, taking lots of Schwerin photos.
A Day Trip from Berlin: Schwerin Photos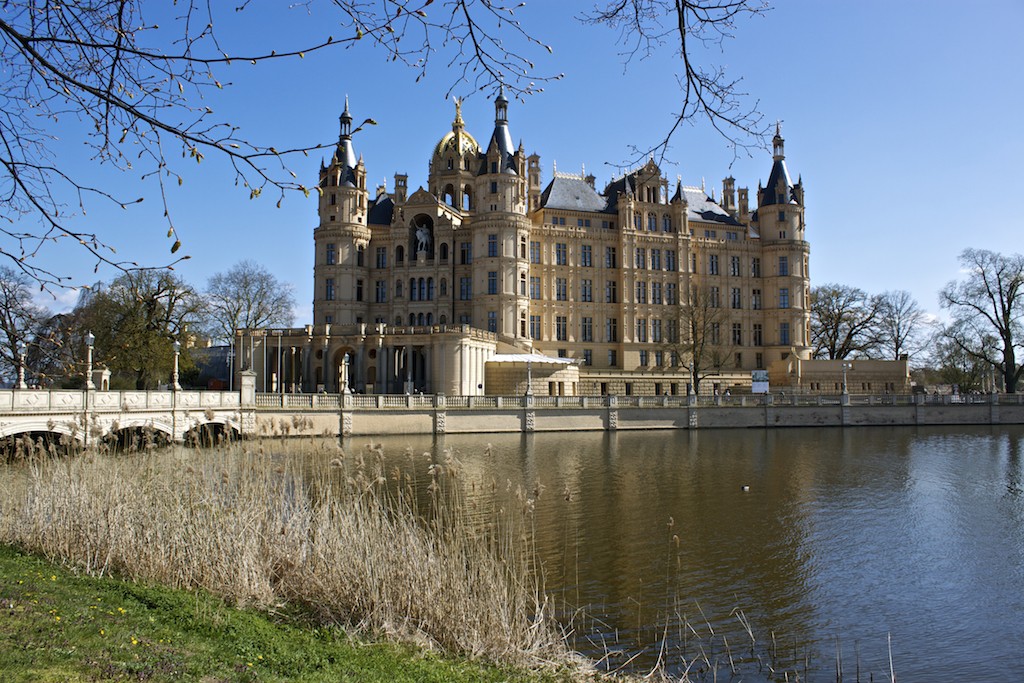 Schwerin is a small city, northwest of Berlin, and an easy day trip. It's just over a 2-hour train ride away from the German capital. With a population of about 90,000, Schwerin is best known for its many lakes, historic old town that was left largely untouched during WWII, and the romantic Schwerin Palace, which has been nicknamed the "Neuschwanstein of the North."
Schwerin had me at the mere mention of a castle. The thought of spending the day exploring the massive complex and its surrounding garden and park was all too appealing. Only 2 hours from Berlin, Schwerin is an easy and fun day trip no matter what time of the year. See the best of the city through my Schwerin photos.
Recommended reading: For travel tips on other destinations in Germany, read An Afternoon Walk Through the City: Frankfurt Photos or this post about things to do in Hannover.
1) The Main Train Station (or Hauptbahnhof)
Schwerin goes out of its way to impress you from the moment you arrive. As you exit the main train station, you'll see a fountain called Rettung in Seenot meaning "rescue at sea," which was built in 1910. The station itself was built in 1891 in a Gründerzeit style, common to the time as Germany was experiencing a period of healthy economic bounty.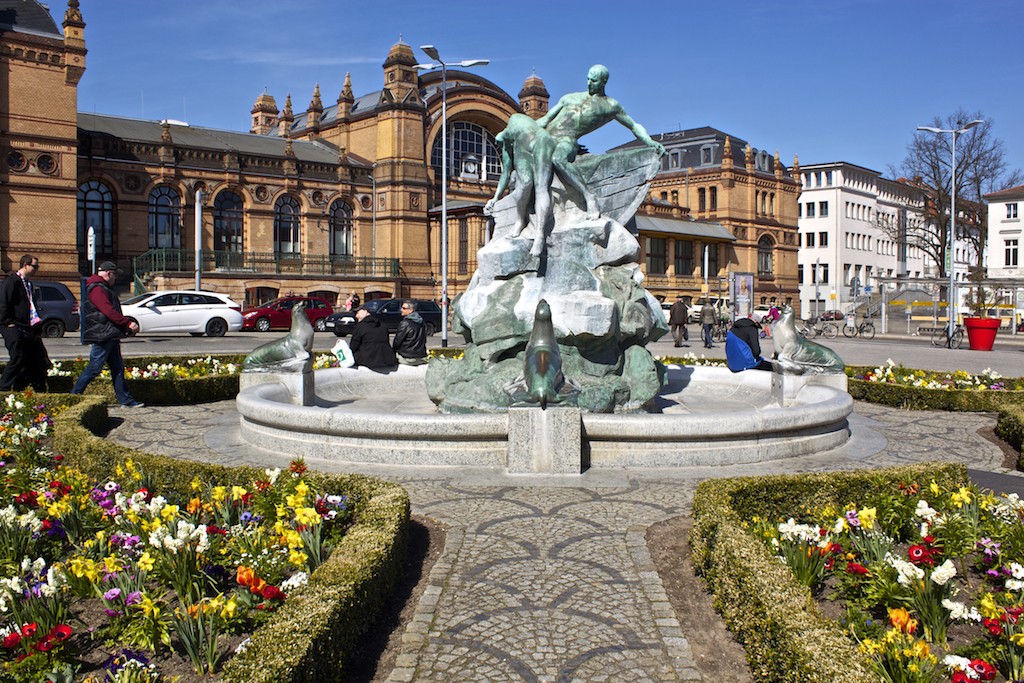 2) Pfaffenteich
As I made my way toward Schwerin Palace, I came across the Pfaffenteich, a serene pond filled with swans and surrounded by some of the city's most beautiful architecture. I spent at least 30 minutes sitting beside the pond, simply enjoying the moment.
3) Streets of Schwerin
As I continued my walk, I couldn't get over how different Schwerin was from Berlin. Everything was just soooo pretty, almost a little too perfect! It's quiet, clean, and picturesque and hard not to take even more Schwerin photos.
4) Market Square
If there's a place to people watch in Schwerin, it's Market Square at the center of the Old Town. Filled with stalls selling food and everything you can imagine like olive oil, hats, clothing and children's toys.
The square is proudly guarded by a statue of Henry the Lion, who was a duke of Saxony and one of the most powerful princes in German history, ruling over territory stretching from the Baltic Sea down to the Alps. Created by sculptor Peter Lenk, the column on which the lion sits depicts scenes from his reign. One of the more curious scenes features several people's pants pulled down to reveal their buttocks, in what came to be known as the "bottom parade." It seems that when Henry arrived to conquer the town of Bardowick, its residents mooned him in order to show their contempt!
Behind the weird and offbeat lion statue is the former market hall, crowned with 14 Doric columns, which now houses Café Rothe. It was here that I stopped for lunch and had one of my favourite German drinks, the Hugo, a mixture of prosecco, elderflower syrup and mint leaves.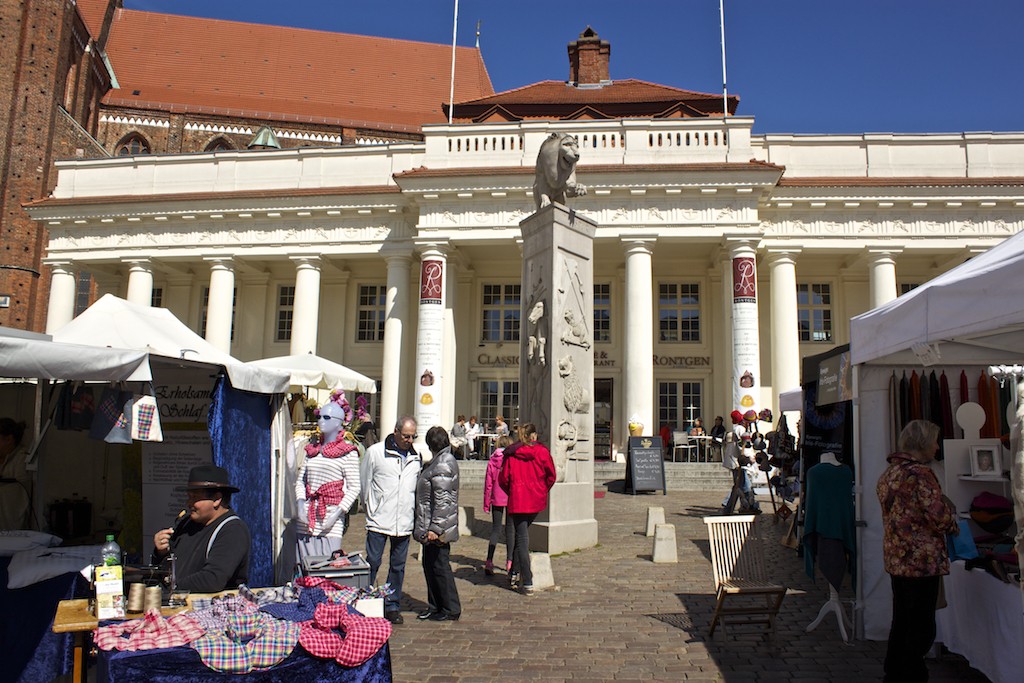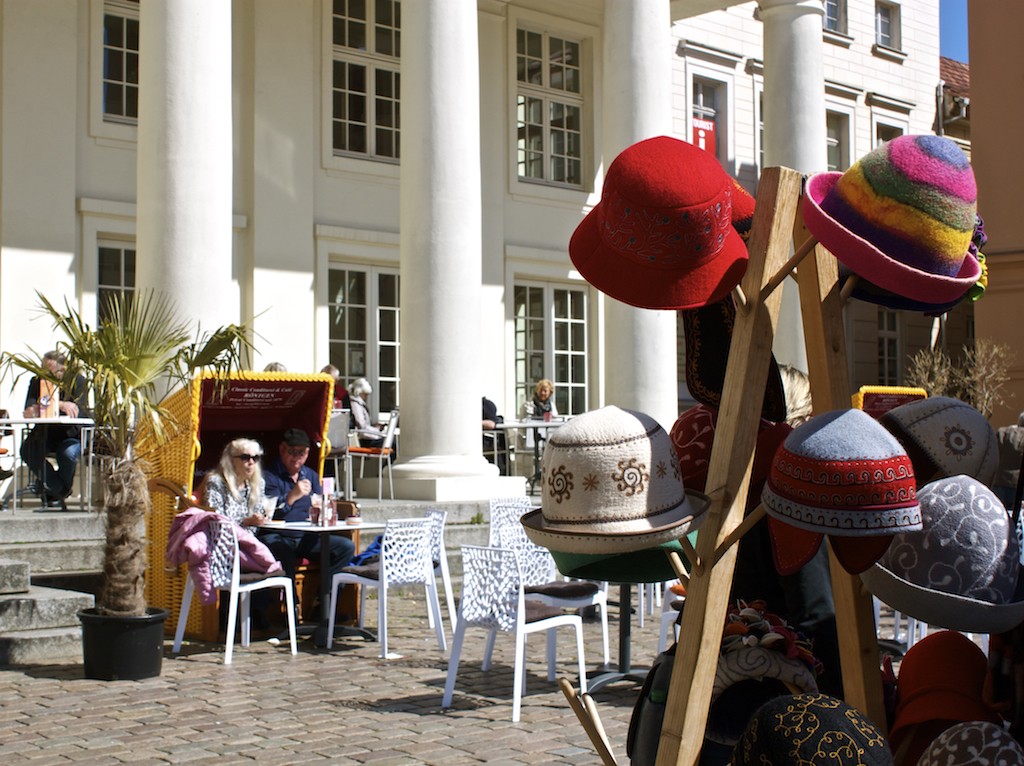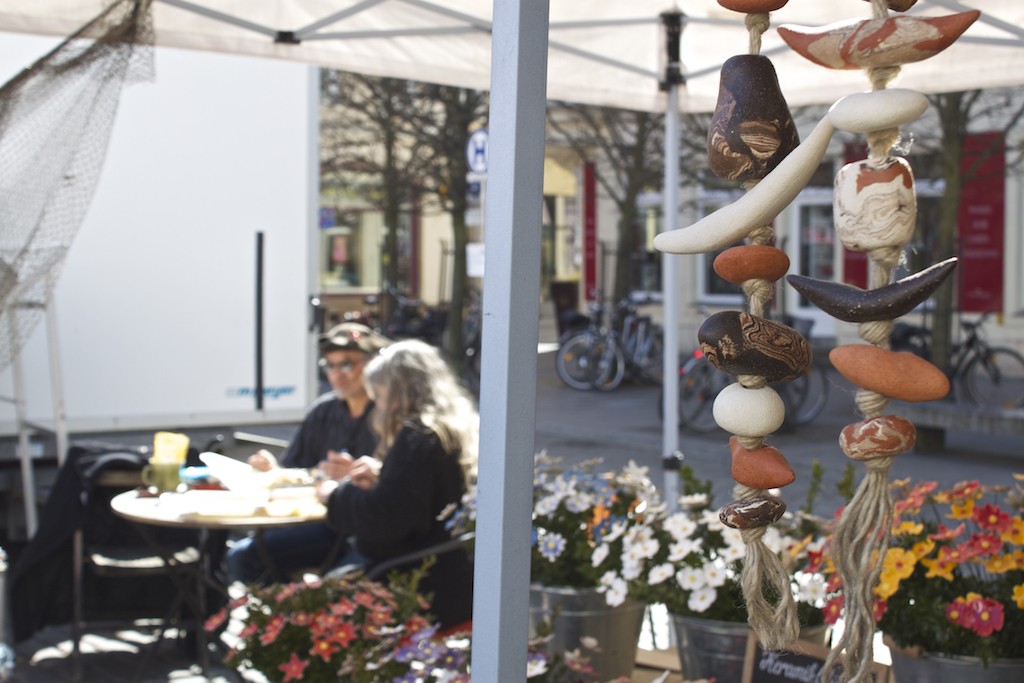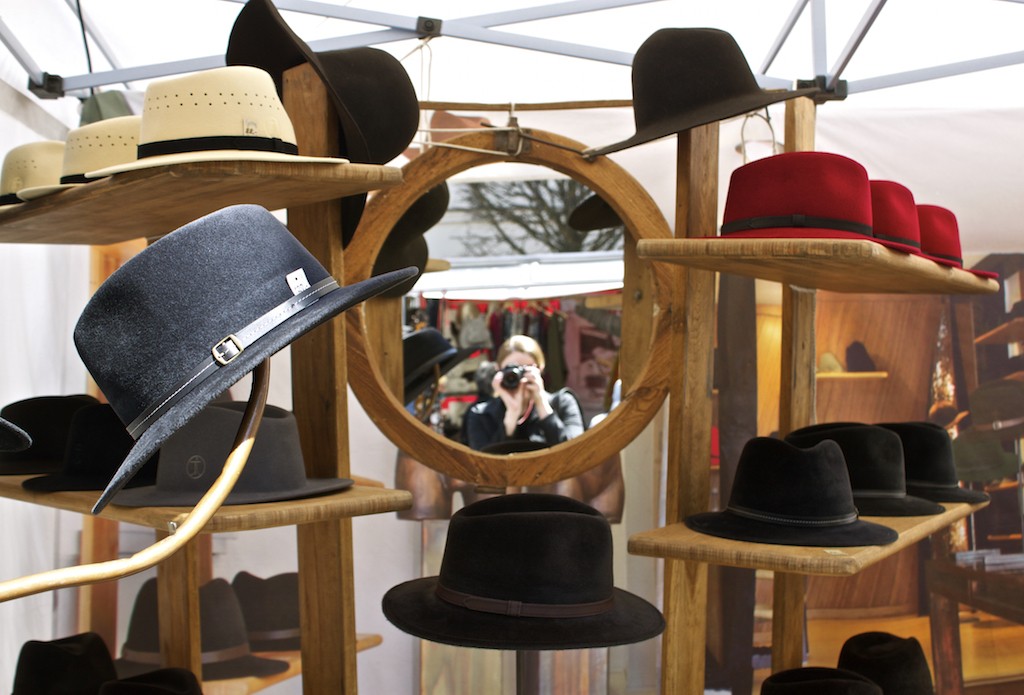 Later in the day, I stopped by a stall to try Schmalzkuchen, which is basically the German equivalent to a donut. It's deep-fried dough, served warm and sprinkled with powdered sugar. Not exactly a healthy eating choice, and I was glad to have walked several kilometres that day and climbed 117 metres up the winding stairs of the nearby cathedral steeple.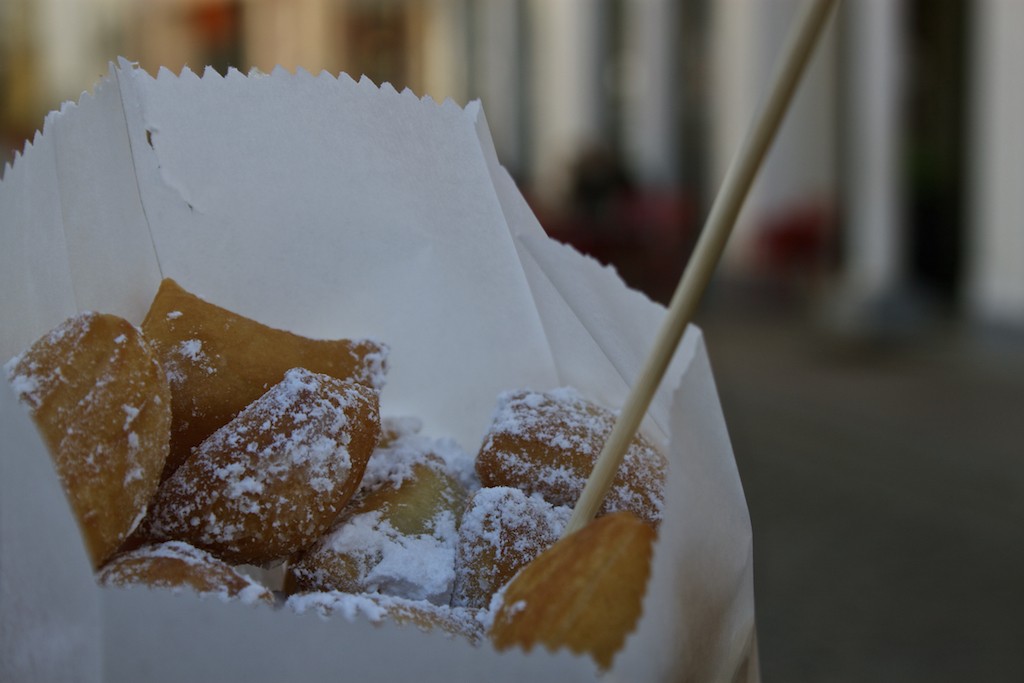 5) Schwerin Cathedral
After lunch, it was time to check out the stunning Schwerin Cathedral, constructed throughout 1260–1416 in a Brick Gothic style. As the oldest building in the entire city, this spot is favoured by tourists, and it's easy to see why.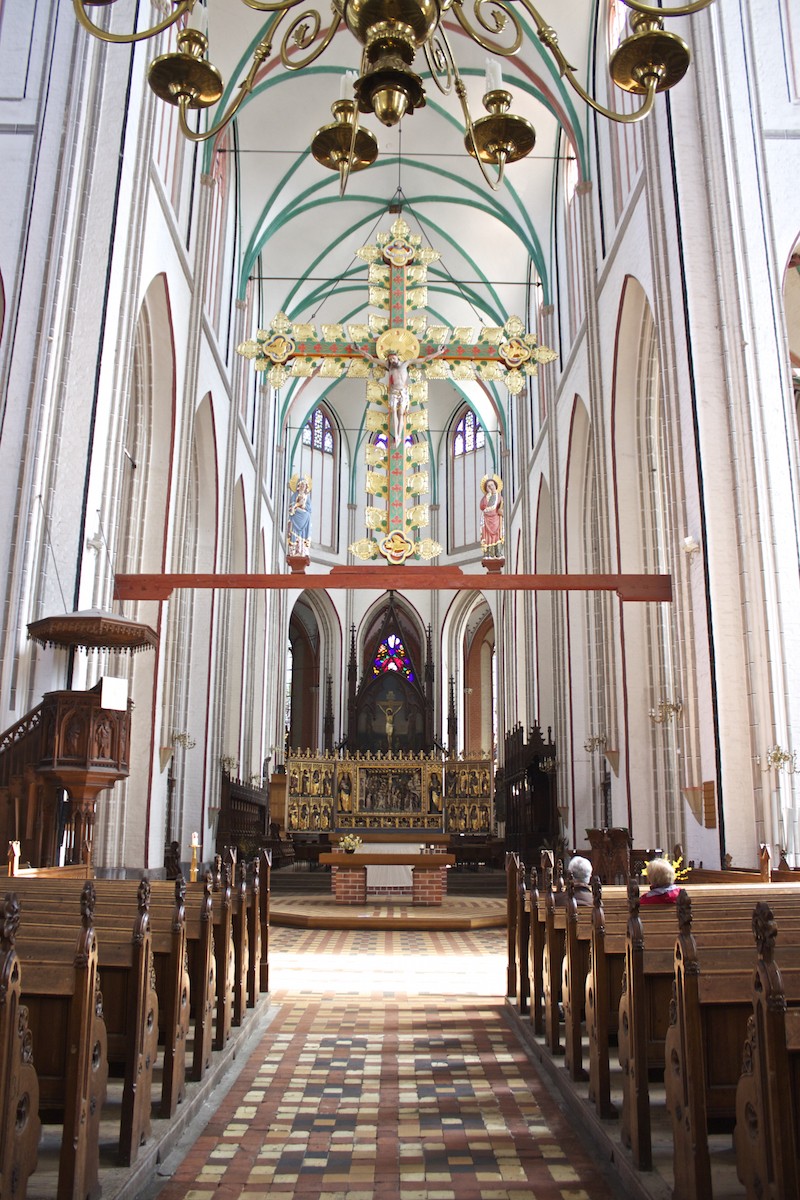 For €2, you can climb up that steeple for panoramic views of Schwerin (entry to the cathedral is free). I was excited to spy the palace off into the distance.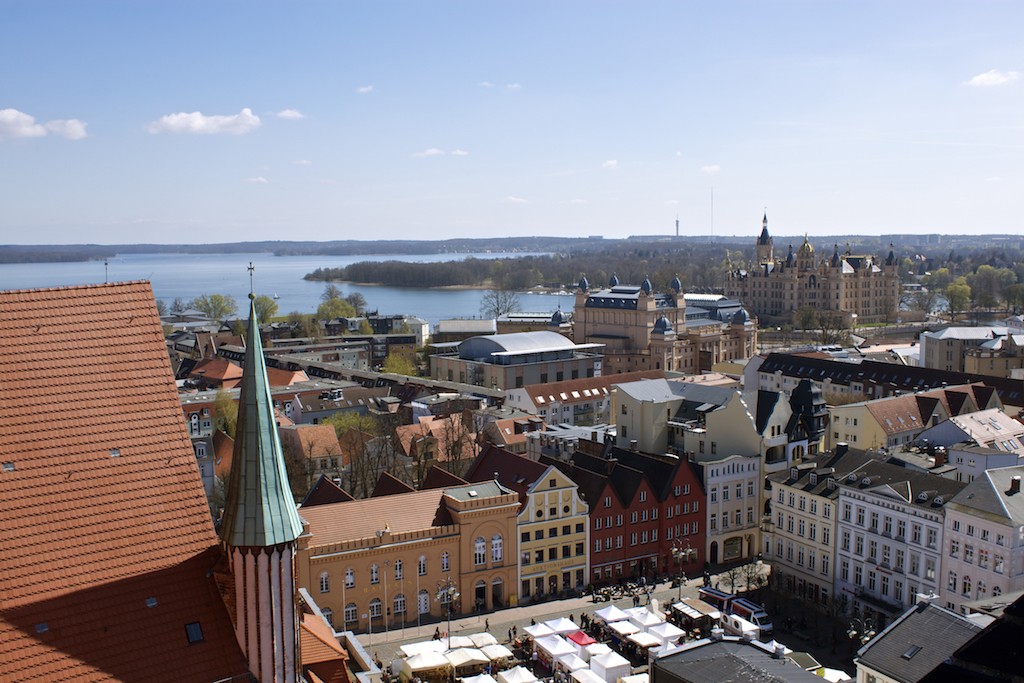 6) Schwerin Palace
As I left the church, I quickened my pace as I was that eager to see the palace. For a girl from Toronto, a city of skyscrapers and an endless sea of soulless condominiums, such historic sites will always be a wonder. For this reason, living in Germany is a fairytale dream come true.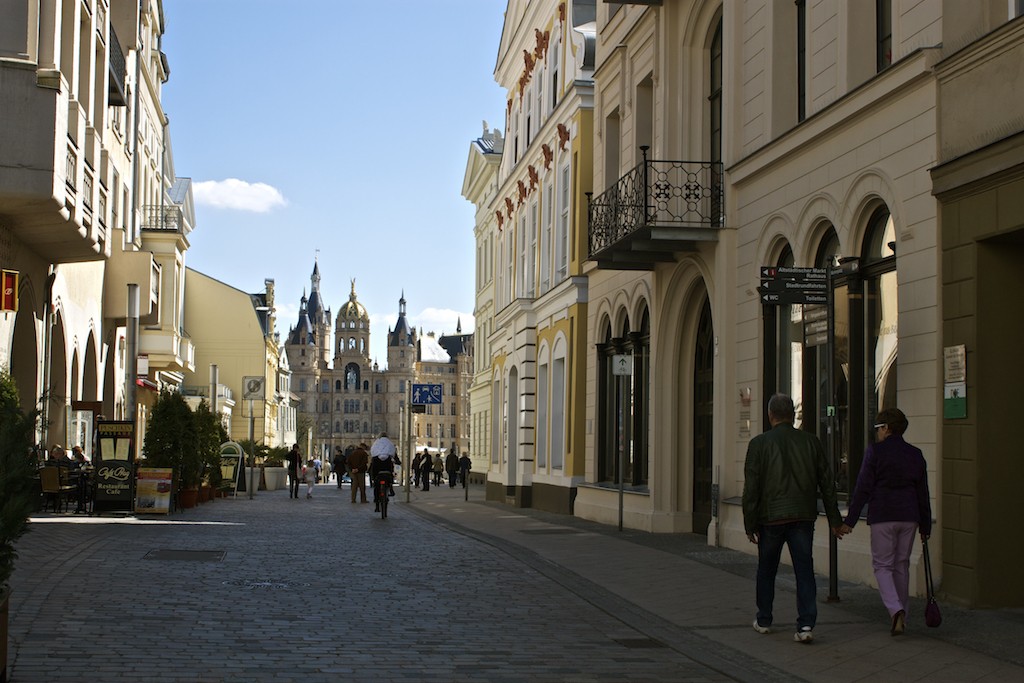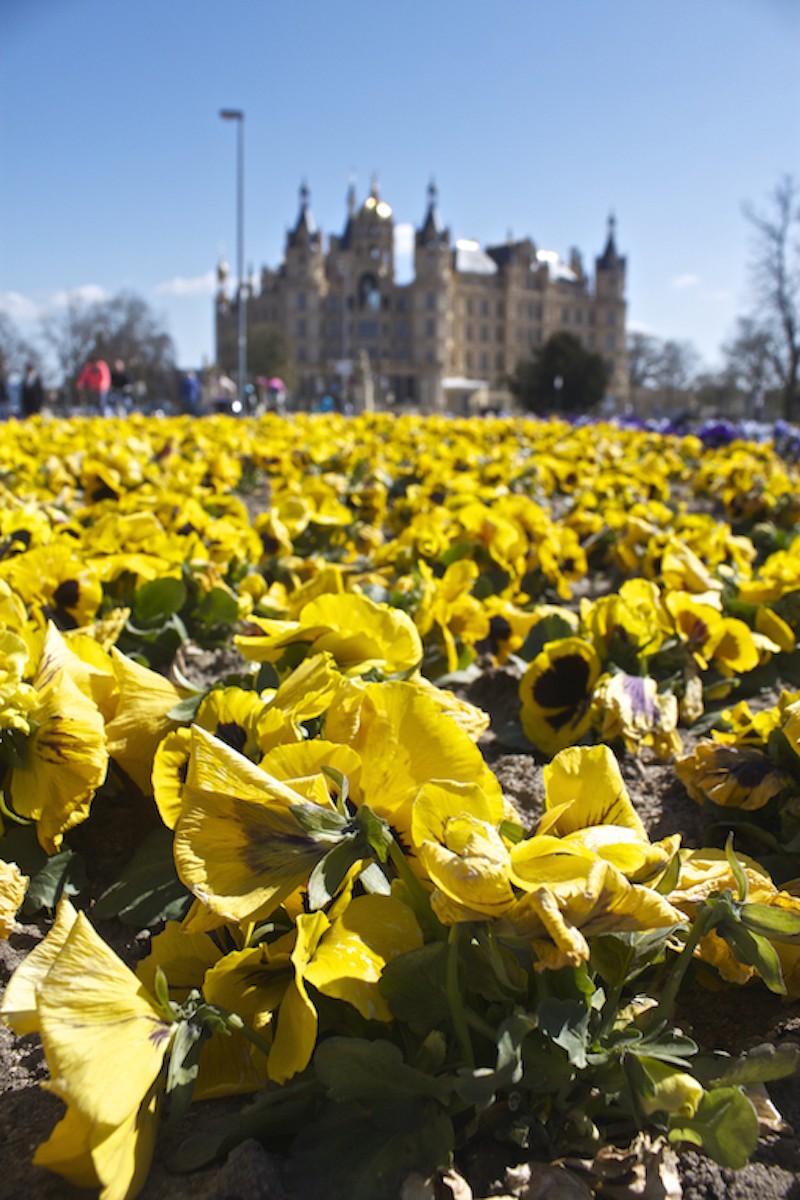 Schwerin Palace is considered to be one of the most important works of romantic historicism in Europe and is currently awaiting a UNESCO World Heritage Site designation. The palace actually sits on its very own island, surrounded by a lovely garden and park. It now serves as the state's parliament.
7) Palace Park – Burggarten
As it was such a nice day, I opted to not visit the inside of the palace. Instead, I spent all my time outside starting with the palace's grand park. Notable is an orangery overlooking the water, a conservatory restaurant and terrace café. There are also sculptures, fountains and even a grotto. The perfect setting to take tons of Schwerin photos.
Note – The terrace café at the palace is only open from May – October.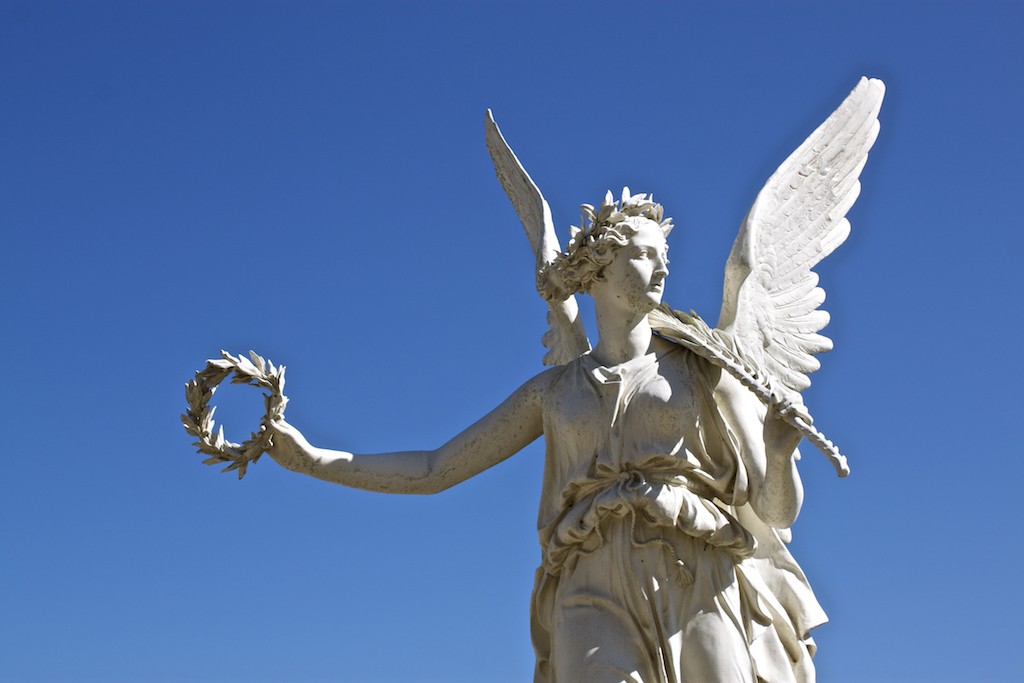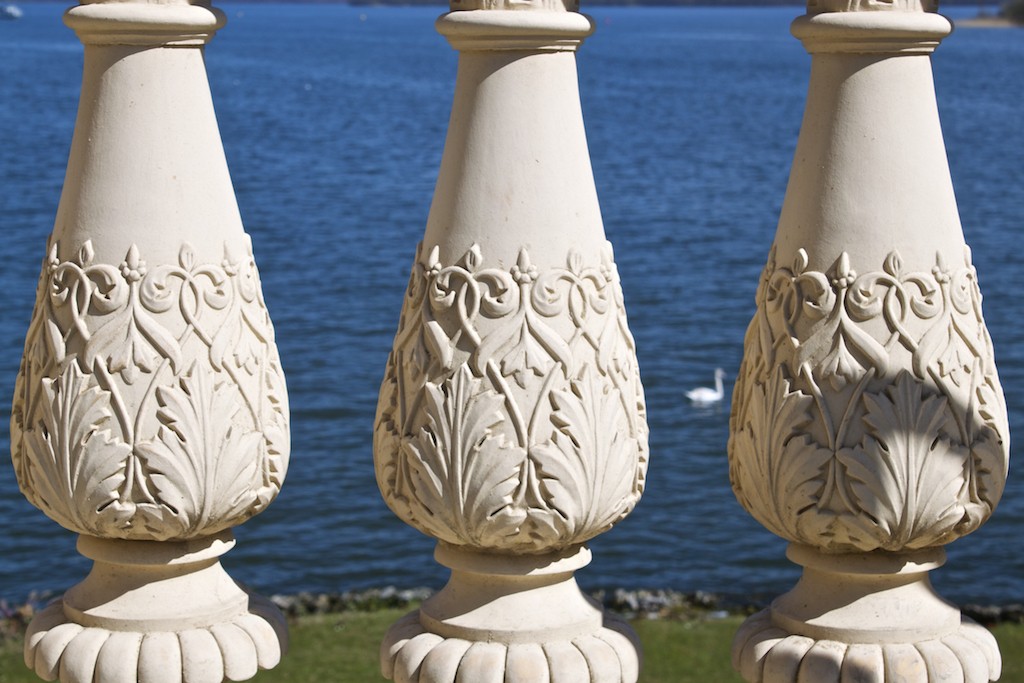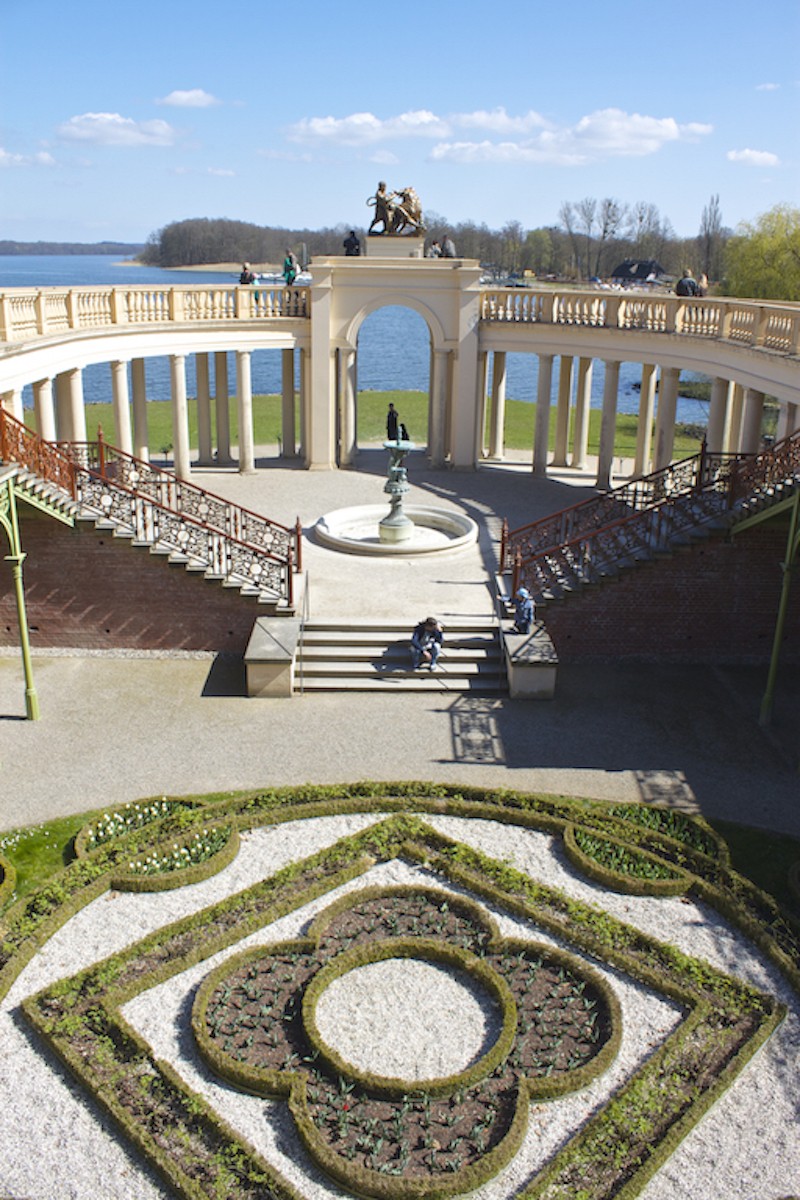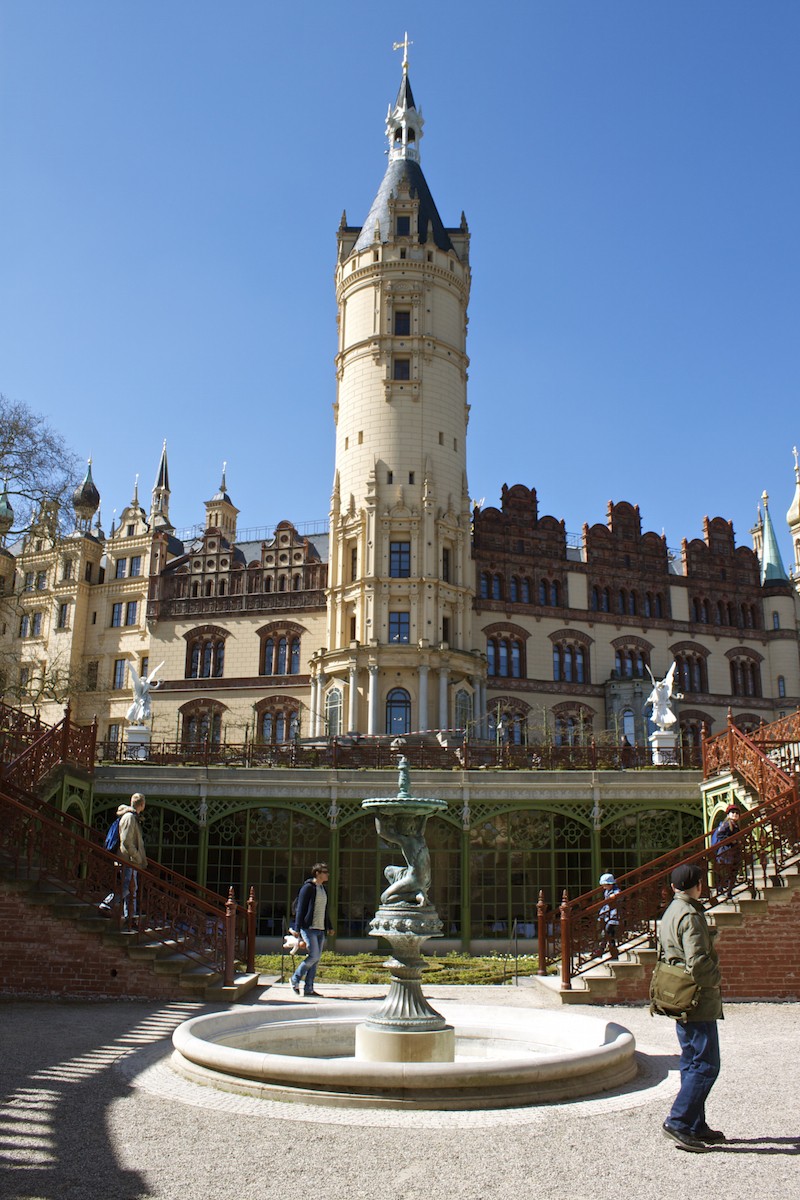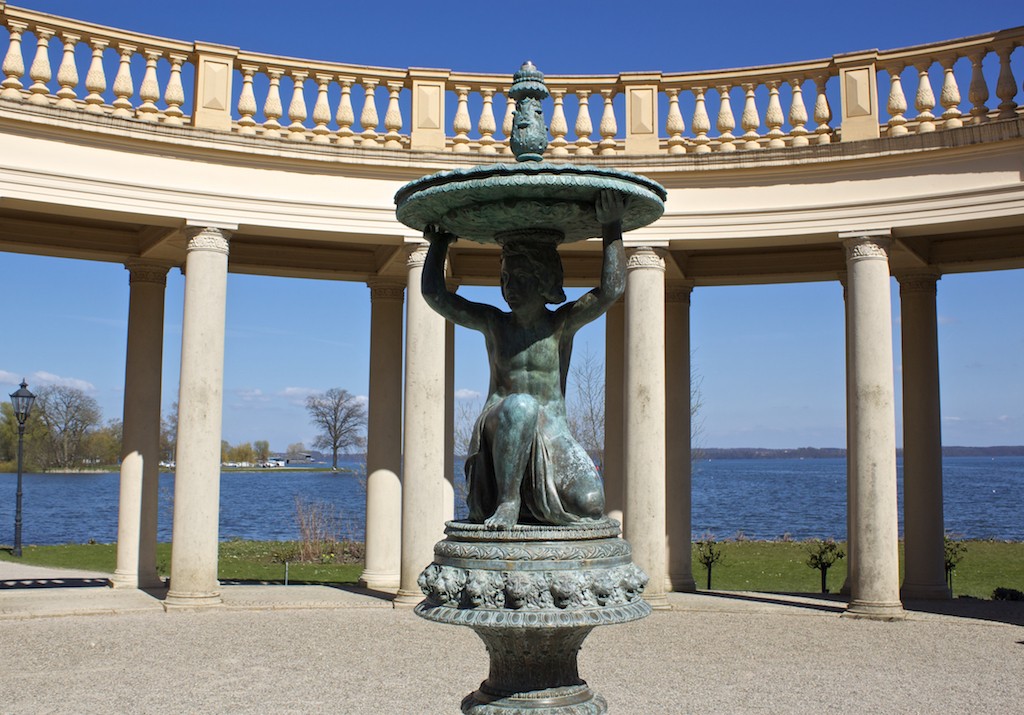 I deemed it time to have another rest and spent a good hour sipping a cappuccino at the terrace café.
8) Palace Garden – Schlossgarten
Walking away from the palace and park, you'll enter the palace garden. Dotted with several canals, more statues, gazebos and other more modern touches, it's yet another place where you can spend hours wandering.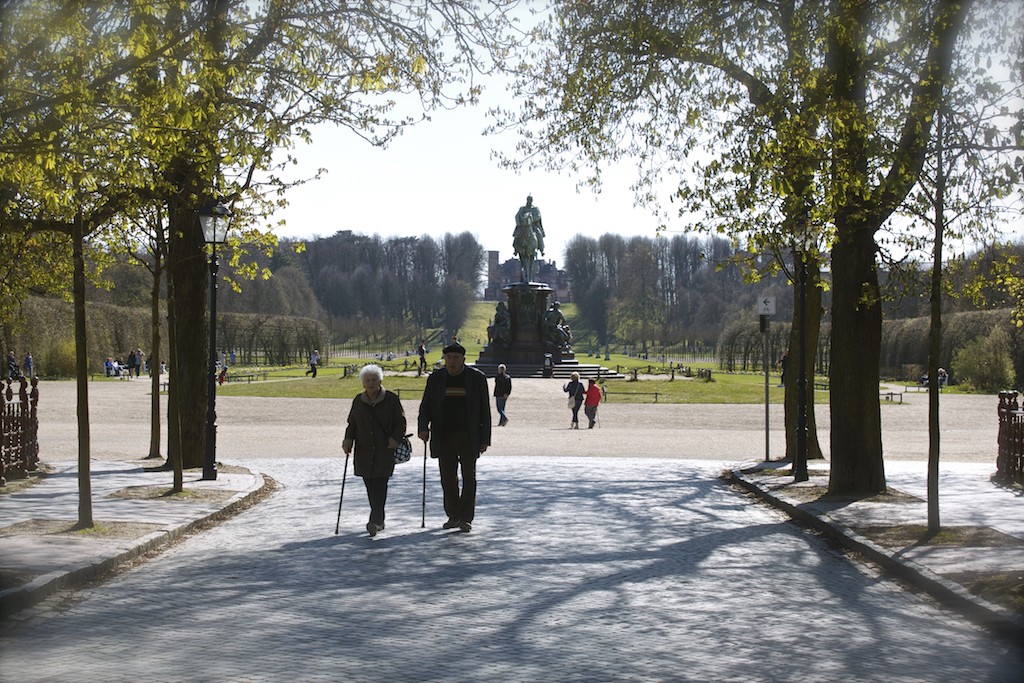 I'm a diehard romantic, and when I spied this lone lovelock (like the time I stumbled across lovelocks in Budapest), my heart almost burst with joy. It's just nice to be able to see visible signs of people's love for one another out in the "wild," so to speak.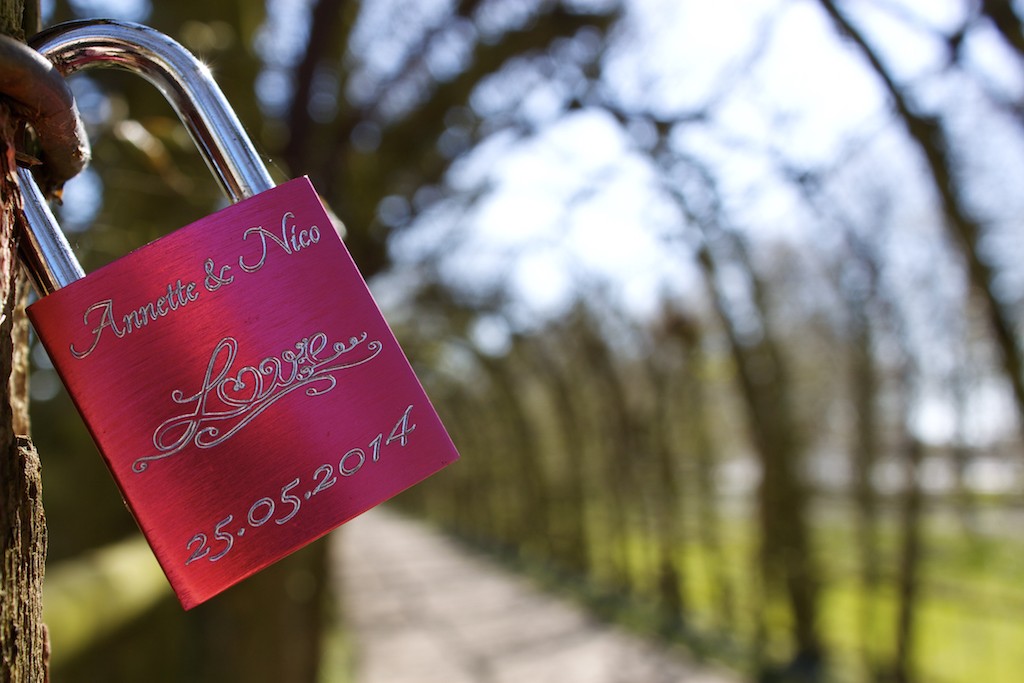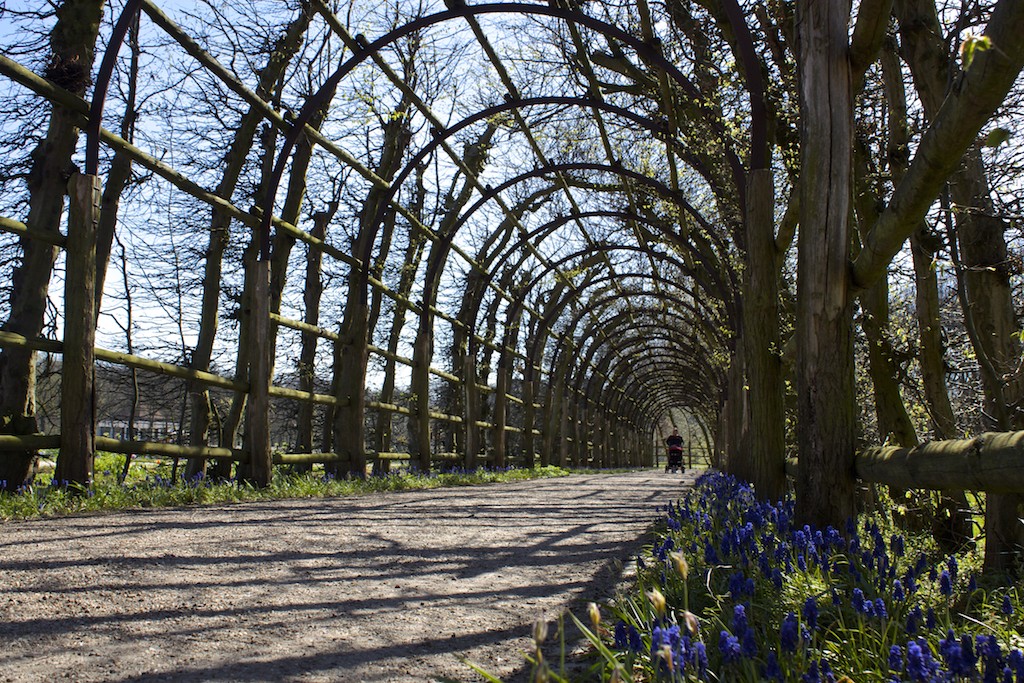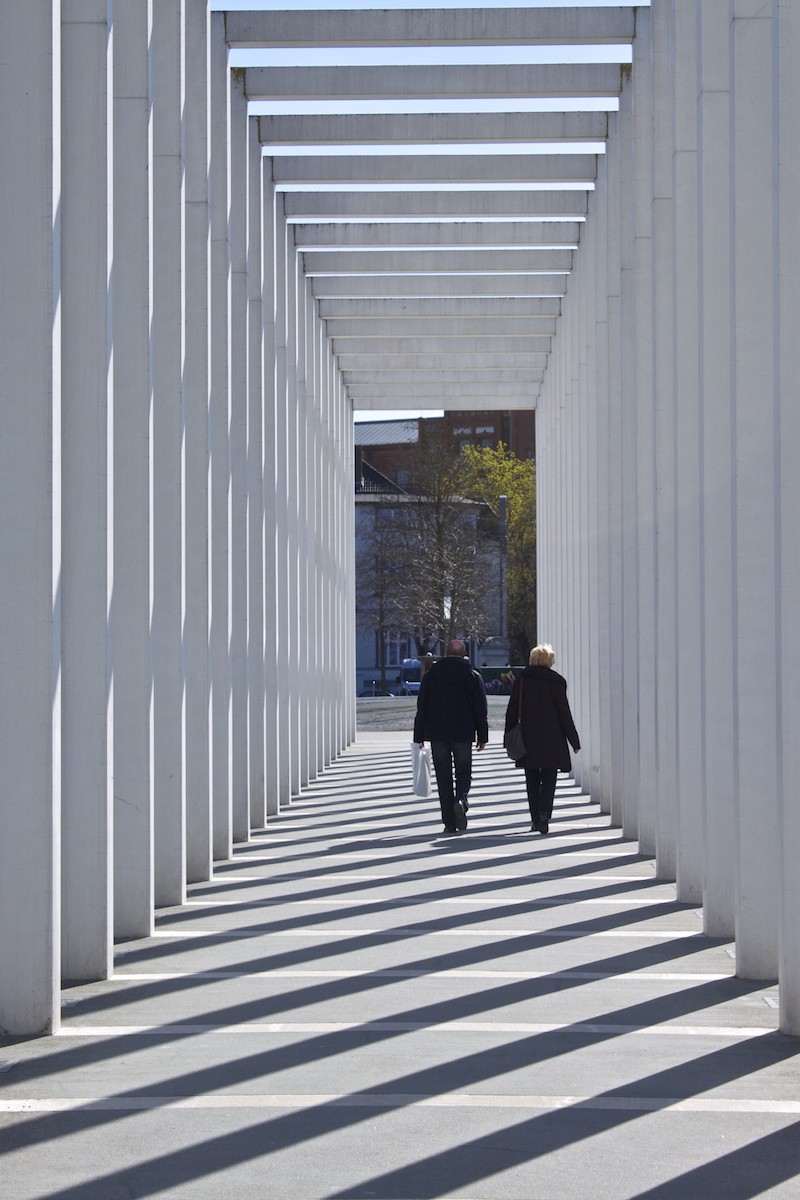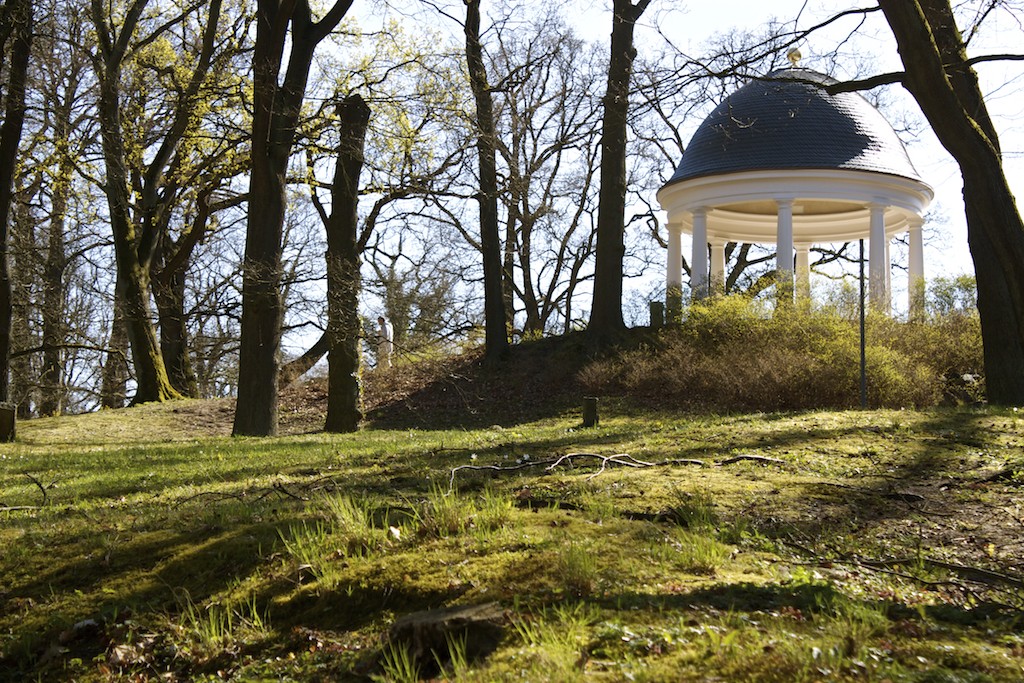 Saving the best view for last, I turned around and stared back at the palace off into the distance. It was a Disney moment!

What do you think these Schwerin photos? Have we missed anything good places to visit? Tell us about it in the comments section.
Good to Know

1) Experience Schwerin by going on a guided tour:
2) Book a hotel in Schwerin:
3) If you'd rather stay in an apartment, book an Airbnb. First time users, can use this link for a €34 travel credit.
4) Fun fact – one of Schwerin's sister cities is Milwaukee as many residents of Schwerin moved to the United States during the mid-1800s.
5) Schwerin's just over two hours away from Berlin by car or train. You can travel there cheaply by a regional train – check the options.
6) If you're into roadtrips, rent a car.
7) For more inspiration, see my friend Adam's photos from a day trip to Schwerin. Other day-trip options from Berlin are Braunschweig, Germany and Szczecin, Poland. If you're a die hard castle fan like me, consider a visit to Burg Eltz.
Location
If you like this post, share it on Pinterest.

*Disclosure – This post contains some affiliate links. If you book a tour, car rental, or hotel, I'll earn a tiny commission at no extra cost to you. Thanks for your support!