My Top Six Picks of Where To Stay In Mostar – Estimated reading time: 8 minutes
Whenever people ask me to name my favourite destination in the world, Mostar in Bosnia and Herzegovina is usually one of my top places to mention. From watching men dive off of the Old Bridge into the river, to taking in the epic street art, undertaking urban exploration of abandoned places, to learning and understanding more about the city's tragic history, and finding quick access to natural sites like Kravice Falls, Mostar is a place that you will never forget and one you'll want to visit again and again.
In recent years, the number of people travelling to my beloved Mostar has increased and I couldn't be more happier. I've been saying Mostar is special for a long time now and even wrote a post called, 8 Reasons to Visit Mostar, Bosnia and Herzegovina to encourage more people to give Mostar a chance. As a result of that article, a lot of people ask me about the best places to stay, so I've outlined my top six picks of where to stay in Mostar.
My Top Six Picks of Where To Stay In Mostar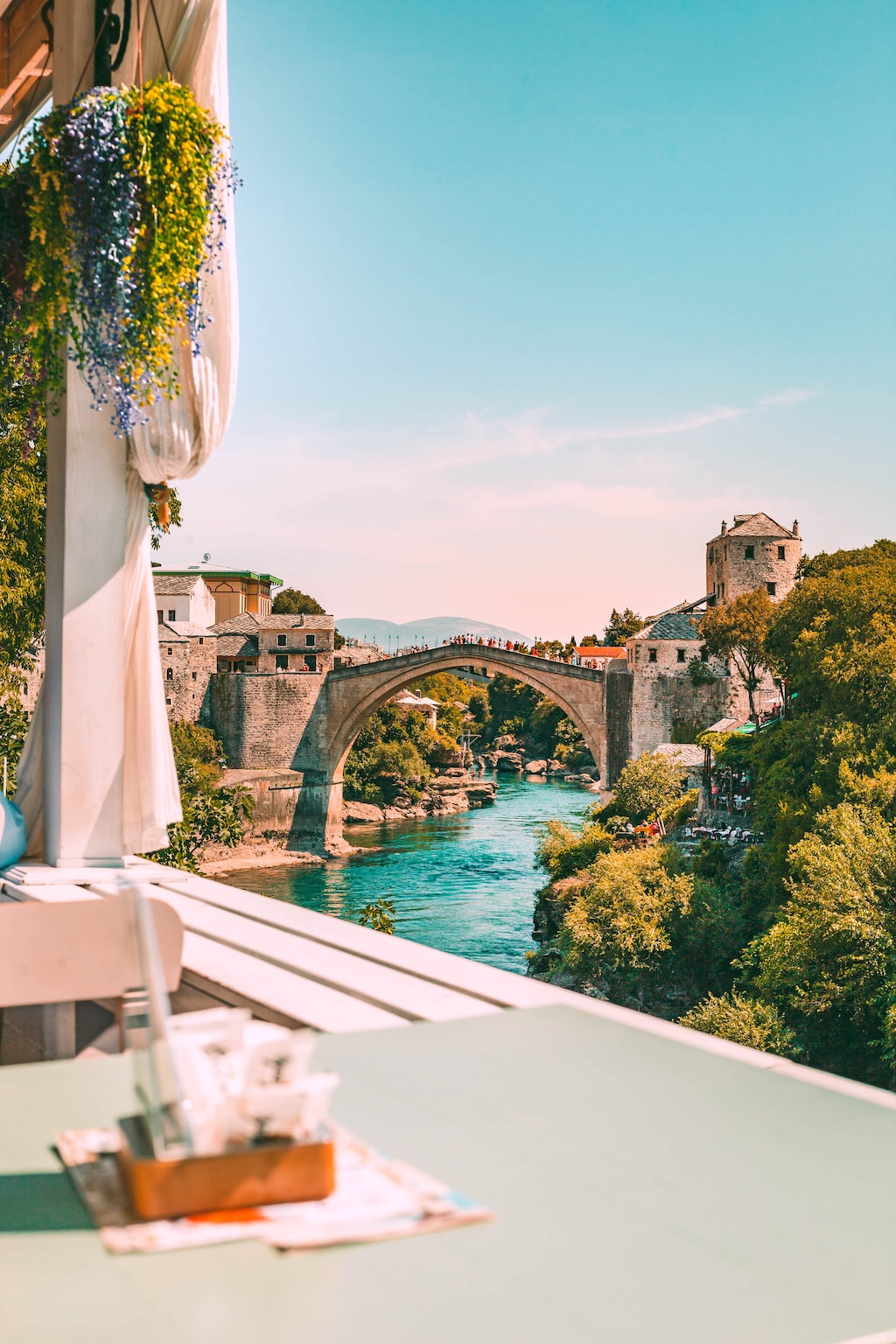 My handpicked list of properties include a centrally located a modern and luxurious hotel, a couple of hotels set in a historic buildings, and even a chic but super affordable B&B. I also feature a extremely dream worthy villa that deserves a special jaw-dropping mention.
Recommended reading: Read my other blog posts about Mostar, Weird and Offbeat Sites – the Bruce Lee Statue in Mostar or this one, Street Art and Graffiti in Mostar, Bosnia.
1) Hotel Mepas
Hotel Mepas is Mostar's only five star property. Situated in the town center, not far from some of the city's main attractions, this modern and contemporary hotel features amenities like a fitness center, indoor pool, and a spa with a Finnish sauna, infrared sauna, and a steam bath. Rooms offer panoramic views over Mostar and come with perks such as complimentary robes and bathrooms with both bathtubs and showers. As the hotel is located in a shopping center, you can also take advantage of the offerings there like the cinema and bowling alley. Prices during peak season start around €100 per night.
Location: Kardinala Stepinca bb, 88000
2) Boutique Hotel Old Town Mostar
Smack dab in the heart of Mostar's Old Town, Boutique Hotel Old Town Mostar is just meters away from the Old Bridge in the UNESCO protected area. The hotel was built in a traditional Bosnian manner, with a stone and wood exterior and wooden floors and beams throughout the interior, complemented by intricately woven rugs. The rooms tend to be larger than average and some of them come with balconies overlooking Old Town. The onsite restaurant serves up typical Balkan fare and during warmer months, you can enjoy a meal in the expansive garden. Prices during peak season start around €200 per night.
Location: Rade Bitange 9a, 88000
3) Where To Stay In Mostar: Hotel-Restaurant Kriva Ćuprija
Set in a historical limestone house, Hotel-Restaurant Kriva Ćuprija is where you stay for an authentic Bosnian experience. Located in Mostar's Old Town, this small three star hotel feels more like a cozy bed and breakfast where the staff welcome you with a cup full of booze. While the rooms are somewhat small, several rooms come equipped with balconies perfect for viewing sunrise or sunset over the city. The hotel's restaurant offers both international and local cuisine. Prices during peak season start around €75 per night.
Location: Onescukova 23, 88000
4) B&B Villa Meydan
We love B&B Villa Meydan because the property is centrally located in Mostar's Old Town, is decked out with a hip and modern design, and is also incredibly budget friendly. While the rooms are compact and minimalist, you'll find complimentary slippers, a coffee machine, and a flat screen TV in all rooms. A continental and halal breakfast is also available. To get a feeling for what the place is really like, watch this video tour. Prices during peak season start around €50 per night.
Location: Trg 1. maj 12, 88000
5) Villa Ana
Villa Ana is absolutely perfect for those who love nothing better than to "live life large" whenever they travel. Located in the Donje Vojno suburb of Mostar, this luxurious two bedroom villa rests on the bank of the Neretva River and overlooks the mountains. The property comes complete with an outdoor pool, a couple of elegant lounge areas perfect for tanning or having a meal with family or friends, a fireplace, spacious kitchen, and so much more. While it may be tempting to never leave, you can either bike or drive the 12 kilometers into town (rentals for both can be arranged with the owners). Prices during peak season start around €250 per night.
Location: Donje vojno Bb, 88000
6) Hotel Amicus
About 2 kilometers away from the Old Bridge, Hotel Amicus is a four star property close to the main train station, making any arrivals and departures into Mostar fairly easy. As Mostar gets very hot during summer months, the hotel's air conditioning and large outdoor pool are a respite for weary travellers who want to get cool after a day of exploring. With rooms on the smaller side and designed in neutral colours, the hotel is renowned for their friendly staff and generous breakfast portions. Prices during peak season start around €50 per night.
Location: Put Hud 3, 88000
What do you think about my top six picks of where to stay in Mostar? Have we missed any good places? Let us know in the comments below.
Locations
Download this Google Map to see my top six picks of where to stay in Mostar.
Good To Know
1) To reach Mostar from Berlin (where I'm based), I'd recommend flying to Sarajevo and then travelling to onwards to Mostar. Unfortunately, there are no direct flights from Berlin, with most flights having at least one short layover in places like Stuttgart or Vienna. You can expect travel time to average about four hours and the cost of a flight to start around €150. Flying into Mostar itself is actually way more expensive and generally takes about eight or more hours of travel.
2) Getting to Mostar from Sarajevo is not only easy, but fun:
Bus – buses run hourly between the two cities and the journey takes about 2.5 hours. A one way ticket costs 20 convertible marks (€11). The ride is said to be especially beautiful after you pass Konjic. My pro tip is to sit on the right hand side of the bus and be treated to spectacular views. Once you arrive in Mostar, it's a 20 minute walk into the city center from the main bus station.
Trains – trains run twice per day and the trip takes between 2 – 2.5 hours. A one way ticket will fetch you around 12 convertible marks (€7). The ride is a favourite of many travellers around the world, as you'll pass through tunnels, u-turns, and viaducts along the way. The trains are a bit outdated, so just consider it part of the adventure and enjoy watching the landscape fly by. As the train and bus station are located beside one another, it's also about a 20 minute walk into the city center from the main train station.
Car – rent a car and drive the 128 kilometers to Mostar. Expect the journey to take about 2.5 hours.
Shuttle – you can book a comfortable shuttle van to get to Mostar and be picked up and dropped off at the location of your choice for about €13 one way.
Private Transfer – order a car or van to get you to Mostar. Prices start at 165 convertible marks (€90) one way.
For more details about your various options, check out Wikitravel.
3) Bosnia and Herzegovina doesn-t use the Euro, but the convertible mark:
Check xe.com to check how the mark fares against your local currency. Your money will go far in Mostar, as prices re substantially lower than in other European cities.
Many places won't accept bank or credit cards, so be sure to withdraw cash from any of the numerous ATMs around the city.
Be sure to exchange your marks prior to leaving Bosnia, as it will not be accepted outside of the country.
4) Mostar is best experienced during spring, summer, and autumn, but don't let that stop you from visiting during winter. While it may be cold and wet, there are far less tourists and prices are even lower than usual.
5) To see even more places to stay in Mostar, see more options on booking.com.
6) Enrich your time in Mostar by booking a guided tour.
7) Looking for more Balkan travel inspiration? Give some of my other posts a read:
If you like this post, share it on Pinterest.
*Disclosure – This post contains some affiliate links. If you book a tour or hotel through any of these links, I'll earn a tiny commission at no extra cost to you. Thanks for your support.