Is It Real? The Brno Dragon In The Czech Republic – Estimated reading time: 7 minutes
Fancy seeing the taxidermied remains of a dragon? Then get yourself to Brno, Czech Republic as soon as possible and head over to the Old Town Hall. In the passage to the property's tower, you'll find a five meter long dragon carcass suspended from the ceiling.
This oddity makes the Brno dragon the perfect candidate to add to our ever growing list of weird and offbeat places to visit around the world. We take you to places like the Museum Of Toilet History in Kyiv, the Bad Bad Boy Statue in Helsinki, and the Ronald Reagan Statue in Budapest.
The Big Bad Brno Dragon In The Czech Republic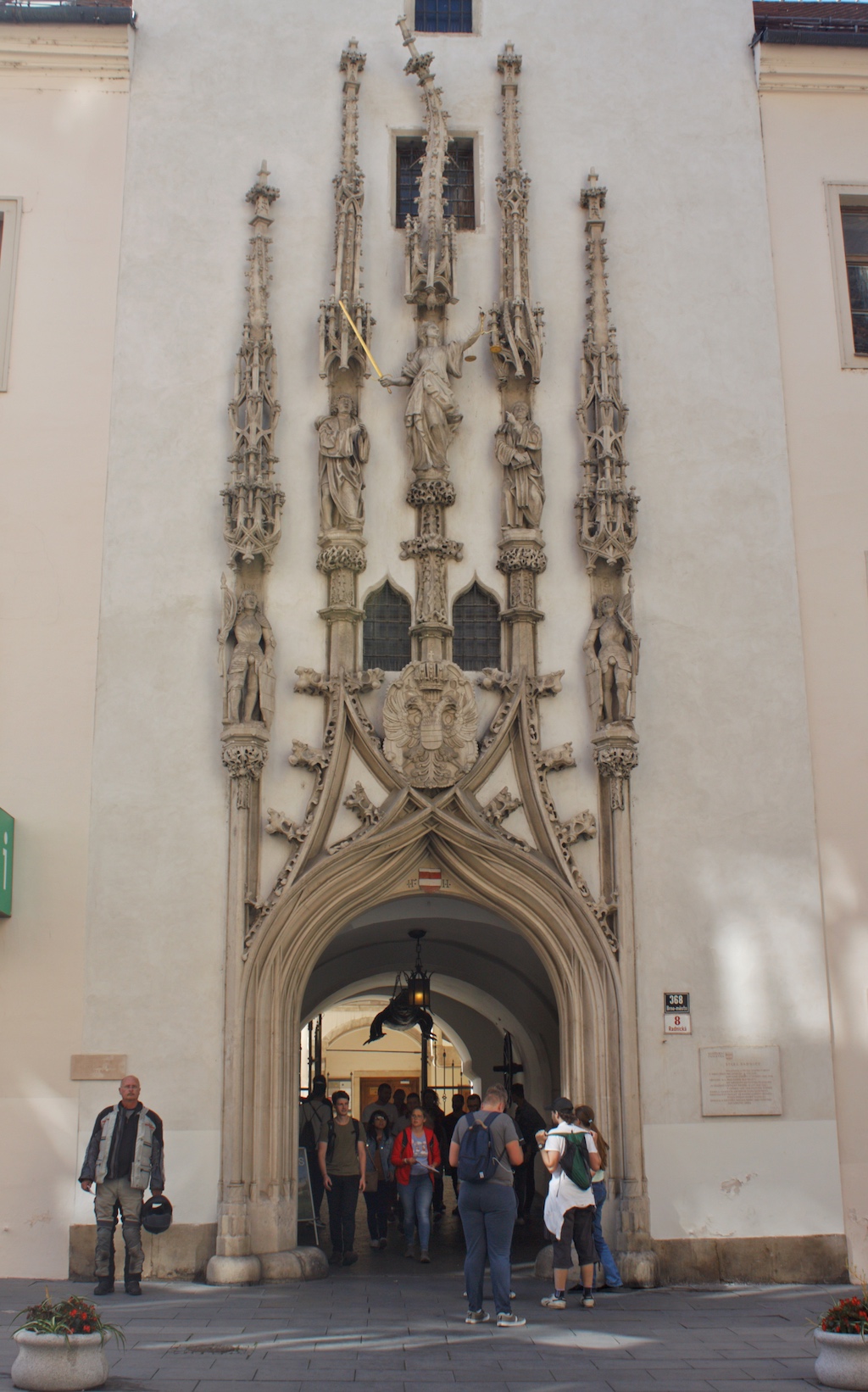 While the idea of the Brno dragon may conjure up images of Daenerys' three fire breathing dragons from HBO's Game of Thrones series, locals would have you believe that the Brno dragon was actually real.
Local lore has it that Brno was once home to a dragon that ravished the city, killing people and livestock. To combat the ferocious creature, councilmen offered a reward of 100 gold coins to anyone who could think of a way to rid the city of the dragon. A butcher came up with an idea that would bring about the dragon's demise – taking a massive piece of meat, filling it with caustic lime, and leaving it out for the dragon to come and feast on. The dragon took the bait, became super dehydrated, and drank so much river water that the lime boiled inside of her and exploded.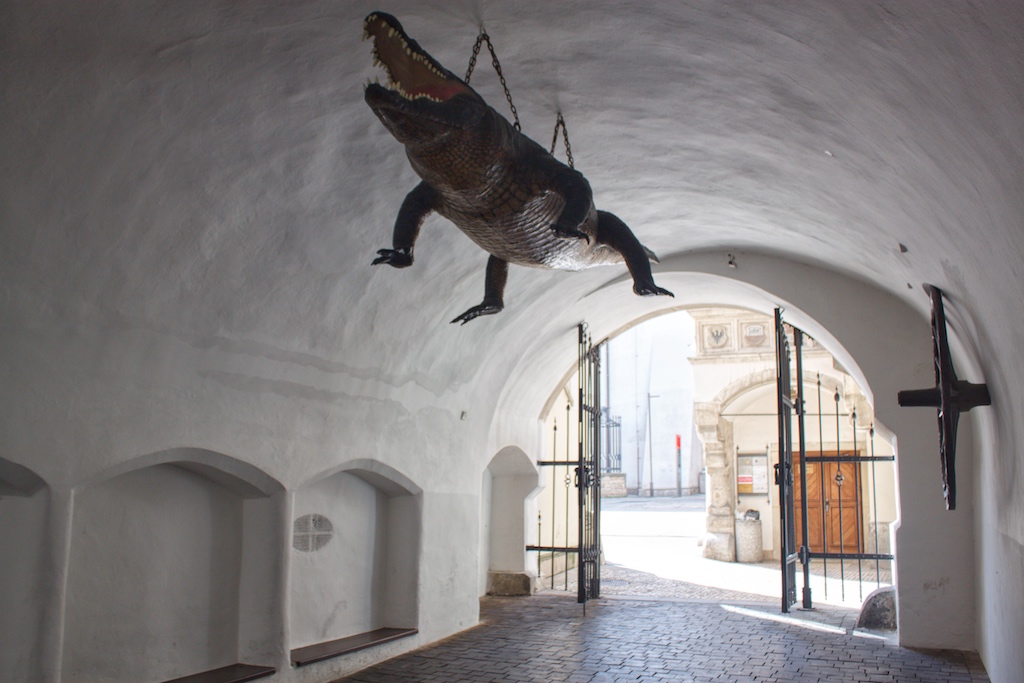 However far fetched and inconceivable it may be to piece exploded body parts back together, the preserved remains of the Brno dragon are now hanging at the Old Town Hall for all to see. Residents can offer the body as proof that a dragon once terrorized the citizens of Brno and they ultimately claimed victory.
In reality, the body is that of a crocodile which may have been gifted by a visiting foreign dignitary, Sir Albrecht Trut. Trut gave the local prince this lofty and exotic present to commemorate his appointment as the Margrove of Moravia around 1006 or so. Some others give a different account and think that the crocodile was brought to Brno by a group of marauding crusaders as a souvenir from one of their crusades, while others say it was gifted to Brno by a Turkish Sultan.
Recommended reading: Find out more of the story behind the Brno dragon from All About Dragons and Czech Tourism. For even more weird sites in Brno, check out 10-Z Nuclear Shelter.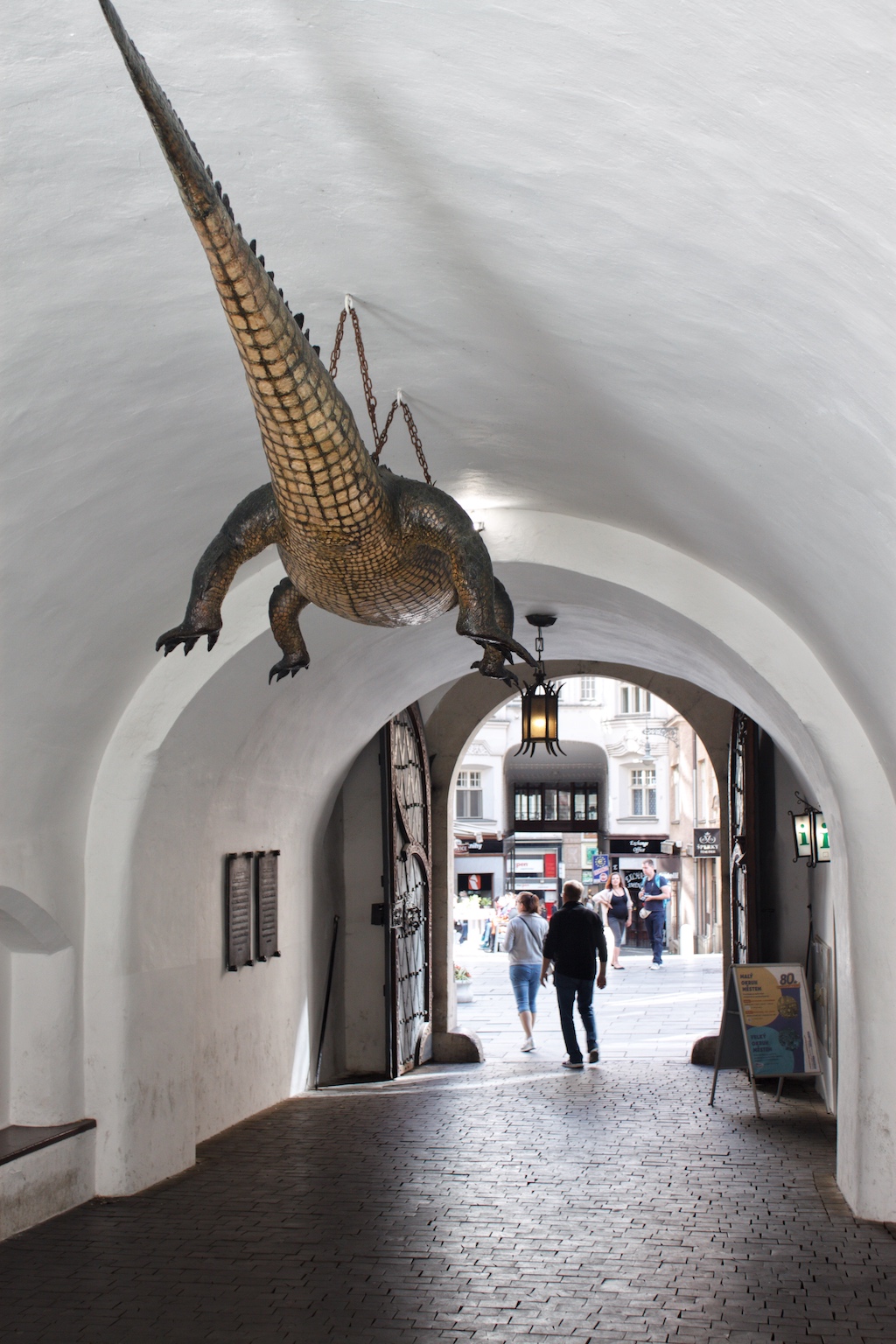 Over the years, the dragon had to be maintained, which involved deworming, drying, and smoking exercises. The maintain longevity, the body is further reinforced with a metal structure and plaster filling.
Now an endearing symbol, the Brno dragon remains one of the city's most popular and visited tourist attractions.
Watch this video for a recap of the curious Brno dragon and subscribe to my Youtube channel for even more travel related videos.
Do you like this silly tale about the Brno dragon? Have you encountered other weird and offbeat curiosities in your travels? Tell us about it in the comments below.
Brno Dragon Location
Where is the Brno dragon located? Radnická 367, 602 00 Brno-střed-Brno-město.
The FAQ On The Brno Dragon
What else do you need to know about the Brno Dragon? Your most common questions answered:
1) When can I visit the dragon? You can visit anytime, as it's in a public space.
2) What is the nearest metro stop? Hlavní nádraží and from there, expect about a seven minute walk.
3) Do I have to pay to see the statue? No way! Seeing this delightful creature is 100% free.
4) Can I take photos of the Brno Dragon? Yes, most definitely. Especially if they are super fun ones.
5) How much time should I spend with the dragon? There's not really so much to see, so not more than five minutes.
Transportation In Brno, Czechia
Some options for getting around Brno, my favourite city in all of Czechia:
1) To get to Brno's city center, you can drive, take a taxi, or bus from the airport and main bus/train stations:
Trains arrive at Brno dolni nadrazi, the city's main train station. You can use public transit to be in the city center within about 15 minutes. Alternatively you can walk there within 20 minutes. You can also take a taxi – download the Liftago Taxi app to book a ride as Uber and Bolt don't operate here. A taxi will take around 10 minutes.
Buses arrive at Brno Zvonařka, the city's bus station. Using public transit, walking, or taking a taxi will take approximately the same time as if you were coming from the train station.
Flights arrive at Brno Tuřany Airport (BRQ). A bus into the city (E76) runs every 30 minutes throughout the day and will take about 20 minutes to be dropped off at the city's main train station. A single ticket costs 25 CZK (€1). Driving or taking a taxi will take about 20 minutes to reach the city center. A taxi shouldn't run you more than €15.
2) The best ways to get around Brno are:
Bikes – You can take advantage of a bike share company in Brno, nextbike.
Public Transit – Visit Integrated Transport System of the South Moravian Region, for information about public transit.
Ride sharing – Use Liftago to move around the city.
Taxis – Popular is City Taxi Brno. Have your hotel call them on your behalf, in case they don't speak English. Liftago is a better option so you can get a car on your own without having to worry about the language difficulties.
Driving – Rent a car and also get beyond the city for further explorations.
Where To Stay In Brno
Tips about where to stay in Brno, Czechia:
1) Look at all your different options over at booking.com.
Paying For Things in Czechia
1) The country has its own currency, the koruna (CZK).
Check xe.com to see how your local currency fares against the Euro, US dollar, etc.
While most places will accept bank or credit cards, smaller shops may only take cash. Get cash at any local bank machine.
If you pay by card, you may be asked which currency you want to pay in – choose to pay in the local currency (RSD), as you'll save money on the exchange rate.
2) Czech Republic is very budget friendly, from your accommodation, to eating out, and more.
Good To Know About Brno
1) Experience Brno with a guided tour.
2) Is Brno safe? I can only answer this from an anecdotal perspective – as a woman travelling solo, I felt safe in Brno and didn't encounter any difficulties. However, the experience for people of colour could be entirely different. It's not the most ethnically diverse city and back in 2015, there was strong resistance to the mass refugee migration from many citizens. One person in Prague even approached me to sign a petition to not allow migrants into the country! Of course, I refused to sign such an offensive document. Read this interview, done in 2020 where people of colour in Czech Republic discuss their experiences.
3) If you'd like to learn more about Brno and the Czech Republic, read these other blog posts:
If you like this post, share it on Pinterest.

*Disclosure – This post contains some affiliate links. If you book a tour or hotel, I'll earn a tiny commission at no extra cost to you. Thanks for your support!