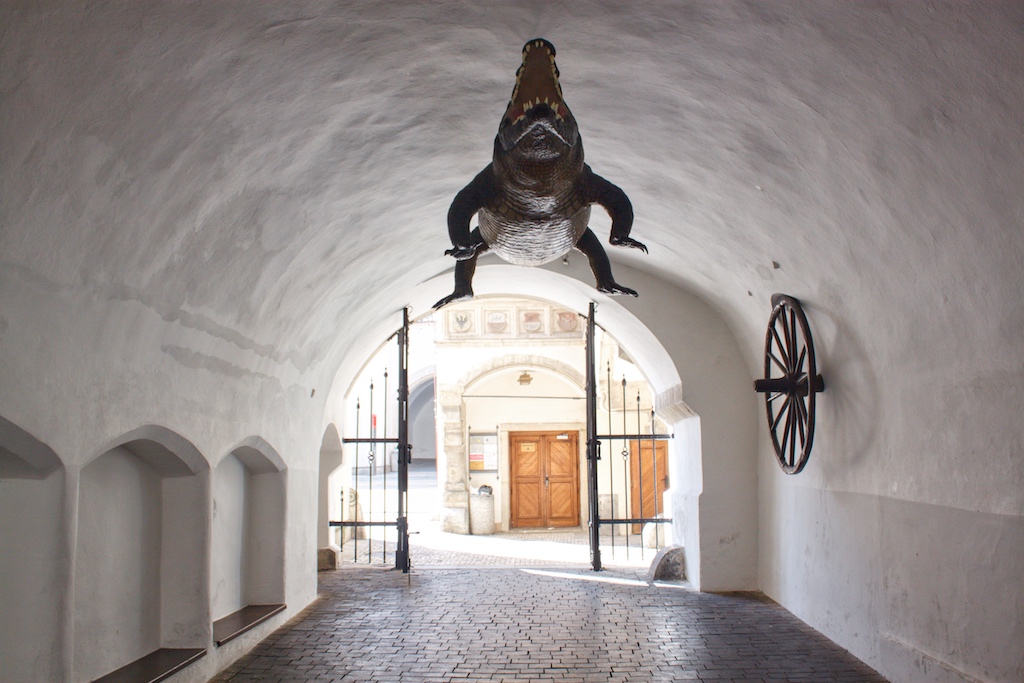 Is It Even Real? The Brno Dragon In The Czech Republic – Fancy seeing the taxidermied remains of a dragon? Then get yourself to Brno, Czech Republic as soon as possible and head over to the Old Town Hall. In the passage to the property's tower, you'll find a five meter long dragon carcass suspended from the ceiling.
This oddity makes the Brno dragon the perfect candidate to add to our ever growing list of weird and offbeat places to visit around the world. We'll take you to places like the Museum Of Toilet History in Kyiv, the Bad Bad Boy Statue in Helsinki, and the Ronald Reagan Statue in Budapest.
Recommended reading: Find out more of the story behind the Brno dragon from All About Dragons and Czech Tourism.
The Big Bad Brno Dragon In The Czech Republic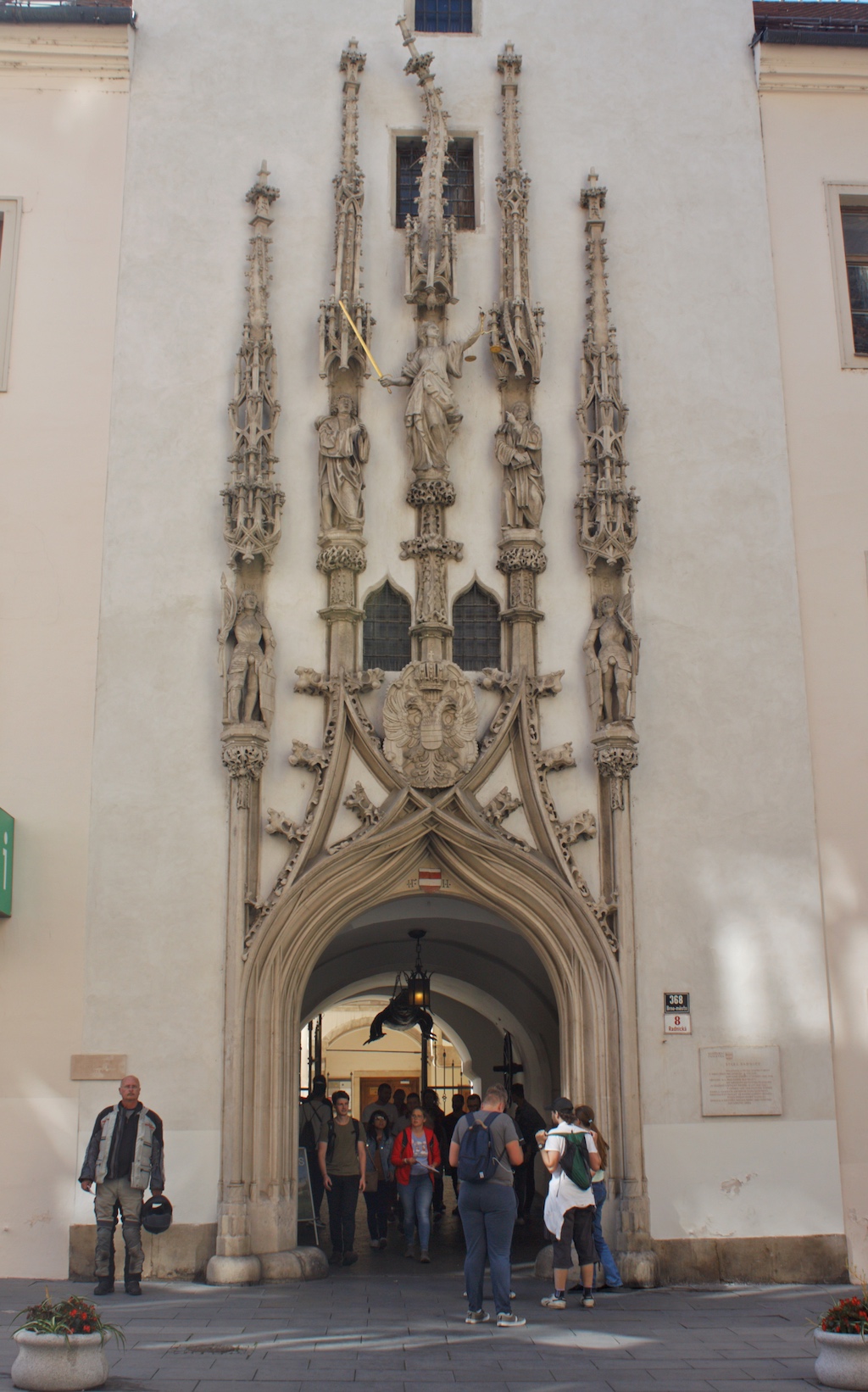 While the idea of a dragon may conjure up images of Daenerys' three fire breathing dragons from HBO's Game of Thrones series, locals would have you believe that the Brno dragon was actually real.
Local lore has it that Brno was once home to a dragon that ravished the city, killing people and livestock. To combat the ferocious creature, councilmen offered a reward of 100 gold coins to anyone who could think of a way to rid the city of the dragon. A butcher came up with an idea that would bring about the dragon's demise – taking a massive piece of meat, filling it with caustic lime, and leaving it out for the dragon to come and feast on. The dragon took the bait, became super dehydrated, and drank so much river water that the lime boiled inside of her and exploded.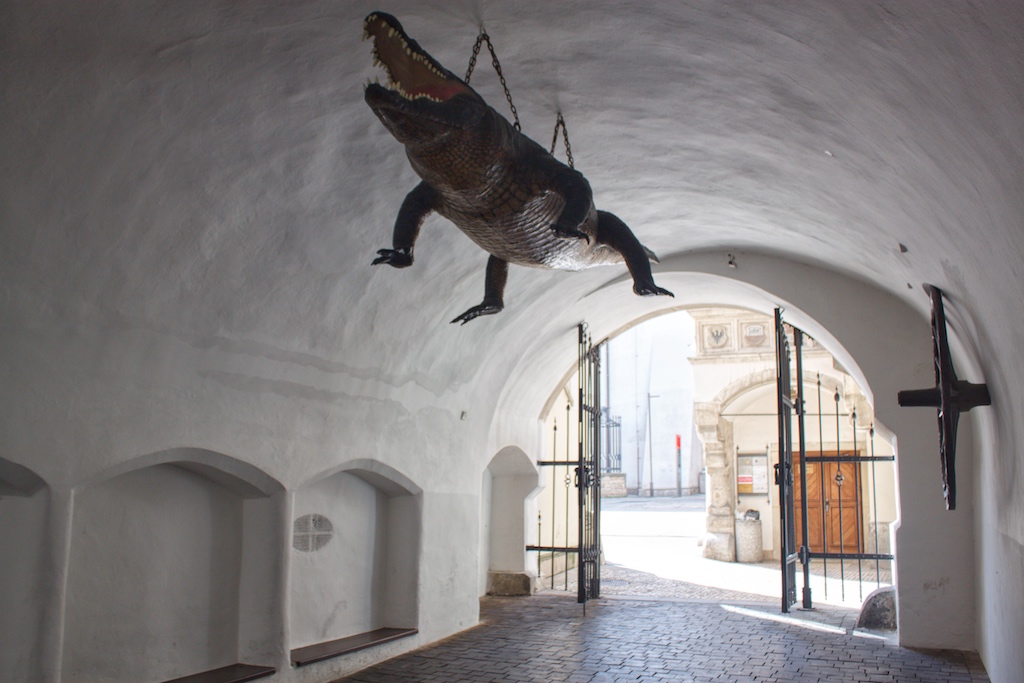 However far fetched and inconceivable it may be to piece exploded body parts back together, the preserved remains of the Brno dragon are now hanging at the Old Town Hall for all to see. Residents can offer the body as proof that a dragon once terrorized the citizens of Brno and they ultimately claimed victory.
In reality, the body is that of a crocodile which may have been gifted by a visiting foreign dignitary, Sir Albrecht Trut. Trut gave the local prince this lofty and exotic present to commemorate his appointment as the Margrove of Moravia around 1006 or so. Some others give a different account and think that the crocodile was brought to Brno by a group of marauding crusaders as a souvenir from one of their crusades, while others say it was gifted to Brno by a Turkish Sultan.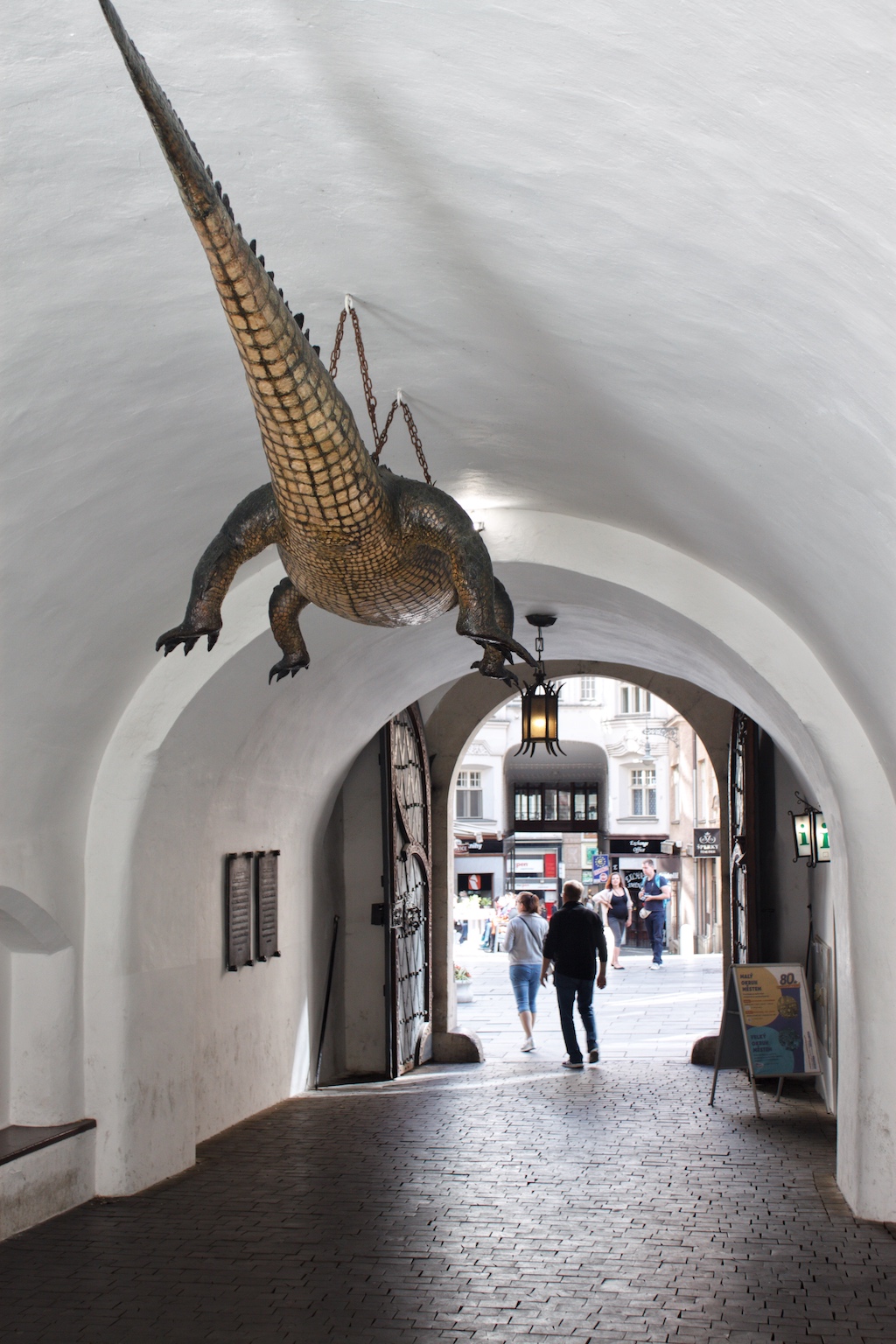 Over the years, the dragon had to be maintained, which involved deworming, drying, and smoking exercises. The maintain longevity, the body is further reinforced with a metal structure and plaster filling.
Now an endearing symbol of Brno, the dragon remains one of the city's most popular and visited tourist attractions.
Watch this video for a recap of the curious Brno dragon and subscribe to my Youtube channel for even more travel related videos.
Do you like this silly tale about the Brno dragon? Have you encountered other weird and offbeat curiosities in your travels? Tell us about it in the comments below.
Good To Know
1) As the statue is open to the public, seeing it is 100% free.
2) Experience Brno with a guided tour:
3) Browse hotel offerings in Brno:
4) If you'd rather stay in an apartment over a hotel, choose an Airbnb. First time users, can use this link to get a €34 travel credit.
5) The Czech Republic is a beautiful country to make a road trip through, so why not rent a car and see more for yourself?
6) If you'd like to learn more about Brno and the Czech Republic, read these other blog posts:
💖 Brno Restaurants: Places To Eat In Brno Czech Republic – If you're visiting Brno & looking for a place to eat, consider these Brno restaurants. From hip cafés, to cheap pubs, & fine dining, we've got you covered.
💖 Good or Bad? Love Locks in Prague – These love locks in Prague highlight the still growing trend to place locks on bridges around the world, but these specific love locks have locals worried.
💖 Prague Photos: 41 Pictures That Prove It's the Prettiest City in Europe – Considering a visit to the capital of the Czech Republic? Is it as pretty as they say? Be convinced to go there right now by looking at these Prague photos.
Location
Brno Dragon
Radnická 367, 602 00 Brno-střed-Brno-město, Czechia
If you like this post, share it on Pinterest.

*Disclosure – This post contains some affiliate links. If you book a tour, car rental, or hotel, I'll earn a tiny commission at no extra cost to you. Thanks for your support!