I've been to Czechia several times and usually make it to Prague about once per year. While Prague's beautiful and a city that beckons you to visit over and over again, I was keen to discover more of the country That's why I spent a weekend in Brno in September 2019. I not only chose Brno because it's a quick and cheap flight from Berlin, but I also chose it because there's a beautiful Old Town, is the perfect base for making day trips, and is full of plenty of places to eat.
To get started on your first visit to Brno, consider this mini guide to these Brno restaurants.
Brno Restaurants: Places To Eat In Brno Czechia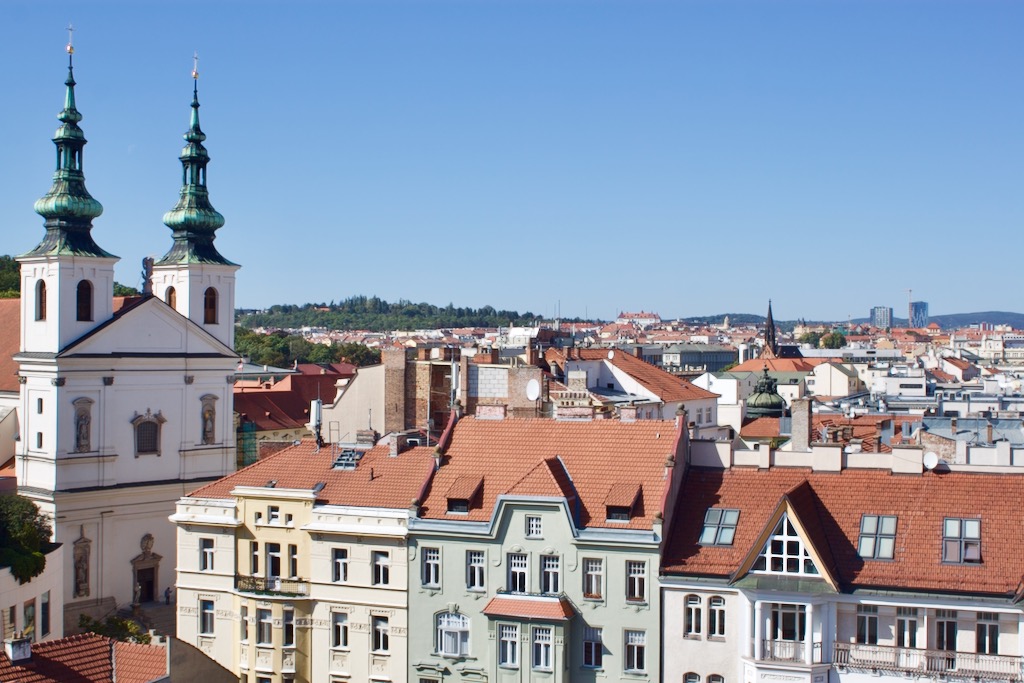 Brno is situated in the South Moravian region of Czechia. With a population of 400,000 people, it's the second largest city in the country after Prague. Highlights include the picturesque Old Town, castles and cathedrals that will blow your mind, and weird and offbeat sites like an old Cold War bunker that's now a museum and cool ruin-type bar, as well as their very own Brno dragon. Best of all, there are so few tourists in the city that you can actually breathe, as opposed to Prague which is jam-packed.
Recommended reading: Our HUGGGE post listing out all of the things there are to do in Brno, a profile on the weird and offbeat Brno dragon, and a review of the local ossuary filled with more than 50,000 skulls.
This is only the second restaurant guide on cherylhoward.com (read my Poznan guide), but as readers seem to enjoy the personalized recommendations, this will now be a regular series.
1) La Bouchée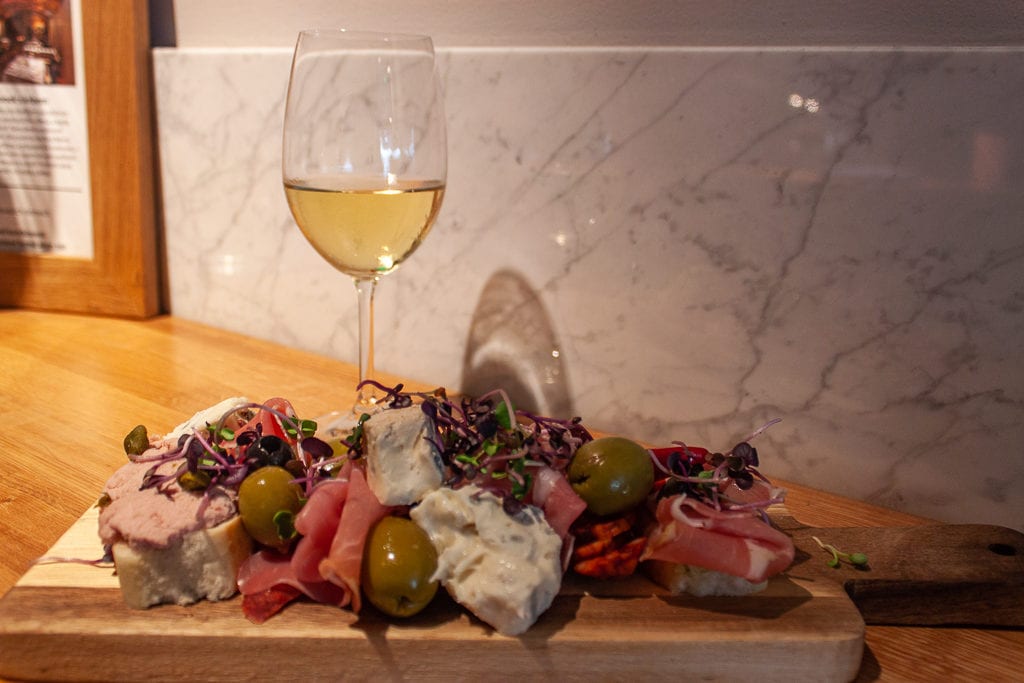 La Bouchée is a Mediterranean bistro in Brno's St. James Square. As I hadn't eaten all day and I was starving after a day of hiking through the Moravian Karst, I had an early evening dinner around 16:00. Their menu is quite limited before 18:00, so I ordered a small tapas plate and paired it with local white wine. The plate came with bread, olives, smoked meats, and cheeses.
The plate was about €8 and the glass of wine was €3, for a total of €11. Note – they only accept cash payments.
Address: Běhounská 5/18
2) Pivní Bar Atrium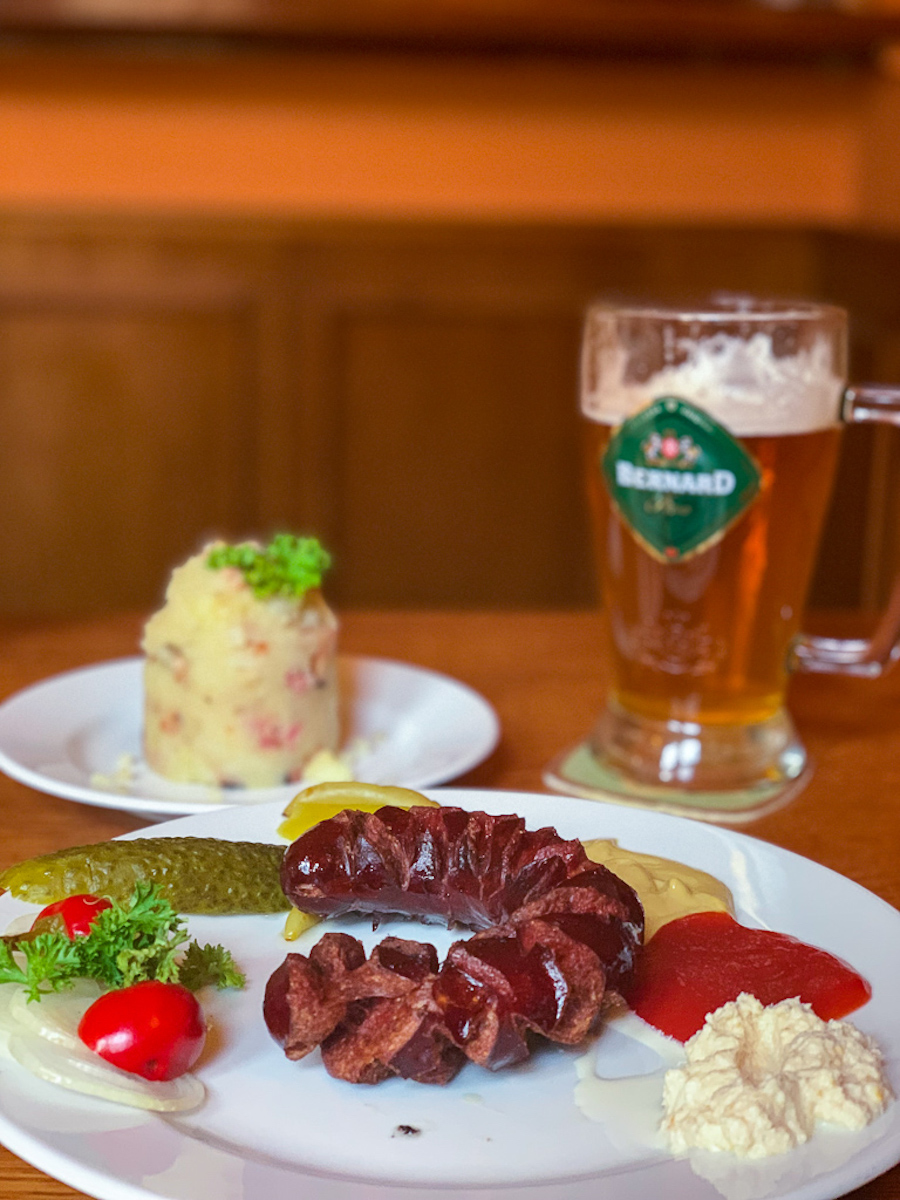 If you're looking for some traditional and hearty Czech food on the cheap, then Pivní Bar Atrium is for you. I landed here after getting off the airport bus to kill time waiting for my Airbnb flat to be ready. The bar staff didn't speak English but were super friendly and accommodating to me and all of my luggage. The menu is also not in English – alas, that's what technology is for – simply whip out your phone and use Google Translate's photo function. I had a Moravian sausage and some creamy mashed potatoes with bacon. Naturally, it was paired with Czech beer.
The entire meal came to around €7. Note – they only accept cash payment.
Address: Josefská 514/5
3) Provázek.dvůr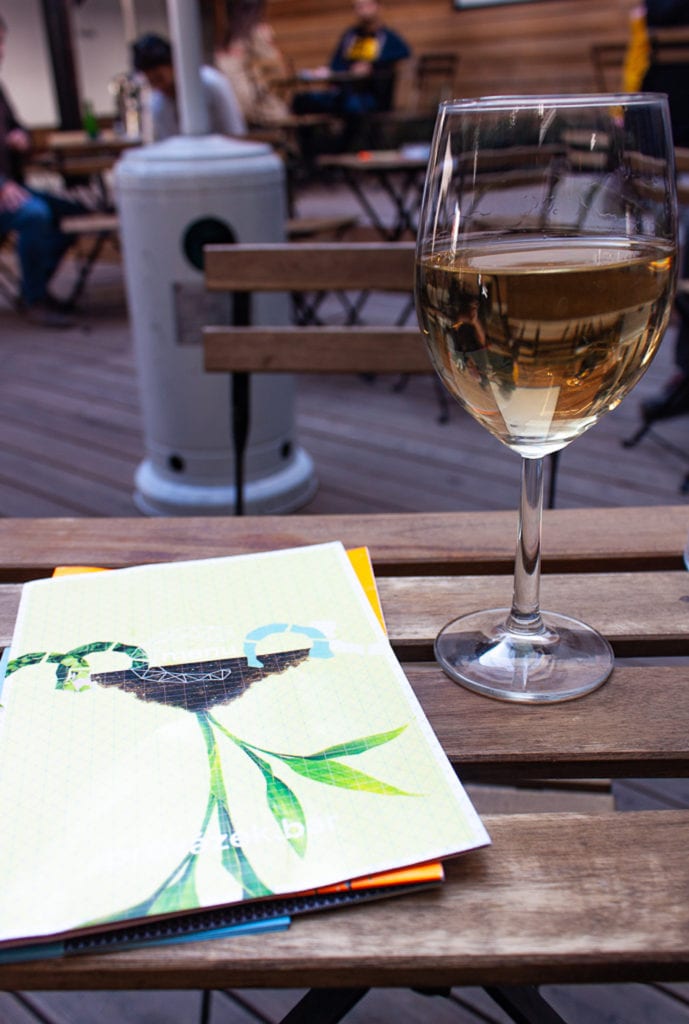 As it was hot and the last day of summer, I celebrated by having a glass of local Czech wine at Provázek.dvůr. This light and airy outdoor space is a café by day and a pub by night. They boast good coffee, draft beer, and locally sourced food. Rumor has it that the weekend brunch is tasty.
My glass of wine was €2.
Address: Zelný trh 294/9
4) Restaurant Pavillon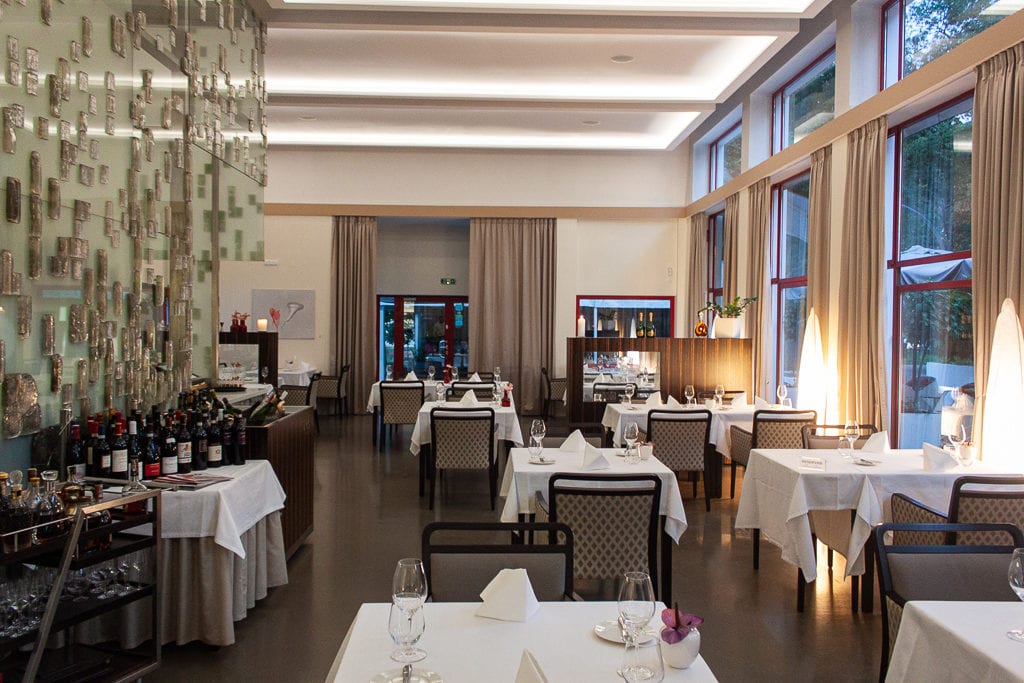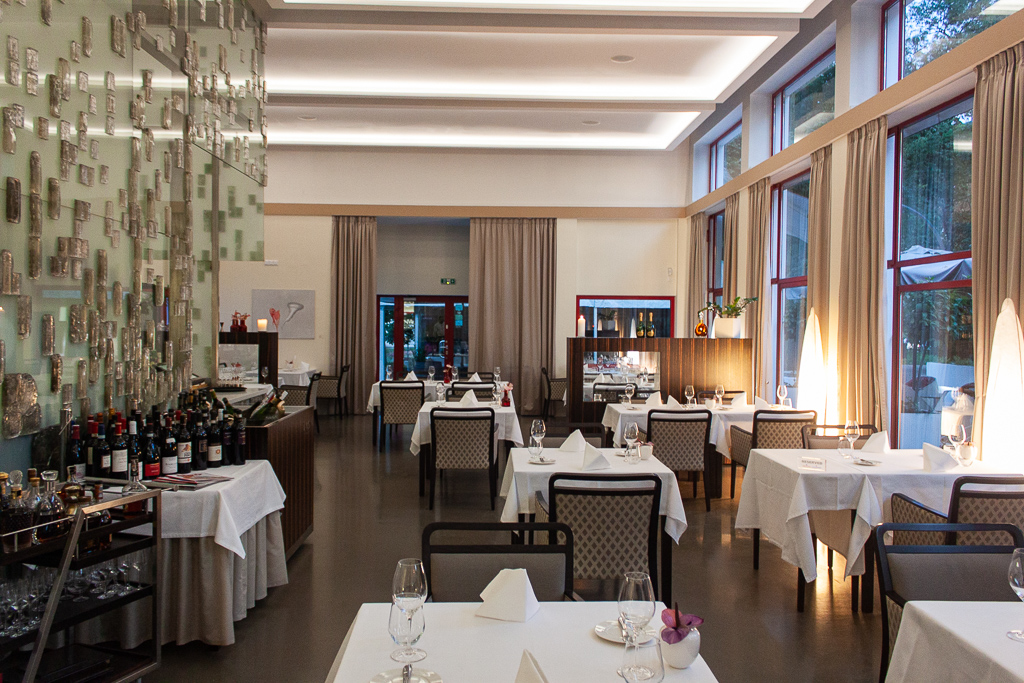 My dinner at Restaurant Pavillon was the gourmet highlight of my entire trip. It just might be the fanciest joint in town as well, but you know that ladies have to treat themselves sometimes. I skipped on having a starter and it was a good thing – as I started by ordering a small bottle of sparkling water and a glass of prosecco. Then along came a special treat from the chef, as well as bread with olive oil. My main was rabbit, along with some vegetables, and it was absolutely delicious! I also had a glass of Merlot with the rabbit. I'd like to come here again as they have a tasting menu that comes highly recommended by online reviewers.
The rabbit was €14, the prosecco €6, the merlot €7, and the water €2, for a grand total of €29.
Address: Jezuitská 687/6
5) SKØG Urban Hub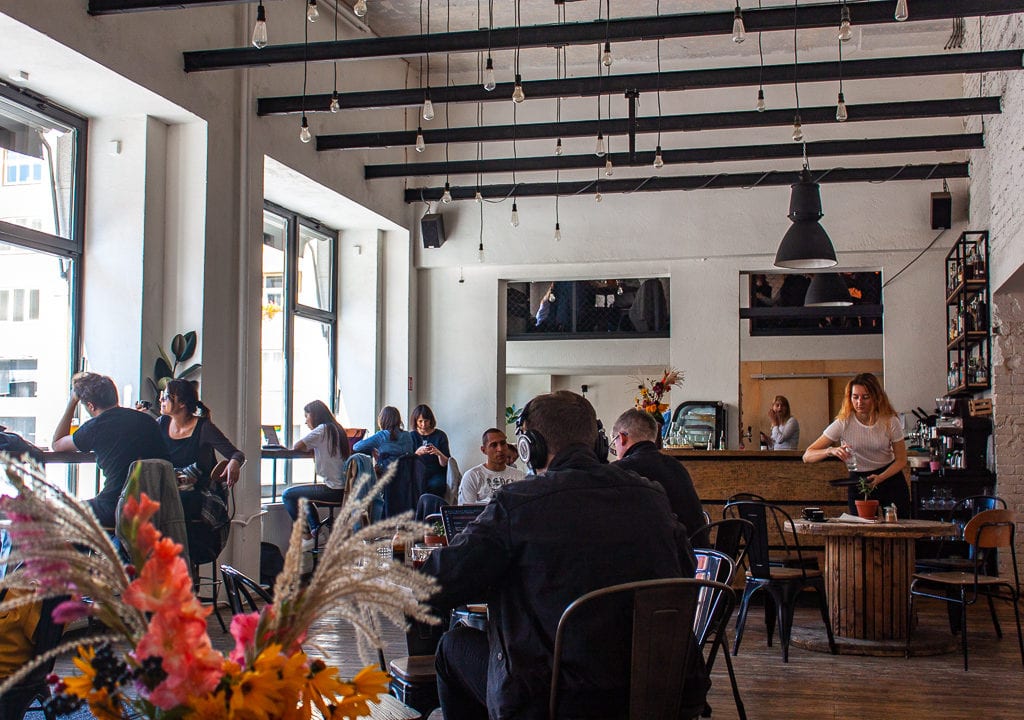 If you want to know where the hipsters and vegans convene in Brno, SKØG Urban Hub is the place. There's so much to love about this Nordic-inspired café from its design to the kind servers, the indie music playing softly in the background, and of course, the food. I had two cappuccinos with oatmeal milk, a small bottle of sparkling water, and a salad bowl with cabbage patties. The patties were especially yummy.
My lunch cost just over €11.
Address: Dominikánské nám. 187/5
Watch this video for a recap of our Brno restaurants recommendations and subscribe to my Youtube channel for even more travel-related videos.
What do you think about this list of Brno restaurants? Do you know of any places we may have missed? Let our readers know and drop us a comment below.
Brno Restaurants: Locations
Download this Google Map to eat your way through Brno "cherylhoward.com" style, featuring all the places highlighted above.
Brno Restaurants: Good To Know
1) If you're looking to escape Berlin for the weekend (as I often do), Brno isn't too far away:
2) You can reach the Brno city center in various ways:
3) Czechia doesn't use the euro, but the Koruna :
4) Need somewhere to stay in Brno? Check out hotels and other offerings on booking.com.
5) Make your time in Brno memorable and go on a guided tour.
6) Looking for more content about travel in Europe? Check out some of the blog's more popular content:
*Disclosure – This post contains some affiliate links. If you book a tour or hotel through any of these links, I'll earn a tiny commission at no extra cost to you. Thanks for your support!