I know it's a rather bold claim to make, but I'm sure the world's most beautiful concert hall is the Harpa, located in Reykjavik, Iceland. I have a feeling a lot of people agree with me too, as the Harpa has been visited by more than three million people since it opened.
After seeing photos of the building when I researched my Christmas in Iceland and then finally seeing it from my room at 101 Hotel, I knew I just had to go there and hopefully, even take in a performance.
The World's Most Beautiful Concert Hall, Harpa Reykjavik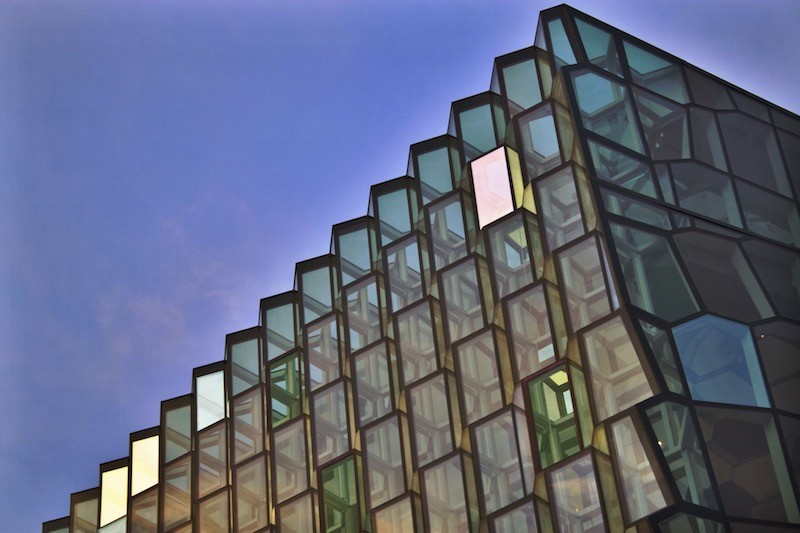 Walking towards Harpa, I stopped and just stared at it for a while, as such an impressive structure demands that you do. Despite extreme cold and fierce winds, I couldn't bring myself to move. I was captivated by Harpa's shimmering beauty set against the backdrop of snow-capped mountains and choppy Atlantic waves.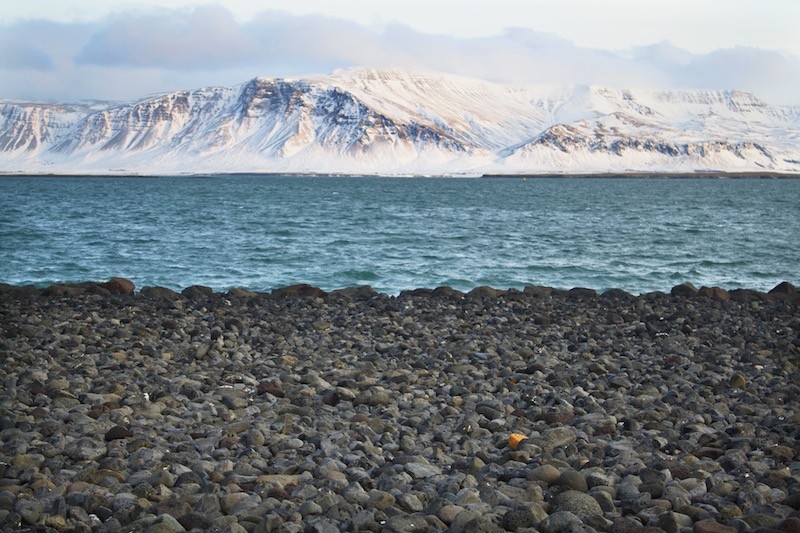 Reporter John Carlin words it way more eloquently than I – "I could not take my eyes off the building … its multitude of asymmetric, irregularly framed windows continually changed colors, as if in liquid imitation of the aurora borealis."
Recommended reading: A local's account about their first visit to Harpa Reykjavik, A visit to Harpa Concert Hall and Conference Centre and this account from ArchDaily, Harpa Concert Hall and Conference Centre / Henning Larsen Architects.
Construction started in January 2007 and continued despite the severe economic crisis plaguing the country, wrapping up in May 2011. Harpa now operates both a concert hall and a conference center and is also home to the Iceland Symphony Orchestra.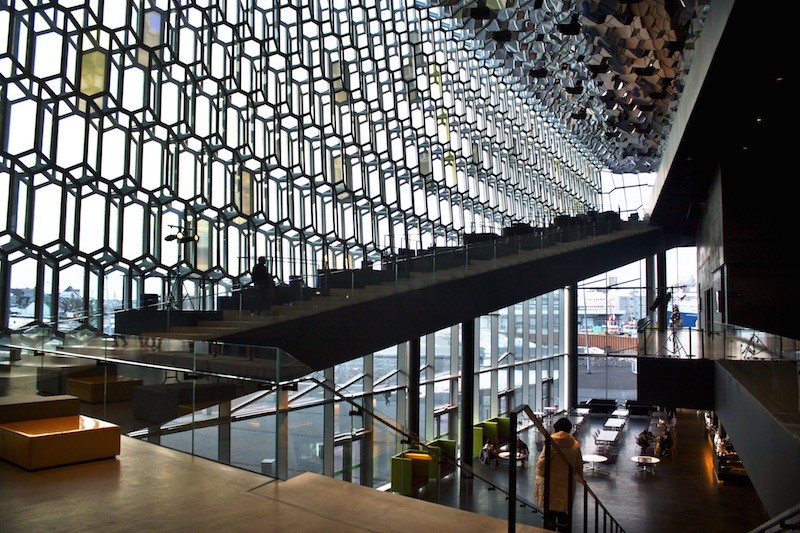 The design is the brainchild of Henning Larsen Architects, in partnership with artist Olafur Eliasson known for his work on large-scale art installations that make use of light, water, and air temperature. This massive structure rises a mighty 43 meters tall, with the interior spanning 28,000 square meters. Over 12,000 square meters of translucent glass and 30,000 cubic meters of concrete were used in the construction of Harpa. The steel framework is comprised of glass panels of various colors.
Cereal Magazine says, "During the day, the pseudo-bricks register all the nuanced shifts in the unique Icelandic lightscape, allowing dramatic shafts of light to penetrate the interior, while offering majestic views of Reykjavík's sea and mountain scenery. At night they glow gently with differently colored LEDs."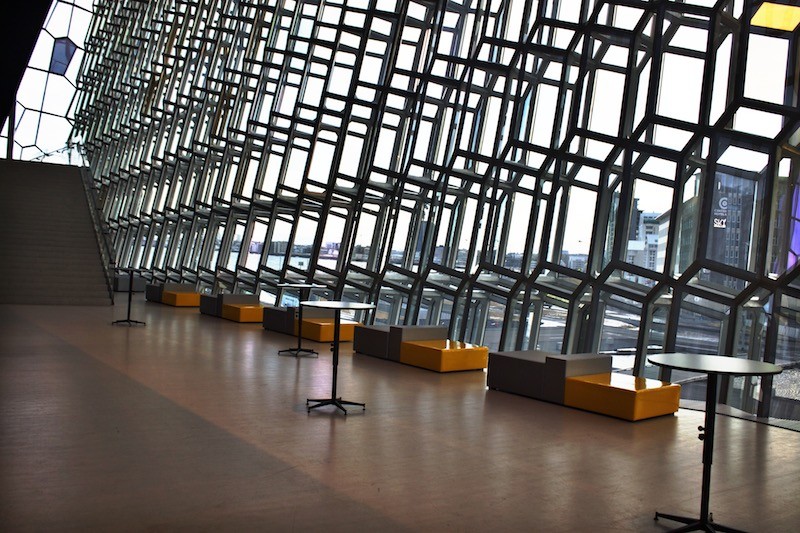 After warming up with a much-needed coffee, I spent at least an hour wandering on my own through the building. I absorbed the intricacy of the architectural details, gazed at the streams of lights shining brightly through the glass, and marveled at the beauty of my surroundings.
While the outer area of Harpa takes advantage of natural light and blends in seamlessly into the landscape, Eldborg, the grand concert hall is a contrast in design with a bold, opulent, fire-red interior. The large concert hall seats 1,800 people.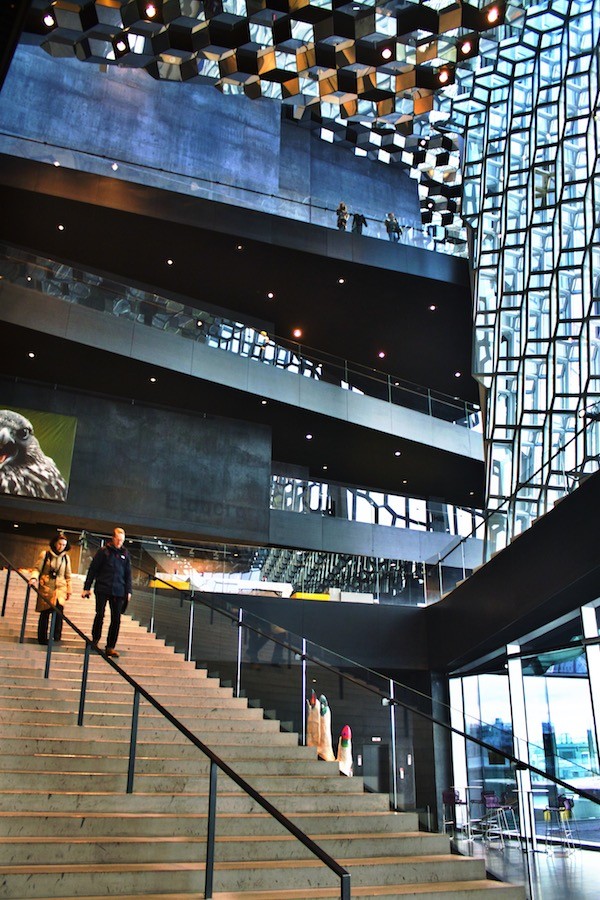 Harpa's elaborate design didn't come cheaply. During a time when the country was suffering through one of the worst economic crises in the history of mankind, the government spent a whopping €164,000,000 to build the venue. Some Icelanders felt that their money could be better spent (and honestly, it could have) but most have come to see the completion of Harpa as significant and herald it as a hope for their continued economic recovery.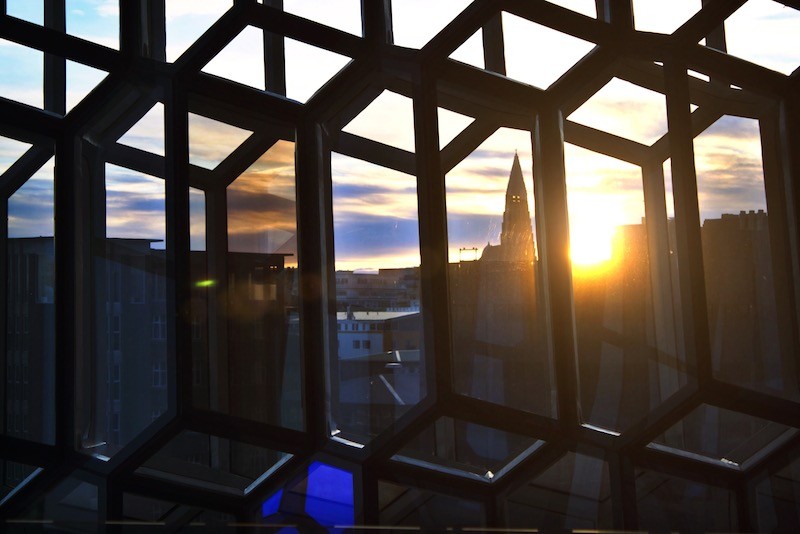 As daylight was fading, I raced off to take in some more sights. As weird as it sounds, I wanted to feed the ducks and swans at Reykjavik's city hall (I have a whole blog post planned on that!). I didn't want to leave but I knew I'd be coming back. Before I left, I purchased tickets to a short comedy act called How to Become Icelandic in 60 Minutes.
What do you think about the Harpa Reykjavik? Have you been to other notable architectural landmarks around the world that we should know about? Let us know in the comments below.
Location
Harpa – Reykjavik Concert Hall and Conference Centre
Austurbakki 2
101 Reykjavik, Iceland
(+354) 528 5000
http://en.harpa.is/
Good to Know
1) The building's open to the public every day from 8:00 a.m. – 12:00 a.m. The box office is open weekdays from 9:00 a.m. – 6:00 p.m. and weekends from 10:00 a.m. – 6:00 p.m. (longer on concert nights).
2) Guided tours are available for 1750 Icelandic króna, approximately 12 euros or 15 American dollars. Tours include getting access to areas normally reserved for performers, having your photo taken on the grand stage, and hearing insider stories about Harpa.
3) Save money by skipping the tour altogether. Simply wander through the building and take photos.
4) Book your Iceland hotel with booking.com.
5) Make your stay in Iceland even better by booking one of these tours.
6) For more Icelandic inspiration, check out our most popular posts.
7) See how much it costs to travel to Iceland.
*Disclosure – This post contains some affiliate links, so if you book a tour or hotel, I'll earn a tiny commission at no extra cost to you. Thanks for your support!