When I first told people that I was heading to Iceland over Christmas, more than a few people laughed and told me I was crazy. They didn't understand why I would willingly travel somewhere so cold when daylight only lasts a few hours.
I get their doubt as we all have different traveling styles. I knew exactly what I was getting into and it turned out to be the vacation of a lifetime. I did things like get rubbed down at the Blue Lagoon, tour the world's most beautiful concert hall, and stay at the luxurious 101 Hotel in Reykjavik.
One of my very favorite things to do in Iceland was going on the Golden Circle tour to see Gullfoss Waterfall in winter.
What's It Like To See Gullfoss Waterfall in Winter?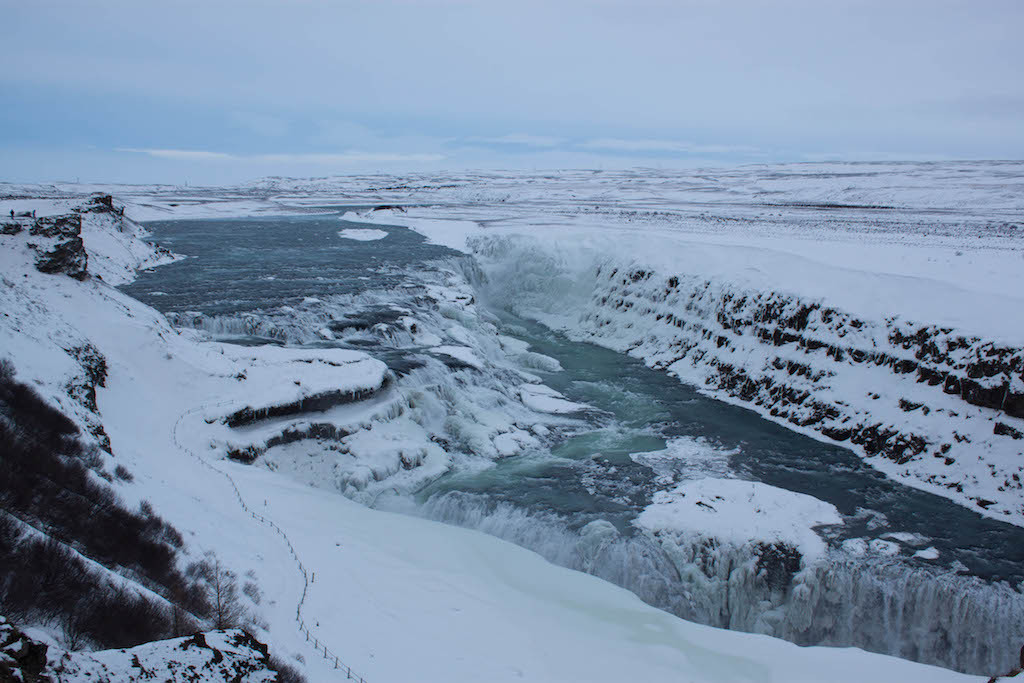 I woke up early on Christmas morning to do the tour. Still, a little jet lagged, I grabbed a coffee to wake myself up and jumped on board the bus waiting outside. I may have been tired, but I was stoked to do the Golden Circle tour, which included three highlights – Gullfoss Waterfalls, Thingvellir National Park, and the Geysir Geothermal Field.
Our first stop was Gullfoss. Gullfoss Waterfall is one of Iceland's most popular tourist attractions. At 35 meters in height, the river Hvítá cascades through two stages into the 32-meter-deep crevice below.
While many would not think of travelling to Iceland during this cold time of year when there's only 4-5 hours of daylight, seeing Gullfoss Waterfall in winter is something quite spectacular to behold.
The Surrounding Landscape
Upon arrival at Gullfoss, stop for a moment to take in the surrounding snow-covered landscape. Iceland is like no other place on earth; it's simply beautiful.
Those First Views Of Gullfoss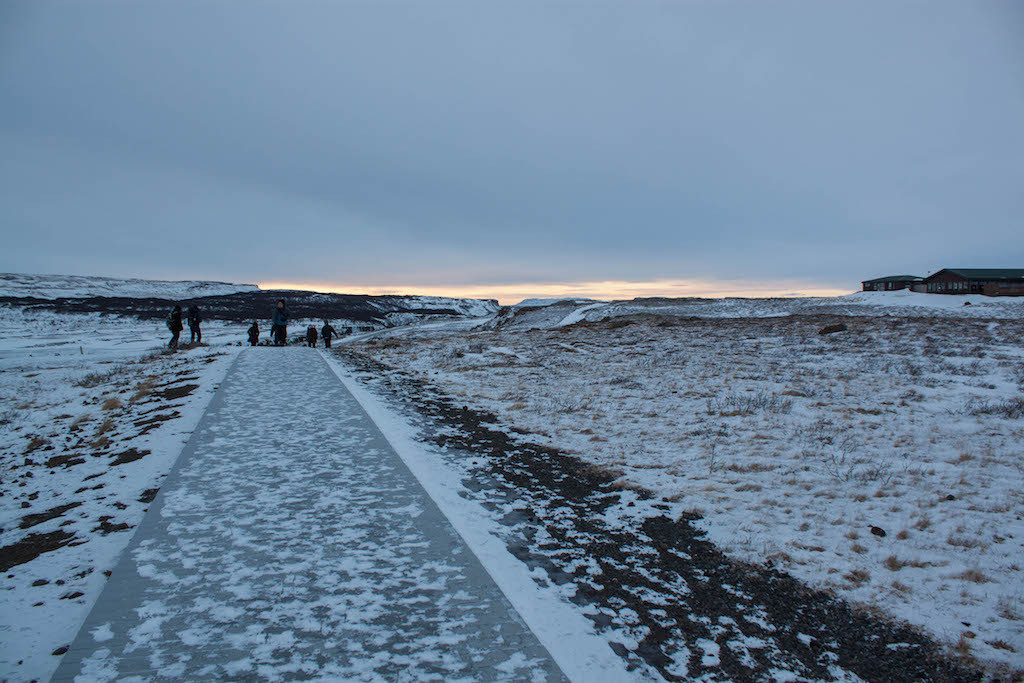 As you wander along the slippery paths and stairs, you finally get your first glimpse of Gullfoss Waterfall. It's all you can do to not snap hundreds of photos.
Gullfoss Waterfall Up Close And Personal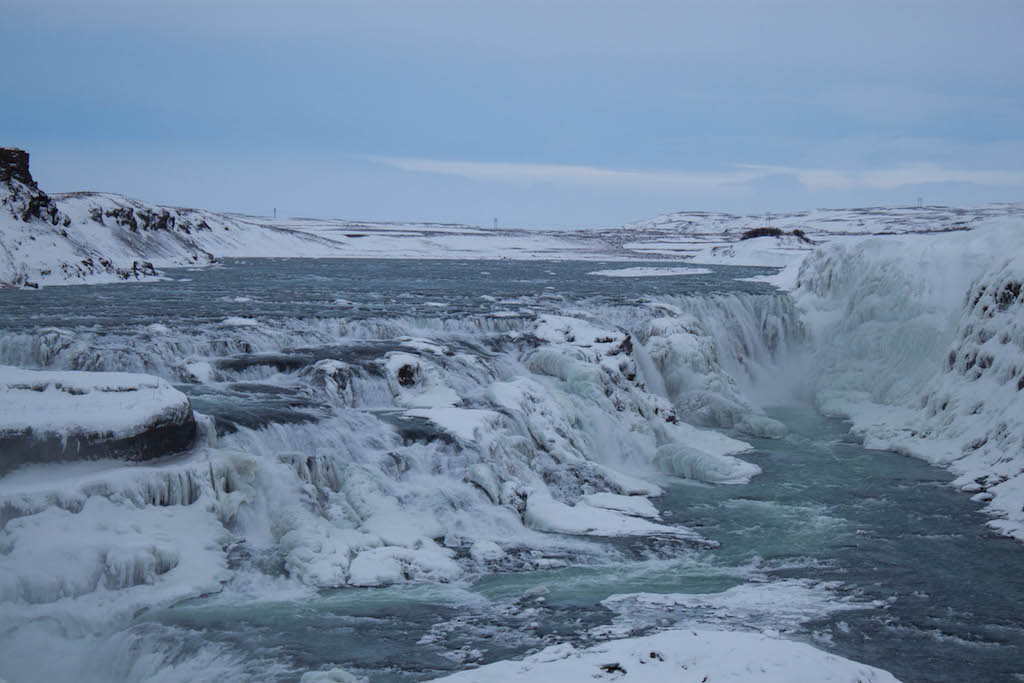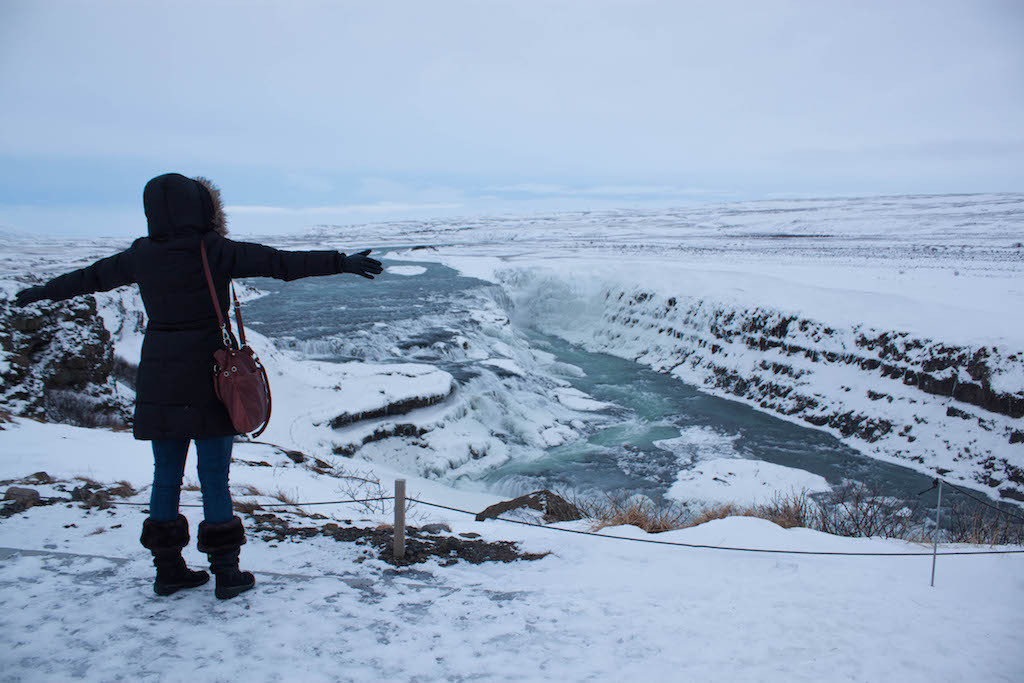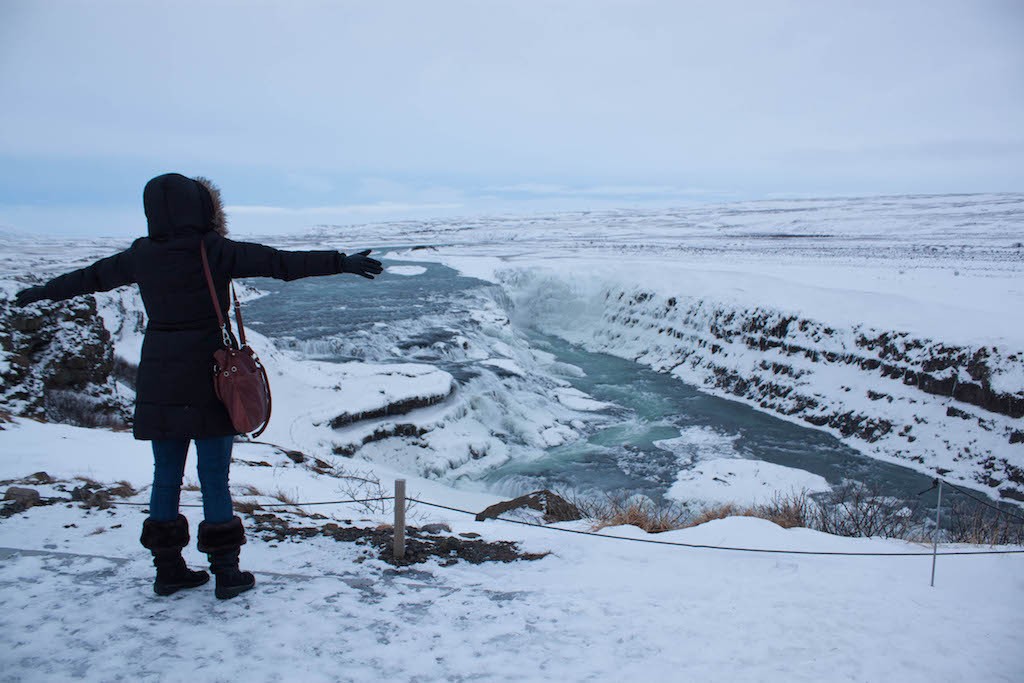 Continuing along the walkways, you'll reach another viewing area, where you can see Gullfoss Waterfall up close.
What do you think about seeing Gullfoss Waterfall in winter? Would you go, despite the chilly temperatures?
Location
Good to Know
1) The Golden Circle tour is an easy day trip from Reykjavik.
2) If you're going to visit Gullfoss Waterfall during winter, bring all of your winter gear. It's not only cold but very windy, and you'll be in need of boots, a parka, a hat, gloves, etc. The paths can be pretty slippery, and it's not a good idea to come on the tour with only Converse shoes or wedge-heeled boots. I saw people dressed like this, and while they may have thought they looked "good," they actually looked silly when they could barely walk down to safely see the waterfall.
3) Winter is the perfect time to visit Iceland. While daylight is limited around Christmastime (about 4 hours a day), there's enough time to do things like the Golden Circle tour.
4) Need to place to stay while in Iceland? Make a reservation through booking.com.
5) Make your time in Iceland all the more special and do even more tours.
6) One of the best ways to see Iceland is to go at it on your own. So be sure to rent a car. If you need help planning a budget-friendly road trip read, how to plan the ultimate budget road trip in Iceland.
7) If you like our European travel content, check out some of our popular posts:
* Disclosure – This post contains some affiliate links. If you book a tour or hotel through any of these links, I'll earn a tiny commission at no extra cost to you. Thanks for your support!