The Brno Astronomical Clock (Brněnský orloj) is probably one of the oddest monuments I've come across during my travels. As such, it ranks as one of my favorite sights. The clock is not only super weird – it's also steeped in some incredible history.
Recommended reading: Check out all of the other unusual things there are to do in Brno, like see the Brno Dragon, visit the ossuary filled with more than 50,000 skulls, and tour the 10-Z nuclear bunker.
The Phallic-Shaped Brno Astronomical Clock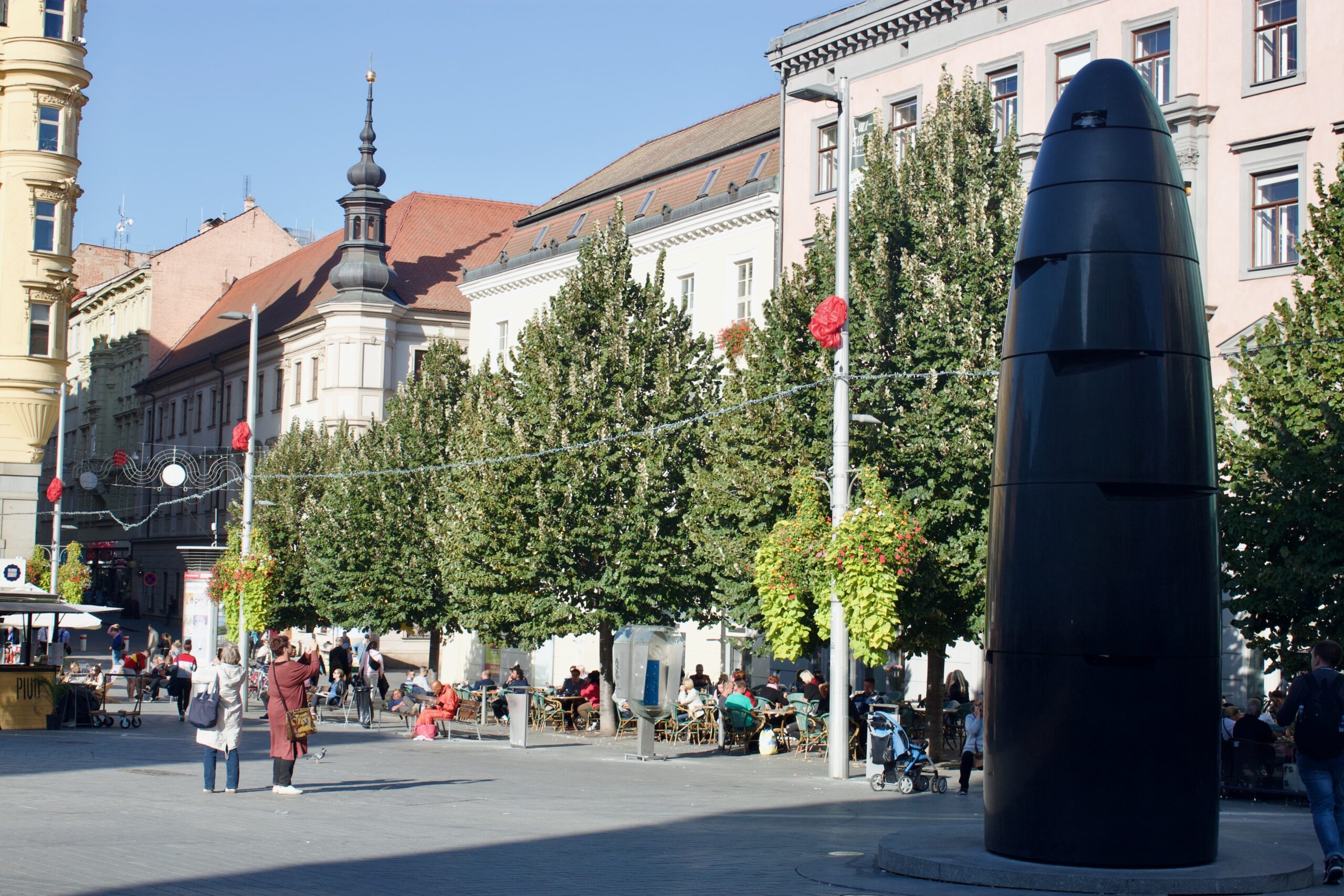 This huge black bullet-shaped marble monument can be found in Brno's main square, Náměstí Svobody or Freedom Square. The Brno Astronomical Clock measures 5.8 meters high and 1.7 meters wide. Designed by sculptors, Oldřich Rujbr and Petr Kameník, construction on the obelisk took three years and was unveiled to the public in 2010.
The cost to build the clock came in at about half a million Euros. And it was oh, so worth it!
Each day at 11:00, music plays, and a bunch of colored glass marbles are ceremoniously released. Onlookers can catch them from one of the clock's four openings and then keep the marble as a souvenir. The clock actually is a functioning clock but bizarrely, isn't an astronomical clock as the sculpture's official name suggests.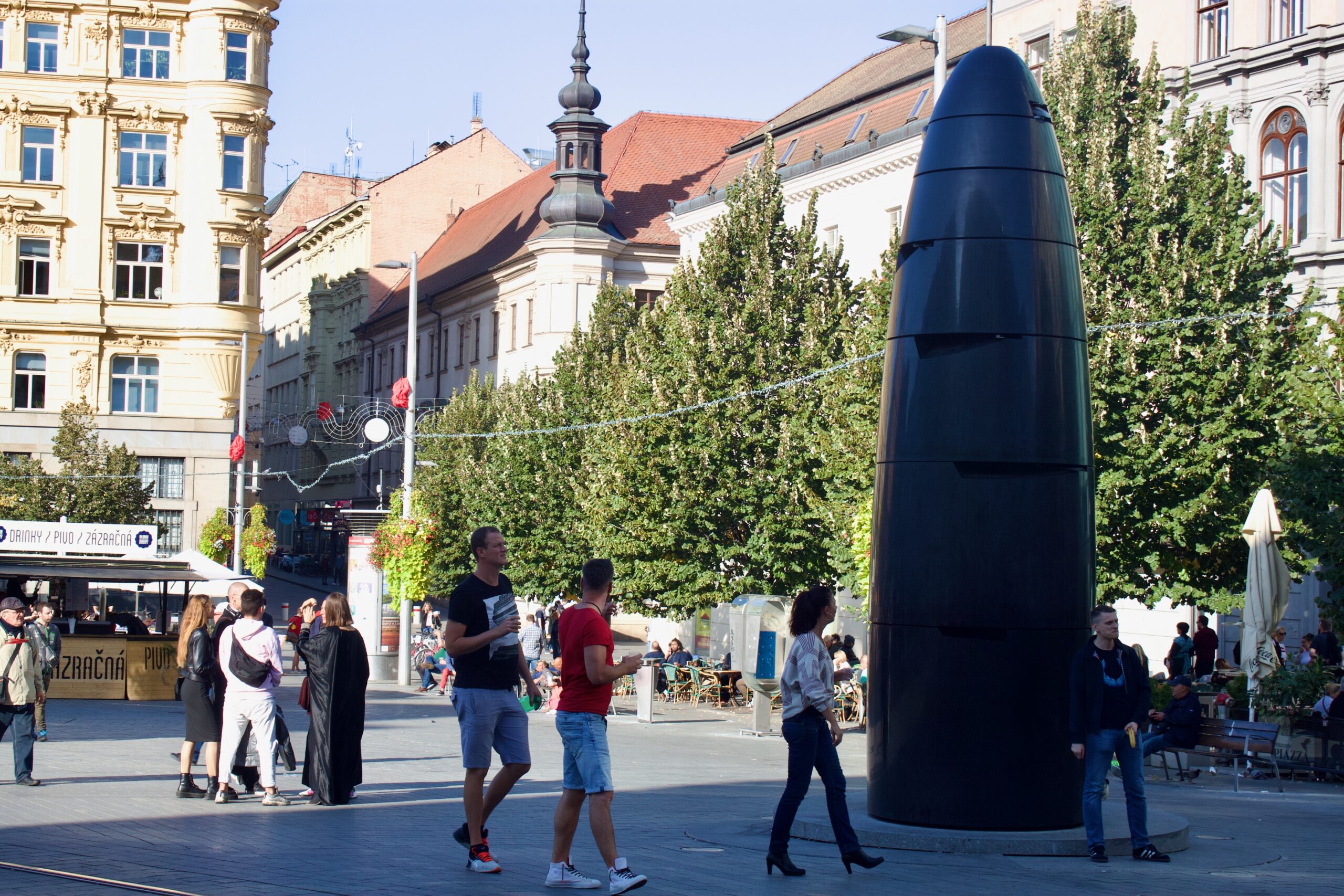 Despite being in the shape of a bullet, the ever-so-obvious phallic shape encourages visitors to take silly photos of the clock. I know that I had a pretty good time watching people have a lot of fun taking slightly inappropriate photos. Rumors abound that locals have some pretty dirty nicknames for the Brno astronomical clock too.
Recommended reading: Our in-depth Brno guide, 23 Exciting Things To Do In Brno, Czechia (And Beyond), and Brno Restaurants: Places To Eat In Brno, Czechia.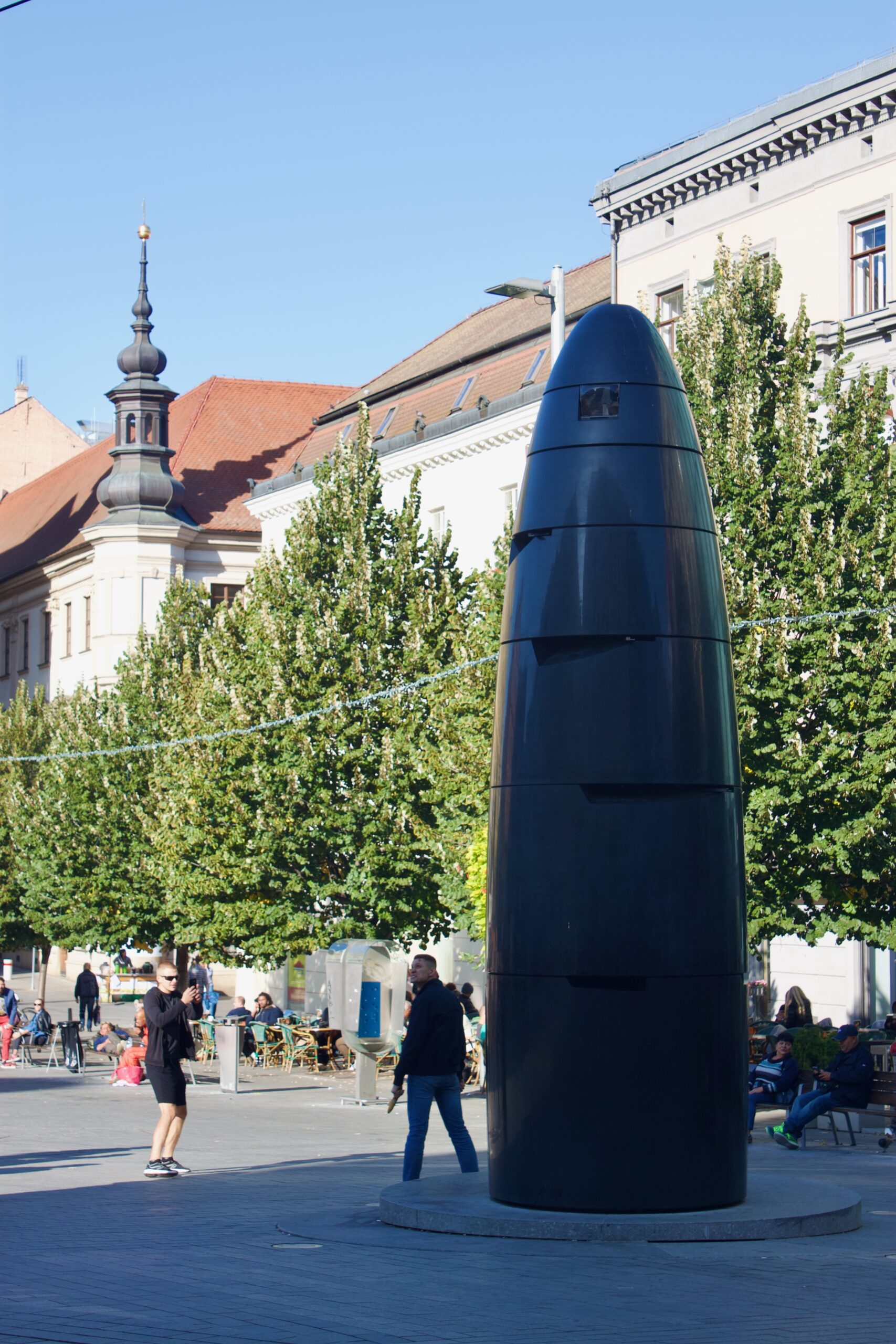 So what's the story behind this cock? I mean the clock … 🙃
It all goes back to 1645, just as the Thirty Years' War was winding down and the city of Brno was busy fending off the almighty and until that time, undefeated Swedish military. The resolute residents of Brno refused to surrender and were able to hold the Swedes at bay for almost three months.
Realizing they were nearing a stalemate, the Swedish commander communicated that his army would leave the city if they weren't able to gain complete control by noon the next day. Clever locals turned the city's clock to read noon one hour early, at 11:00. Accepting defeat, the Swedes retreated and fled the city, leaving Brno to celebrate their unlikely battle victory.
The Brno astronomical clock was built to commemorate the win. In addition to the daily clock ceremony, the bells at the nearby cathedral still ring one hour early each day as well.
What do you think about the Brno Astronomical Clock? Do you have other city tips? Tell us about it in the comments below.
Brno Astronomical Clock Location
Where can you find the clock? nám. Svobody, 602 00 Brno-střed.
Brno Astronomical Clock FAQ
Important things to know about the bullet-shaped clock. We address the most common questions:
1) When can you see the clock? You can come by anytime, as it's in a public space.
2) Can you take photos and videos of the Brno Astronomical Clock? Yes, please do. The more suggestive, the better.
3) How much time should you spend at the clock? No more than 5 – 10 minutes. If you want to get there for the marble drop at 11:00, get there early and beat the crowds.
4) Is the Astronomical Clock suitable for children? Staring at a black obelisk is not likely going to be interesting for kids. However, they'd surely enjoy watching for the marbles.
5) Do you need to pay to see the clock? Nope, it's free for viewing.
Transportation Options In Brno
All about how to get around Brno, my favorite city in Czechia:
1) To reach Brno's city center, you can drive, or take a taxi or bus from the airport and main bus/train stations:
2) Some of the different ways to get around the city:
Where To Stay In Brno
My recommendations about where to stay in Brno, Czechia:
1) Check out your options with booking.com.
Paying For Things in Czechia
What you need to know about how to handle your money in Czechia:
1) The country has its own currency, the koruna (CZK).
2) Czechia is very budget-friendly, from your accommodation to eating out, and more.
Good To Know About Brno
What do you need to know about Brno, Czechia? Some of our top tips:
1) To fully experience Brno and the country itself, book yourself on a guided tour.
2) Is Brno safe? I can only answer this from an anecdotal perspective – as a woman traveling solo, I felt safe in Brno and didn't encounter any difficulties. However, the experience for people of color could be entirely different. It's not the most ethnically diverse city and back in 2015, there was strong resistance to the mass refugee migration from many citizens. One person in Prague even approached me to sign a petition to not allow migrants into the country! Of course, I refused to sign such an offensive document. Read this interview, done in 2020 where people of color in Czechia discuss their experiences.
3) If you like exploring unusual things around the world, check out some of our most popular posts:
*Disclosure – This post contains some affiliate links. If you book a tour or hotel, I'll earn a tiny commission at no extra cost to you. Thanks for your support!