On a weekend trip in Budapest, I set out to explore some of the city's more weird and offbeat offerings. Among them was a statue of Ronald Reagan. The first thing I thought when I saw the statue was "Just how did a Ronald Reagan statue get here?" I did a slew of research and it turns out Hungarians are big fans of the former American president.
Other European countries are also fans of American presidents and that's why you'll even find a statue of Bill Clinton in Pristina.
A Ronald Reagan Statue In Budapest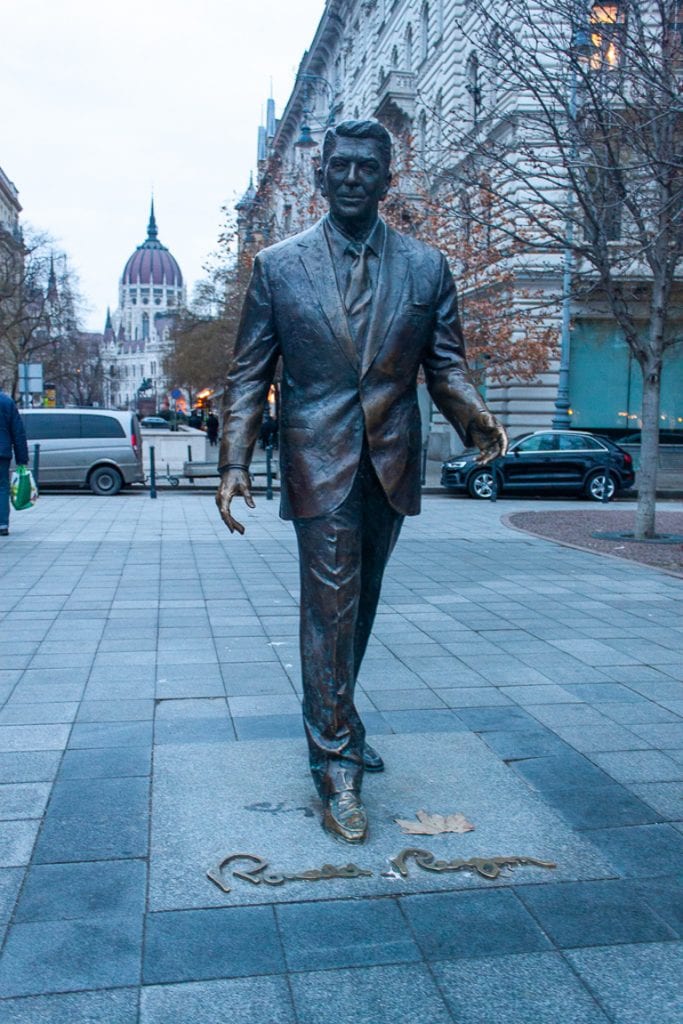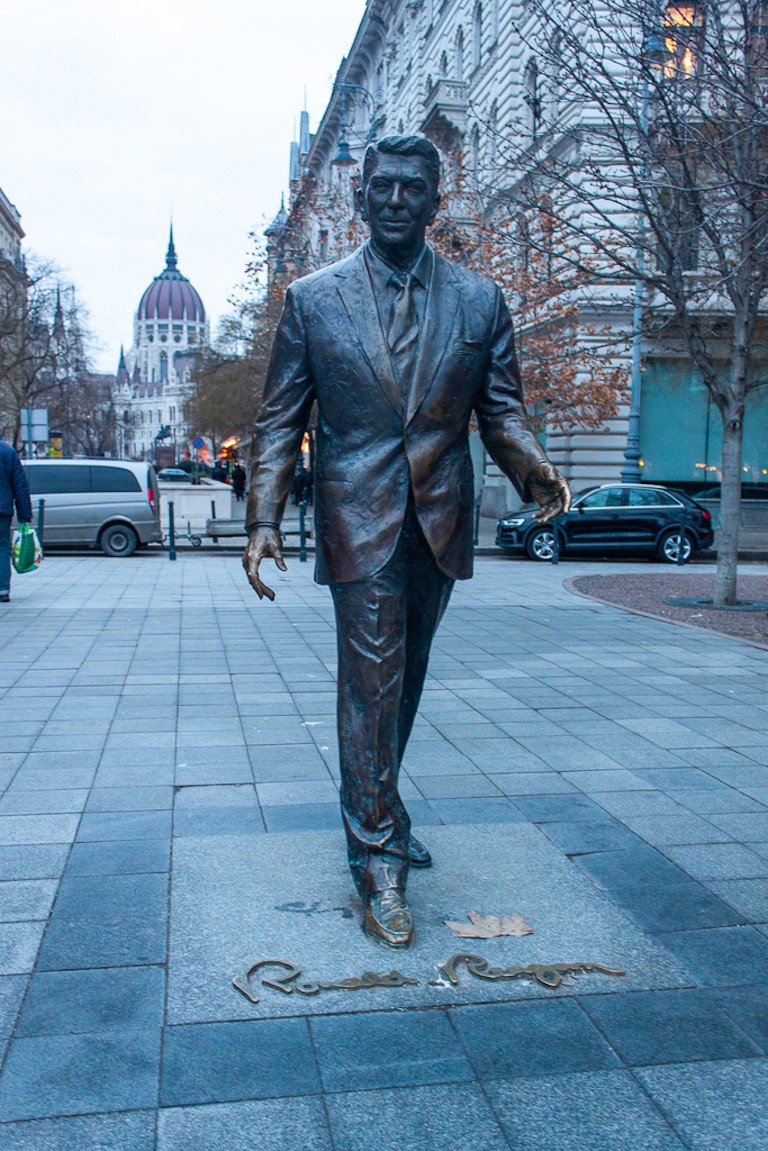 Located in Budapest's Liberty Square, there's a (literally) larger-than-life statue honoring America's 40th president, Ronald Reagan. Even though he never visited Budapest during his presidency, Hungarians appreciate his efforts to help end the Cold War and Russia's control over the country. Just a few months after President Reagan left office in January 1989, Communism began to rapidly collapse across Europe.
Recommended reading: In Honor Of His 100th, Ronald Reagan To Get Statues In Budapest, London, Statue in Budapest's Liberty Square credits Reagan for freedom, & Ronald Reagan Statue Unveiled in Budapest.
The statue was unveiled in June of 2011, when hundreds of people gathered to celebrate the momentous occasion including then U.S. Secretary of State, Condoleezza Rice, and Hungarian Prime Minister, Viktor Orbán. During the ceremony, Orbán said: "Today, we are erecting here a statue to the man, to the leader, who changed, who renewed, this world and created in it a new world for us in Central Europe – a man who believed in freedom, who believed in the moral strength of freed people and that walls that stand in the way of freedom can be brought down." Certainly, a rich remark coming from someone who built border fences around his country during the refugee crisis in 2015 and considers a Russian 🍆 -tator and notorious war criminal a close ally.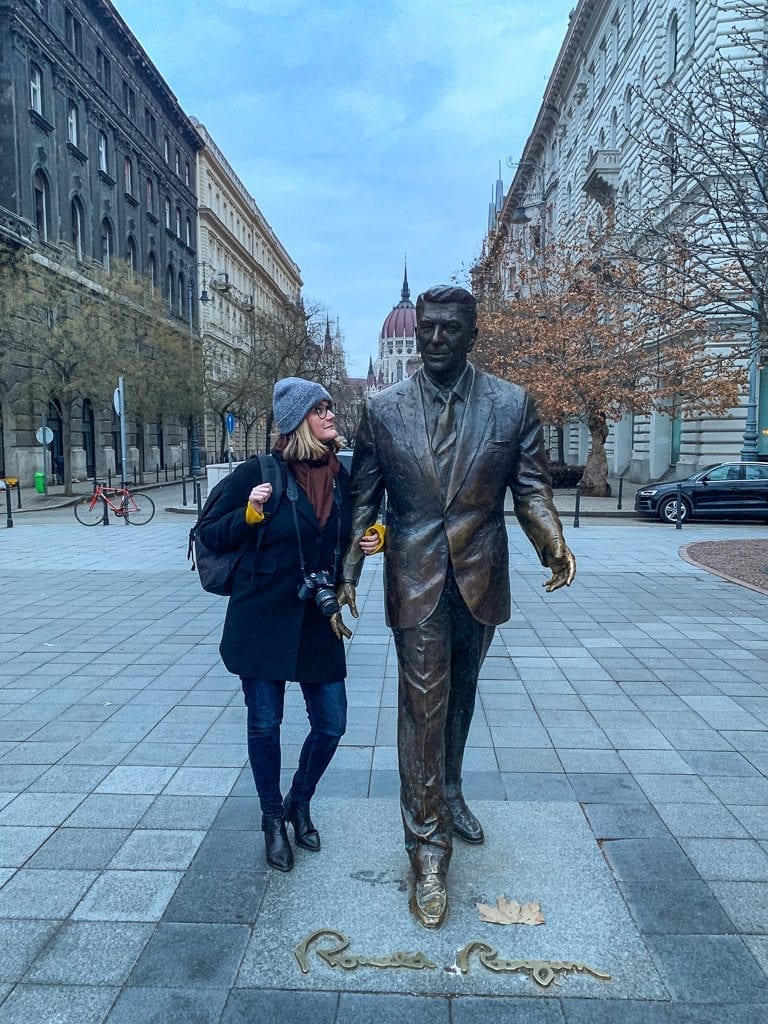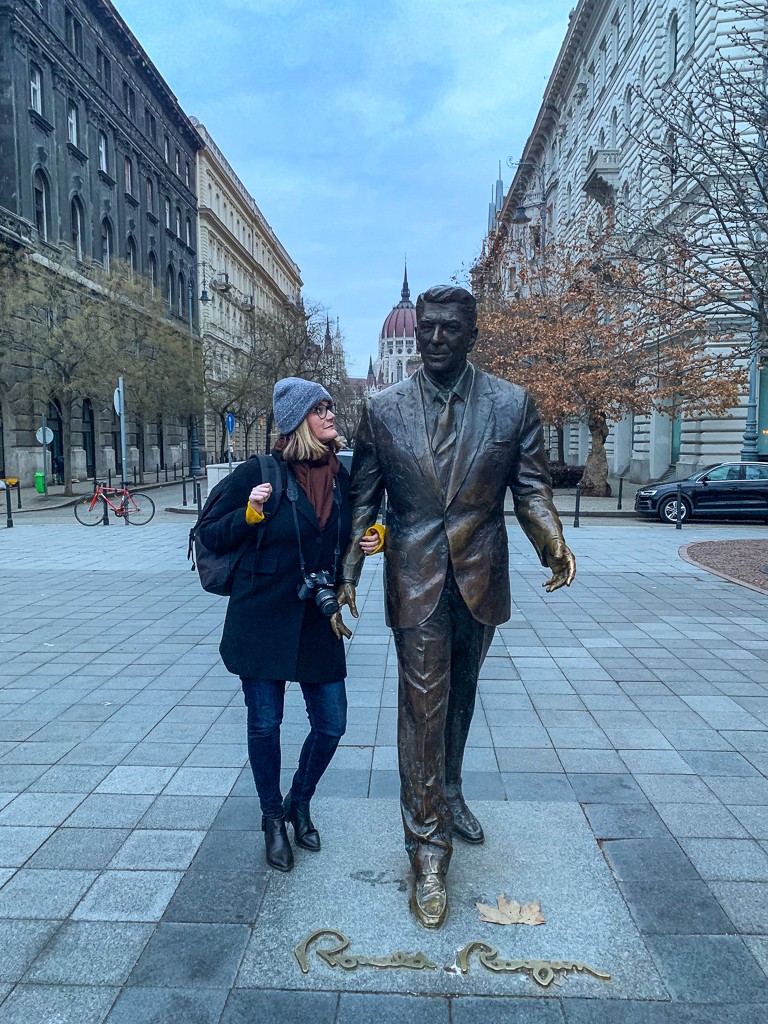 Recommended reading: The square where Regan currently stands is full of sordid, if interesting, history. Curious to know more? Than do yourself a favour and read, Ronald Reagan and Other Hungarian Heroes.
Hungarians are so taken by the President that this is actually the second statue of Reagan in Budapest – there's a bust of him in one of the city's parks. This newer bronze statue, designed by sculptor Istvan Mate, is 2 or so meters high, rests on a block of granite, and shows the man walking mid-stride. Reagan's likeness not only faces the American Embassy but even more boldly, a monument paying tribute to the Red Army's fallen comrades during WW2. The imposing Hungarian Parliament Building also looms large in the background behind the President.
Without any supporting statistical data, a Tripadvisor reviewer surmised that there are more than 1,000 photos taken with President Reagan each day. Not wanting to be one of those boring people who didn't pose with the statue, I also took an obligatory photo which I spread around on social media with the brilliant caption – "Improving US and Canadian relations".
If you're a fan of this Ronald Reagan statue and you want to find other tributes of him around the world, visit Prague to walk along the street named after him or visit London to check out yet another statue of him.
Watch/share this video about the Ronald Reagan statue in Budapest and better yet, subscribe to my Youtube channel for even more travel-related videos.
What other weird and offbeat attractions can you recommend in Budapest? Let us all know in the comments below.
Location
Ronald Reagan Statue
Budapest, Szabadság tér 16, 1054 Hungary
Good To Know
1) Seeing the statue is free, as it's open to the public 24/7.
2) Need somewhere to stay when you're in Budapest? Check out hotel offerings on booking.com.
3) Want to discover even more of Budapest? Book a city tour now.
4) If you like European travel, consider giving some of these posts a read for even more inspiration for future trips.
5) We also recommend, checking out these things to do in Budapest.
*Disclosure – This post contains some affiliate links. If you book a tour or hotel through any of these links, I'll earn a tiny commission at no extra cost to you. Thanks for your support!