Note: While the unjust war in Ukraine rages on, we're leaving this post here with the sincerest of hopes that peace arrives and this museum will live on and be enjoyed once more. In the meantime, find out about how you can help Ukrainians in Berlin.
Recently when writing about the statue of a peeing boy in Helsinki, I pondered whether or not Europe has a highly unusual curiosity towards public urination. Well, it turns out they have a fascination with toilets too, and at the Museum of Toilet History in Kyiv, you can learn all about toilets throughout the ages and even, see some reconstructed examples.
Toilets Throughout The Ages At The Museum Of Toilet History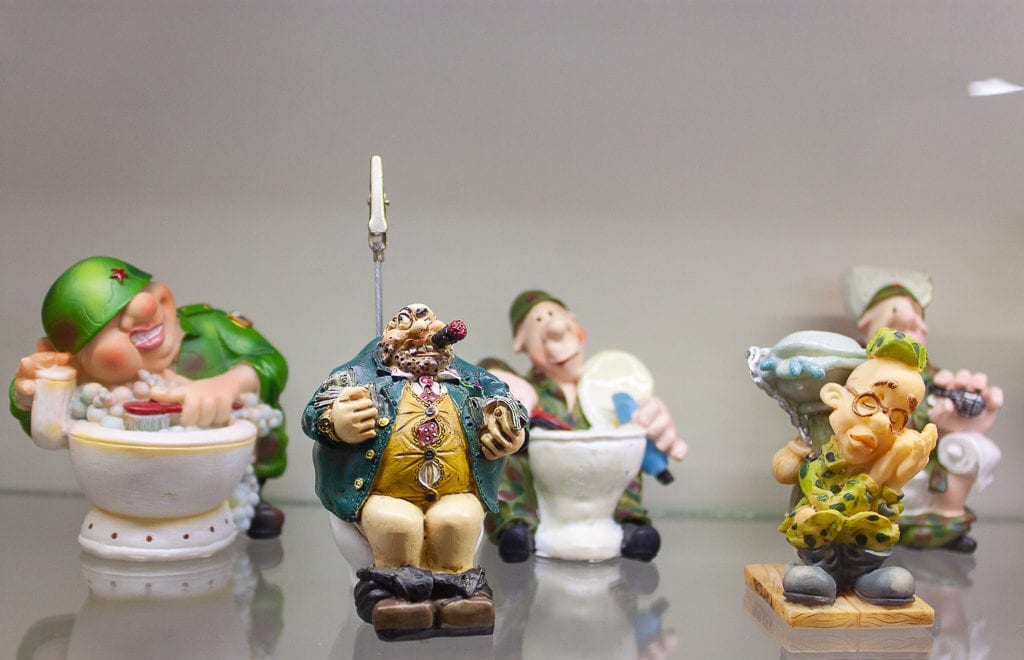 As the name implies, the Museum Of Toilet History examines the history of toilets from Primitive Society, Antiquity, the Middle Ages, the Renaissance, the 17th – 20th centuries, all the way to Modernity. Further featured in the museum are toilet-inspired pieces of art and the largest collection of toilet-themed souvenirs in the world (with more than 600 pieces!). The museum even nabbed recognition from the Guinness World Records for that unique claim to fame.
The Museum of Toilet History is set in the 19th-century Kyiv Fortress and was founded in 2006 by a Ukrainian couple, Nikolay and Marina Bogdanenko. The couple, who used to work in the plumbing industry, decided to start the museum and fill it with items they'd collected from their various trips around the world. In 2013, the duo even published a 521-page book called, World History of Toilets.
Who would visit such a museum, other than people like me who love all things weird and offbeat? Well, plenty of people visit this curious little location, as the museum attracts more than 1,000 visitors per month.
The Evolution Of Toilets At The Museum Of Toilet History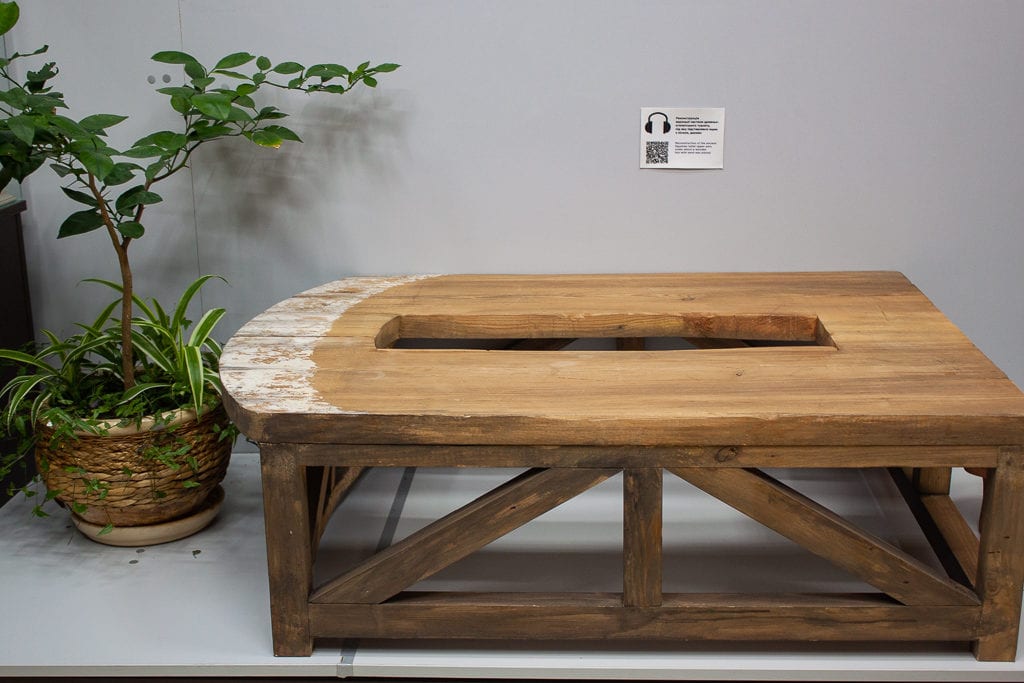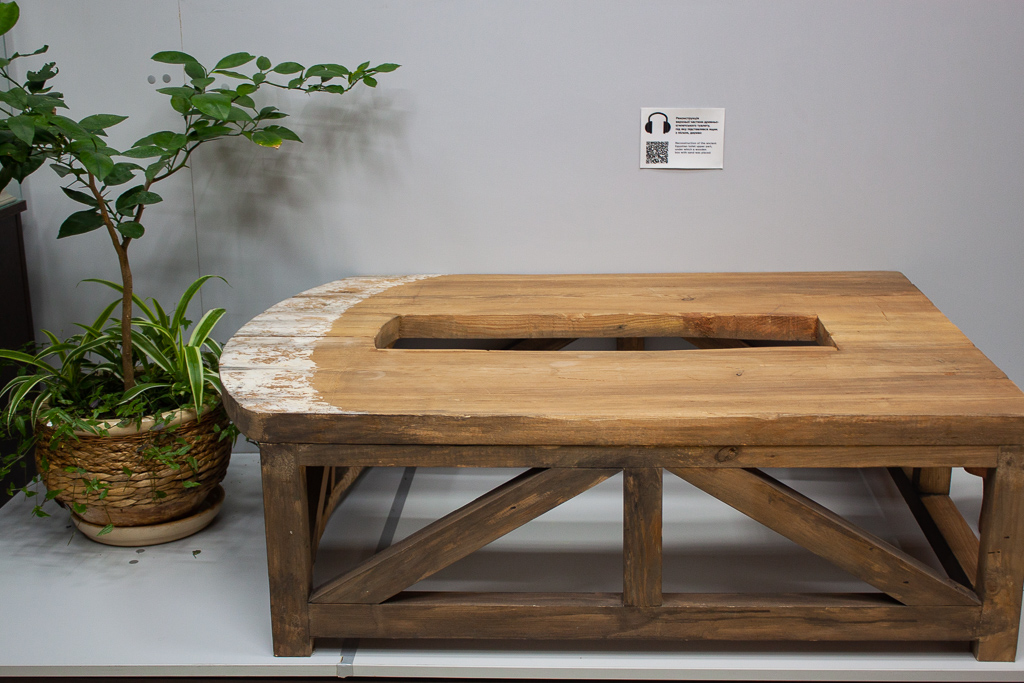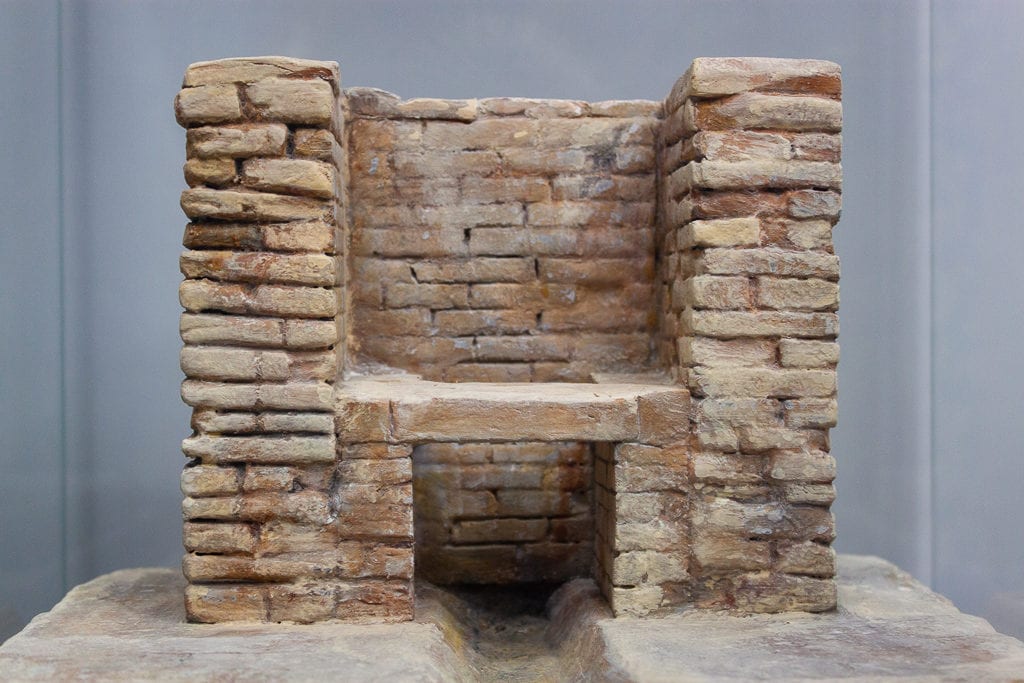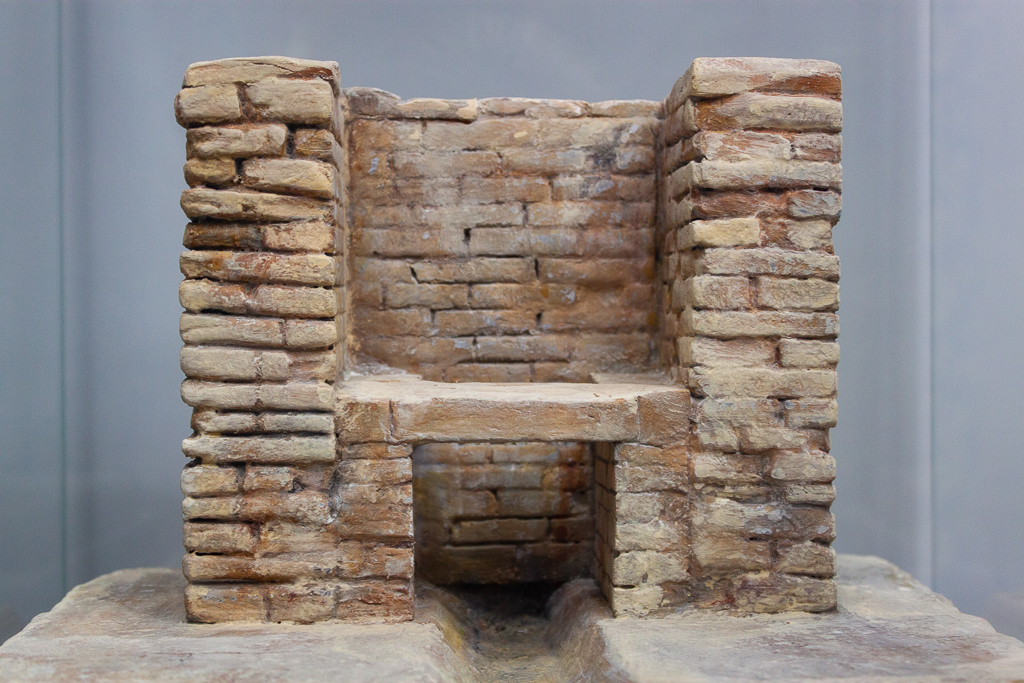 What can you expect as you take a tour through toilet history? You'll see what toilets looked like 5000 years ago, learn how public toilets became places to socialize and make deals, and view a toilet built on sketches from Leonardo da Vinci himself. It doesn't stop there – you'll also spot old porcelain chamber pots, read about the invention of toilet paper in China, be treated to some interesting works of art, and what's more, get a glimpse of more than 600 knick knacks all related to the great commode.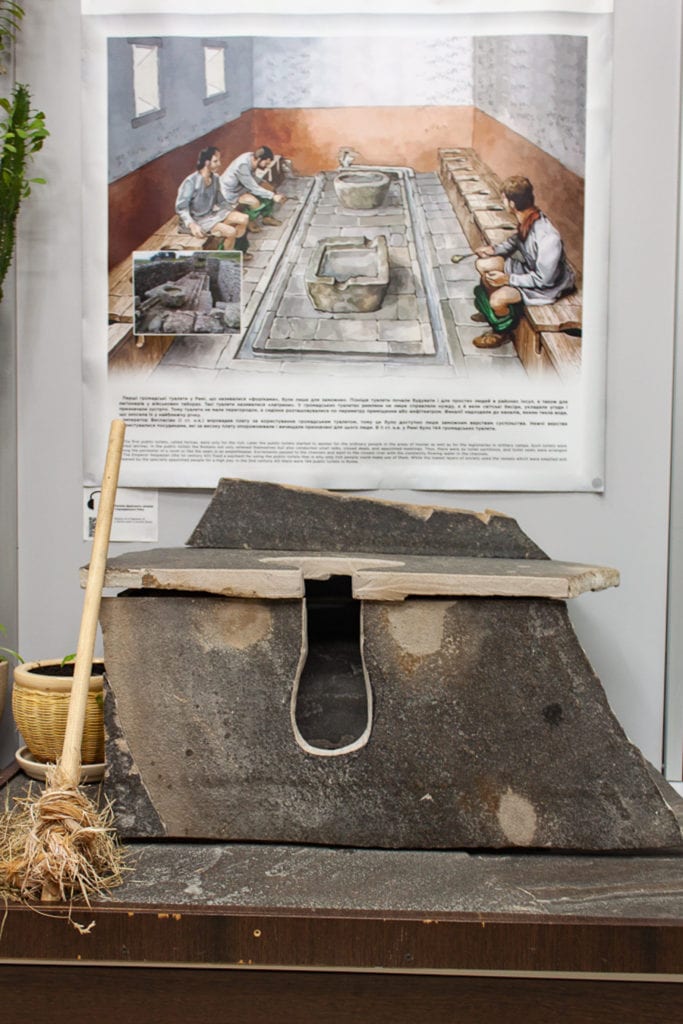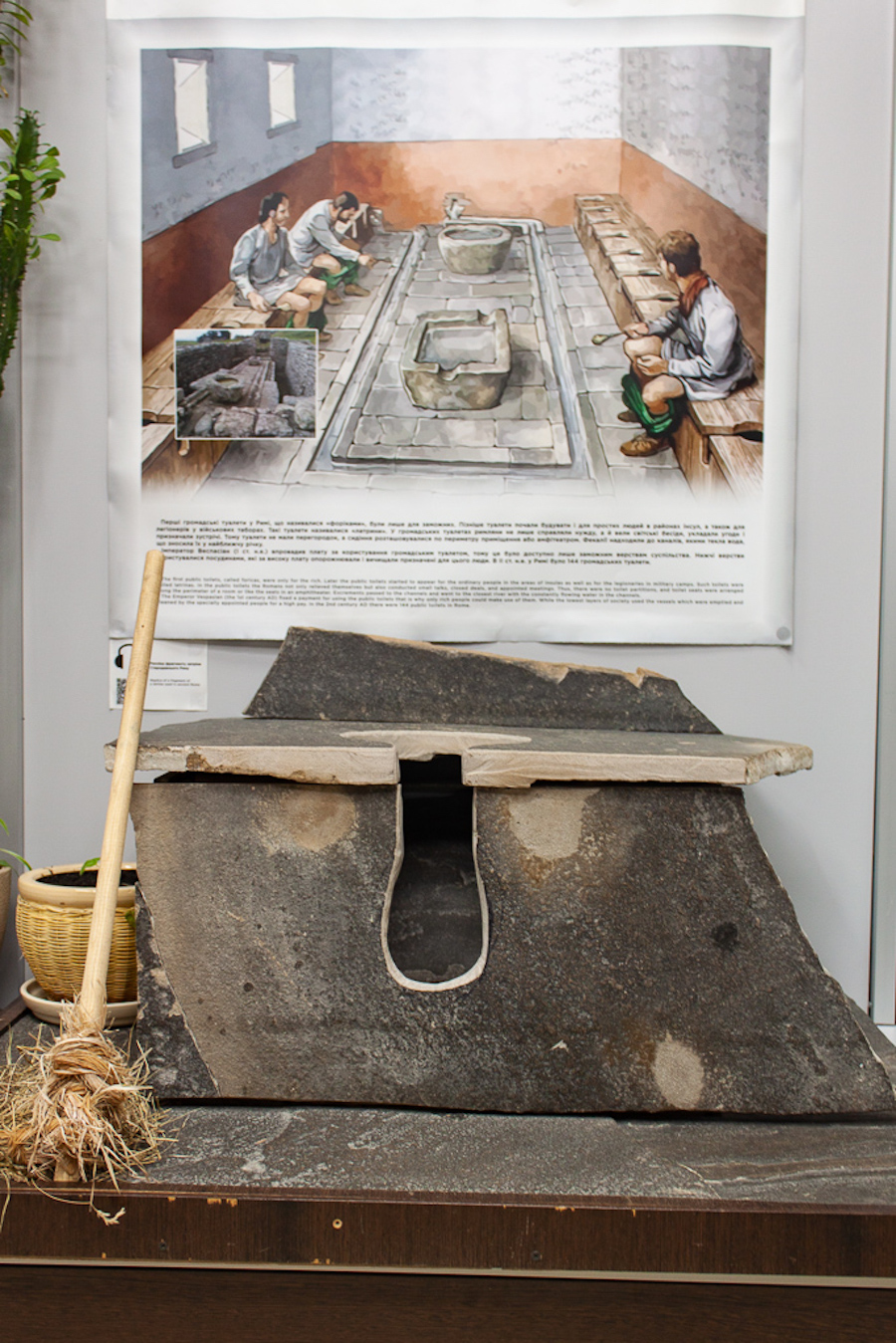 After you buy your ticket, a guide will take you through the exhibit, briefly telling you about each one and answering any questions you might have. It's hard not to giggle when you find out that a man who significantly contributed to the advancement of toilet technology had a name like Thomas Crapper. After the tour, you'll watch some short and humorous clips that instruct you on how to properly position yourself when you use the facilities, as well as a review of some funny toilets around the world.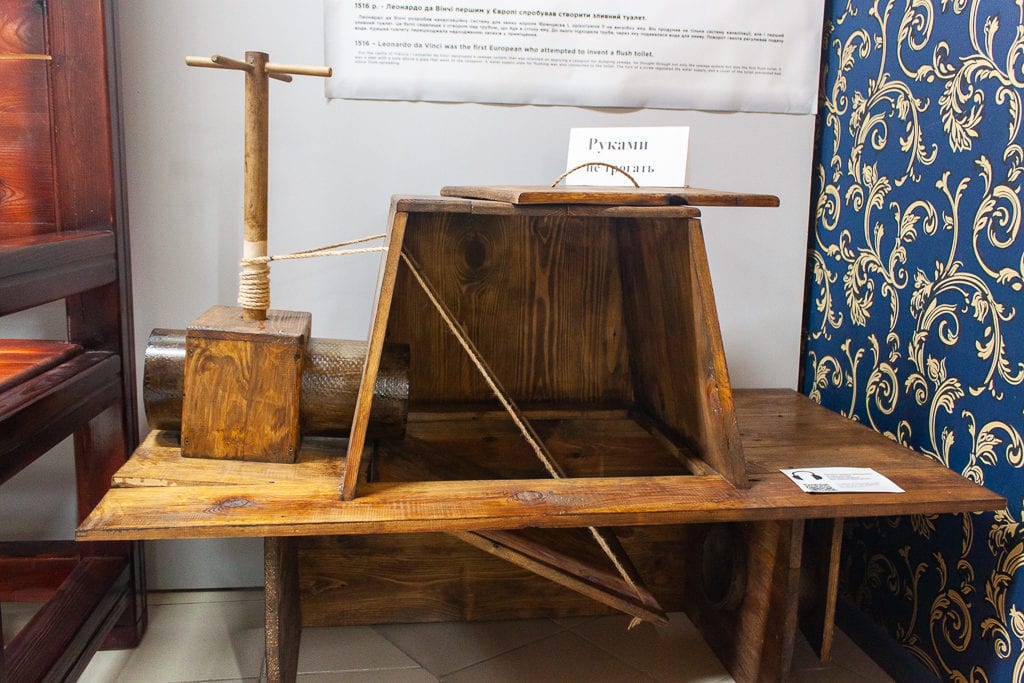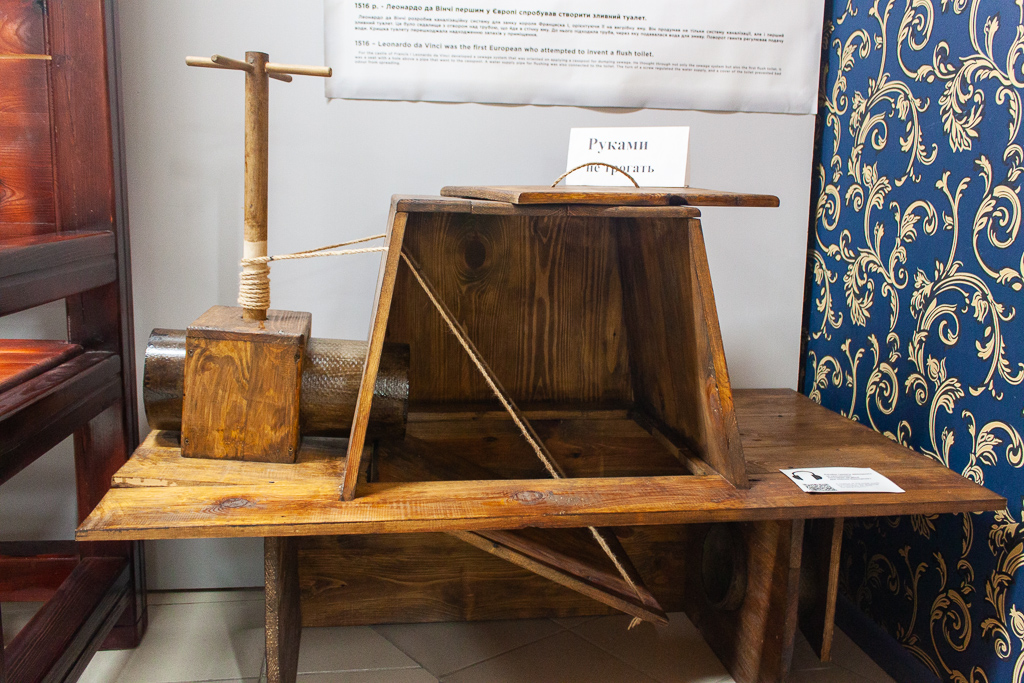 This is what Leonardo da Vinci's toilet looked like – it even had flushing capability! He built this contraption at the request of a European royal. Only the king who requested the toilet, went with this more regal option instead.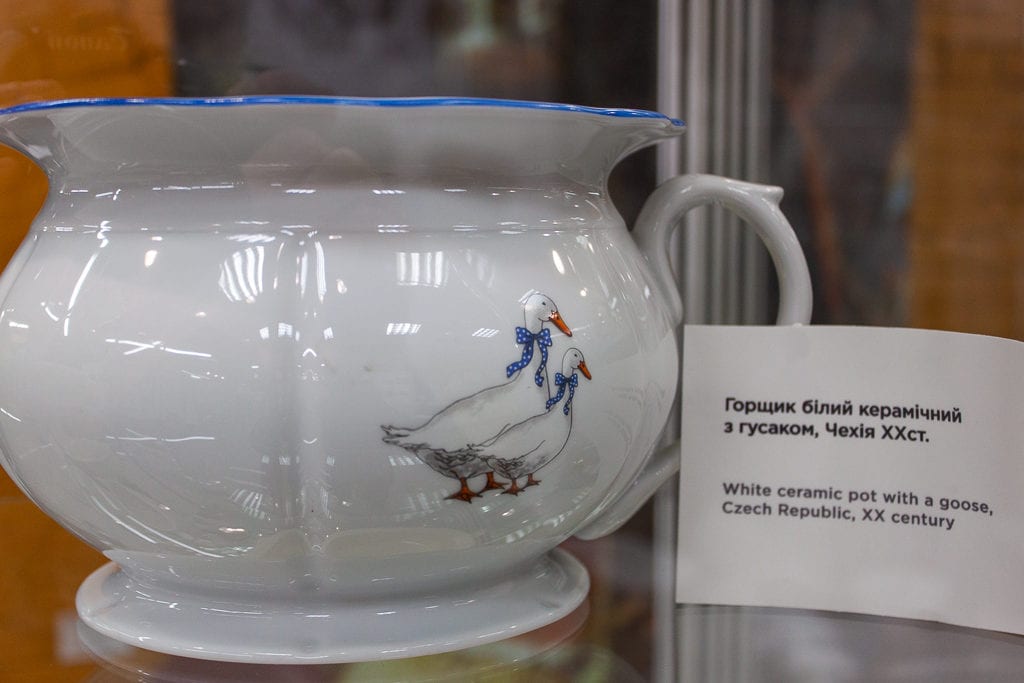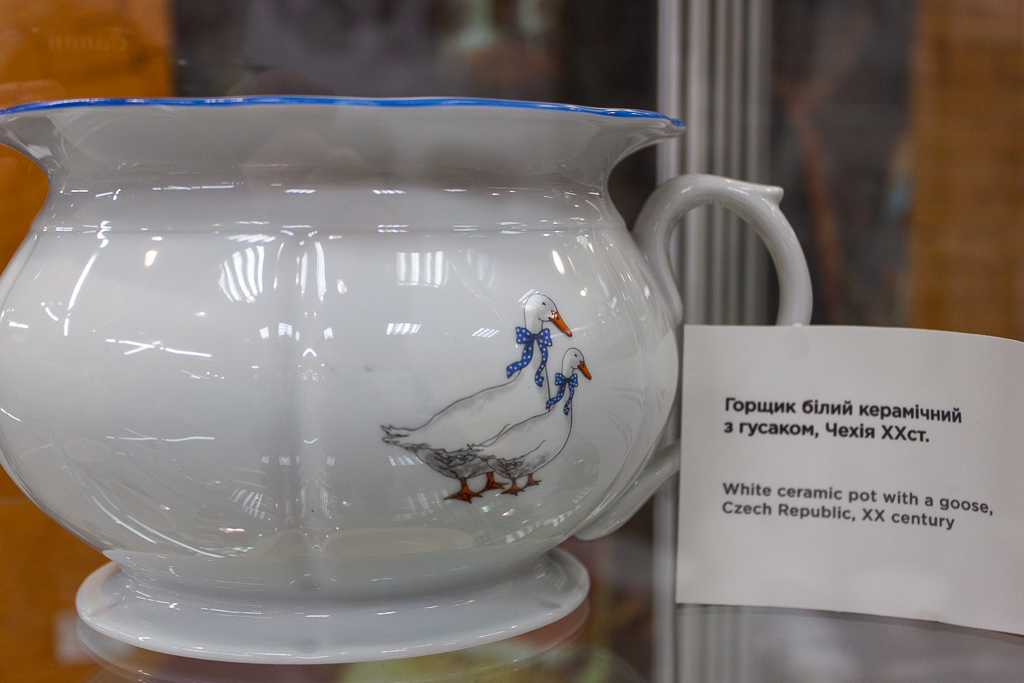 As you see, toilets progressed over time to what they are today.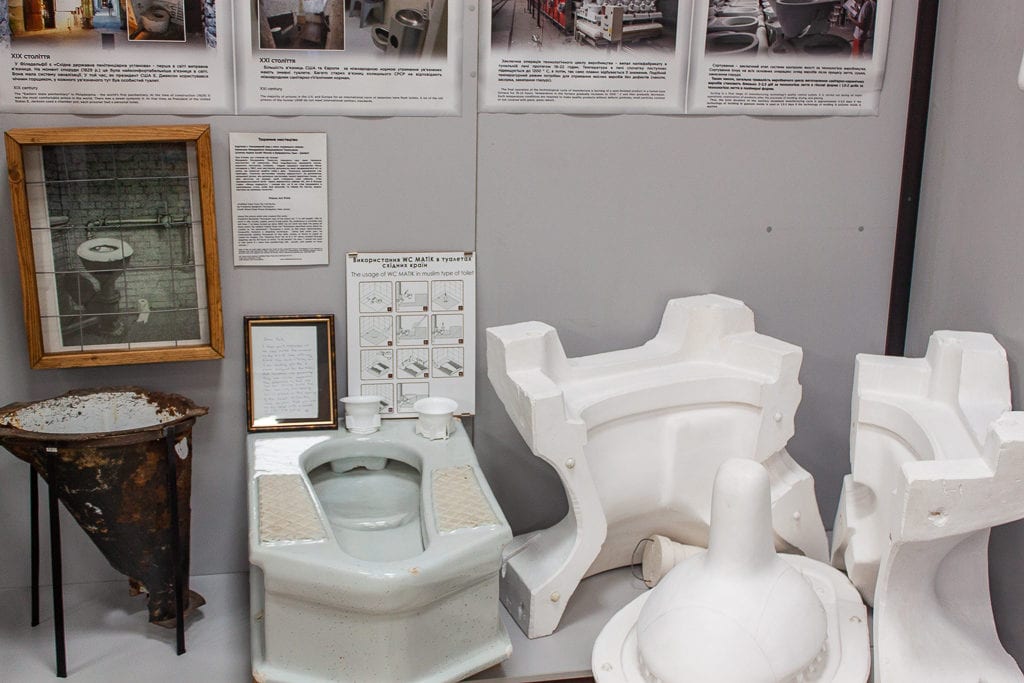 Toilets As Art At The Museum of Toilet History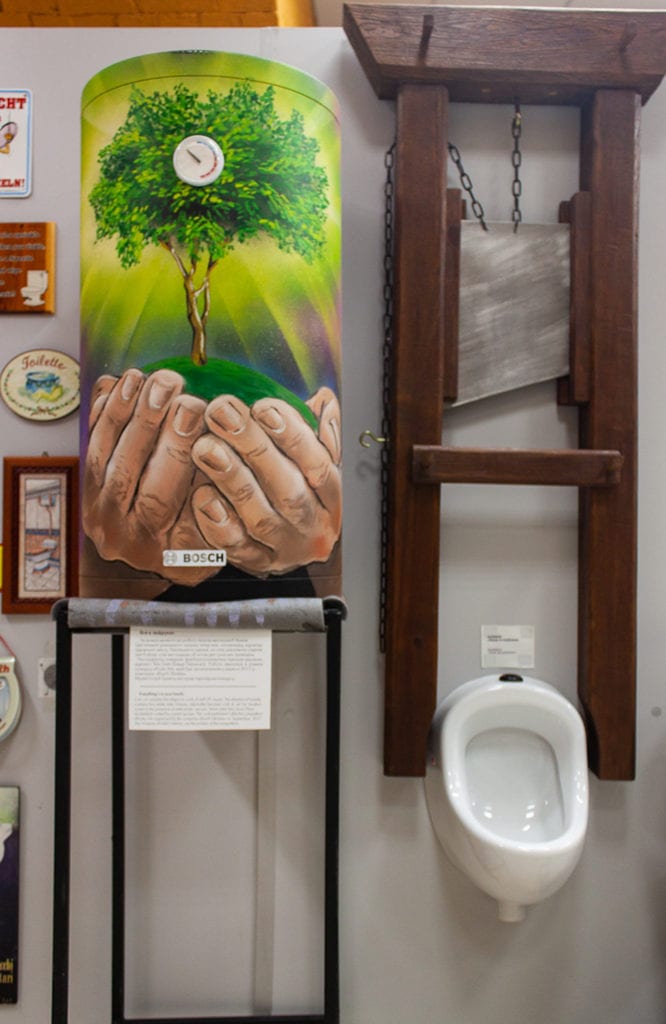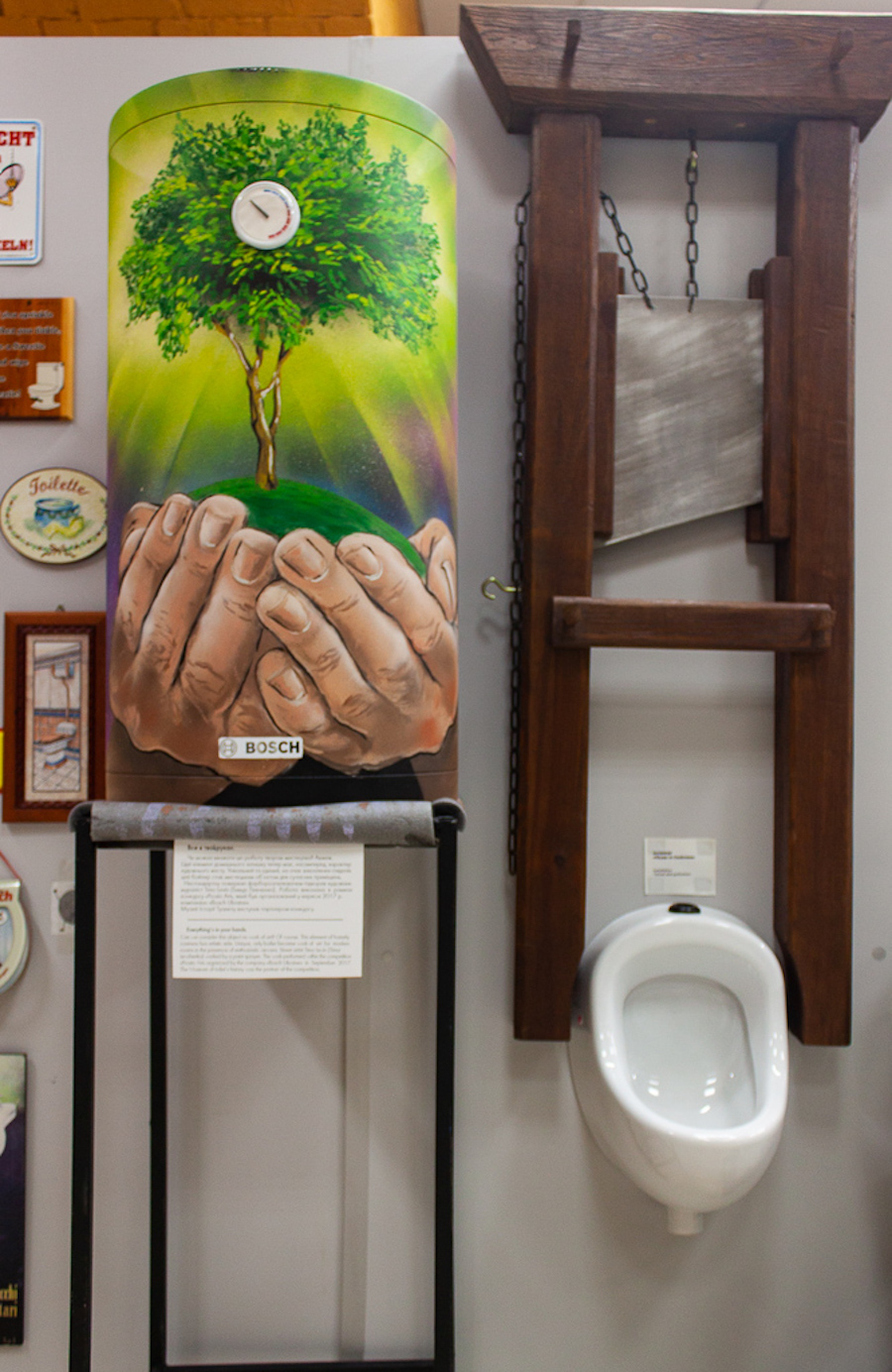 After you've completed the historical part of your tour, you'll come to the section featuring toilet themed artwork.
A Souvenir Collection At The Museum Of Toilet History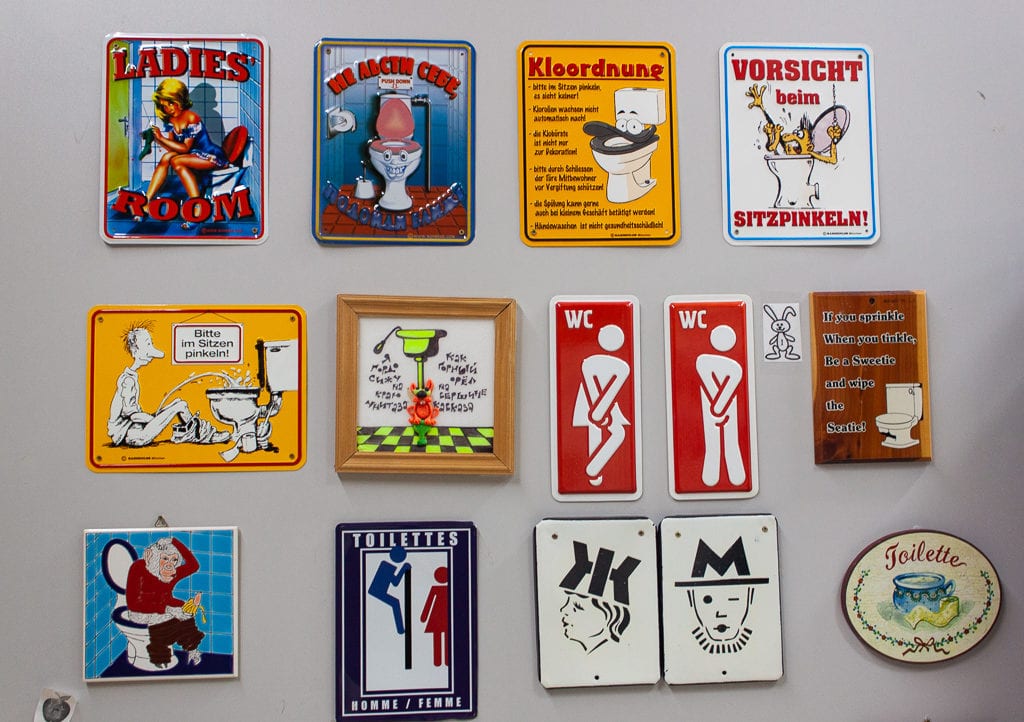 Last but not least, you'll have a chance to peruse the loads and loads of toilet-themed souvenirs like magnets, ashtrays, soap dispensers, and more.
A Virtual Tour Of The Museum
Watch and share this video for a recap of the Museum Of Toilet History in Kyiv and then subscribe to my Youtube channel for even more travel-related videos. I'd also suggest checking out this video.
Would you visit the Museum Of Toilet History? Are there any other weird and offbeat things you recommend seeing in Kyiv? Let us know in the comments.
Location
Museum of Toilet History
Рибальська вул., 22, Kyiv, Ukraine, 01011
+380 44 499 3161
http://museumtoilet.com.ua/en/
Good To Know
1) The museum is open daily from 10:00 – 18:00. A visit shouldn't take you more than 60 – 90 minutes.
2) A regular ticket will fetch you 50 грн (UAH), less than €2. The price includes access to the museum, a guided tour, and some short video clips about toilets. You'll need to pay in cash, as they don't accept electronic forms of payment. You can also take pictures in the museum and there is no extra fee to take photos.
3) Tours are given in different languages, including English. All major pieces throughout the museum have an accompanying English description as well.
4) The museum is close to the Klovskaya metro station.
5) You can find The Museum of Toilet History on Facebook, Twitter, and YouTube.
6) If you need somewhere to stay in Kyiv, take a look at your options on booking.com.
7) If you like unusual places, read these other blog posts:
*Disclosure – This post contains some affiliate links. If you book a tour or hotel, I'll earn a tiny commission at no extra cost to you. Thanks for your support!