Even though I'd lived in Germany for about five years, I'd never spent any time in Frankfurt. It's respected as the financial capital of the country, but it's known for being expensive and even worse, boring. Unlike Berlin, you won't find dive bars with furniture hanging from the ceiling, decent restaurants that won't cost you an arm and leg, and countless events that make planning your weekend an actual challenge.
I usually like finding reasons to visit a destination that others will tell you to skip, like the Montenegrin capital Podgorica, but after living in Berlin for so long, I've become a snob when it comes to other German cities. Could anywhere else really come close to Berlin? After hearing that Frankfurt was both expensive and boring, it was never really at the top of my list.
How did I end up there? The sole purpose of that trip was not to experience the city but just to see my favorite band Bon Iver in concert. They'd just released their third album and I was intent on seeing them live. When their Berlin concert quickly sold out, I decided to see them in Frankfurt instead and make a little getaway of the whole thing.
Sadly, Bon Iver canceled their Euro tour, leaving me to ponder whether or not I should still go to Frankfurt. I'd already booked the time off work, a hotel, and even a train ticket. Ultimately, I decided to come and see what the city has to offer. After all, getting out of Berlin would be refreshing and also give me a chance to see more of Germany.
An Afternoon Walk Through the City With These Frankfurt Photos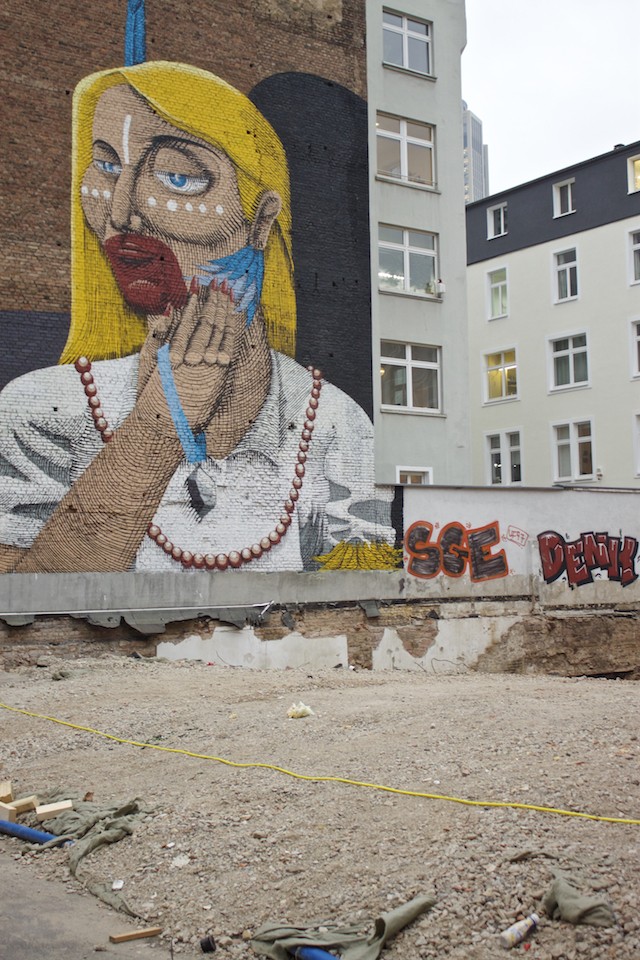 After arriving in Frankfurt, I quickly checked into the 25hours Hotel The Trip (located within an easy five-minute walk of Frankfurt's central station) and set off to explore the city by foot.
I'll be honest. My first impressions of Frankfurt weren't the best. Although the hotel's close to the main train station, it's also where the city's Red Light District is located. Signs for sex shops, strip joints offering "American table dances", and hotels that rented rooms by the hour dotted the streets close by.
I felt ill at ease as I walked the area, but the coolness of the hotel, the street art, and this New York Times article gave me pause to reconsider. This article, 10 ways Frankfurt is no longer Germany's capital of dull, further convinced me.
A Walk Along the Main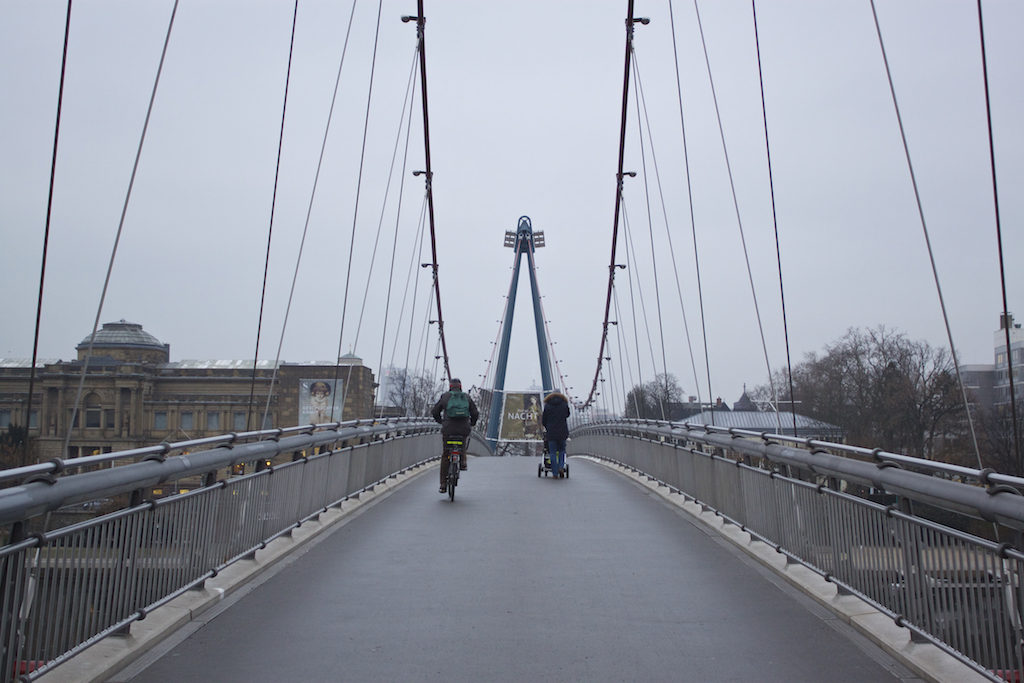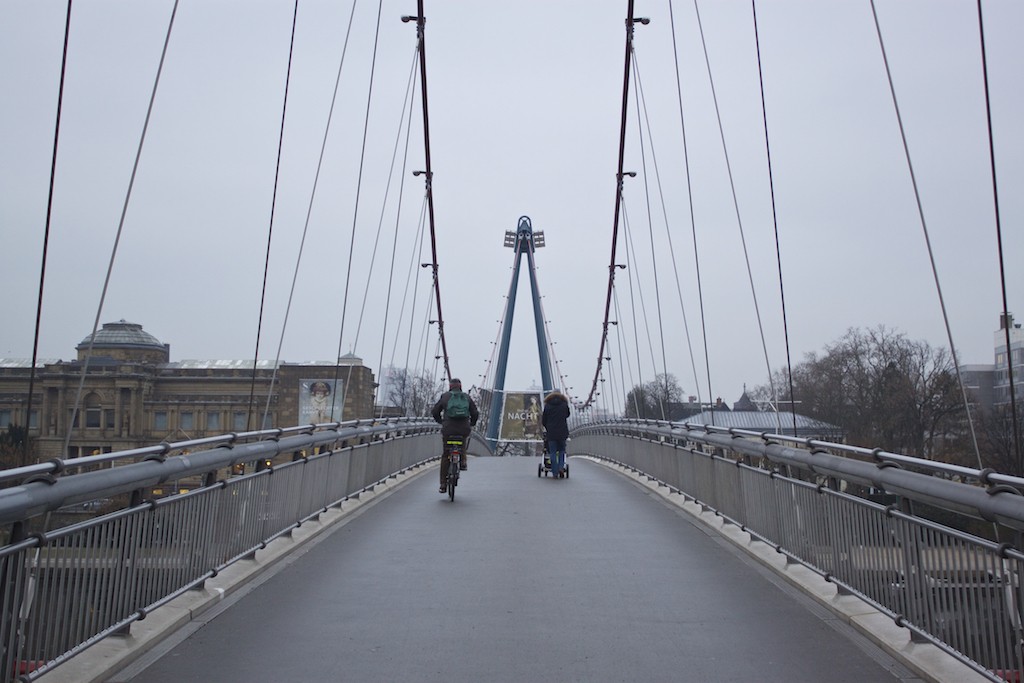 About 10-15 minutes later, I found myself walking along the Main, and in the perfect place to start snapping tons of Frankfurt photos.
I started off at the Holbeinsteg, one of the main pedestrian bridges that spans the river. The suspension bridge which opened in 1990, offers great views of the southern museum embankment and northern city skyline.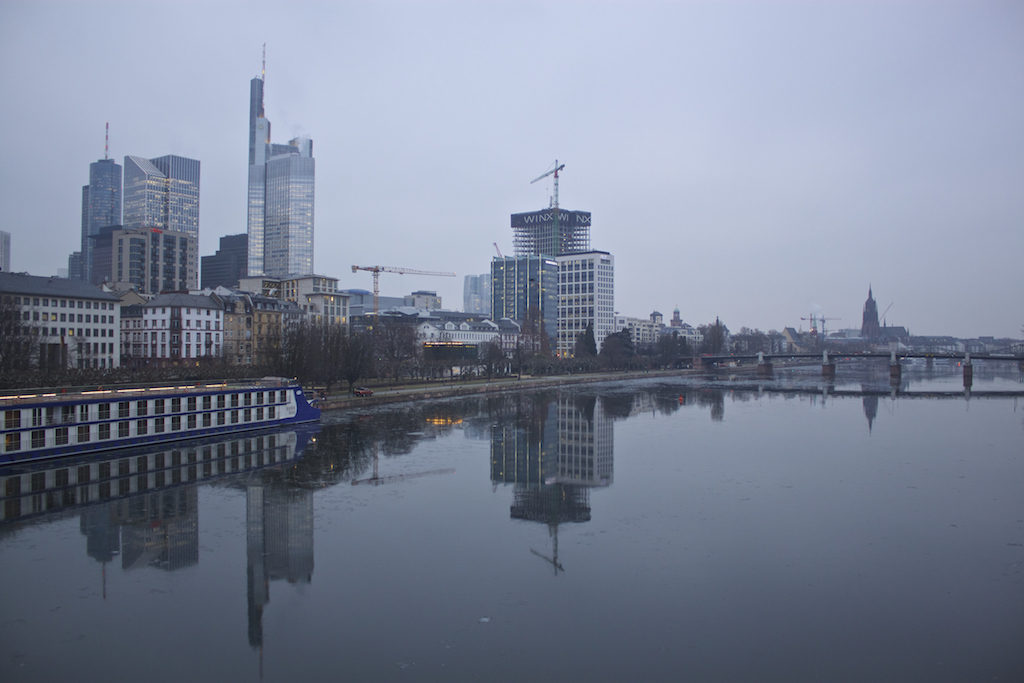 Frankfurt's impressive skyline.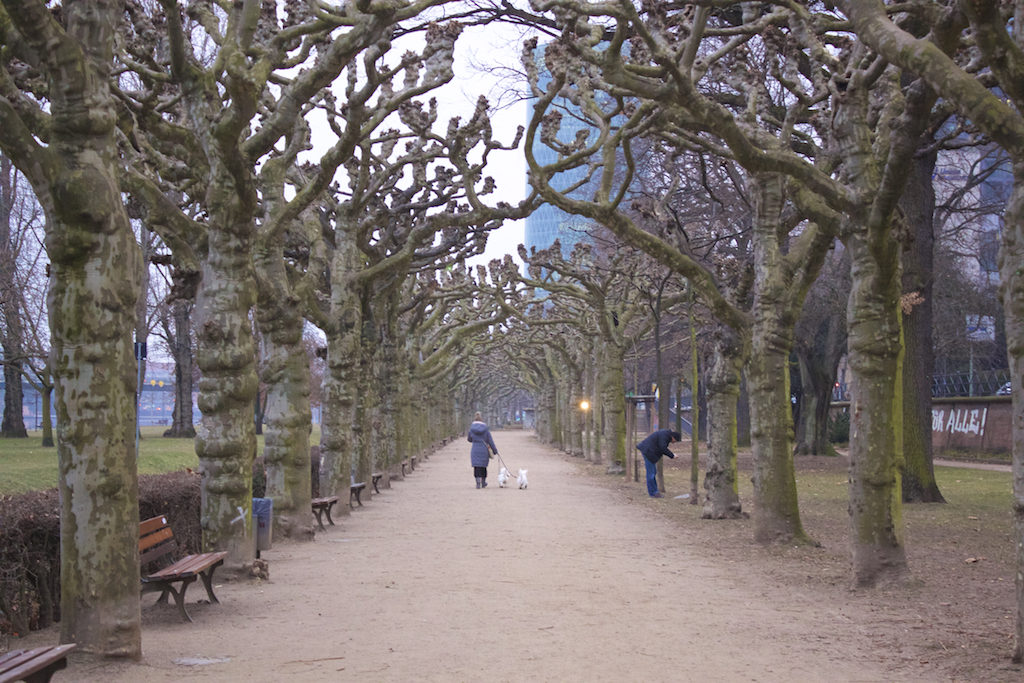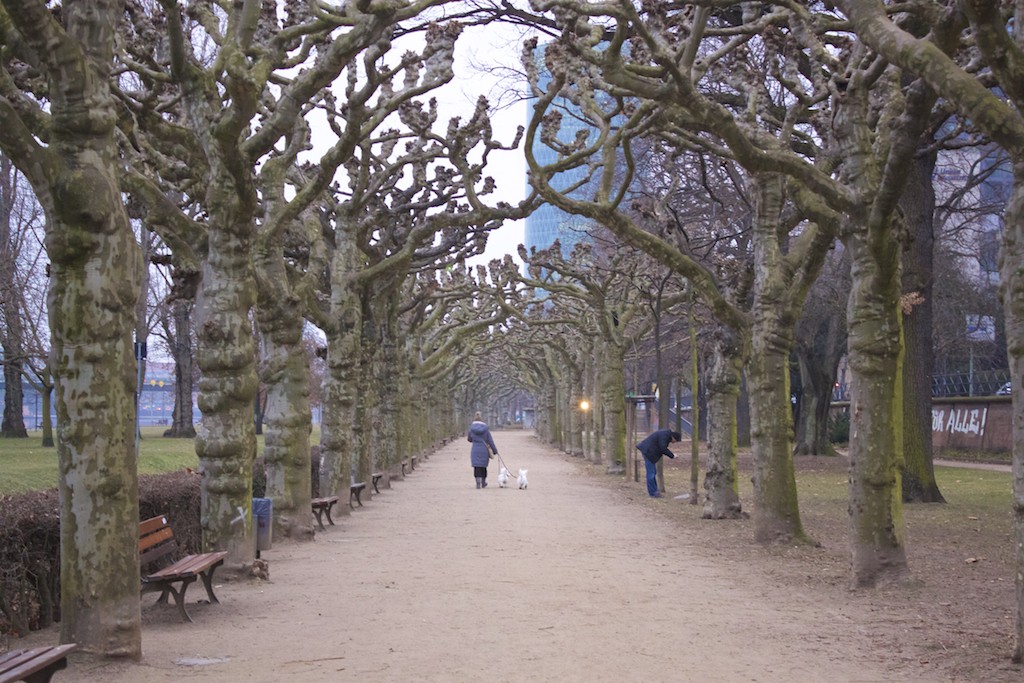 I continued my walk along the museum embankment (Museumsufer) on the south side of the Main. Museums favorited by locals and visitors include the Städel with its large collection of fine art, the German Film Museum, as well as the German Architecture Museum.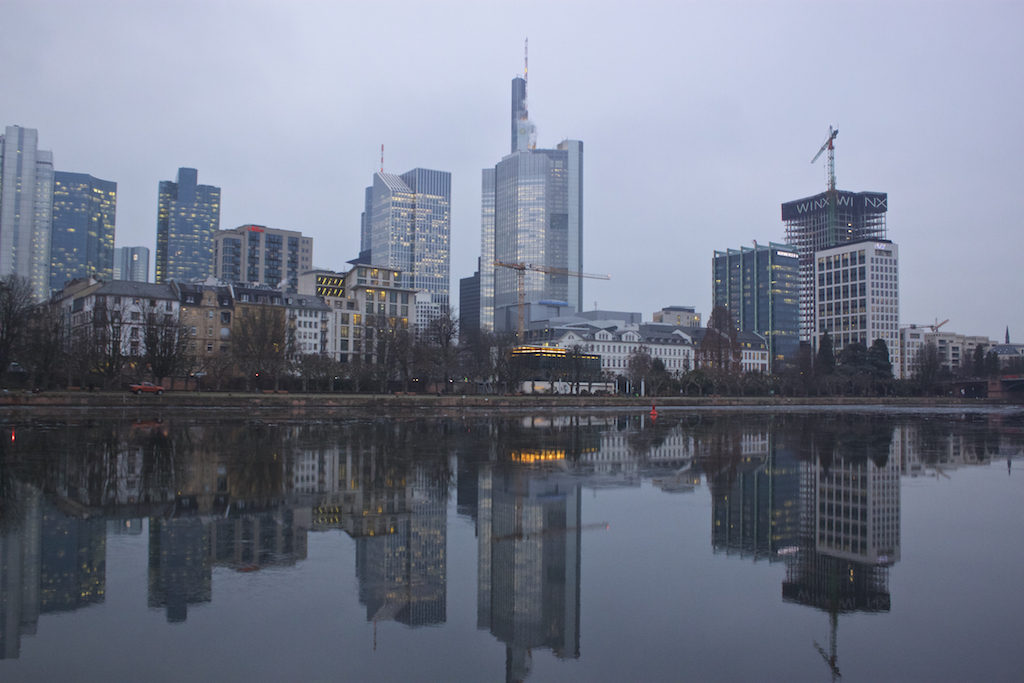 The Frankfurt skyline transforms from modern to old as you walk further East.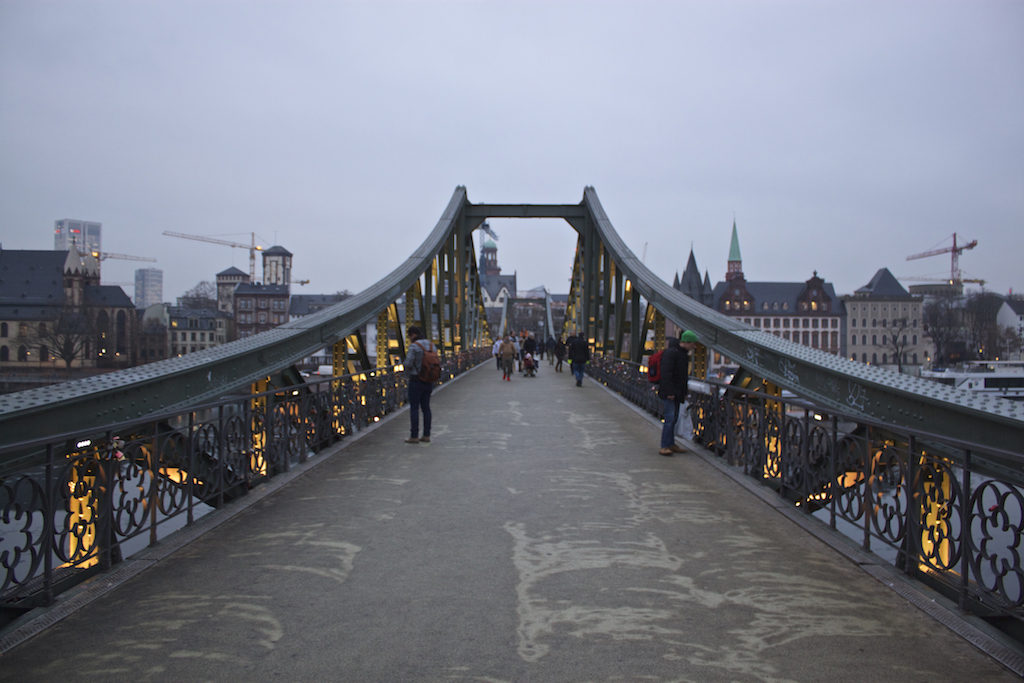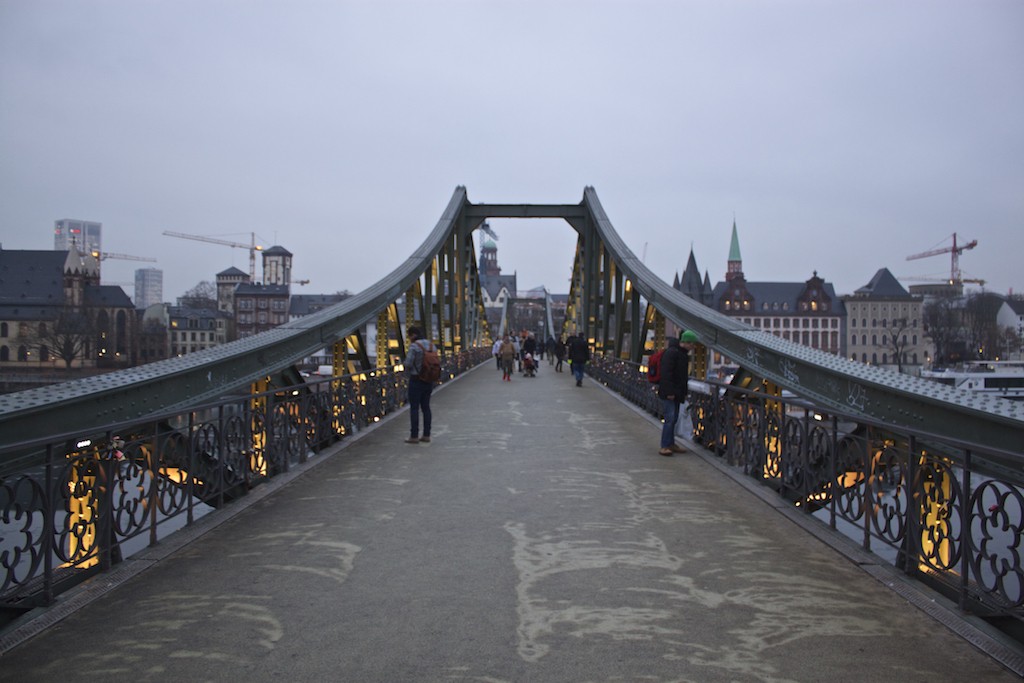 The Eiserner Steg is a 170-meter-long iron pedestrian bridge built in 1868. Destroyed during World War II, reconstruction began in 1946. Now a tourist hotspot, the bridge is covered in love locks and tourist "zombies" wielding selfie sticks.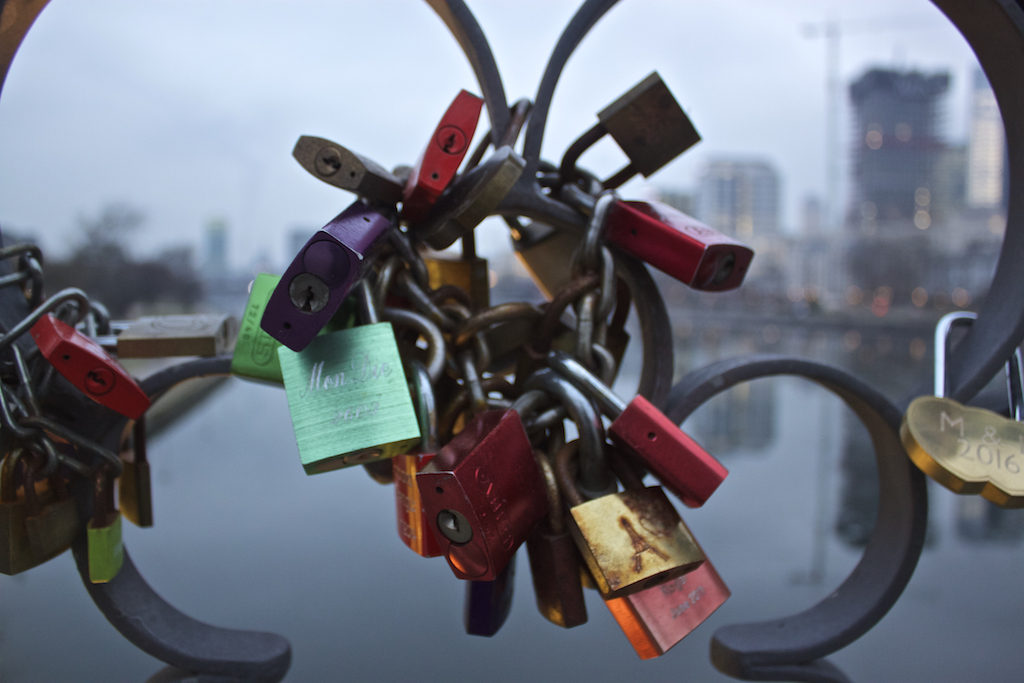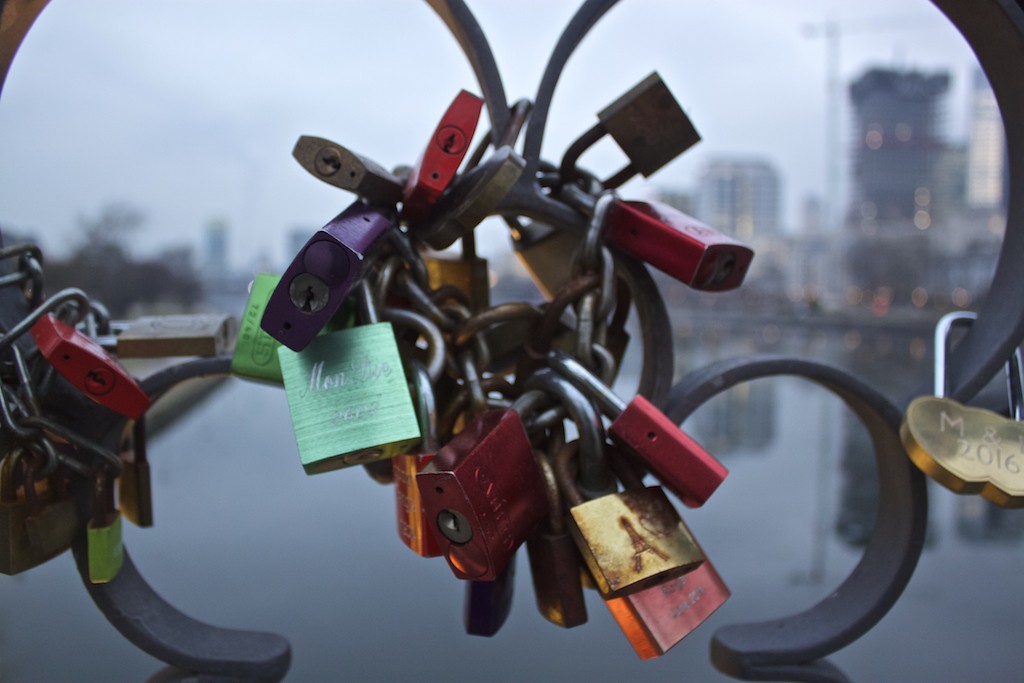 Aside from being another key vantage point for Frankfurt photos, the rails of the bridge are covered with swathes of the ever-controversial love locks, just like this bridge in Prague and this tree in Budapest.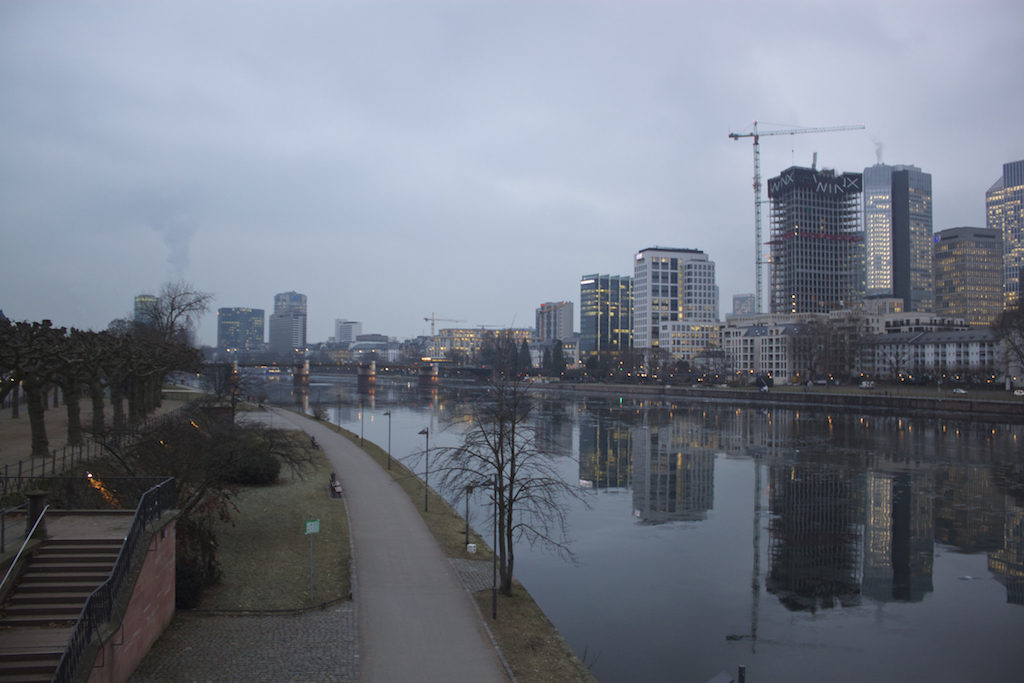 Another look back at the Frankfurt city skyline. Those reflections!
A Walk in Frankfurt's Old Town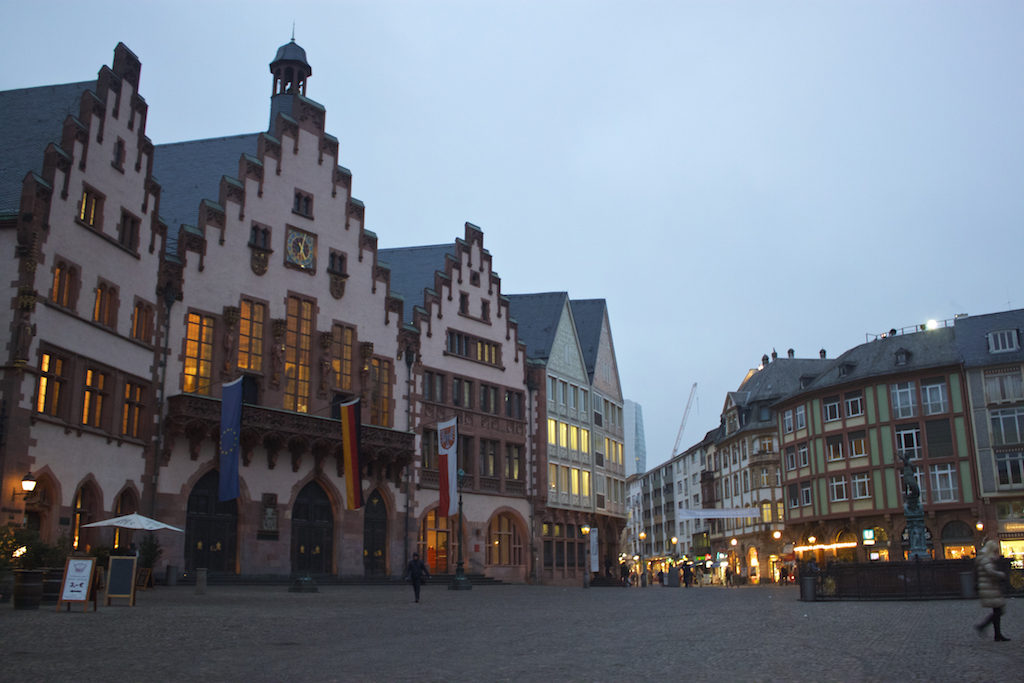 Wandering into Frankfurt's Old Town or Altstadt, I found myself asking if I was in Frankfurt anymore. With the half-timbered buildings and cozy taverns serving up the city's apple-flavored wine, you could just as easily be one of those cute fairytale towns like Quedlinburg or Görlitz.
I spent most of my time in Römerberg Square, the biggest touristic highlight in Frankfurt. The square dating back to the 15th century is flanked by the old city hall buildings, St. Nicholas Church, reconstructed half-timbered homes, and the Frankfurt History Museum.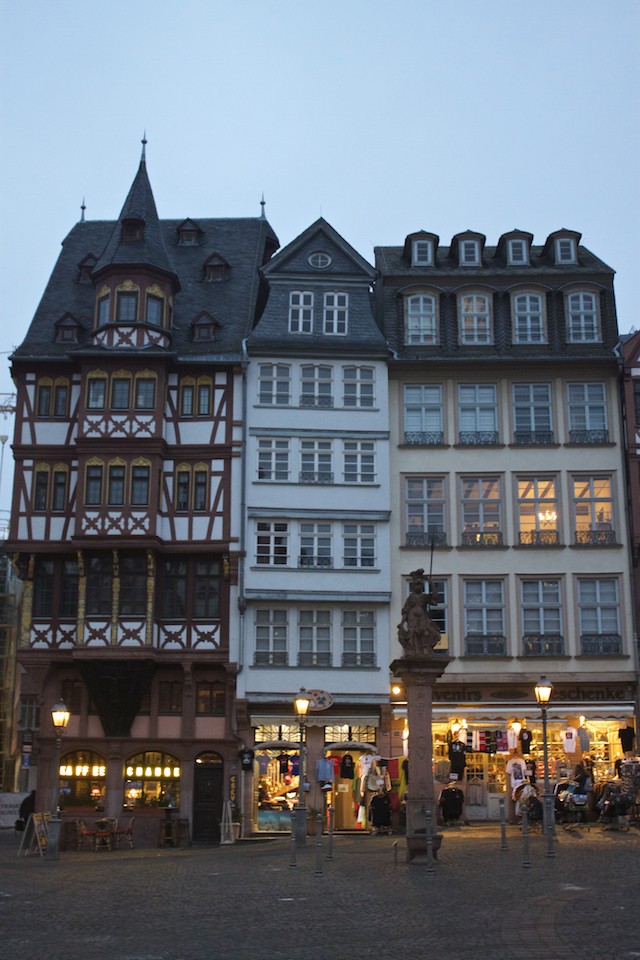 As it was a freezing cold winter day with temperatures well below zero, I hurried into one of the small local pubs, the Alten Limpurg for some of that famous Apple wine. A couple of drinks later and a hilarious chat with some fellow travelers (I seem to make friends wherever I go), I rushed back to my hotel to have dinner at the popular Chez Ima.
What do you think about these Frankfurt photos? Do you have any other tips about what to do or where to eat in Frankfurt? Drop us a note in the comments below.
Good to Know
1) For cozy pub vibes, stop by the Alten Limpurg for a drink or two. Expect conversation with friendly locals!
2) Hummus fan? Then eat at Chez Ima and try one of their many hummus offerings. Highly recommended is the warm octopus salad.
3) If you're looking for a place to stay in Frankfurt, consider 25hours Hotel The Trip with rooms starting as low as €75 per night. Otherwise, consider something else by checking the options on booking.com.
4) Keep yourself busy in Frankfurt and go on a guided tour.
5) Can't get enough of Germany? Then read some of our reader's favorite posts.
6) For more things to do in Frankfurt, read this National Geographic city guide. For more German travel inspiration, consider this 10 days in Germany itinerary.
*Disclosure – This post contains some affiliate links. If you book a tour or hotel through any of these links, I'll earn a tiny commission at no extra cost to you. Thanks for your support!