The Kosovo War is one of Europe's most recent wars, starting on February 28, 1998, and lasting until June 11, 1999. As such, when visiting Pristina, you'll find several memorials that pay tribute to different individuals and groups impacted by the war.
One of the more popular ones is the NEWBORN Monument, which not only celebrates Kosovo being a new country after formally declaring independence on February 17, 2008, but also stands for "Never Ending Wars Bring Oppression, Rape, and Neglect".
Just across the street from the monument is another powerful and moving memorial, the Heroinat Memorial (Heroinat is the Albanian female plural of heroes).
Recommended reading: I write a lot about unusual places and things around the world and recommend checking out my other blog posts like The Phallic-Looking Brno Astronomical Clock, Pay Tribute To Lithuanian Authors Along Literature Street In Vilnius, and Why Is There A Ronald Reagan Statue In Budapest?
The Heroinat Memorial In Pristina, Kosovo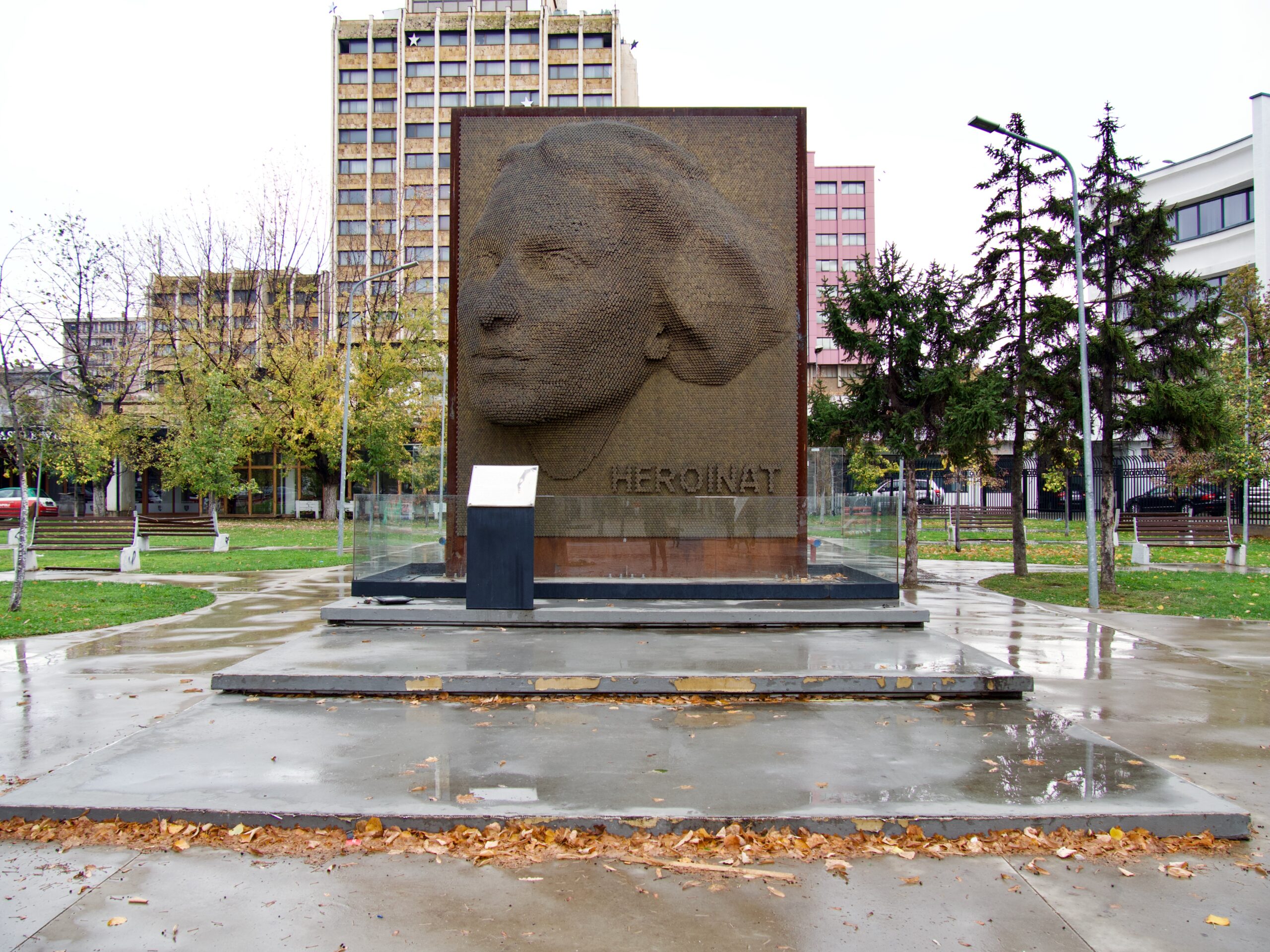 Unveiled to the public on Kosovo's Liberation Day in 2015, the Heroinat Memorial depicts the face of a Kosovar woman. Over 20,000 medals were used to form the face, with each one representing a woman who was raped during the war. Many of these women were soldiers for the Kosovo Liberation Army (KLA), part of a nonviolent resistance movement, or other ordinary women.
The memorial is 5.5 meters high, 4.5 meters wide, and 2 meters deep, with each medal measuring 3.5 centimeters wide. All of the medals are on rods that jut out at different heights, adding dimension to the larger woman's face. The face at Heroinat Memorial was formed by combining numerous portraits of women's faces from war archives, isolating their most common features, and remixing them to form a face that collectively represents the war's female victims. This allows visitors to view the memorial from two different perspectives – from a distance, you see the larger face, and up close, you see the medals representing the individual women who were raped by Serbian and Yugoslav forces.
The idea for the memorial came from Alma Luma, a member of the Democratic League of Kosovo (LDK) political party. Luna initiated the project and received funding for it back in 2013, saying "Everywhere in Kosovo, memorials or statues are dedicated to male war heroes – I didn't see women's contributions mentioned anywhere."
The commission of the memorial was later awarded to artist Ilir Blakçori, who offered this insight into her design concept:
"I have faced two key interrelated challenges in the process of developing the project. The first one is a conceptual challenge. How does one represent the sacrifice and contribution of all women during the war in one single project? Second, the plight of women during the Kosovo is one of the least researched aspects of the war. Upon researching the topic and reading many reports, I decided to highlight the 20,000 raped Kosovar women mentioned in the Human Rights Watch report, a topic and number that is rarely, if ever discussed in the Kosovo society. Focusing on this unrecognized aspect of the Kosovo war, I deeply believe, that it also highlights the sacrifice of all women during the war."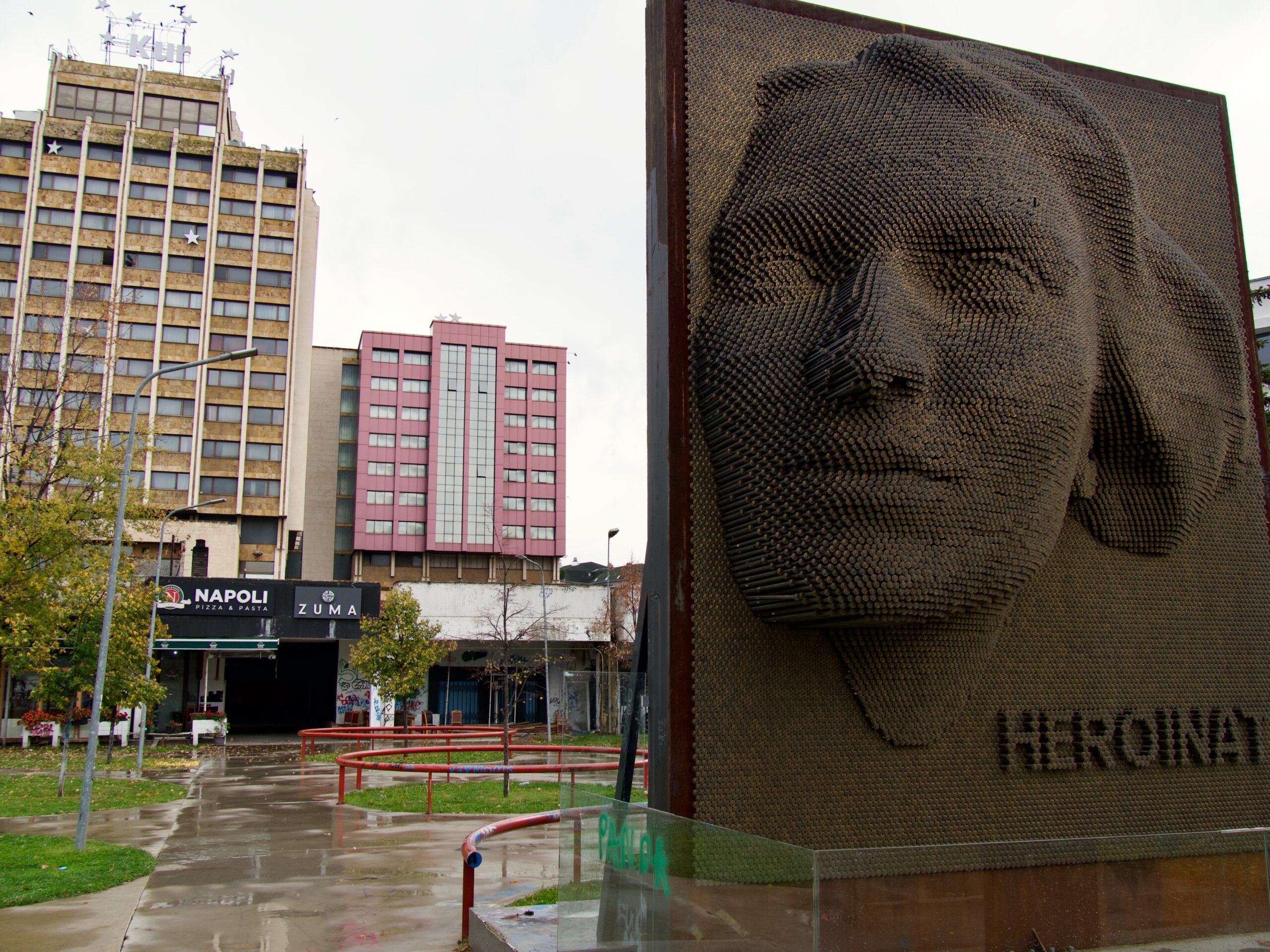 Regan E. Ralph, the former director of the Women's Rights Division of Human Rights Watch once commented, "Rape was used as an instrument of war in Kosovo …". Not only this, it was part of a greater effort of ethnic cleansing and genocide.
This particular military tactic was highly encouraged by Serbia's dictator Slobodan Milošević. Once a woman's rape came to light, her family would be dishonored, causing her to be ousted and excluded from society. In addition to traumatizing the women and breaking apart families, the women also tended to assume 100% guilt for the rape. After the war, many women said they preferred death over living as a known sexual assault victim.
What's of even greater concern is that soldiers who committed these war crimes were never brought to justice. While many cases were brought to court at The Hague, only two men saw convictions. A meagre two convictions for more than 20,000 rapes!
Fast forward to 2014 and more than 15 years later when a law was finally passed that would see victims receiving financial compensation, including health, housing, and employment benefits. Unfortunately, the passing of the law has met little success, as the government has struggled with how to verify the sexual assaults and many women have also been reluctant to come forward.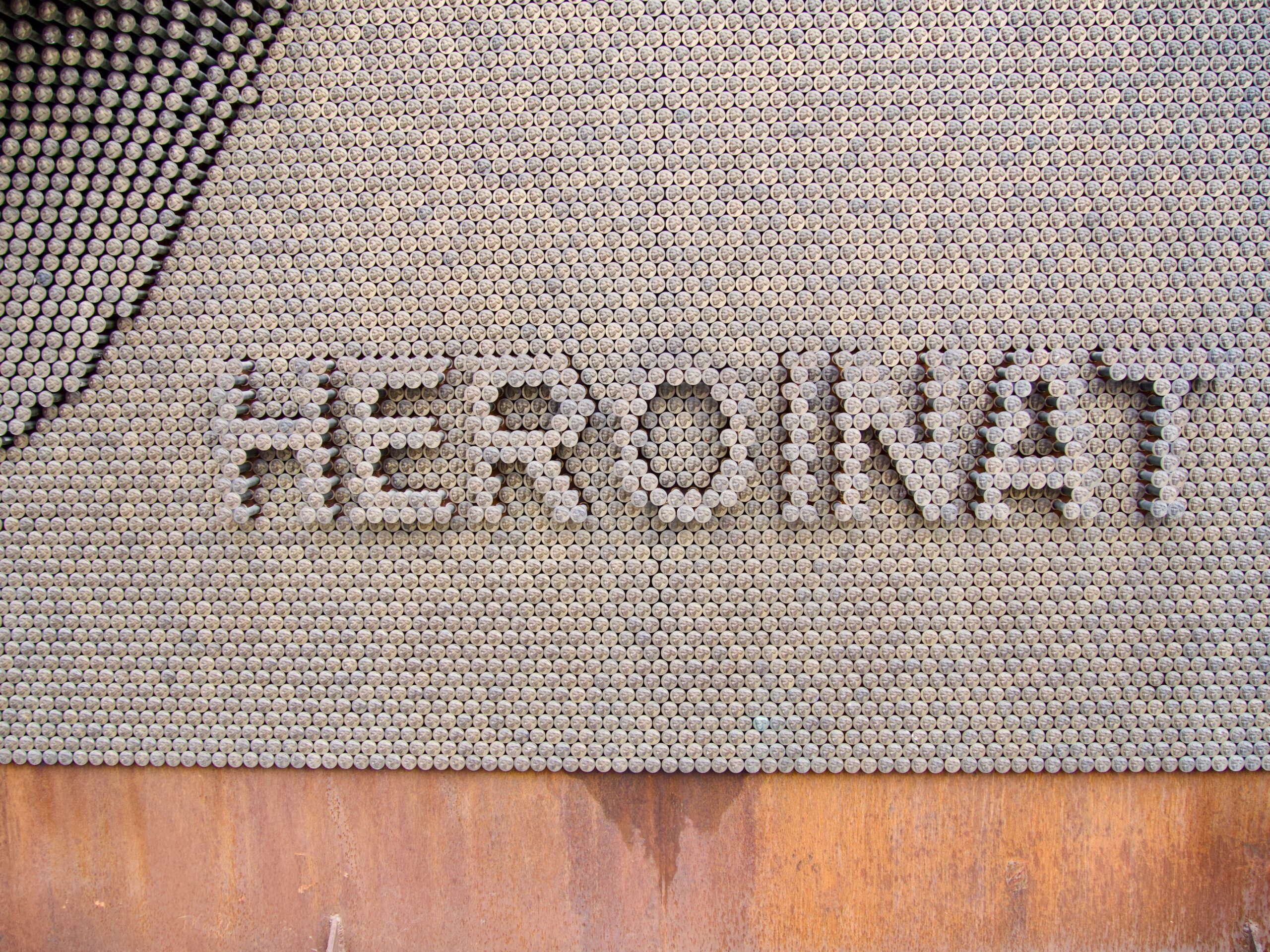 What's more, the Heroiant Memorial is not without controversy. First off, some maintain that it's a work of plagiarism, as the method of using individual rods to form a face was borrowed from British artist Asif Khan who created a "MegaFaces" exhibition for the Winter Olympics in Sochi. Others call the figure of 20,000 rapes into question as no formal reports have been published that can provide concrete numbers. Many also feel that the memorial discounts other rape victims – reports from NGOs have documented the rape of children and men, as well as minority Serbian and Roma women by KLA soldiers.
Sexual assault isn't often something that people speak openly about and after the passing of such a large and often well-organized crime, it takes much longer than it should be acknowledged. We saw this with Germany after WWII, which saw millions of German women raped after being "liberated" by the Russians and other allied forces.
It was hard to stand there looking at the Heroinat Memorial and not feeling outraged. 20,000 women who just wanted a peaceful life were not only impacted by an unjust war but continue to live with the memory of their assaults, the knowledge their rapists were never brought to justice, and the inability to lay claim to financial compensation without a detrimental impact to their life.
It feels even more appalling that these crimes happen again and again – from the women in Kosovo to the brave women protesting in Iran, to the Ukrainian women who are still enduring an ongoing war and fighting for their very existence.
What do you think about the Heroinat Memorial in Pristina? Do you have any other tips for the city or country? Let us know in the comments.
Heroinat Memorial Location
What is the location of the Heroinat Memorial? M565+5G3, Prishtina.
Heroinat Memorial FAQ
Important things to know about this memorial. We give you the lowdown by answering some of the most common questions:
1) When can you see the memorial? You can see it anytime, as it's in a public space.
2) Can you take photos and videos of the memorial? Yes, you can but do so in a respectful manner. This is a war memorial and not a place for selfies and photoshoots.
3) How much time should you spend at the Heroinat Memorial? About 10 -15 minutes to really examine the memorial up close and from a distance, as well as reflect on what happened and why this memorial exists.
4) Is the memorial for children? I doubt this would be an interesting sight for kids.
5) Do you need to pay to see the memorial? Nope, it's free for viewing.
Transportation Options In Pristina
All about how to get around the capital of Kosovo:
1) To reach Pristina's city center from the airport, take a bus, a private shuttle, or taxi:
2) To reach Pristina's city center from the main bus and train stations, take a taxi or walk into the city.
3) Something to keep in mind if you want to travel to Serbia from Kosovo? As Serbia doesn't recognize Kosovo as an independent country but a Serbian territory, you'll be denied entry at the border if you entered Kosovo from either Albania, Macedonia, or Montenegro. As such, it's better to leave Kosovo, travel to one of these countries, and enter Serbia from there.
4) Some of the different ways to get around the city:
Where To Stay In Pristina
My recommendations about where to stay in Pristina, Kosovo:
1) Check out your options with booking.com.
2) I spent three nights at the Swiss Diamond Hotel Prishtina in a single room. The room was spacious, the bed large and comfortable, there was a completely stocked mini-bar, wifi was strong and reliable (no password required), and there was a rainfall shower head that made my morning showers a delight. Breakfast was also included, and seriously, they had one of the biggest and best breakfast buffets I've ever experienced with plenty of hot dishes, yogurt, cereals, and various types of bread and sweets. Last but not least is their stunning spa (a stay at the hotel includes access), with a large pool, jacuzzi, and seven different types of saunas. I also had a massage and my afternoon/evening in the spa was nothing less than exceptional.
Paying For Things in Kosovo
How to handle your money in Kosovo:
1) Kosovo uses the Euro, making it convenient for European travelers.
2) Kosovo is very budget-friendly, from your accommodation to eating out, and more.
Good To Know About Pristina And Kosovo In General
Everything else you need to know about Pristina and Kosovo overall? Our top tips:
1) To fully experience the country, book a guided tour.
2) Like many other Balkan countries, smoking indoors is fairly common, including at some bars and restaurants. While this isn't the most pleasant thing for non-smokers, try to seek out non-smoking venues or venture to places during uncrowded times.
3) Kosovo isn't part of the European Union (EU) just yet, so those with a European number will incur dating roaming charges. Luckily, many establishments have free wifi and you can always buy a SIM card – I got one for about €8 with plenty of data included at IPKO.
4) The official languages of Kosovo are Albanian and Serbian. You'll also find that many people speak English, and even German.
5) Is Kosovo safe? I can only answer this from an anecdotal perspective – as a woman traveling solo, I felt very safe in Pristina and didn't experience any major difficulties. In fact, people were very friendly and helpful throughout the entire trip. I had coffee with a local and dinner and drinks with another. When I looked lost, a couple of people provided directions. Read this in-depth post from Kami and the Rest of the World for even more information.
In terms of tension with Serbia, they have risen in recent months with Kosovo Serbians in the North resigning from state positions the weekend I was there (November 2022). In my conversations with locals, they indicated some worry, especially as Serbia has deployed troops to the border. Given the war in Ukraine, it's reasonable to worry about traveling there right now. Luckily, NATO peacekeepers are permanently stationed in the country, talks are continuing, and there's a renewed push to continue with peace plans that are being led by France and Germany.
Before embarking on your trip, check your recent travel warnings (if there are even any) and follow news articles to find out about the latest developments between Serbia and Kosovo.
6) If you like exploring unusual things around the world, check out some of our reader's most-liked posts:
*Disclosure – This post contains some affiliate links. If you book a tour or hotel, I'll earn a tiny commission at no extra cost to you. Thanks for your support!