While on vacation in Berlin, I made the most of my limited time there. Hanging out with my friends, revisiting old haunts, indulging in local cuisine (hallo currywurst), and of course slamming back some local brews (oh bless the purity laws). It felt so good to be home!
I also decided to play the tourist and take in some new sights. I'd always wanted to visit Potsdam and deeply regretted never having made the trip when I lived in Berlin. With this in mind, I promptly booked a Fat Tire Bike tour to finally see the place for myself and more importantly, work off all the ill effects of the aforementioned sausage and beer.
A Bike Tour of Potsdam
I wasn't sure about doing a bike tour (my preference is walking) but Potsdam is simply too big to explore in one day by foot. The thought of being trapped on a coach bus for a tour and not being able to get close the castles and gardens to take photos wasn't at all attractive to me either.
The group met up at Alexanderplatz (just outside the base of the TV Tower) at 10:00 AM and our tour guide soon had us jump on the S-Bahn to make our way to Potsdam.
With about 10 of us, our group was small and we got to know one another as the day wore on. There was a professor of neuroscience from Los Angeles accompanied by his wife and young son along with Norwegian twins on a holiday with their father. It was fun for me to dispense some Berlin travel tips to the group.
Arriving in Postdam, we picked up our bikes, had a short debriefing and were on our way. The tour involved stopping at various points of interest to learn about the history and cultural significance, as well as take photos. There was even a stop for lunch at a surprisingly beautiful spot!
St. Nicholas' Church on the Alter Markt was our first stop. As I live in a North American city surrounded by a plethora of tall, modern, glass skyscrapers such buildings make my heart sing. We were off to a good start.
During the tour, we covered about 20 km's and it was a surprisingly easy, flat ride. Although a small hill at the end of our journey presented a formidable challenge and to me, felt like climbing Mount Everest. I may have wimped out and walked my bike up the hill. The tour wrapped up shortly after 5:15 PM and our we were Berlin by around 6:00 PM.
Instagramming Potsdam
There's no denying that Potsdam is beautiful. It's full of palaces, gardens and weird architecture that doesn't belong in the setting. Perfect for me, since I love all things weird and offbeat.
These Instagram photos of Potsdam will show you all the notable sites of the areas. As Potsdam is large, it doesn't cover everything but will give you a general idea as to what you'll see there. For added fun, check out my Instagramming Potsdam video.
Will the real Brandenburger Tor please stand up? Did you know that the authentic gate is not in Berlin, but in Potsdam? Here she is …
The gardens outside of Sanssouci Palace.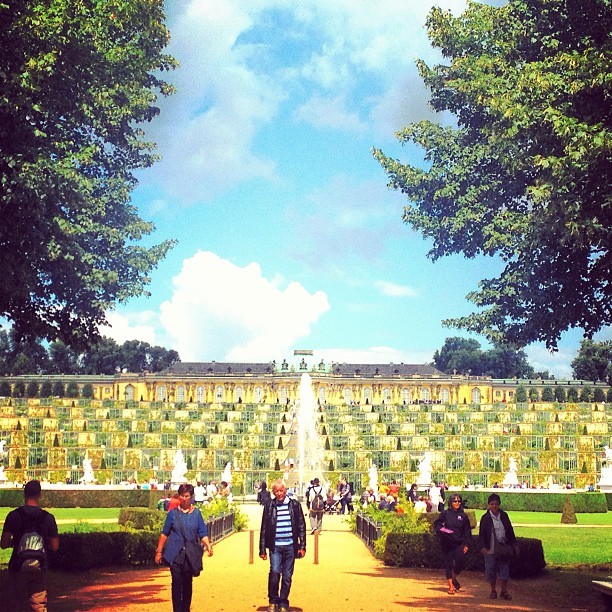 Oh hey! A cliched tourist photo of me that screams out AM-AZ-ING.
This is the first thing of many things that doesn't belong in Potsdam. A Chinese tea house.
Prussian rulers were rich, had a lot of time on their hands and could pretty much do whatever they wanted. So if they wanted a Chinese tea house, they built one importing the stylings of places foreign to Germany.
This was built by request for Frederick the Great and was used for small social gatherings.
The Neues Palais was actually a guest house for important visitors – royalty never stayed here. It actually just opened to the public this year.
Believe it or not, this building (connected to a like building on the other side) was servant's quarters! If I got to call a place like this home, I'd seriously consider a career as a maid.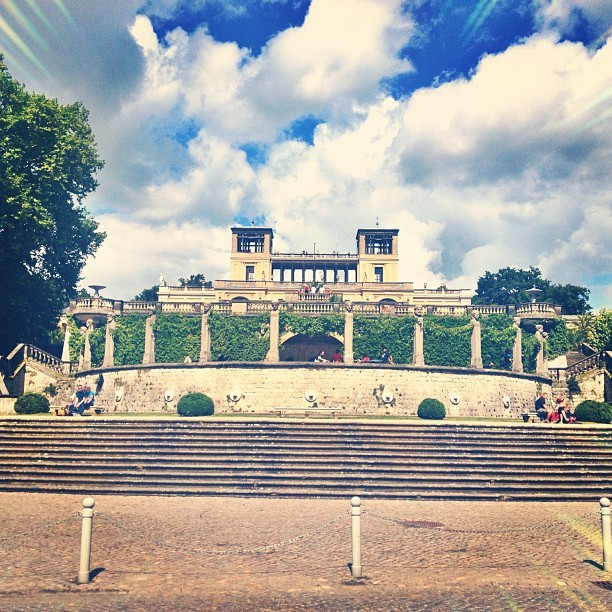 This Egyptian obelisk is just another item that doesn't belong in Potsdam. Much like the obelisk that I spied on an architectural biking tour in New York's Central Park long ago. The symbols inscribed into the sides of the obelisk actually mean a big fat nothing. There's no significant message here. Artists simply added random hieroglyphics to achieve an Egyptian "look and feel."
If I ever have a big house, I want a likeness of this gazebo in my backyard.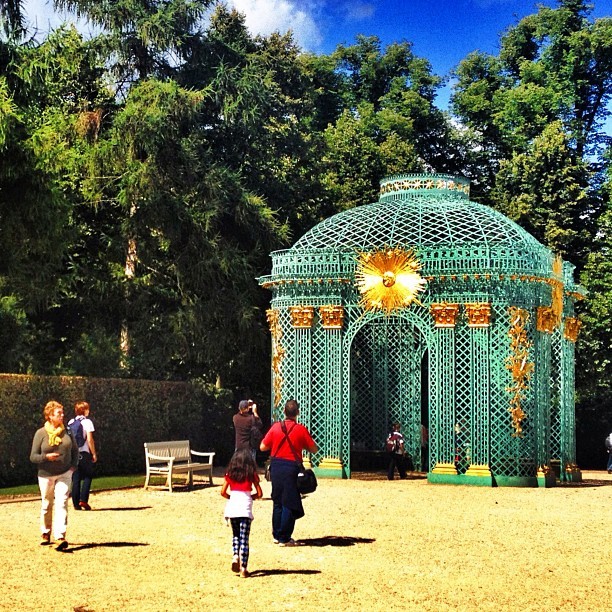 Getting up close and personal with Sanssouci Palace.
This was my favorite Instagram photo from the day. This couple stood together in a loving embrace gazing out at the pristine surroundings.
And ummm, look at his strategic hand placement!
Schloss Cecilienhof is where Churchill, Stalin and Truman signed the Potsdam Treaty that shaped the post-war future. It's done up in an English Tudor style, again weird.


Russische Kolonie Alexandrowka – built by some Russians who were invited to live there.
My favorite spot of the day was Meierei im Neuen Garten – a delightful biergarten (can you tell I love beer?) Here, we chowed down on our wurst and Berliner Wiesse beers.
As we rode through town, I took this final photo of a sticker just because it's funny.
Lastly, this is me destroyed after the long bike ride and that damn hill.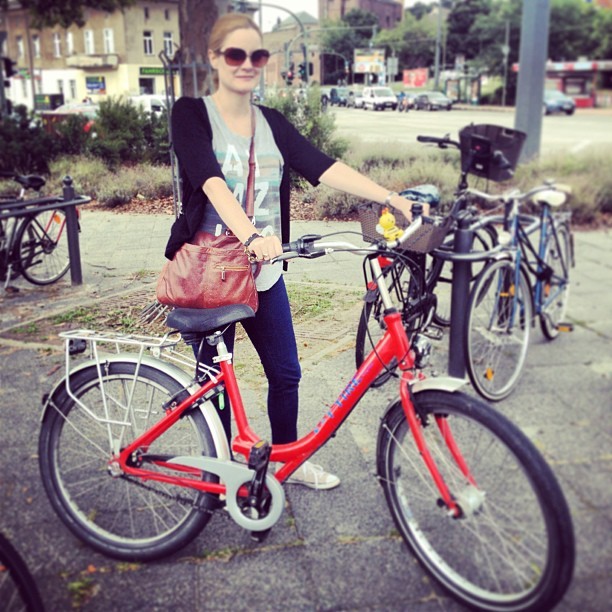 Verdict? The bike tour was a hell of a lot of fun. I got to spend a beautiful summer day outside taking in Germany's largest UNESCO world heritage site, take photos and get in some exercise at the same time.
If you like my photos, follow me on Instagram to see updates from my life in Toronto and on the road.
* For the record, I paid to for the tour myself and it was not in any way sponsored. Just saying!