It would be an understatement to say that Bill Clinton was a controversial American president. From his sex and drug scandals to his decision to lead a NATO intervention in Kosovo without UN approval, he is highly loved in some places and very much hated in others.
NATO's involvement helped end the war and an even worse genocidal campaign that saw more than 13,000 civilians perish and more than 22,000 women raped. With President Clinton's help, Kosovo was finally able to gain its long-desired and well-deserved independence from Serbia.
Recommended Reading: The Heroinat Memorial In Pristina, Kosovo – The Heroinat Memorial in Pristina pays tribute to the country's women who suffered greatly during the Kosovo war.
As one can imagine, the people of Kosovo are big fans of Bill Clinton, not to mention other prominent American political figures like Madeleine Albright and Bob Dole – both of whom played crucial roles in ending the war. To thank them, statues in their honor can be spotted throughout Pristina.
The Bill Clinton Statue In Pristina, Kosovo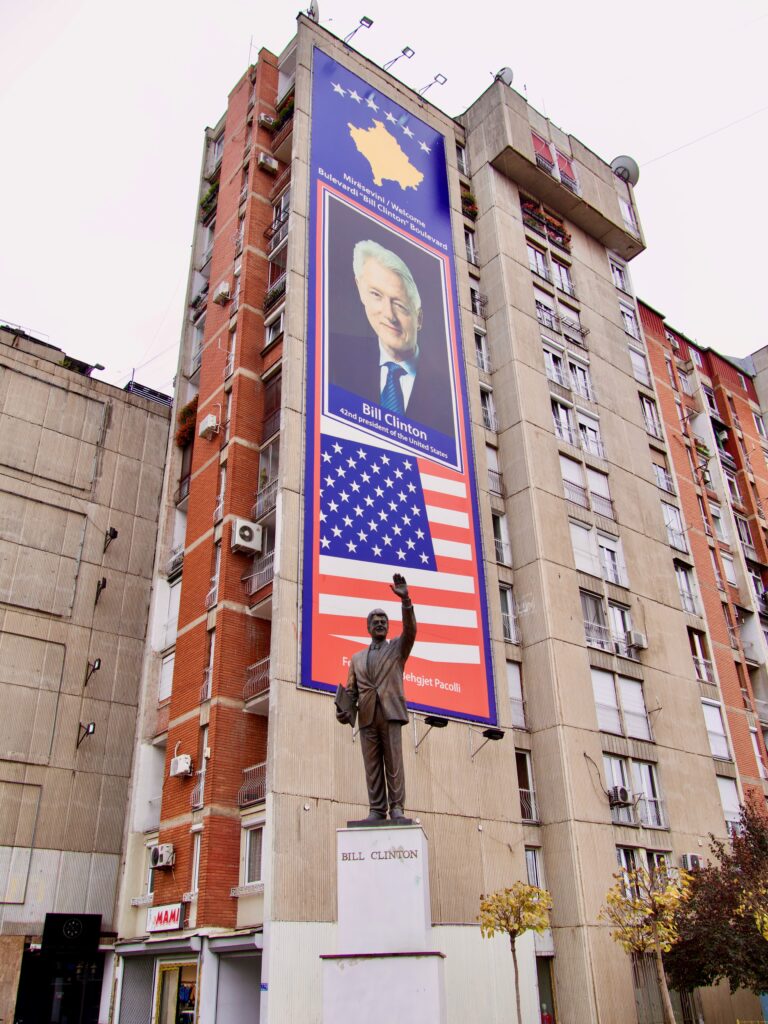 The most striking one is the statue of Bill Clinton. Literally larger than life, the golden sprayed brass statue rests on a three-tiered pedestal and comes in at just over 3 meters high, and weighs 900 kilos. The statue was commissioned by Friends Of America, Friends of Bill Clinton, and designed by artist Izeir Mustafa in a realist style. With a smile on his face, clutching a portfolio in one arm, his other arm is raised up in a friendly wave. The statue can be found along Bill Clinton Boulevard, against the backdrop of an even larger billboard decorated with the American flag and even more photos of the former president. In other words, it's Bill Clinton, on Bill Clinton, on Bill Clinton Boulevard.
Reviewers on Trip Advisor are doubtful about the artist's realist approach to the statue's design and comment on how strangely large his hands are in proportion to his body. Others say the statue resembles John F Kennedy more than Bill Clinton.
More worrying (at least for me) were the Americans commenting that they were surprised to see his statue in Pristina. Many claimed they didn't know anything about America's pivotal role during the Kosovo War. Considering the recency and scale of the war and NATO being involved, you'd think that this would be common knowledge. So if the statue helps educate Americans on their own history, it's doing the world a service.
Bill was present when the statue was unveiled in 2009, making a speech to a cheering crowd, and remarking, "I never expected that anywhere, someone would make such a big statue of me." He went on to say, "I am profoundly grateful that I had a chance to be a part of ending the horrible things that were happening to you 10 years ago."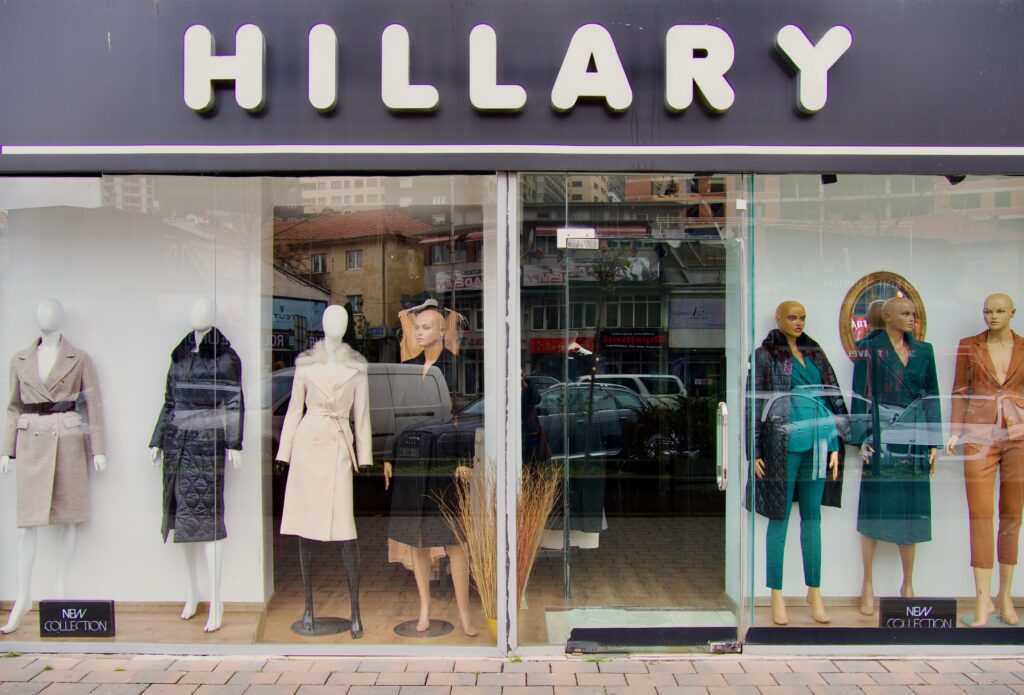 Not far from the statue is a store called Hillary, where they primarily sell pantsuits. Apparently, there's a Hillary 2 outlet store in the city too. Says a representative of the Morina family who owns the Clinton stores, "They made the whole world know our problems. For the first time, everyone knew who are Kosovans. Bill Clinton is the person who revealed our suffering – and from that point, we all had big sympathy for the Clinton family." Hillary Clinton even paid a visit to the store in 2010.
An appreciative local further commented about the Bill Clinton statue, "This is a big day … I live nearby and I'm really excited that I will be able to see the statue of such a big friend of ours every day."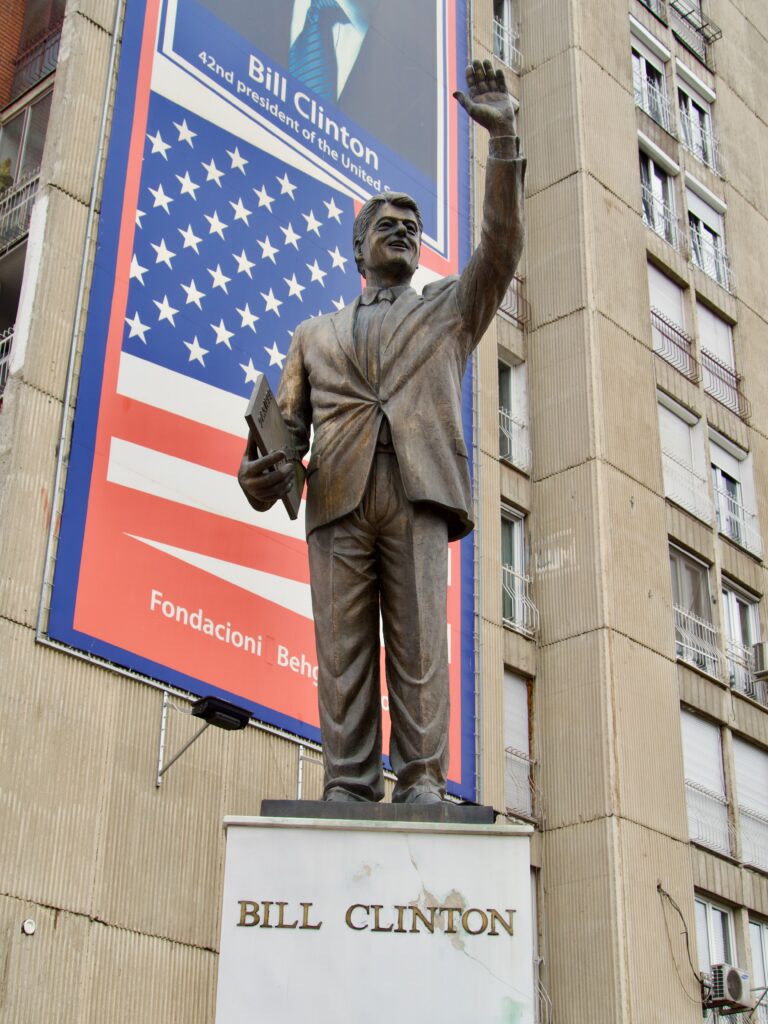 Recommended Reading: Why Is There A Ronald Reagan Statue In Budapest?
Many are also rightfully skeptical about America's decision to get involved in Kosovo (their 78-day-long bombing hit civilian targets and took civilian lives), as well as to question the intentions of the Clintons and others like Madeleine Albright. It's seen as a very one-sided relationship and not just altruism on their part. I recommended reading this BBC article for more of a deep dive into the matter.
Regardless of the differing points of view, the most significant fact that cannot be disputed – Kosovo remains an independent and sovereign nation and that couldn't have been achieved without American help.
What do you think about the Bill Clinton Statue in Pristina? Do you have any other tips for the city or country? Let us know in the comments.
Bill Clinton Statue Location
Where can you find the Bill Clinton statue in Pristina? Idriz Gjilani, Prishtina.
Bill Clinton Statue FAQ
Everything you need to know about the Bill Clinton statue in Pristina, Kosovo. We give you the lowdown by answering some of the most common questions:
1) When can you see the Bill Clinton statue? You can visit it anytime, as it's in a public space.
2) Can you take photos and videos of the statue? Yes, and taking photos/videos is highly encouraged.
3) How much time do you need to visit the statue? About 10 -15 minutes.
4) Is the statue interesting for kids? Not likely.
5) Do you need to pay anything to view the statue? Nope, it's 100% free.
Transportation Options In Pristina
All about how to get around the capital of Kosovo:
1) To reach Pristina's city center from the airport, take a bus, a private shuttle, or a taxi:
2) To reach Pristina's city center from the main bus and train stations, take a taxi or walk into the city.
3) Something to keep in mind if you want to travel to Serbia from Kosovo? As Serbia doesn't recognize Kosovo as an independent country but a Serbian territory, you'll be denied entry at the border if you entered Kosovo from either Albania, Macedonia, or Montenegro. As such, it's better to leave Kosovo, travel to one of these countries, and enter Serbia from there.
4) Some of the different ways to get around the city:
Where To Stay In Pristina
My recommendations about where to stay in Pristina, Kosovo:
1) Check out your options with booking.com.
2) I spent three nights at the Swiss Diamond Hotel Prishtina in a single room. The room was spacious, the bed large and comfortable, there was a completely stocked mini-bar, wifi was strong and reliable (no password required), and there was a rainfall shower head that made my morning showers a delight. Breakfast was also included, and seriously, they had one of the biggest and best breakfast buffets I've ever experienced with plenty of hot dishes, yogurt, cereals, and various types of bread and sweets. Last but not least is their stunning spa (a stay at the hotel includes access), with a large pool, jacuzzi, and seven different types of saunas. I also had a massage and my afternoon/evening in the spa was nothing less than exceptional.
Paying For Things in Kosovo
How to handle your money in Kosovo:
1) Kosovo uses the Euro, making it convenient for European travelers.
2) Kosovo is very budget-friendly, from your accommodation to eating out, and more.
Good To Know About Pristina And Kosovo In General
Everything else you need to know about Pristina and Kosovo overall? Our top tips:
1) To fully experience the country, book a guided tour.
2) Like many other Balkan countries, smoking indoors is fairly common, including at some bars and restaurants. While this isn't the most pleasant thing for non-smokers, try to seek out non-smoking venues or venture to places during uncrowded times.
3) Kosovo isn't part of the European Union (EU) just yet, so those with a European number will incur dating roaming charges. Luckily, many establishments have free wifi and you can always buy a SIM card – I got one for about €8 with plenty of data included at IPKO.
4) The official languages of Kosovo are Albanian and Serbian. You'll also find that many people speak English, and even German.
5) Is Kosovo safe? I can only answer this from an anecdotal perspective – as a woman traveling solo, I felt very safe in Pristina and didn't experience any major difficulties. In fact, people were very friendly and helpful throughout the entire trip. I had coffee with a local and dinner and drinks with another. When I looked lost, a couple of people provided directions. Read this in-depth post from Kami and the Rest of the World for even more information.
In terms of tension with Serbia, they have risen in recent months with Kosovo Serbians in the North resigning from state positions the weekend I was there (November 2022). In my conversations with locals, they indicated some worry, especially as Serbia has deployed troops to the border. Given the war in Ukraine, it's reasonable to worry about traveling there right now. Luckily, NATO peacekeepers are permanently stationed in the country, talks are continuing, and there's a renewed push to continue with peace plans that are being led by France and Germany.
Before embarking on your trip, check your recent travel warnings (if there are even any) and follow news articles to find out about the latest developments between Serbia and Kosovo.
6) If you like exploring unusual things around the world, check out some of our most popular posts:
*Disclosure – This post contains some affiliate links. If you book a tour or hotel, I'll earn a tiny commission at no extra cost to you. Thanks for your support!