While visiting the Icelandic capital over the years, I've sought out some of the city's more bizarre curiosities. I checked out a piece of the Berlin Wall, as well as the very odd, not to mention super hilarious, Icelandic Phallological Museum.
So continuing my personal quest to discover some of the world's most unusual places and things, I was curious to know more about a rather unique statue in Reykjavik, Iceland. It's a statue of a faceless person, otherwise known as the Monument to the Unknown Bureaucrat.
So what's the story behind the Monument to the Unknown Bureaucrat (Óþekkti Embættismaðurinn)?
The Monument To The Unknown Bureaucrat In Reykjavik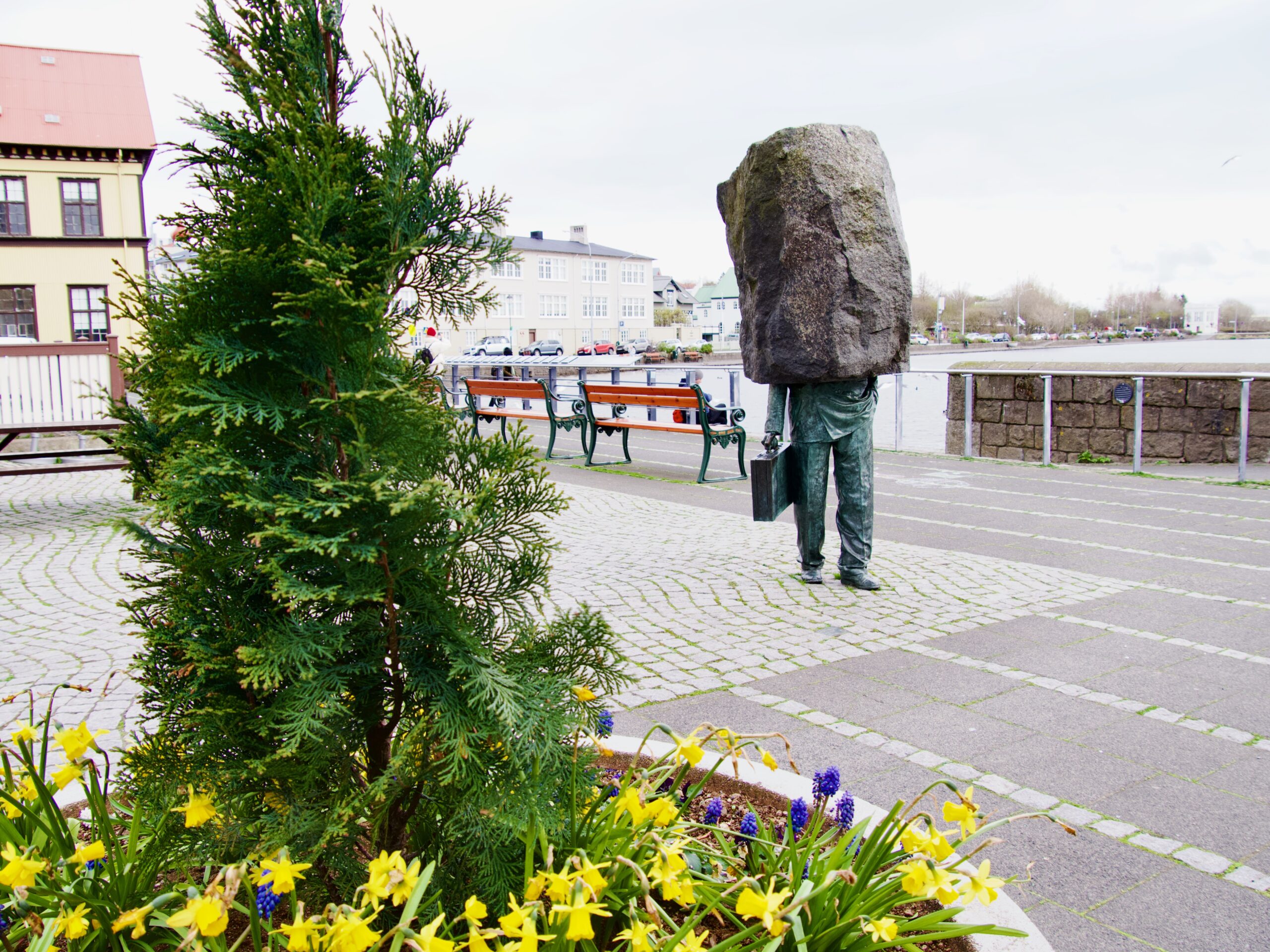 Close to Reykjavik's city hall, you'll find the Monument to the Unknown Bureaucrat. Showing a man on his way to work with a briefcase in hand, the upper part of his body is not a torso or a head, but a huge piece of Icelandic volcanic basalt.
Recommended reading: Our profiles of other oddball statues like the Columbo statue in Budapest, a giant statue of a boy peeing in Helsinki, the Bruce Lee statue in Mostar, and a statue of mooning boy in Antwerp.
Created by artist Magnús Tómsson in 1994, the statue is said to pay a satirical tribute to the country's numerous bureaucrats who serve their country and keep it running.
According to the local publication, the Reykjavík Grapevine: "The block of rock is a perfect metaphor for how everyday life crushes down on us, while at the same time depicting the narrative of the faceless official who is only a cog in the wheel, and never a person to most of us.
In lieu of not having a military, instead of having a statue of the Unknown Soldier, Iceland has the statue of the Unknown Bureaucrat instead.
Watch/share this video about the Monument to the Unknown Bureaucrat in Iceland and better yet, subscribe to my Youtube channel for even more travel-related videos.
What do you think about Monument to the Unknown Bureaucrat? Do you have any other Reykjavik or Iceland advice? Drop us a comment below, so our travel-loving community can support one another by sharing our insider tips.
Monument to the Unknown Bureaucrat Location
Just where can you see the monument? You can find the statue at Lækjargata 6, Reykjavik, Iceland.
Monument to the Unknown Bureaucrat FAQ
Some of the most frequently asked questions about the Monument of the Unknown Bureaucrat in Reykjavik:
1) When can I see the statue? You visit the statue anytime you like. As it resides in a public space, it's available to see 24/7.
2) What's the closest metro stop? Reykjavik is pretty small. If you can, walk there or ride there on a scooter using one of the local ride-sharing services.
3) Do I have to pay to see the monument? Not at all. This piece of public art free is for everyone to check out.
4) How much time do I need to see the statue? Not more than 5 – 10 minutes.
5) Can I take photos? Yes, you can.
6) Is this attraction suitable for children? It's family-friendly but small kids likely won't be too interested in seeing a statue of a faceless working man.
Getting Around Reykjavik
Here are the main transportation options for getting around Reykjavik:
1) The country's main airport is Keflavík Airport (KEF), approximately 50 kilometers southwest of Reykjavík. To reach the city center, you can take a shuttle bus, or public bus, take a taxi/chauffeur service, or drive a rental car:
Shuttle Service – The easiest way to get into the city is via a shuttle service. It will cost about €20 – 25 for a one-way ride, which you can expect to take 45 – 90 minutes (depending on the company and service you choose). You can choose Flybus or Gray Line Airport Express. With Flybus, you can get dropped off at their bus terminal (BSI) and make your way to your hotel alone. Check the distance between BSI and your hotel; if it isn't close, you can also ask to be taken directly to your hotel by taking a separate bus. Gray Line's bus terminal is quite far outside the city, so your only option is to book a drop-off at your hotel. Expect to transfer to another vehicle at their bus terminal before continuing into Reykjavik. You can skip having a transfer altogether and get taken directly to your hotel with Airport Direct and Gray Line Premium. It costs more at around €40 – 45, but is cheaper than a taxi or private chauffeur service and will get you there faster than the regular shuttle service.
Public Transport – The cheapest way to get into Reykjavik is to take the public airport bus, 55. The schedule for this bus is limited, so check ahead of time. Note, because of the numerous stops, the journey will take longer than the shuttle service. A ticket will fetch you about €15 one way.
Taxi / Chauffer – Taking a taxi is the priciest option with you paying upwards of €200 for a one-way trip into Reykjavik. Oddly, a chauffeur service is slightly cheaper, seeing you pay about €150. Note, there are no Uber or Bolt services in Iceland.
Car Rental – You can rent a car and go around Iceland on your own. Book your rental well ahead of time to ensure the car you'd like is available. Top companies include Go Car Rental Iceland, Dollar Rent A Car, and Cars Iceland.
2) The best ways to move around Reykjavik:
Where To Stay In Reykjavik
Highlights on where to stay when visiting Reykjavik:
1) Look for places to stay in the Icelandic capital with booking.com:
2) I stayed in numerous places whenever I spent time in Reykjavik. For affordable accommodations, go with Kex Hostel or Loft High Hostel. For something more upscale, go with 101 Hotel or Hotel Borg. Don't miss my personal reviews of 101 Hotel and Hotel Borg.
Paying For Things In Iceland
What you need to know about paying for things in Iceland:
1) The Icelandic króna is the country's official currency:
Check xe.com to see how your local currency fares against króna.
Most places accept bank or credit cards. I never needed to go to the bank machine when visiting Iceland.
When paying by card, you may be asked which currency you want to pay in – choose to pay in króna to save money on the exchange rate.
2) Iceland is an expensive country, so expect to spend a lot of case on tours, accommodation, eating out, and more. Do your research and plan your budget ahead of time, so you can have the best vacation possible in this absolute dream of a destination.
Good To Know About Iceland
Other good-to-know items about how to have the best vacation possible in Iceland:
1) A great way to experience Iceland is to take a tour with Get Your Guide:
2) Iceland is one of the safest places in the world, if not the safest. As a solo female traveler, I never once felt uncomfortable or worried. People of color should also be able to feel safe there – give this Reddit thread a read for more insight.
3) If you like traveling through Europe, give some of my other posts a read:
All The Reasons Why You Need To Visit Brindisi, Italy – Visit Brindisi, a little-known Italian town in Puglia, for grand cathedrals, an ancient Roman column, a scenic seaside promenade, and more.
The Powerful Street Art In Mostar, Bosnia and Herzegovina – The street art in Mostar, Bosnia reflects the city's tragic past and the difficult, yet hopeful present and future.
Visit The Nobel Library In Stockholm, Sweden – With one of Europe's largest literature collections, the Nobel Library in Stockholm features work used to evaluate potential Nobel Laureates
*Disclosure – This post contains some affiliate links. If you book a tour or hotel, I'll earn a tiny commission at no extra cost to you. Thanks for your support!