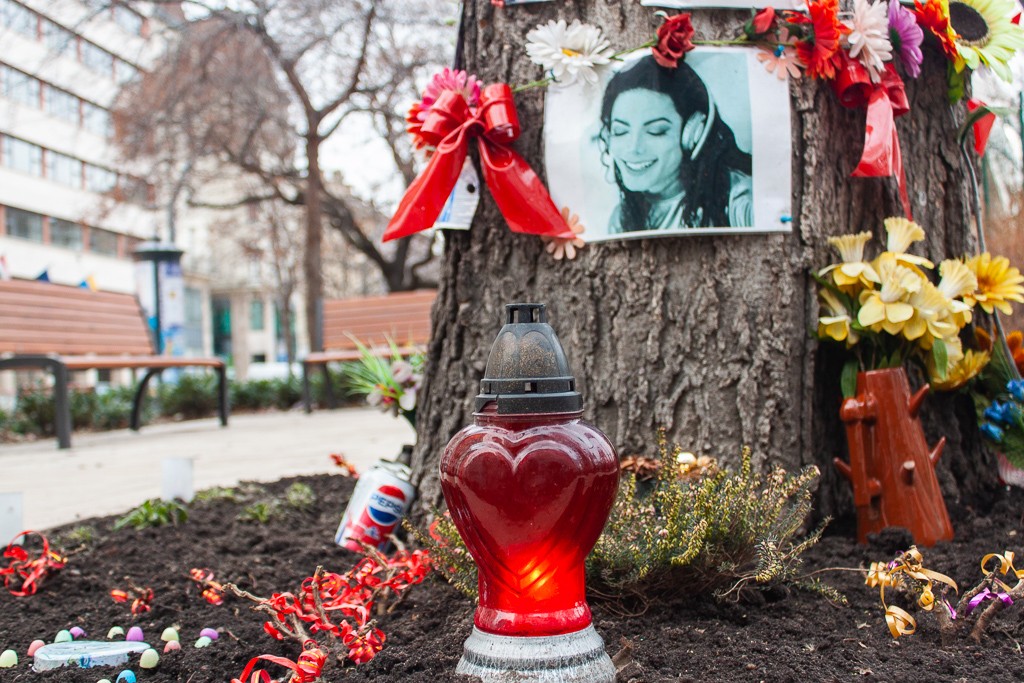 Pay Tribute At The Michael Jackson Memorial Tree In Budapest – As usual, I'm here to bring you the utmost joy via my findings of all things weird and offbeat around the world. From a Bruce Lee statue in Mostar, to a regularly flooded shop in Venice where books are piled into gondolas, to river surfing in Munich, I've got you covered.
As such, while on my last trip to Budapest, I checked out a number of quirky attractions. Just after posing with a statue of Ronald Reagan, I went on to visit a meaningful tribute to another famous American, the King of Pop, Michael Jackson. Not far from the Kempinski Hotel where Jackson stayed a few times, fans assembled a memorial that has been around since his death in June 2009.
Weird & Offbeat: Michael Jackson Memorial Tree Budapest
We all know that Michael Jackson was and is loved the world over and very much missed by his legions of fans. You can find memorials to him everywhere, like this Michael Jackson memorial in Munich. He was especially revered by Hungarians, who enthusiastically welcomed him with open arms when he visited the newly liberated nation in the mid-1990s.
Recommended reading: This article from We Love Budapest and their take on the memorial.
Michael Jackson stayed at the Kempinski Hotel on three different occasions, once in 1993 to film the HIStory video at Heroes Square and twice in 1996, once to scout a location and another time, his one and only time to perform in Hungary. His signature can still be found in the hotel's guest book. On each of his visits, ardent fans would gather in the park beside the hotel, even camping there overnight. They would chant his name, all the while hoping to catch a brief glimpse of the of the star. He would sometimes stand by the window of his suite, look out, wave, and chat with his fans.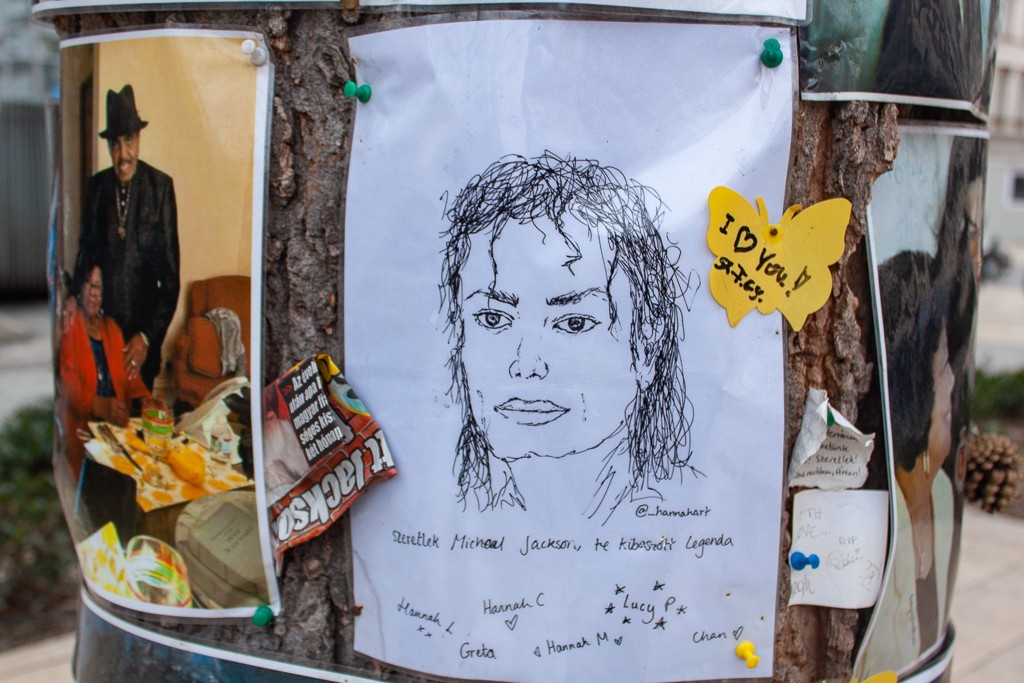 When Jackson tragically died in 2009, fans returned to the park to hold a vigil and dedicate a tree in his memory. Overnight, the unofficial memorial became a long lasting one that came to be called the Michael Jackson Memorial Tree Budapest. The memorial tree is decorated with more than three meters worth of photos from various stages of his career, handwritten letters, plastic roses, and golden stars. At the base of the tree are flowers, candles, and other memorabilia, like Pepsi cans with his image. It's deeply cared for by locals who see it as a labour of love – they ensure the flowers are fresh, pull out dead plants and weeds, keep the site free from trash, and more.
Every year on Jackson's birthday (August 29) and the anniversary of his death (June 25), people gather in the park and dance to of his songs. I don't know about you, but I'd absolutely love to visit Budapest for a weekend and see the flashmob in action!
What other weird and offbeat attractions can you recommend in Budapest? Let us know in the comments below.
Good To Know
1) If you're looking for a budget friendly activity to do in Budapest, visiting the Michael Jackson Memorial tree is free and open to the public 24/7.
2) If you like weird and offbeat statues, check my other articles:
3) If you're looking for other things to do in Budapest, check out these posts:
4) If you want to visit other tributes in Budapest – check out this love lock site.
5) Want to discover even more of Budapest? Book a city tour now.
6) Need somewhere to stay when you're in Budapest? Check out hotel offerings on booking.com.
7) If you like road trips, why not rent a car while you're in Hungary?
Location
Michael Jackson Memorial Tree
Budapest, Erzsébet tér 7, 1051 Hungary
If you like this post, share it on Pinterest.


*Disclosure – The post also contains some affiliate links. If you book a tour, car rental, or hotel through any of these links, I'll earn a tiny commission at no extra cost to you. Thanks for your support!