Eight Cool Places in Budapest. Have you ever been to a city so many times that the usual tourist spots no longer hold the allure for you that they once did?
That's why on my last few trips to Budapest, I sought out different experiences like exploring street art in District 7, taking in the Invisible Exhibition, and strangest of all, participating in an interactive theatre performance at Area 51 that saw me running onto a spaceship while fleeing aliens (a very true story that I told during a radio interview).
Over my last weekend in Budapest, I set about finding some of the coolest and more alternative spots in the city.
Eight Cool Places in Budapest
Here's a little roundup of my very favourite and, what I feel to be, cool places in Budapest.
1) Goamama Coffee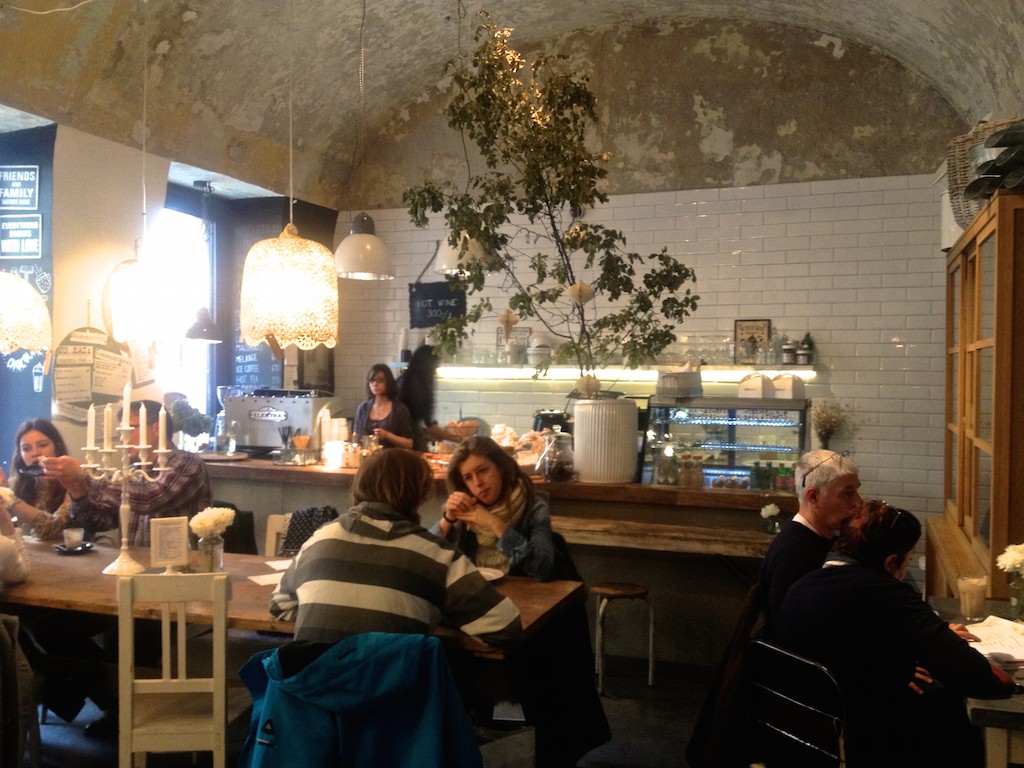 Part coffee shop and part home decor store, Goamama is the perfect place to start your day. This trendy place serves up a mean, not to mention very hipster, flat white (espresso) and various pastries like homemade cookies and freshly warmed croissants. If you're looking to spruce up your apartment with some cool new accessories, browse the store's eclectic collection for pillows, lights, rugs, and more.
Tip: Serious coffee lovers should go for the flat white.
Goamama Coffee (Budapest, Király u. 21, 1075 Hungary)
2) Printa Café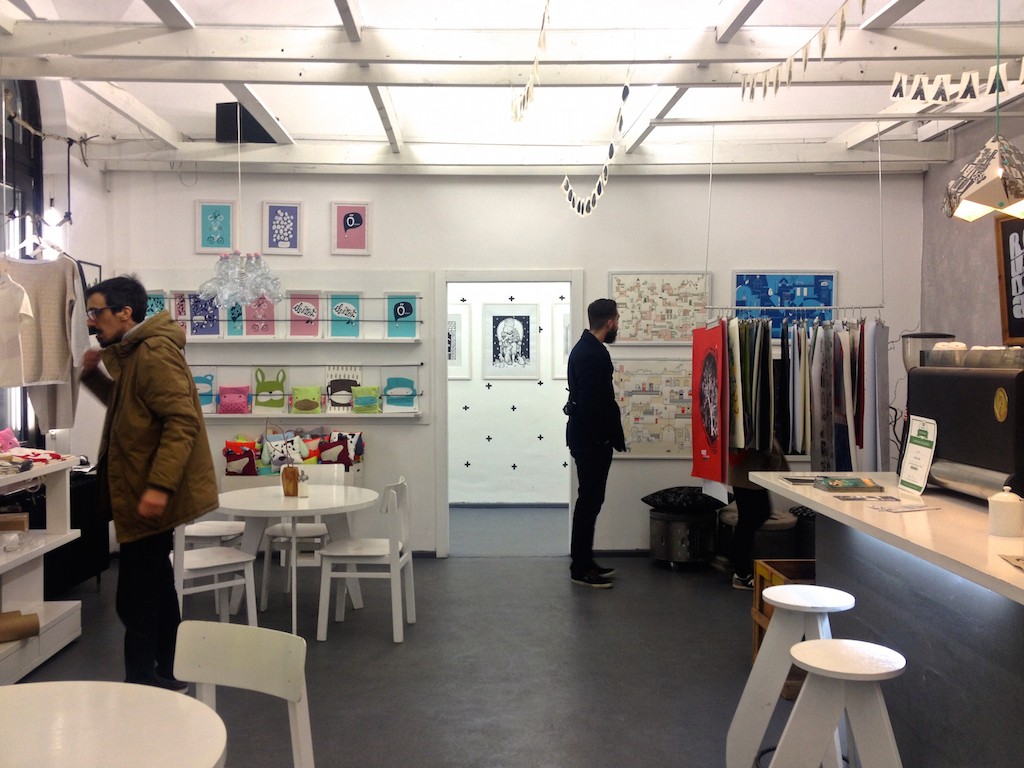 This creative space is a concept shop, gallery, studio, and cafe all-in-one. The shop features eco-friendly accessories, recycled home decor items, and clothing from independent labels. Meanwhile, the small gallery gives a chance for up-and-coming Hungarian artists to show off their modern artwork. Printa Café's studio is also set up to produce prints on textiles and papers, and better yet, to provide basic silkscreen classes for newbies looking to better their craft. Sip on one of their artisanal espressos or filtered coffees while you shop and peruse the art.
Tip: Fellow ladies will love their selection of cute purses and bags. It was all I could do not to leave with one, two, or three …
Printa Café (Budapest, Rumbach Sebestyén u. 10, 1075 Hungary)
3) Retrock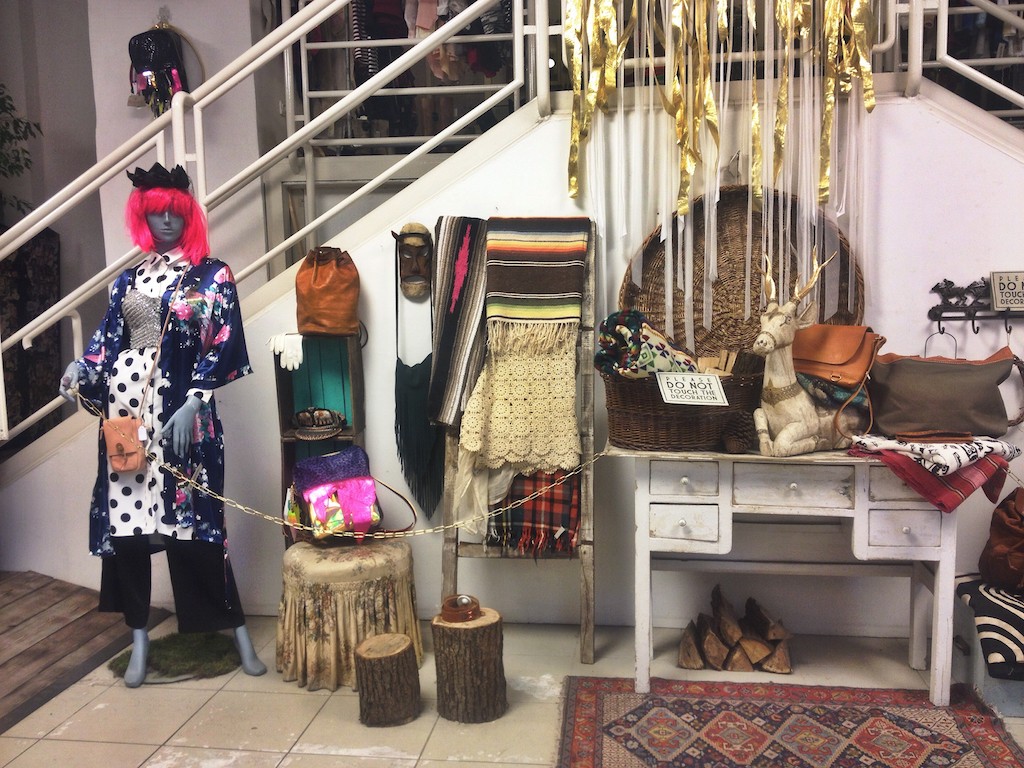 Retrock is a fun place to browse through an unusual collection of accessories, vintage clothing, and new fashion from independent Hungarian designers. You'll find scarves, tops, wallets, coats, and, weirdly, even used bras. It's easy to lose track of time as you wander through their two floors of offerings.
Tip: Even if you're not a vintage type, you'll have a great time looking through their stock of older items to get a glimpse of Hungary's fashionable past!
Retrock (Budapest, Anker köz 2, 1063 Hungary)
4) Csipesz Bar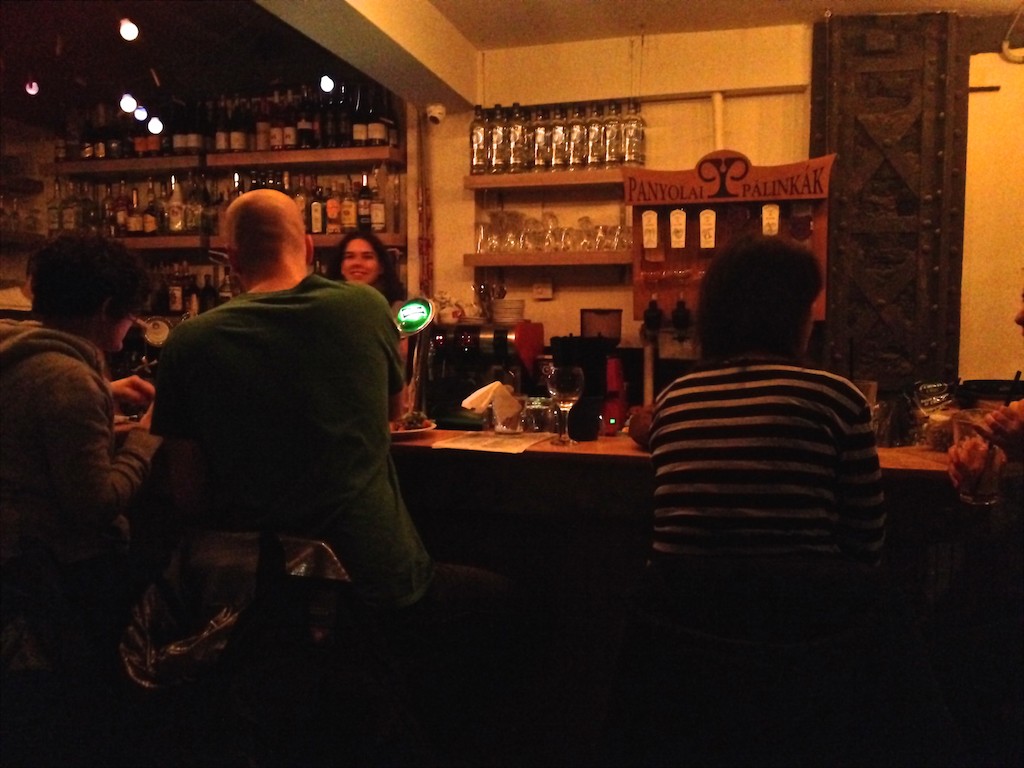 Shabby chic (a little like Berlin), cozy, and filled to the brim with locals every weekend, this is one my favourite, cool places in Budapest. It has a small selection of cheap Hungarian wine and beer on offer, and not to be forgotten is the tasty food like burgers and sandwiches.
Tip: Hungarian wine is widely underrated, so order a glass to have some of the best wine you may ever taste.
Csipesz Bar (Budapest, Király u. 41, 1077 Hungary)
5) Szimpla Kert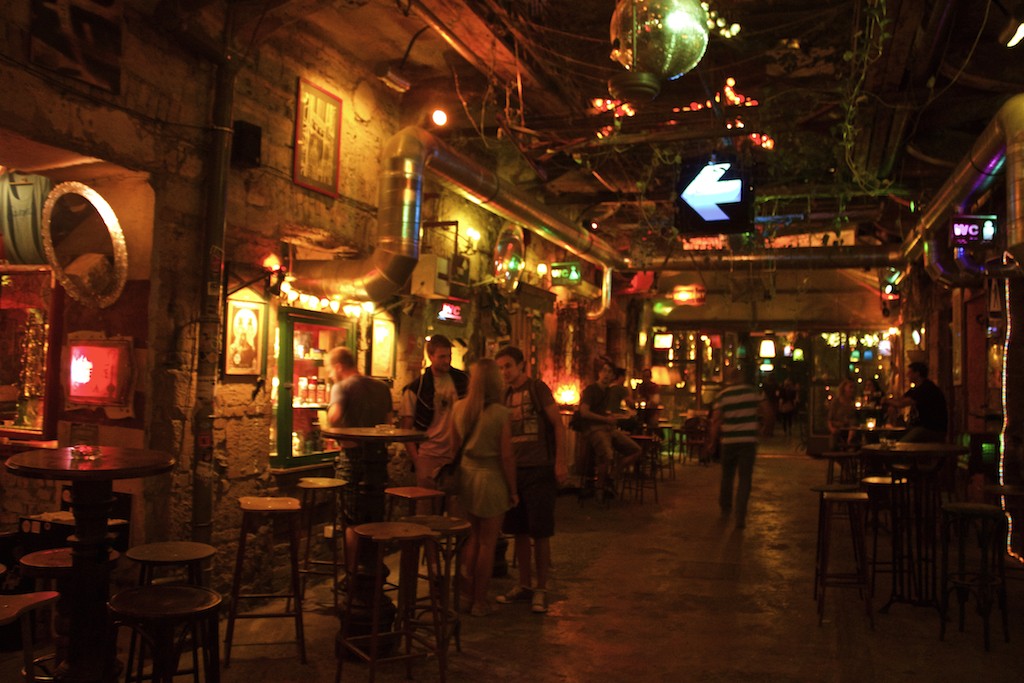 The father of ruin pubs in Budapest, Szimpla sets the pace for all other ruin pubs that followed in the city. Mammoth in size, it's easy to get lost in the maze-like interior. Not just a bar, but an attraction in itself, you can order pizza, smoke shisha, watch a movie at their open-air cinema, and do random things like sit in an old Trabant car, or perhaps even more bizarrely, a bathtub. On Sunday morning, Szimpla plays host to a farmers' market.
Tip: There's also a Szimpla location in Berlin.
Szimpla Kert (Budapest, Kazinczy u. 14, 1075 Hungary)
6) Telep Art Bar and Bistro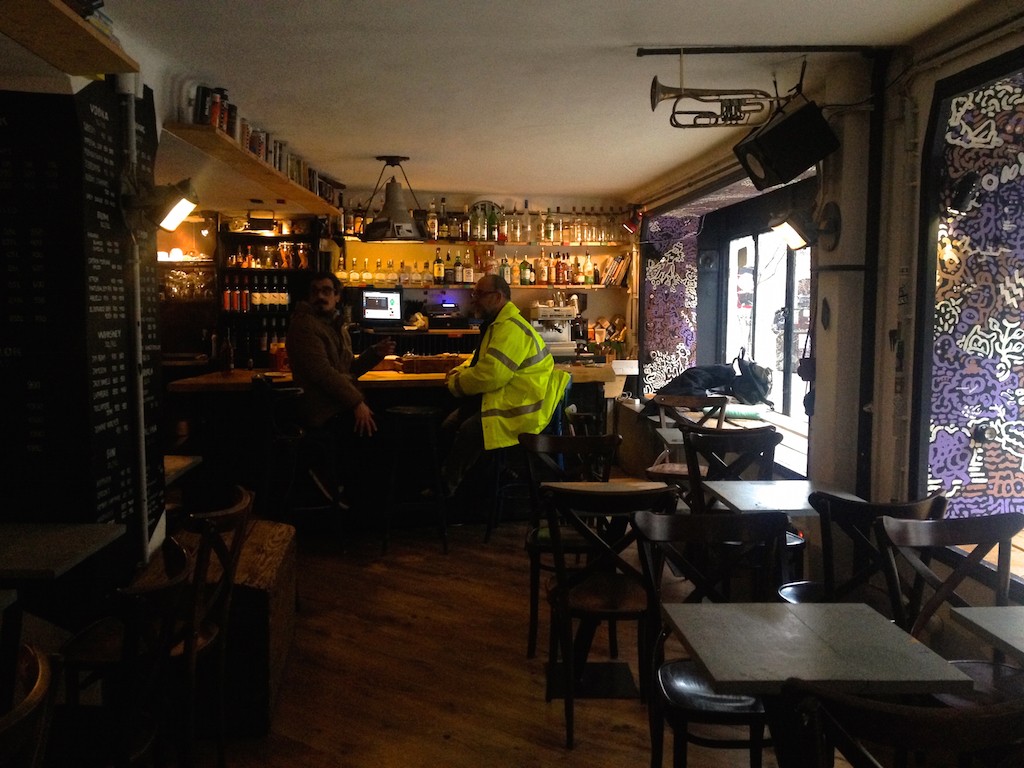 It doesn't get any more chilled out than it does at Telep Art Bar and Bistro. Spread over three floors, this small space is a passion project coming from the three owners. A labour of love, they did everything themselves, be it paint the walls, assemble the furniture, etc. Come here for brunch, take in an art exhibition, join the film club, or watch a performance. This creative venue is frequented more by locals than tourists and is especially popular with bikers and ski/snowboard enthusiasts.
Tip: Come here for brunch and indulge on one of their homemade bagels.
Telep Art Bar and Bistro (Budapest, Madách Imre út 8, 1075 Hungary)
7) Mozaik Teaház és Kávézó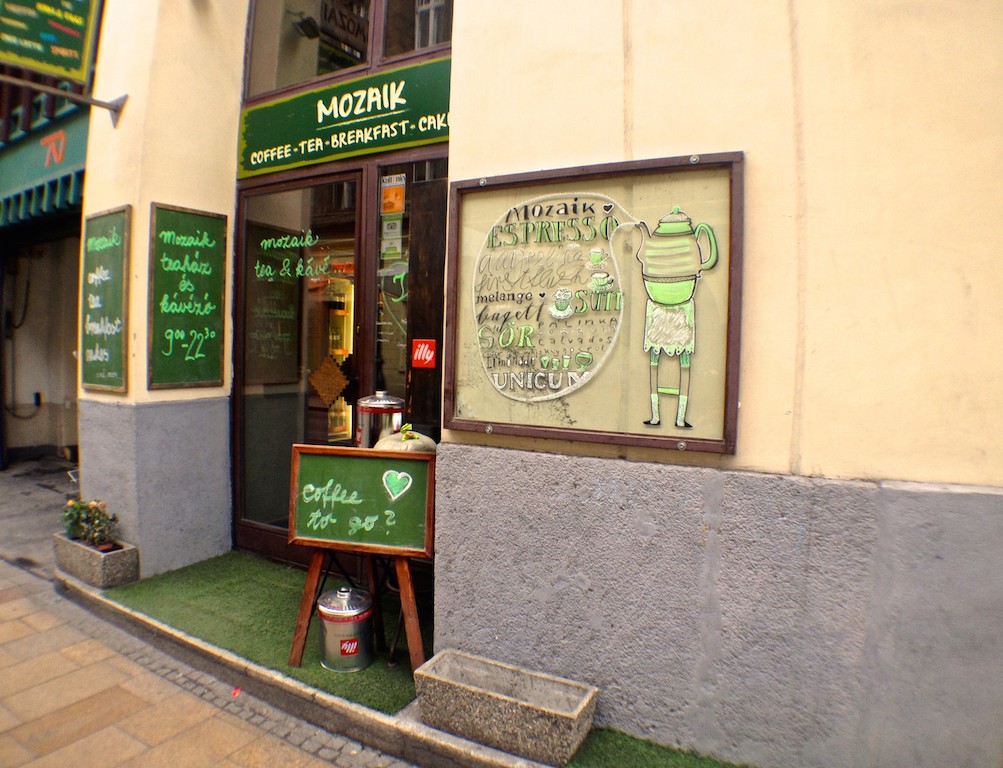 A haven for tea lovers, Mosaik offers a huge tea menu and even serves alcohol-filled tea cocktails! They also sell coffee, hot chocolate, and milkshakes. Eat breakfast in their serene, calming cafe (where you may feel compelled to break out your best yoga pose), or sample one of their many cakes.
Tip: If you want to bring a bit of Mozaik home with you, purchase teas in the upstairs area. If you're looking for a cool place to stay, take a go at my favourite hostel in Budapest, Wombats City Hostel.
Mozaik Teaház és Kávézó (Budapest, Király u. 18, 1061 Hungary)
8) Művelődési Szint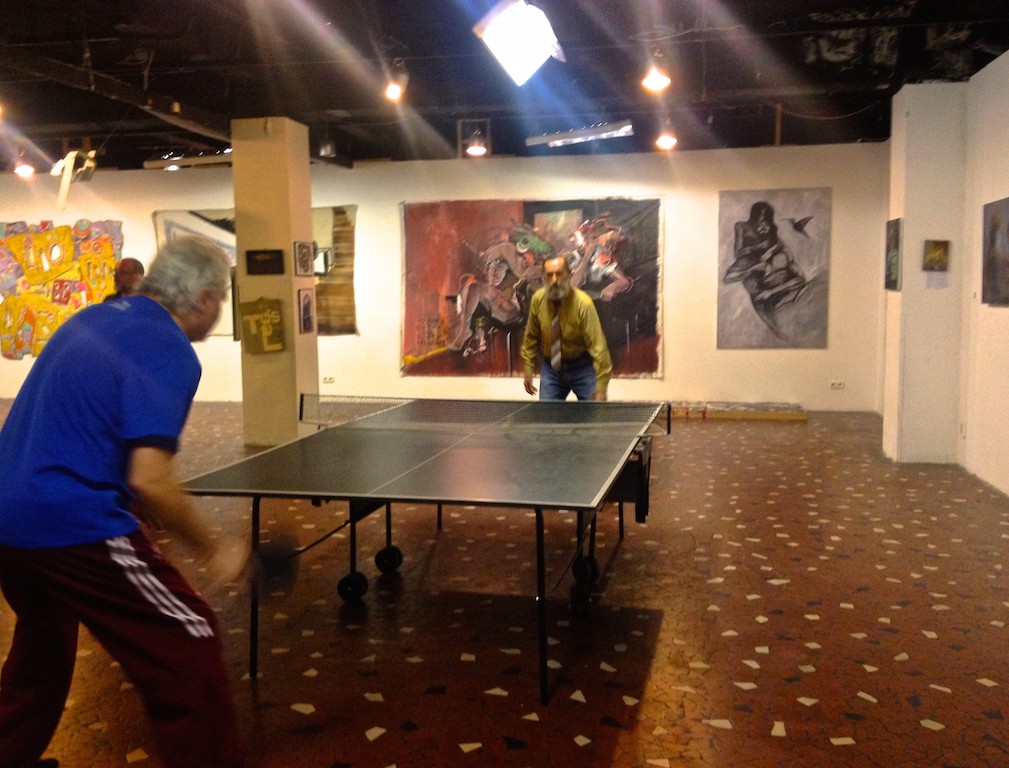 Never mind trying to pronounce the name of this community art space (the Hungarian language is one of the hardest to learn), it's "Müszi" for short. Translated to English as "cultural floor," people come to this casual and welcoming venue for art exhibitions, for drinks, to get work done, and even to play games of ping-pong or kicker. Müszi also hosts clothes-swapping events, rents spaces to NGOs, and has a rooftop garden!
Művelődési Szint (Budapest, Blaha Lujza tér 1, 1085 Hungary)
Do you have anything to add to this list? Tell us by leaving a comment below!
Good to Know
If you like this post, share it on Pinterest.