One of the more fun things I did when on holiday in Stockholm was going on a "library tour" through the city. I was awestruck as I entered each place, the home of thousands of books, and more importantly, a vast collection of knowledge. As an added bonus, I also got to check out some really cool modern architecture.
On my library tour, I visited the Stockholm Public Library, as well as the Stockholm University Library. Next on my tour was the Nobel Library, adjacent to the Nobel Prize Museum (which I also recommend visiting).
Visit The Nobel Library In Stockholm, Sweden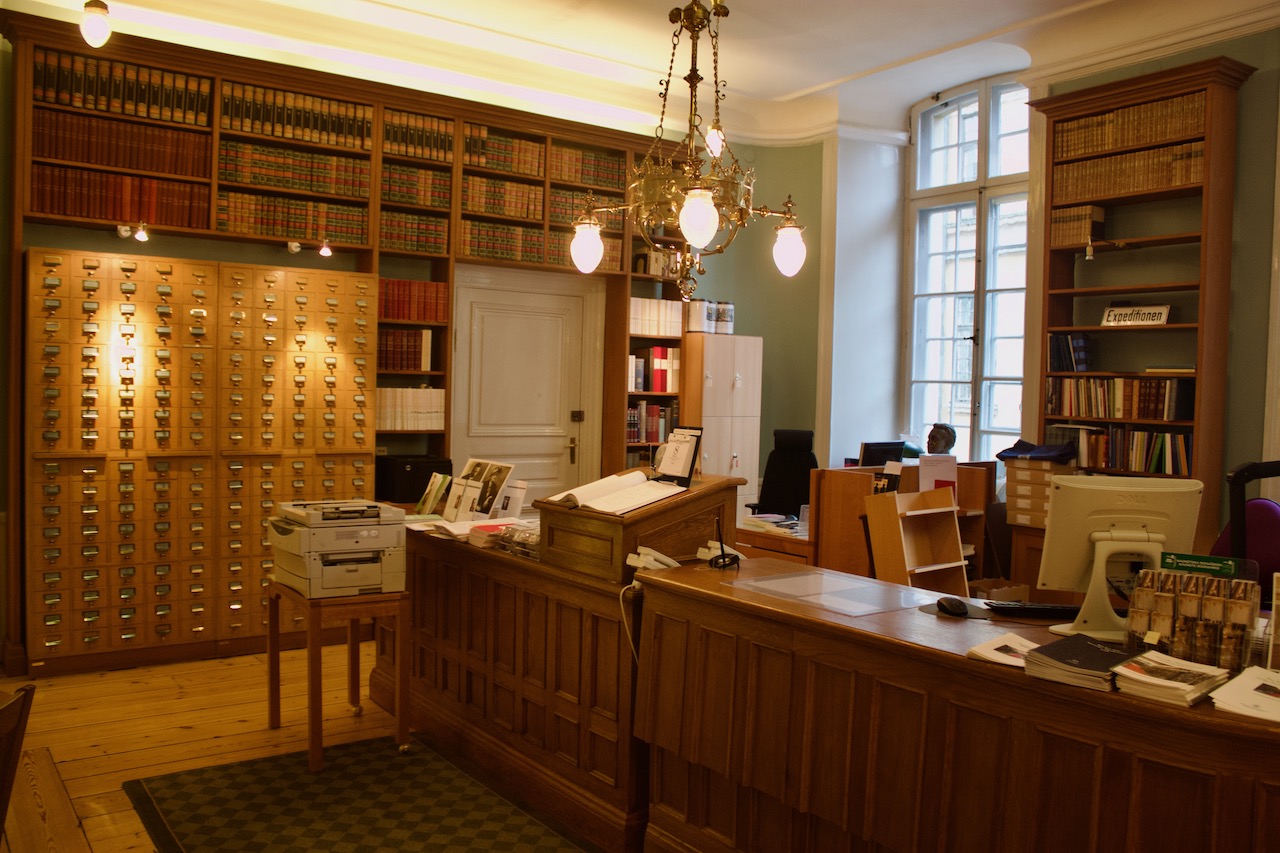 Established in 1901, The Nobel Library (Nobelbiblioteket) in Stockholm features an extensive collection of literature and research that helps in the evaluation of Nobel Laureates for the Prize in Literature, as well as other awards handed out by the Swedish Academy. To further support their Nobel Laureates, the library also features relevant biographical materials.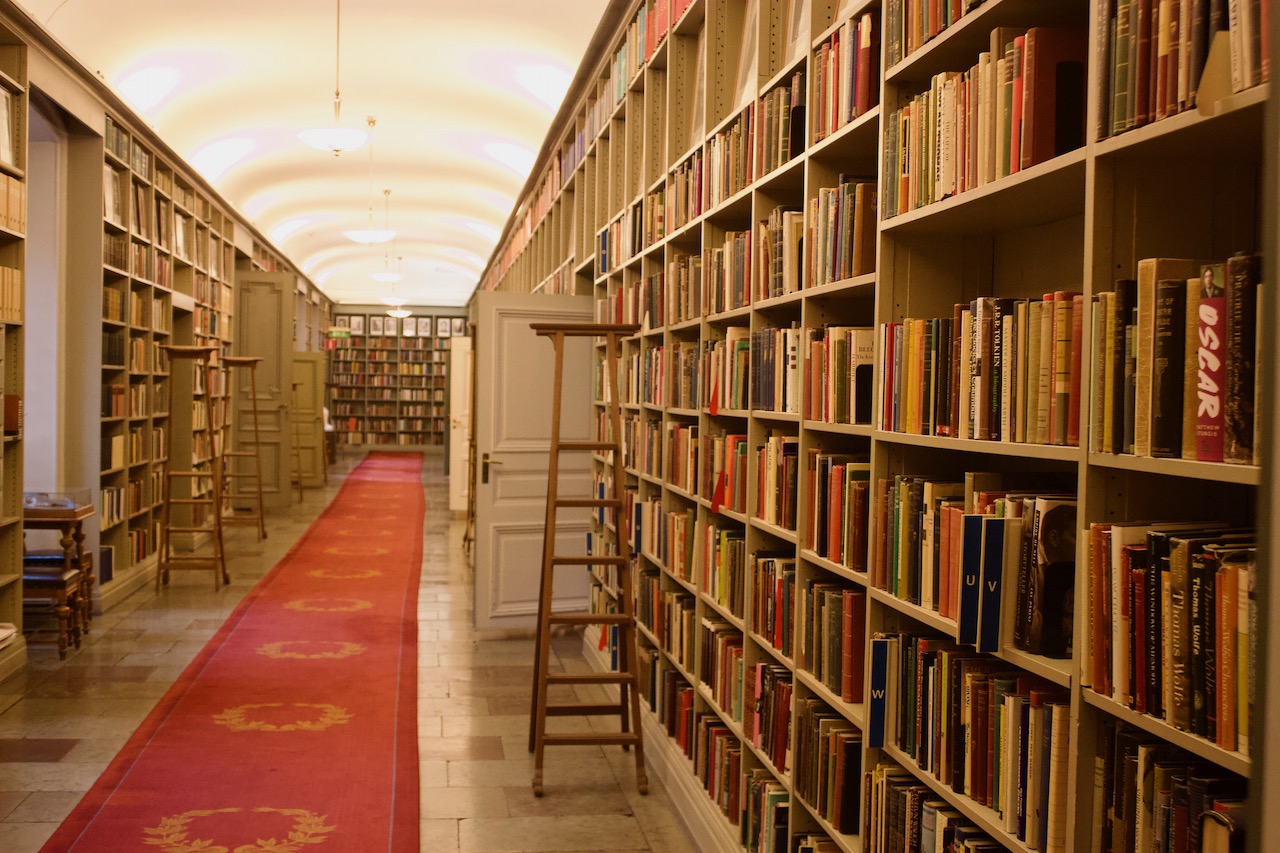 More formally known as the Nobel Library of the Swedish Academy (Svenska Akademiens Nobelbibliotek), the library resides in the Stock Exchange Building in Stockholm's Gamla stan or Old Town. With more than 6,000 books and 200,000 volumes, the Nobel Library is one of Northern Europe's largest libraries for literature.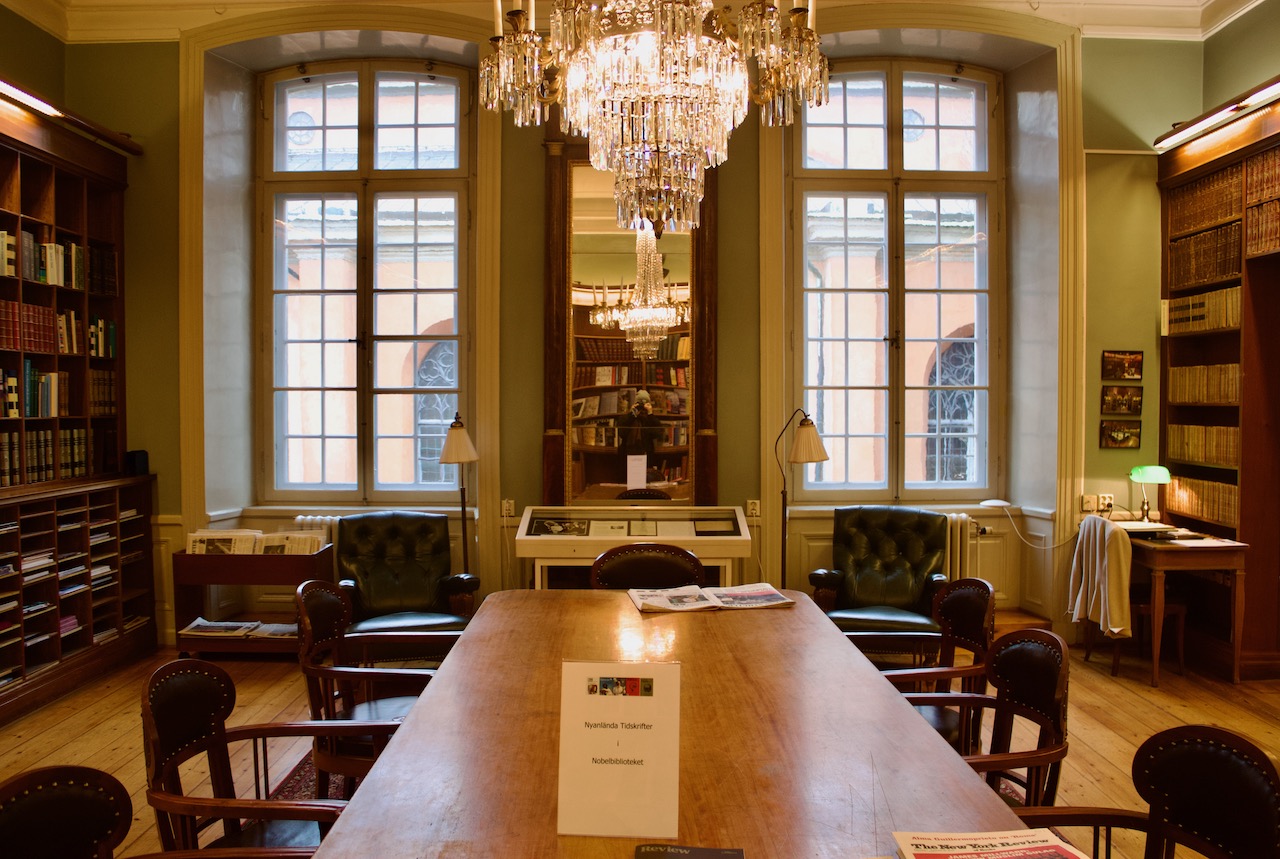 The library is subscribed to more than 160 different literary journals in various languages. With the main focus on acquiring contemporary literature (books, manuscripts, articles, reviews, etc.), the library also collects criticism of published works and makes them accessible to Academy members, as well as translators, students, and researchers. The library also stocks literature related to themes exhibited in the adjacent Nobel Museum.
What do you think about the Nobel Library in Stockholm? Do you have any other Stockholm tips? Drop us your best recommendations in the comments.
The Nobel Library's Location
Where can you find the Nobel Library in Stockholm? Källargränd 4, 111 29 Stockholm, Sweden.
The Nobel Library FAQ
We answer the most frequently asked questions about the Nobel Library in Stockholm:
1) How do I get in touch with the library?
Visit their website, email them, or call +46 8 5551 2552.
2) What is the nearest metro stop to the Nobel Library in Stockholm?
The nearest stop is Gamla stan, served by both the Red and Green lines.
3) When is the library open?
The library is open Mondays – Wednesdays from 12:00 – 15:00, Thursdays from 17:00 – 19:00, and Fridays from 12:00 – 15:00. It's closed on weekends.
4) How can I take out a loan from the library?
Library loans can be taken out by the general public or be requested through other libraries across Europe's Nordic countries.
5) Is there a fee to visit the library?
No, there are no fees to enter the premises.
6) Can I take photos and videos inside the Nobel Library?
Yes, you can. Note, library patrons may not want to be in your photos and they definitely don't want to be disturbed while working and studying. Be respectful as you photograph your way around the venue.
7) How much time should I spend at the library?
As the access to the library is limited to Academy members, academics, etc., as a visitor dropping by for a quick look, there isn't much for you to see other than a few of the rooms pictured here. As such, I'd say you need no more than 10 – 15 minutes.
Treat your time there as a way to appreciate and pay respect to the site and the fact it exists. All this literature in one place, enabling education and furthering knowledge. I personally found my brief visit inspiring.
8) Is the Nobel Library suitable for children?
Not at all. Head to the Stockholm Public Library instead, where they host regular programs for young kids.
9) Does the library host live events?
Yes, the Nobel Library offers periodic lectures and seminars about contemporary literature for librarians and bookshop employees.
Getting Around Stockholm
Getting around Stockholm isn't difficult and here's an overview of the best transportation options:
1) To reach Stockholm's city center, you can drive, take a taxi, or bus from the airport, main bus and train stations, as well as ferry ports:
If you're arriving in Stockholm's ferry ports Värtahamnen, Frihamnen, and Stadsgården? From Värtahamnen, you can take public transit into the city center, taking you 30-40 minutes. From Frihamnen, public transit will have you in the center of the city in 20-30 minutes. From Stadsgården, a ride on public transit to the city center will take around 20 minutes. Popular ferry operators include Tallink, Viking Line, and Birka Cruises.
Buses and trains arrive at City Terminal, close to the Central Station which easily connects you to public transit. If you're feeling lazy, venture outside and grab a taxi.
Flights arrive at Stockholm-Arlanda Airport (ARN), about 40 kilometers north of the city. You can take express buses with Flygbussarna and Swebus. Expect the journey to the City Terminal, next to the Central station to take about 45 minutes. A one-way ticket for adults starts around 99 SEK, about €10. You can also take the Arlanda Express Train into the city. Trains leave every 15 minutes and the journey to the Central Station takes around 20 minutes. A one-way ticket will run you 295 SEK or €27. A taxi into the city center will take approximately 45 minutes and start at 450 SEK or €43. You can also take a regular suburban train and bus, which takes longer, but is way cheaper.
Check Wikitravel for more detailed Stockholm transportation information.
2) Some of the best ways to get around Stockholm?
Bikes – Rent a bike from City Bikes, Bike Sweden, and Gamla Stans Cykel.
Public Transit – Check the SL website for details on the public transit network. The metro system, called the Tunnelbana or T-Bana, has more than 100 stations. The Blue Line in particular has some of the most beautiful metro stations out there. Read about how to do a self-guided subway art tour.
Ridesharing – Both Uber and Bolt are available and are budget-friendly alternatives to traditional taxis.
Taxis – Taxis in Stockholm are expensive and there are a handful of companies overcharging tourists. To avoid getting ripped off, go with TOPCAB, Taxi Kurir, Sverigetaxi, or Taxi Stockholm.
Driving – If you don't have a car of your own, rent a car to make your way around Stockholm. Car-sharing companies include KINTO and Aimo Share.
Where To Stay In Stockholm
Highlights on where to sleep in Stockholm, Sweden.
1) Look for places to stay on booking.com:
2) I stayed at Connect Hotel City in Stockholm and found it to be one of the more affordable and cool hotels in the city. The hotel features a hip and cozy lobby space where you co-work or have a drink and the rooms are large with comfortable beds. It's conveniently located close to public transit, so getting around the city is no big deal.
Paying For Things In Sweden
Things you need to know about money in Sweden:
1) Sweden has its own currency, the krona (SEK):
Check xe.com to see t how your local currency fares against Krona.
Most places accept bank or credit cards. I never once needed to visit an ATM in Stockholm.
When paying by card, you may be asked which currency you want to pay in – choose to pay in SEK, as you'll save money on the exchange rate.
2) Sweden is an expensive destination, from your accommodation to eating out, and more. Be sure to plan your budget ahead so you can have a great time in the country.
Good To Know About Stockholm
There are other things to know about how to have the best vacation in Stockholm.
1) One of the best ways to experience Stockholm is to take a tour with Get Your Guide:
2) Stockholm is seen as one the safer cities in the world and as a solo female traveler, I was comfortable during my week there. It's also said to be safe for people of color, but it's quite possible you'll experience incidents of racism.
3) If you like traveling through Europe's Nordic countries, give some of my other posts a read:
*Disclosure – This post contains some affiliate links. If you book a tour or hotel, I'll earn a tiny commission at no extra cost to you. Thanks for your support!