Silly old me held off on visiting Paris for years, worrying if it would live up to all of the hype. I finally made it to the French capital in June for a quick weekend getaway from Berlin and of course, it was amazing! I fell deeply in love, just as gazillions of other people have before me. Maybe it was all the champagne I drank, but I spent the entire weekend floating on a cloud of (alcohol fuelled) happiness and thinking about all the times I'd return to the country for even more France tours.
These Paris Photos Are A Love Letter To The City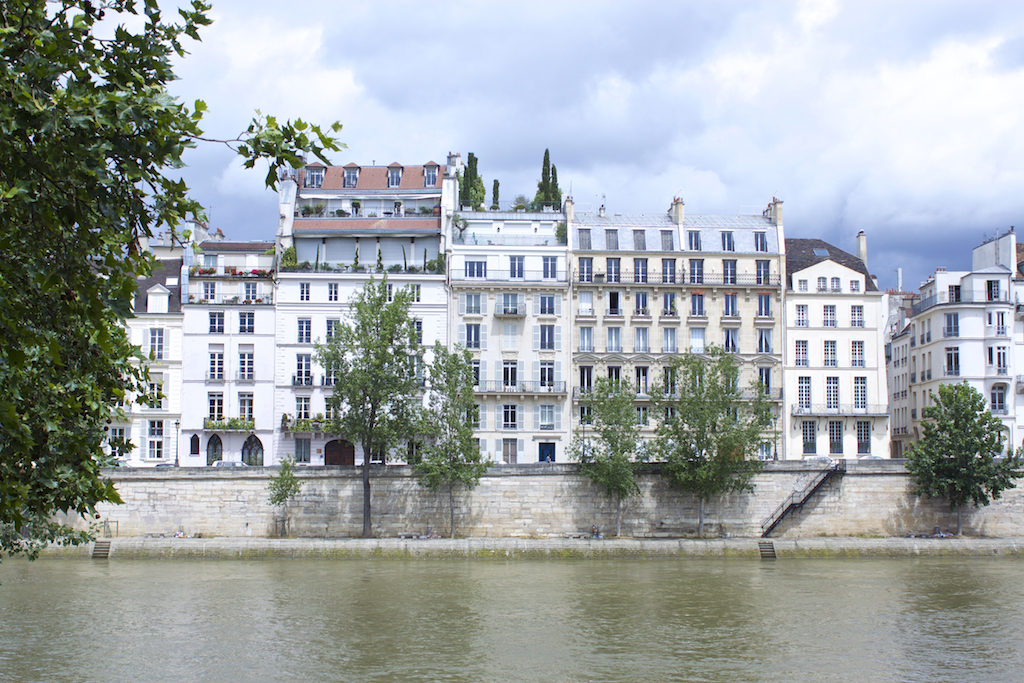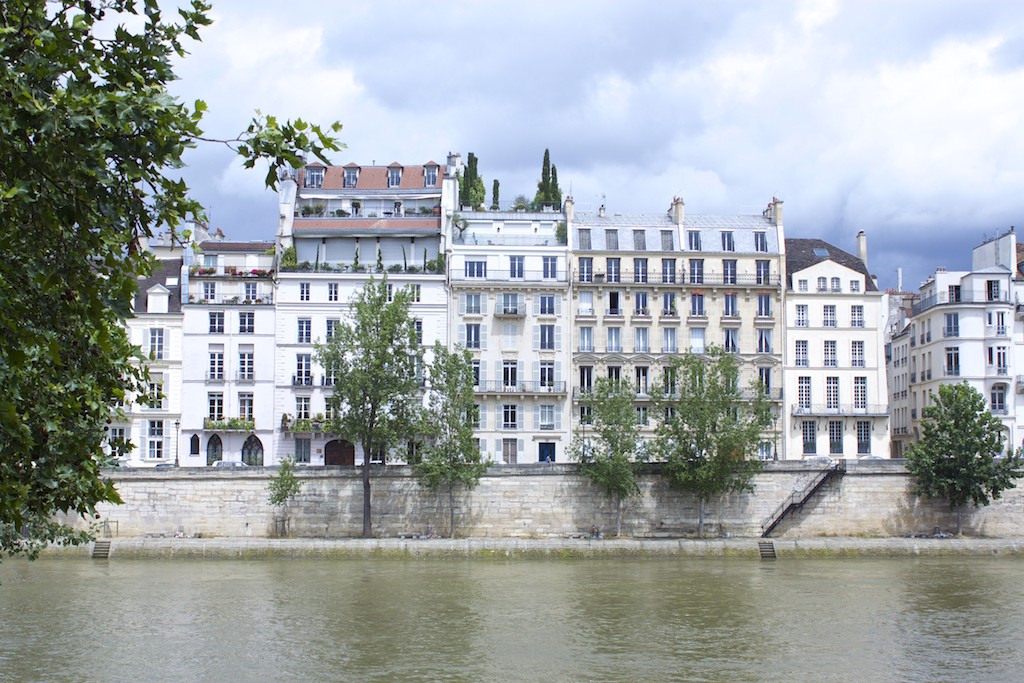 Lovestruck, I walked through the streets of the city for hours on end and couldn't get over just how beautiful the city really was. Berlin has its pretty parts, but it has nothing on Paris. Just like when I visited Rome for the first time, I felt surreal and I couldn't believe that I'd finally made it there. I had to keep wiping away my happy tears. As usual, I snapped tons of photos, some of which I've already shared on Instagram. But as it's such a photogenic city, I decided to pen this blog post of Paris photos as a sort of love letter to the city.
As I was only in the city for two days, I barely even scratched the surface of what Paris has to offer. It was also the opening weekend of EuroCup, which France was hosting, so I stayed away from the most heavily frequented tourist sites as they were even more crowded than usual. Believe it or not, I never even set foot inside of a museum or got close to the Eiffel Tower. I'm saving those sites for a future trip, one that'd hopefully be filled with romantic journeys on France trains. This post is not only filled with what may be too many Paris photos, but it also provides an overview of all the things I did over the course of my weekend getaway, including some of the main sites, as well as some more off-the-beaten-path locations.
Montmartre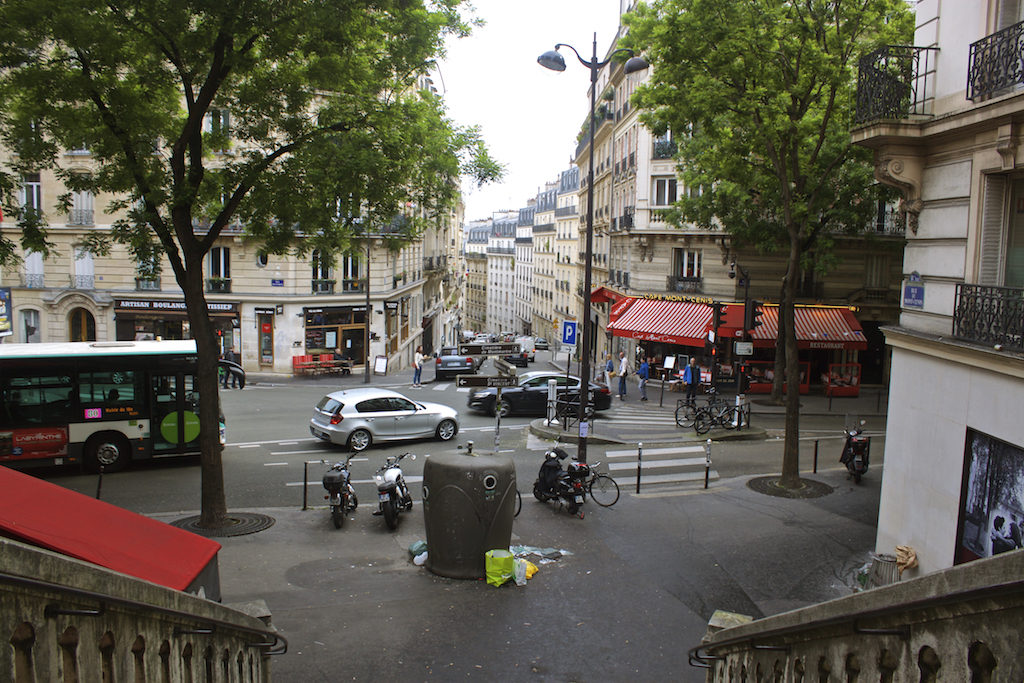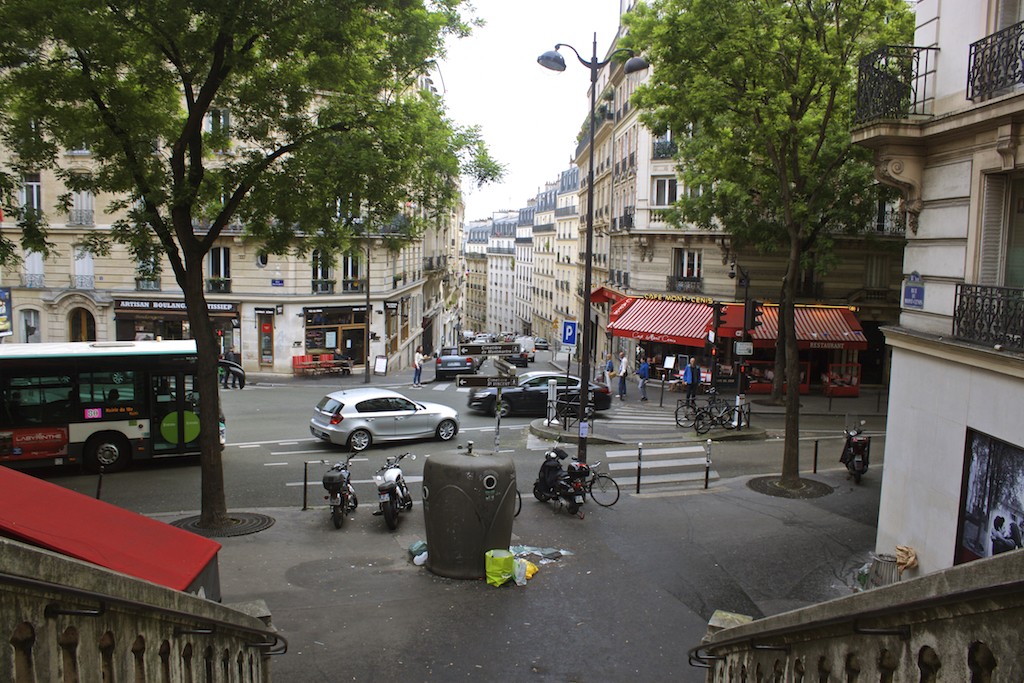 Not wanting to pay outrageous prices for a hotel, I stayed at the cozy Le Montclair Hostel in Montmartre, a Bohemian neighborhood filled with steep cobblestoned streets, dreamy apartments with flower-filled balconies, as well as plenty of hip restaurants, bars, and cafes.
As I arrived late Friday night, I immediately sought out a wine bar so I could live out one of my bucket list dreams, which was to drink champagne in France. At the recommendation of a local, I headed to Sunset, a bar, and restaurant, to get my fill of French libations. The chic and laid-back place was packed full of locals enjoying their night out and celebrating France's EuroCup win earlier that night. As I was alone, I grabbed a seat at the bar and ordered a glass of champagne. Wanting to absorb the scene rather than talk to anyone, I pulled out my notebook and began writing away. My journey to Paris had been a long one, and I wanted to get it down on paper before I forgot the details of my adventure that day.
Saturday morning, I woke up early, grabbed a breakfast of a cappuccino and a freshly baked croissant, as that's what you do when you're in Paris, and began wandering through Montmartre, slowly making my way toward the Sacré-Cœur. I saw the peak of the basilica as I began my leisurely, uphill ascent.
Good To Know About Montmartre
1) I shacked up for two nights at Le Montclair Hostel, sleeping in a 4-bed female dorm (with a private bathroom). The total cost of my stay was €75, pricey for a hostel, but comparable to other European capitals like Amsterdam or Reykjavik. Private rooms are also available. The reception is open 24 hours and there's no curfew. The front-desk staff are also friendly and helpful. Wi-Fi's also available throughout the hostel. Breakfast and towels cost extra. You can find the hostel at 62 Rue Ramey, 75018. Also, consider these hotels in Paris.
2) Sunset bar's located at 100 Rue Ordener, 75018.
Sacré-Cœur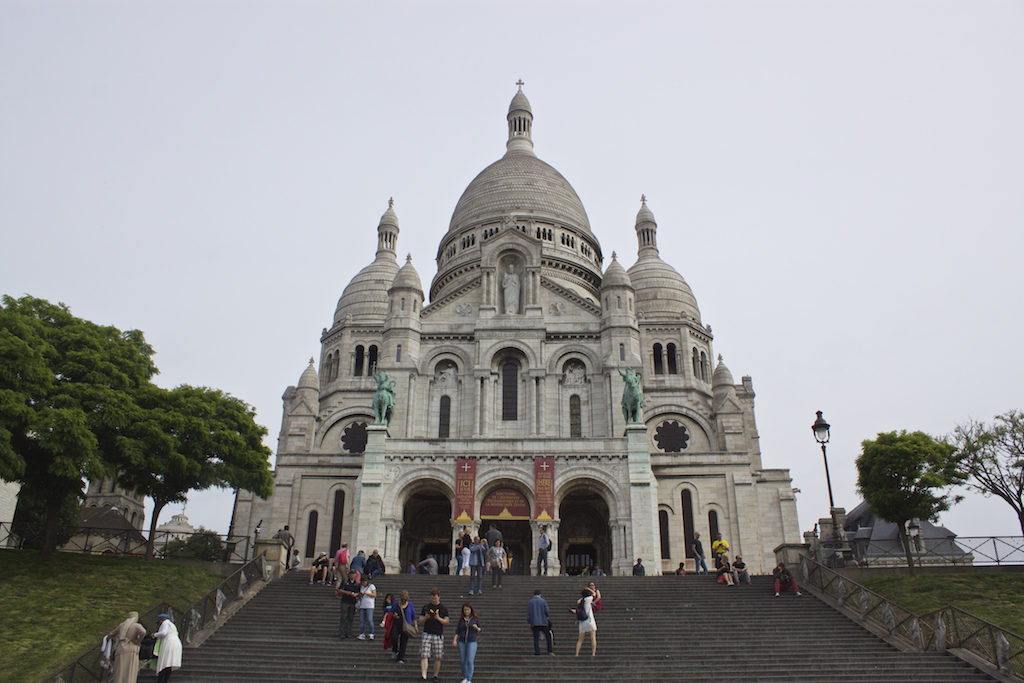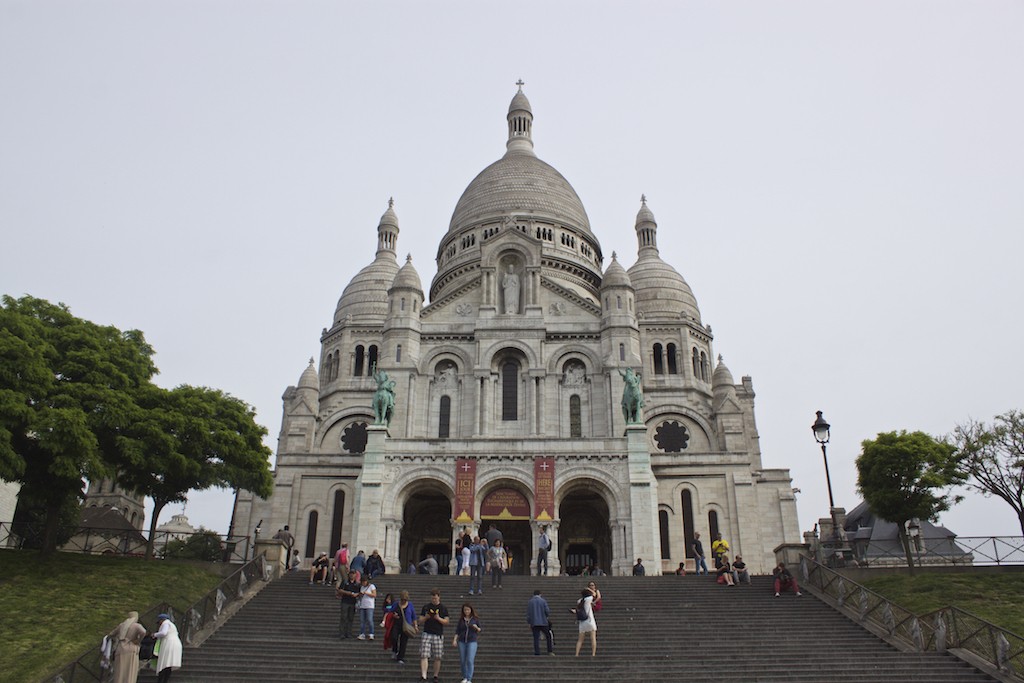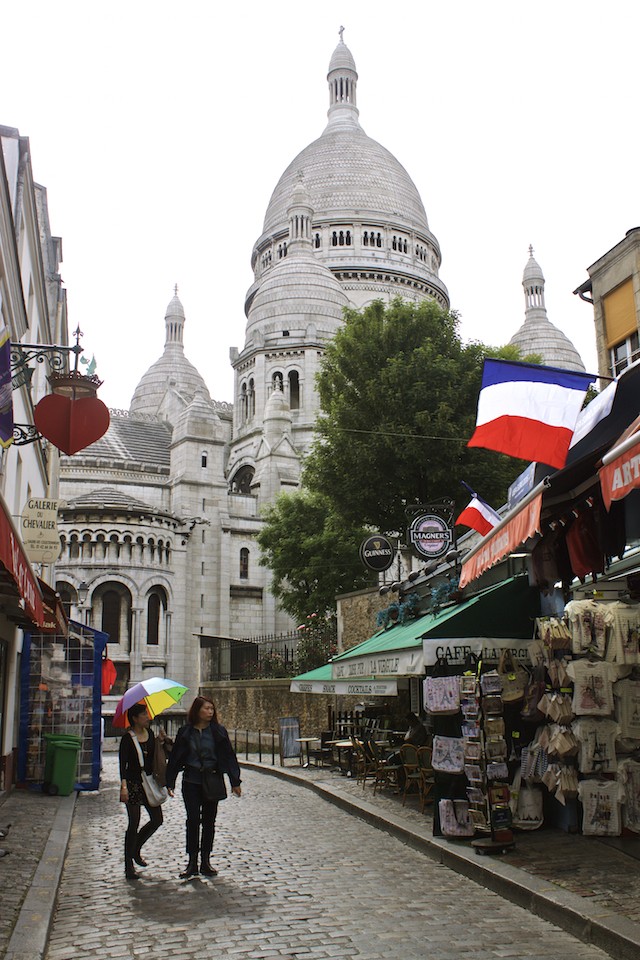 The Sacré-Cœur is one of the most popular landmarks in the city and a great place to take Paris photos. The Roman Catholic church rests on top of the highest point in the city and offers a perfect vantage point for catching sprawling views over Paris. It's favored by many as a place to take a picnic lunch with wine, cheese, and what not to watch the sunset.
Some fast facts about the Roman-Byzantine Basilica:
Construction began in 1875 and was completed in 1914, finally being consecrated in 1919 after the end of WWII.
Much like the strange and puzzling mosaic that adorns the floor of the Otranto Cathedral in Italy, the church also contains one of the world's largest mosaics, Christ in Majesty.
The upper dome is also open to the public and provides visitors with even more spectacular panoramic views over Paris.
Unfortunately, I didn't have time to enter the church (I was on my way to a street art tour), and instead, I spent my time wandering around the site, drinking in the views, and attempting to deftly avoid all of the street vendors hawking their various trinkets and wares.
Good To Know About The Sacré-Cœur
1) The site's open 6:00 a.m. – 10:30 p.m. daily and the dome's open 9:00 a.m. – 7:00 p.m. in the summer and until 6:00 p.m. over the winter. As it's such a prime tourist site, it's also a hotspot for pickpockets. Be aware of your surroundings, keep your valuables close at hand, and avoid being approached by demanding vendors trying to sell you something, and you'll be fine. The Sacré-Cœur is located at 35 Rue du Chevalier de la Barre, 75018.
A Belleville Street Art Tour
After spending time at the Sacré-Cœur, I moved on to the Belleville area of the city to embark on a street art tour that would take our group through the Oberkampf, Belleville, and Ménilmontant neighborhoods. These vibrant and multicultural sections of the city are not as frequented by tourists, and it was refreshing to walk around and get a feel for these lesser-touted areas.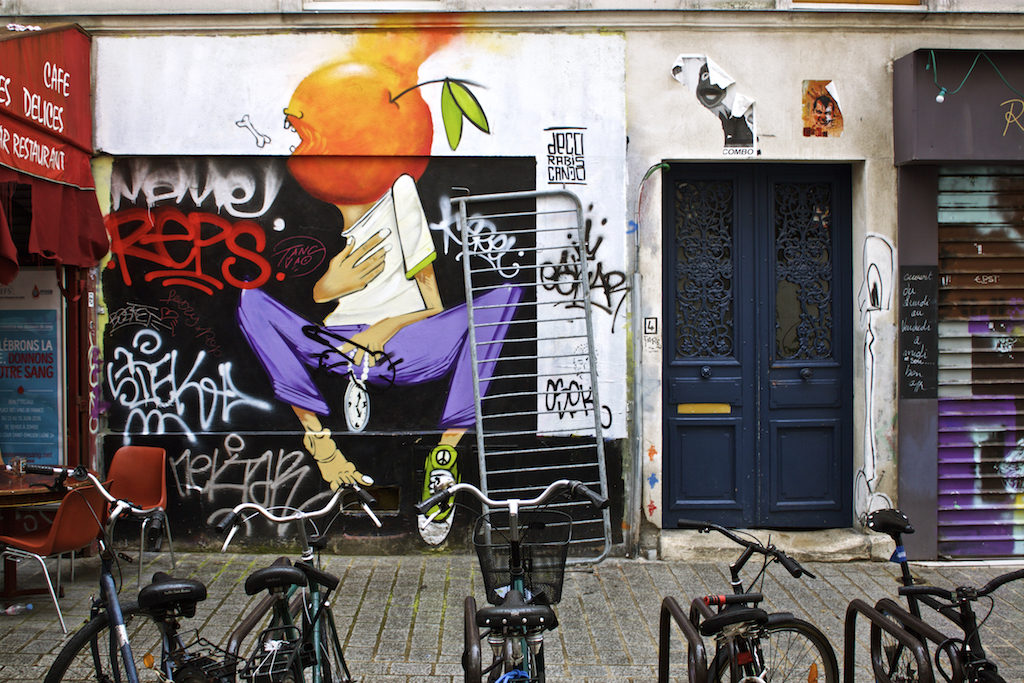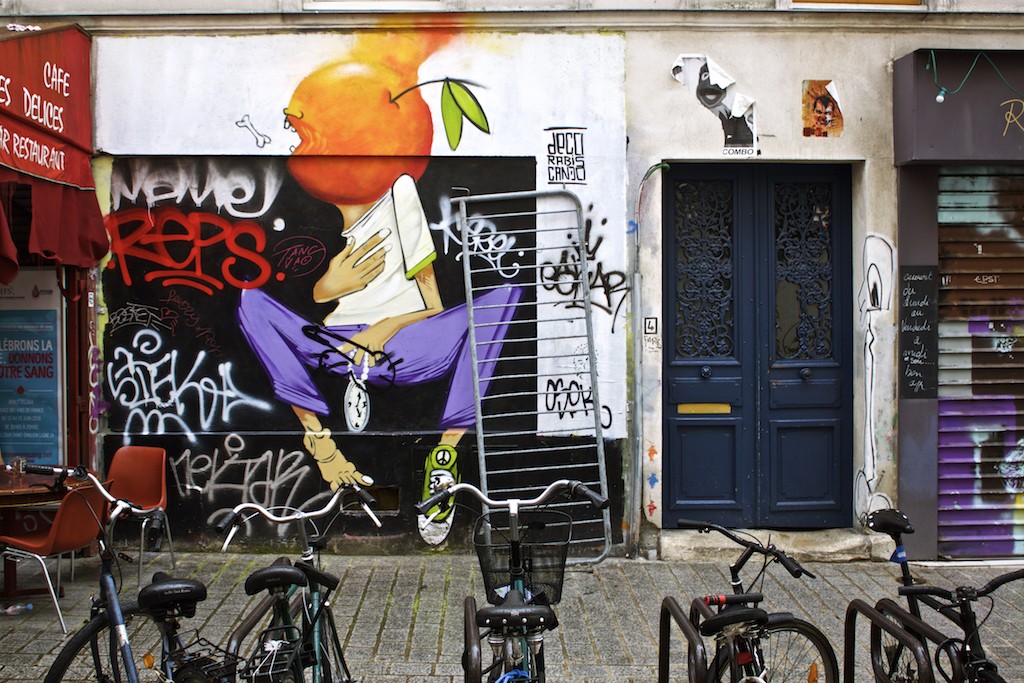 This three-hour tour is conducted by Street Art Paris, a collective of local artists and institutions who're dedicated in upholding, documenting, and presenting the Parisian street art and graffiti culture to locals and tourists alike. Our passionate and knowledgeable guide not only told us more about the scene itself but showed us beautiful pieces and doled out deeper insight into the statements the artists were trying to convey.
Good To Know About The Belleville Street Art Tour
1) The Belleville Street Art tour costs €27. The tours are held on Saturdays, starting at 11:00 a.m. The meeting point is 107 Rue Oberkampf, 75011. You can also book street art tours through Montmartre and Left Bank neighborhoods.
Parc de Belleville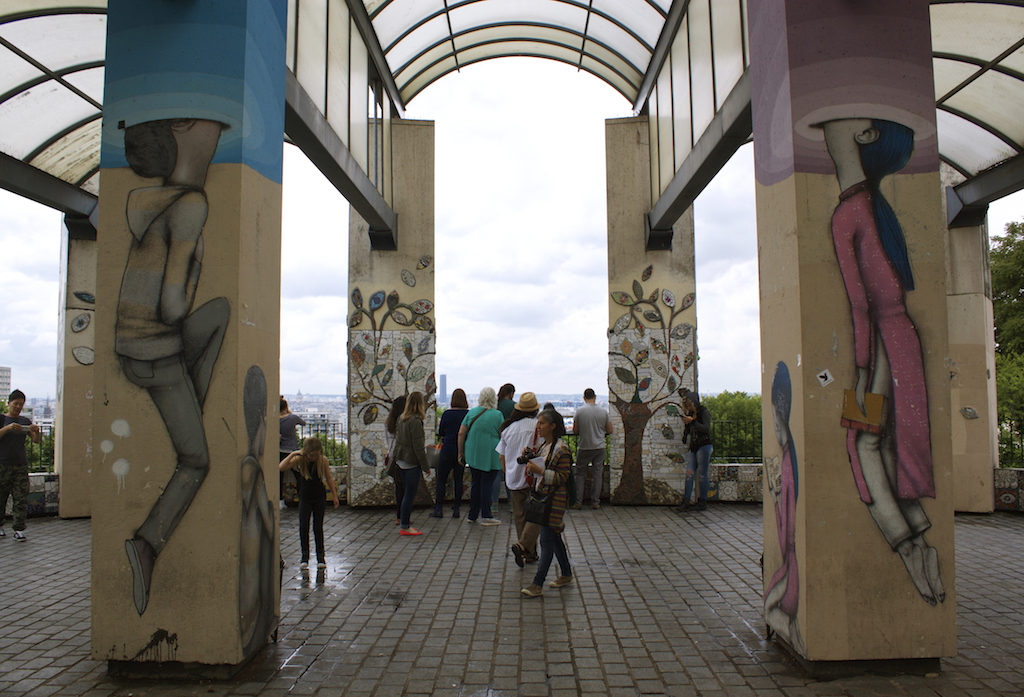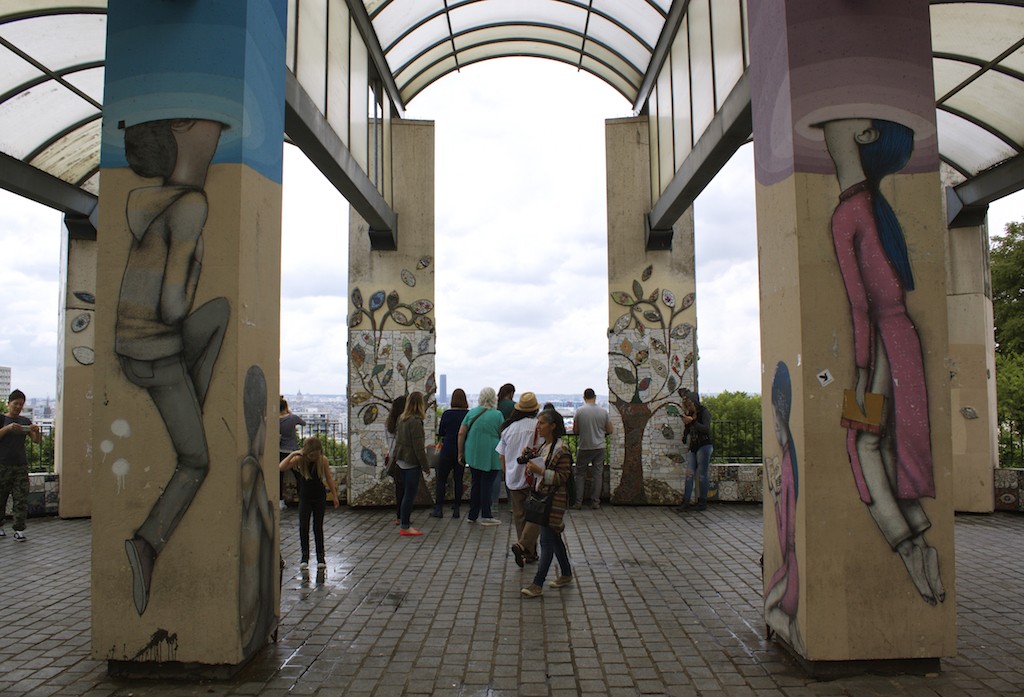 Our street art tour concluded in the Parc de Belleville, the highest park in the city. The massive park has a museum, an open-air theatre, a 100-meter-long waterfall fountain, and a summit with breathtaking views over Paris, including that of the Eiffel Tower. My favorite part of the park was this 30-meter-high terrace decorated with even more Paris street art.
At 45,000 square meters, the expansive space of greenery was once a busy area for wine production. Today, there are still a few vines producing up to two or three kilos of Pinot Meunier and Chardonnay grapes annually.
Good To Know About Parc de Belleville
1) This is another spot in Paris that's suited for a picnic and watching the sun go down over the city. There's also free Wi-Fi available in different spots through Parc de Belleville. Find the park at 47 Rue des Couronnes, 75020.
La Grande Mosquée de Paris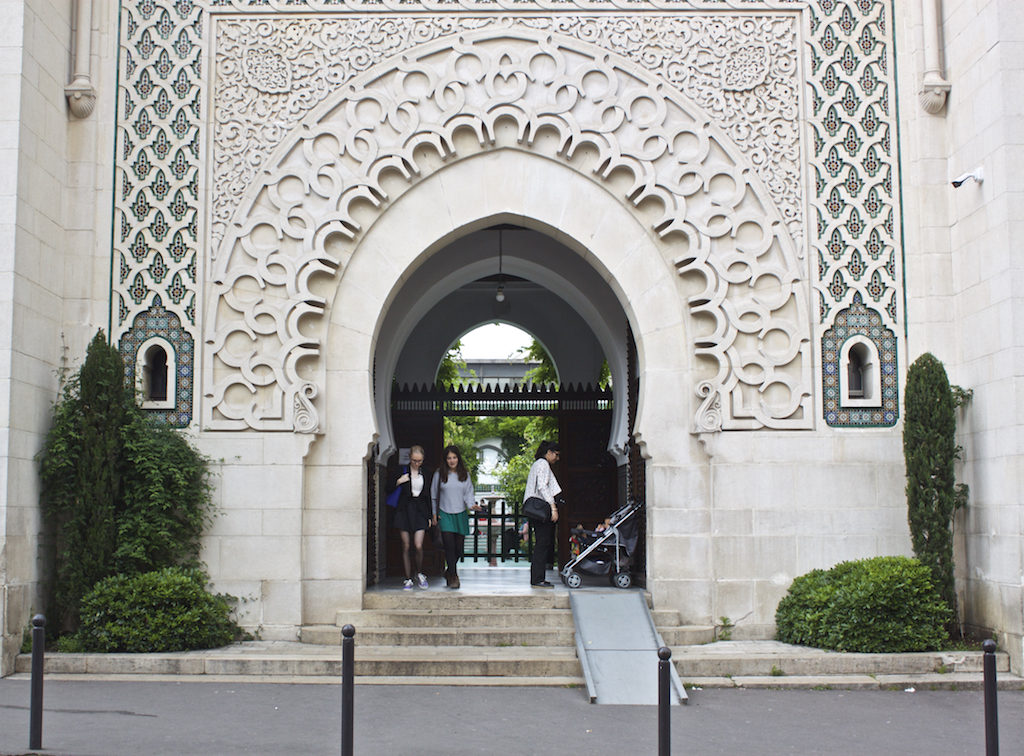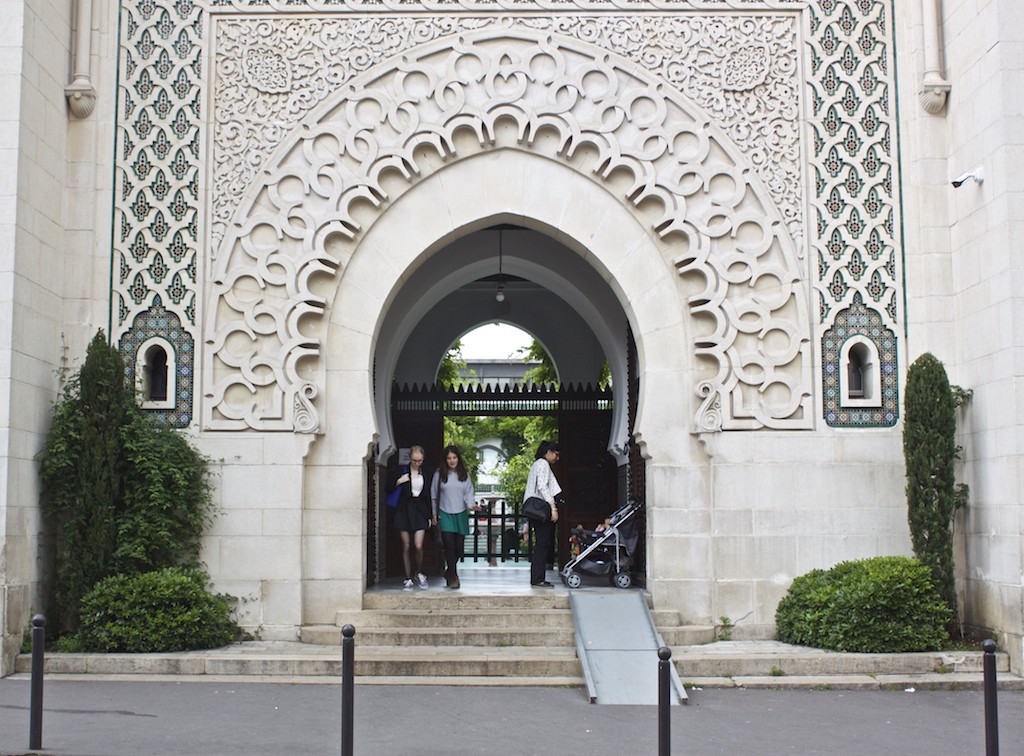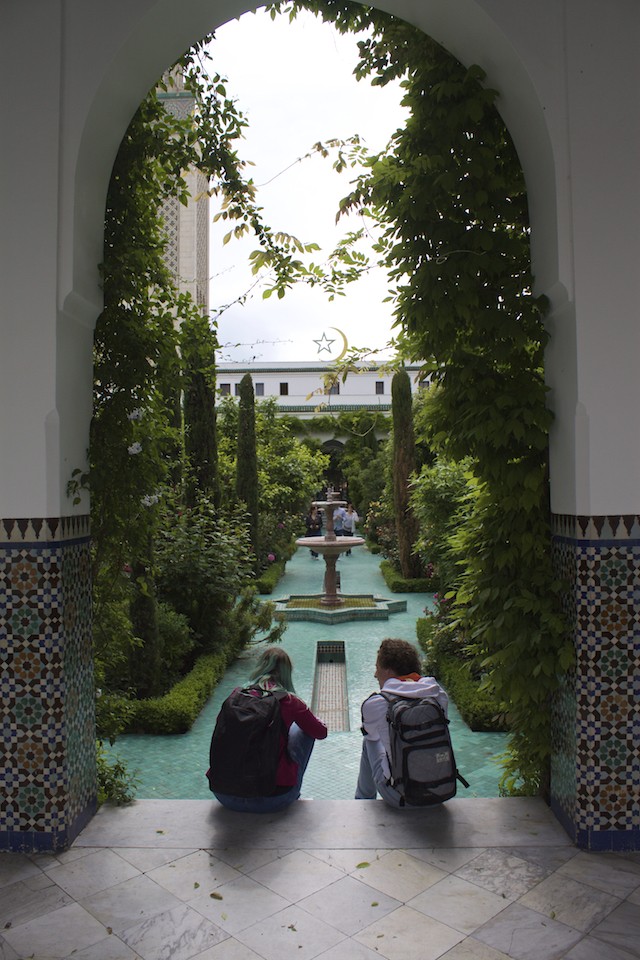 After the street art tour, I visited what turned out to be my favorite place for Paris photos — situated in Paris's 5th arrondissement, La Grande Mosquée de Paris is one of the country's largest mosques. Established in 1926 to honor the 10,000 Muslims who fought for France during WWI, the mosque was later used to shelter Jewish people fleeing Nazi occupation during WWII.
Today, it serves as a place of worship for Parisian Muslims and is open to the public to tour the architecturally stunning mosque and garden, relax in the café, or even experience a Turkish bath at the hammam. And yes, this is another great spot to take a bunch of Paris photos.
Recommended reading: this New York Times article — "Heroic Tale of Holocaust, With a Twist."
Throughout the Mudéjar-styled mosque, you'll find decorated mosaics, wood carvings, and wrought iron that was imported from Morocco. The outdoor garden and courtyard are full of flowers, fountains, and plenty of greenery. The 33-meter-high minaret is decorated with green and white tiles. The café, with its communal, tile-topped tables and cedar arches, serves up teas and treats like baklava and Turkish delight. If you're up for it, you can even smoke shisha.
I ended my day of touring here and then returned to my hostel, had a forgettable dinner nearby (the restaurant's not even worth mentioning), and jumped into bed early to take even more Paris photos the next day.
Good To Know About Grande Mosquée de Paris
1) The mosque is open every day (except Fridays) 9 a.m. – 12 p.m. and 2 p.m. – 7 p.m. in the summer, and 9 a.m. – 12 p.m. and 2 p.m. – 6 p.m. in the winter. An independent tour of the mosque is €3, and a tour with a French-speaking guide is €3.
2) The Prayer Hall is off-limits for those not partaking in worship. Dress modestly when entering the mosque. No short skirts, bare shoulders, etc. Photos are permitted inside the mosque and garden areas. Be respectful and do not take photos in the Prayer Hall.
3) The café has a halal menu. There's a gift shop full of books and North African treasures available for purchase.
4) Entry into the hammam is €18, with exfoliation and massages costing extra. Hair removal services are also available (arms, legs, etc.). Towels and robes are available for rent. Check the hammam schedule to find out when it's open to men and women, which are usually on different days.
5) The address of the Grand Mosque is 2 bis Place du Puits de l'Ermite, 75005.
Soul Kitchen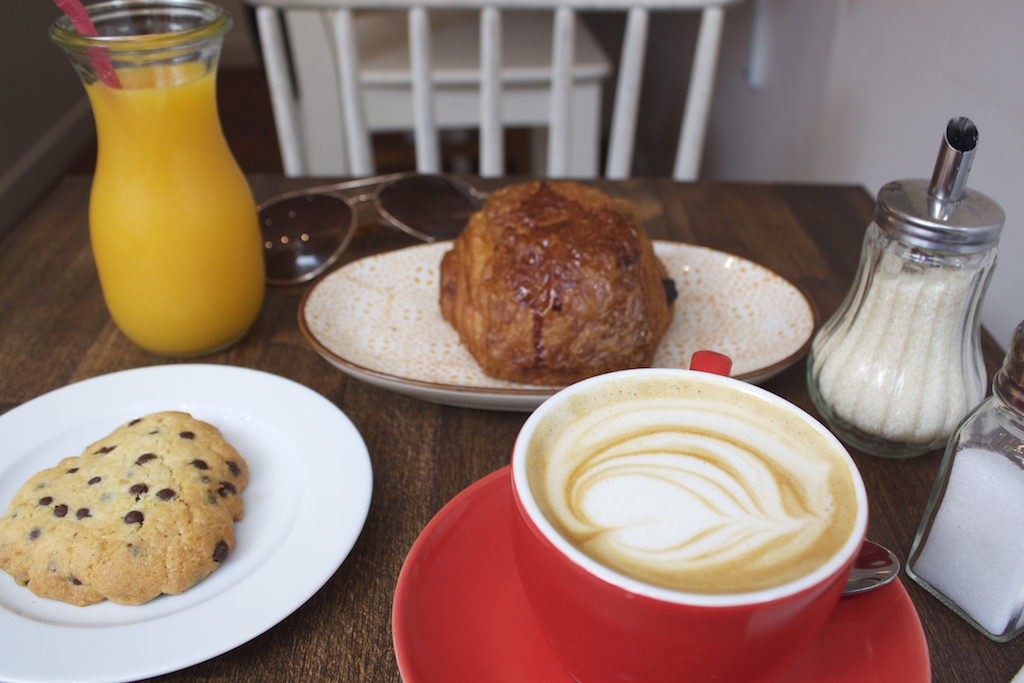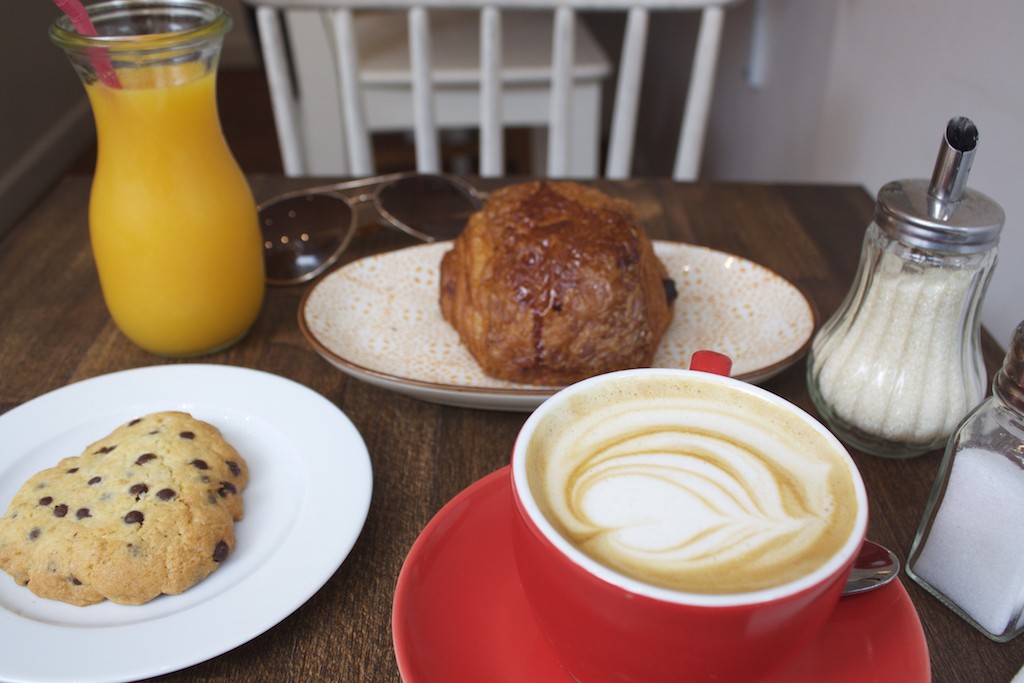 As it was my last day in Paris, I woke up early and went for a sumptuous breakfast at Soul Kitchen, a cute spot located in Montmartre. Owned by three female chefs, the menu changes often, and all of their food is made from fresh, local, and organic produce.
I opted for a cappuccino, freshly squeezed orange juice, a chocolate chip cookie, and a pain au chocolat. It was utterly delicious and made for a great start to Sunday.
Good to Know About Soul Kitchen
1) Read this Soul Kitchen review from Timeout to see how many others rave about this café-restaurant. They're open Tuesday – Friday from 8:30 a.m. until 6:00 p.m. On Saturdays and Sundays, they're open from 10:00 a.m. until 6:30 p.m. They're closed on Mondays. They have vegan options on their menu. You can find Soul Kitchen at 33 Rue Lamarck, 75018.
Shakespeare and Company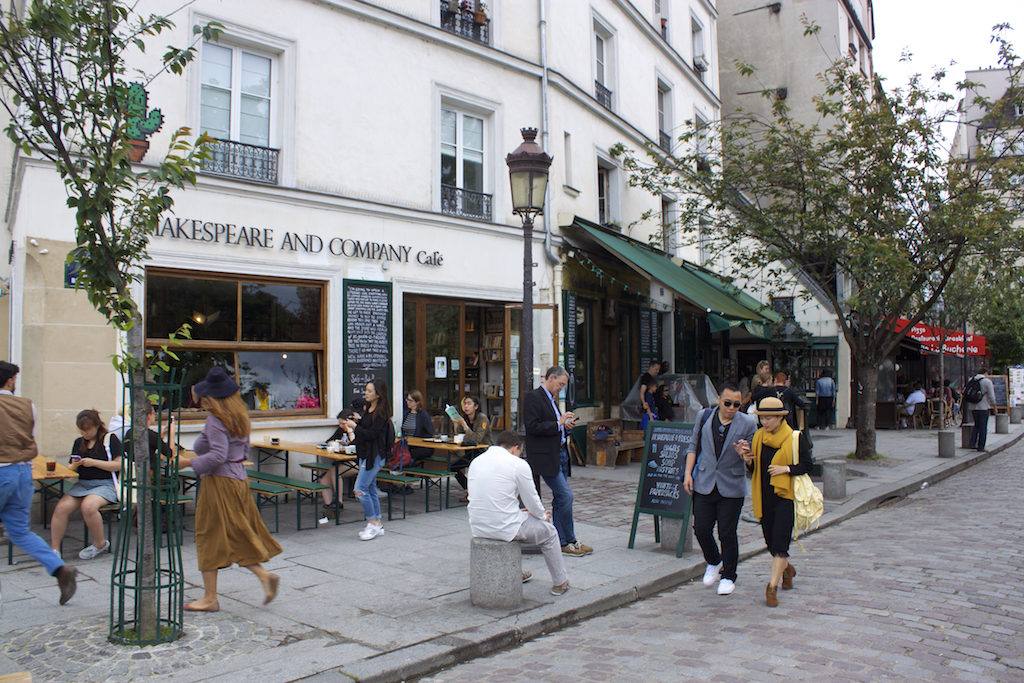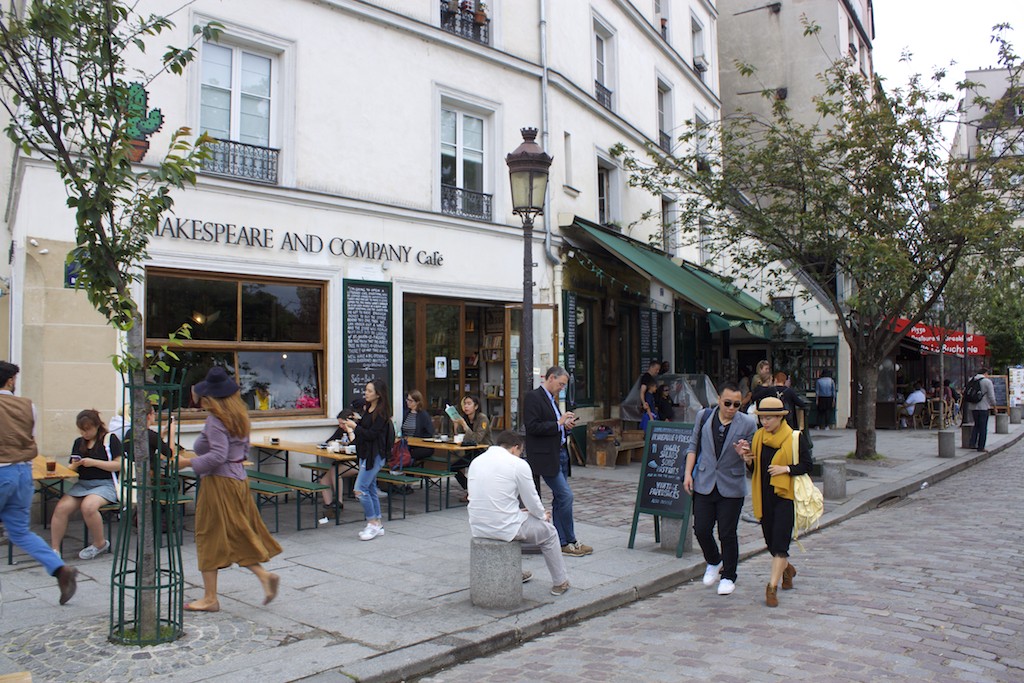 After breakfast, I finally checked out what was, for me, my dream come true – the independent bookshop Shakespeare and Company. This storied place along the Seine sells English-language books, both used and new has a café, and plays host to readings and a plethora of other literary events.
Recommended reading: this article from Vanity Fair, which discusses the fascinating history and lore of the bookshop, the ongoing demand from pushy real-estate vendors, who want to turn the site into a hotel, and much more.
I only spent time in the café, where I quickly gulped back an espresso and, sadly, didn't make it inside. The queue was much too long, and there were too many more sights that I wanted to see before leaving Paris.
Good to Know About Shakespeare and Company
1) Check out their website to listen to podcasts, order books online, and see their schedule of events. Shakespeare and Company can be found at 37 Rue de la Bûcherie, 75005.
A Walk Along the Seine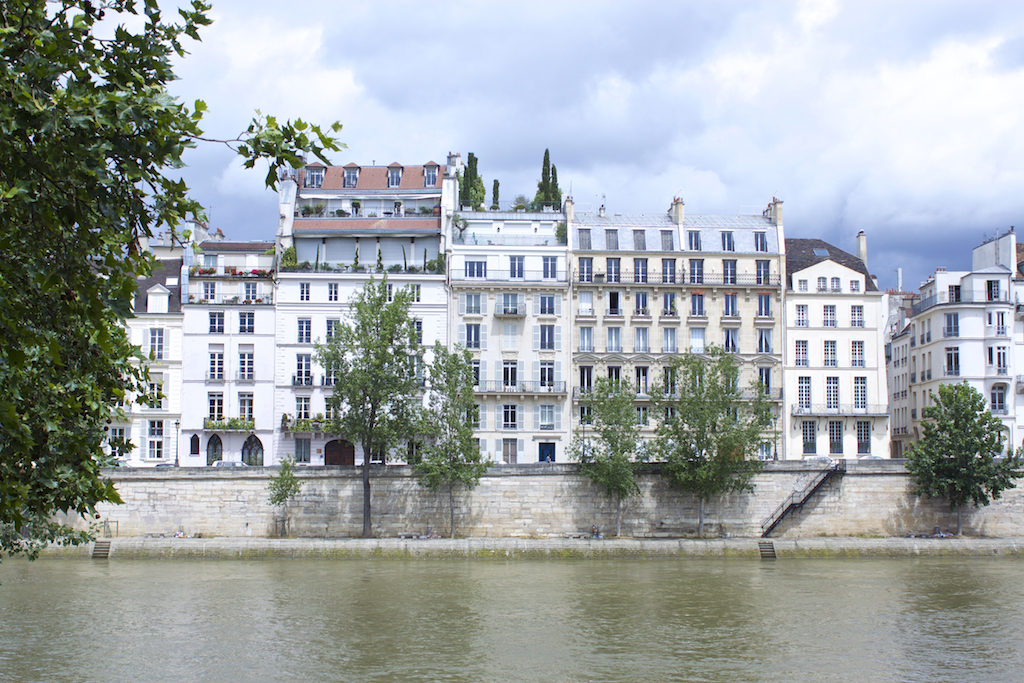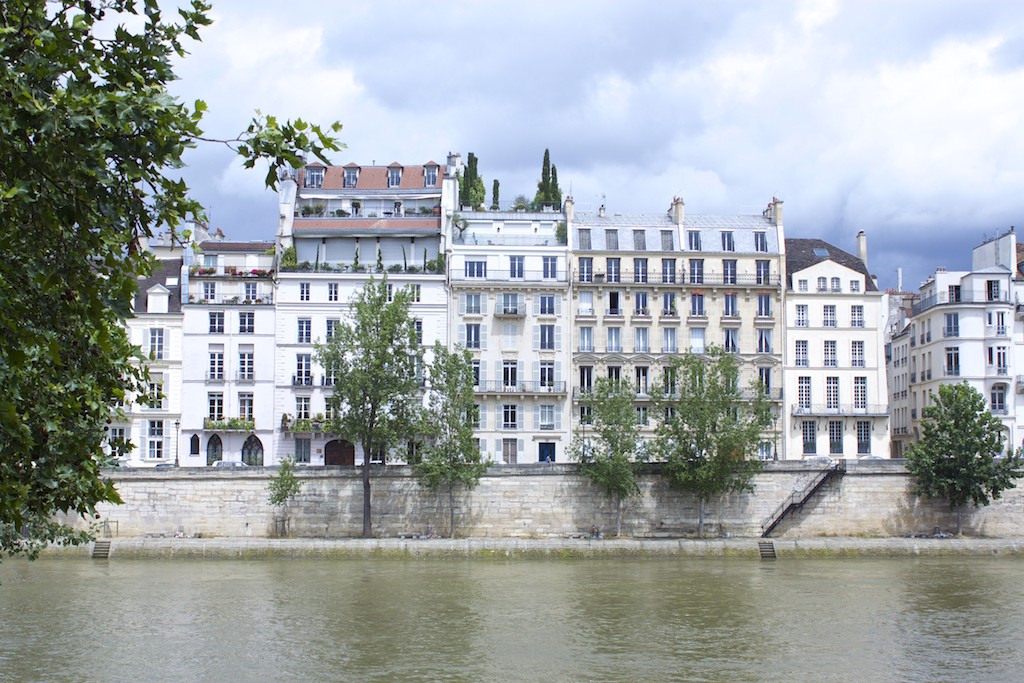 Leaving the bookstore, I decided to stroll along the Seine, checking out the beautiful buildings that flank the river, along with the various little stalls filled with books, posters, and other souvenirs of Paris. I even stumbled upon a wedding photo shoot and a pretty rose-filled garden. It's easy to see why this is a prime spot for Paris photos.
Notre-Dame Cathedral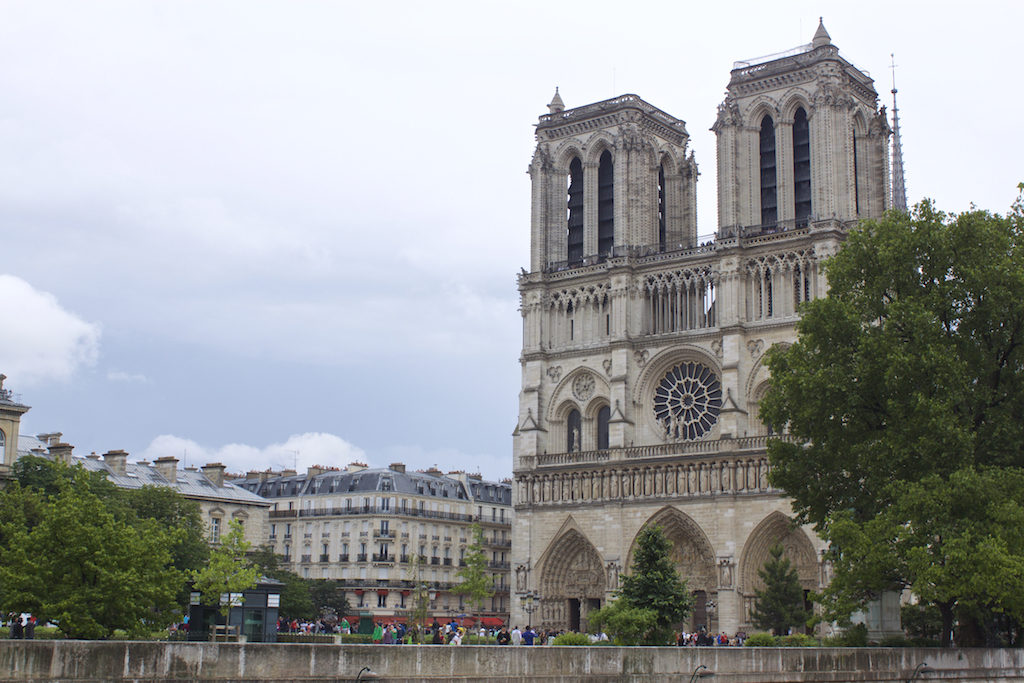 As I walked along the Seine, I spied the medieval Notre Dame Cathedral off into the distance. Again, short on time, I wasn't able to make it inside for a tour but admired it from a distance.
The mammoth French-Gothic cathedral is one of the largest in the world and is certainly a place that one must check out when visiting Paris. The UNESCO-designated Notre Dame Cathedral boasts an impressive collection of organs, stained-glass windows, sculptures, and more.
The Arab World Institute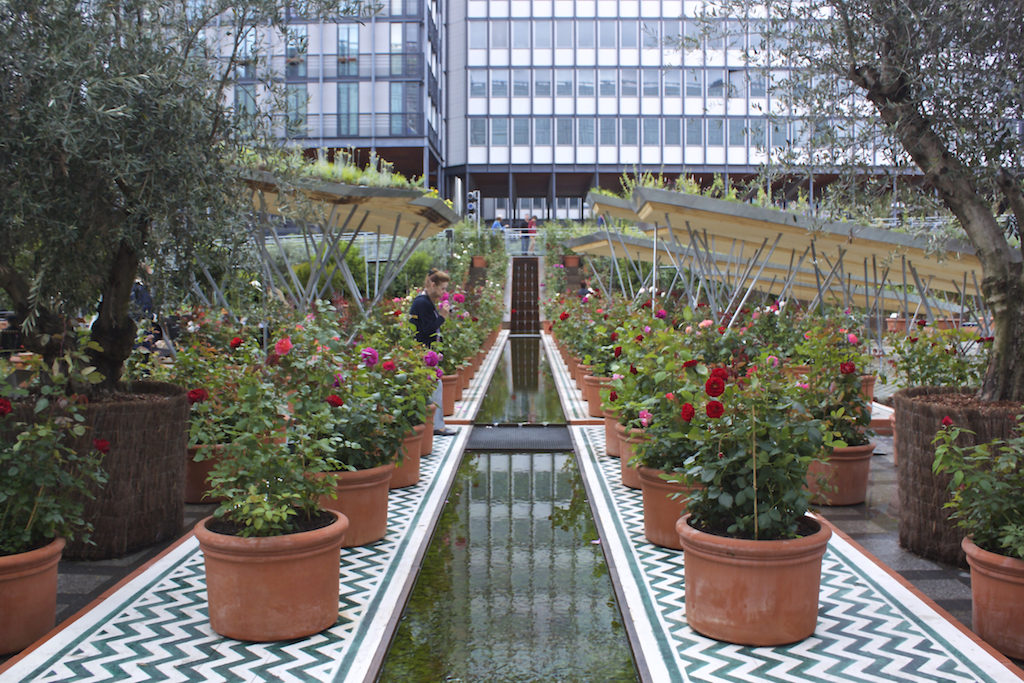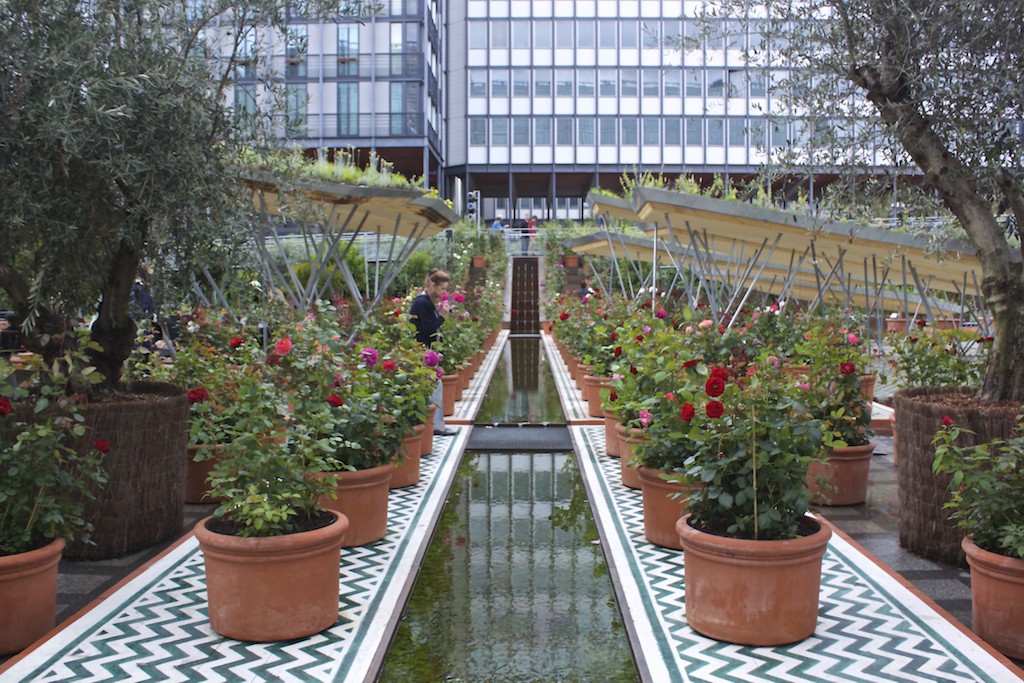 Next up was the Arab World Institute, or Institut du Monde Arabe. Founded in 1980, it's an organization run by 18 different Arab countries, in cooperation with France. Set in an impressive building along the Seine, the glass facade reveals intricately patterned, moving geometric motifs, which are actually 240 different motor-controlled shutters that open and close automatically and control the amount of light and heat being let into the building.

Outside, there's a lovely garden to walk through, and inside you'll find a museum, library, bookstore, and café.
Good To Know About The Arab World Institute
1) Visit the rooftop, where you'll find a lesser-known spot that treats you to yet another beautiful view over Paris.
2) There's a limited selection of English-language books available in the bookstore, and prices tend to be on the expensive side. I picked up a book about understanding Islam in the modern-day context, and it was approximately €30.
3) The Arab World Institute is located at 1 Rue des Fossés Saint-Bernard, 75005.
Paris Metro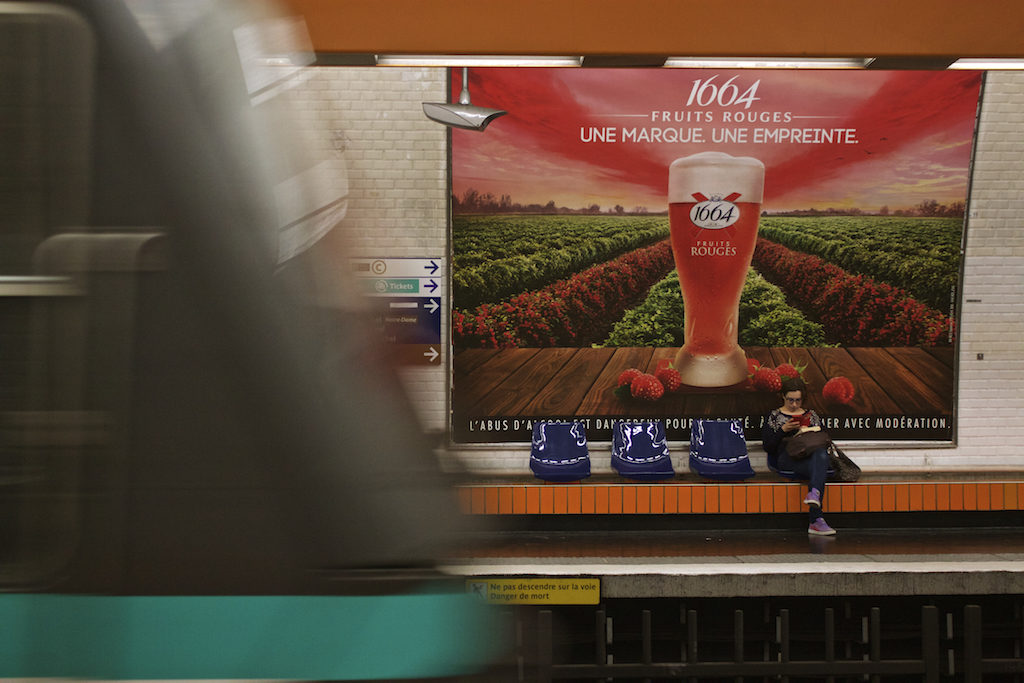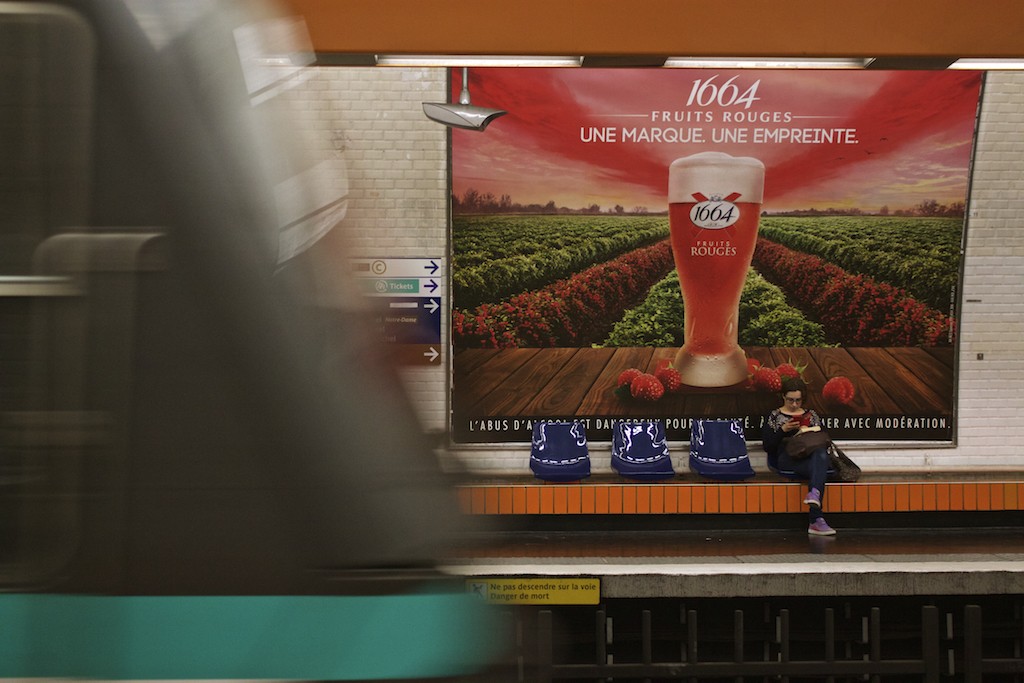 I spent the entire weekend zipping around the city on the metro and loved taking in the various stations, which I could not stop posting Paris photos of on Instagram (see here and here).
Like my weekend in Budapest, my time in Paris was simply too short. At some point, I'll be back to finally see the Eiffel Tower, eat macaroons, and drink more champagne!
What do you think about these Paris photos? Do you have any other tips about this legendary city? Drop us your recommendations below in the comments.
Good To Know About Paris
1) Find a place to stay in Paris, France.
2) Make your time in Paris special and go on a guided tour.
3) If you're a fan of European travel, read some of my favorite blog posts:
4) For more Paris inspiration, check out this 3 days in Paris itinerary or this other post about 3 days in Paris. Or maybe, think about these day trips from Paris.
*Disclosure – This post contains some affiliate links. If you book a tour or hotel, I'll earn a tiny commission at no extra cost to you. Thanks for your support!