On this blog, we love nothing more than to feature weird and offbeat places around the world. From the biggest open-air book market in Ukraine to river surfing in Munich, and so much more, we're here to tell you all about these quirky attractions. 
Brno, Czechia is one of the best cities to discover such places – it's here that you can see a real-life dragon after all. Aside from that, what else is there to discover? An ossuary filled with the skeletal remains of more than 50,000 people.
More Than 50,000 Skulls Are Packed Into The Brno Ossuary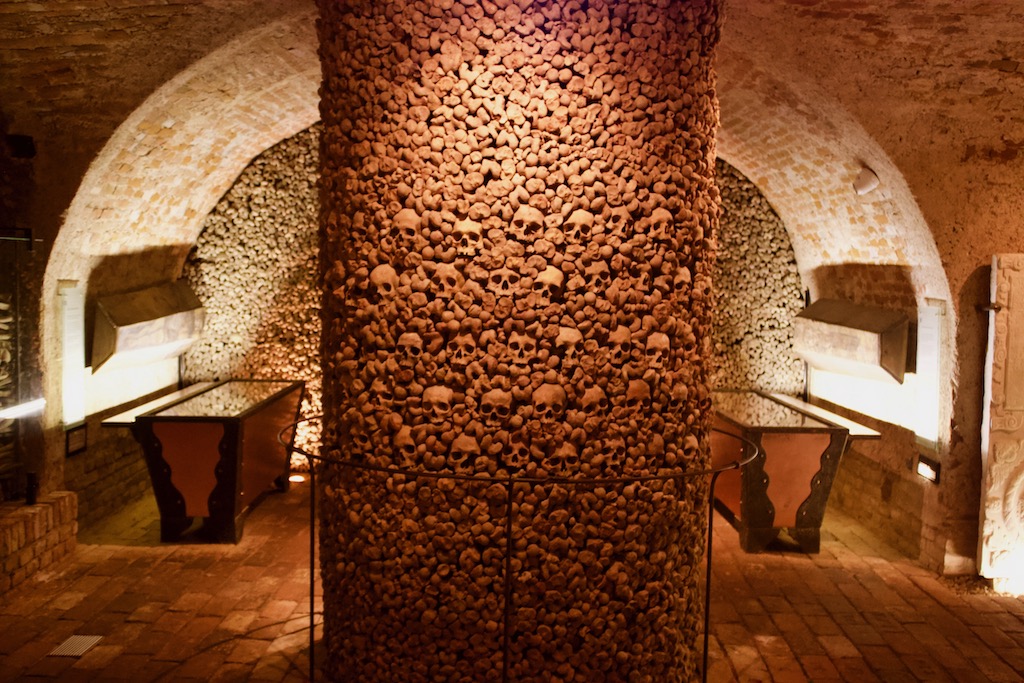 The Brno Ossuary Was A Surprising Find
In 2001, a construction crew was doing renovation work on a square in Brno, Czechia when they came across a long-forgotten ossuary buried under the Church Of St. James. The crew had actually rediscovered Europe's second-largest ossuary, a burial complex containing various chambers filled with the remains of more than 50,000 people. It had been sitting there unknown and untouched for more than 200 years.
Recommended reading: For further information, see these articles published around the time the ossuary was found, including one about how they asked the European Union for financial aid to restore the ossuary and how they planned to develop the ossuary.
Upon gazing at their find for the very first time, local historian and underground explorer Aleš Svoboda remarked: "What we saw after the lighting literally stunned everyone present. Once void and dark space now revealed its chambers, completely filled with bones and skulls of inestimable amount."
Aside from the extraordinary fact that the city stumbled upon a vital piece of its own history, their timing of finding the ossuary could not have been better. Had the ossuary been left to continue and decay, humidity and mold would have completely ruined the bones and the complex would have collapsed at some point. Thankfully, this didn't happen and the locals decided to undertake an effort to restore the ossuary and transform it into the dark tourist attraction it is today.
Preserving History And Turning The Ossuary Into A Tourist Site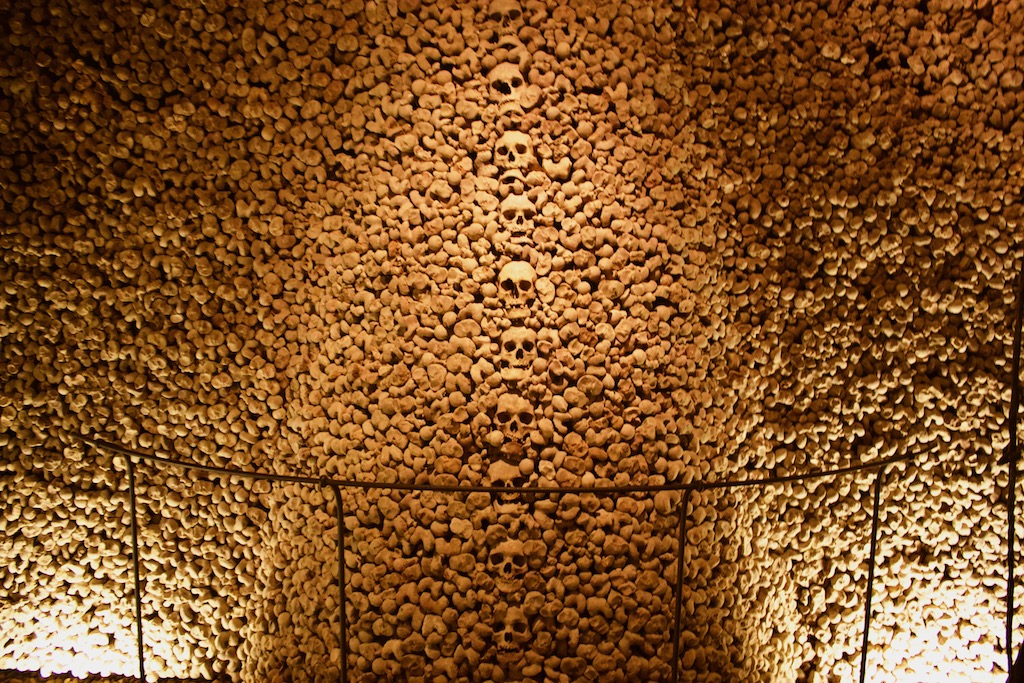 With financial assistance from the European Union, the remains were taken away, cleaned, and then rearranged in a newly renovated ossuary. Second to only the catacombs in Paris, the Brno Ossuary opened to the public as a major tourist attraction in 2012. 
Recommended reading: If you like such places, consider some of my other posts, including one about a skull tower in Nis, Serbia and the skull cathedral in Otranto, Italy.
Visitors can now stroll through three dimly lit rooms, and learn about the history of this important location. Skulls are stacked from floor to ceiling, with some skulls being shaped into chandeliers and even a coat of arms. As you explore the ossuary, ethereal music composed by local musician, Miloš Štědroň, plays softly in the background.
The History Of The Brno Ossuary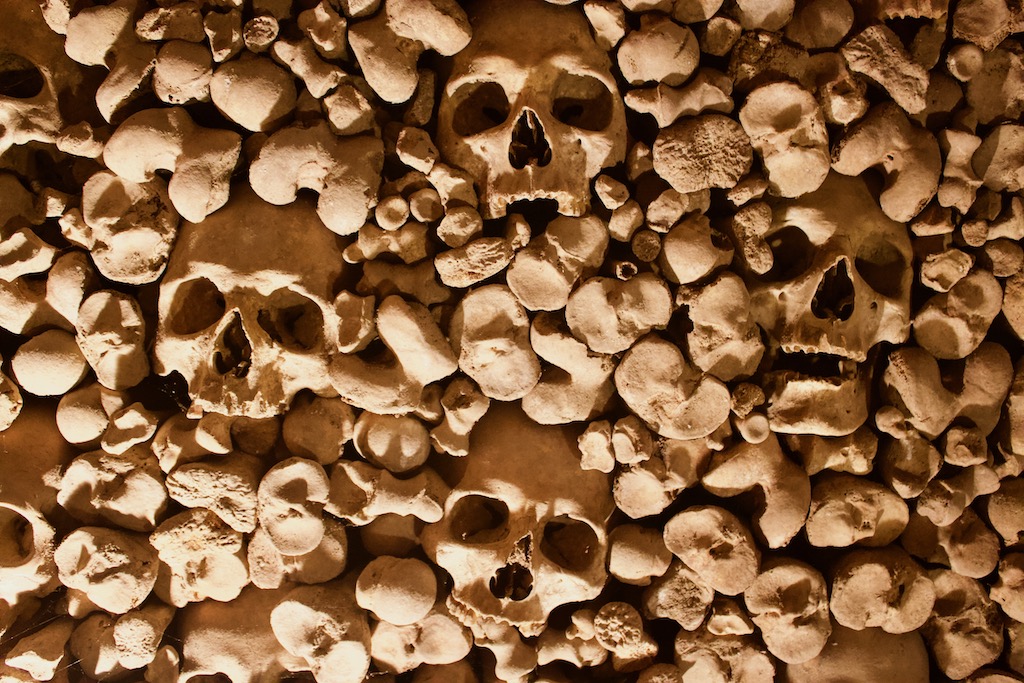 The ossuary was constructed in the 1700s as a way to make more room for burials in the church's cemetery. As the church was located within city limits, they were unable to expand to accommodate more bodies. As such, a new burial system was established – about a decade after death, people's bodies were exhumed and moved to the ossuary. This was a common practice throughout Europe during that time as not only was the population growing, but many people were also dying from cholera, the plague, and war. 
The Brno Ossuary was built under the church floor and had to be expanded more than once to store the constant influx of new bodies. Around 1784, Joseph II introduced reforms that involved closing churchyards for hygienic reasons. Remains from the cemetery were moved into the storage area below the church, the churchyard was destroyed, and the square outside the church was paved with pieces of headstones from the cemetery. 
Recommended reading: When a Jewish cemetery in Krakow was destroyed in the second world war, headstones were used to pave roads at the Auschwitz concentration camp.
Life went on and the ossuary was then forgotten until the early 2000s.
Watch/share this video about The Brno Ossuary and better yet, subscribe to my Youtube channel for even more travel-related videos.
Have you visited the Ossuary in Brno, Czechia? Would you go there yourself? Our readers would love to hear from you in the comments below. 
Brno Ossuary Location
Where is the ossuary located? Jakubské náměstí 65878 Brno.
Brno Ossuary FAQ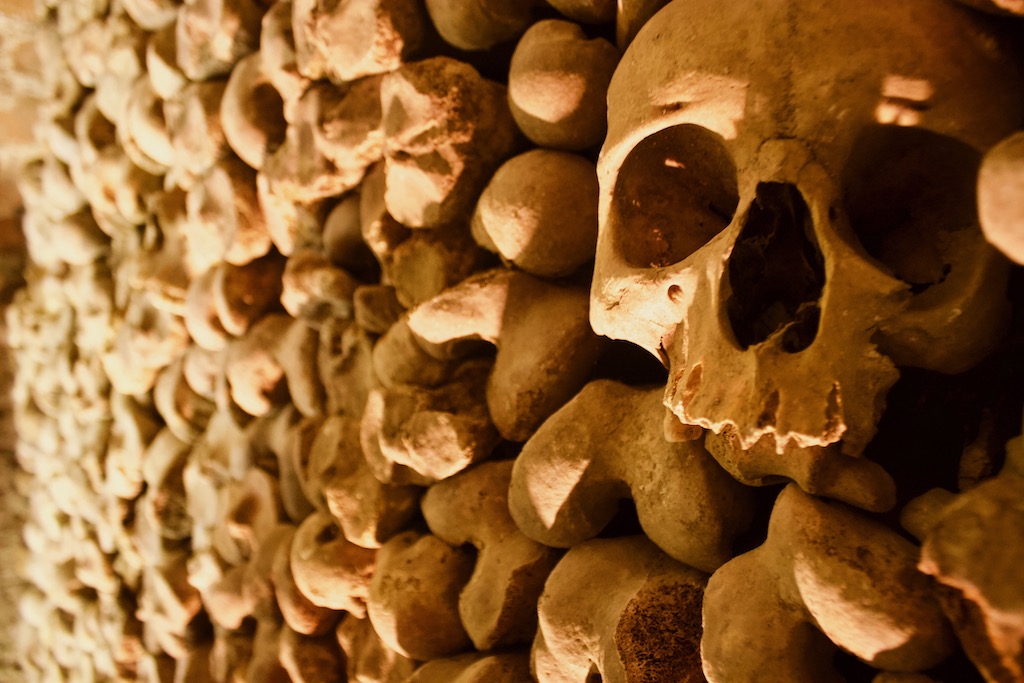 Everything you need to know about the Brno Ossuary. Your most common questions answered:
1) How can I get in touch with the ossuary for more information? You can call +420 515 919 793 and/or email [email protected] if you'd like to reserve your ticket(s) in advance. 
2) What is the nearest metro stop? Náměstí Svobody.
3) Is it hard to find the ossuary? Some people have a hard time finding the ossuary. It's located in the heart of Brno, directly below St. Jacob's Square (Jakubske namesti). Contrary to what many people think, the entrance is not inside St. Jacob's church but is just outside to the right of the church doors. Unfortunately, there are no prominent signs displayed informing tourists about where to go. If you're still confused, just ask someone inside the church. 
4) When is the ossuary in Brno open? The Brno Ossuary is open Tuesday – Sunday from 9:30 – 18:00. They're closed on Mondays. Sometimes the ossuary opens from 22:00 – 1:00, so for something extra creepy special, visit the ossuary at night when it's lit by tons of candles.
5) How much are the entry fees? A regular adult ticket is CZK 140 (about €5), tickets for students, kids under 15, and seniors are CZK 70 (< €3), while children under six can enter for free. Members of the press can also gain free entry if they show a press pass. Families can purchase a family package for 2 parents and 2 kids for CZK 380 (about €14), with any child under 15 costing another CZK 50 (<€2). Groups of at least 20 people can score a 10% discount.
6) Should I book my ticket in advance? You can make reservations in advance, especially when coming with a large group. Email or call them. You can also buy tickets at the cash desk. 
7) Can I pay for my ticket with plastic? Yes, you can pay for your ticket to the Brno Ossuary with a debit or credit card.
8) Can I take photos and videos inside the museum? Yes, you can. Using a camera is free, but you need to pay CZK 50 (< €2) to take video.
9) How much time should I spend at the Brno Ossuary? As the ossuary is not that big, I'd recommend about 15 – 30 minutes.
10) Can I get a tour of the ossuary in Brno? Most definitely! Guides tours occur every 30 minutes for groups with a maximum of 20 people. As these tours are in demand, we suggest booking in advance. You can also easily tour the ossuary on your own.
11) Does the ossuary have information available in different languages? Yes, they do. You can find text in English, German, Russian, Italian, Spanish, French, and Polish. Leaflets are distributed to guests after they purchase their tickets.
11) Is the Brno Ossuary suitable for children? It depends, really. The skulls, along with the atmospheric music, could be quite frightening for some kids. On the other hand, some kids may find it spooky and fun. You'll need to decide as a family what's best.
Transportation Options In Brno
All about how to get around Brno, my favorite city in Czechia:
1) To reach Brno's city center, you can drive, take a taxi, or bus from the airport and main bus/train stations:
2) Some of the different ways to get around the city:
Where To Stay In Brno
My recommendations about where to stay in Brno, Czechia:
1) Check out your options with booking.com.
Paying For Things in Czechia
What you need to know about how to handle your money in Czechia:
1) The country has its own currency, the Koruna (CZK). 
2) Czechia is very budget-friendly, from your accommodation to eating out, and more.
Good To Know About Brno
What do you need to know about Brno, Czechia? Some of our top tips:
1) To fully experience Brno, book yourself on a guided tour.
2) Is Brno safe? I can only answer this from an anecdotal perspective – as a woman traveling solo, I felt safe in Brno and didn't encounter any difficulties. However, the experience for people of color could be entirely different. It's not the most ethnically diverse city and back in 2015, there was strong resistance to the mass refugee migration from many citizens. One person in Prague even approached me to sign a petition to not allow migrants into the country! Of course, I refused to sign such an offensive document. Read this interview, done in 2020 where people of color in Czechia discuss their experiences.
3) If you like Czechia, take a look at some of my blog posts:
*Disclosure – This post contains some affiliate links. If you book a tour or hotel, I'll earn a tiny commission at no extra cost to you. Thanks for your support!