A few years back, I spent five days in Montenegro, hitting up the country's capital Podgorica, the coastal beach town of Budva, and the UNESCO World Heritage site of Kotor. By far, Budva was my absolute favorite, especially the walled Old Town (Stari Grad).
As usual, I walked around the city taking photos, and way more than needed. Since leaving, I've often dreamed of going back, walking those narrow streets, and feasting on seafood daily. For now, I can only go through my photo archives, with the hopes that not only will I return someday, but that it will also inspire you to visit Budva Montenegro too.
Inspiring Photos To Make You Want To Visit Budva Montenegro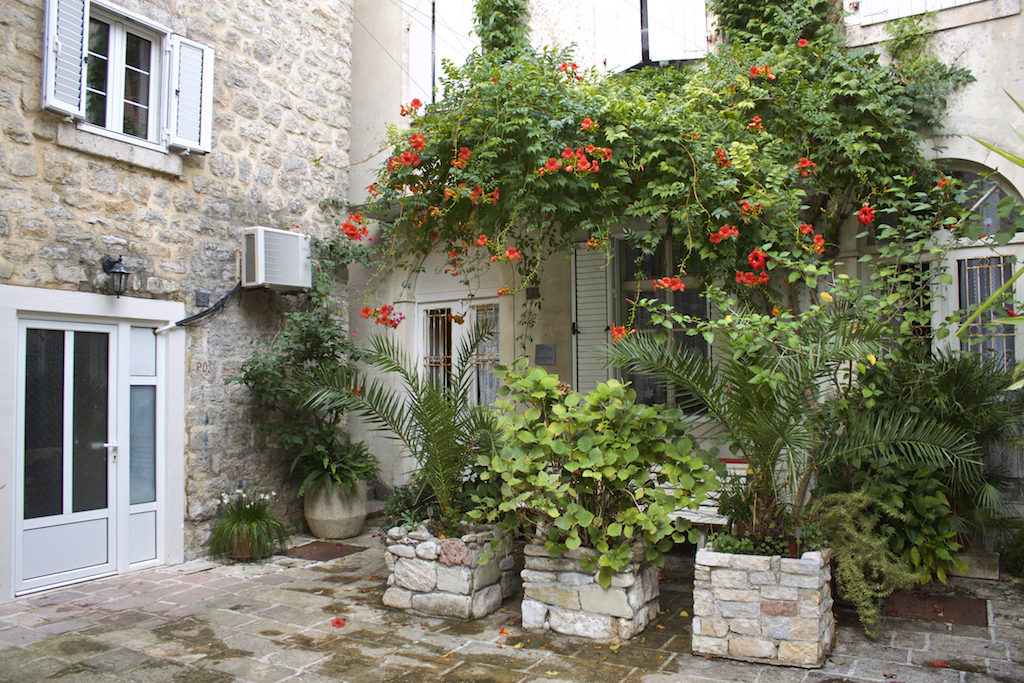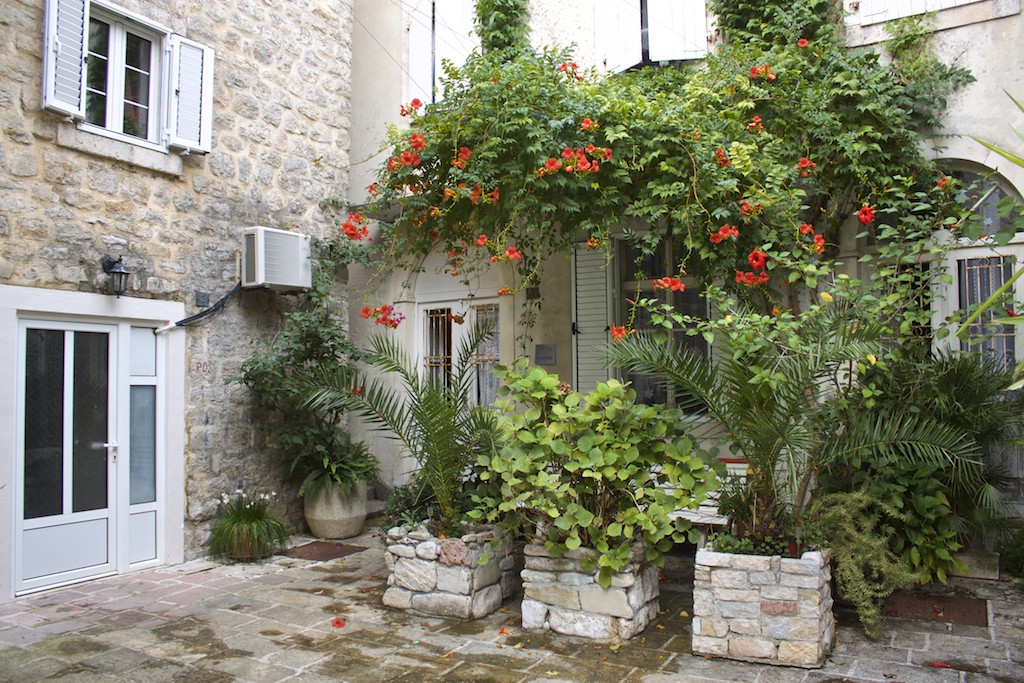 Surrounded by mountains, Budva has a bustling seaside promenade, plenty of beaches, a historic Old Town, and a happening nightlife. Considering all of these things, it's no wonder that Budva's the most popular destination in all of Montenegro. With a population of 14,000, it swells to 20,000 during warmer seasons when visiting tourists come to enjoy all the town has to offer.
After exploring the capital of Podgorica for 24 hours, I was more than ready for a weekend by the sea. Suntanning on a beach chair with a cocktail in hand was at the top of my mind. Even though I ended up spending hours at various beaches, it was Budva Old Town that captivated me.
Visit Budva Montenegro To Learn About The History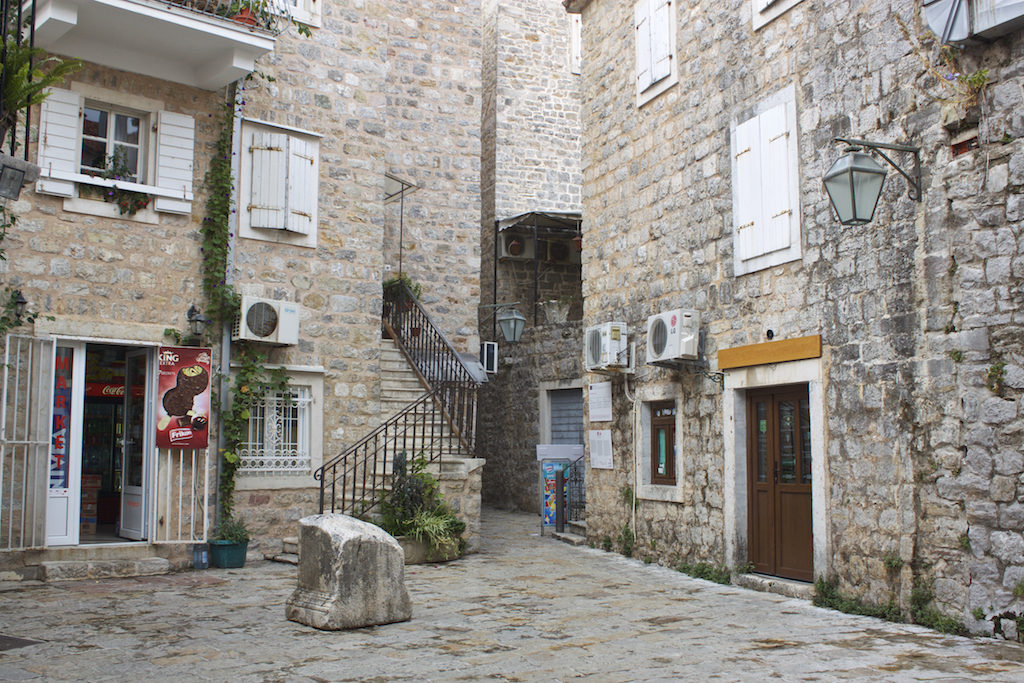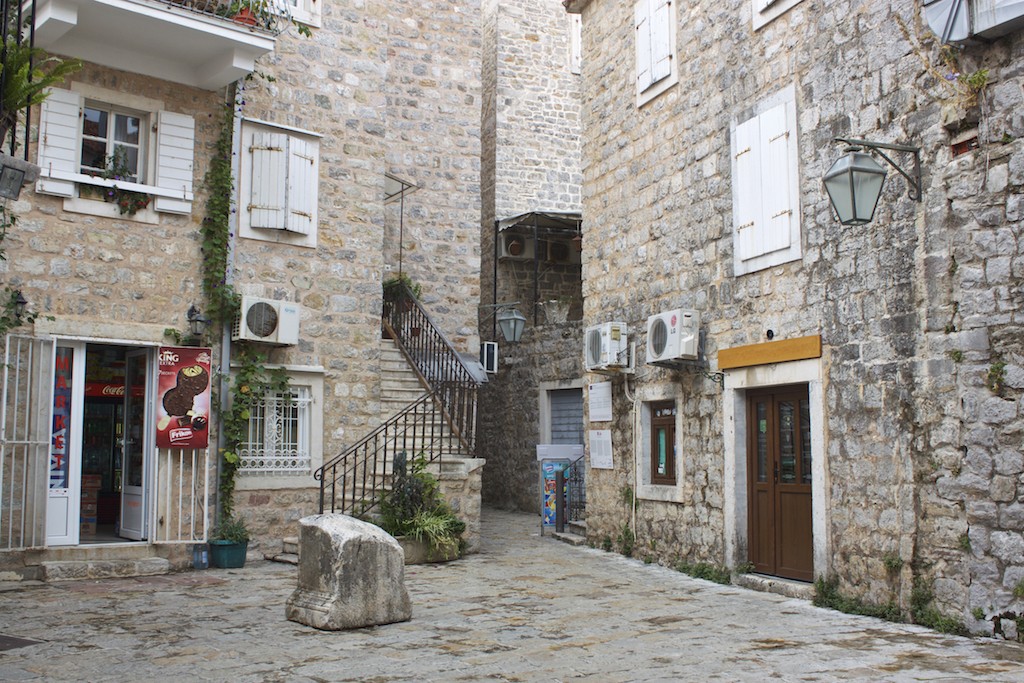 Around 2,500 years old, Budva's one of the oldest settlements along the Adriatic sea in Montenegro. Throughout its turbulent history, Budva was occupied by the Greeks, Romans, and Byzantines was later sacked by the Saracens, and reigned over by a number of Doclean kings and other Serbian and Zetan aristocrats. Later the Venetians arrived and ruled the city for around 400 years. To fight off Ottoman conquest, they built the three-meter thick limestone walls that surround the old town, including several towers, a citadel, and several fortified gates.
In 1797, control of the city fell briefly to the Habsburg Monarchy, Russia, and then France before being ceded to the Austro Empire. Their rule lasted until the end of WWI when Budva became part of the Kingdom of Yugoslavia. In WWII, the town was annexed by Italy, but after being liberated by the end of the war, it was consolidated into the Socialist Federal Republic of Yugoslavia. Montenegro finally gained independence in 2006, with Budva being the mainstay of the country's tourism.
The Outer Walls of Budva Old Town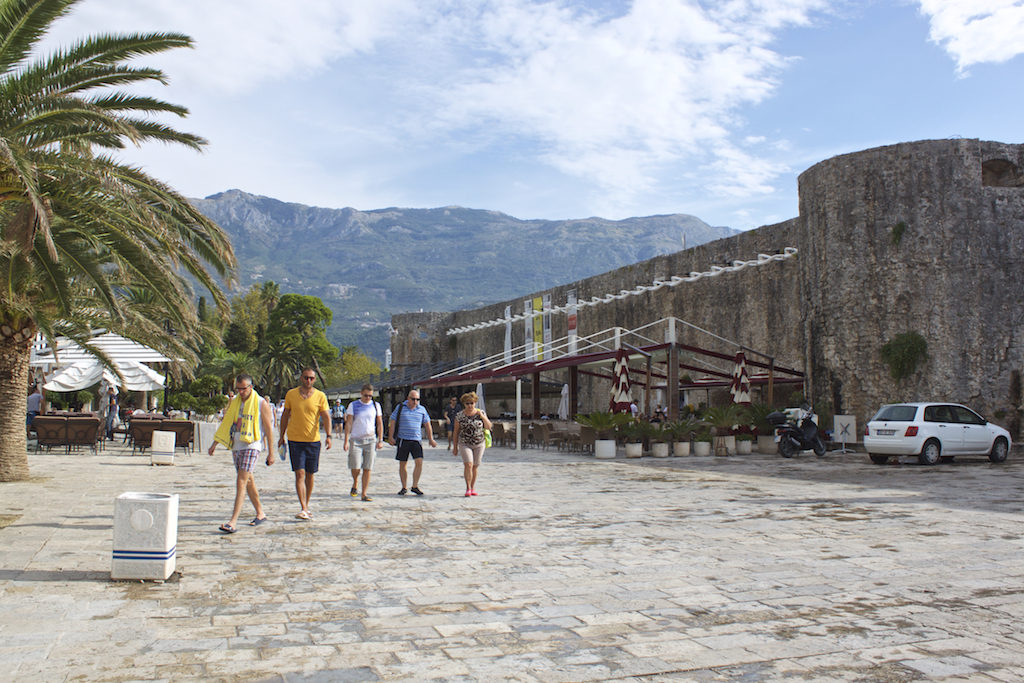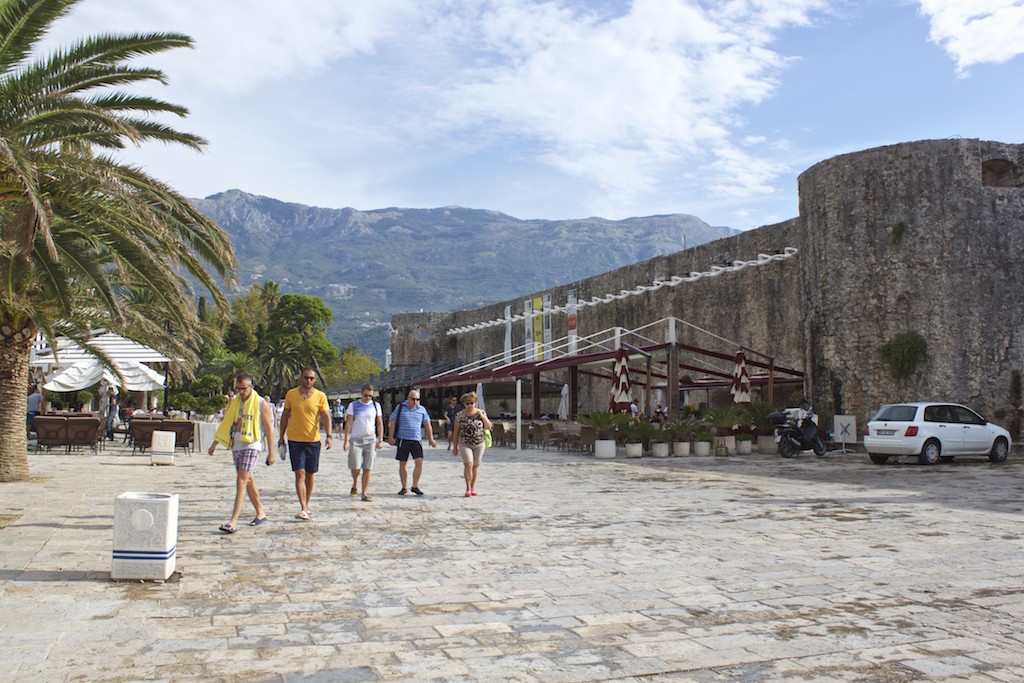 You can easily enter Old Town through one of the many open gates. The main entrance is the Porta di Terra Ferma, which connects to the town's main street. There are also four more gates elsewhere along the wall. From the outside, not only can you glimpse the thick limestone wall, but you can also see the crumbling citadel. There are also many places where you can stop for a meal or a cold drink under the shade of an umbrella.
Inside the Walls of Budva Old Town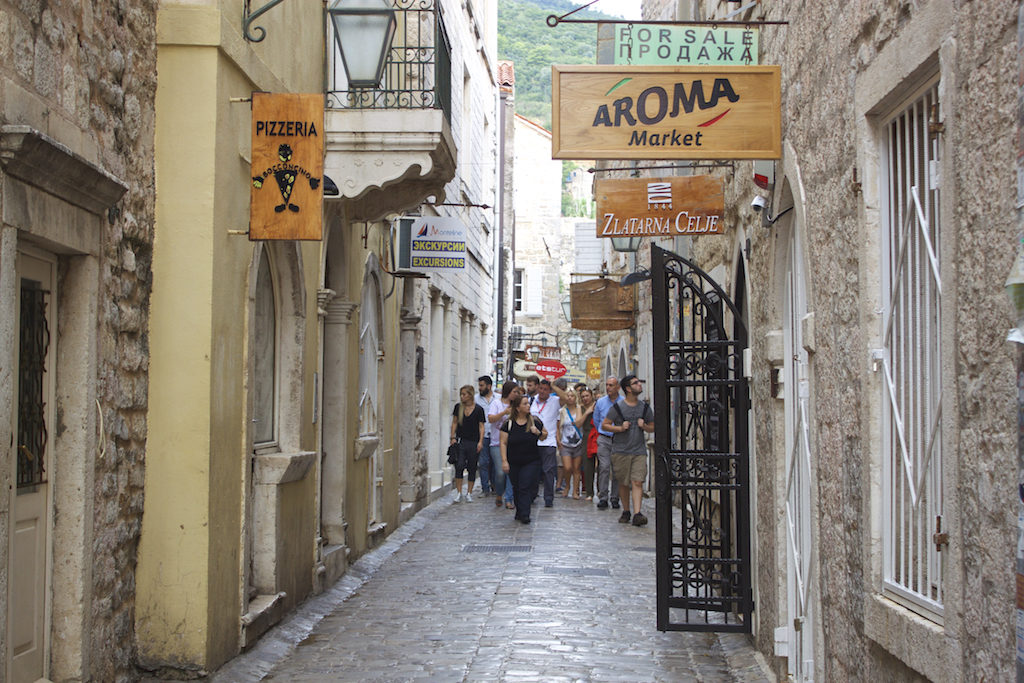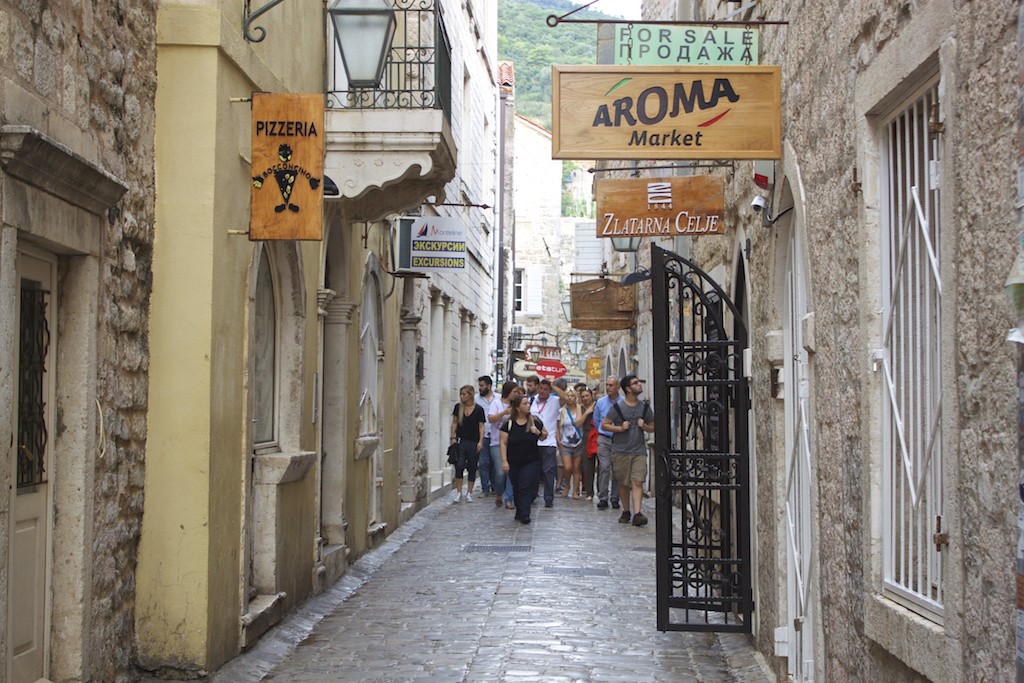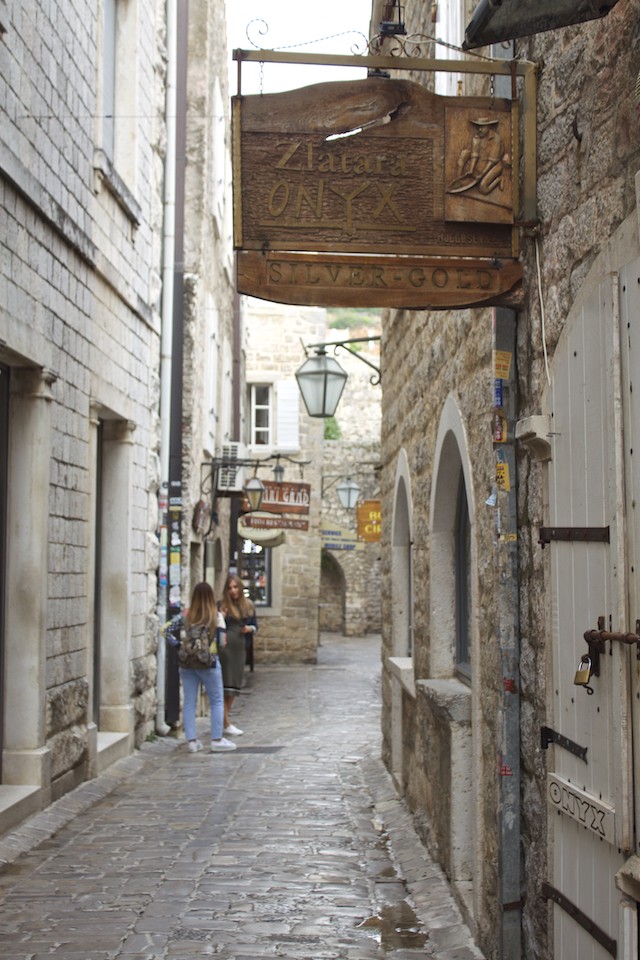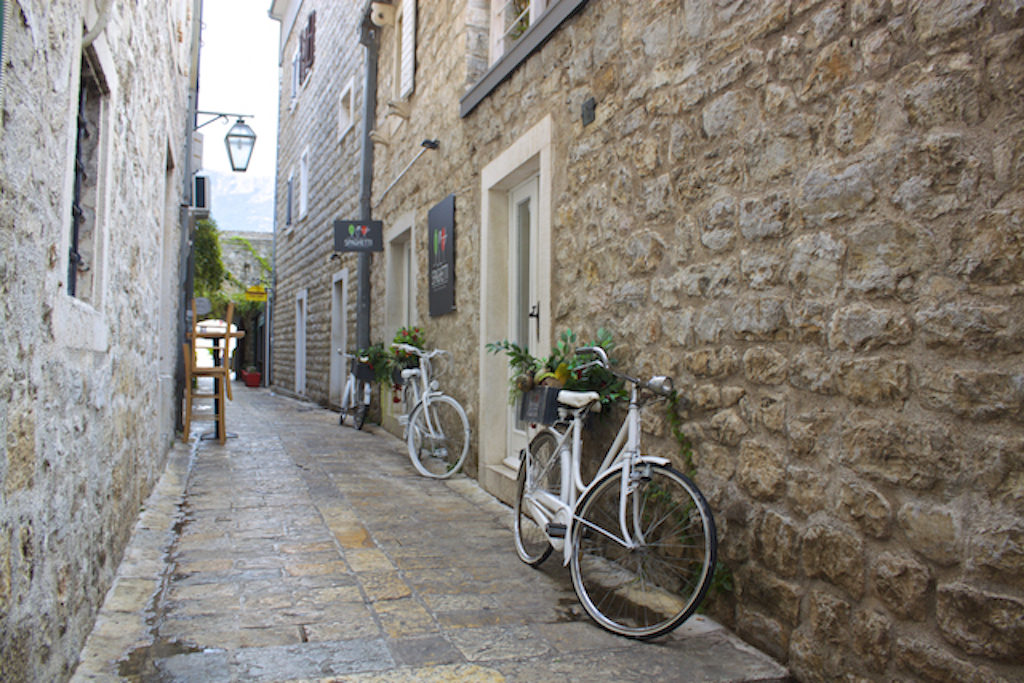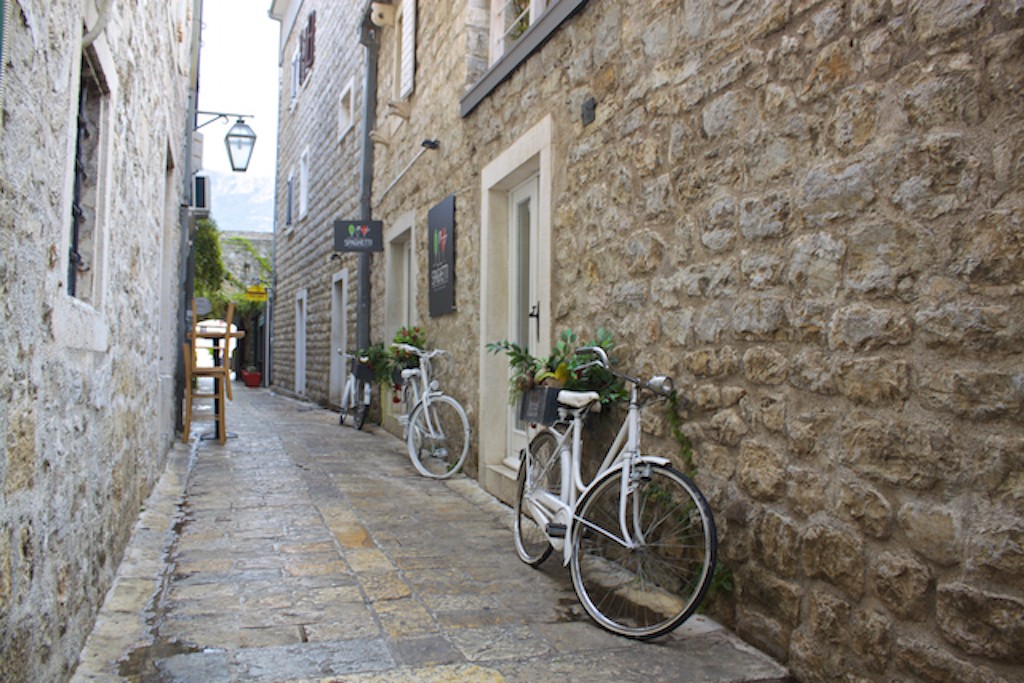 Although not large, it's easy to get lost in the octagonal maze of pedestrian-only streets, piazzas, and alleyways. I found myself wandering through the walled medieval labyrinth of narrow cobblestoned streets, peeking into residential courtyards filled with bougainvillea, stopping now and again at a bar for a cold glass of white wine, all while pondering the fact that I was sitting in a house that was once home to a merchant business hundreds of years ago.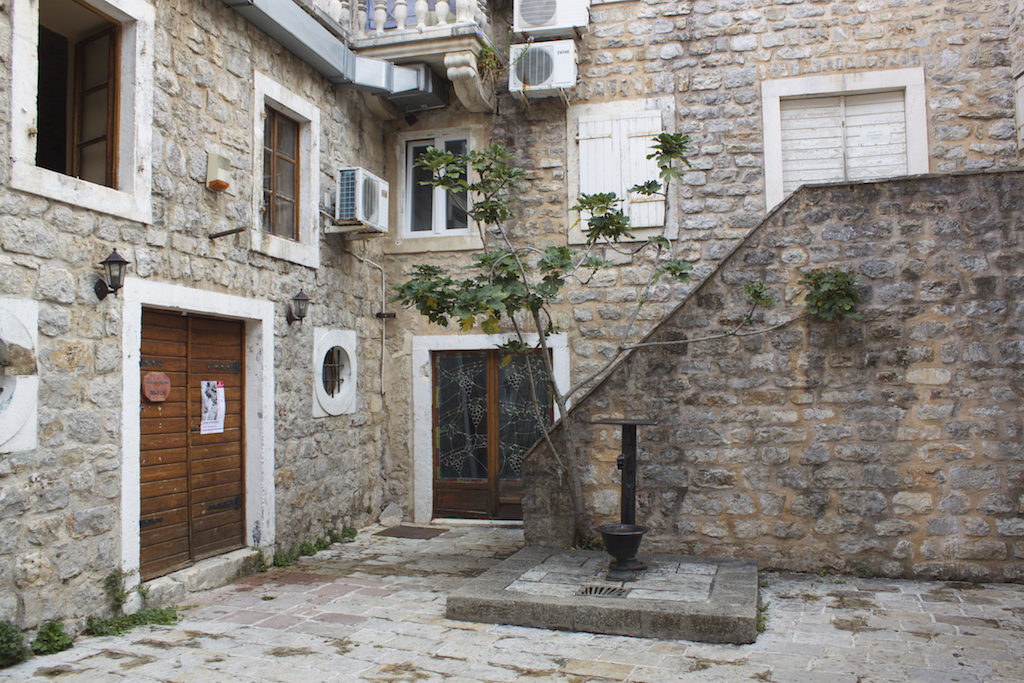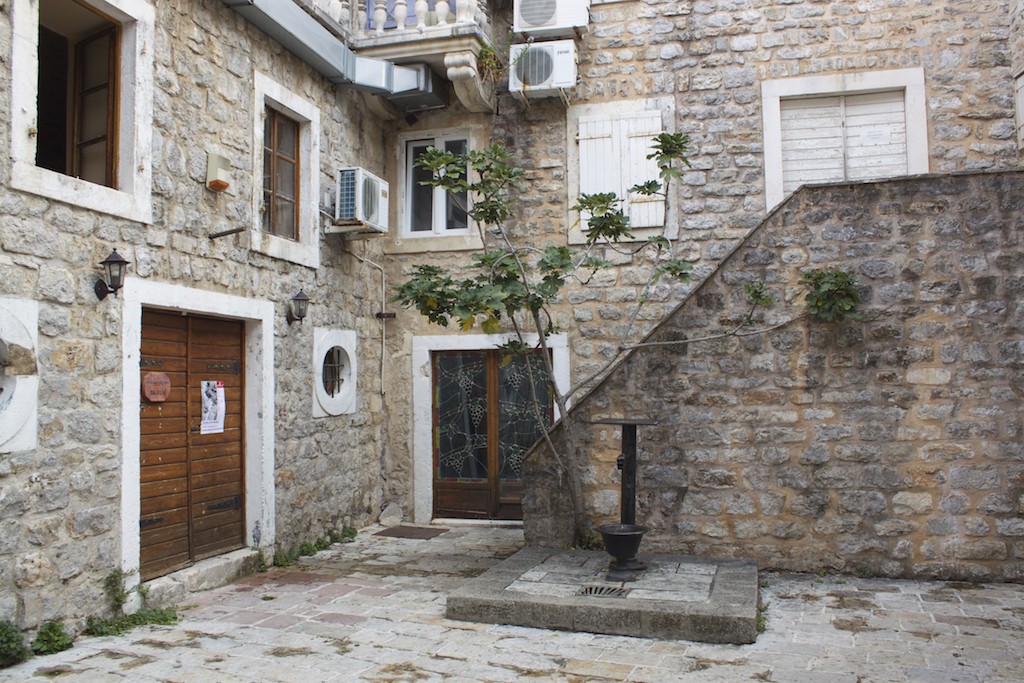 Although Budva doesn't attract cruise ships like nearby Kotor, the city still floods with tourists coming at 9:00 – 10:00 a.m. Wake up early like I did to avoid the crowds, soak up the ambiance, and take photos that don't capture people posing with their selfie sticks.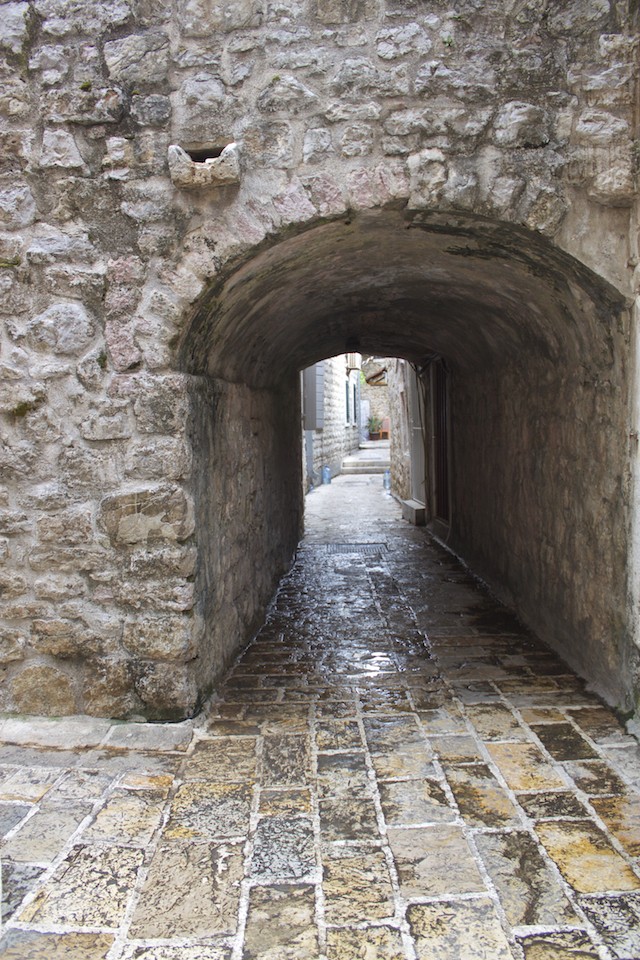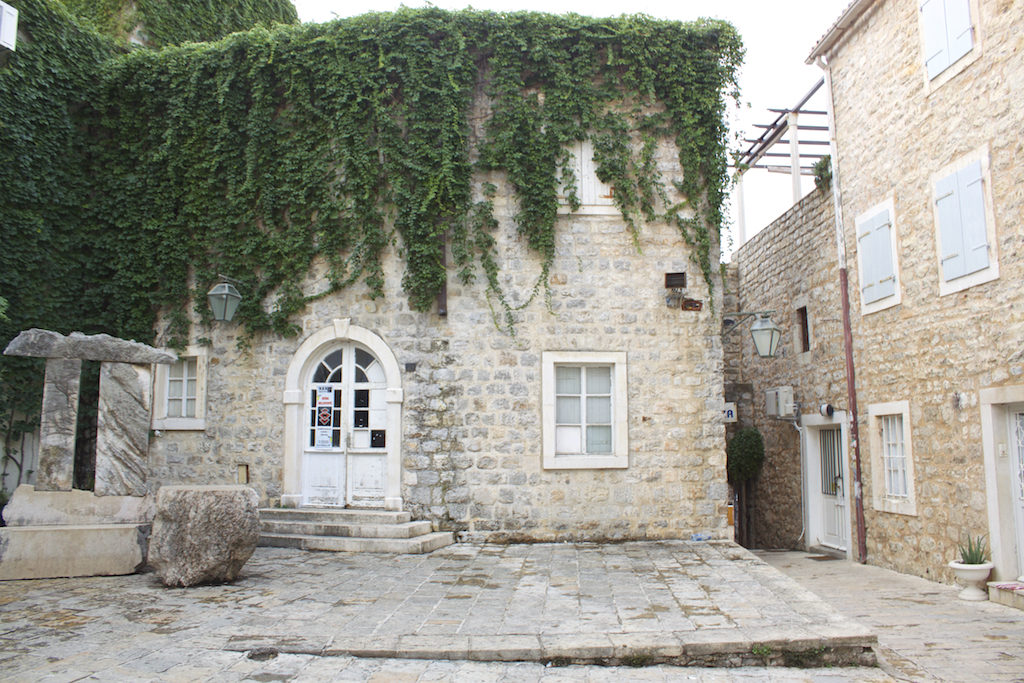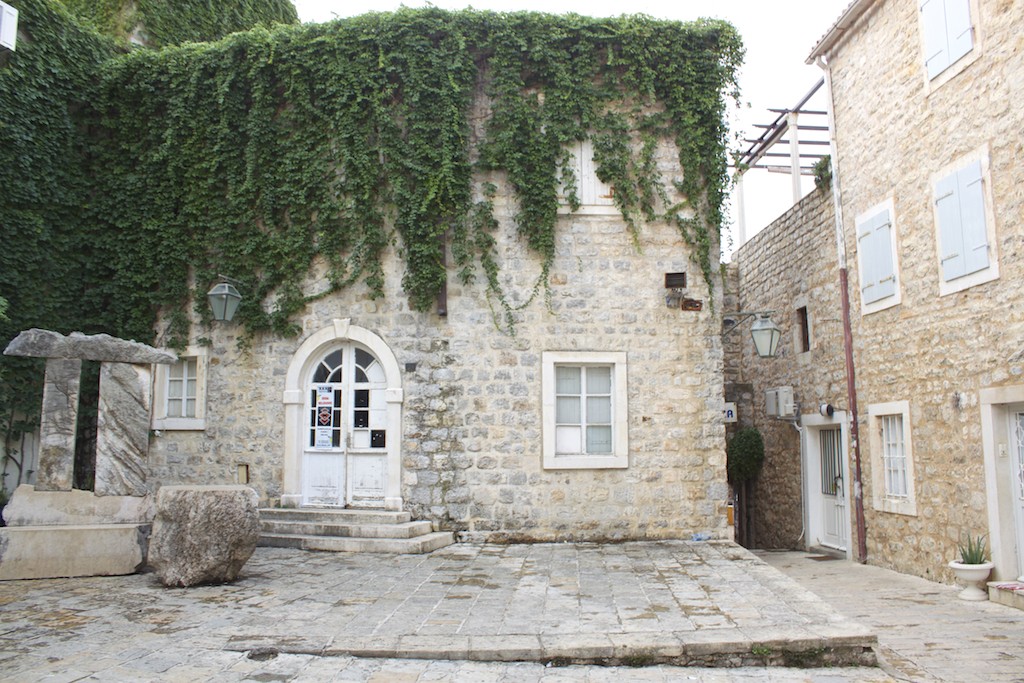 Photos Of Budva From The Sea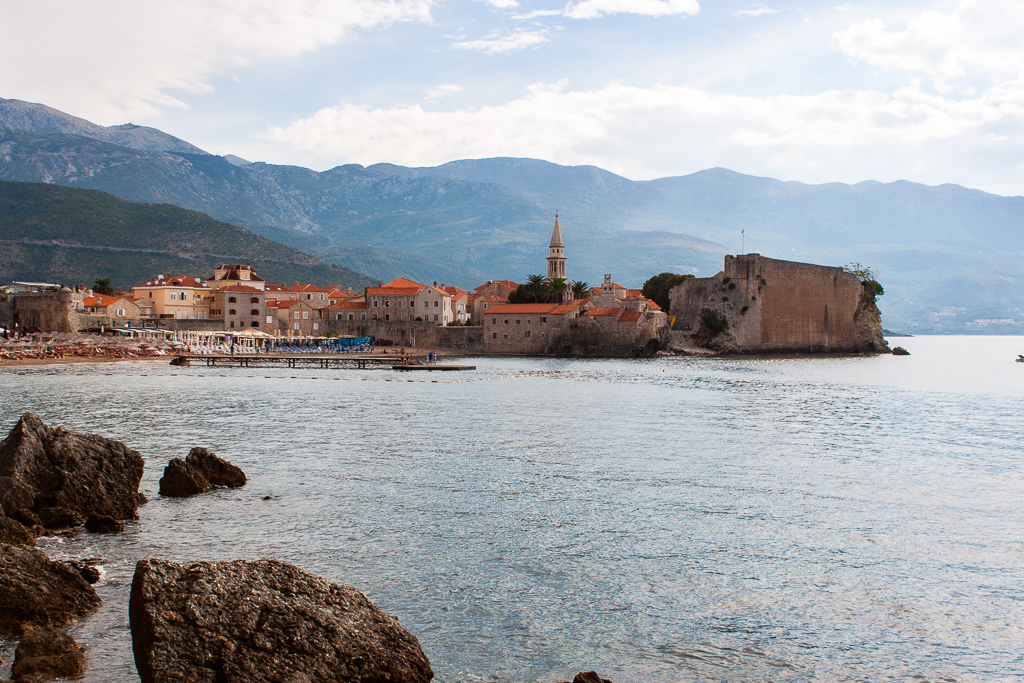 Why come to Budva these days? Aside from wandering through Budva Old Town feeling as if you're on the set of Game of Thrones and thinking "This is exactly what I imagined King's Landing to be like …" – eat at one of the many trendy restaurants, sample local white wines, laze at one of the beaches, pose with the ballerina statue (everyone does it!), and go clubbing or gambling by night. If you're up for some culture, visit during the annual Sea Dance Festival, Carnival, and Budva Grad Teatar events.
What do you think? Do these photos inspire you to visit Budva Montenegro too?
Where to Eat
Budva's proximity to the Adriatic means that you can feast on fresh seafood each and every day. Get the lowdown on my favorite restaurants in Budva:
1) Konoba Stari Grad – Tucked away within the streets of Budva's Old Town, come here for the timeless ambiance and the most delicious Mediterranean seafood you may ever taste. The location's actually been a set for several movies! Listen to live music and watch the sunset from their beachside terrace as you feast on local cheeses, smoked ham, and their specialty, octopus ragu that's slowly cooked in tomato sauce for several hours. Be sure to choose a wine from their huge list, perhaps indulging in one of their many Montenegrin wines.
2) Jadran Kod Krsta – This restaurant along Budva's seaside promenade is constantly packed full of both locals and tourists. With many homemade Italian dishes on offer, you'll also have your pick of fresh fish, mussels, clams, crab, and more. Expect live music, friendly wait staff, and an oddly decorated interior with old bikes and cars.
3) Porto – Also situated on Budva's bustling promenade is Porto. Whether you're seated outside beside the Adriatic or within its airy garden-like interior, their seafood game is top-notch. All of it is brought in daily by local fishermen, like clams, crabs, octopus, grouper, and prawns. Highly recommended is their homemade bread baked in a wood-fired oven.
Good to Know
1) Montenegro makes for a great weekend trip away from Berlin. Get there on the cheap with Ryanair and be in Podgorica in just over two hours.
2) Budva's about an hour away from the capital and can easily be reached by public transport. Buses run frequently and will cost you about €5 for a ticket. Taxis are another option and shouldn't cost you more than €25-30 if you book through your hostel or hotel.
3) Montenegro uses the Euro. Expect prices for everything to be substantially lower than in most other European countries.
4) Find a place to stay in Budva with booking.com.
5) Make your time in Budva even better and go on a guided tour.
6) If you're a fan of European travel, check out some of our other travel guides.
*Disclosure – This post contains some affiliate links. If you book a tour or hotel, I'll earn a tiny commission at no extra cost to you. Thanks for your support!