When I visit a new city, I tend to go out of my way to see the more unusual places there. Especially when you can find things that are never going to appear on a postcard or be featured in a guidebook. Some of my top highlights over the years have been the Montagne De Bueren In Liège, built to keep soldiers from venturing into the city's red light district, and the Lloyd Hotel In Amsterdam where all the rooms feature a unique design and range from 1 – 5 stars.
Lucky for me, Prague is packed full of weird things to see and do. Check out some of my top highlights; photos taken from my various visits there over the years.
A Collection Of Weird Things In Prague
From statues of cows decorated with women's butt cheeks to fish pedicures and more, Prague is full of many weird and offbeat things.
1) A Mystery Man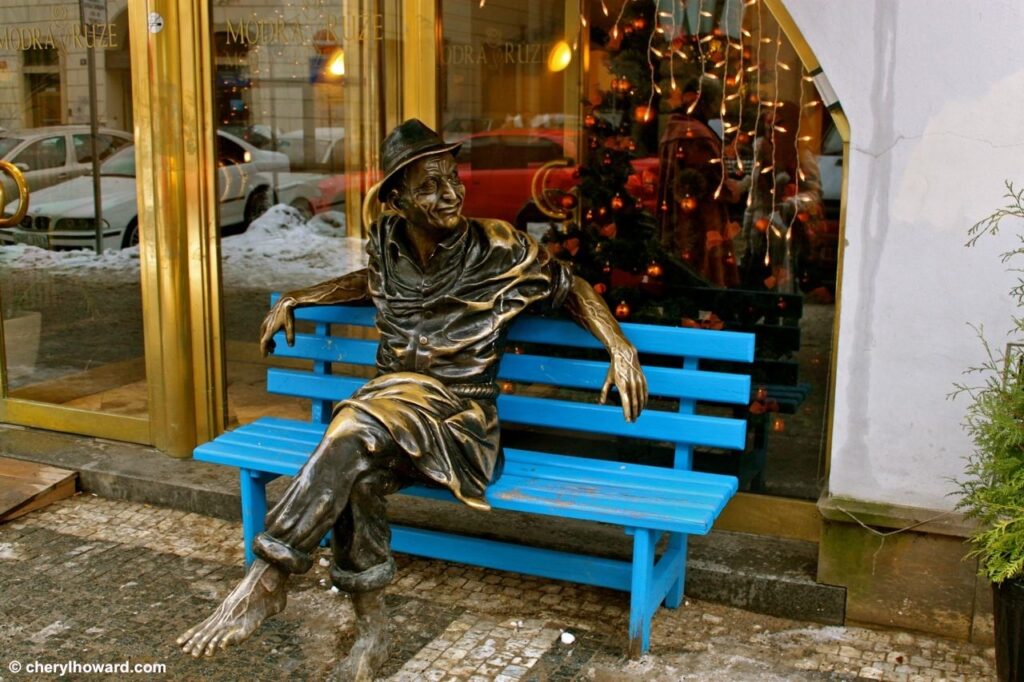 This statue of a rather gaunt-looking, barefoot man resting on a bench resides outside of a small hotel in Prague's Old Town, just across from Estates Theater.
I spent a good 30 minutes scouring the Internet to find out more information about this mysterious gentleman only to come up with … absolutely nothing. Well, I did learn that tourists are known to pose for rather inappropriate pictures with him which is not surprising in the very least. You should see the one I took! Just kidding, I left him with his dignity intact figuring he already suffers enough each and every day.
2) A Torture Museum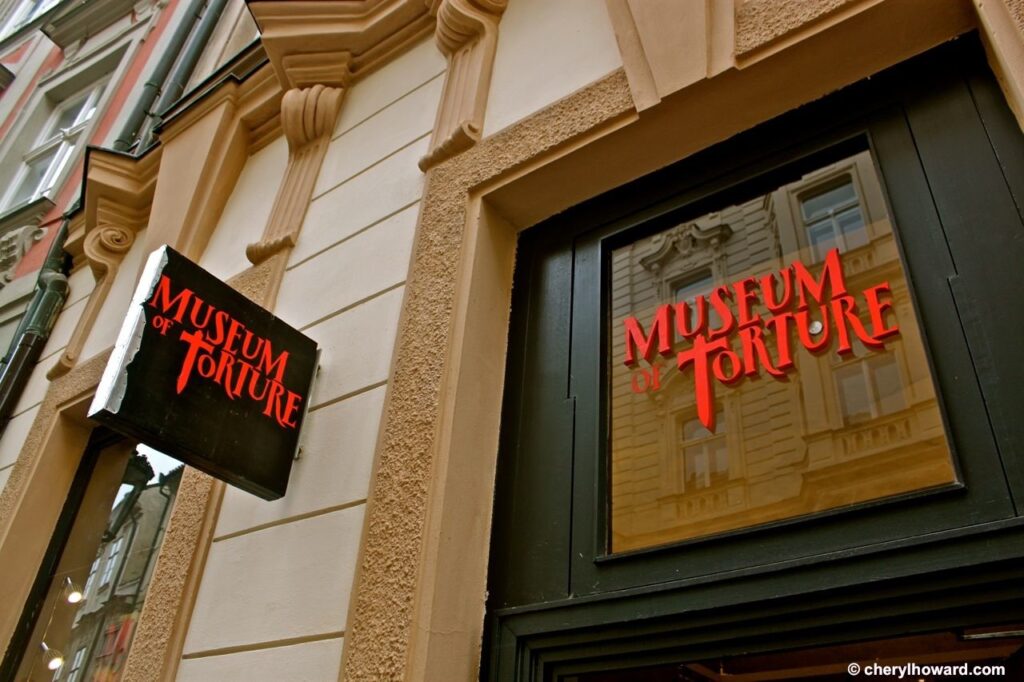 Prague has more than a few strange museums, such as the infamous Sex Machines Museum. While I haven't had the chance to get schooled in sex machines just yet, I visited the Museum of Torture last December where I had a very interesting, not to mention disturbing experience viewing over 60 devices used to torture humans during medieval times.
Unfortunately for those who used to Google the phrase "how to sexually torture yourself" and arrived at my site, my previous write-up didn't offer them any instruction or guidance on the matter.
3) Tram Turned Restaurant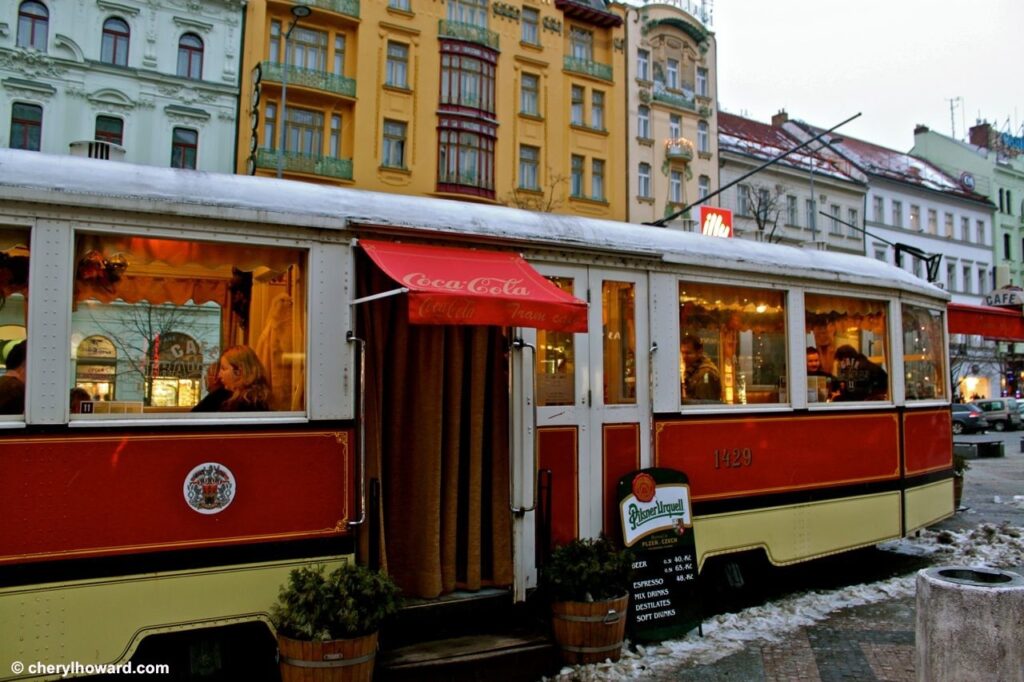 Two trams have been converted into a little dining establishment called Tramvaj. Located in the heart of Wenceslas Square, it's an overrated tourist trap but really cute nonetheless.
If you're a transportation nut, you should definitely check out nearby Restaurant Výtopna, where small trains circulate a 400-meter miniature railway system, passing by every single table.
4) A Cow Statue Decorated With … Women's Asses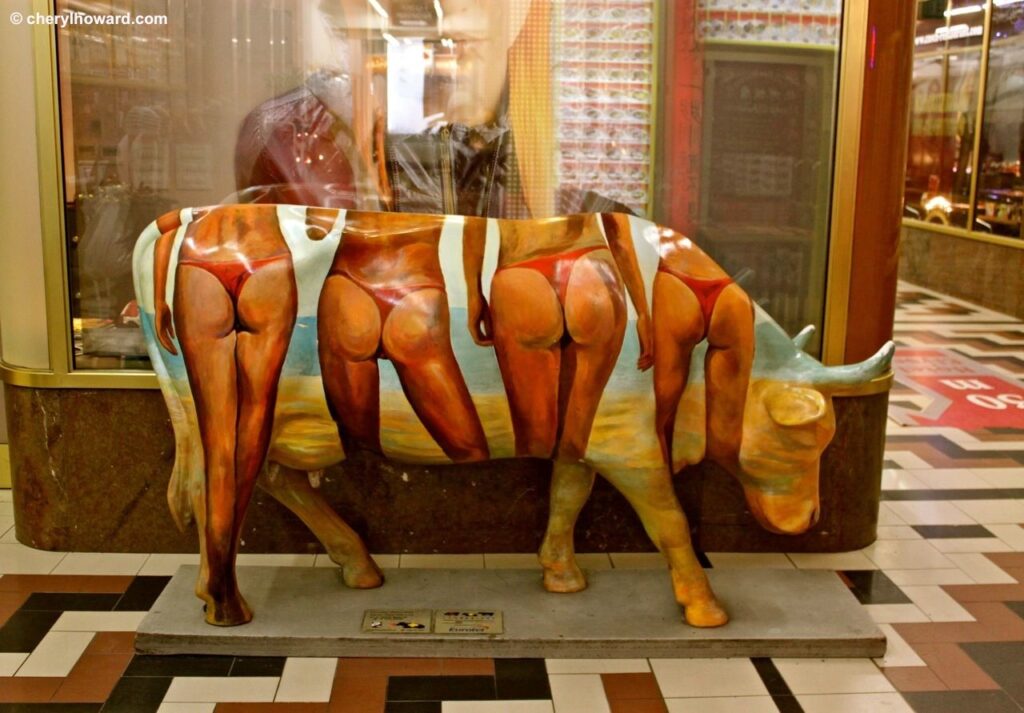 Another item to add to our list of weird things in Prague? This incredibly odd statue is what inspired me to start this "weird and wonderful" series in the first place. I remember leaving my hotel, taking a shortcut to Wenceslas Square to check out a Christmas market when I stumbled across this eyesore. In complete disbelief and utter shock, I entered a state of deep belly laughing which didn't stop for about 5 minutes.
I'm quite sure that people passing by me during those moments thought I was completely insane but really … one needs to question the sanity of the statue's creator.
5)

A Guard At Prague Castle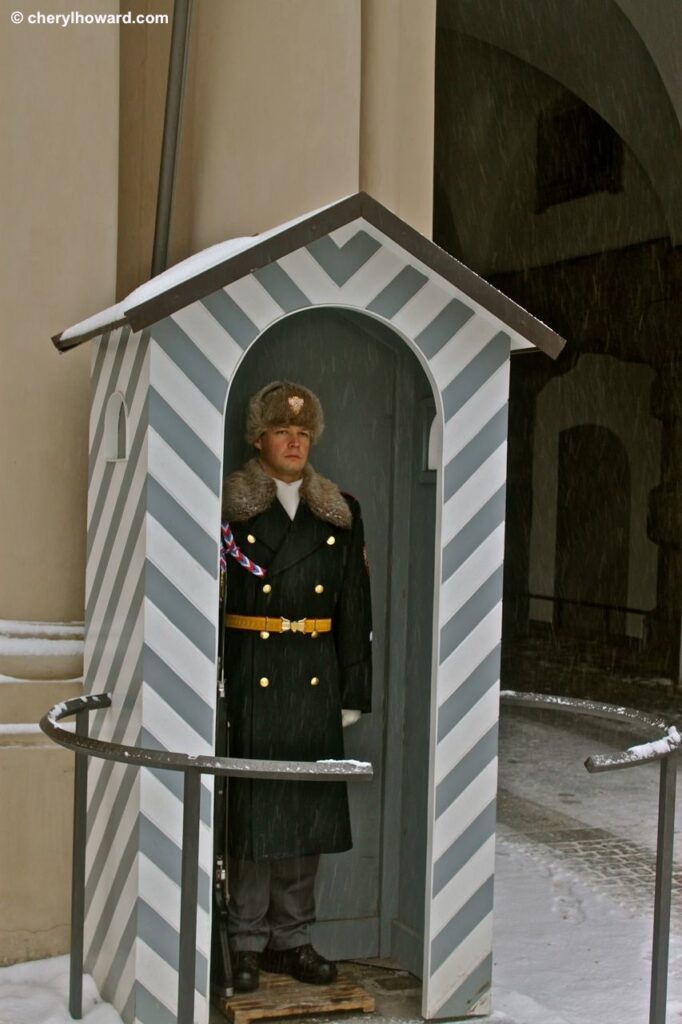 As I walked closer to this sentry at Prague Castle, I wondered if he was a wax figure or even a robot. There was no way that he was a living and breathing man who didn't break character even when surrounded by a whole bunch of wild photo-snapping tourists.
I found myself wanting to poke or tickle him. You know, to prove that he was real? Fortunately for both of us (mostly me), I managed to keep my behavior in check and left this man to remain standing proudly in his stoic position.
6) Crazy Looking Candy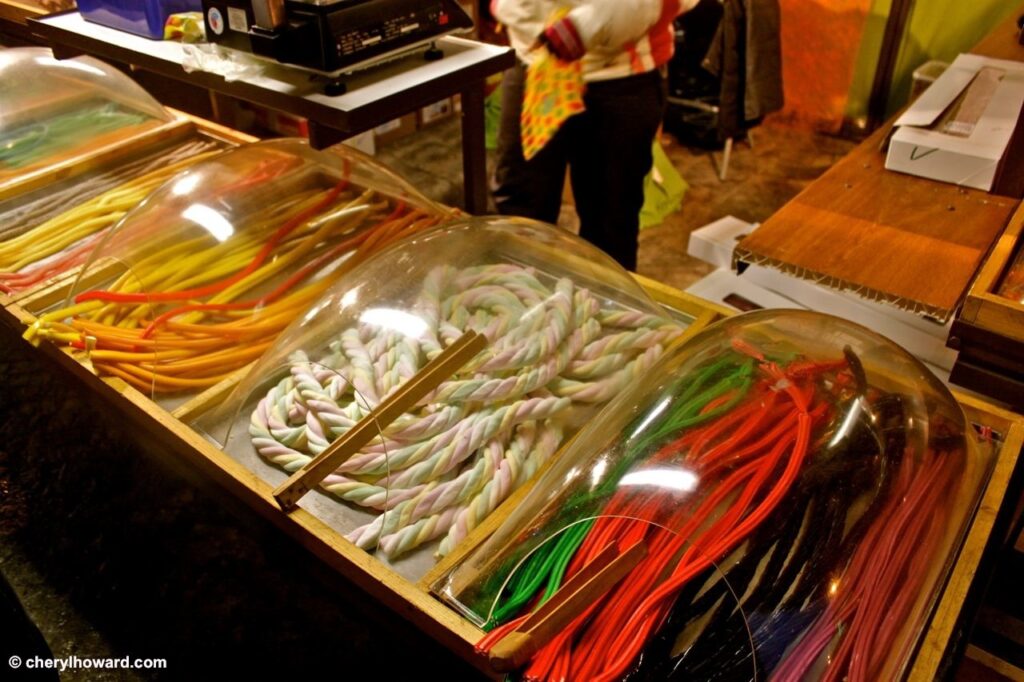 After getting over my bull statue encounter, I finally ended up at the Christmas market. I promptly bought my first cup of hot mulled wine (which I had every day throughout the rest of the trip) and some of the red string candy pictured below. Wine and candy pair well together, right?
Unfortunately, the candy wasn't really that good. Too sweet for my taste and it sent me into a sugar high that made me feel like I'd just had a Red Bull.
7) A Restaurant's Rather Prehistoric Decor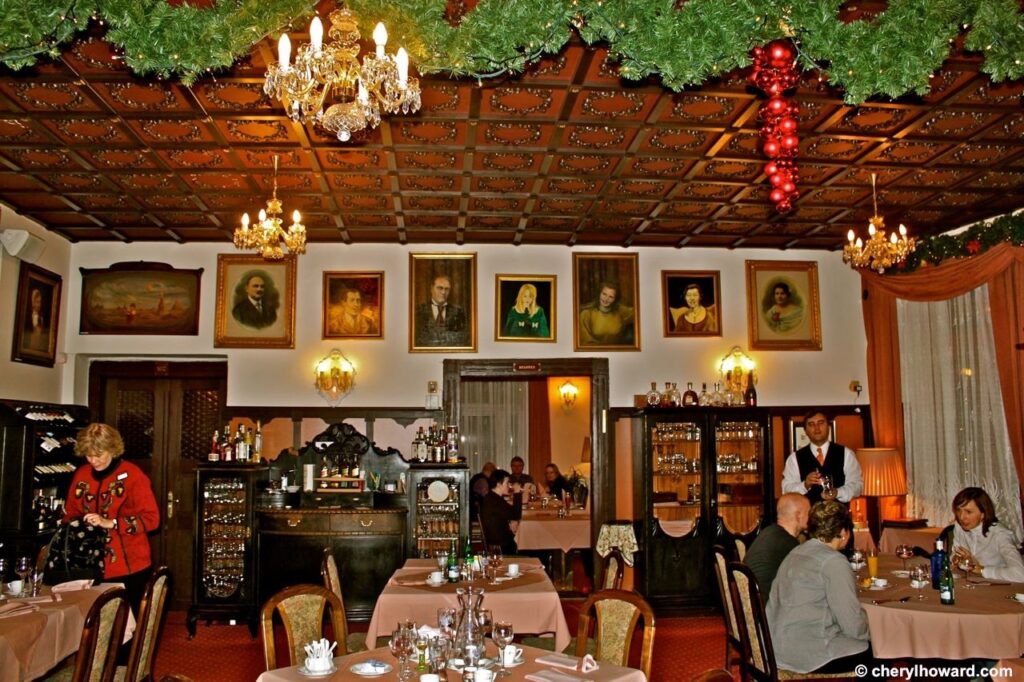 If you go to any restaurant in Prague, eat at Restaurace U Lípy. Stepping inside, you'll feel like you've been transported back in time to an old world, even a prehistoric one as no one's quite sure about why dinosaur paintings are displayed on the wall. You'll be served traditional Czech food by adorable old men (3 or 4 who work there and share the exact same name) who will even treat you to live entertainment, performing songs like Rock Around The Clock.
8) Drug Supply Shops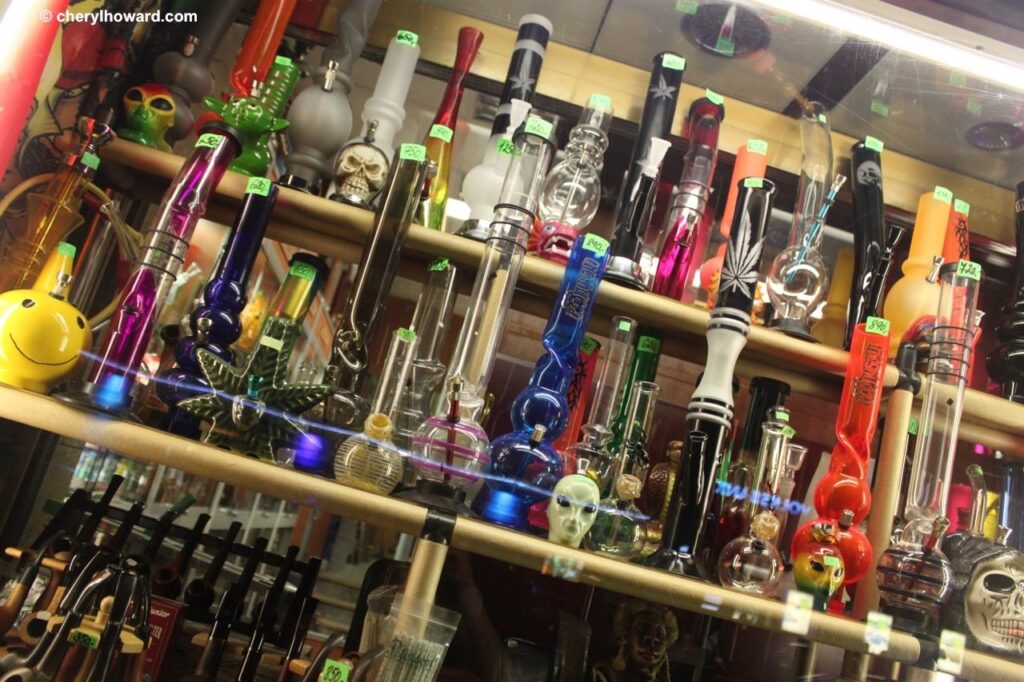 You never know when you may need a skull or alien-themed bong or just a regular old pipe. You'll find this shop just off of Old Town Square.
While I couldn't find the exact address of this particular shop online, you'll be happy to know there's another one not too far away called Growman's Plains where you purchase not only bongs and pipes but other supplies to help grow your marijuana crop. You can even buy products from their online store!
9) Fish Pedicures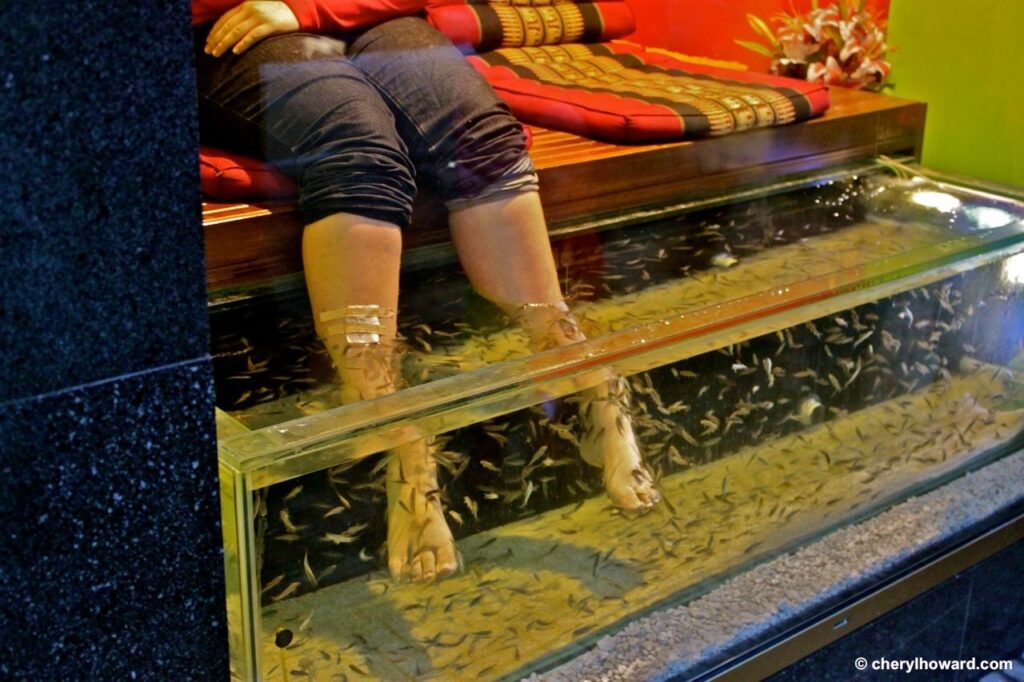 Head to one of the city's many Thai spas to receive a Middle Eastern pedicure treatment where tons of tiny little Garra fish nibble the dead skin off of your feet. Especially fun is sitting in the front window where tourists and locals stare at you and snap pictures.
This particular photo is of the store window at Thai Paradise located along Wenceslas Square. While I never opted to endure this treatment, I did stop for a really lovely invigorating 30-minute Thai massage here when visiting last July.
Treat yourself, as prices are cheap enough to entice even low-budget travelers.
10) Themed Containers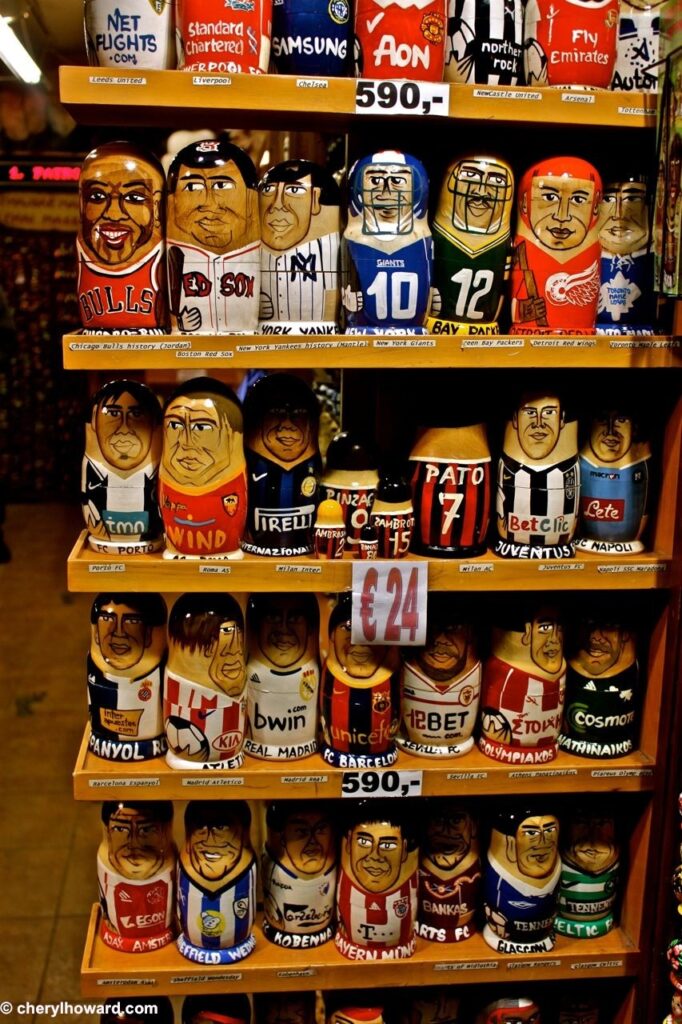 More weird things in Prague? Spend a whopping €24 on one of these odd bobblehead-like containers sporting corporate logos and emblems of soccer and hockey teams. Toronto inhabitants will be thrilled to see a Toronto Maple Leafs container in the photo. And no, I didn't buy one. You'll be able to find these in any touristy souvenir shop throughout Prague.
11) Ironic Movie Posters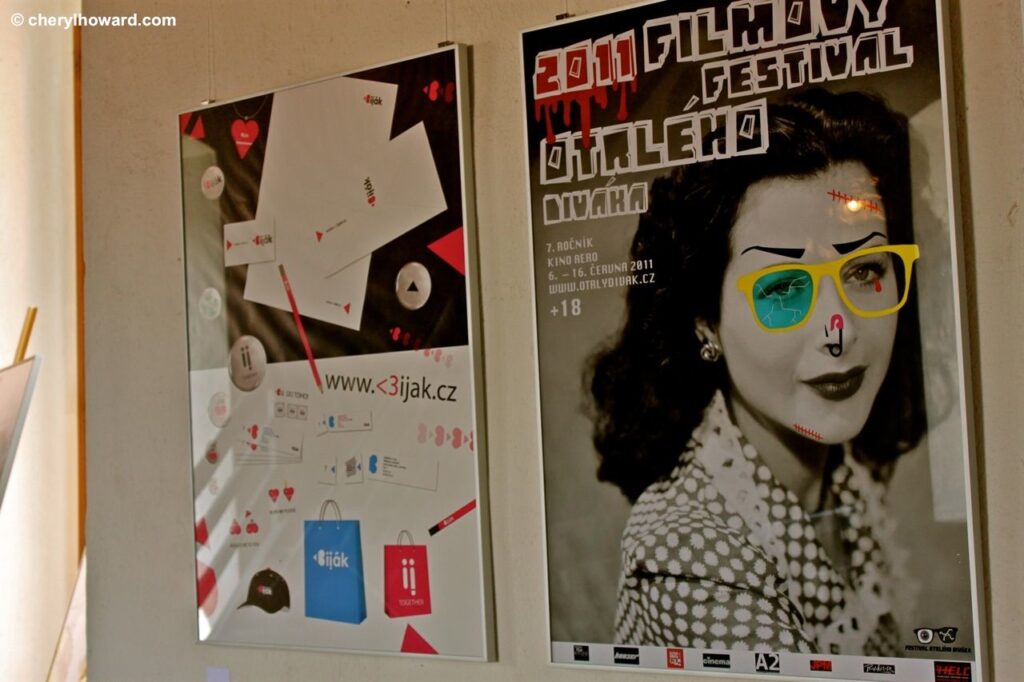 One summer, a hipster-pleasing exhibition was held at the New Town Hall Tower featuring all sorts of ironic movie posters by Michael Výstava. Exhibit or not, visit the tower as a climb to the top offers up some really beautiful panoramic views of the city.
12) T-Shirts For Bad Girls And Beer Drinking Champions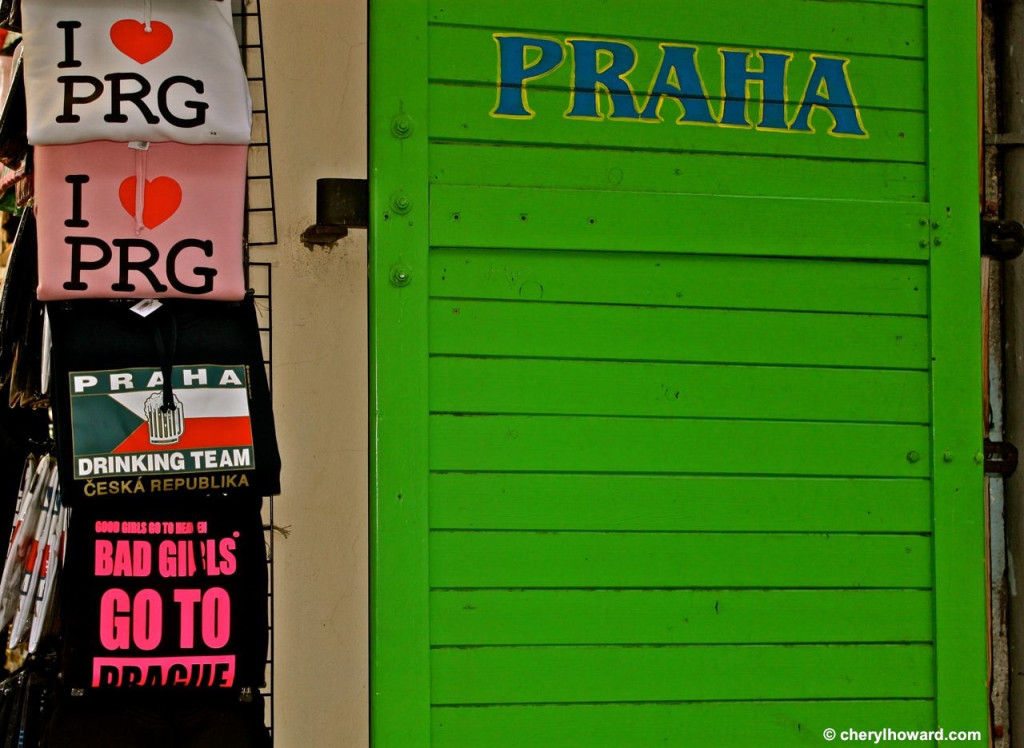 Apparently, Prague is the place where bad girls go! I never would have known unless this t-shirt had told me. As with the odd-themed containers, you can find these t-shirts at any touristy souvenir shop.
13) A "Darth Vader" Statue
As much as Star Wars nerds would be excited to think that this statue is of Darth Vader, it's really a Jewish golem.
The history of the golem is quite interesting. It's been said that a 16th-century rabbi created the golem to fend off antisemitic attacks and over time it became so violent that it began killing gentiles. Some even say the golem fell in love and became a monster upon being rejected. Eventually, the golem was destroyed and hidden in the attic of the Old New Synagogue remaining until it's needed again.
What do you think about these weird things in Prague? Have you found anything weird there? Tell us about it in the comments.
Good To Know
1) If you need somewhere to stay while you're visiting Prague, check out your options with booking.com.
2) Make your holiday in Prague special by going on a guided tour.
3) If you're a fan of Czechia, check out some of our top posts.
*Disclosure – This post contains some affiliate links. If you book a tour or hotel through any of these links, I'll earn a tiny commission at no extra cost to you. Thanks for your support!