I'd been dreaming of Mostar for years now. Seeing the reconstructed Stari Most with my own eyes, had long been on my travel bucket list. This bridge is one of the country's most notable landmarks, so I was excited to walk over it and marvel at the stunning Ottoman style architecture. I was even more thrilled at the thought of watching local "professionals" sporting Speedos take dangerous dives off the bridge into the Neretva River below.
Shortly after checking in to Hostel Majdas (where I highly recommend staying), I rushed to see the bridge, even climbing the narrow steps of the minaret at the Koski Mehmed Pasha Mosque to take in what surely is the best view of Mostar.
What I didn't expect to see in Mostar was the destruction left by the Bosnian War. Although the war ended in 1995 and a lot of money was spent restoring the more historical areas of the city, many buildings have still not been restored. Their bombed-out remains and bullet hole-ridden walls serve as a grim and brutal reminder of the tragic events that took place more than 20 years ago.
A local mentioned that some of the buildings have been left there on purpose, so they never forget what happened and, even more importantly, ensure that it never happens again.
Unfortunately for numerous reasons (far too political and complex for me to write about here), these buildings may remain in decay and neglect for quite some time. Although somewhat dismal, local artists have used them as a canvas for their street art in an effort to make the city a better place.
The Powerful Street Art In Mostar, Bosnia and Herzegovina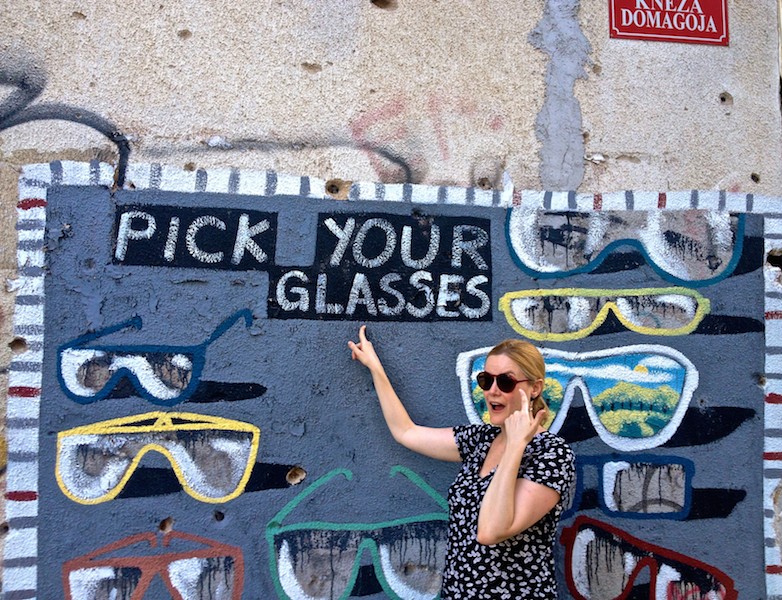 One of the best ways to discover the culture of a place is by taking in local street art and as such, it's one of my favorite things to do whenever I travel. Like years back, I spotted this Trump and Putin street art in Vilnius, where you'll find the two "dick-tators" locked in a very intimate embrace. Some of the world's best street art can also be found in the likes of Paris or New York and in each of those cities, I went on guided tours to see it for myself.
But wow, nothing really tops what can be found in Mostar, as the street art and graffiti in Mostar is especially poignant and meaningful. There are messages of peace, criticisms of wealth and protests of past (and sadly, even current) oppression.
Best of all, Mostar holds an annual Street Arts Festival where they bring together young artists from all over the country, and even the world, to showcase their finest works of art.
Snippets of Street Art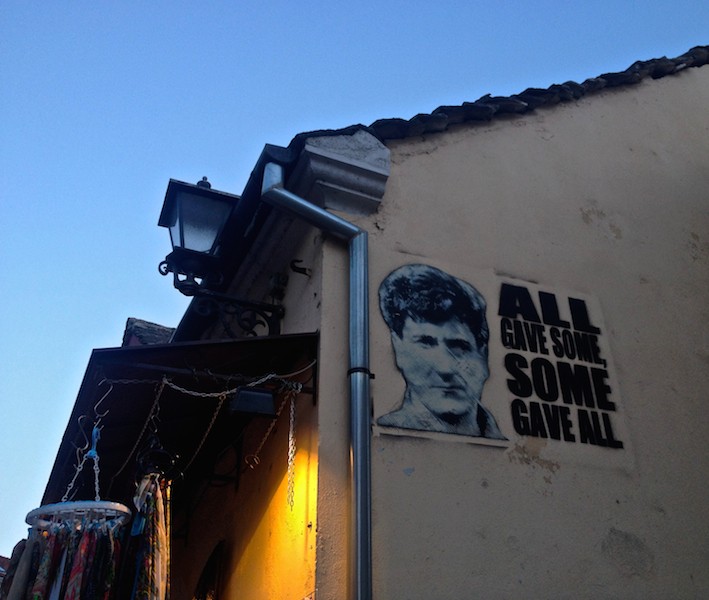 Just outside of my hostel, I saw this small token of Bosnian love "BiH". Obviously, this isn't exactly the best example of street art and graffiti in Mostar but I love the sentiment all the same, as I love BiH too.
Walking through Old Town, I came across two more interesting pieces "Why So Green?" and "All Gave Some and Some Gave All." The latter piece is a tribute to Mithad Hujdur Hujka, a general who died during the war.
This turned out to be only a small preview of the street art that was to come.
Street Art at the Sniper Tower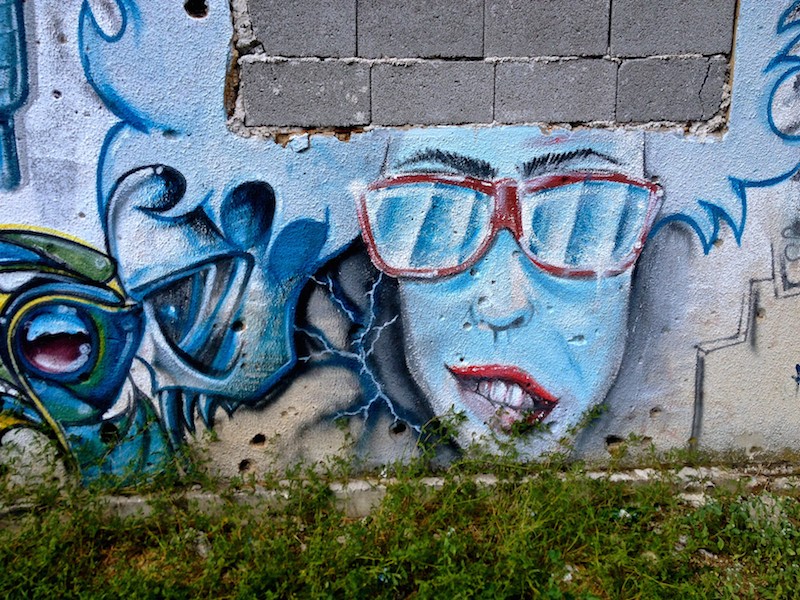 The greatest concentration (and the very best) street art in Mostar can be found in the Sniper Tower. Positioned along the front line during the Bosnian War, the building was formerly a bank. It ended up becoming a prominent base for skilled snipers who would hide in the confines of the tower, search out and take aim at their targets.
Although not exactly permitted, it's fairly easy to enter the now abandoned building and explore its various floors as there's even more street art inside. Locals told me that it's also a great place to catch sunset and see a nice view of Mostar.
While I'm usually up for exploring abandoned buildings like the Packard Automotive Plant in Detroit, I opted to walk around the perimeter instead and take photos.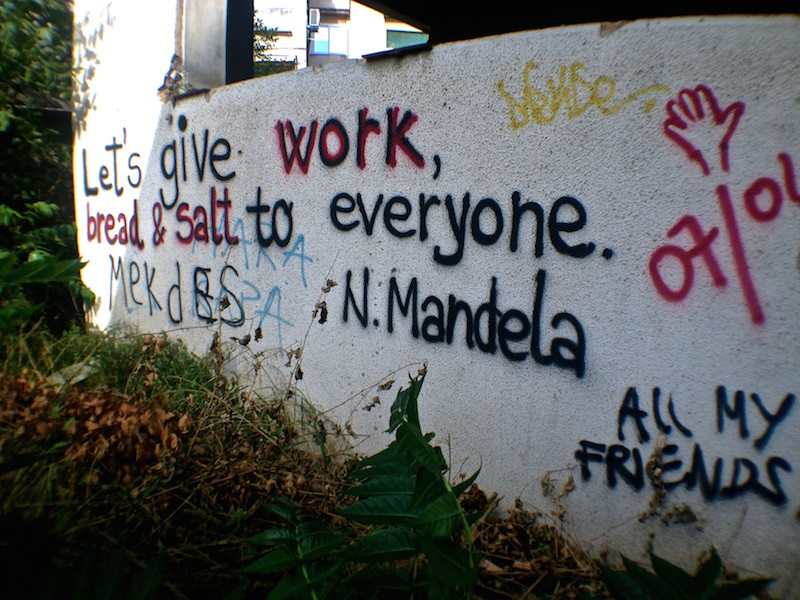 The "not so secret" entrance to the building is in the back by this lovely quote from Nelson Mandela.
Street Art at the Soccer Stadium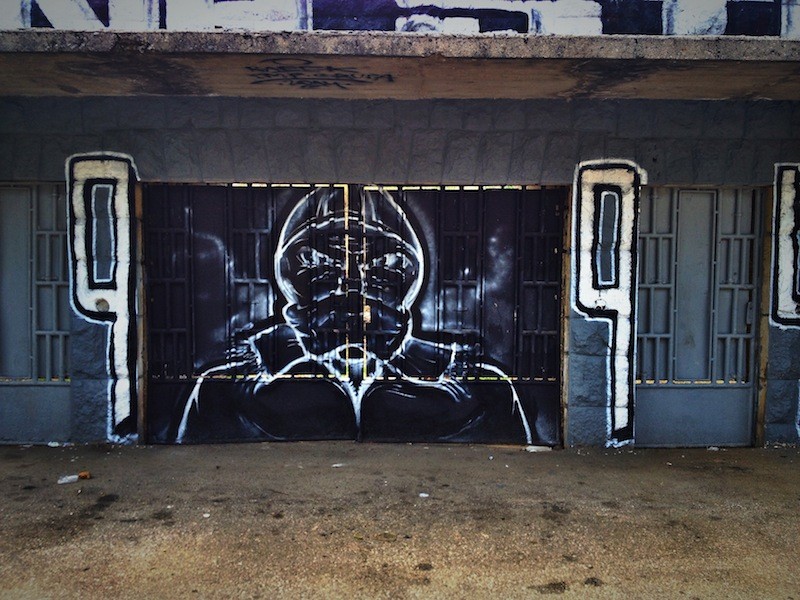 After the Sniper Tower, I moved on to the city's soccer stadium as I'd noticed some nice pieces there while on a city tour the day before. While the stadium wasn't open, I wanted to walk past it as I'd been told an interesting story just the day before.
Unfortunately, the story of the soccer stadium Bijelim Brijegom is another sad one. Mostar has two soccer clubs – HŠK Zrinjski and FK Velež. FK Velež occupied the stadium for the longest time, as HŠK Zrinjski was banned from playing during WW II and the team was not re-established until 1992. After the Bosnian War ended, FK Velež was ousted from the stadium and forced to relocate to another nearby town.
FK Velež is mainly supported by Bosniaks and Serbs while HŠK Zrinjski is supported primarily by the Croats. The stadium just happens to be located deep within the informal Croatian territory of BiH. This rather controversial move caused tension and distress for even though the war was over, a form of oppression still remained. Now many FK Velež fans can no longer watch their team at home or afford the journey outside of town to attend a match.
FK Velež continues to advocate for a return to their home stadium but at this time, their requests are repeatedly denied for "political and security" reasons.
Despite its tormented past and even somewhat tormented present, Mostar and BiH seeks to be known for more than just the Bosnian War. This street art movement is doing it's part to show this to the world.
While in in Balkans, make an effort to view the street art in Mostar, Bosnia. You'll be treated to fun works of art and come to know the city in a deeper and more worthwhile way.
Good To Know
1) If you need somewhere to stay in Mostar, read our post with personal handpicked recommendations or see options on booking.com.
2) Make your time in Mostar special by booking a guided tour experience.
3) For more European travel inspiration, check out some of our other popular content.
4) For more things BiH, consider these day trips from Mostar and if you're heading to Sarajevo, these things to do in Sarajevo.
*Disclosure – This post contains some affiliate links. If you book a tour or hotel through any of these links, I'll earn a tiny commission at no extra cost to you. Thanks for your support!