A Day Trip From Berlin to Visit Szczecin Poland – Estimated reading time: 16 minutes
I've been to Szczecin so many times now that I've come to consider myself an unofficial ambassador. While I've lost track of exactly how many times I've been there, over the last 5+ years, I've taken different friends there on a day trip from Berlin on multiple occasions.
Szczecin is one of the most popular day trips from the German capital, as it's less than two hours away and is very affordable whether you travel by train, car, or bus. Filled with historical sites, several museums, old and new architecture, and plenty of cool bars and restaurants, find out all the reasons why you should make the trip and visit Szczecin Poland.
A Day Trip From Berlin to Visit Szczecin Poland
Back in 2018, I went with a group of other Berliners from my old Make Friends in Berlin Facebook group (which has since disbanded). We met up early one morning at Berlin Hauptbahnhof and made our way to Poland. As it was almost everyone's first time there, I took them on my "standard Szczecin city tour".
Recommended reading: Another perspective about what to do in Szczecin, this article about the best hotels in Szczecin Poland, and this article filled with recommendations for other day trips from Berlin.
If you want to visit Szczecin Poland and experience the city in the same way we did, follow our recommended highlights.
1) Pierogies and Beer
Whenever I start to crave Polish pierogis and beer, I usually jump on a train just to visit Szczecin Poland for a quick fix.
One of the best places for pierogis is Harnaś, a traditional Polish restaurant set in the heart of city's Old Town. And this is where I brought our group of friends when we first arrived in Szczecin. Their pierogi game is tops and they have a few different types on their menu, including pierogi stuffed with cheese and potatoes topped with fried onion, pierogi with pork, herb, and garlic topped with red cabbage and fried onion, and baked pierogis with meat, a cream sauce, and smoked cheese. A plate of 5-6 pierogis will cost you around €6.
Our tips: To complete a perfect lunch or dinner, order a Polish beer and if it's a nice day, grab a table on the terrace and entertain yourself by watching the action in the square. If you're staying in the city for lunch and dinner, consider heading further into town and going to Karczma Polska Pod Kogutem for even more authentic pierogi goodness.
2) Stare Miasto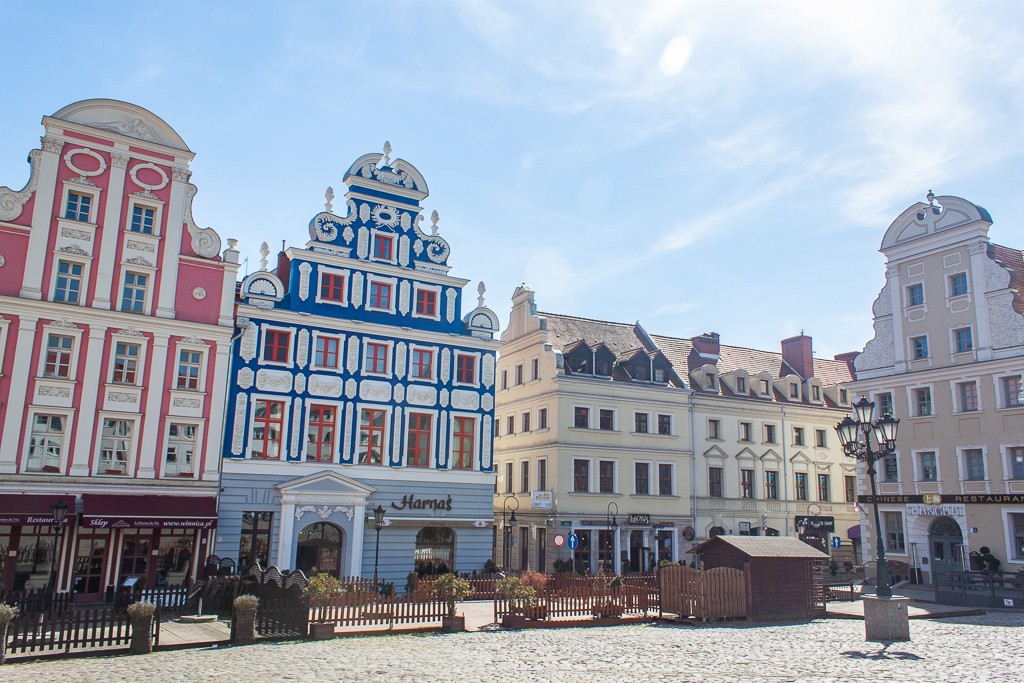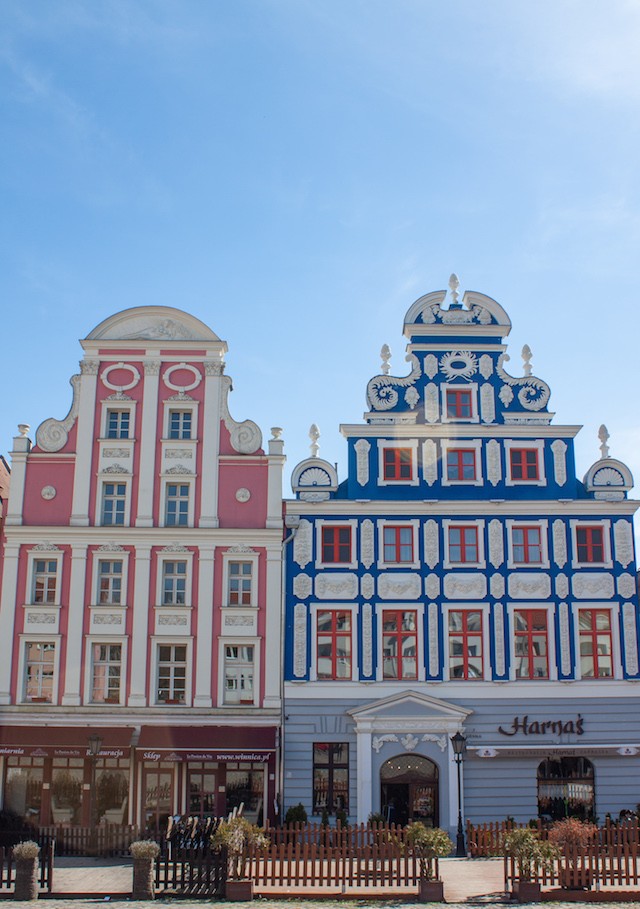 Stare Miasto is Szczecin's oldest district in the city. Aside from the castle, you'll find Hay Market Square, full of colourful buildings showing off traditional German architecture, as well as the Old Town Hall. Dating back to the 15th century, the building was completely ruined during the war but brought back to life in the 1970s. Nowadays, it serves as a Historical Museum which has everything from14th century mint coins to 20th century German postcards. The building's also home to the Wyszak Family Brewery where you can get your inner beer geek on and soak up all of the artisanal suds your heart desire.
Our tips: While we fully endorse Harnas as one of the top places to eat around Hay Market, we also recommend the very hipster, Bajgle Króla Jana. I've personally dined there many times for breakfast, always opting for their yummy pastrami bagel. Their coffee isn't bad either! On my list to visit at some point in the future is The Office – Craft Beer Pub, because yes, I love me a good beer.
3) Ducal Castle
This Gothic Pomeranian Dukes' Castle in Szczecin is a mainstay of the Old Town. The castle was originally built in 1346 with further additions being added over the years. Completely destroyed during the Second World War, reconstruction efforts began in earnest about a decade after the war ended.
These days the castle is a cultural center where you go to watch concerts, plays, or even opera performances. When I visited last summer, I came across a medieval festival which made me feel like I was in a Game of Thrones episode. The Castle Museum features regular exhibitions and also contains six sarcophagi of the Pomeranian dukes. In addition, the Pomeranian Dukes' Castle has a restaurant, cinema, and gift shop.
While walking around the main courtyard, be sure to look up at the clock tower which displays an astronomical clock, much like in Brescia or Prague.
Our tips: To our regret, we didn't spend much time here, but we left thinking about how nice it would be to watch a performance on a warm summer's day (preferably, with a glass of wine in hand).
4) The City Gates
When you visit Szczecin Poland, be sure to check out the two remaining historical Baroque city gates.
Brama Portowa, the Harbour Gate built between 1714 – 1740, is decorated with depictions of a city panorama and the God of the River Oder, Viadrus.
The other gate, Brama Królewska or Royal Gate, was constructed between 1725 – 1737 and showcases emblems of the black eagle of Prussia, as well as the Roman gods, Mars and Hercules.
5) Solidarity Square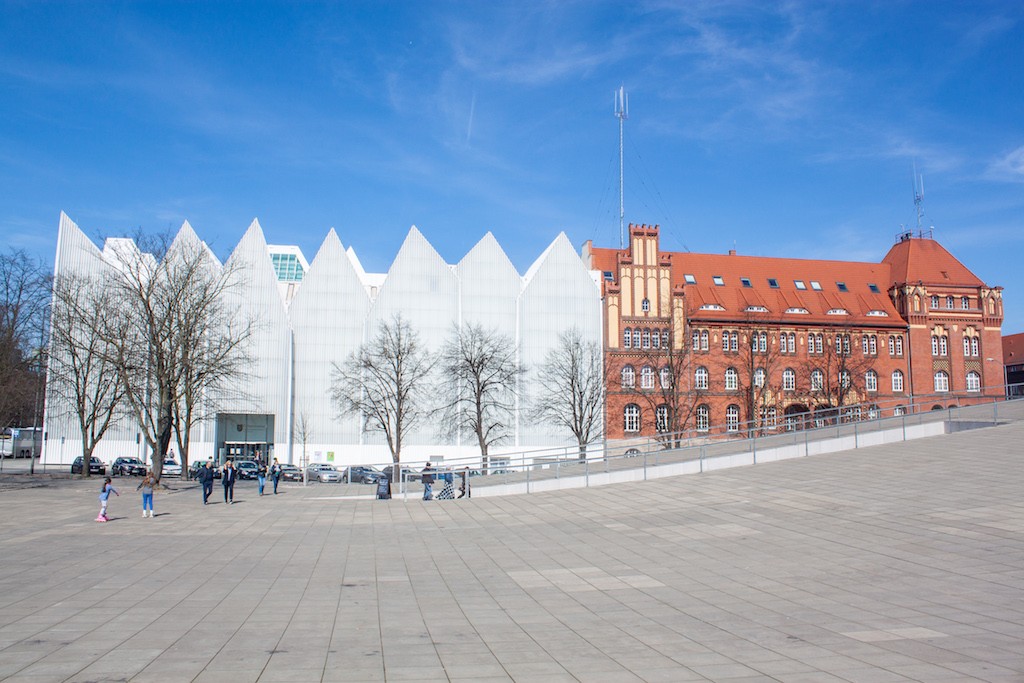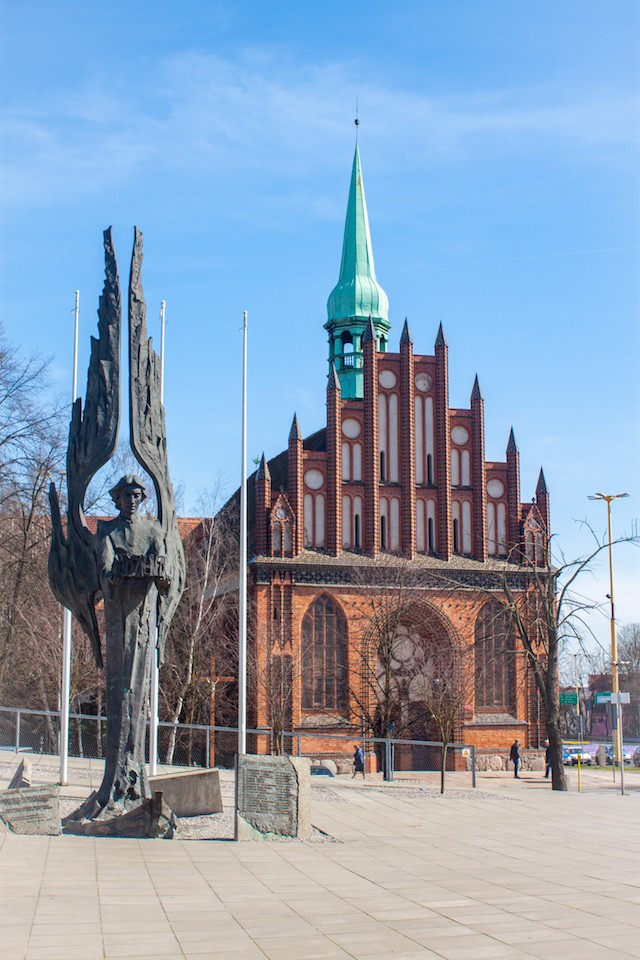 A solid reason to visit Szczecin Poland is to check out Solidarity Square, located just outside of the city's new philharmonic building. Taking the European Prize for Urban Public Space back in 2016, the square's quite a place to behold as the city has done much to repurpose the space. Many events are held at the square and on less busy days, it's full of locals walking around, skateboarding, and even roller blading. As the site's so picturesque in terms of its geometry and other fixtures, it's a haven for photographers and yes, even Instagrammers looking for a cool shot that's sure to garner plenty of likes. Our group of Berlin travellers certainly had a lot of fun here taking photos.
One of the first things that you'll notice is the contrast of old versus new architecture, especially as you compare the striking bold white jagged exterior of the philharmonic building resting beside a very traditional German styled building. The concrete foundation of the square's also not level, as it was built to resemble waves in a tumultuous sea. The uneven square also serves as a rooftop for the Center for Dialogue Breakthroughs, a two story museum with a permanent exhibition on the history of Szczecin and a hosts to other cultural events.
Another prominent part is the Angel of Freedom monument, created by Czesław Dźwigaj, a famous Polish artist, sculptor, and professor. Built in 2005, the angel appears to be on a small boat, channeling through a sea of rough waters as reflected by the surrounding square. This 11 meter high monument showing an angel clutching a crown of thorns, is an iconic symbol of the Polish solidarity movement. It was at this square that 16 people protesting their poor work conditions were shot and killed by Polish army and police. Their names are now engraved on four commemorative plaques at the base of the sculpture.
Other nearby attractions? Due to time, we didn't get to visit some other nearby attractions like the Church of Saints Peter and Paul and the Museum of Regional Traditions. If we return for another visit, we're likely to stop by the the highly recommended Mała Tumska for a traditional Polish meal (Mmmm!).
6) The Szczecin Philharmonic Building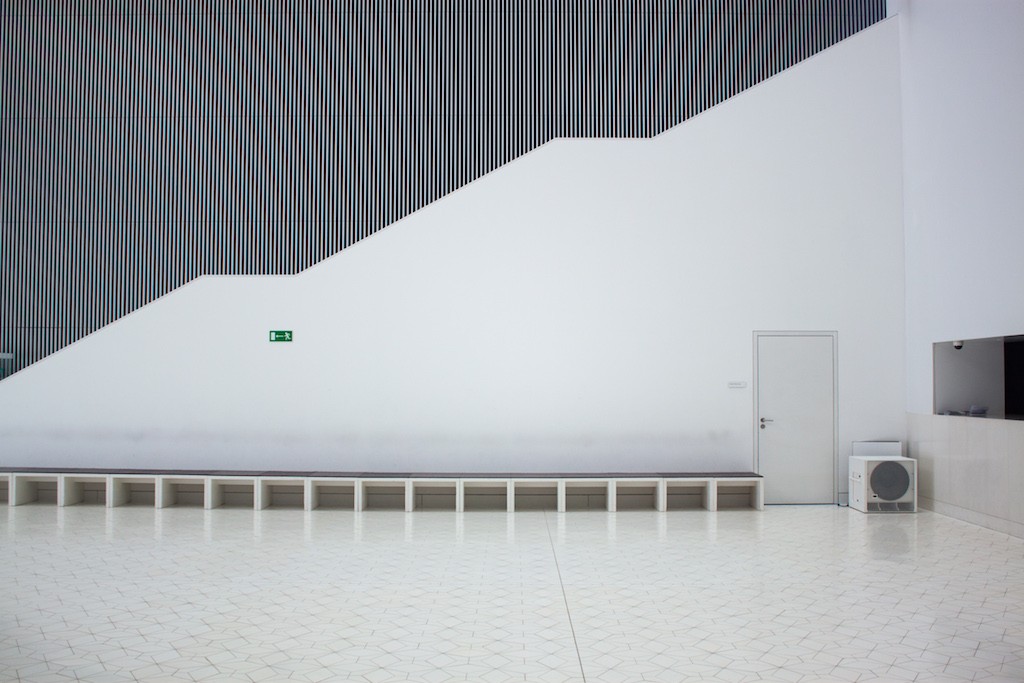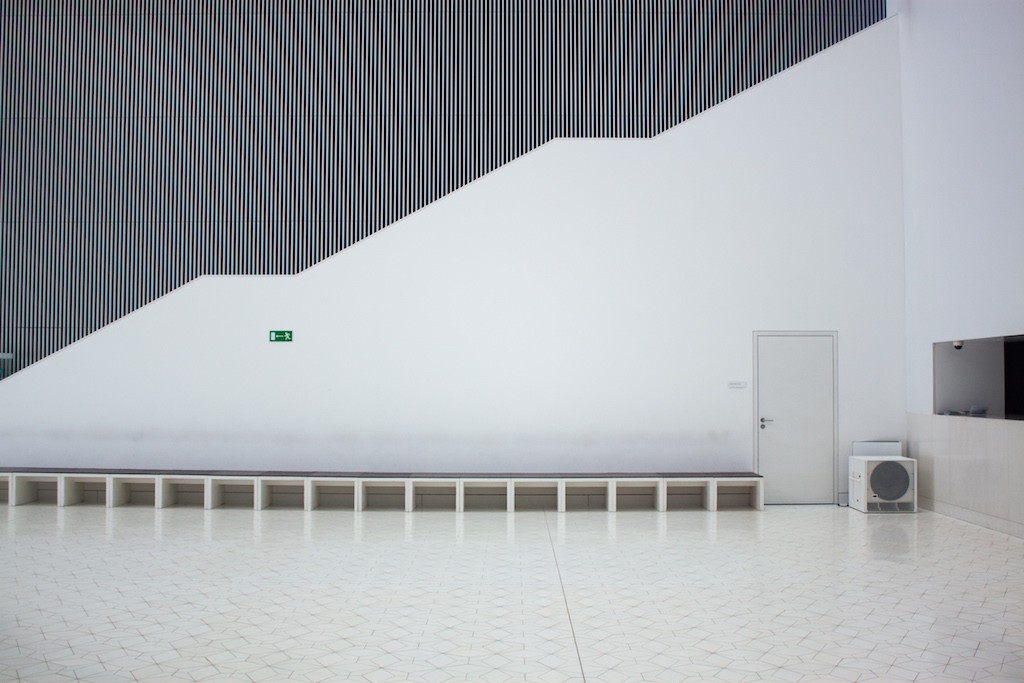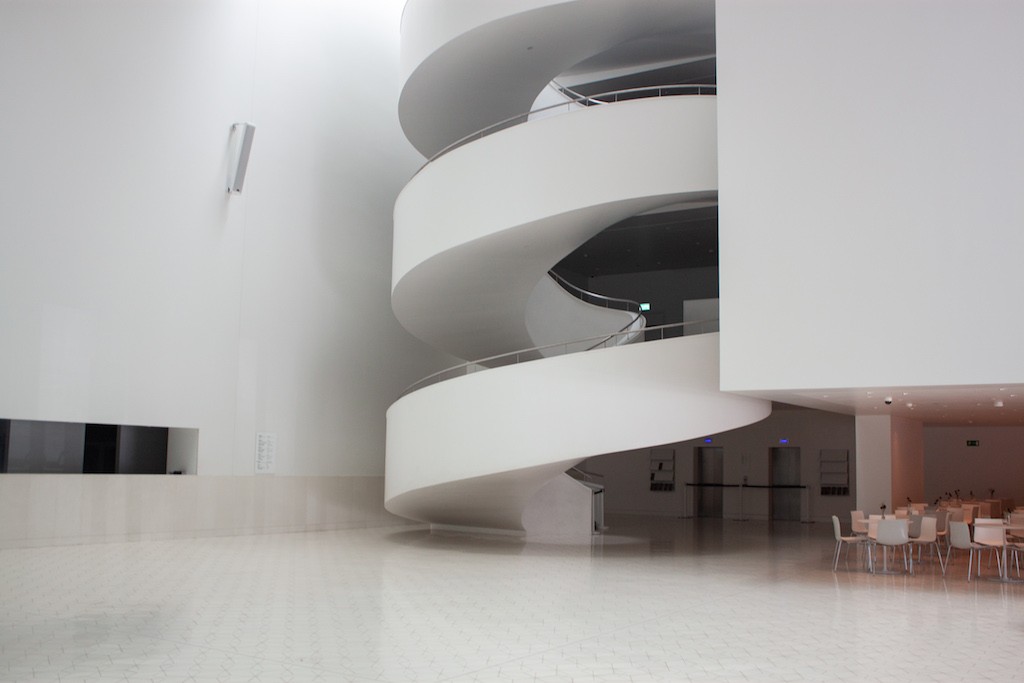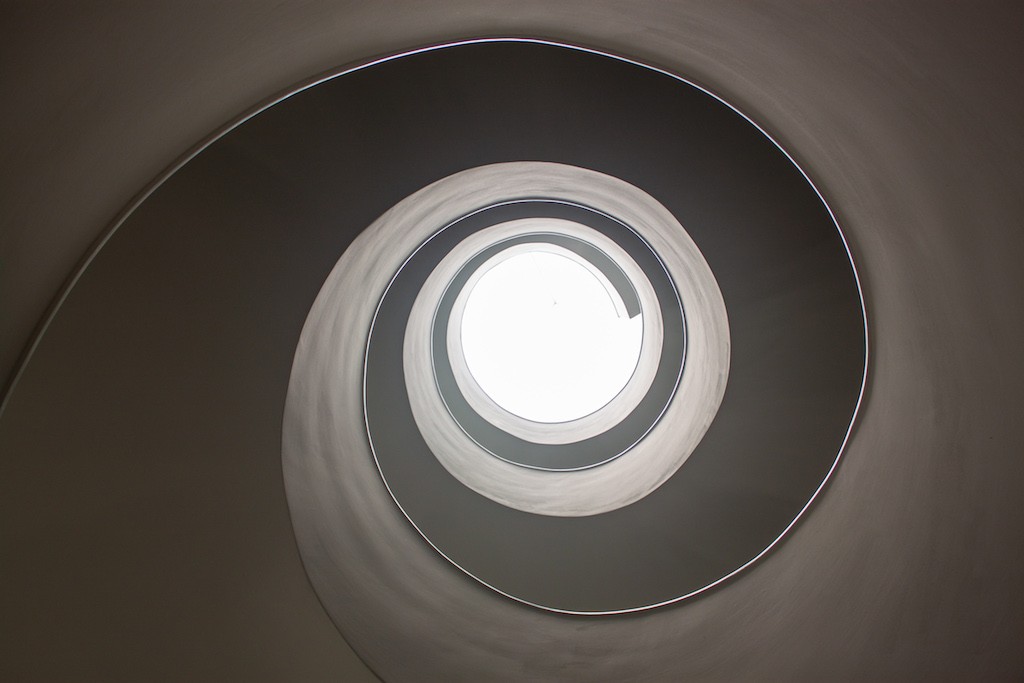 Szczecin's philharmonic building opened in 2014, spans 13,000 square meters, and includes two concert halls – one seating up 1,000 people and another seating up to 200. Designed by the Barcelona based architectural firm, Studio Barozzi Viega, the building's bold and modern look helped them take home the European Union prize for contemporary architecture in 2015.
The white zigzag shaped facade of the building is covered in ribbed glass and gives off a ethereal glow by night. The architects note that the building's design was inspired by the roofs of neighbouring residential buildings, the city's neo-Gothic churches, and even the tall cranes dotted alongside the river. The interior's simple, minimalist and monochrome in nature, dominated by a series of skylights.
It's also another paradise for Instagrammers or anyone who's looking for a new Facebook or Tinder profile picture (I offered tips to my friends on the best spots to pose).
If you're visiting Szczecin and don't have a EU based phone number, the wifi here is strong, fast, and free. While visiting the philharmonic one time, a friend of mine downloaded an entire season of House of Cards that was not available in Germany at the time, just so he could binge watch it over the remainder of the weekend.
Our tips: Come here to enjoy a performance by the local orchestra, which has been around since 1948! Note, the concert halls aren't open to the public when performances aren't taking place. Otherwise, tour the inside to experience the grandness of the interior or grab a drink from the onsite café. If the café's not to your taste, wander to the nearby Per Se Brasserie & Cocktail Bar for a drink.
7) Wały Chrobrego
When you visit Szczecin Poland, you could easily come to Wały Chrobrego and hang out here for the entire day without going anywhere else.
It's one of the few places in Szczecin that wasn't destroyed during WW2 and is one of the best places in the city to experience history. Built by Wilhelm Meyer- Schwartau between 1902 – 1921, this impressive 500 meter long elevated promenade rests on the bank of the Oder River and is flanked on each end by oval roofed rotundas. In the center of the promenade and at the bottom of the embankment, is a beautiful fountain – now curiously empty of water and replaced by a tacky looking boat sculpture. The top of the promenade features a tree lined street, a bunch of restaurants, bars, food trucks, as well as access to some of the city's most notable architectural landmarks like the Maritime University, National Museum, and Szczecin's Contemporary Theatre. Events like the Tall Ships Races and Days of the Sea are also held here.
Offering panoramic views over the river, we stopped by one of the restaurants along the terrace – the American Western themed Colorado Steakhouse for a late afternoon cocktail.
Other nearby restaurants? We were so stuffed from our pierogi lunch, that we didn't have any more room in our stomachs to take on more food. If we had more time on our hands, we would have checked out Columbus Restaurant.
8) Cafe 22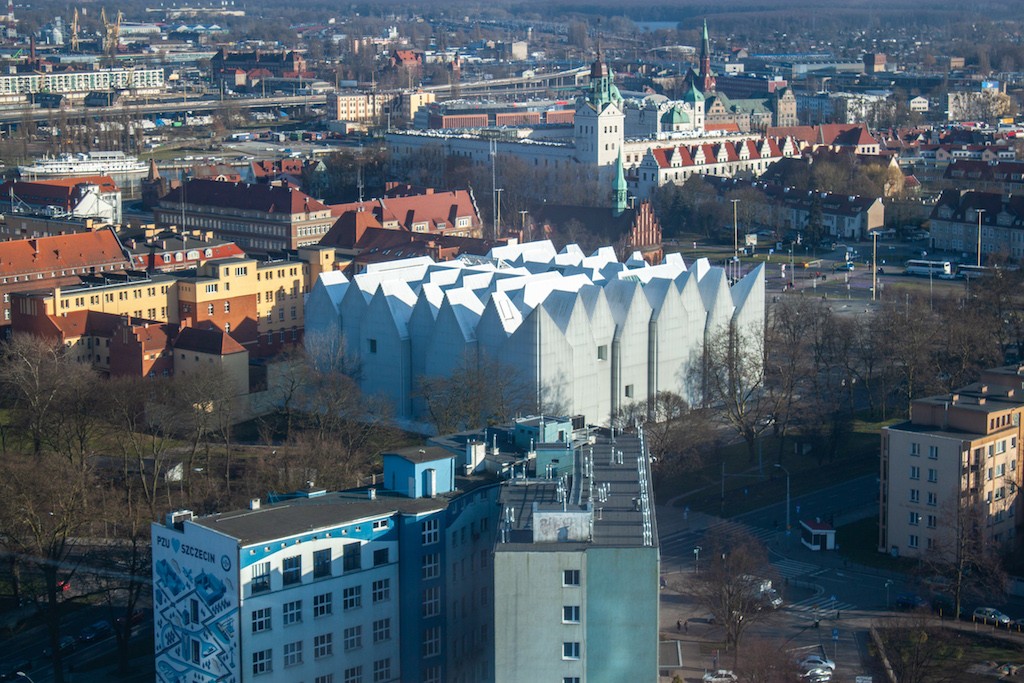 While Wały Chrobrego offers a great view over Szczecin, one of the top views in the city is found at Cafe 22. The restaurant and bar, located on the 22nd floor of a business skyscraper, is a nice place to take a late breakfast, afternoon coffee and cake, and even a romantic dinner. Particularly unique are the views of the philharmonic building from above, as well as Ducal Castle. Visit Cafe 22 on Wednesday nights for live music, including jazz, swing, rock, and pop.
Our tips: Order a desserts (the apple strudel is delicious) and pair it with some bubbly. Some of our group opted to taste some of the restaurant's exotic and fruity cocktails and reported back with high levels of happiness. Even better, visit Cafe 22 at sunset to see the Szczecin's cityscape on fire.
We regret missing out on it on this trip (I've been there several times before), but there's also one more place in the city to get an aerial view over Szczecin, and that's the Cathedral Basilica of St James the Apostle. Take the lift up 110 meters for some truly glorious views of the city.
9) Galaxy Shopping Mall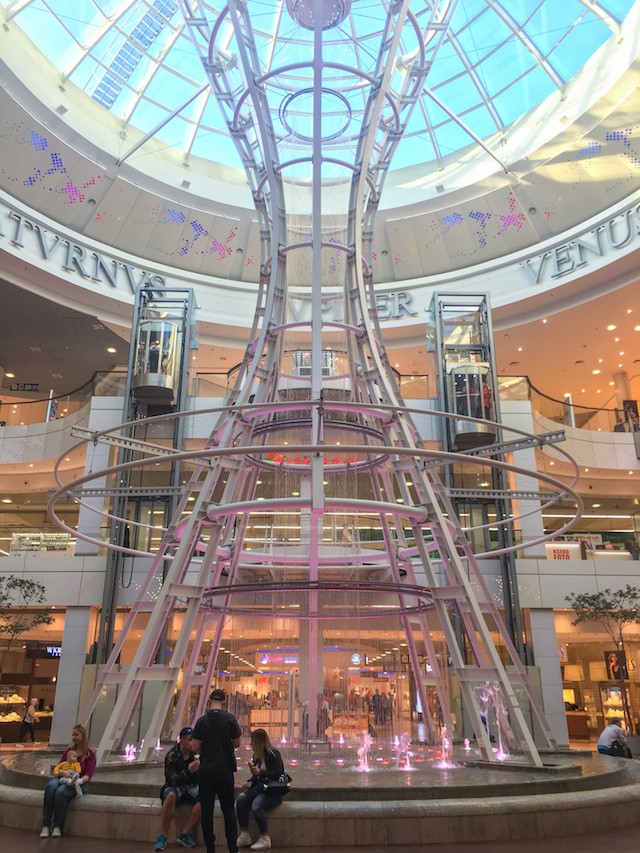 We know, we know. There's nothing remarkable about Galaxy Shopping Center. It's just another mall that's not really different than any other mall anywhere else.
However, coming here as a tourist is way fun! There's a massive supermarket inside where you can shop for local beers, Polish vodka, and tons of other treats not available in Germany. Standard shops like Mango or H & M often feature different clothing than you'd find at the same shops back in Berlin.
Shop to your heart's content and load up on goodies before heading home.
10) Baltica Wellness And Spa
This is a recent edition to our Szczecin to do list. Baltica Wellness And Spa is one of the top spas in Szczecin, and not only that, it's the perfect place for weary Berliners to get a dose of health and wellness. Aside from their dizzying array of spa treatments, guests can spend time in the wellness area which includes a sauna, jacuzzis, steam rooms, sensation showers, and even a snow room to cool down after the sauna. On a recent trip to Szczecin, I had a facial, massage, and access to the wellness area for only €60. Talk about a deal!
We know this particular activity may be hard to fit into a mere day trip from Berlin, so we either recommend swapping out some of the above activities for time at the spa or staying in Szczecin for at least 2 days.
Good To Know
1) Book a place to stay when you're in Szczecin.
2) Experience a guided tour when you're in Szczecin.
3) Szczecin isn't very far from Berlin and makes for an easy day or weekend trip. If you want to take a break from the German capital, head there by train, bus, or car:
You can get there by train on a second class Berlin Brandenburg ticket for about €29. The price includes the round trip fare for up to five people. Depending on your connection, the journey will take anywhere from two – three hours.
The bus is fairly cheap as well, averaging anywhere from €15 – 20 for a round trip fare for one person. The bus trip will take about three hours if traffic is light and construction zones are few.
Driving from Berlin to Szczecin will take you a little under two hours. If you're visiting other parts of Poland, rent a car and take a road trip.
4) Most trains and buses will take you to Szczecin Główny, the city's main train station. From there, you can easily reach most of the points highlighted above within 20 minutes by foot. To find out information about other transport options, check out Wikitravel.
5) Poland doesn't use the euro, but the złoty:
Check xe.com to find out how the złoty fares against your local currency. Your money will go a long way in Szczecin as prices are lower here than in other European cities.
It's easy to get by without cash, as you can use bank or credit cards in most places. However, if you're desperate for some cash, there are plenty of bank machines around.
When you pay by card, you'll be asked which currency you want to pay in – złoty or euros. Choose to pay in local currency, as you'll save money on the exchange rate.
6) Love Poland as much as I do? Check out my Poland archive or read some of my favourite posts:
For even more inspiration, consider these things to do in Krakow.
Locations
Visit Szczecin Poland now! Make it easy and download this Google Map to spend your day cherylhoward.com style, featuring all of the places mentioned above.
If you like this post, share it on Pinterest.
*Disclosure – This post contains some affiliate links. If you book a tour or hotel through any of these links, I'll earn a tiny commission at no extra cost to you. Thanks for your support!