A Collection Of Weird Things In Brussels, Belgium – Estimated reading time: 9 minutes
I love nothing more than uncovering the weird side of a destination. The more unusual the better, I say! I purposely seek out places and delight in things that may never appear on a postcard or be featured in a guidebook.
So if you thought Prague was weird, wait until you see all of the things that Brussels has in store.
A Collection Of Weird Things In Brussels, Belgium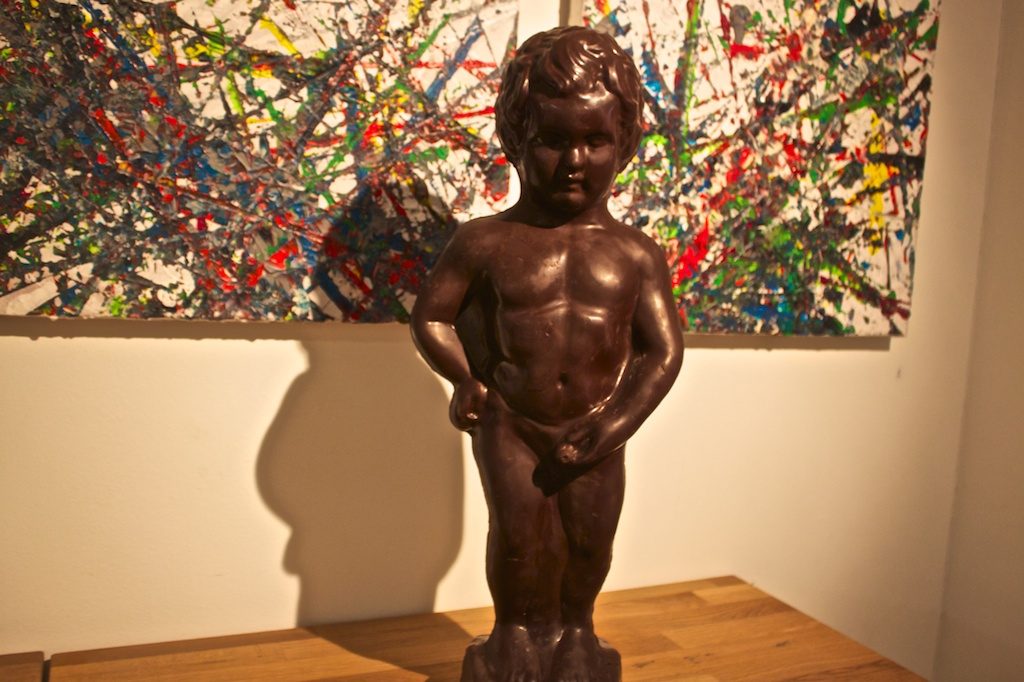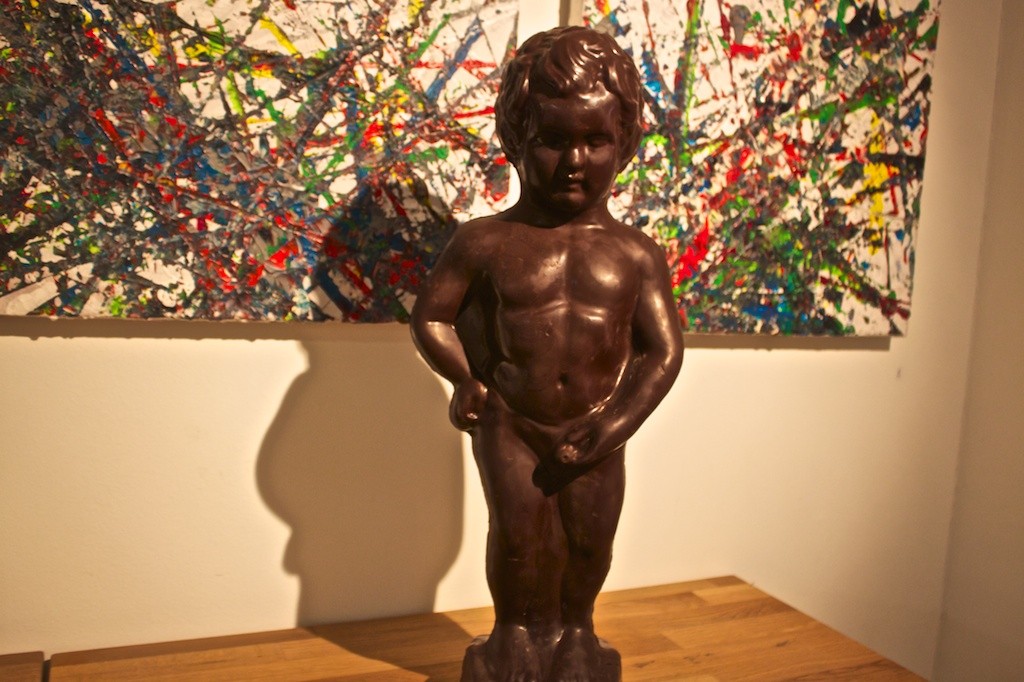 Back in 2012, I took a trip to Brussels and spent a lot of time taking photos of some of the oddest, not to mention funniest, things I saw in Brussels. Years later, these photos not only bring back fond memories, but continue to make me laugh.
Recommended reading: For even more posts featuring unusual places around the world, check out articles like, The Skull Cathedral In Otranto May Be The Most Scary Place In the World or Yes, There Are Cats In the Roman Coliseum And They Live There.
1) The Cat On A Bike Sculpture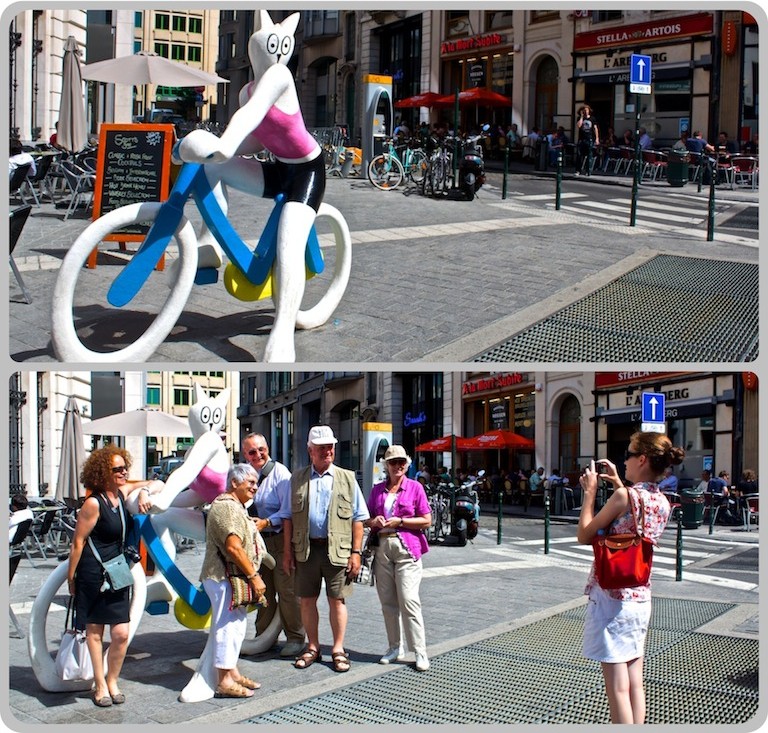 On my last visit to Brussels, I was sad to see that this cute sculpture was no longer there. But back in 2012, I couldn't help but break down into a fit of giggles when I spied this rather sexy cat, dressed in spandex shorts and a hot pink crop-top, riding a bike!
This work of art created by Alain Séchas cost the city of Brussels approximately €100,000 euros. The feline is also quite popular with tourists who stop for cheesy photo opportunities.
If you like silly statues like this, be sure check out this mooning boy statue in Antwerp.
2) The Peeing Boy Obsession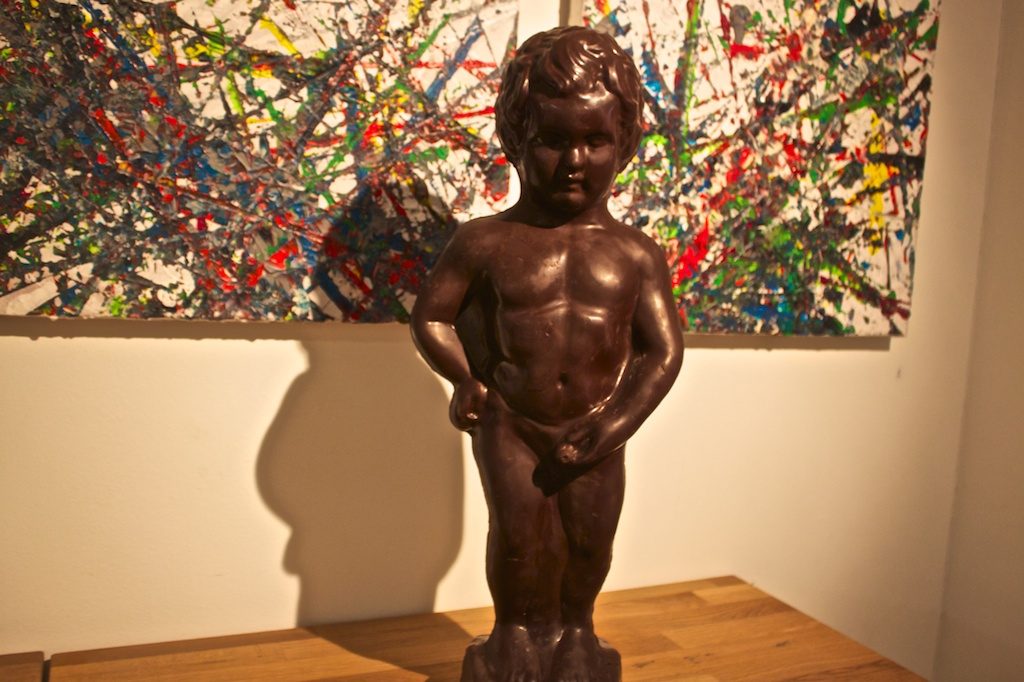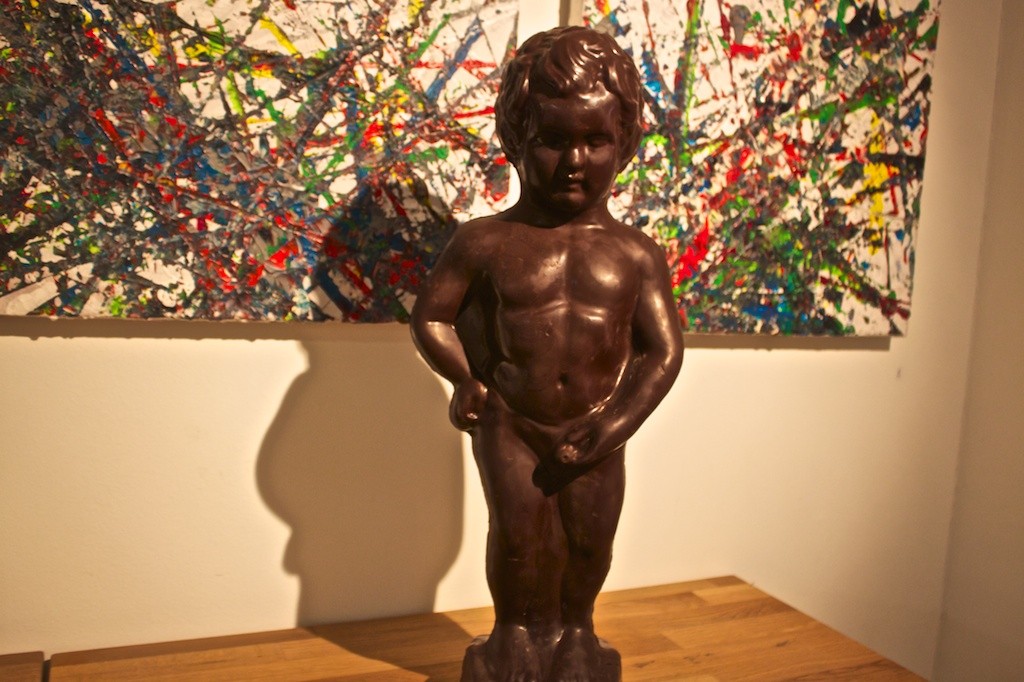 Brussels is infamous for their peeing boy statue, the Manneken Pis. Strange but true, this tourist attraction brings people from all around the world. Funnier yet is that he's dressed up in different costumes throughout the year and sometimes even hooked up to a keg so that he pees … beer.
So how far can you take the joke with the peeing boy? At Zaabär chocolate factory, you might feel tempted to take a bite out of the life sized chocolate reproduction of the Manneken Pis. The creators of this poster pictured above really went out of their way to make something they felt funny but failed entirely when it came to formatting their speech bubble and text.
Art depicting public urination seems to be a thing in Europe, as Helsinki decided to commission the giant Bad Bad Boy statue who continually pees a stream of water.
3) All Of The Smurf Stuff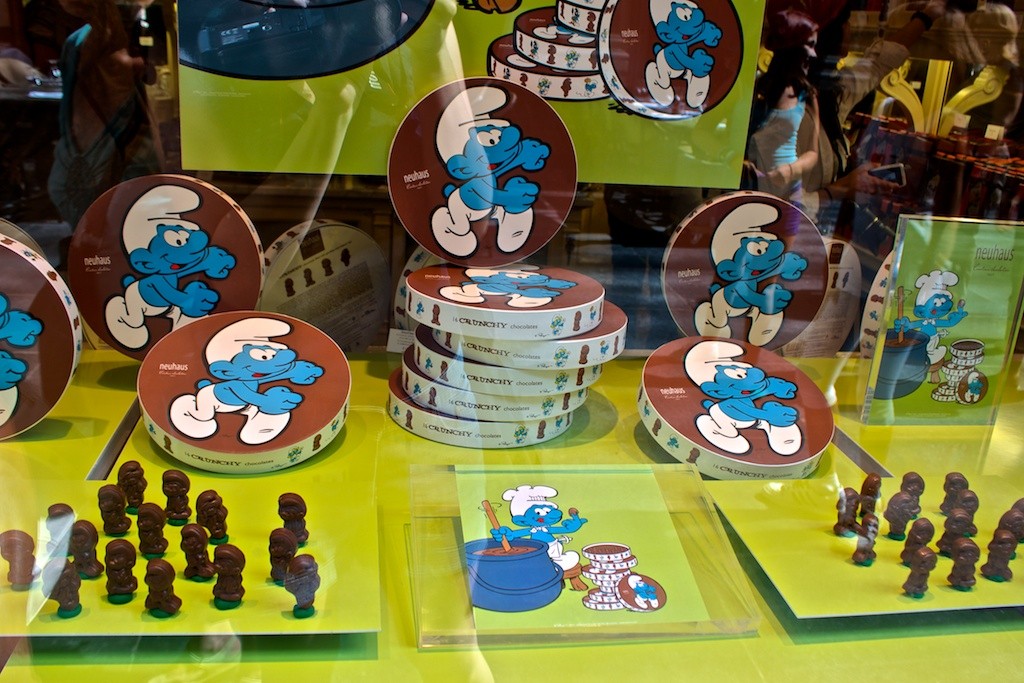 "Are we there yet, Papa Smurf?" I grew up with the Smurfs watching their cartoon religiously every Saturday morning, even dressing up as Smurfette for Halloween (two years in a row).
Did you know that the Smurfs were a Belgian creation? What started as a comic, became a cartoon and eventually a successful franchise. It turns out that if a peeing boy can be turned into chocolate so too can a Smurf, as seen here at a Neuhaus chocolate shop.
4) Pretty Ugly Purses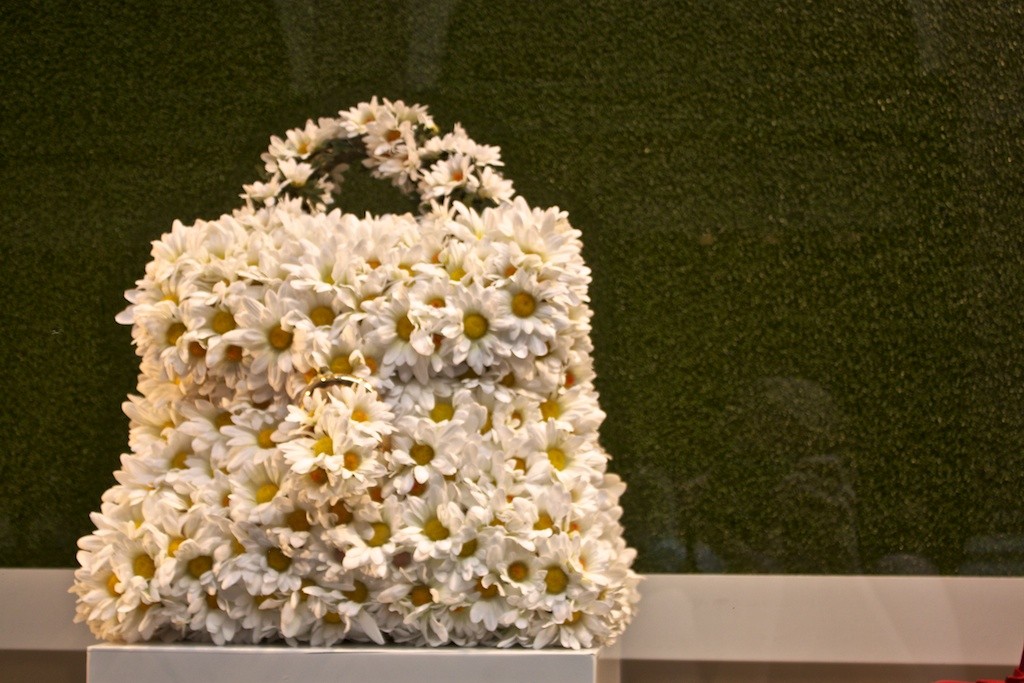 I spied this daisy covered purse in a window display at an upscale womenswear store. I wish I'd gone inside to inquire about the price as I'm sure it wasn't cheap! It'd be interesting to know if the shop managed to sell any of these and how many euros it cost.
Perhaps it was simply being featured as a kitsch item in celebration of the floral carpet event?
5) Fierce (aka Scary AF) Looking Statues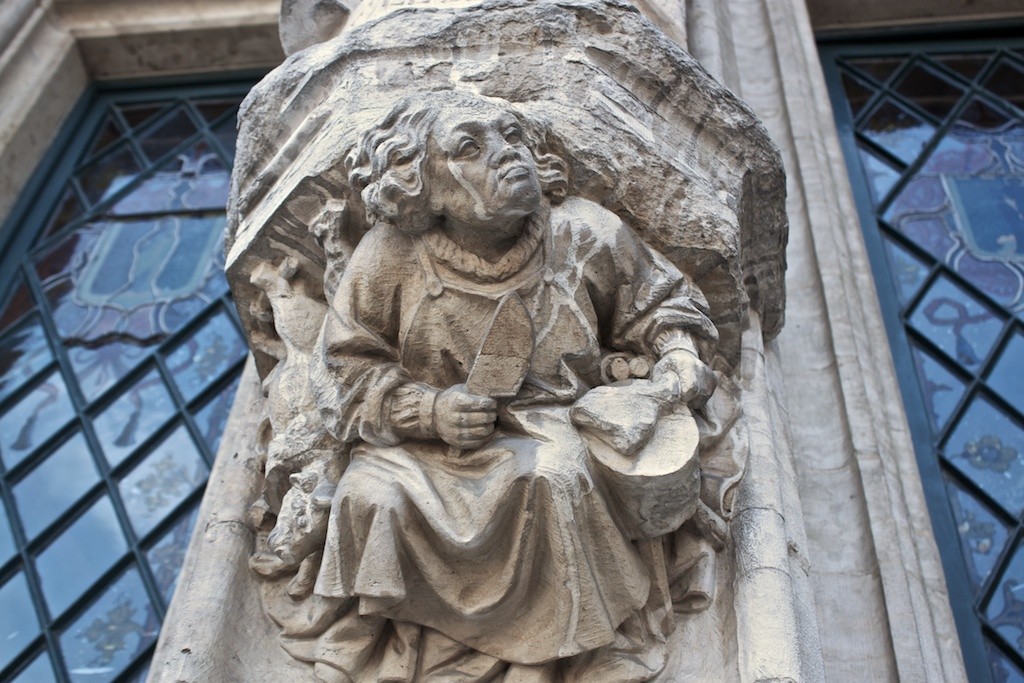 This 17th century statue of a knife wielding butcher comes complete with pig carcasses and hangs off of one the buildings surrounding Brussels' Grand Place, a square known for its eclectic architecture.
6) Tents For Record Labels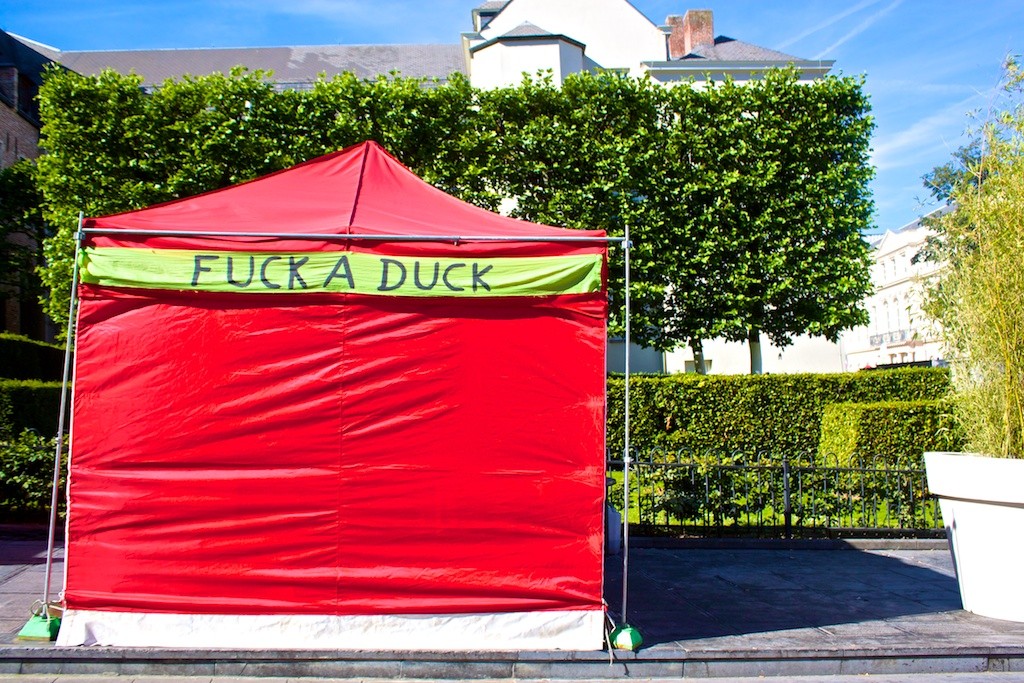 More weird things in Brussels? I first took this picture as it was LOL funny, to come across a tent hanging a banner that simply says "Fuck a Duck." Turns out that Fuck a Duck was a local record label, who even in 2012 still had an old My Space page.
7) The Clash Of Old Meets New Or Rather, Pretty Meets Ugly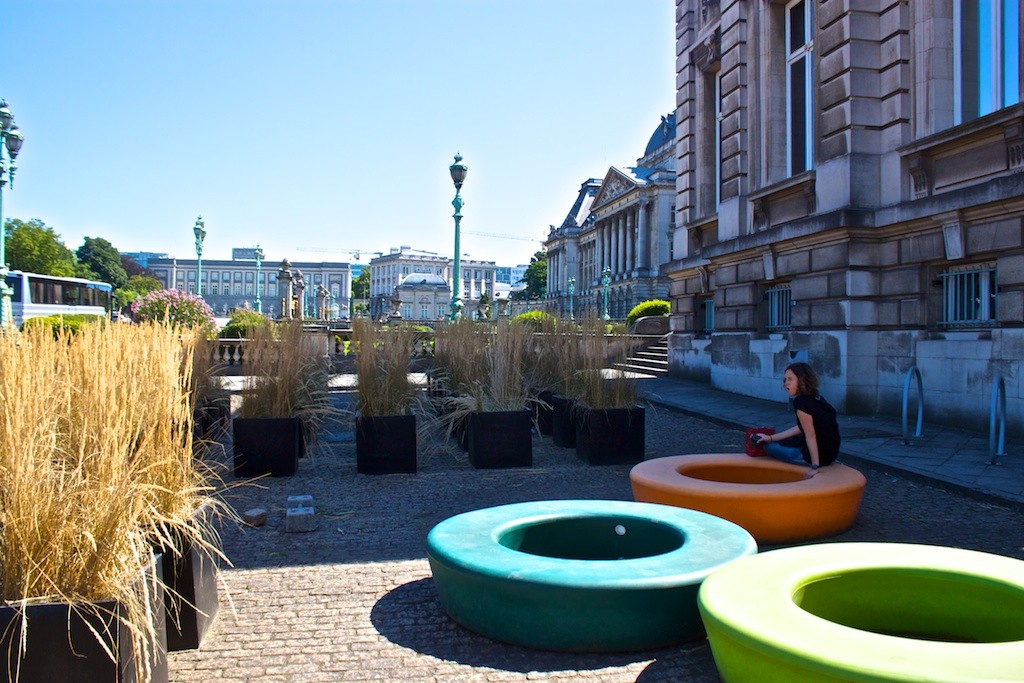 At the Royal Palace of Belgium, you see this beautiful historical building and then rest outside on these modern looking, brightly coloured, circular shaped benches surrounded by … dead plants. What were they thinking when they installed these benches?
8) A Chandelier and a Ceiling Made from Beetles (Yes, really!)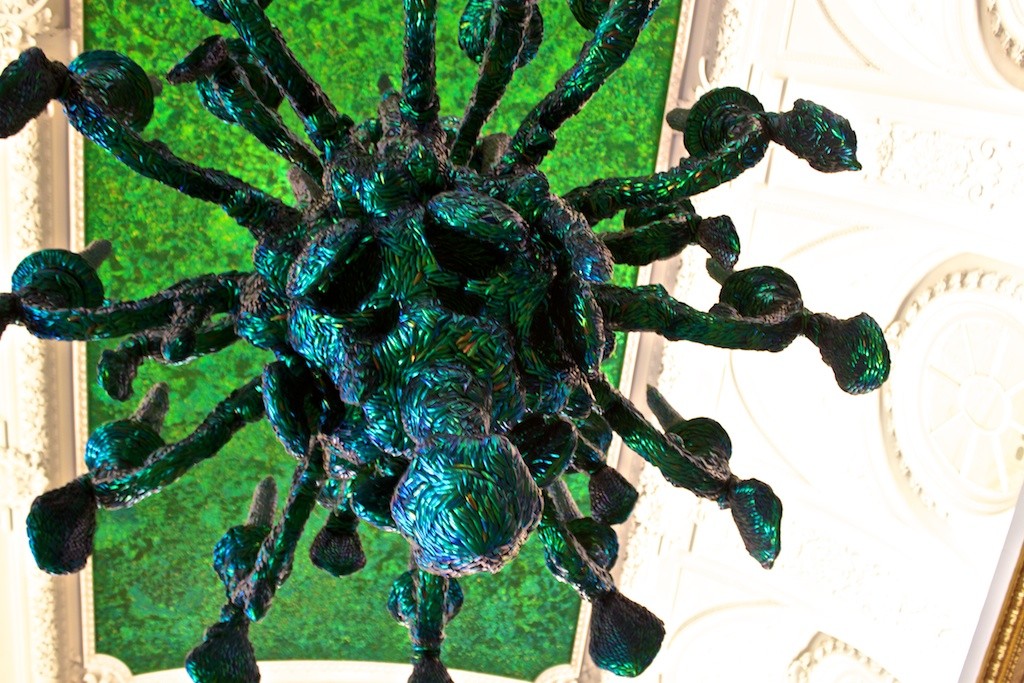 So the round benches and dead plants may not be all that weird, just plain ugly, but this chandelier and ceiling featured in the Royal Palace made from beetles is totally weird. Known as Heaven of Delight, this unique artwork was completed by Jan Fabre, a guy who not only likes to smoke (see his web site) but experiment with mediums such as blood, sperm, and insects. Jewel beetles from Thailand were used in this particular instance, which took 30 people and 4 months to glue all the insect shells to the ceiling.
I'm pretty sure it doesn't get any weirder than this.
9) Quirky But Cool Cafés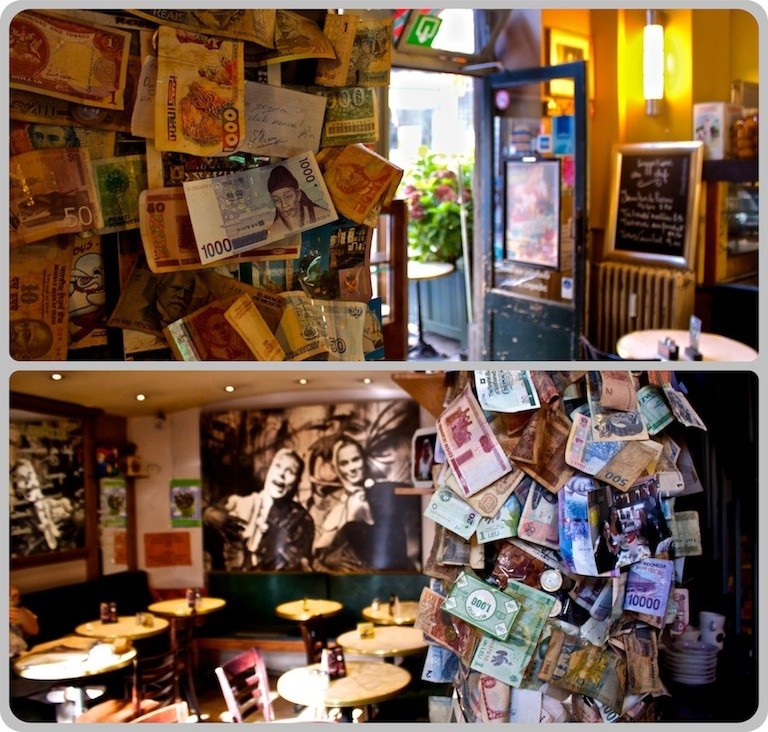 You know that I'm a sucker for a cool café and fortunately Brussels is full of them. Take for instance the touristy Arcadi Café where bills of cash adorn the wall. It's also rumored to have the best cakes and quiche in the city. In Brussels' vibrant and hipster Ixelles neighborhood, you can play chess with others at the Chess Cafe.
10) Odd Window Displays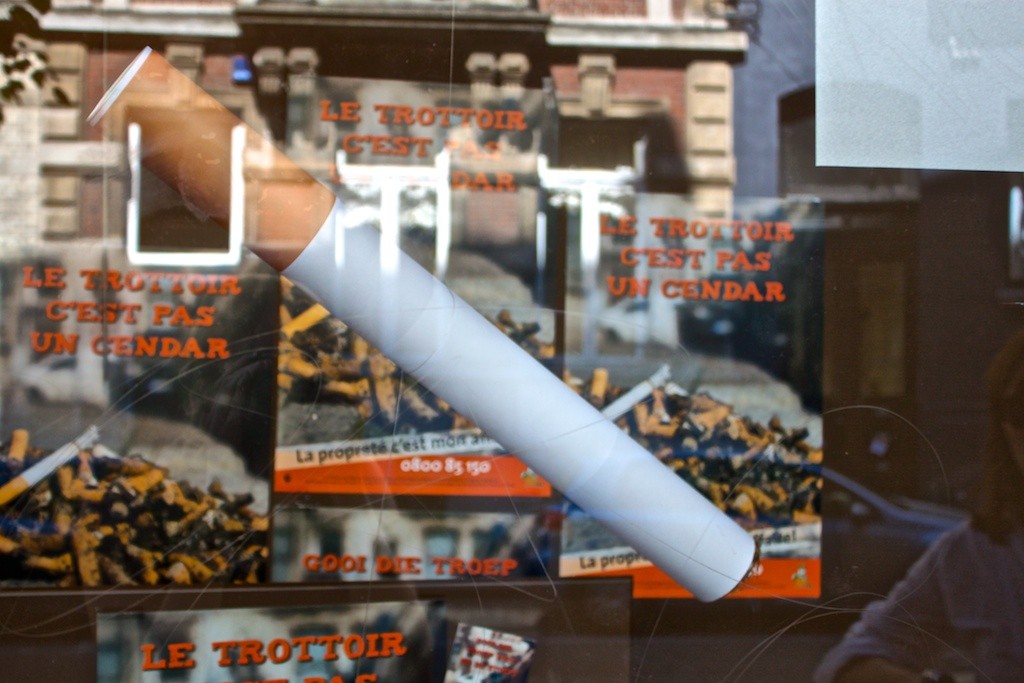 This giant cigarette hanging from a shop window is flanked by posters saying "The Sidewalk is Not an Ash Tray." Note to self – don't throw cigarette butts on the streets of Brussels or risk being featured as the face for one of their future poster campaigns. It's also fun to act weird when you're in such a weird place, so here's me pretending to drink beer from yet another odd window display.
What do you think about this funny collection of weird things in Brussels? Do you have any tips about unusual places in the city that our readers should visit?
Weird Things In Brussels – Good To Know
1) Need somewhere to stay while in Brussels? Find a place with booking.com.
2) While in Brussels, be sure to go on a guided tour.
3) If you like travel in Europe, check out some of our top posts.
If you like this post, share it on Pinterest.
*Disclosure – This post contains some affiliate links. If you book a tour or hotel, I'll earn a tiny commission at no extra cost to you. Thanks for your support!