Whether you're a tourist coming to Berlin for a vacation, or a local looking for a staycation opportunity, The Circus Hotel is a strong contender in filling all of your accommodation needs.
in August of 2021, I spent a weekend at the Circus Hotel. It marked the first time I'd slept somewhere other than my own flat, since the summer of 2020 when I traveled to Hamburg for a weekend. What a wild feeling! It was great to finally put my small carry-on, packing cubes, and other travel-related accessories to use again.
Come To Germany And Stay At The Circus Hotel Berlin
The pandemic has been extremely difficult for the hospitality industry as lockdowns forced businesses, such as hotels, to temporarily close their doors. The Circus Hotel took the "quiet time" to do something they'd been dreaming of for years, and that was to renovate the hotel from top-to-bottom and create an entirely new concept that would not only better the guest experience but forge new partnerships with local brands and be more environmentally friendly.
The end results of their efforts are fantastic and certainly make the hotel one of the top places to stay when you're visiting Berlin. From their spacious rooms, central location, rooftop bar, and tons of other really cool amenities, your stay at The Circus Hotel Berlin will be a memorable one.
Recommended reading: For more things to do in Berlin, consider visiting Schlosspark Biesdorf, taking a boat tour, or going to a Christmas market. Even better, read our advice about mistakes tourists should avoid when they visit Berlin.
A Large Room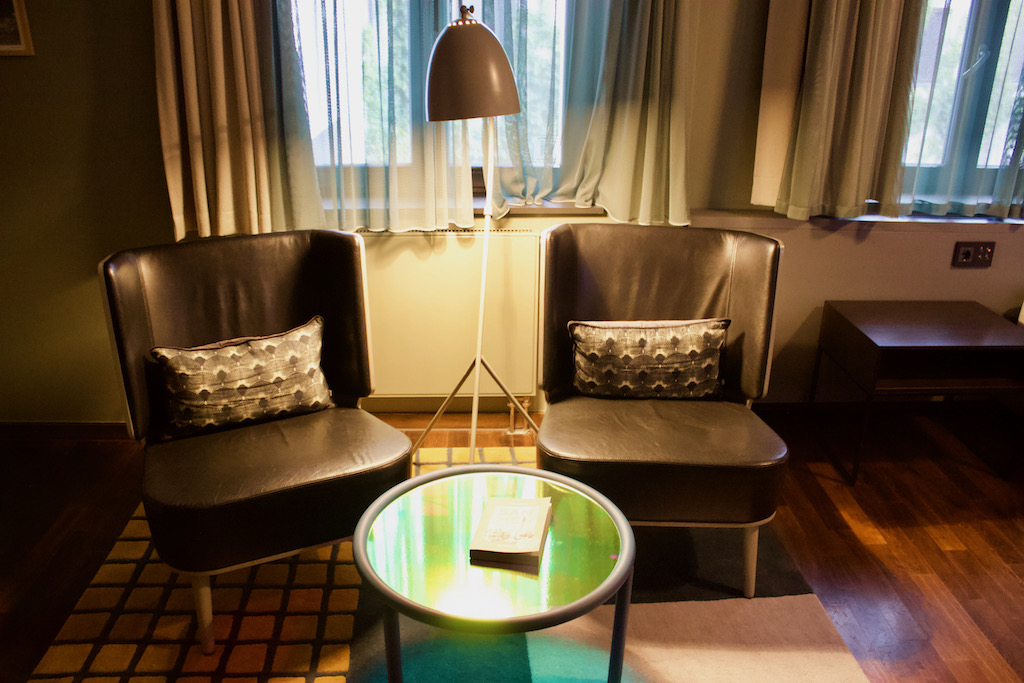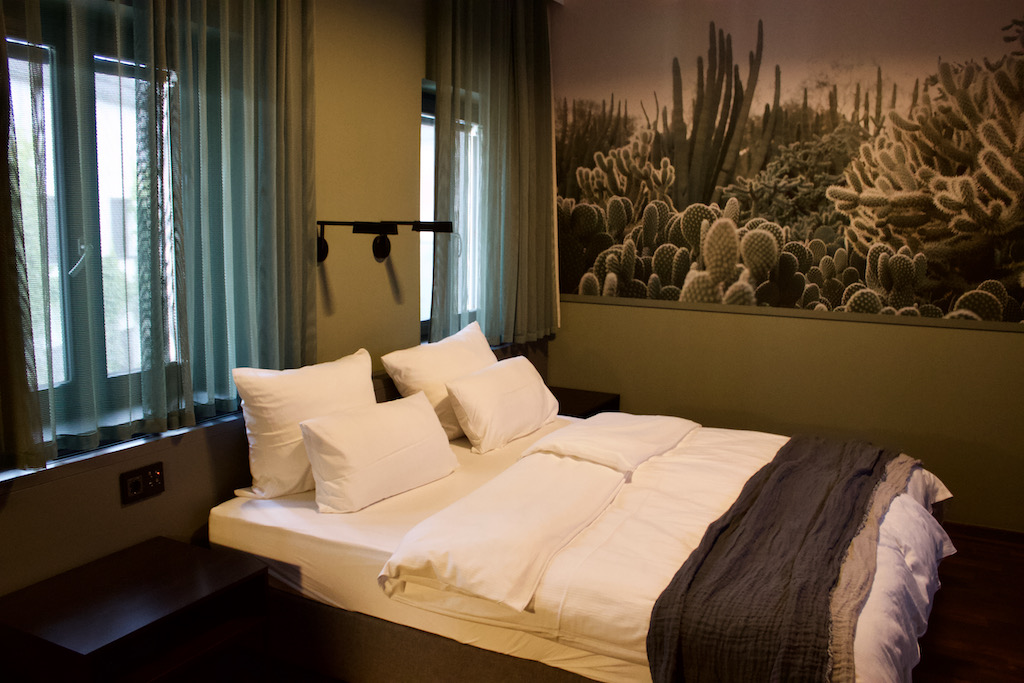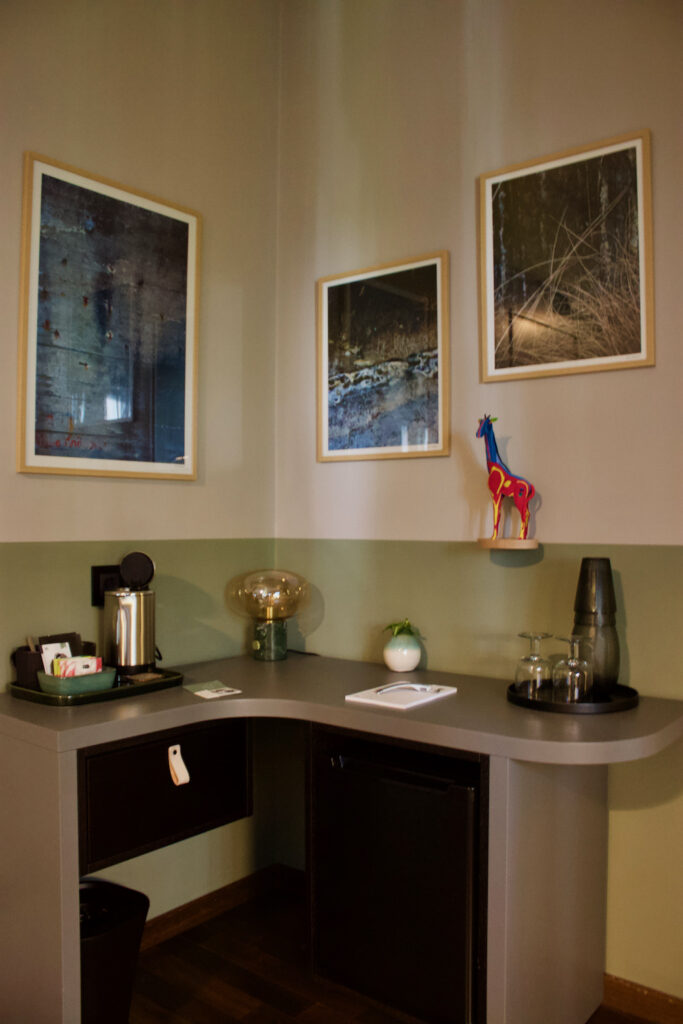 I shacked up in a large room and couldn't have been happier with my temporary 28 square meters home. Not only was it decked out in a natural, earthy design, but the room also came with a large (not to mention super comfortable) king-sized bed, flat-screen TV with streaming services, a working area, a reading nook, a fully stocked mini-bar, as well as a spacious bathroom.
While these types of amenities might sound typical for any hotel, there's more than meets the eye with the Circus Hotel Berlin and it's hard to even know where to begin.
Take the beds for example – the staff spent a whole lot of time researching new bed types and even tested them out for themselves. This long and thorough selection process led to the selection of Birkenstock mattresses. Yes, this iconic German brand makes more than sandals (that people like to pair with socks!). The mattresses make you feel like you're sleeping on a big fluffy cloud and you'll have no problem getting a solid night's rest.
Then there are the hotel's climate controls. As part of the hotel's massive renovation effort, they installed a new air conditioning system that's both sustainable and environmentally friendly. As they should be, they're especially proud of this unique offering and I hope this sparks a growing trend in the hotel industry overall.
Aside from that, the fully stocked mini-bar comes with all sorts of unexpected delights. I tried out some of their snacks like the Chazz Eco vegetable chips, as well as a very tasty Disco Limo. Inside the desk drawer, there were other fun things available for purchase like a disposable camera you could use to document your Berlin weekend. As much as possible, they also partner with local Berlin-based small businesses for these offerings.
Other room perks include Bose Bluetooth speakers, free tea and coffee, and a library filled with all sorts of interesting books.
The Rooftop Area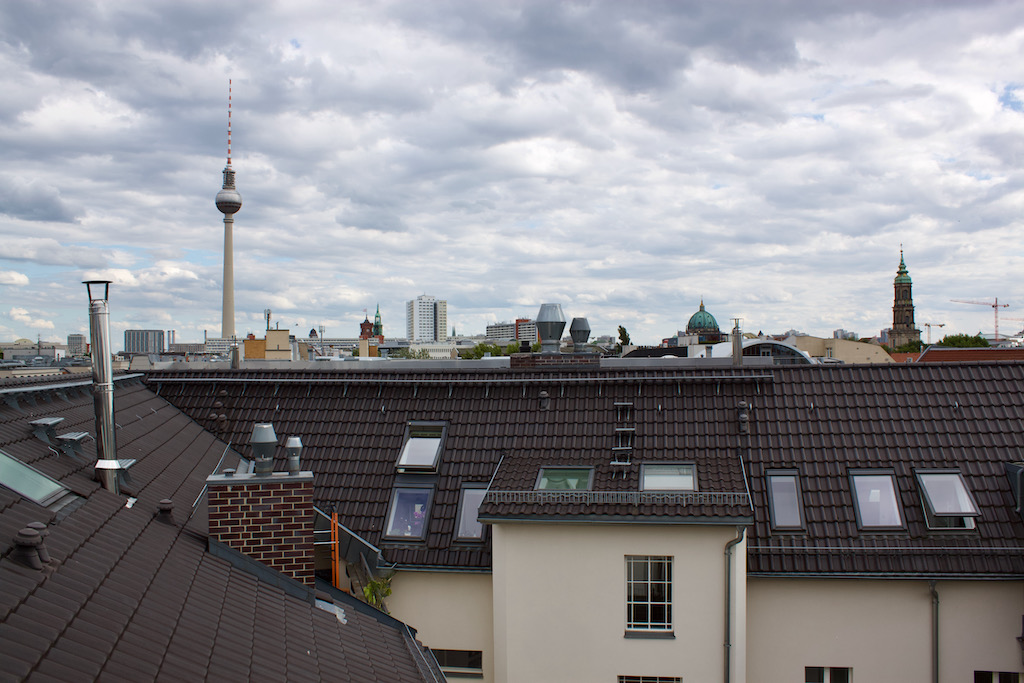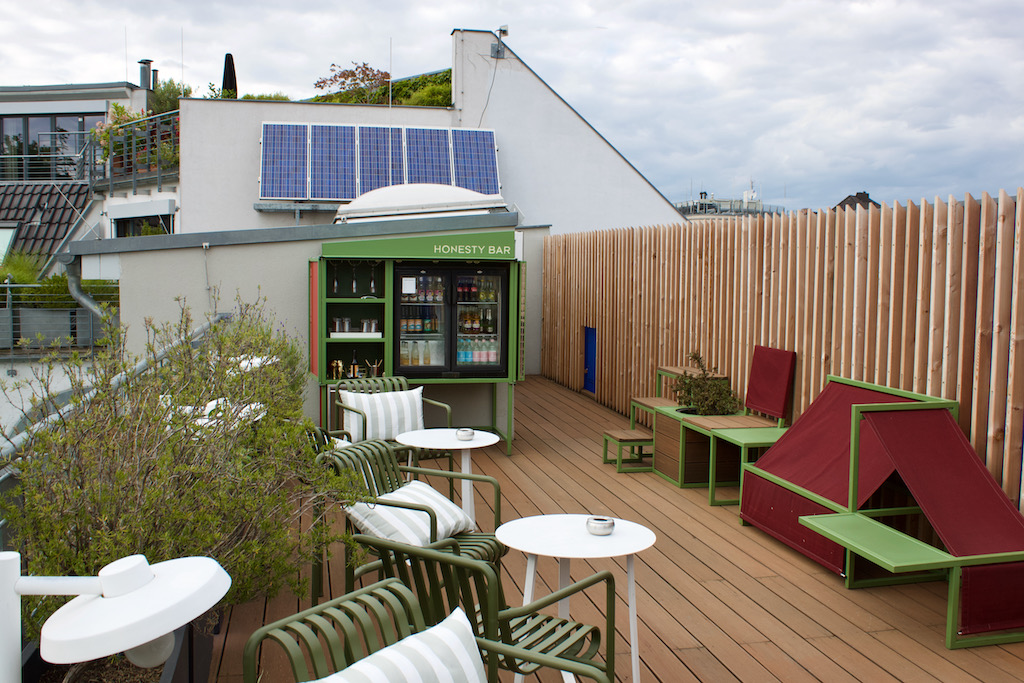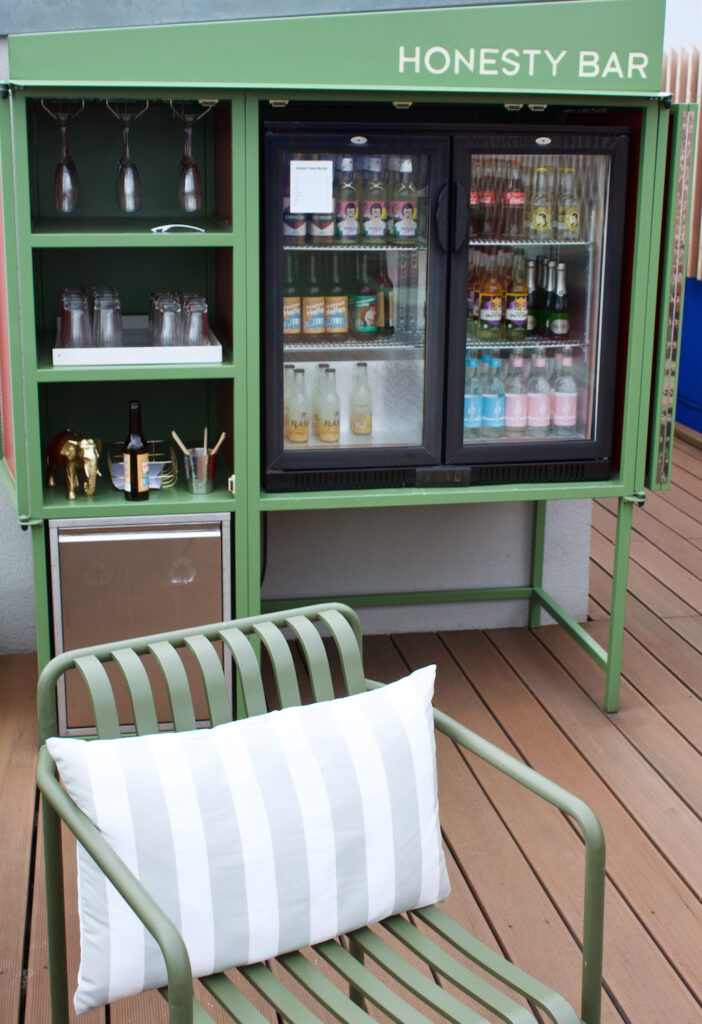 One of the big selling points of the Circus Hotel Berlin is its small rooftop area, which provides iconic views of Berlin's Mitte area and most notably, the TV Tower. I spent some time up there in the afternoon, taking photos, reading, and having a delicious craft beer from my favorite Vagabund Brauerei. Later that evening, a friend joined me there for some sparkling wine and conversation.
There's an adorable little area with drinks available, called the "Honesty Bar". This self-service option allows you to grab a beverage, take note of it, and inform the hotel staff later upon checkout.
The Restaurant and Courtyard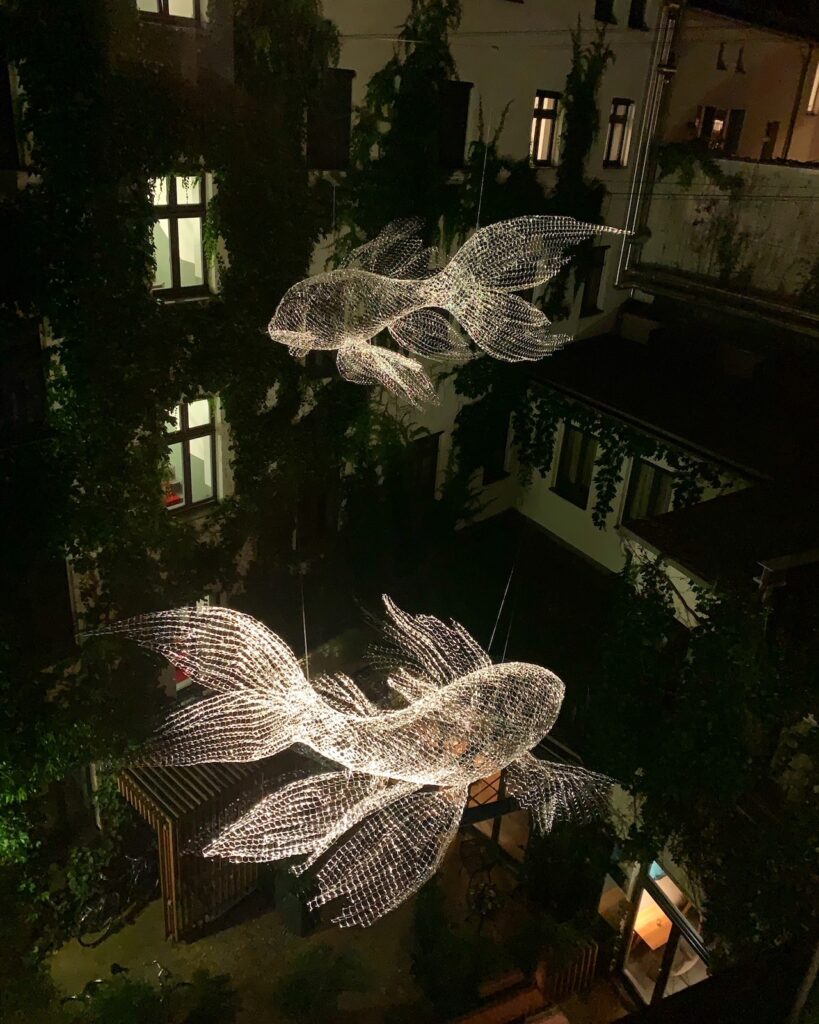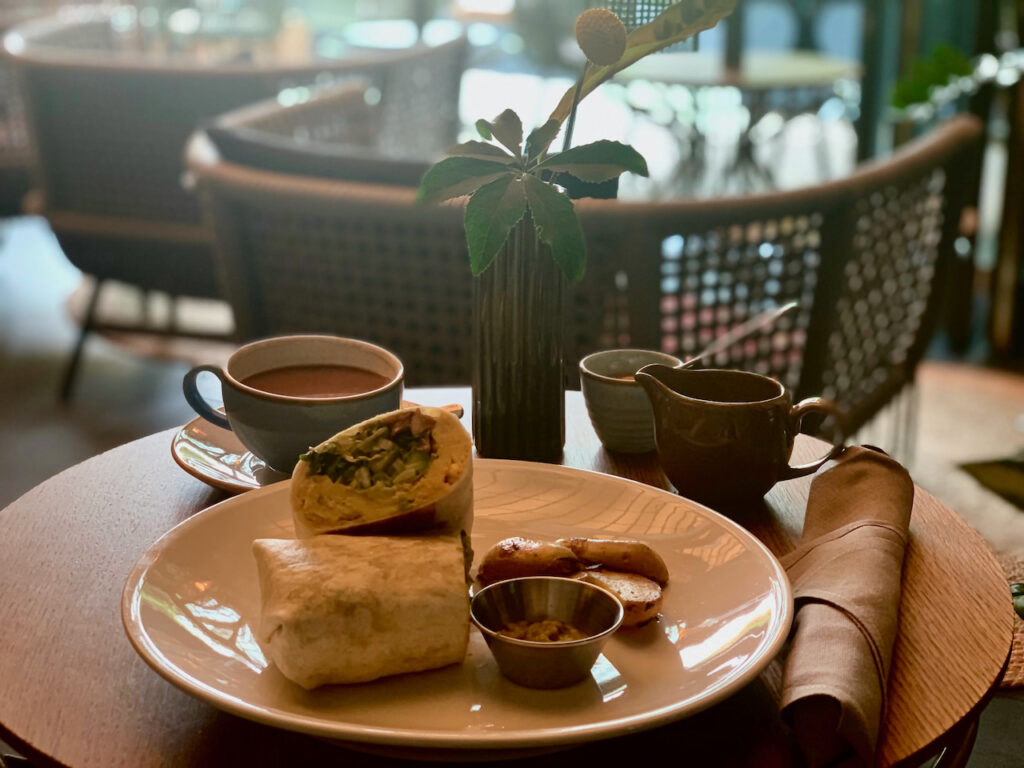 Another mainstay of the property is the hotel's restaurant lounge and garden courtyard area. It's quite the peaceful little oasis that makes you feel like you're not in the center of the city, much like Vabali Spa. Amidst a bunch of plants, in summer you can opt to eat indoors or outdoors and take a leisurely breakfast. I went with a big cappuccino and a breakfast burrito and it was yummy. It's also open in the evenings for those seeking a relaxing dinner or even, just some drinks.
At night, the courtyard becomes all the more magical with the lighted fish-themed installations you see pictured above.
What do you think of the Circus Hotel Berlin? Would you stay at this design hotel when you visit the German capital? Tell us about it in the comments.
The Circus Hotel Location
Where is The Circus Hotel located? You can find them at Rosenthaler Str. 1, 10119 Berlin
The Circus Hotel FAQ
We answer your most frequently asked questions about the Circus Hotel Berlin:
1) How can I get in touch with the Circus Hotel?
Visit their website or give them a call, 030 20003939.
2) What kind of traveler stays at the Circus Hotel Berlin?
People who love unique, designer, boutique hotels. Travelers love hotels that pay attention to details, like a comfortable bed, a mini-bar packed full of interesting things that you actually want to sample, pretty art and decor, and more.
3) What sizes of rooms does the Circus Hotel offer?
From small single rooms starting at 14 square meters to medium, and large rooms, even 50+ square meter apartments, The Circus has a little something for everyone.
4) What are my eating and drinking options at the Circus Hotel?
They have a lounge, bar, and restaurant on the ground floor (including a pretty outdoor terrace), as well as a small rooftop bar. Breakfast is served from 7:00 – 11:00 and the bar opens at 18:00. See more.
5) Is the reception available 24 hours a day?
Yes!
6) When are check-in and check-out times at the Circus?
Check-in is available from 15:00 and check-out is at 12:00.
7) Is there a fitness studio available at the hotel?
No, but they offer yoga sessions and have partnerships with some local clubs and spas. The Circus also offers free bike rentals.
8) Is the hotel child-friendly?
Yes, they most definitely welcome kids of all ages. If you require baby cots or children's beds, get in touch with the staff to make arrangements.
Berlin's Transportation Options
The lowdown on your transportation options in Berlin, Germany:
1) To reach Berlin's city center, you can go by train, taxi, or bus:
2) How to get around in Berlin:
Where To Stay In Berlin
1) While we hope you visit Berlin and stay at the Circus Hotel (you really should stay there!), we can also recommend checking out our overview of other Mitte based hotels, or seeing your options on booking.com.
Paying For Things In Berlin
Our pro tips help you manage your finances when you're traveling in Germany:
1) Germany uses the Euro:
2) Germany is about average on the cost scale compared to other European destinations. Berlin is budget-friendly, so you'll find accommodation, dining out, etc. very easy on the wallet.
3) If you can avoid doing xo, exchange your money in the city center, as exchange rates at the airport tend to be on the high side.
Good To Know About Berlin
Other things you need to know about Berlin, Germany?
1) One way to really experience Berlin is to go on a guided tour. See what things you can do with Get Your Guide.
2) If you love my adopted home of Germany as much as I do, check out some of my other blog posts:
*Disclosure – My time at The Circus was complimentary and any opinions expressed are entirely my own. This post also contains some affiliate links. If you book a tour or hotel, I'll earn a tiny commission at no extra cost to you. Thanks for your support!